Multicultural Wedding with Kitsch Decor!
BY The WMG Bride | 02 Feb, 2016 | 2737 views | 3 min read
When you think of a wedding with traditional idols and lotus motifs- you think "conventional". But wait till you see how these elements were twisted to modern sensibilites by 
Abhinav Bhagat
.  The floral printed suitcases at the mehendi, the checkboard Mandap flooring , the brides matha patti and the kitsch vibe all come together perfectly. Not to mention - the bride is a total star herself- what with her unconventional outfits and experimental silhouettes, captured by 
Lights Camera Shaadi Photography
.
"As much as we would love it to be a story inspiring meet, we actually knew each other from elementary school. But that acquaintance was nowhere near to be considered as ''young love''. We kept in touch with passing time as we both pursued our interests. Thanks to social media advancements, we came back in contact when he went to London after his undergrad. It is then when we started the actual transition from acquaintances to friends via texts and video calls. It was same until recently when I was in London for a cousin's wedding. And just like that, because I had a few weekends to spare, I decided to catchup with him over coffee. The rest is history" explains Shreya.
The Engagement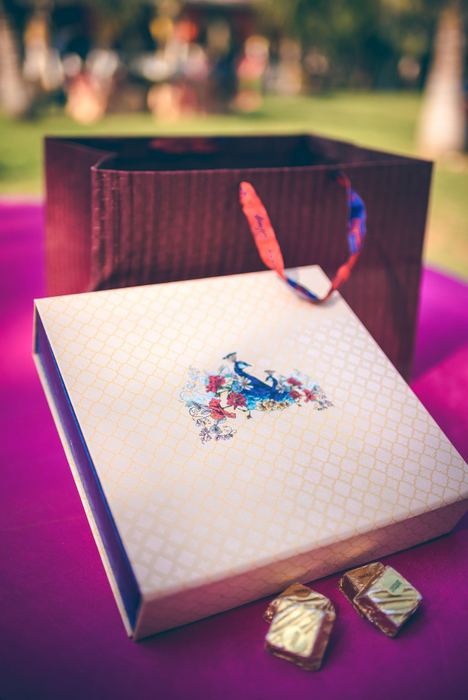 The Mehendi
 The Wedding
 From The Bride:
"Firstly, being a designer myself, I had too many inputs to give in on everything!! The wedding, being an amalgamation of two cultures (Deep, a Gujarati and me, a UP-ite with my mom's side being Gujarati-living-in-Delhi again) needed to have universal appeal and keep everyone happy. We wanted a pretty cozy wedding where everyone's involved and everything around has a personal touch to it. The wedding being in Gujarat itself, we outsourced everything from Delhi," she says. "I was involved in everything - from designing wedding cards to clothes for both of us and our extended families was done by me. What's even more personal was the fact that even the bakes on the dessert table were baked by my younger cousins to surprise us. In terms of decor, we had everything going exactly the way I wanted it- the cool Mehendi props and the non-traditional elements for the wedding were by Abhinav and we loved it. With Abhinav, we really hit it off. Not only does he have this amazing creative ideas, he also uses every inanimate object possible to sparkle up the place," adds Shreya.
"As far as photography was concerned, we asked our brilliant photographers Lights Camera Shaadi Photography to give an editorial feel to my bridal shots and wanted as many candid pictures as possible and it was done, beautifully. Plus, he does brilliant photo editing! And my makeup artist, Roopali Aggarwal was a delight to work with. She worked with me to create all those fancy hairstyles I wanted from magazines and runaways. She's also super quick" adds Shreya.
---