Planning a Bachelorette? These unique stays are perfect for your girl squad!
BY The WMG Bride | 18 Jul, 2016 | 5173 views | 6 min read
Trust us girls, there's nothing like some precious girl time to get your mojo on - SATC style just before your big day. Bachelorette parties are (secretly) one of the best things about getting married. And while a mandatory party is in the works, it doesn't hurt to stretch the time with your girlfriends by going on a holiday with them. You could make a great holiday out of this bachelorette, stay at exotic locales, eat amazing food, shop at vintage stores or go to rooftop bars to party the night away. But first, choose the right space to stay and chill - we found Airbnb's super stylish hotspots for bridesmaids so you can party right!
For The Chic Travellers:  Paris St Germain Apartment 
This one comes with pink walls, need we say more? The chic St. Germain flat is a 1500 square foot apartment in a sensational location in the best part of the 6th arrondissement. It was featured in the French Elle Decor if that adds to it's charm! Located between the Boulevard St Germain and the Jardin Luxembourg, this one will make it easier for you to hit the best restaurants in town. Plus, the flat comes with beautiful bay windows and pristine bathtubs and a view of Paris that you will not forget!
Priced at: 54,598 for a party of 6.
For The Fancy Bunch: London, Chelsea Apartment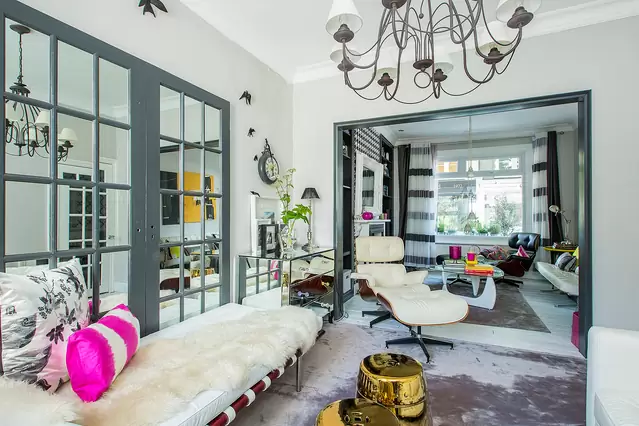 Well, when in London, pretend you're royalty, right? To give you just that regal yet modern feel, we found this 5-bedroom flat in Chelsea that is winning awards for having the most beautiful interiors. Perfect for large groups of people, this pretty abode comes  with a Victorian terrace, stunning hallways and monochrome wallpaper. It's really a great space for girls to hang around with it's artistic decor and beautiful chandeliers - insta-worthy!
Priced at: Rs 34970 for a party of 12.
---
For Luxury at Home: Goa- Josephine Villa
A beautiful Portuguese heritage property, Josephine Villa comes with amazing reviews and a beautiful pool. The villa itself has a cozy and stylish feel and it has patios and gardens too, if you are looking at having a relaxed breakfast outside or just want to have your own space. Low-sitting sofas for that laid-back feel and french windows that open out into the sunshine - what more can a bunch of girls ask for?
Priced at Rs 25,077 for 8.
---
For The Nature Lovers: Bali
Well, everyone loves Bali - it's pocket-friendly, close-by and very rustic. This architecture-designed villa with a pool is exactly like "Eat, Pray, Love" where those muddy roads and rice fields provide a perfect backdrop to the laidback life. Ubud, the tourist mecca is just 15 minutes away and you can opt to go and party the night away too. This villa comes with huge verandas, king-size beds and is made of wood and other recycled materials to make it that eco-friendly. The three-bedroom-ed house also comes with a gorgeous pool and fast wi-fi.
Priced at: Rs 13,850 for 6.
---
For The Party Girls: Sunset View Villa,  Ibiza
Well, nothing says party like a night out in Ibiza like having your own sunset villa to party at.  Just what you and your girls need. Ibiza comes with some great villas that are overlooking popular beaches and this one is just the thing you need with it's 180 panoramic views and ibizenco-style interiors. It's what you would call a private paradise - now, it's up to you to throw a party of your own at this pretty mansion that makes every sunset with your girls, a hoot!
Priced at Rs 45,911 for 7.
---
For A Quick Weekend Getaway: Villa in Sri Lanka
Turn up the heat in Srilanka with a getaway to Galle and Mirissa if you can because they are the most interesting places to go. This Lighthouse Street, Taru Villa is totally modern and comes with great style overlooking the pristine beach. Everything from restaurants to forts are all within a radius 10-15 minutes leisurely walk. It is so pretty with antique furnishings, beautiful colonial style balconies and a bijou terrace rooftop that overlooks romantic sunsets.
Priced at Rs 50,205 for 8.
---
Garden Crazy: Koh Samui
If it's a girly trip, most of us would choose a place close by and that's why Koh Samui works. Located at the "virgin cost" side of the beach, this garden villa comes with Sakura trees and traditional Thai houses. With wooden panels separating each room and a private garden, this one is perfect for a bunch of girls who want to do their own thing without stepping out. Get a yoga teacher for some classes or stroll on the private beach in the evenings - the place is yours to explore.
Priced at: Rs 13,780 for 5 people.
---
Houseboat Parties: Amsterdam
Who said Amsterdam is a destination only preferred by boys? Not us. Because we heard that the houseboat at the city centre is a great option for girls looking to live it up in the city. The neighbourhood is called "Amsterdam Old West" a place where quaint coffee shops, cool bars and beautiful restaurants are situated. This one also comes with a cute kitchen and larger-than-life windows and a sofa to plunk and watch TV. Perfecto!
Priced at Rs 7,687 for 4
---
 For the Bigger Groups : Portugese Villa in Goa
At approx 2500 Rs per person per night, this quaint little Portugese Villa accomodates upto 14 people at a stretch. The rustic distressed wood detailing, the adorable floor seating and the tiny nooks and crannies make this the perfect bachelorette if you have way too many friends to count!
Priced at 32,158 or 14 people
---
For Luxury, on a Budget: Hua Hin
Imagine a large villa, with a luxurious pool where you can take a dip in with your girls as you sip on a mojito. Sounds nice and expensive right? Wrong. This hua hin villa accommodates up to 7 people and more at a total price of 14000 Rs, so you can live like a movie star at a fraction of the price. What's more it is super close to the beach so you can walk down for those shack parties that no bachelorette is complete without.
Priced at 11,841 Rs for 7 people.

So which one are you going to party in ? While you make up your mind, don't forget to use WedMeGood's 
referral link
 to get Rs 1200/- off your first trip!
---