Private Pool Villas In India That Are Perfectly Luxurious For Your Minimoon Or Honeymoon!
BY Sakshi | 24 Sep, 2019 | 45446 views | 4 min read
Just looking at these pools made me want to leave everything behind and hop on the next flight out! There's something about staying in a villa with your own private pool that makes it exciting and super glam- after all, you can go as crazy as you want, and relax like you can't in a public space, no matter how luxurious the pool or the resort. That is exactly what makes private pool villas great for your minimoon or honeymoon, and we have listed down some amazing ones here in India which you can consider for a weekend getaway! 
The W, Bardez Goa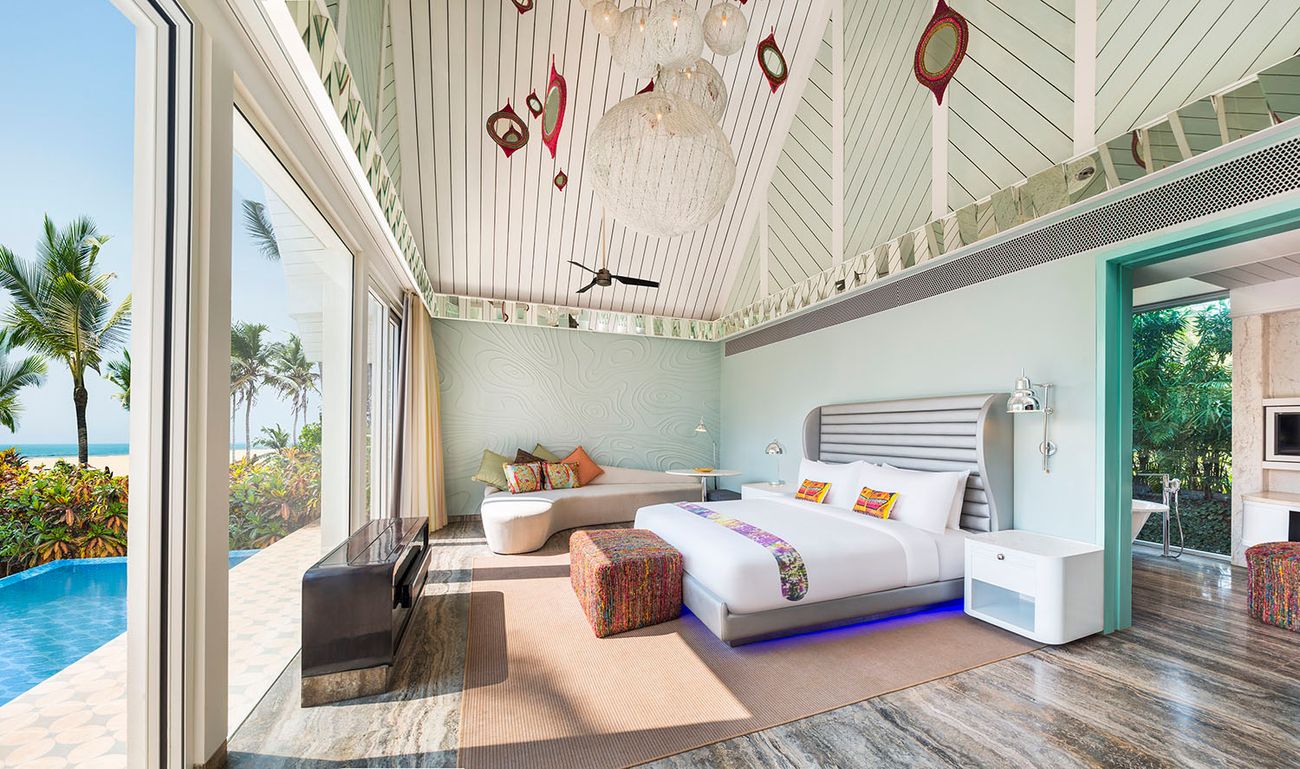 Now isn't that one pretty villa? One of the prettiest best hotels in Goa for honeymoon, this one has a view to kill for with hills and the sea in the backdrop. This one is also called one of the best luxury hotels for a honeymoon in Goa! This one is located on Vagator Beach.
Average tariff per night: INR 22,500 
Find out more here. 
The Westin Pushkar Resort & Spa
Image via CNN Traveller
The Luxury and Royal rooms here are the ones to check out if you're looking for fun in your own private plunge pool or private pool.  The villas are spacious, come loaded with all modern amenities, and if you're looking to kick back and have a laid-back good time on your honeymoon or minimoon, is perfect for that! Plus, you can even have a floating breakfast here!
Average tariff per night: INR 11,000
Find out more here.
Tree Of Life Resort & Spa, Jaipur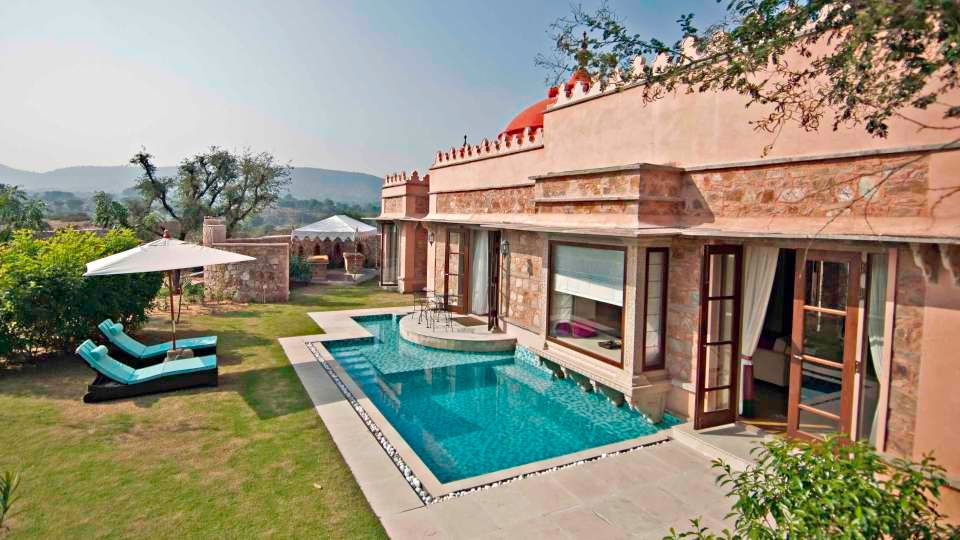 The pool and spa villas here is something that'll entice you from the minute you see and read about it. These resort villas in Jaipur come with private lawns, swimming pool, deck beds, an outdoor shower, couples spa, sunken tub, separate living room, a domed bedroom and a large domed bathroom that looks onto the greens on all sides- sounds delightful, doesn't it?
Average tariff per night: INR 15,000
Find out more here.
Le Pondy Spa Resort, Pondicherry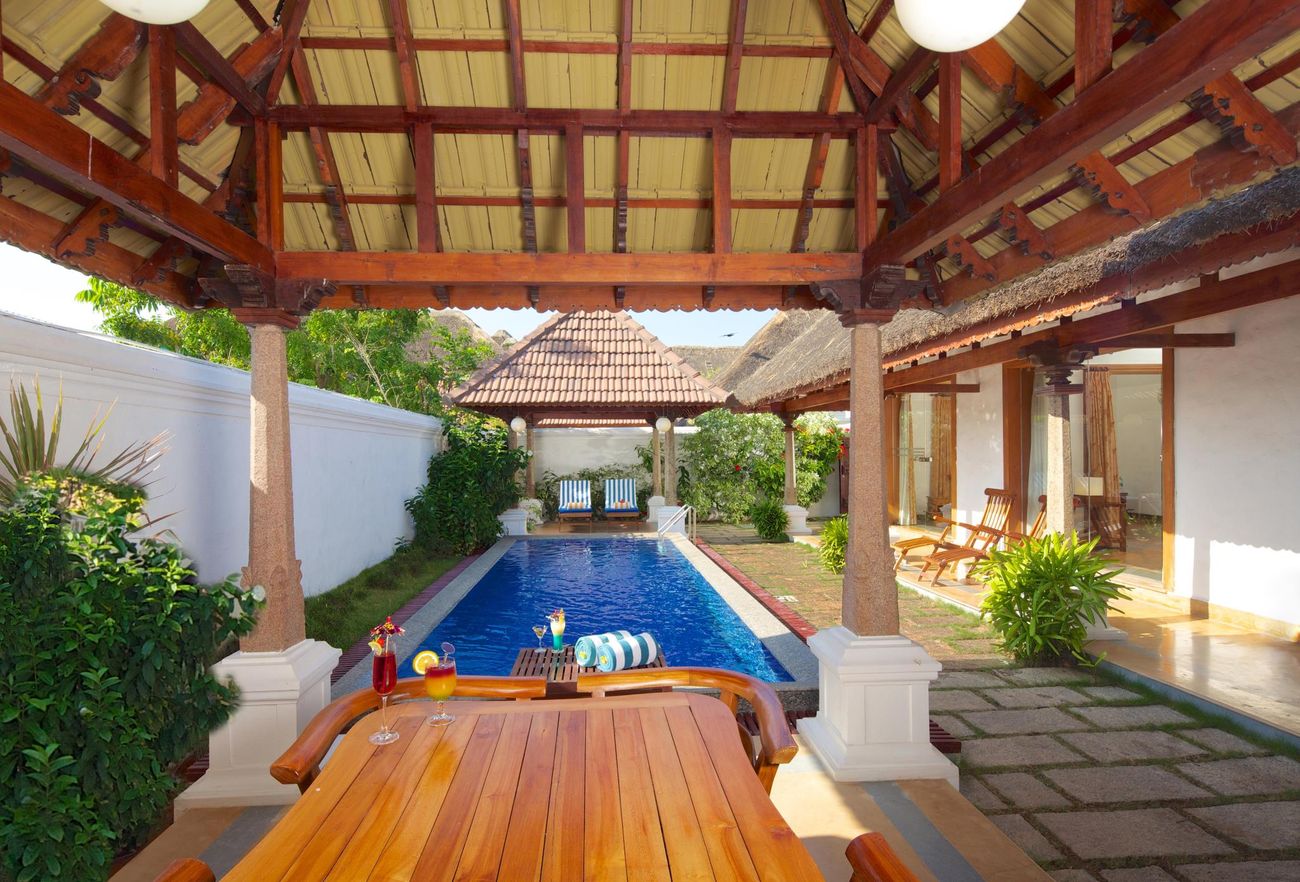 Le Pondy, is a premium leisure resort which not only celebrates Pondicherry in its true sense but also keeps its French spirit alive. The Presidential Pool Villas at Le Pondy are high-end private villas that are the epitome of privacy and character. Plus they come with all modern comforts and we love the earthiness of it all! 
Average tariff per night: INR 30,000
Find out more here.
Taj Green Cove, Kovalam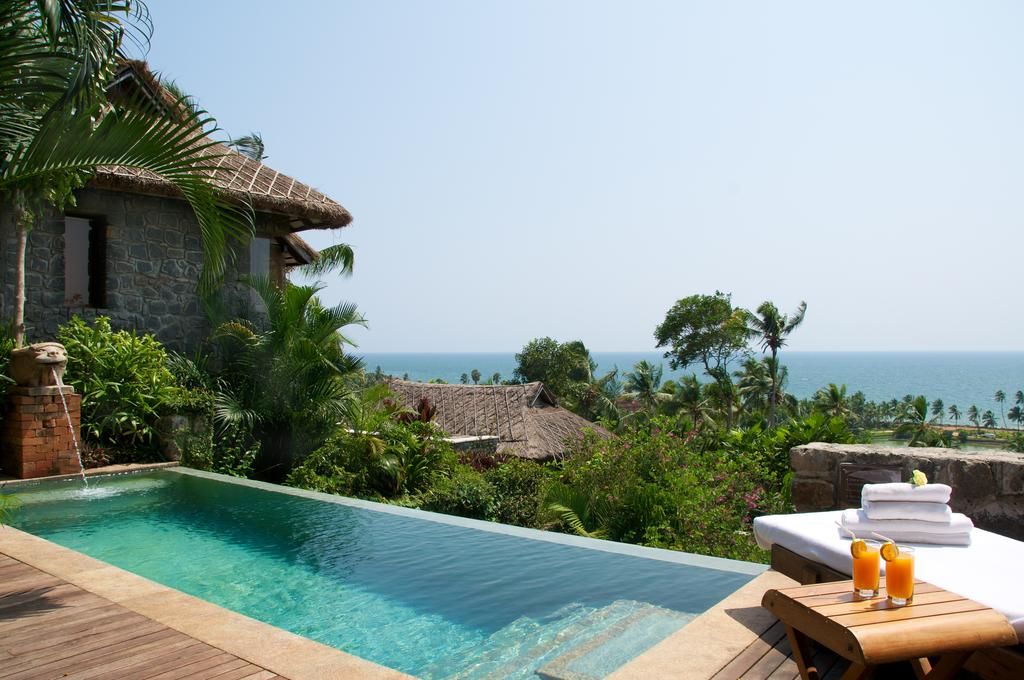 This one boasts of pure luxury, as it has two living rooms, two bedrooms and two bathrooms! The presidential villa at The Taj Green Cove, Kovalam The villas are stylish and contemporary, and the best part that comes with it? A private pool to lounge around in with the utmost privacy. It's pure indulgence and we are sure you'll find as many reasons as you can to not leave from here at all!
Average tariff per night: INR 39,000
Find out more here.
Taj Usha Kiran Palace, Gwalior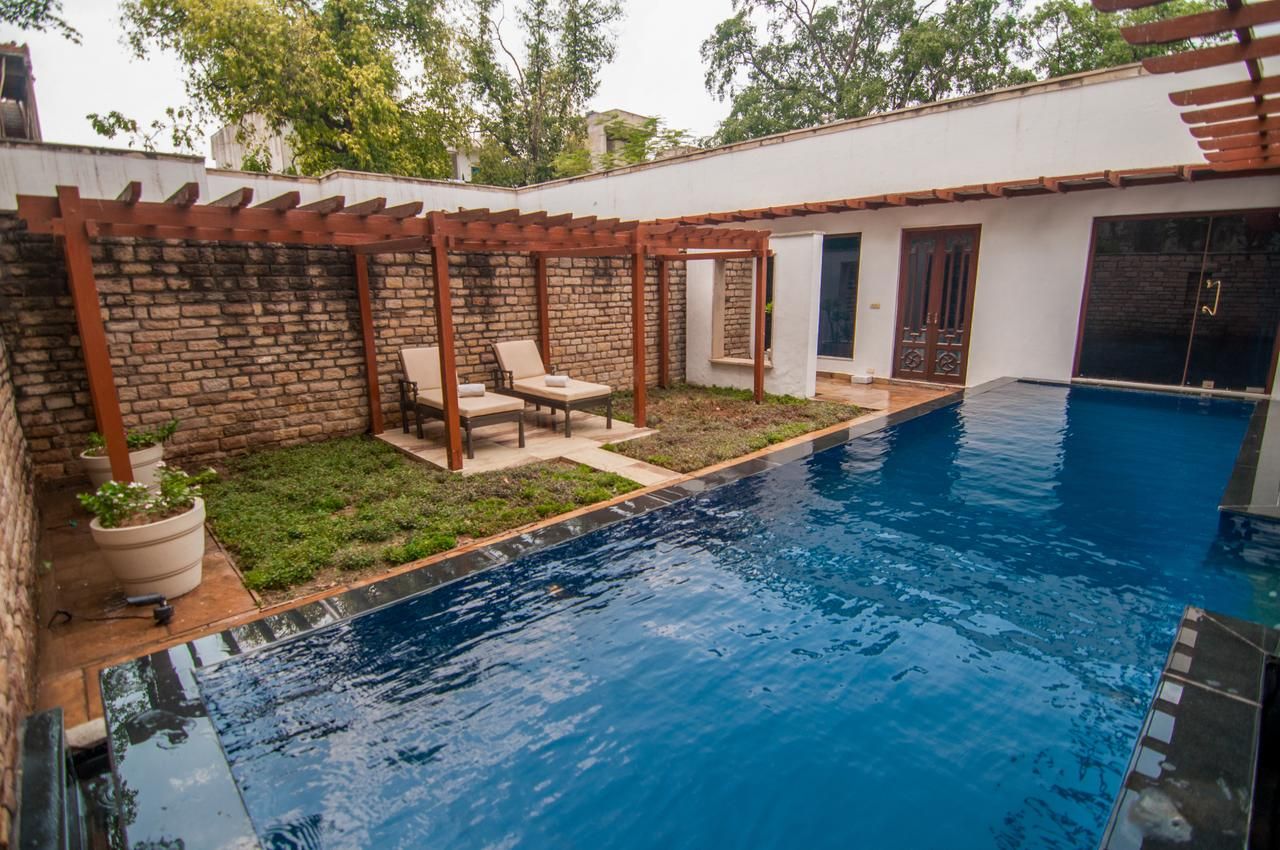 The Luxury Villa 1 Bedroom Pool View is the room to book here, which is a luxurious private villa on the palace grounds. It is cocooned in serenity, and has everything you'd need for privacy, including a private pool and sun bathing area- perfect for the most ultimate honeymoon!
Average tariff per night: INR 24,000
Find out more here.
The Serai, Chikmangalur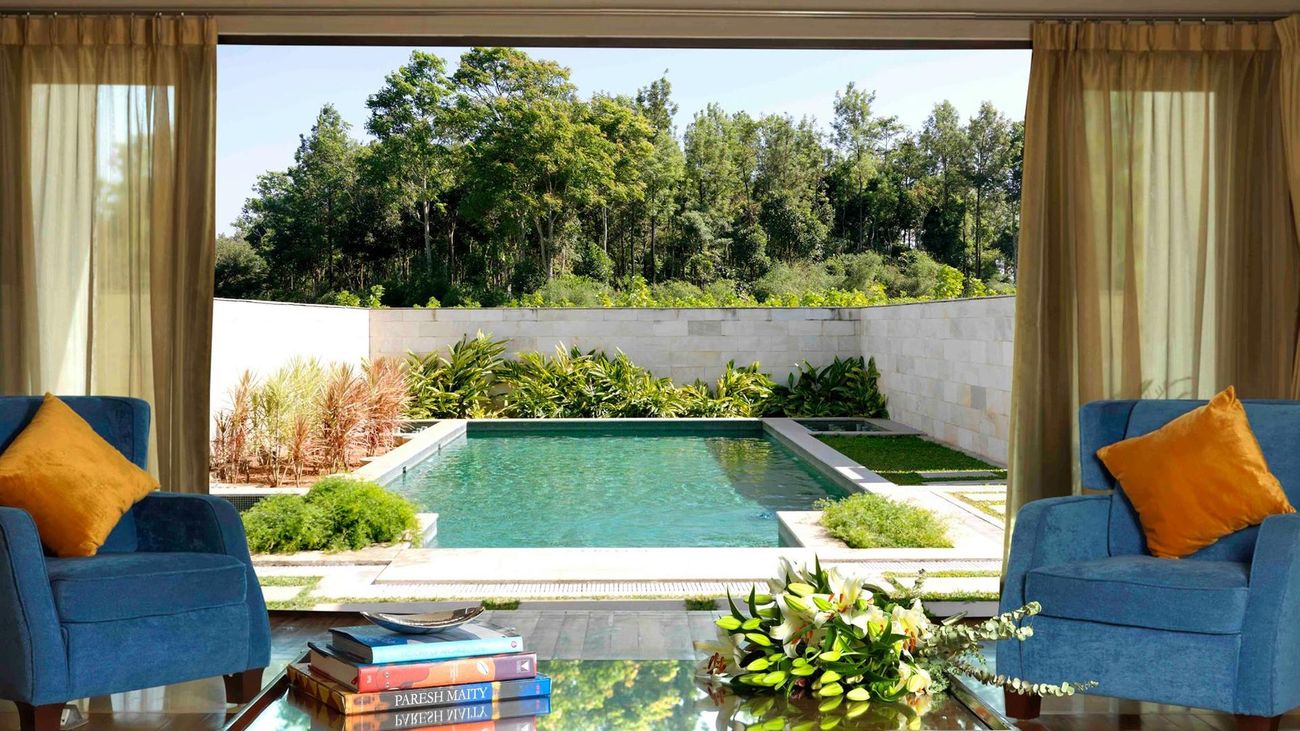 Walk into your single-floored villa, flanked by undulating plantations as your view and back garden. The Estate villa opens straight out to your private pool, and the best part is, it comes with designer bedrooms, separate living, and dining spaces apart from the private pool! 
Average tariff per night: INR 22,000
Find out more here.
SpiceTree, Munnar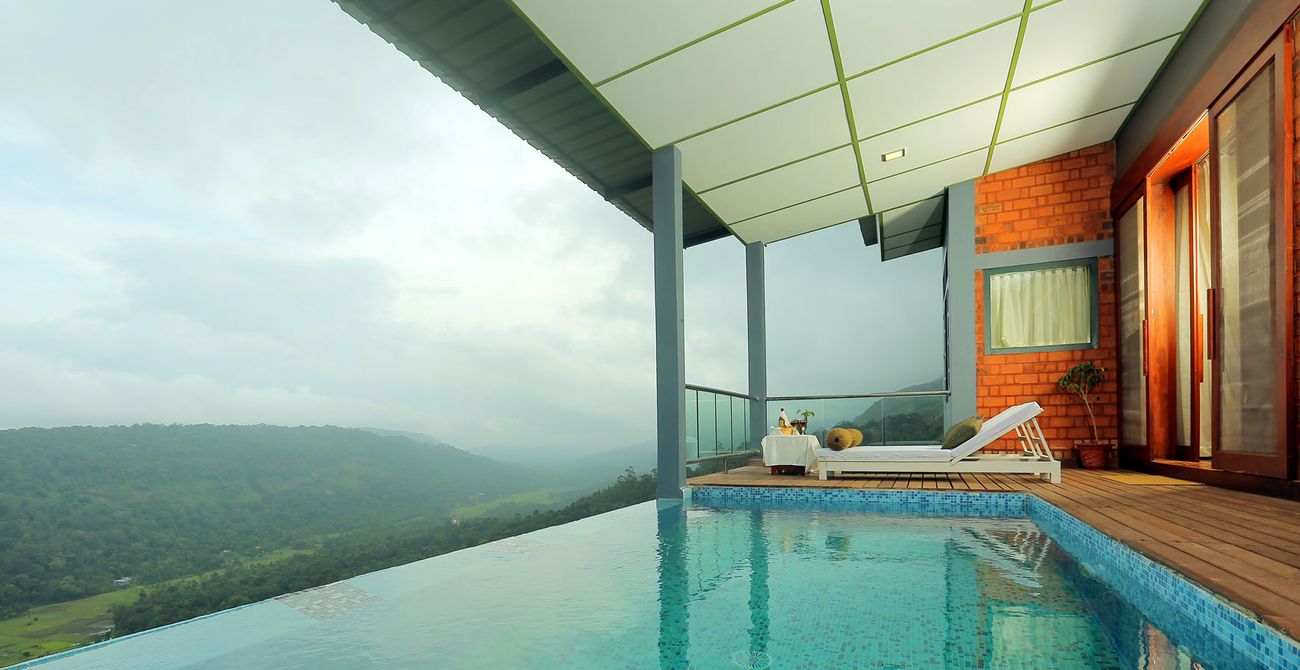 Imagine a private pool with a view of the hills like that one! The pool villa at SpiceTree is gorgeous, and comes with a view to die for! Complete with a pool, a private deck,a living room, a master bed room, a large bath room with a Victorian copper bath tub and a small dining area makes your stay in the pool villa at spice tree a unique experience. The villa is right in the middle of unspoiled mountain ranges offering incredible views. Pamper each other as you make the most of the honeymoon or minimoon in this gorgeous location!
Average tariff per night: INR 20,000
Find out more here.
*Prices are an estimate, and may vary. 
ALSO READ: 8 Villas With Private Pools in Bali For The Most Epic Honeymoon Ever!