Real Brides Reveal : One Lehenga Shopping Trick They Used While Shopping!
BY Apoorva | 24 Apr, 2018 | 1811 views | 3 min read
Lehenga shopping is one of the holy-grail tasks while wedding planning. Innumerable shops, fitings, haggling on prices, dreaming of the lehenga you cant buy is quite a task. So how do we make this simpler? By asking our brides on the one lehenga shopping trick they had while picking out the lehenga of their dreams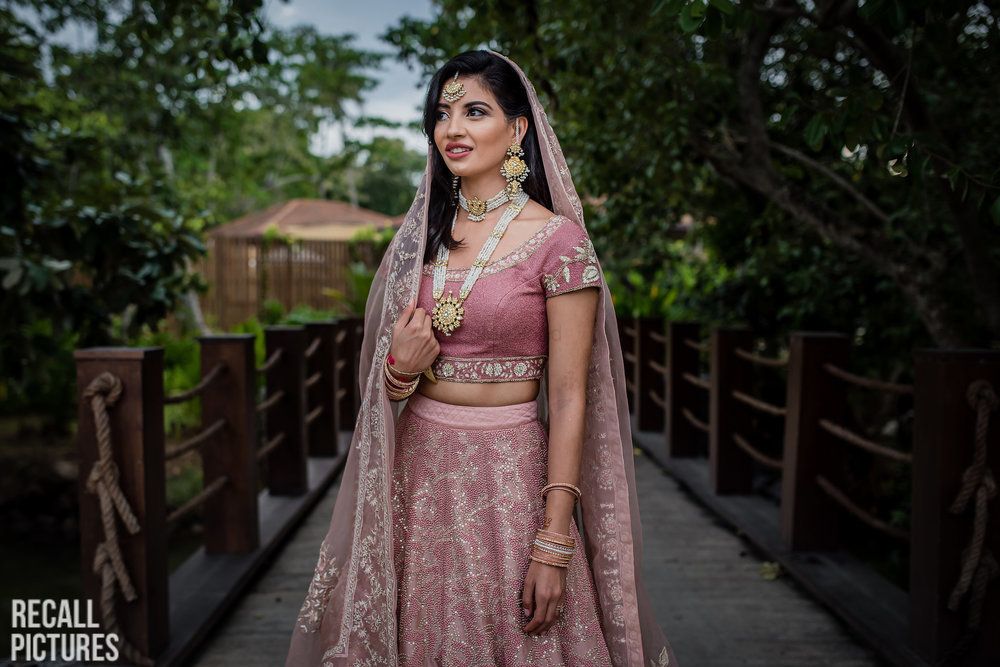 Image via Akshaya & Diva's Real Wedding 
Ria says: Mix and match 
"I was a budget bride so I decided to opt for a heavy blouse rather than a skirt since your dupatta and blouse are more visible than the skirt. And nowdays you also have the option to pick separate pieces. So always remember that if you are looking to cut down your price, this trick works usually!"
Shanaya says: Go from budget to expensive
"Don't go to a Sabya store or Manish Malhotra if it's not in your budget range at all. This makes the other lehengas look not so great in comparison and then you constantly feel bad. The trick is to start with the minimum budget ones first and then hit your upper limit!"
Kaira says: Ask for Engagement / Sangeet lehengas instead of Wedding ones
"Ask the store to show you sangeet lehengas or even engagement lehengas. When you utter the word 'bridal lehengas' costs automatically go up by 15-20%. They will end up showing you all the lehengas so you don't have to worry but store managers know that the budget for a sangeet or engagement lehenga will always be atleast 30-40% lesser than a bridal one"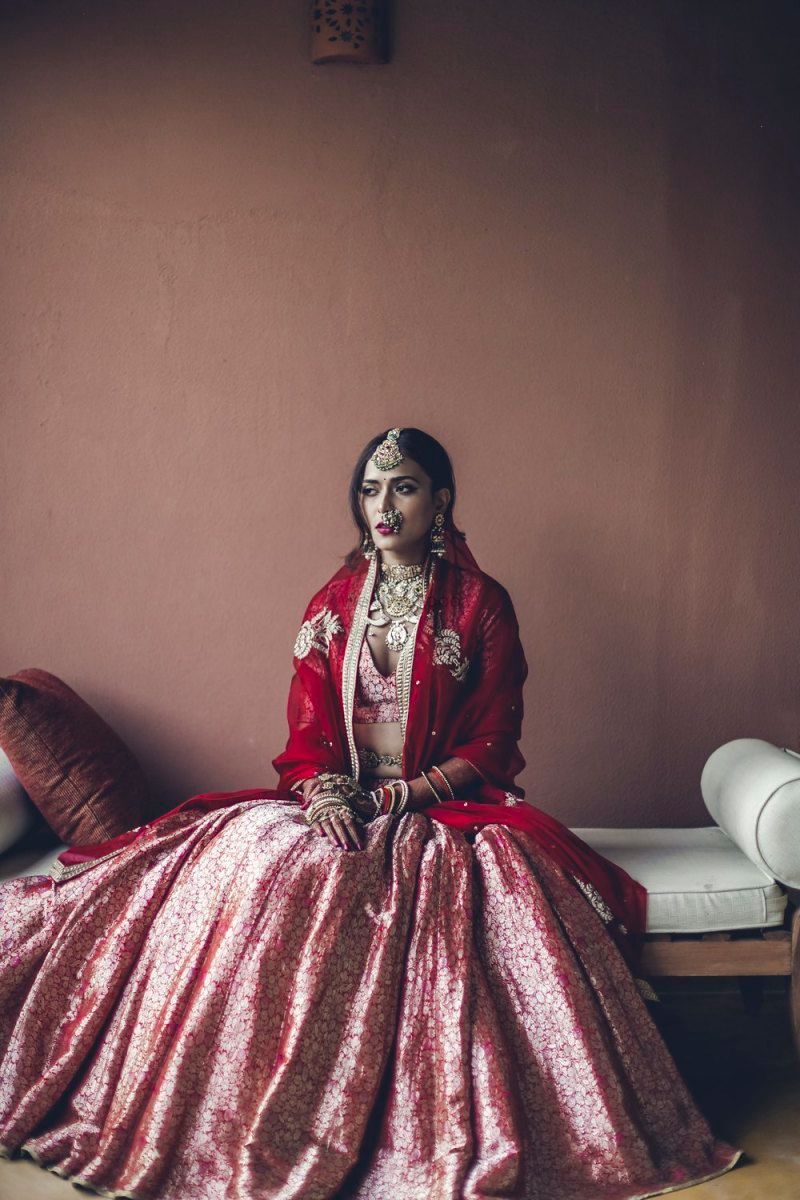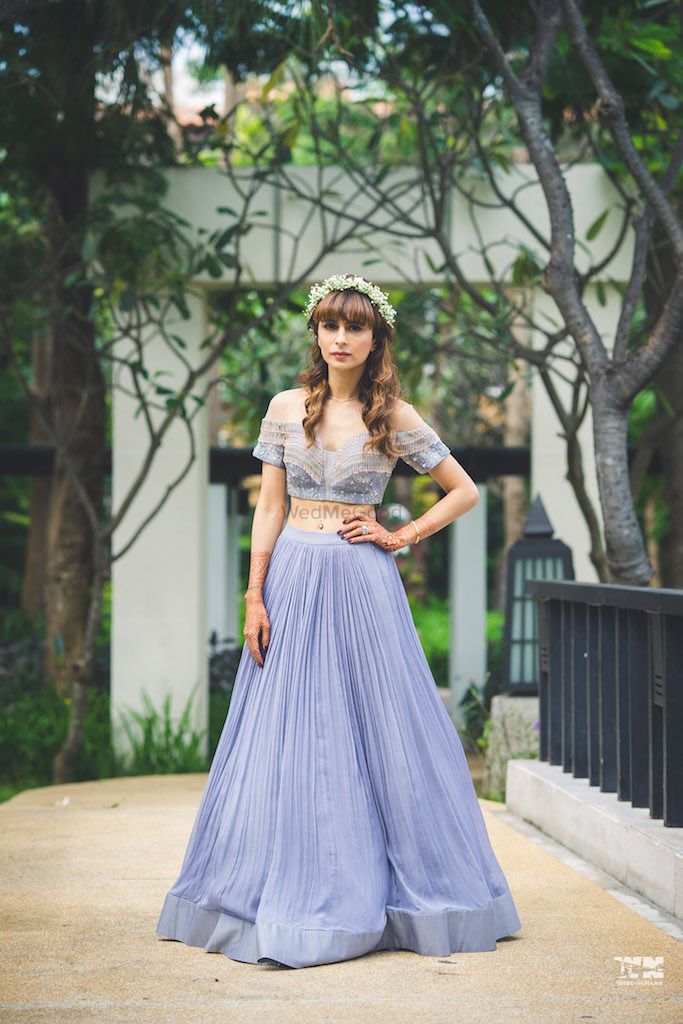 Image via Sanaa & Parth and Tejini & Aadit's Real Weddings
Vedika says: Non-trendy pieces are better!
"Don't go for something that is trending. The cost of an Anushka Sharma floral lehenga is sky high right now but if you are shopping 6 months in advance then it won't even stay in trend by then. Opt for unique but non-trendy pieces, chances of the prices being cheaper is quite high"
Shalmali says: Tips to look taller
"If you are on the shorter side like me, opt for high waisted skirts/lehengas. They give an illusion of a tall torso and legs. If you are petite, you can also opt for a shorter blouse. That gives you an even taller look!"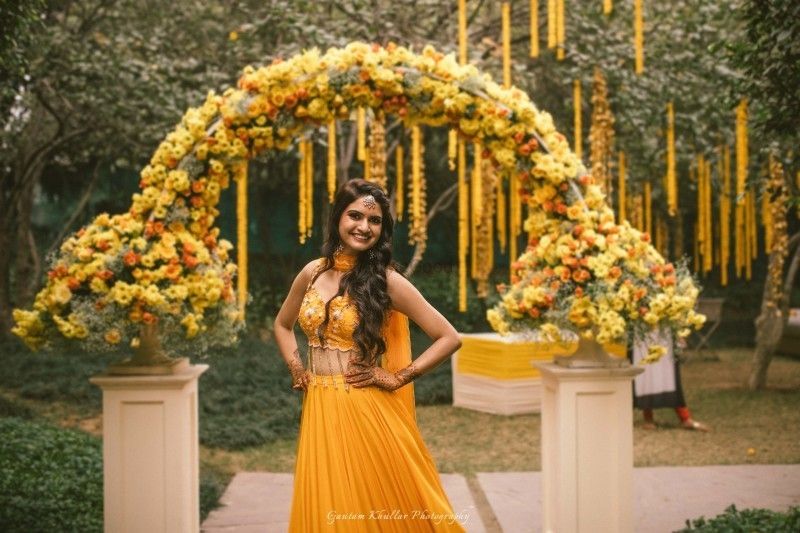 Image via Ankita & Veer's Real Wedding 
Divya says: Look beyond red & pink 
"Break the rules and opt for something beyond red and pink in lehengas. This is for bridal lehengas, not just mehendi ones. Not only will you look different from all the brides but chances are that the red lehenga is pricier than a green one! Also, opt for colors that suit your skin tone rather than Deepika Padukone's "
Shagufta says: Remove one inch borders to save on cost
Tiny little inconsequential borders can sometimes add upto 20K to a lehenga. By customising a lehenga this can shed some weight.