Real Brides Reveal: The Best Places In Delhi To Get A Bridal Blouse Stitched!
BY Garvita | 02 May, 2019 | 2838 views | 5 min read
Did you think a wedding attire is all about finding that perfect lehenga? Sorry, but you're wrong! With millennial brides going an extra mile to find unique blouse designs to make their wedding attire stand out, the concern arises when you have to search for the best places to turn your vision into reality. We've heard cases when the brides have cried their hearts out because a tailor ruined their bridal blouse! *sigh* We're sure you wouldn't want to face that situation! Fret not! To help you with the same, we spoke with a couple of real brides in Delhi, to know where did they get their bridal blouses stitched from.  So, sit down and read on Delhi brides-to-be!!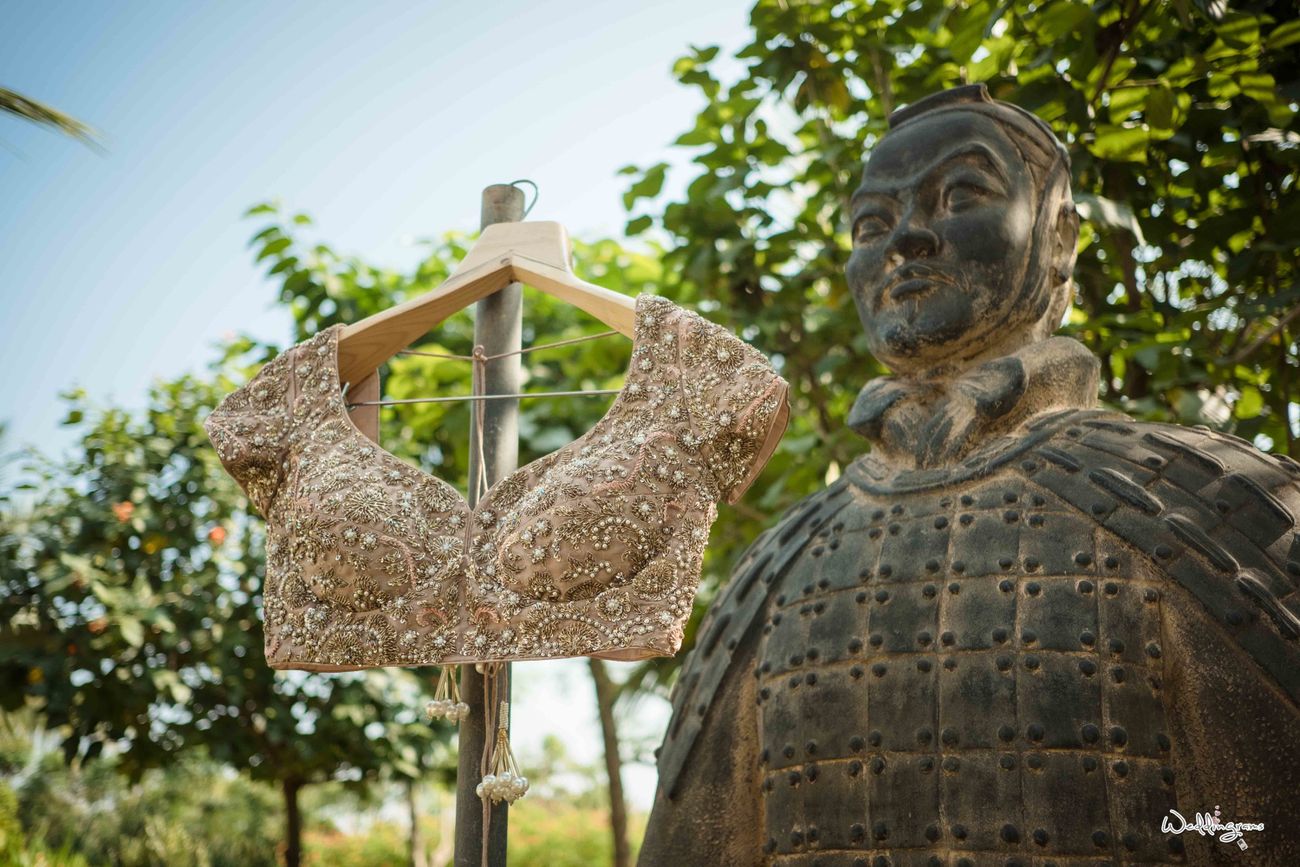 Image via Weddingrams★ 4.8
Anisha says, there is nothing better than a reliable tailor
"I have been getting my ethnic wear stitched from a local boutique since years now, and I couldn't trust anyone else when it came my bridal blouse! The tailor at Pinky Boutique, Vasant Kunj did full justice to my expectations and the blouse had a perfect fit. I was comfortable through out my wedding celebrations and I was glad with the choice I made!"
Find them here : +919810098205 (Vasant Kunj, New Delhi)
Tanya says, seek advise from friends!
"My best friend suggested to me to visit designer Niharika Pandey's store in Shahpur Jat for my bridal blouse! Though I found her a little expensive, but I didn't want to risk with my blouse stitching for a meagre amount, and hence, went ahead with her. She did a fab job and I got a value for money! Would definitely recommend her if you don't mind going a little over the budget."
Find them here : Niharika Pandey, 124, 1st Floor, Shahpur Jat, Siri Fort, New Delhi, Delhi 110049
Esha says, trust your designer
"While a lot of us would be skeptical to get the wedding blouse stitched from the wedding lehenga designer, because, ermm.. first time risk involved!  I found it alot more comfortable to get my bridal blouse stitched from them. Once I was done with my lehenga shopping from Dalmia Fashions, the manager suggested that I can also get the blouse stitched from them by paying Rs 1,500 extra, and I found it a fair deal! Moreover, because it was their attire, I could blindly trust them with the stitching. So I gave it a shot, and did not regret my decision!"
Find them here : Aditya and Mohit (A Unit of Dalmia Fashions)★ 4.6 , 5743, Nai Sarak, Balli Maran, Jogiwara, Chandni Chowk, New Delhi, Delhi 110006
Ria says, scout local boutiques and studios
"I never got a blouse stitched all my life and it was my first experience! So I started hunting local markets well in advance, to avoid last minute mishaps. With my first trial being an absolute disaster, I found this beautiful looking boutique called Vaasas Fashion Studio and gave them a cheaper blouse material to stitch as a trial! I thank my stars that there stitching was so good that I didn't have to look for any other option. Psstt.. they also offer hand embroidery services, in case you're looking for something personalised!"
Find them here : Vaasas Fashion Studio, Shop No. G -1A, H.L.Plaza, Plot No. 10, Pocket 2, Sector-12, Dwarka, Delhi 110075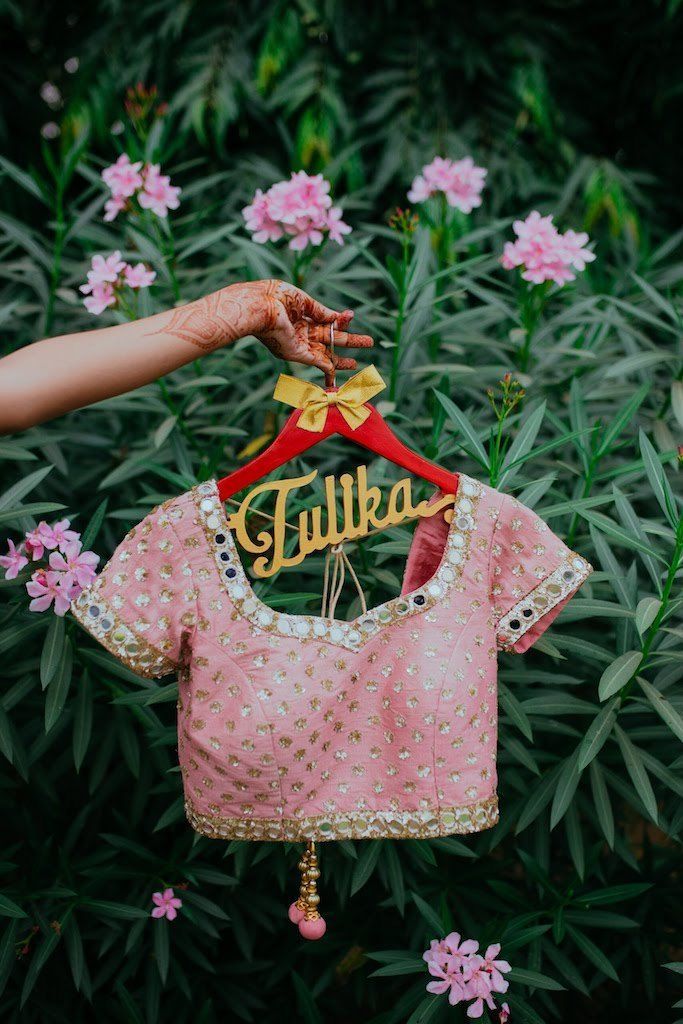 Image via Tulika & Prabhjot
Shanaya says, that find 'em online
"Being a lazy soul with so many wedding preps in hand, I had no plans to go all the way to a tailor or a boutique to get my bridal blouse stitched! As it is I am not very fussy about designs, and all I needed was a blouse with superb fit. I got Darzi On Call onboard, and ensured that all my wedding trousseau stitching is managed by them. They sent a consultant to my home for the the measurements and to collect the fabric. Once the stitching was done, they also got it delivered to my place! Btw, the stitching was quite good."
Find them here : Darzi On Call
Shruti says, ask your mum
"All these years it was my mum who used to get my ethnic wear stitched, and I never really paid attention to it. However, couldn't have been so casual about it with my wedding blouse! So, I took contact of the Jassi Tailors from my mum and visited this home studio to get my bridal blouse stitched. Absolutely loved the detailed stitching, and the fact that all my trousseau blouses didn't look similar in terms of design.
Find them here : +919891014226 (Jor Bagh, New Delhi)
Anjali says, go for a family tailor
"My mother, sister, cousin and even sister-in-law, they all have been getting their garments stitched from Mohammad Tailor for years now! We, literally, swear by him and I couldn't have thought of anyone better for my wedding attire stitching. The fact that he is extremely affordable and quick with his work, has made us all rely on him with our unstitched ethnic wear. All I had to do was give him a call, and he was at my door step to collect the material and took less than a week to deliver it back to my home.
Find them here : +918130885457 (Dwarka, New Delhi)
Planning to get a bridal blouse stitched anytime soon? Well then, you'll definitely need this list, so bookmark, right away! Also, don't forget to check out interesting and unique blouses and necklines, for ideas and inspiration.