Real Brides Reveal: The Mehendi/ Sangeet Outfit That I DIY-ed!
BY Latha Sunadh | 03 Nov, 2016 | 969 views | 2 min read
DIY is the buzzword when it comes to weddings. Everyone loves a good DIY outfit but everyone forgets how difficult it is to make or get one made. But not these brides. These brides took matters into their own hands and designed their own Mehendi/ Snageet outfits to perfection. Take a look!
Fuchsia Fashion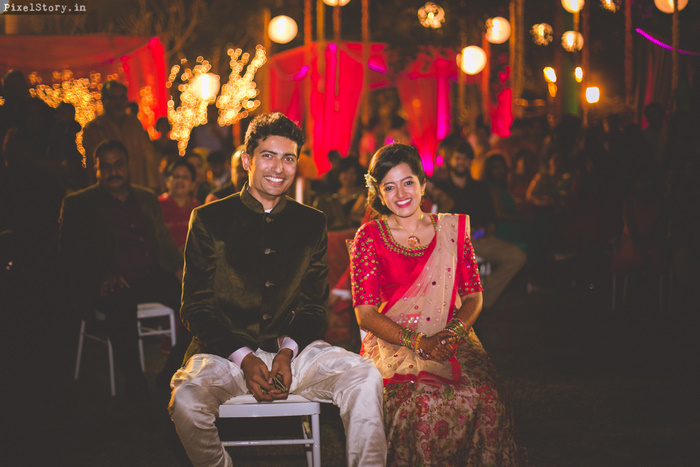 Megha says
"My bridal outfits were all self-designed with references from google. The sangeet outfit and blouses for the sarees were designed by me through a lot of research and referencing. I bought all the fabric and got it tailor made to my measurements from
Desire Boutique in Bangalore
. Dilshad of Desire Boutique was very obliging and I couldn't imagine anyone else putting up with and executing my specifications and detailing ideas,".
 Lilac Love
Aakshi says
" My Sangeet / Cocktails outfit was very unique. It was a Lucknavi chikankari lehenga that was self designed. I bought from KC fabrics in Lajpat. It was inspired by the Nizam era so it has an old worldly charm of royalty to it."
Red Riding Hood 
Adithi says
" I
used my parent's wedding and mum's retro style as my inspiration.  Everything I picked had bright and earthy organic colours. My mother found some gorgeous material on a roadside store in Hyderabad and we used it to stitch my Sangeet lehenga with. It was simple, I loved it,"
Traditions On Cue
Leelu says
"My wedding saris and blouses – they are all self-designed! My wedding blouse has the 'Suryavanka' (sun) and 'Chandravanka' (moon) motifs, work done with zardozi and stones. They matched the jewellery given by my grandmother. My Mehendi outfit was completely custom-made and self-designed too"
Cape & Glory
Karishma says
"For the Mehendi I decided to design the outfit myself down to the embroidery and fabric sourcing as well. I decided to go with ivory with hints of red and dull gold,".