Red Carpet Groom at Dhruv Vaish: Salmon and Smart!
BY The WMG Bride | 30 Sep, 2015 | 1220 views | 3 min read
Every once in a while, Wed Me Good comes up with a  shoot with a renowned label featuring real life bride and grooms who are WMG readers.  And usually, it's called the Red Carpet Bride, but this time, we wanted to go ahead and include grooms/ brothers of the bride/ cousins into the mix. Our first shoot in collaboration with 

Dhruv Vaish

 is out this week, shot by the talented team of

The Creative Lens
The bride's brother and his wedding outfit - that's one thing we usually don't give much thought to.  He will be the guy who is busy co-ordinating with the vendors and fixing up transport and taking care of all and sundry for his sister's wedding . And that's why his outfit needs all the chutzpah it can get. As we geared up for one more show with a fab young couturier Dhruv Vaish, we couldn't help but wonder, "Does the brother of the bride need a complete makeover?". And lo behold, we got our hands on Kashish, the sweet and dedicated brother of a WMG bride who was game. He was quite a sport and we put him up in a salmon Nehru Jacket with fun dhoti pants.
"Umm hot pink pocket square, are you sure?" he quipped. The men in the shoot all seemed to have their doubts, but the women in the shoot all loved it. Needless to say, you would know which gender we took advice from ;) We rolled our eyes and told him to wait till he sees the color pop in photos and by the end of the shoot he was a convert. Special thanks to the incredible photography by 
The Creative Lens
 who took the time to make the WMG brother of the bride look unique and outstanding while our grooming partner, 
Worship Salon and Gentleman's Tonic looked into every detail of styling and kept the style slicker than slick.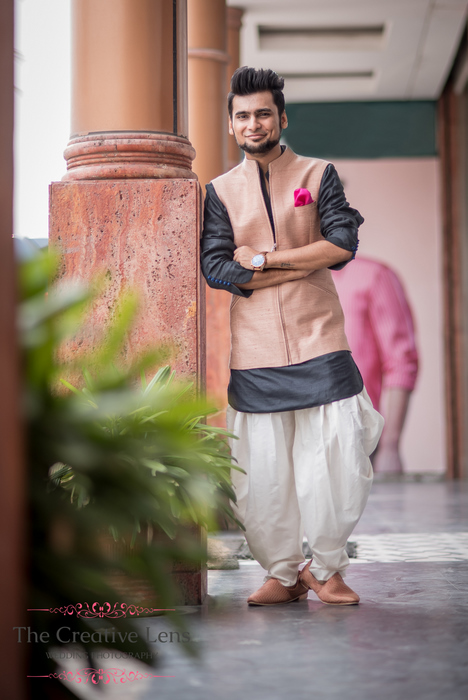 The Brother Of The Bride says:
"Sister's wedding are such mixed emotion scenarios. But it becomes beautiful when WedMeGood takes a wonderful initiative to make it better. Heartfelt appreciation for making dreams come true in the form of a perfect attire by DhruvVaish. And Creative Lens for capturing the candid moment. Someone said it right, 'Dreams do come true.'
Read our grooms account of his styling session at Dhruv Vaish!