Rustic-Chic Engagement in Kerala With Beautiful DIY Decor Ideas!
BY The WMG Bride | 29 Oct, 2015 | 2457 views | 3 min read
It's not everyday that we get an engagement with this much thought and effort to make sure every element sings the same theme . This beautiful bride from Kerala did just that - she went rustic-chic for her engagement and all the details were a delight to see - from the family pictures that were framed as display to the naked cake that was dressed up in real flowers and ferns . The dessert table was so vintage-looking,  Marie Antoinette would have been proud to show  it off, with macaroons , cake and those sweet drink dispensers. Most of all, we absolutely loved the baby breath hangings at the venue - so refreshing! And this beautiful engagement was captured by
Jackson James Photography
.
Meet Shahzia & Nasif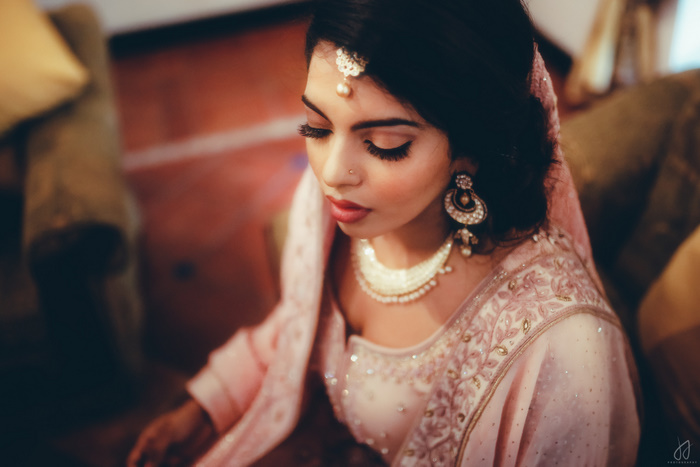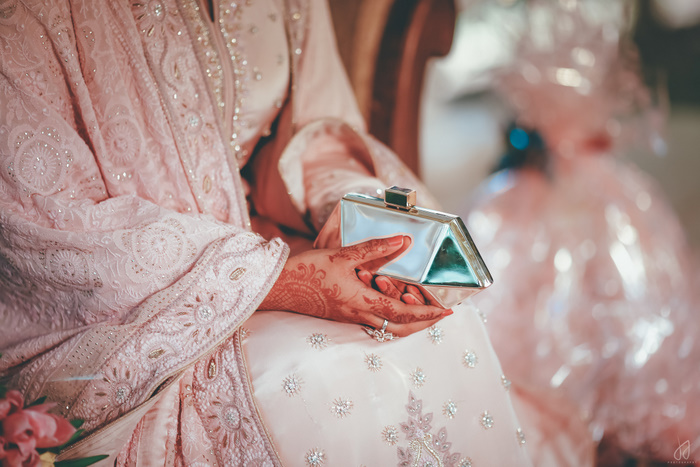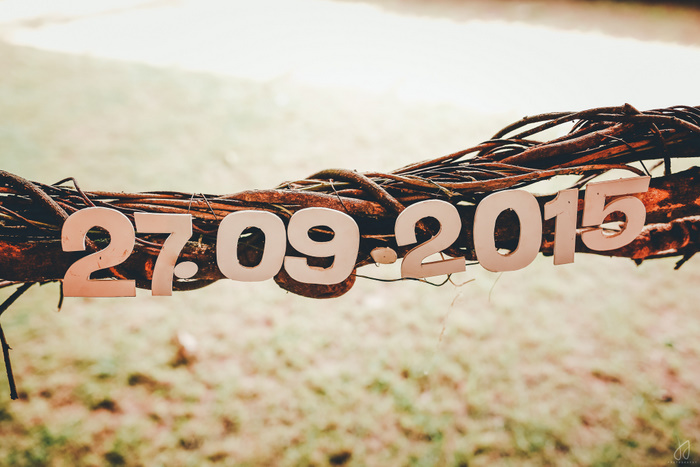 From The Bride:
"The theme I had in mind for the engagement was 'rustic-chic'. I wanted everything to be muted and elegant with a touch of earthiness. We went to the mill and cut out logs of wood which was then used as part of the installation with an old ladder that we had lying around the house. We had
mason jars filled with rose petals
, and doily vases filled with
baby's breath
to add to the whole rustic appeal. My sister and cousin took over the department of the dessert table with all the desserts being homemade by the both of them. My sister made this beautiful naked cake decorated with fresh flowers and ferns. We also got these cute dispensers and filled them up with some refreshing drinks to beat the heat," explained Shahzia.
"For my outfit I really wanted something Pakistani-inspired as I love how effortless and elegant Pakistani brides look. We went for a long pale pink top and lehenga with a chikankari dupatta paired with another chiffon dupatta. I couldn't be happier with how it turned out! We gave out little bubble cans to the kids and asked them to blow it while I  made my entry with 'Nenjikulle' by A.R Rahman playing in the background. My fiance, Nasif made his entry with a flower shower and the song 'Angel' by Robin Thicke was played. I really  love that song and feel it's perfect for a groom entry!" adds Shahzia.
"I was really particular that I wanted the engagement at home. It took a lot of coaxing the mom and dad as they were totally against the idea. I wouldn't say it was the best decision as we had to have a tarp tent to keep out the water in case it rained and the tent like canopy over it. So it felt like, heat was just getting trapped in. Other than this the function went off without a hassle," she adds.