Sabyasachi Lehenga Price : So, How Much Does a Sabya Lehenga Really Cost?
BY Sakshi | 07 Jul, 2017 | 621774 views | 9 min read
A Sabyasachi lehenga is much more than just a garment. It's what a lot of brides choose to wear on their wedding day, and there is a definite charm about them. While it is on the wish list for a lot of brides, if there is a big reason why a few brides cannot wear one despite wanting to, then cost is a big factor. Do you know how much does a Sabyasachi lehenga costs?
So we thought to address the elephant in the room and get to the point for all your curious souls out there.
Sabyasachi Lehenga Cost 101: All You Need To Know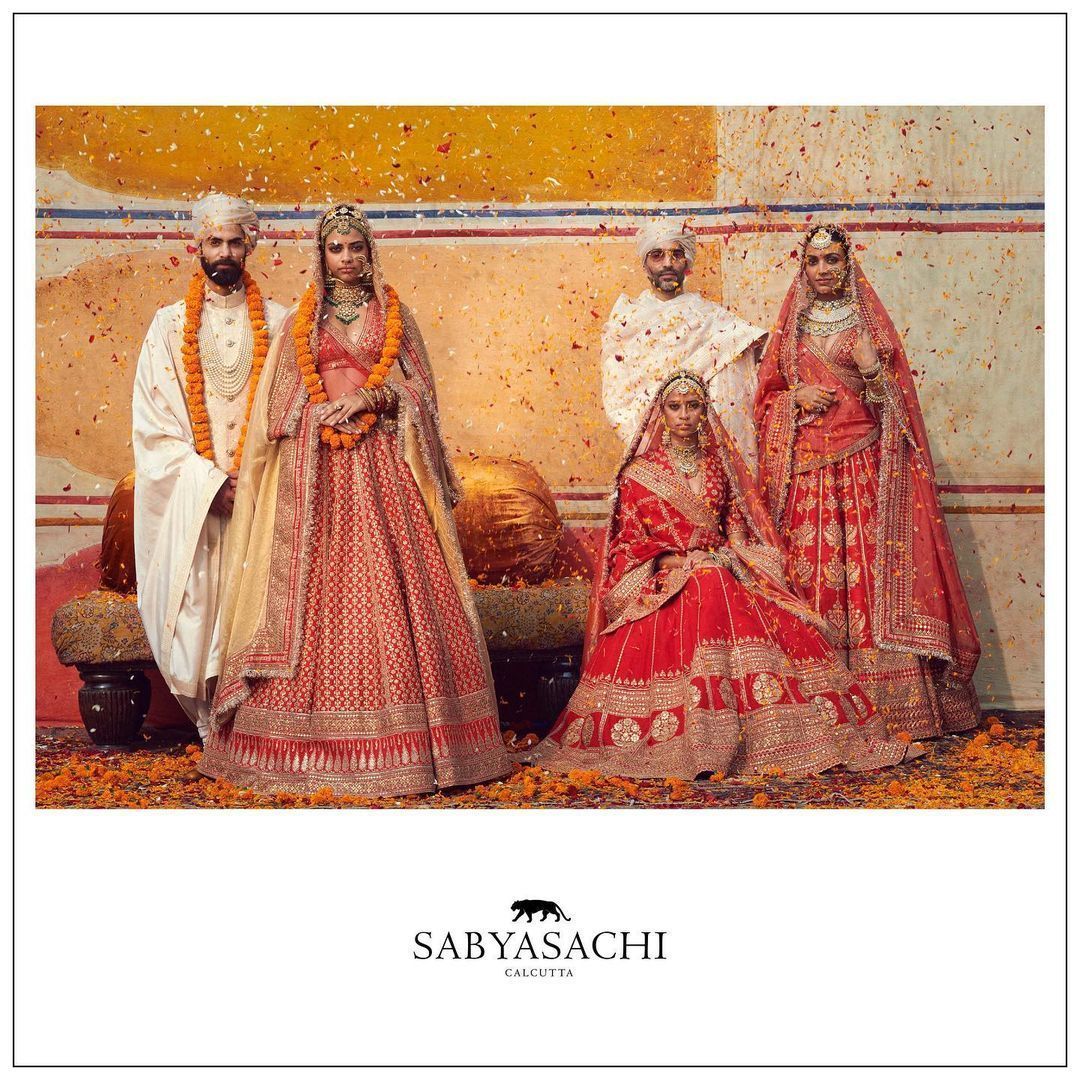 So, how much does an original Sabyasachi lehenga cost?
So Sabyasachi outfits start from a price range of about 90k. As far as lehengas are concerned, they are priced at a higher price point. Getting straight to the point, a Sabyasachi lehenga costs anywhere between 2 to 7 lakhs. When it comes to the lighter, non-bridal lehengas, they range around Rs 1.75- 3 lakhs- the simpler lehengas, better suited for smaller functions like the Mehendi or the Sangeet.
If you are looking for a more 'bridal'  Sabyasachi lehenga cost can vary anywhere between Rs 3.95 to about 7-8 lakhs, depending on the customisation. The heavy bridal lehengas are priced 6 lakhs and upwards. These are stocked mostly in their flagship stores and in the multi-label stores like Aza and Ensemble. So yes, no bridal Sabyasachi lehenga cost will be less than about 3 lakh rupees. The heavier work you opt for, the more the rate goes up. There are also some couture pieces which go up to 25 lakhs.
20+ Sabyasachi lehenga with prices
Sabyasachi Mukherjee dropped his latest collection earlier this year and we are floored. Lehengas in this 2021 collection are unique and so refreshing, with burst of colors, bold prints and not to forget floral.
Bohemian Weddings
If you are a bride who likes all things boho, then this Sabyasachi lehenga collection is just perfect for you.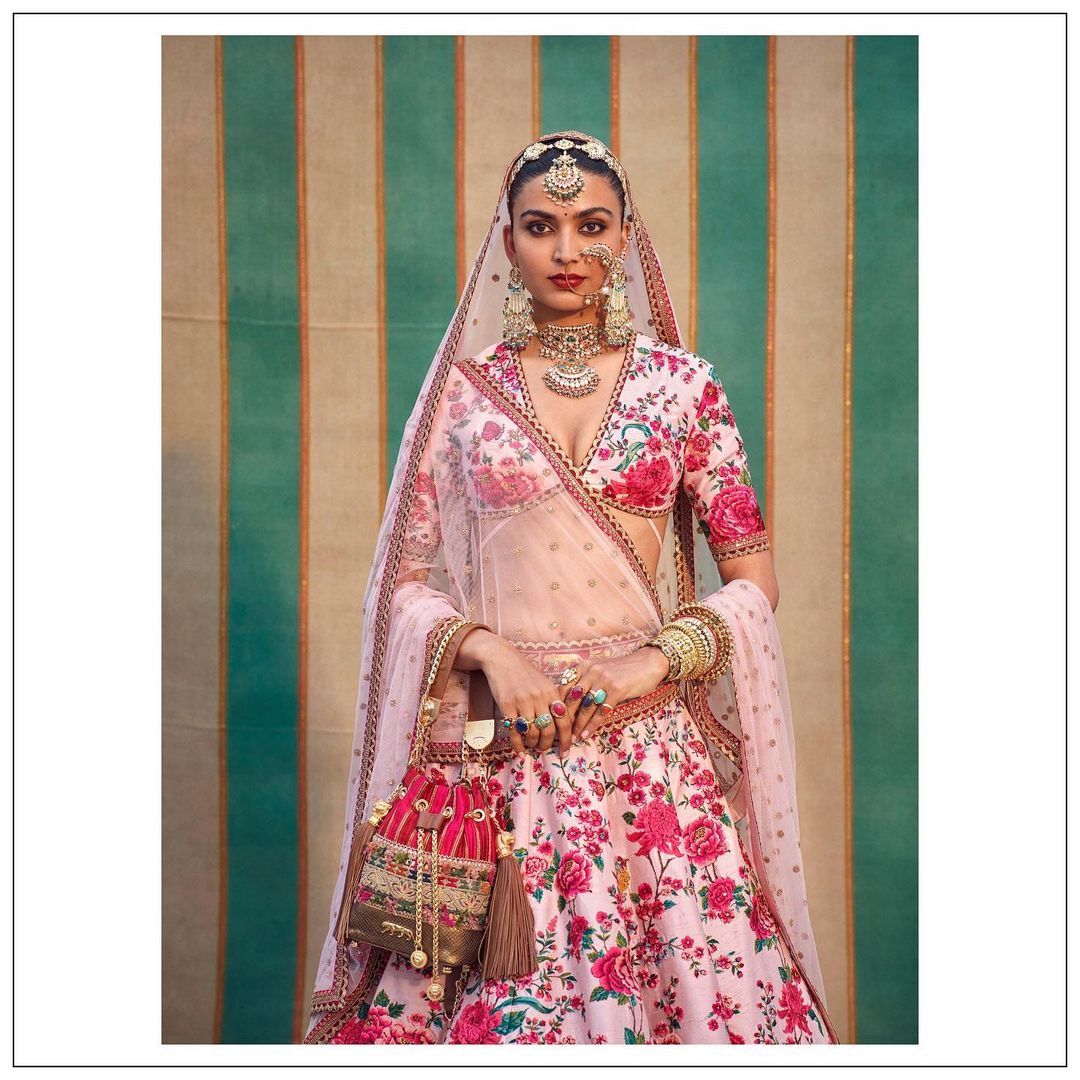 First up is this stunning floral lehenga in shades of pink. Big floral designs in deep pink over a lighter tone is a great pick for a day wedding.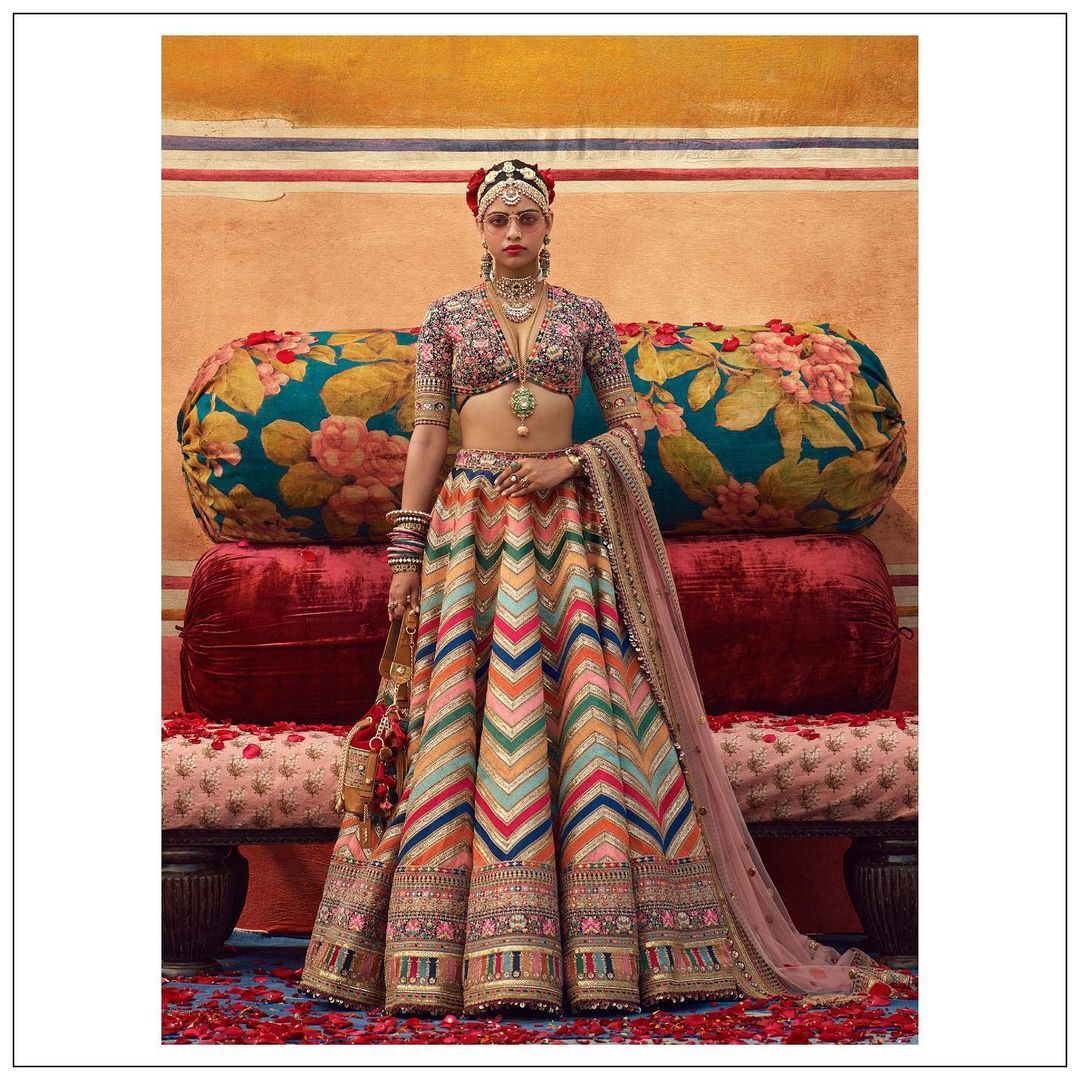 This chevron Sabyasachi lehenga is already a big hit amongst brides, weve spotted so many of them rocking this offbeat lehenga. If you are someone who is looking for a lehenga that is a little hatke than the usual floral and embroidered patterns, then this one's for you.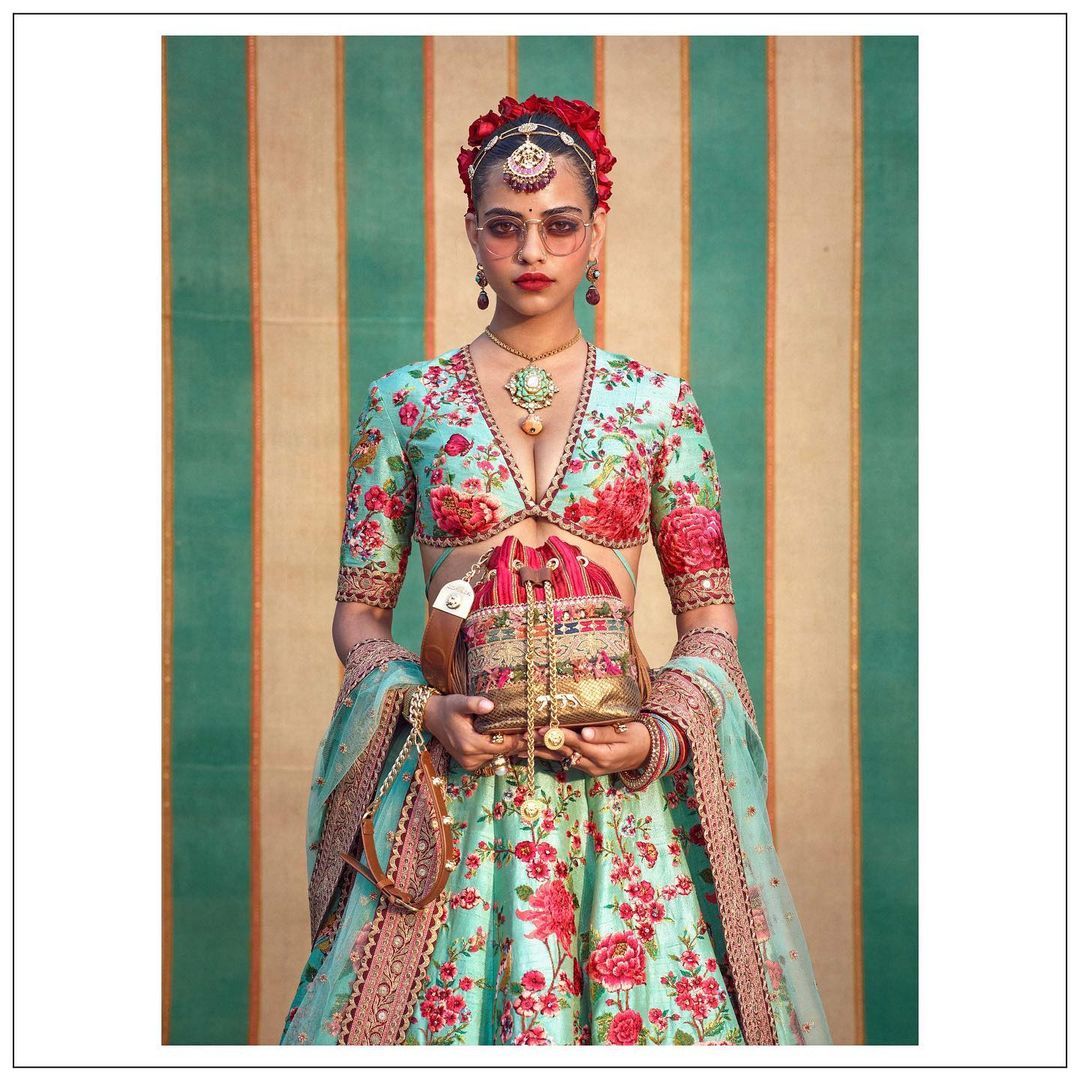 Looking for a fresh hue for your bridal lehenga, then your search ends with this floral Sabyasachi lehenga in turquoise. So unique!
Nautch Nautch
Want to wear red at your wedding, but also orange, and mauve and oh mustard? For all you brides who cannot decide on what color to wear on your D-day, this collection by Sabyasachi has some really interesting pieces for you.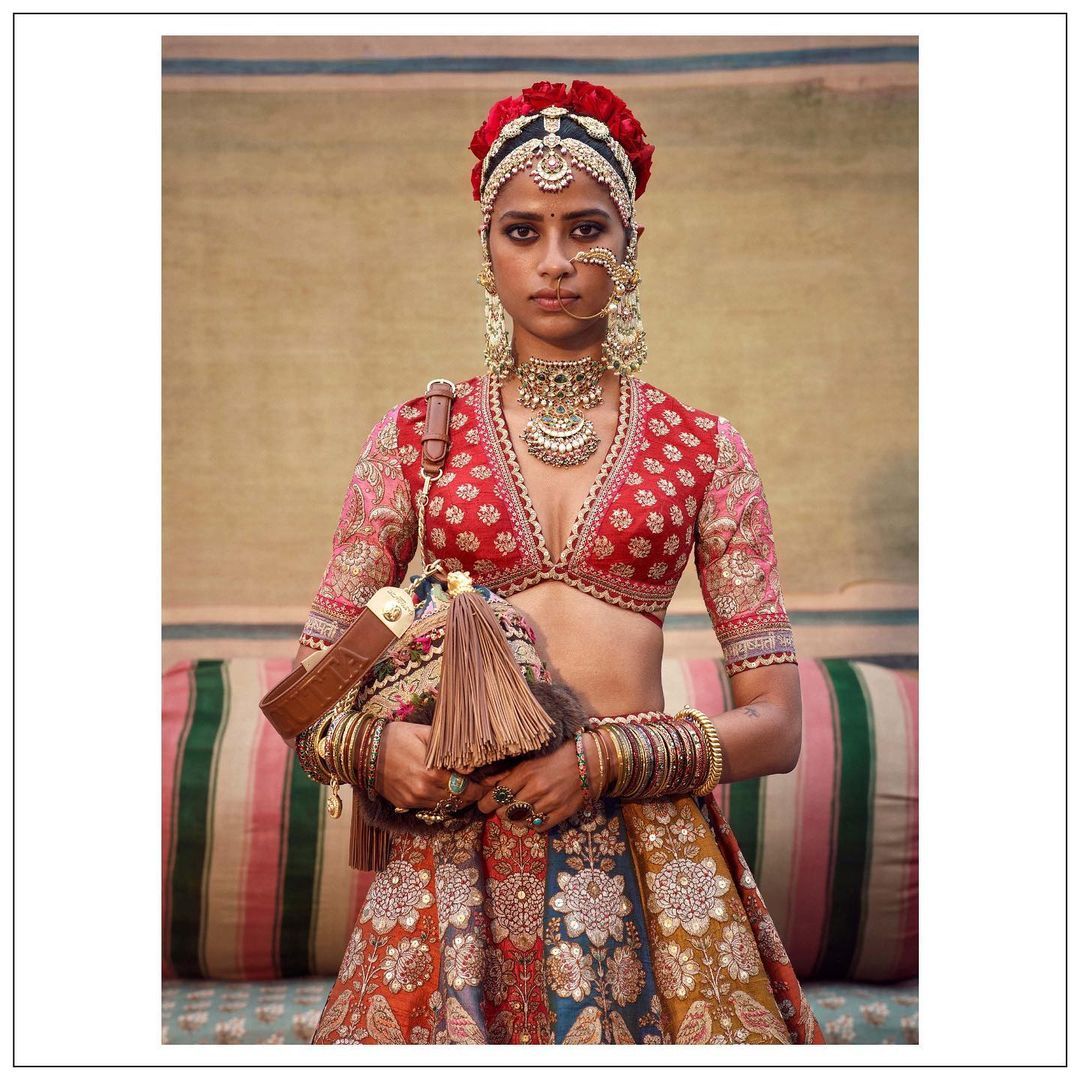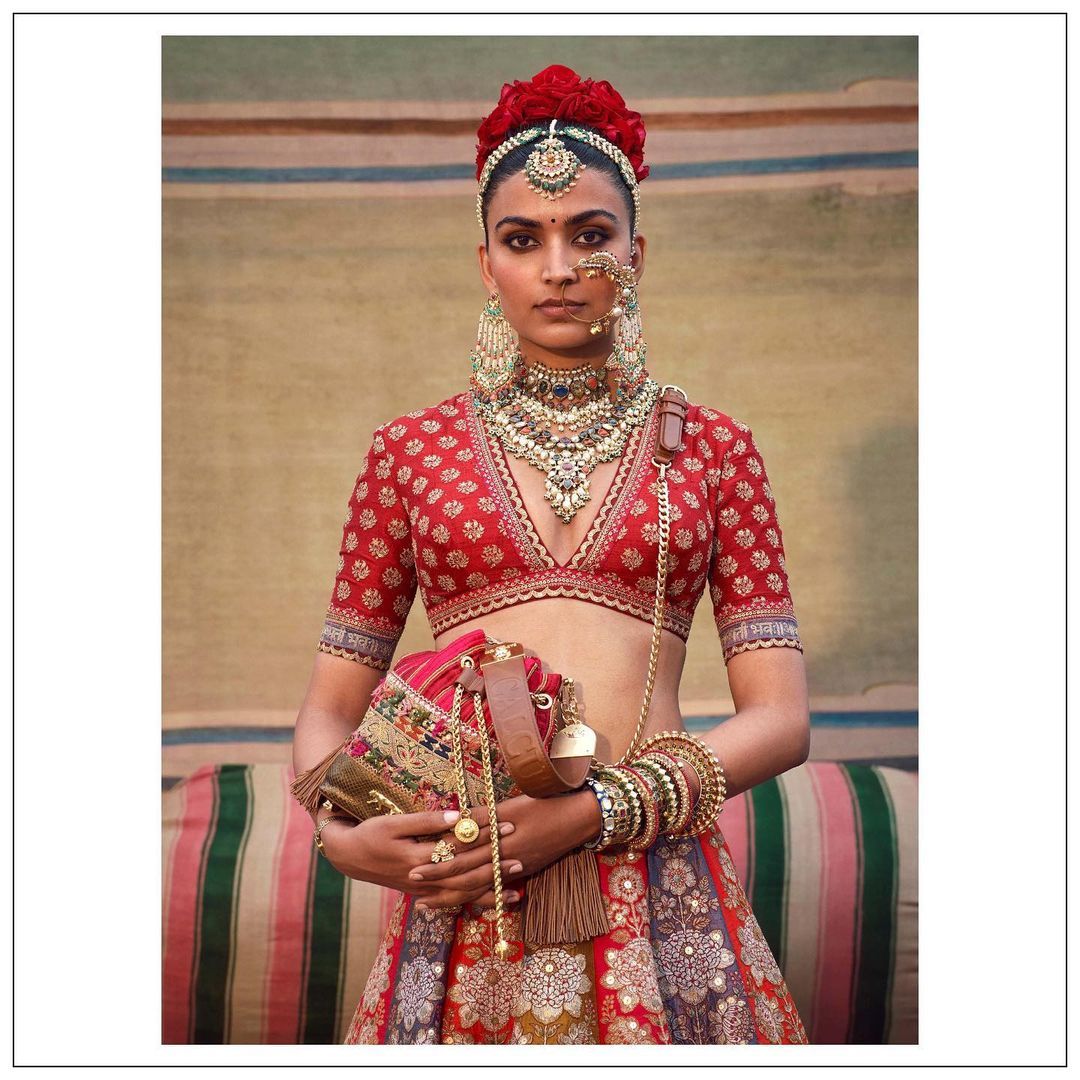 Vintage Pastels
Most modern brides are going for pastels. And we think it is a great choice, gone are the days where Indian brides wore only bright colors at their wedding.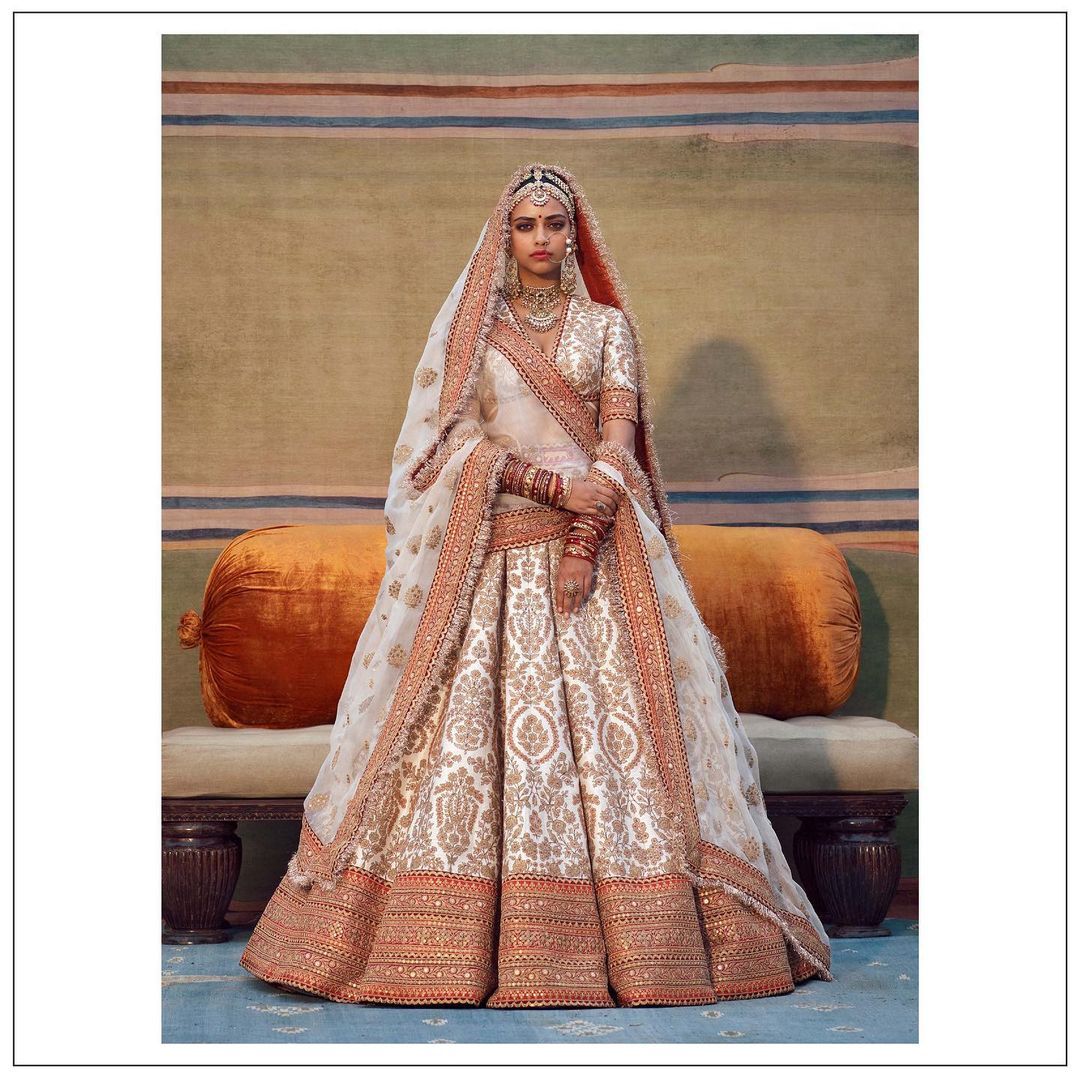 This oh so pretty ivory lehenga by Sabyasachi is a dream come true. A white lehenga with hints of gold and red is ideal for brides who wish to wear this hue at their wedding.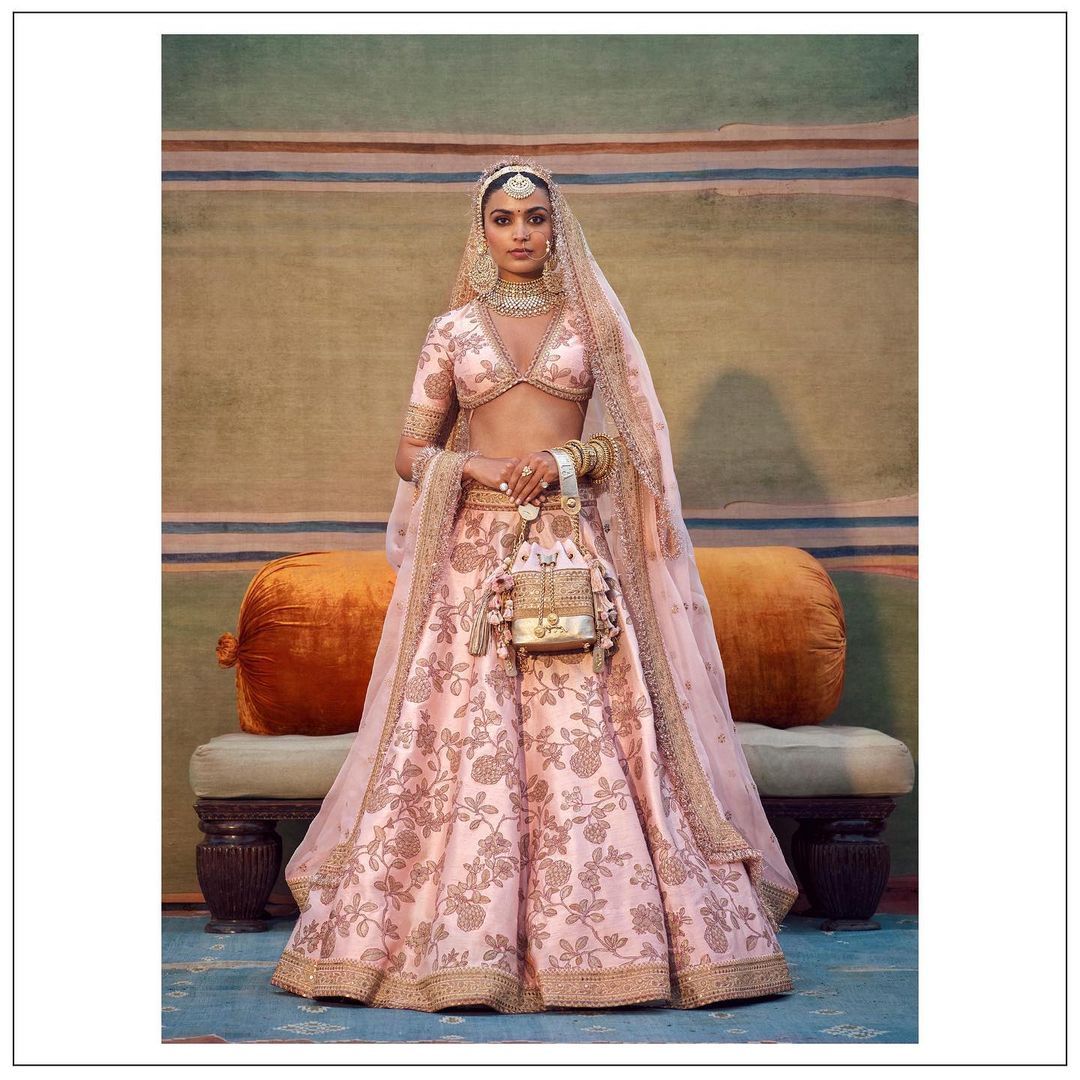 When we talk about pastels, how can we not talk about pinks. They surely have a special place, this beautiful Sabyasachi lehenga with dull gold embroidery has to be one of our favorites.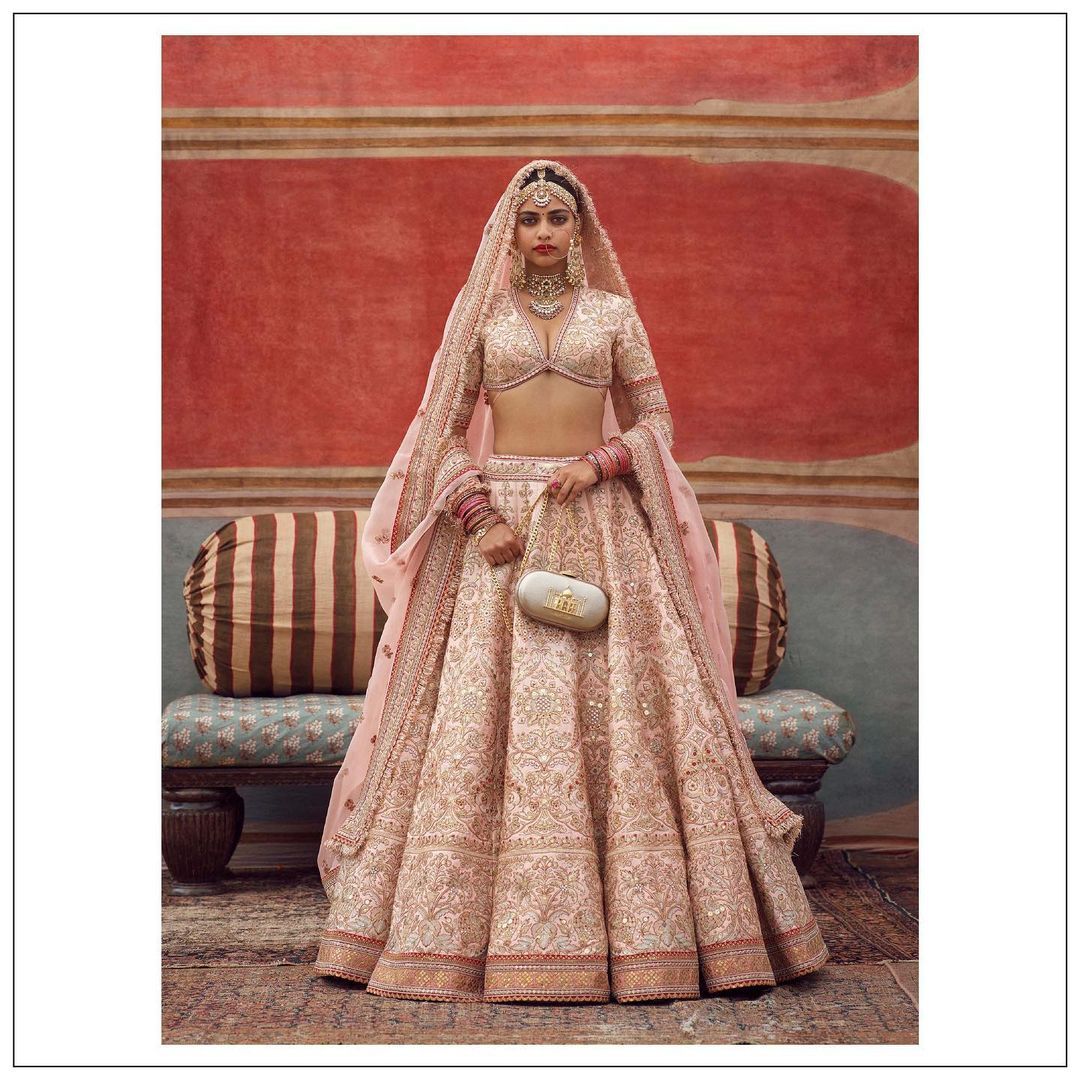 We are clearly a little obsessed with pastel pinks. This gorgeous Sabyasachi pink lehenga with overall embroidery have a piece of our hearts.
Gulabi Raja
Spectacular is the word that came to our mind when we saw this Sabyasachi lehenga. Emerald green skirt, maroon blouse and a light pink dupatta. So different yet so pretty. Brides, didn't this one tug at your heartstrings.
Laal
How can we talk about bridal lehengas and include some traditional reds. I  mean no one can really go wrong with a red lehenga for their wedding. Every bride must have once thought of dressing up in a red lehenga at their wedding, well one look at this collection by Sabyasachi can definitely convince you for this.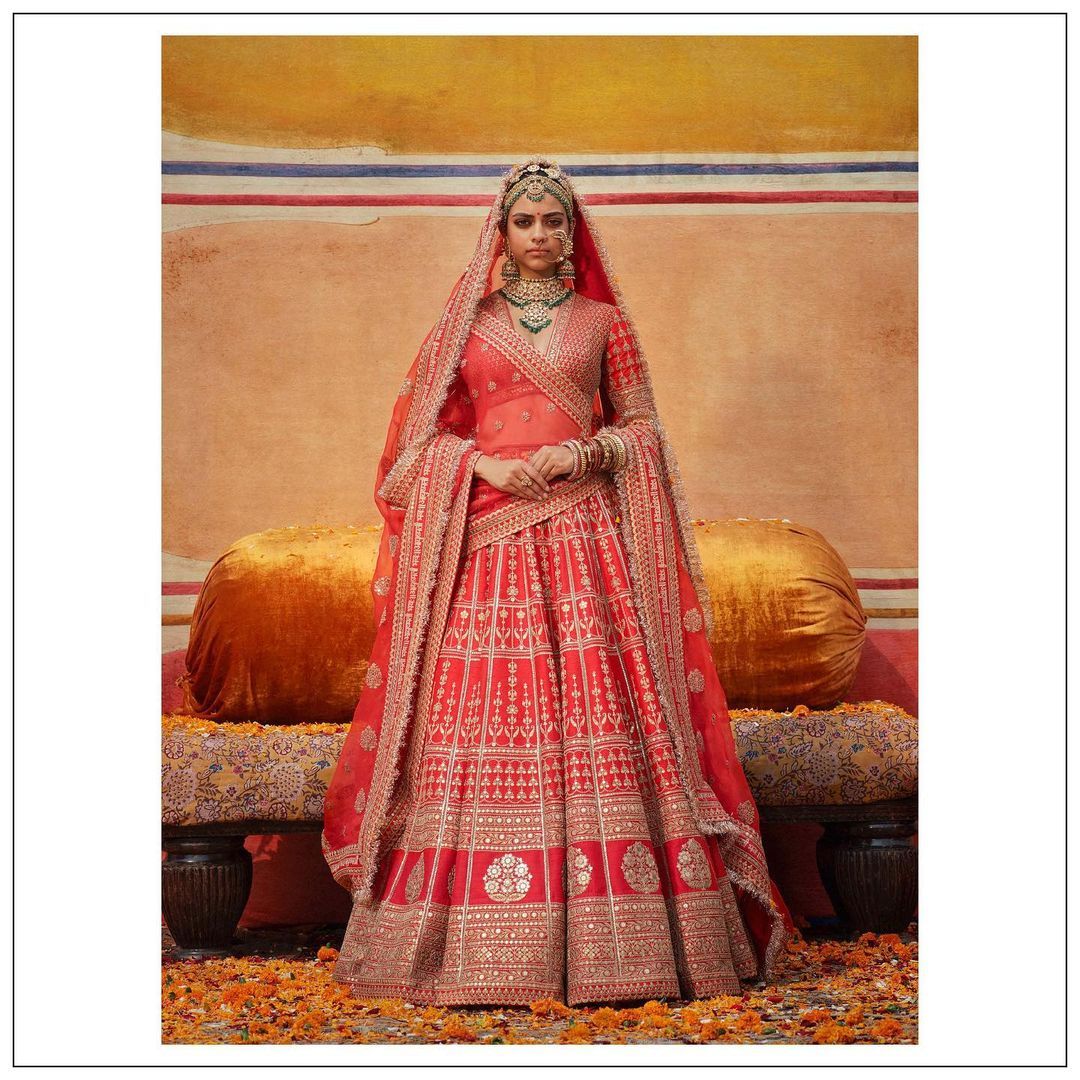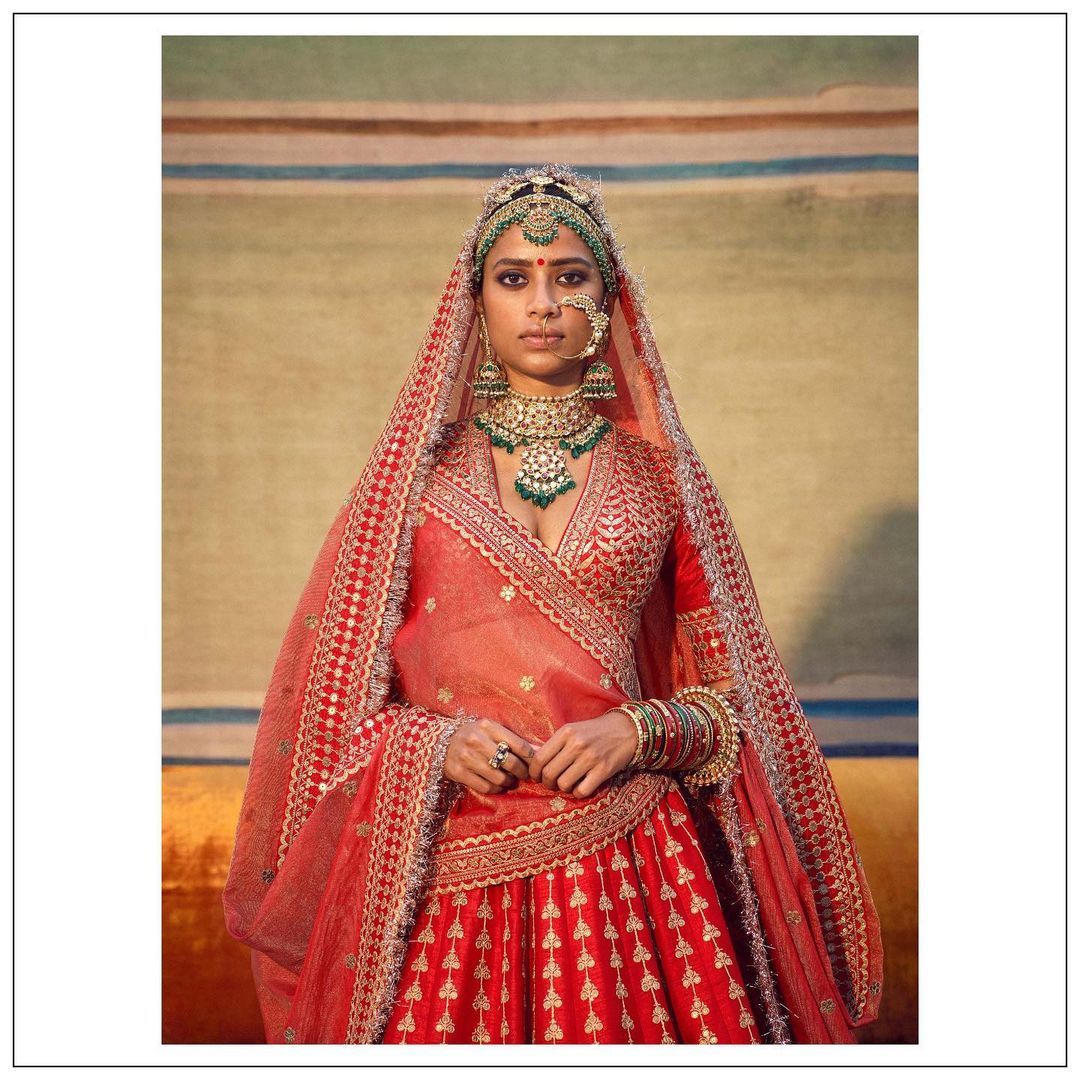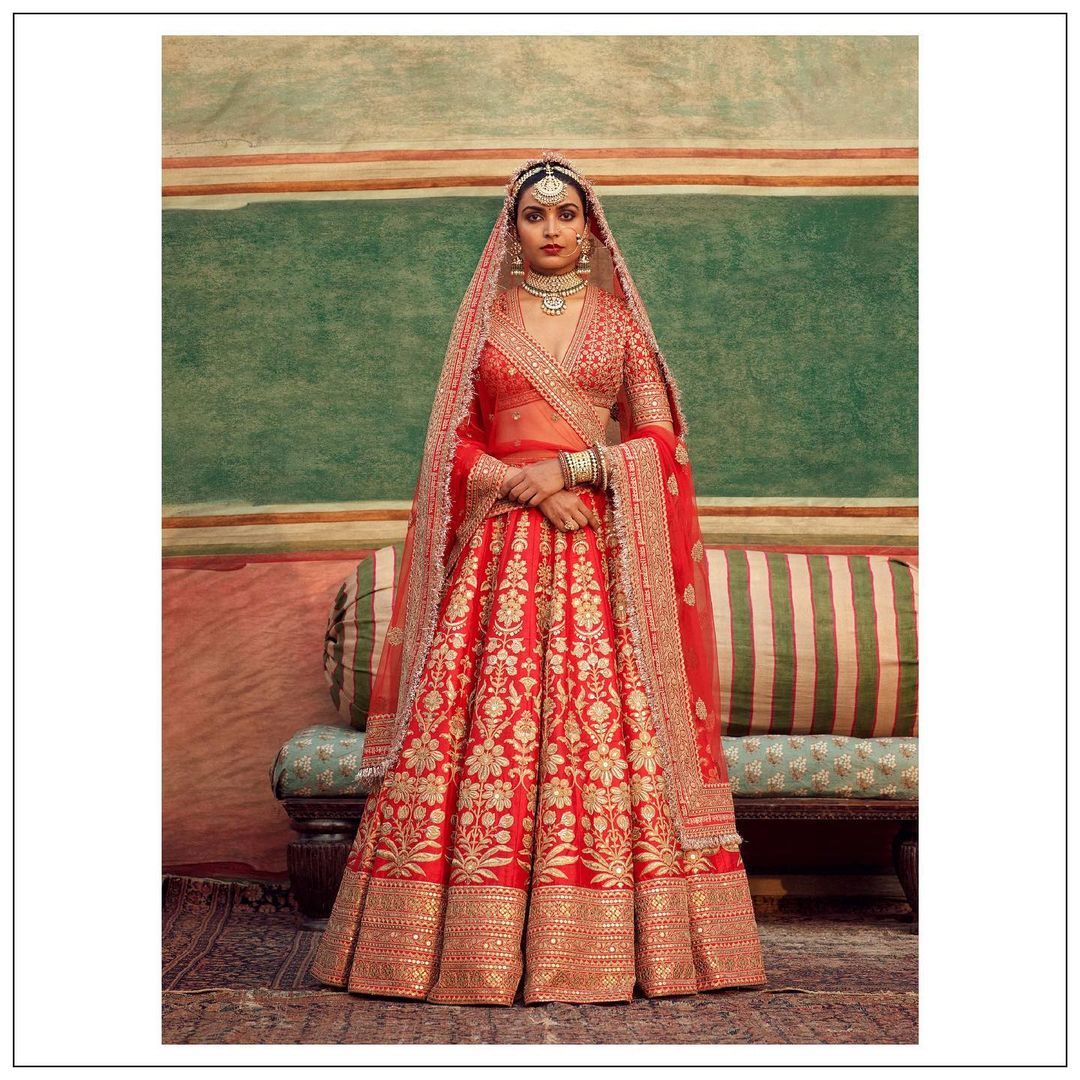 Please note: Prices of all Sabyasachi lehengas from the 2021 collection are available on request.
Here are some prices for a few Sabyasachi lehengas as of 2019, so that you have a better idea at their cost.
Vintage Banarasi lehenga - INR 2.65 lakhs
Sabyasachi's Benarasi lehenga collection received much attention back in Amazon India Fashion Week. The clever combination of lehenga and banarasi won lakhs of hearts, giving a royal touch-up. If you ever speculate on the lehengas, you will notice subtle golden or silver delicate designs, which are a specialty of the kind. Higher the number of materials used, the higher is the price. The lehenga won't give you any short of the vintage as well as aristocratic feeling.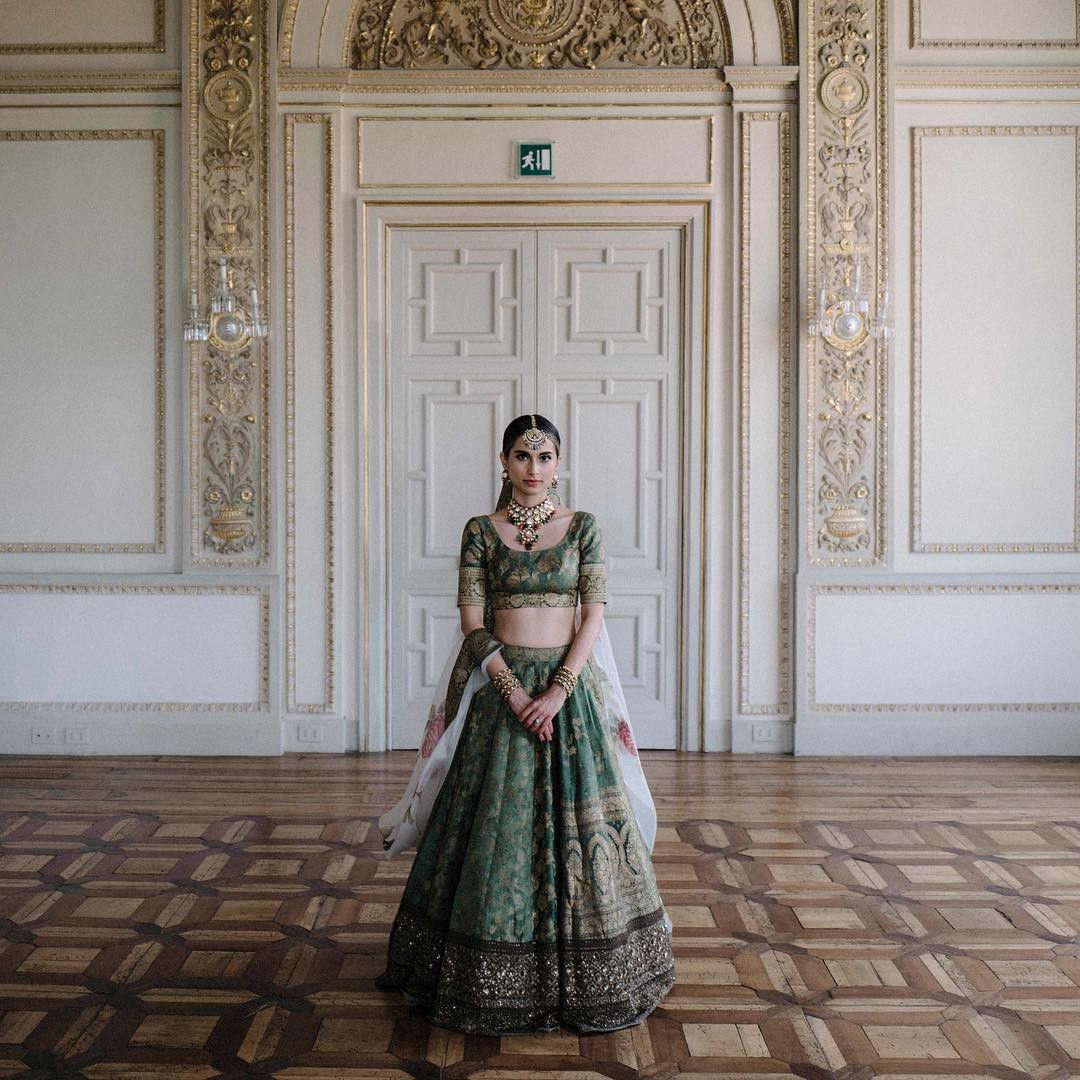 Silk Banarasi lehenga - INR 2.65 lakhs
I bet every girl out there dreams of getting all dolled up in an emerald Sabyasachi red silk banarasi wedding lehenga, walking down to the mandap. Half of your time must be gone behind scrolling through Pinterest or Instagram, organizing that perfect wedding in your mind. Yes, we do understand this feeling. The simple yet classic lehengas are what we do crave the most. Pink ones with floral print were in great demand. It's going to be so hard to choose one with the wide sea of assorted choices laying in front of us.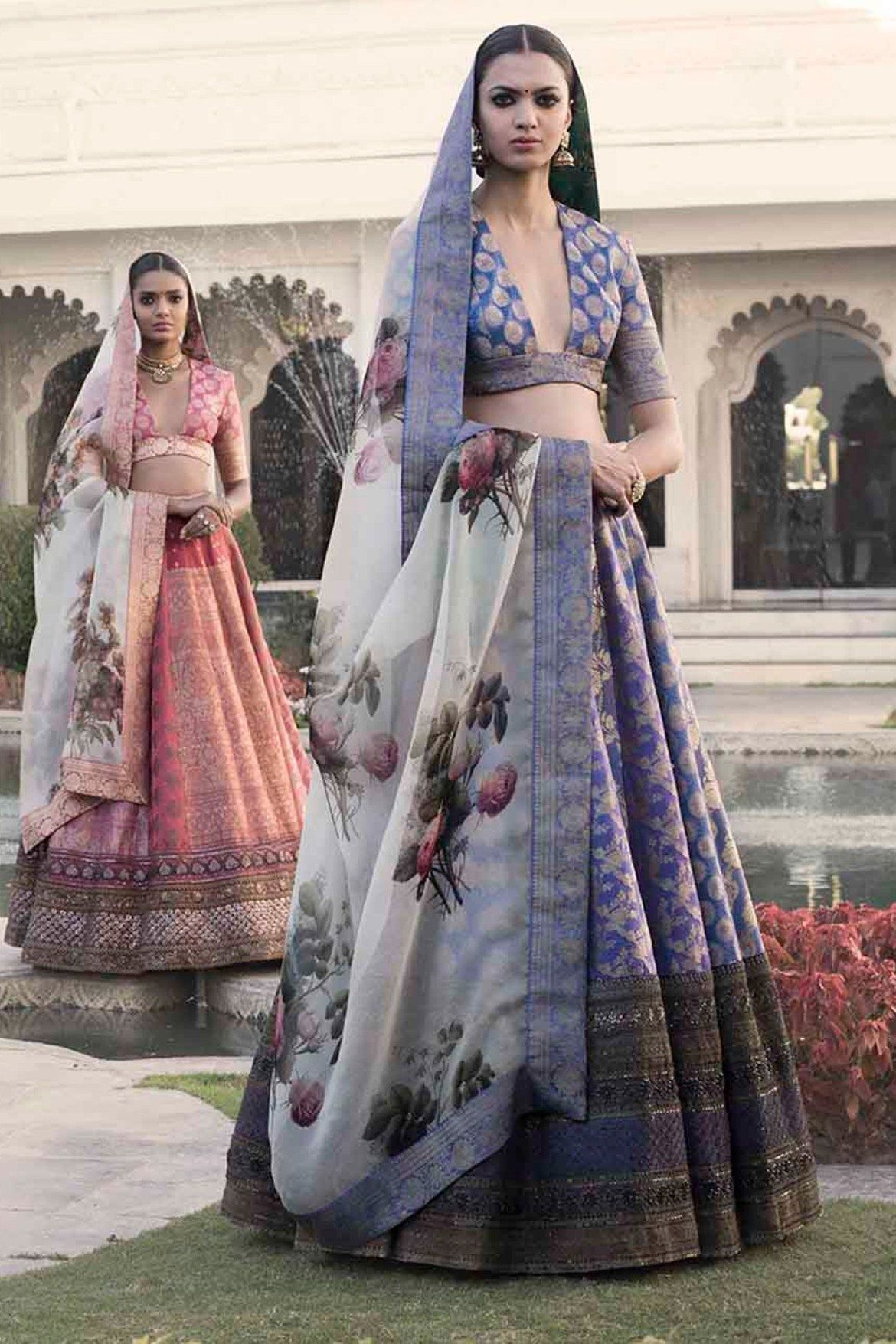 Mint embroidered lehenga set - INR 2.95 lakhs
Mint is indeed one of the prettiest colors out there. Each embroidery runs smoothly underneath the fingers and you won't even feel the difference, the epitome of ultra-fineness. The blouse is generally customizable and you can drape the dupatta in whatever way you want and can. This is more for the smaller events. Hence, we highly recommend this Sabyasachi lehenga for the girls' party.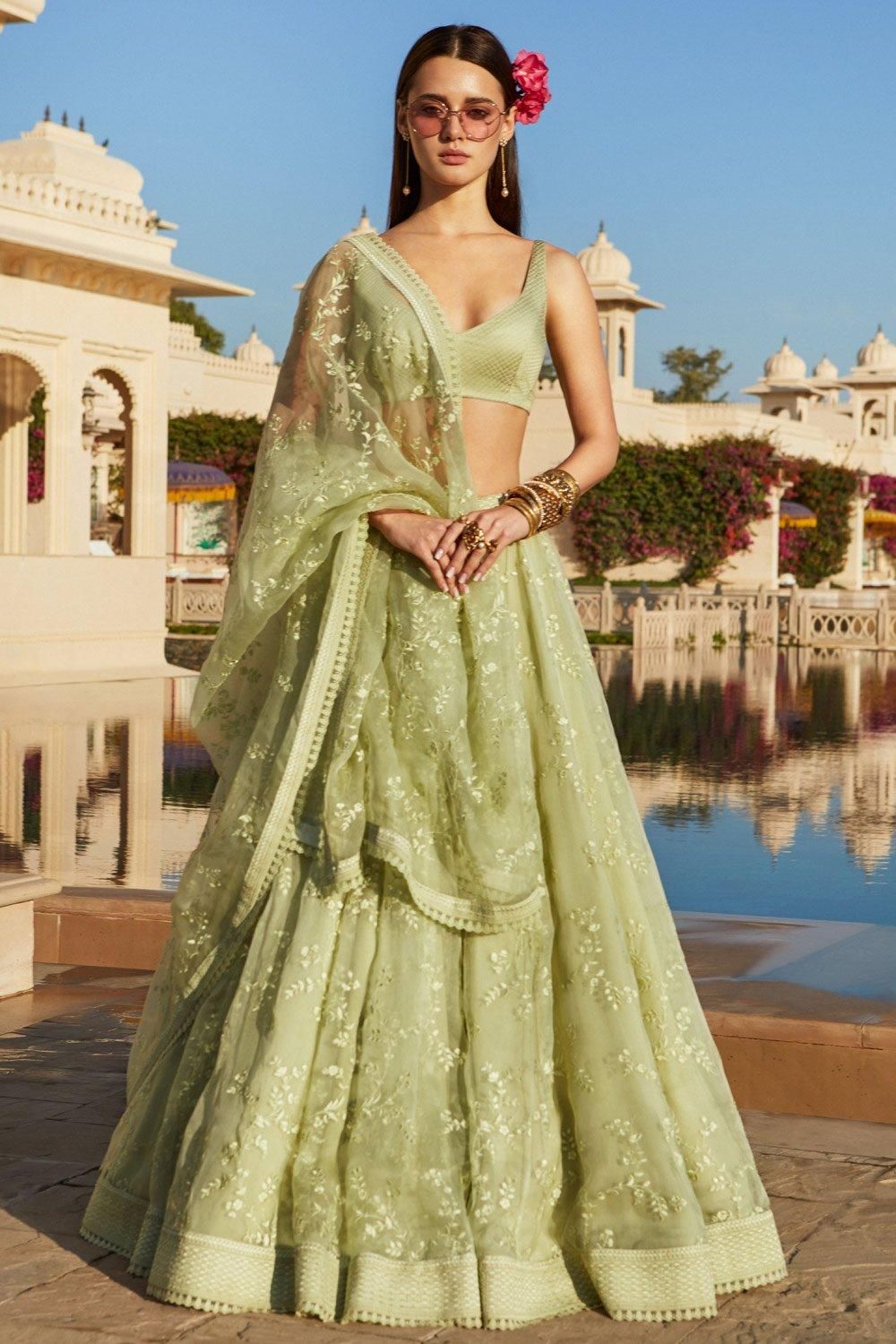 Champakali lehenga - INR 3.45 lakhs
This one is the ideal sabyasachi bridal lehenga and till now tops our favorite's list. The royal red Champakali Lehenga with golden embellishments shines like a diamond amid the coals. Well, it's definitely wrong to term "coal" to any of his collections. It would feel like a scene straight out of a Banshali movie if the bride walks down to the stage wearing the red fire.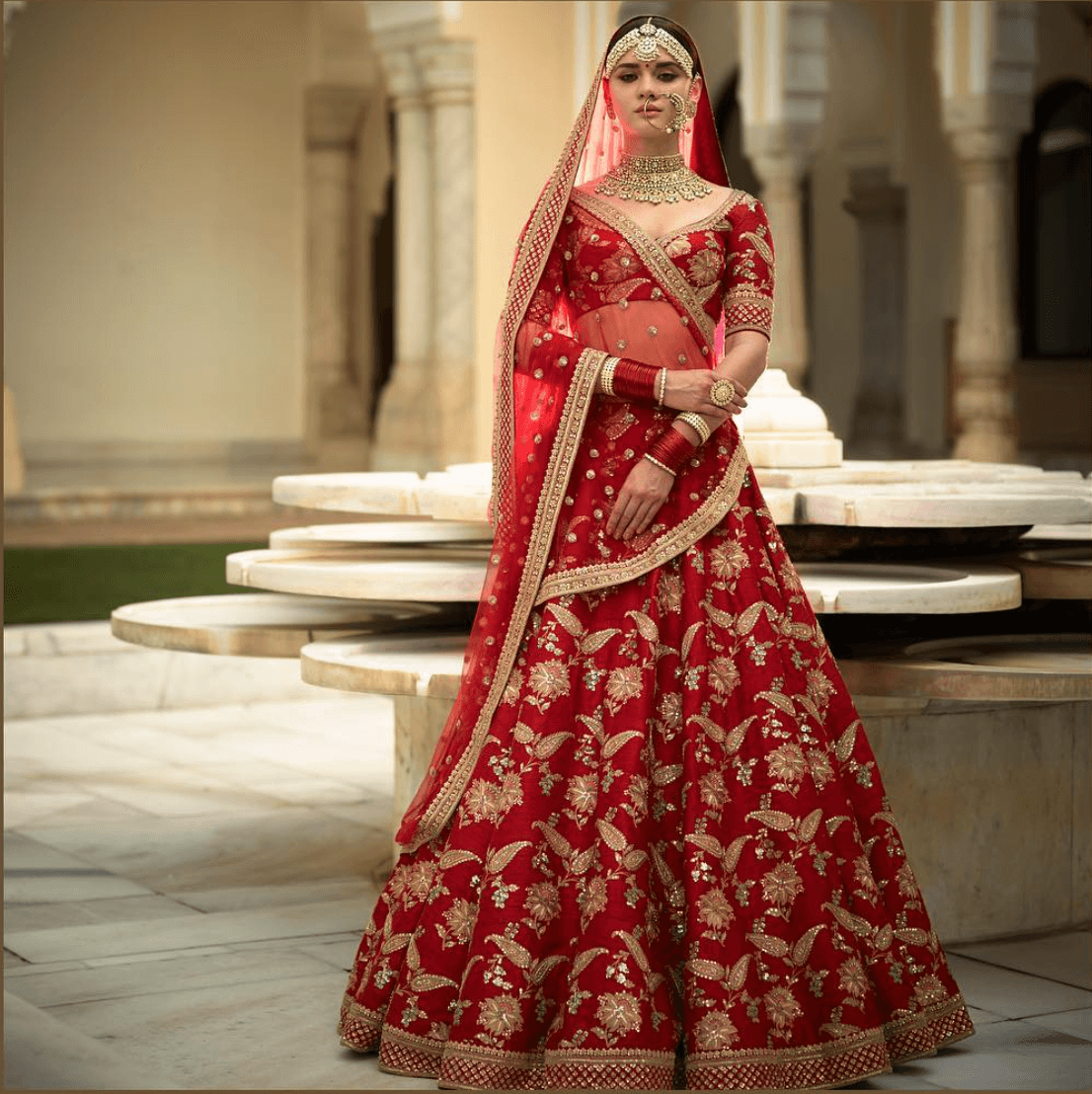 Ivory gold Sabyasachi lehenga - INR 3.95 lakhs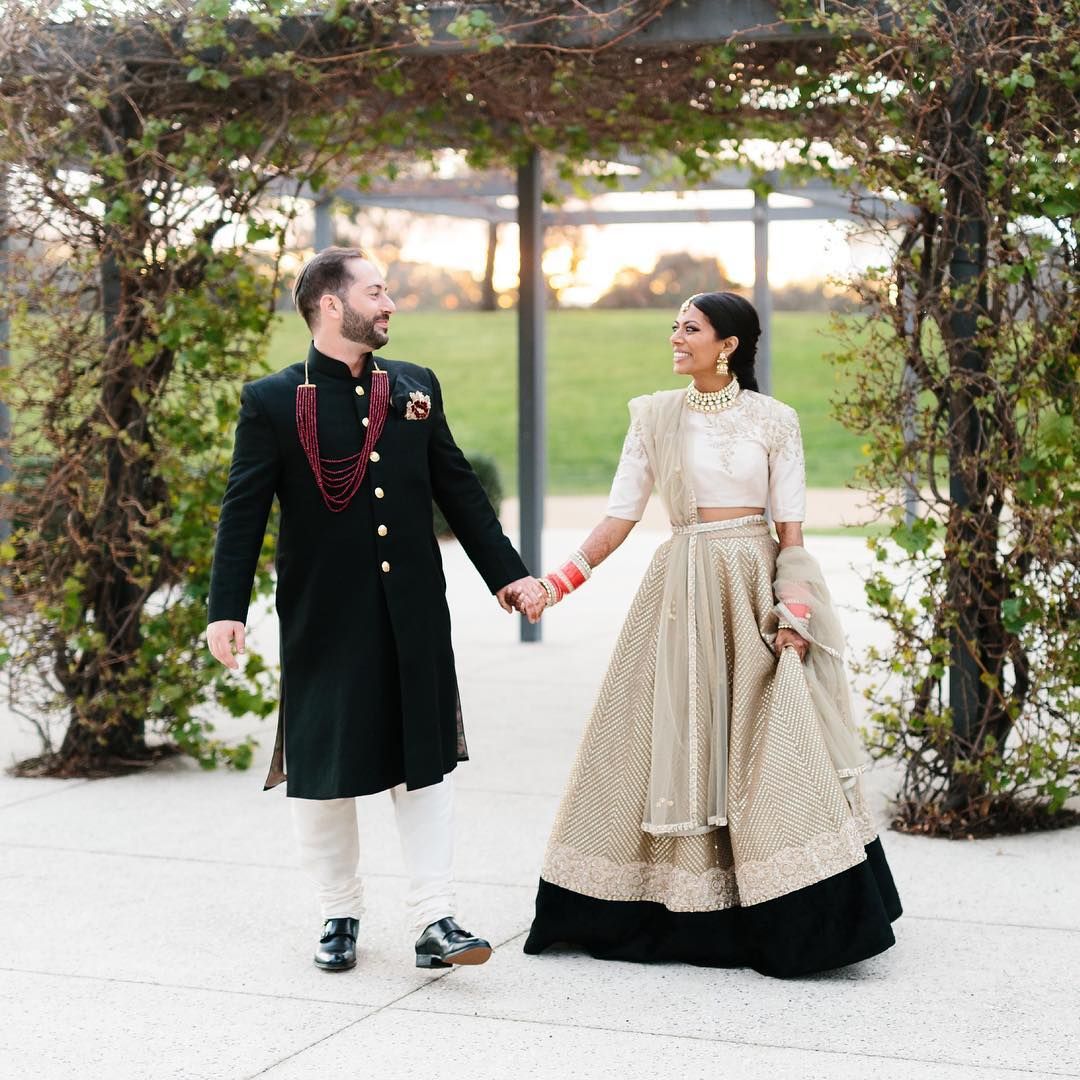 Image via @erinandtara
Floral lehenga - INR 3 lakhs
This lehenga is definitely perfect if one is getting married during Springs. Totally mingles with the ambience and mood. The floral lehengas won't have much glamorous designs but a soothing texture calming to the eyes. Many say it's not bridal enough, but absolutely one for wedding parties.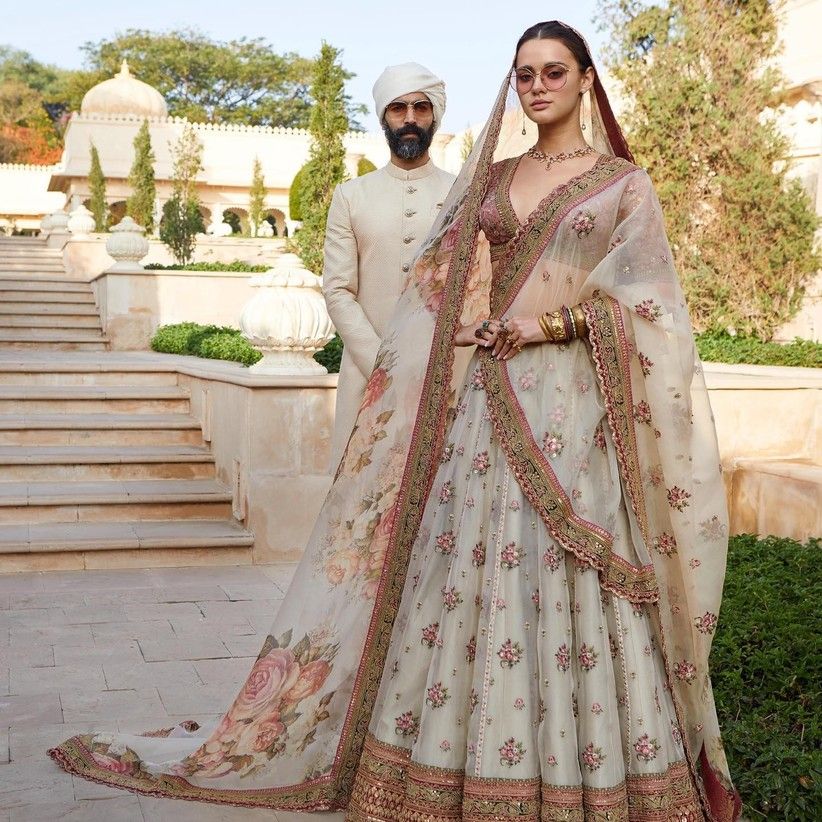 Firdaus lehenga in Dark Grey- INR 4.95 lakhs
Our choice definitely goes for the darker shades. The juxtaposition of deep coloured fabric with silver beads is what makes this Sabyasachi lehenga stand out from the crowd.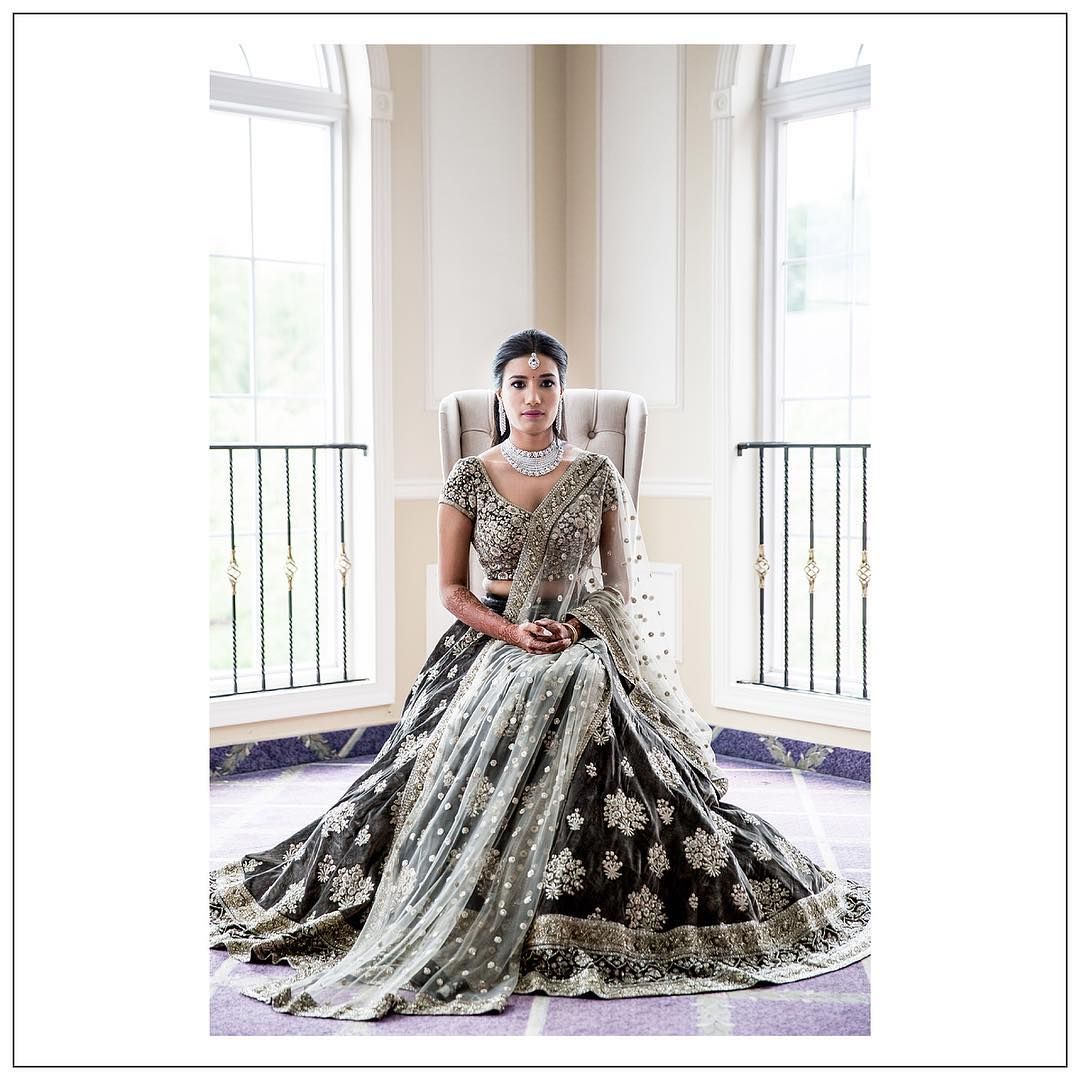 Image via @salwaphotography
Dil Guldasta lehenga - INR 8.50 lakhs
You must have already seen Deepika Padukone adorned with the Dil Guldasta lehenga. Needless to say, we get a whole Frida Kahlo vibe from there. No wonder it is a real hit amid the bride-to-be(s).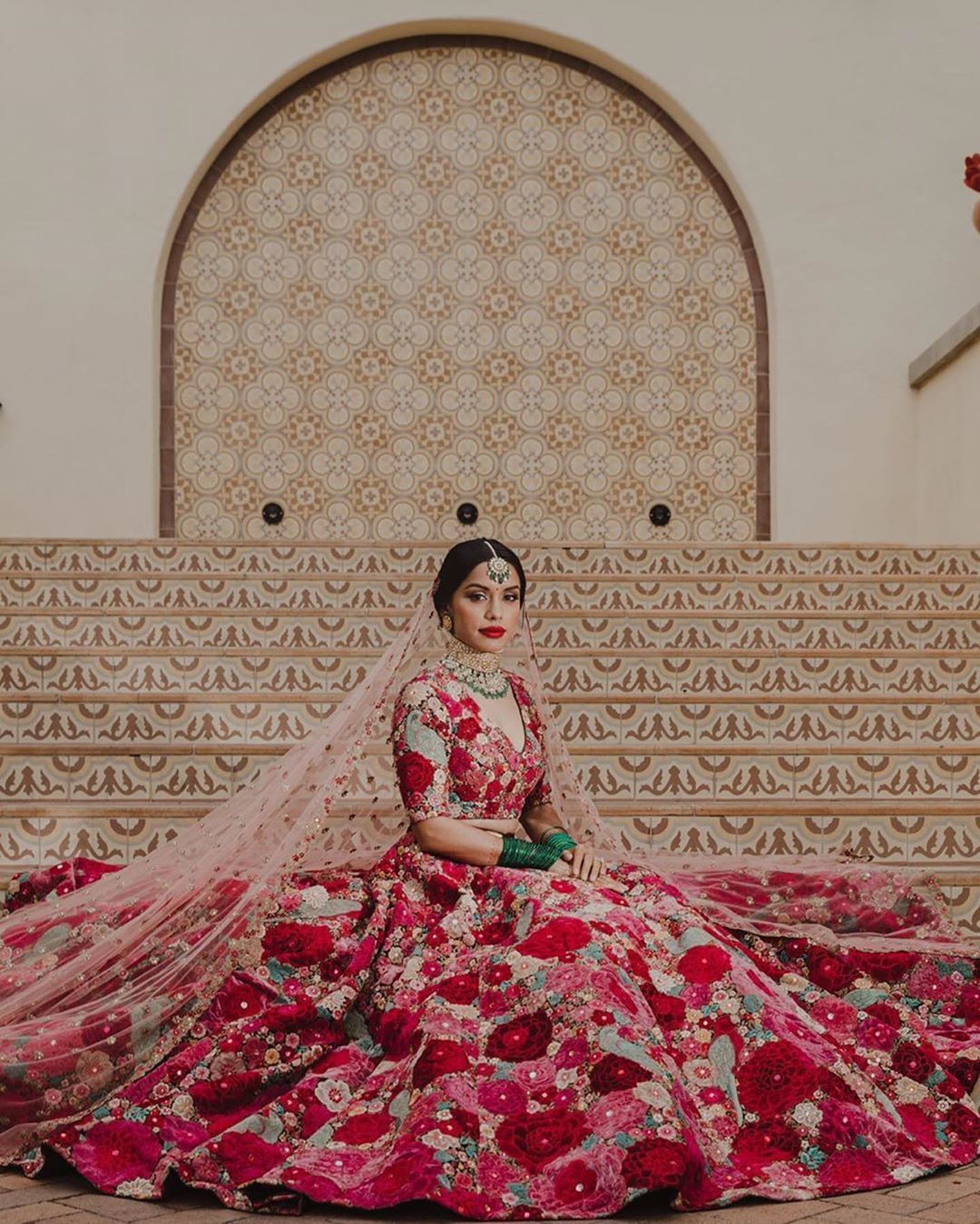 Image via Mili Ghosh Photography ★ 5
Anushka Sharma bridal lehenga - INR 8.75 lakhs
One of the top Google searches back in Virushka's wedding was "Anushka Sharma Sabyasachi Lehenga price", "How much does Anushka Sharma's lehenga cost?". Because why not, it was damn pretty to make every girl fall in love with it. Now here is your answer. And no, it didn't cost 1 crore as people were claiming.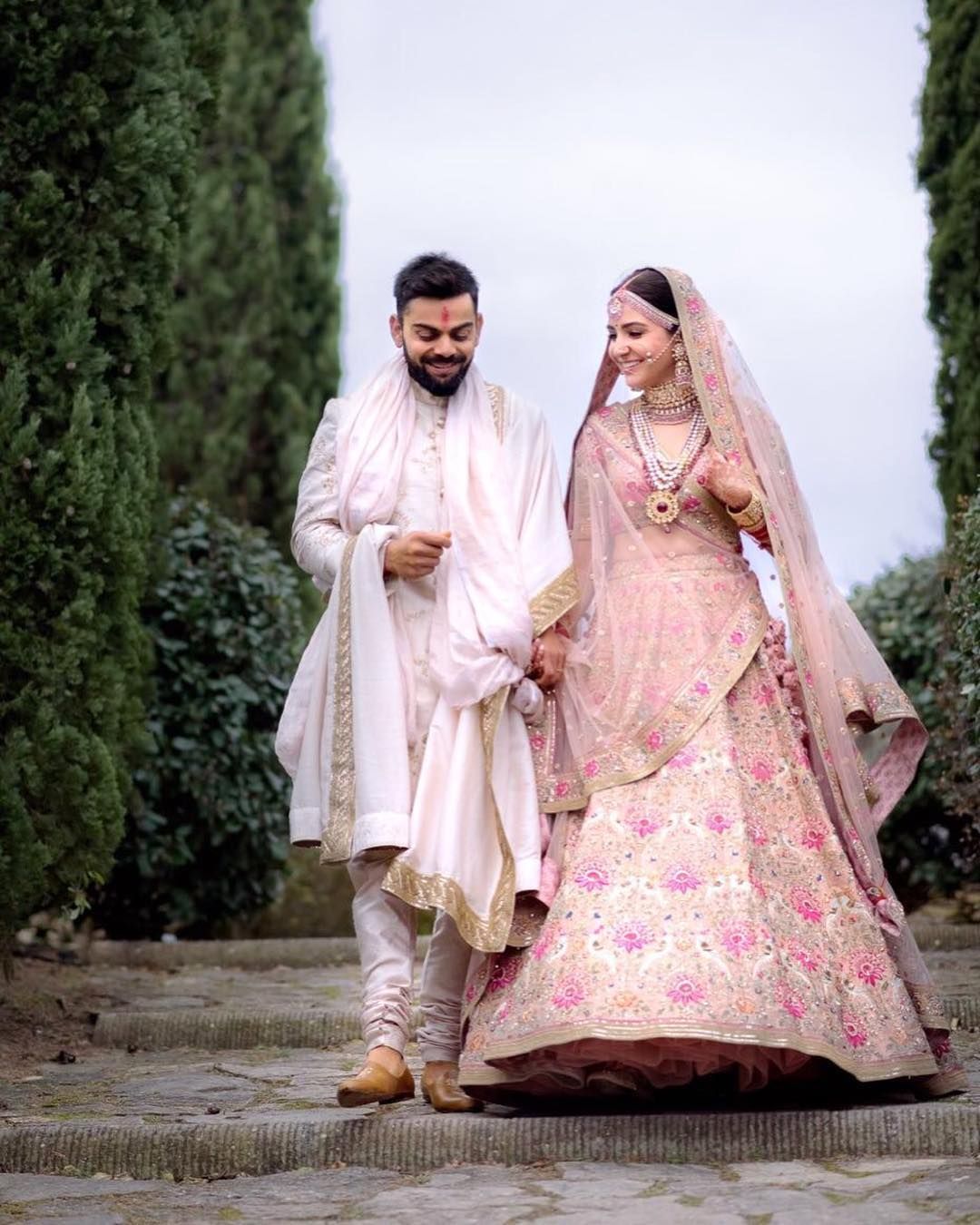 Deepika Padukone bridal lehenga - INR 12 lakhs
Sabyasachi's red elegance absolutely won our hearts when Deepika Padukone's wedding pictures went viral. Netizens literally started comparing who wore it better: Deepika or Anuska? To clear up the confusion, DP's lehenga cost was about 12 lakhs, and not some vague price.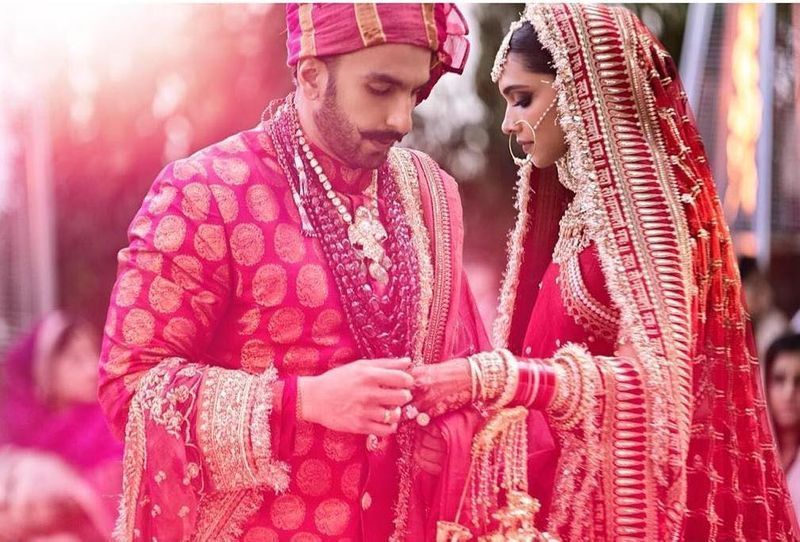 Where to buy a Sabyasachi lehenga Online?
While there are numerous stores claiming to sell a Sabyasachi design but to buy an original Sabyasachi lehenga, these are the websites that you need to check out:
Looking To Inquire Sabyasachi Lehenga Price?
Out of the three brands named above, you will not be able to find Sabyasachi lehenga price on Pia Ka Ghar and The Grand Trunk websites.  You will have to contact them for price information. Instead, head over to Carma Online- your best bet to know everything- from Sabyasachi lehenga price to details of the fabric. Apart from online, you can also head on to any of these Sabyasachi flagship stores to enquire about Sabyasachi lehenga price and even shop your dream wedding lehenga:
Kolkata
SABYASACHI, P- 545 Lake Road, Kolkata- 700029
Bridal Store, 80/ 1 & 2 Topsia Road, Kolkata – 700046
New Delhi
Sabyasachi Couture, Kutub Serai No 6-8, One Style Mile, Kalka Das Marg, Mehrauli, Near Qutub Minar, New Delhi- 110030
Mumbai
Sabyasachi Couture Pvt. Ltd, Ador House, 6K Dubash Marg, Opp: Lion Gate, Kalaghoda, Mumbai- 400001
Hyderabad
Sabyasachi Hyderabad, Plot No. 14, Road No. 10, Banjara Hills, Hyderabad - 500034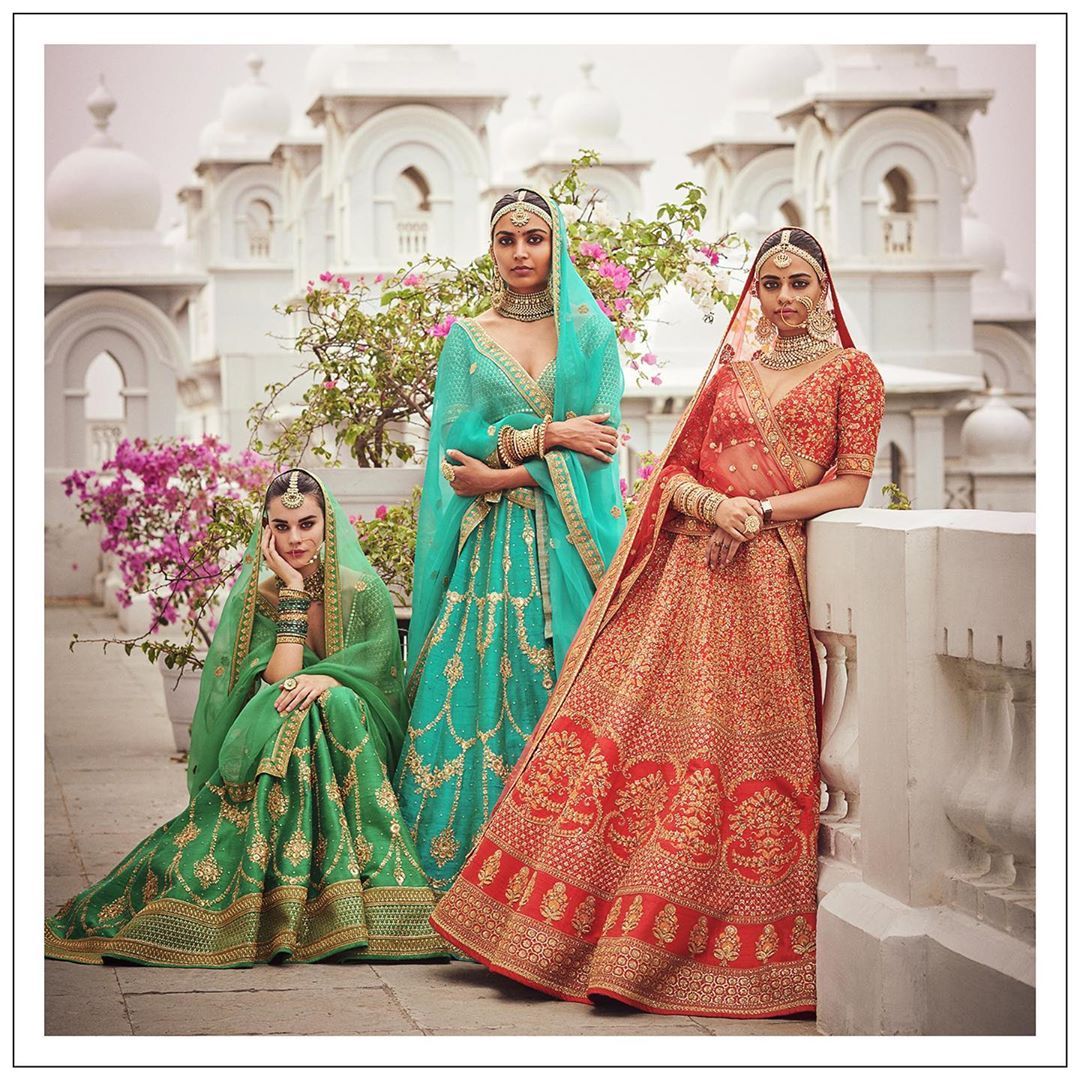 What is the waiting time for a Sabyasachi lehenga?
The waiting time for a Sabyasachi lehenga is usually 2 and a half months, right from start to finish. In case you plan to get your Sabyasachi bridal lehenga customised then you'll be needing alot more time than this. So make sure you plan accordingly!  The lehenga is curated as per your frame and size.
What about customised lehengas?
Customising a lehenga obviously costs more. But it is possible. You can request changes to the dupatta, the blouse etc, and they are done- that is the reason why you see so many brides rock lehengas that are similarm but the blouse and dupatta might differ. Requests can be made, but since Sabyasachi Mukherjee approves every customisation himself, it's rare to get it done.
Can you mix and match and make a lehenga?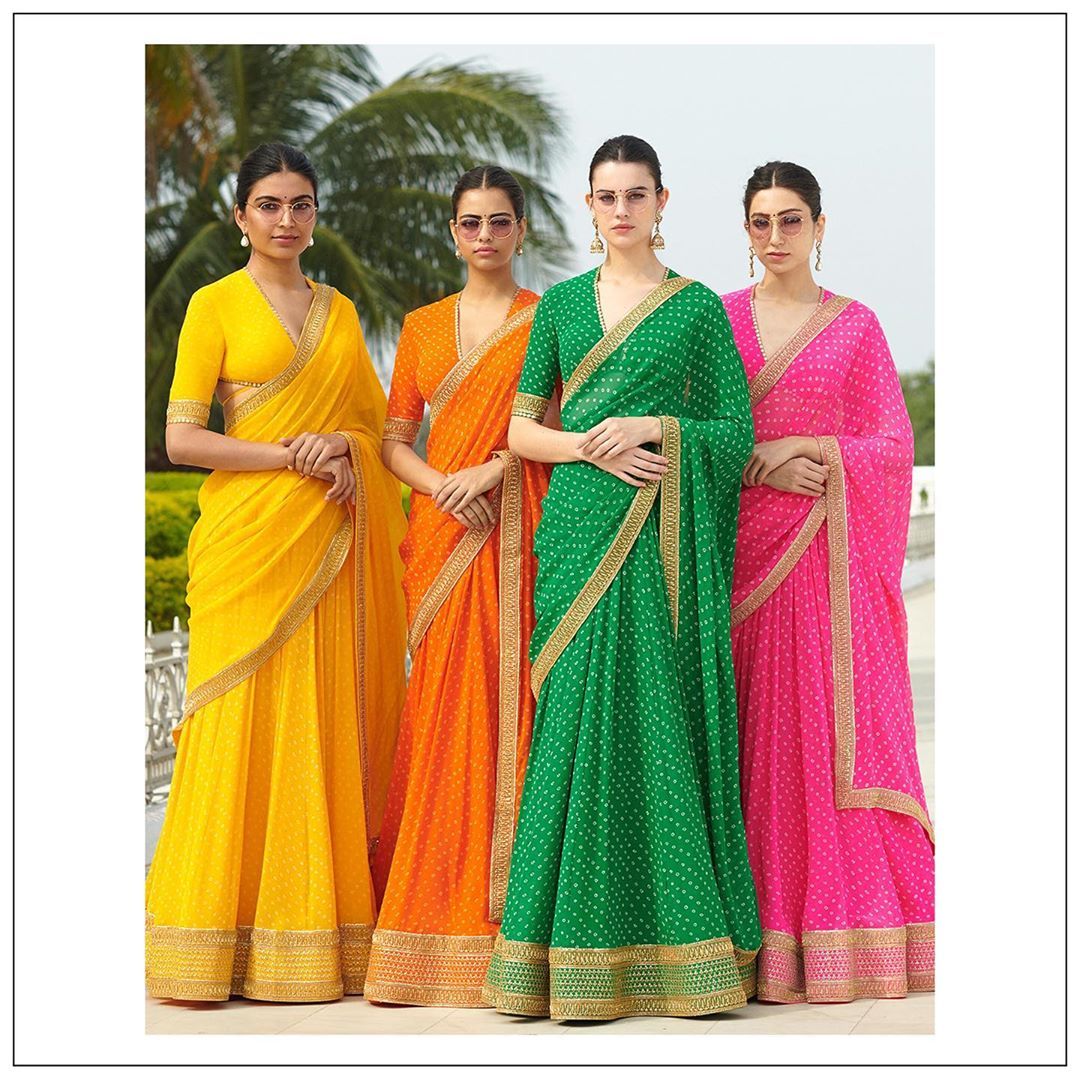 That's another no. You cannot mix and match the choli of one lehenga to the dupatta or skirt of another, unless and until you're buying three different lehengas. Sabyasachi lehengas are curated pieces, and there's no mixing and matching allowed. Customising is the only option.
Rent a Sabyasachi Lehenga in 2019
Well not every bride who dreams to wear a Sabyasachi lehenga has the budget to buy it. And when you can't buy it, you rent it. The designer lehengas are now available on rent and this is the perfect solution to save some money while you wear your dream Sabyasachi lehenga. There are many online and offline stores that rent out designer bridal lehengas. We have listed down a few for you to check out.
Now that you have a better idea about Sabyasachi lehenga price and more, does your dream lehenga seem more achievable now?
Please Note that the prices above were of 2019 and it might change with time.
Check out the latest bridal wear trends for more ideas and inspiration! Also, find more designer bridal lehengas here. 
Find vendors in your budget for all your wedding needs, Download the WedMeGood app now.