Stylists Reveal – Amazing Styling Tips For Brides Who Like To Keep It Minimal!
BY Apoorva | 25 Jun, 2020 | 13622 views | 6 min read
Every bride knows that the right styling tips for brides can make or break your look! While the minimalistic Indian bridal look has always been a winner, with intimate weddings being planned, that look is more popular than ever. Brides are tying the knot at homes and private backyards, allowing them to experiment with more minimalistic styles as a bride. So to give you some of the most amazing fashion tips for brides, we went to our expert stylists and ask them to give us some lovely tips for brides. Want to know what they had to say? Keep reading!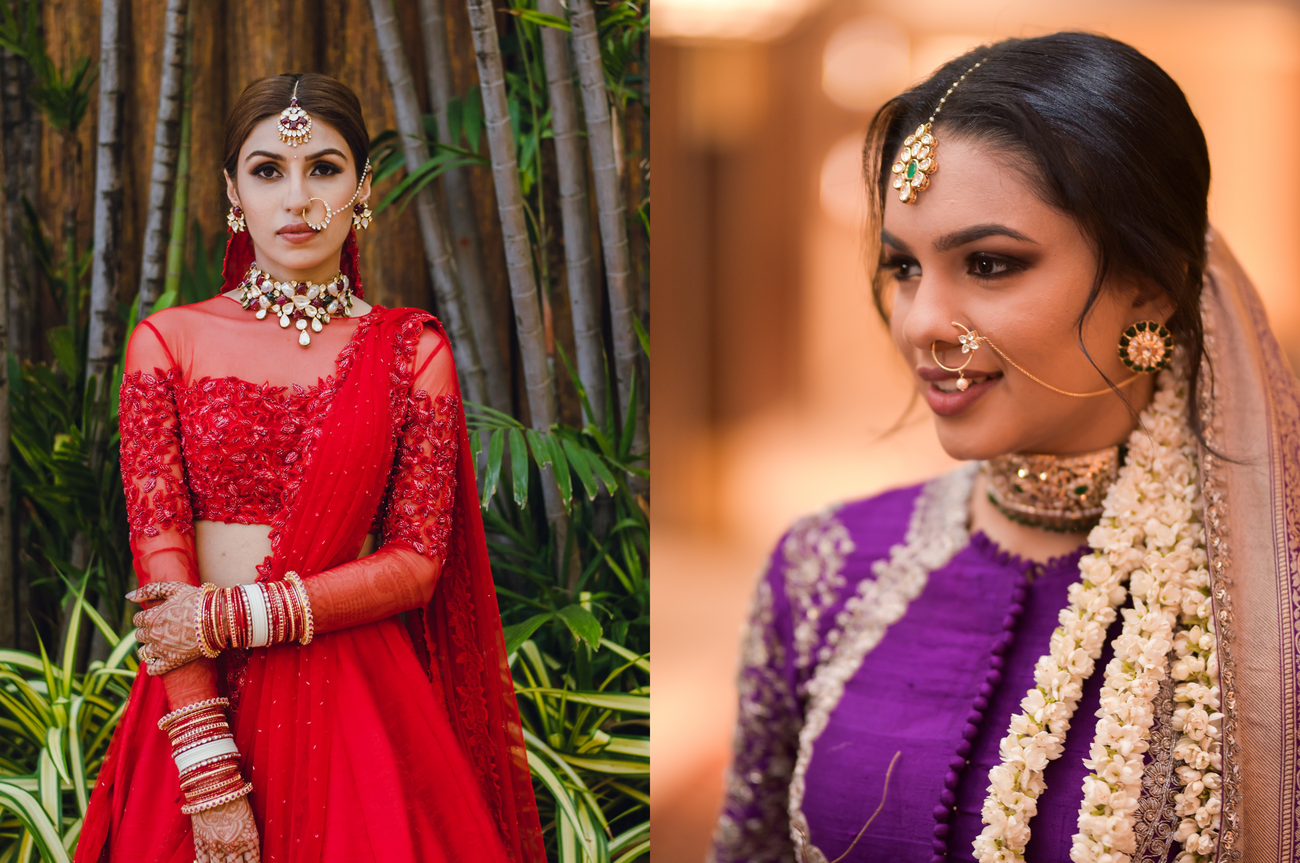 Image via Stylist Sheefa Gilani & Stylist Shikha Dhandhia
As a stylist, I have genuinely felt the need to understand the concept of one's "wedding outfit!" However, I have always been fond of simple, minimalist outfits that look so chic. They are beyond elegant for your big day. For my own wedding, my ideal outfit definition revolved around being comfortable.  I wanted to be able to move around with ease and not look like I'm struggling my way around. I'm a firm believer in sustainability, and I wanted to make sure no matter what I wear, it NEEDED to have a repeat value. I stuck to colours that bring out the best in me: muted pastels, whites, red, and purple. I tried to stick to classics too, for example, a classic red for the pheras. I opted for more luxurious fabrics over extreme embroidery to make sure my concept of repeat value stayed true. Minimalism doesn't stop at bridal outfits. Many times I notice brides drenched in jewellery. And most often than not, if not layered right it ends up overpowering the bride. While picking out jewellery for a minimalist bride, stick to jewellery that's just enough. Made sure you're not making any reckless choices. The easiest way would be to stick to a colour that compliments your outfit over going for a mostly contrasting one. For instance, I chose to be wise and picked the set I was gifted on my Roka and use it for my pheras to make sure it was in its full potential. I chose a single colour contrast scheme - red and white rather than mixing too many colours.
As a fashion stylist, here are some tips for brides who are looking to go minimal on their wedding day. It's very important to remember that your outfit is an extension of your personality. So if you're not someone who enjoys frills and bling on your outfit then keep it to the bare minimum because LESS IS ALWAYS MORE no matter what the elders have to say, and the smile on your face when you go back to those pictures will justify that. If your outfit has enough going on, you can then opt to wear minimal or no jewellery and let your outfit do all the talking. Ensure that while you're choosing to be the minimal bride, you are still the bride. Choose a colour and style that's statement even if the work on it is minimal so you don't stand a chance of blending in with your guests. If hair and makeup is something that you enjoy more than the clothes part of dressing up, then let that take the limelight and keep your clothes and jewellery to its minimal best.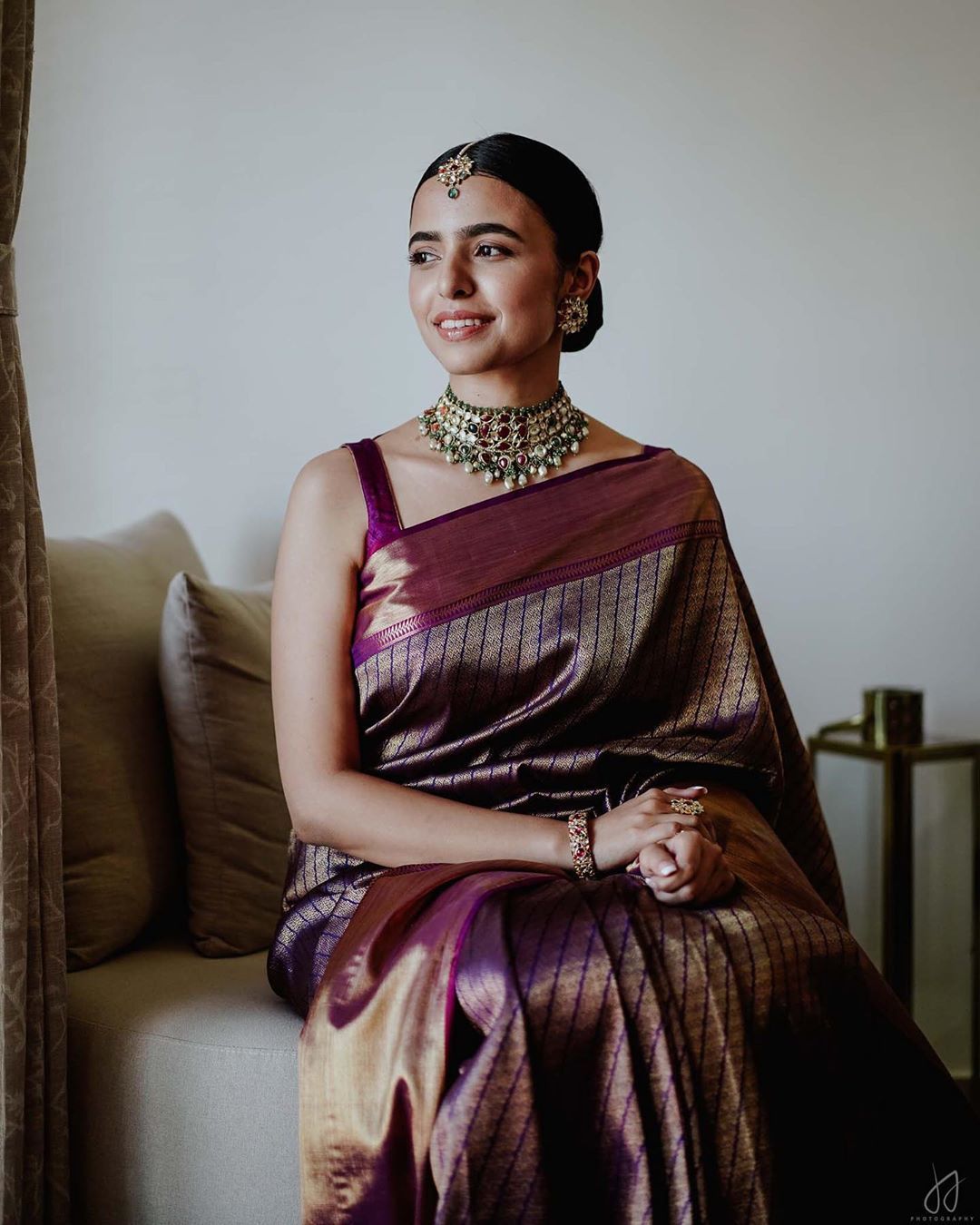 Image via Jackson James Photography★ 4.9
I love a minimalist bride. I'm a big believer and follower of less is more, especially when it comes to brides. Brides don't need to look like a disco ball and that's my first tip. Adding statement jewellery instead of overcrowding your attire would be a great way to go minimal, it always works when the jewellery and outfit can be balanced out and not either one being over powering. So opt for beautiful chokers and maang tikkas. Try to understand your face structure before picking jewellery as well, sometimes heavy jewellery on a relatively small face can be extremely overwhelming. You can always choose an understated lehenga or saree which is not extremely heavy, opt for classics that can be styled well with the right kind of jewellery and also can be repeated in the future.
For the wedding day opt for a light benarasi lehenga or a silk sari. Add a dupatta with the saree if you want to add a little more jazz. I wore a benarasi lehenga for my wedding and was so free and felt so light. For your jewelery ditch the heavy necklace and opt for a boat neck or crew neck blouse. Or simply add a small choker. A beautifully done bun and earrings will do most of the trick. For your mehendi outfit, opt for a knee length silk or lightly embroidered dress or skirt instead of a heavy outfit. It makes the entire process of applying mehendi so much easier and no more picking up your lehenga for your feet mehendi.
Image via Summiyya & Arnav's Real Wedding
Pastel hues like powder blue, rose and blush pink, metallic shades of silver and traditional bridal red should be your bridal colour palette this year. For more traditional brides, you can opt for a classic Kanjeevaram saree with a statement necklace and earrings. For lehengas, choose a material that is lightweight yet stands out, with just the right amount of self embroidery or bling.
Since weddings these days have a limit, you cannot be wearing a heavy bridal outfit in your party of 50, it just won't make the cut. The best way to dress this bridal season is to go minimalistic and adopt modern chic wedding ideas. Sticking with being minimalistic doesn't take away your appeal from you. According to me brides must continue wearing lehengas and sarees. But the best way to carry off the lehenga look without overdoing it is going for outfits in soft tones and shades. A great number of designers make outfits which stand out while not screaming your name. Anita Dongre has a range of lehengas in soft fabrics with royal motifs, and sexy cut blouses with light weight lehengas which sit perfectly well on your body. Shriya Som is another designer whose bridal line has a range of striking designs in ice pastel shades with delicate embroidery. An ideal look would be a classy lehenga with a statement blouse. Brides must also keep their jewellery rich yet subtle. A maang tikka with simple jhumkis or diamond drop earrings would complete the look. In the end, brides must personify elegance to the utmost; it is still one of the most special days of their lives.
If you are a bride-to-be and are confused about what to wear for those umpteen pre and post wedding functions and poojas, check out these expert styling tips for brides on what you should be wearing!