Super Important Photos Brides Often Forget To Click! (Yep, We Have A List!)
BY Sakshi | 07 Nov, 2016 | 4809 views | 4 min read
No matter how prepared you are for your wedding, chances are you are bound to forget a lot of things- D-day is just like that! So it's better to write everything down and make checklists, so that you're all sorted and don't miss anything out! Your bridal portraits are SUPER IMPORTANT, and while you will have a lot of candid ones, you do need some posed ones as well, which can be missed as you have limited time to get them, and if you start running late getting ready, then all hell breaks loose! So here's a list of posed shots which brides mostly forget- so note them down so you don't!
You with your bridal outfit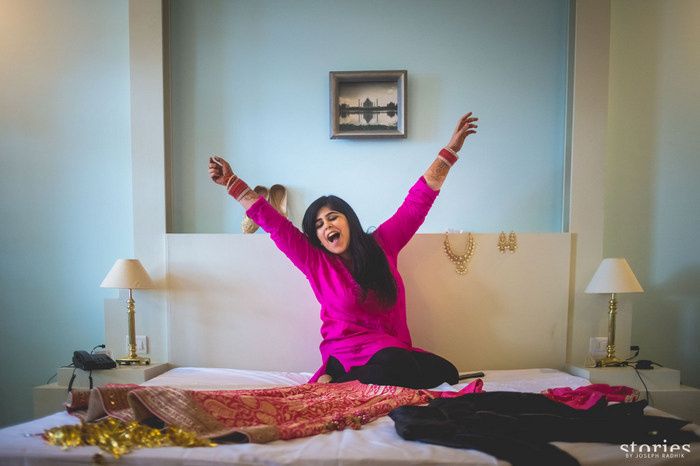 Photo Courtesy: Stories By Joseph Radhik
A lot of brides get the bridal outfit on a hanger clicked, but don't get a photo of themselves with the bridal outfit. So make sure you do that.. there are just so many cute poses to experiment with!
---
Photos Of Your Invites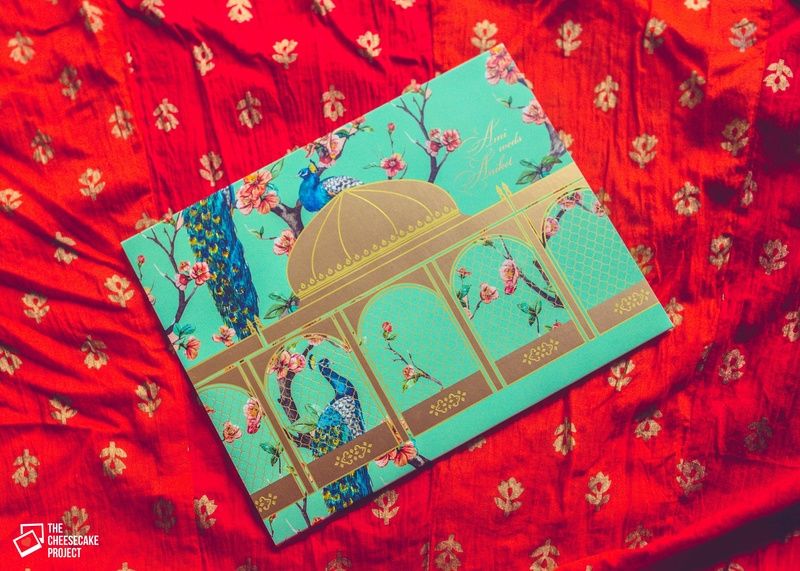 Photo: The Cheesecake Project★ 4.9
Your invites are a keepsake, and the only way to preserve the memory of them (apart from saving one invite ofcourse) is to click a photo of em. So many brides dont get their invites clicked. Dont do that !
---
Relaxing before getting ready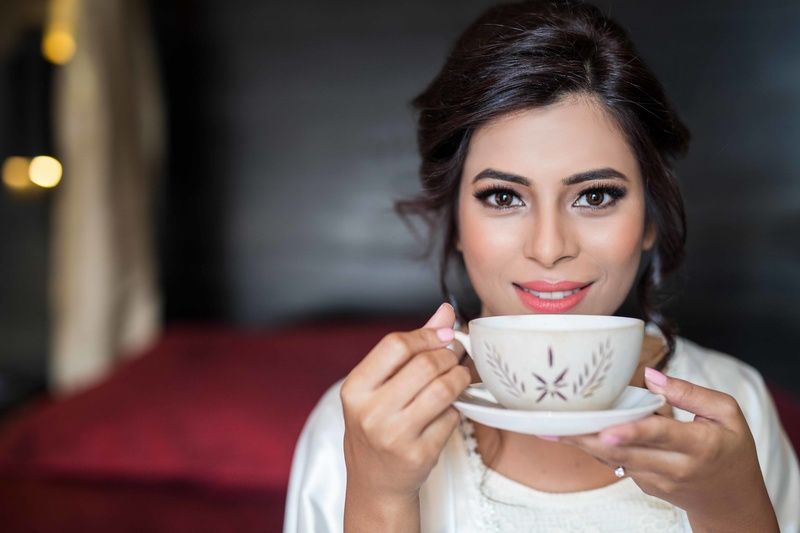 Photo Courtesy: Jodi Clickers
Get some cool shots right after getting your makeup and before wearing the lehenga- like say just chilling with your bridesmaids or having a cup of coffee- it's the calm before the storm!
---
Photos With Your Girl Gang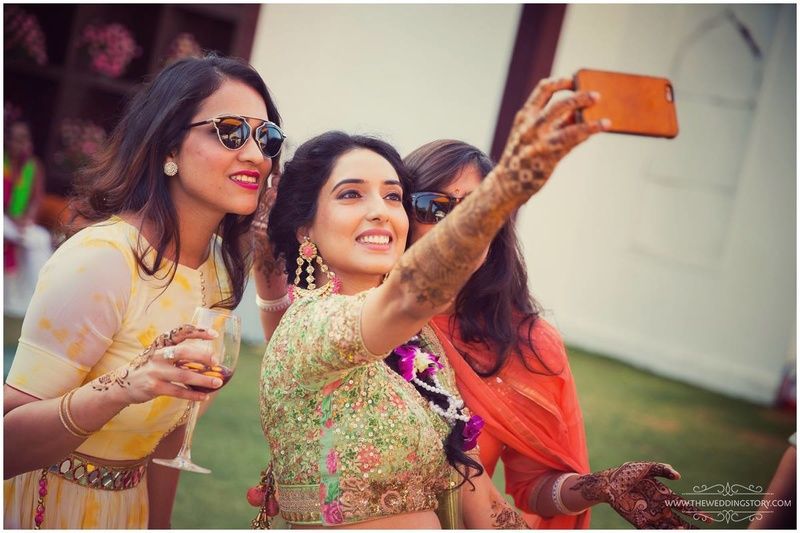 Photo: The Wedding Story
Take a moment alone with your girls to click photos with the girl gang and you. You won't get this time again and most of the shots will be dominated by you and family so make sure you get some crazy poses that only you and your girls understand.
---
Your Rings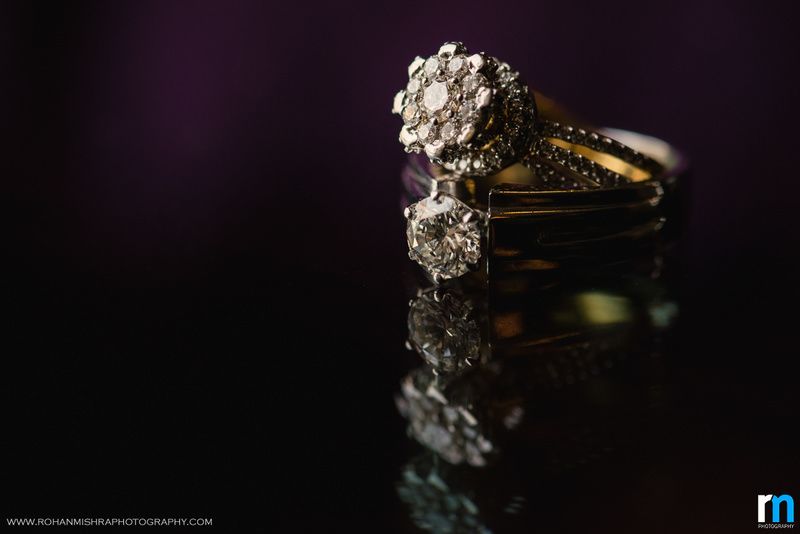 Photo: Rohan Mishra Photography★ 5
Get a beautiful shot of both your engagement rings to keep forever. You might upgrade your ring a few years later but you shouldn't forget how the original ever looked like.
---
 You Holding Your Parents Wedding Photo
Photo: Love Dope Studios★ 5
You can make this a really cool tradition. Click a photo of you holding your parents wedding photo. Then your son/ daughter can hold that exact photo and click the same on their wedding day and so on
---
The First Look
Photo: Sam & Ekta - Sonder Frames
The first look is when your groom sees you for the first time. Capture that one moment so you have his expression etched in memories forever.
---
With your pet
Photo Courtesy: Mahima Bhatia Photography★ 4.8
Whether you have a dog or a cat- make sure you include them in your shoot too! They're a part of your family, and during the wedding they can get neglected- so make sure you get photos with your pet... and they turn out so adorable too!
---
Shot Of Your Parents As Soon As The Jaimala Happens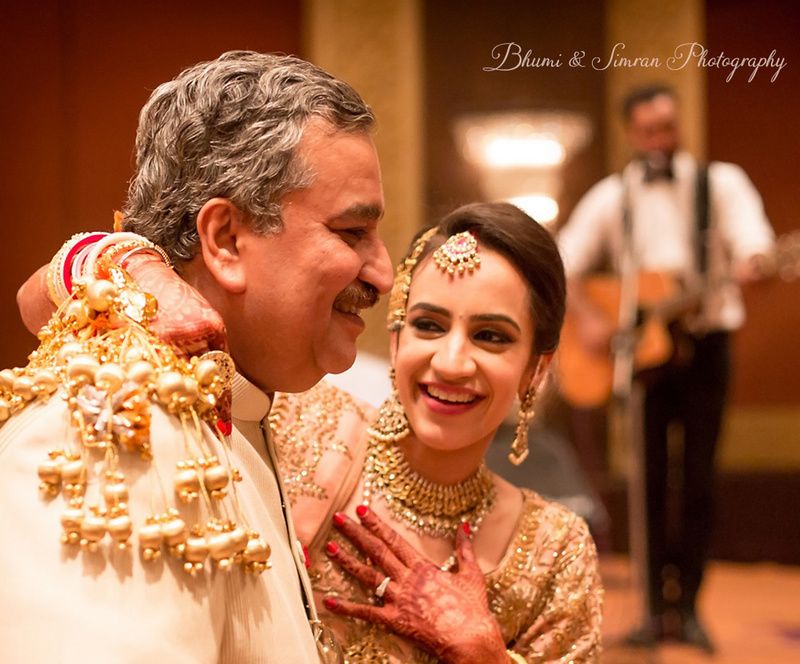 Bhumi and Simran Photography★ 5
Its an emotional moment- seeing their kid getting married. Make sure this one is captured as well.
---
Wearing your sunglasses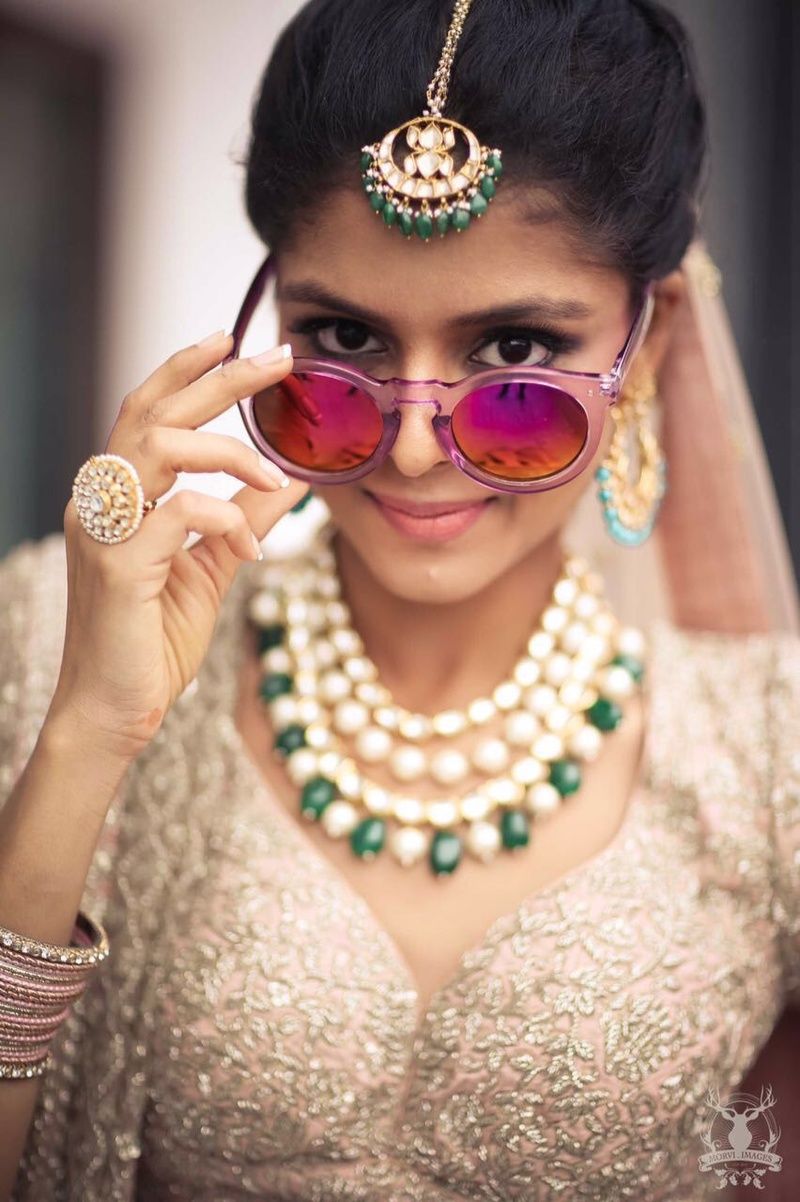 Photo Courtesy: Pallavi Sehgal★ 5  (makeup artist) & Morvi Images Photography★ 5 (photographer)
A lot of brides forget this- and it's such a fun photo to keep forever! It takes a minute to do it, but it just slips out of the mind! Wear your shades and be a cool bride!
---
Three Generations of Women / Men
Don't forget to click a photo of you, your mom and grandmom, or you , your dad and grandad as a "3 generations in one frame" photo.
---
Looking like a cover bride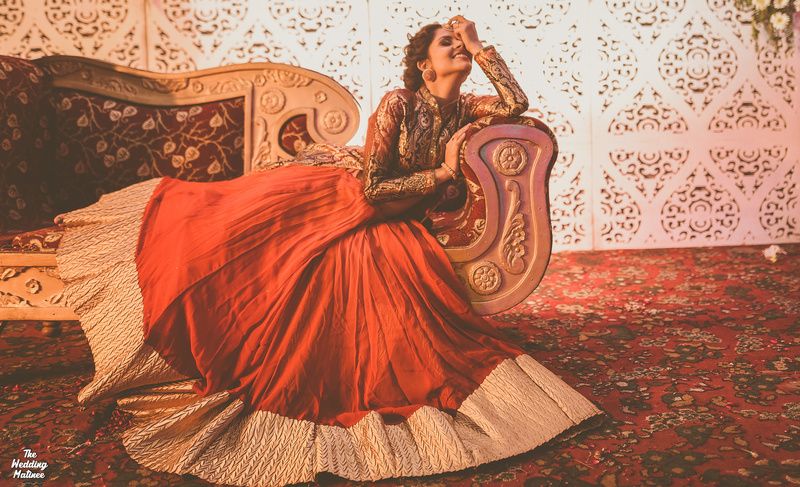 Photo Courtesy: The Wedding Matinee★ 4.4
It's your wedding, so why not look like a cover bride? Might take some time to get the pose right, but it makes for a hot photo- which you can treasure forever!
---
A classic black and white photo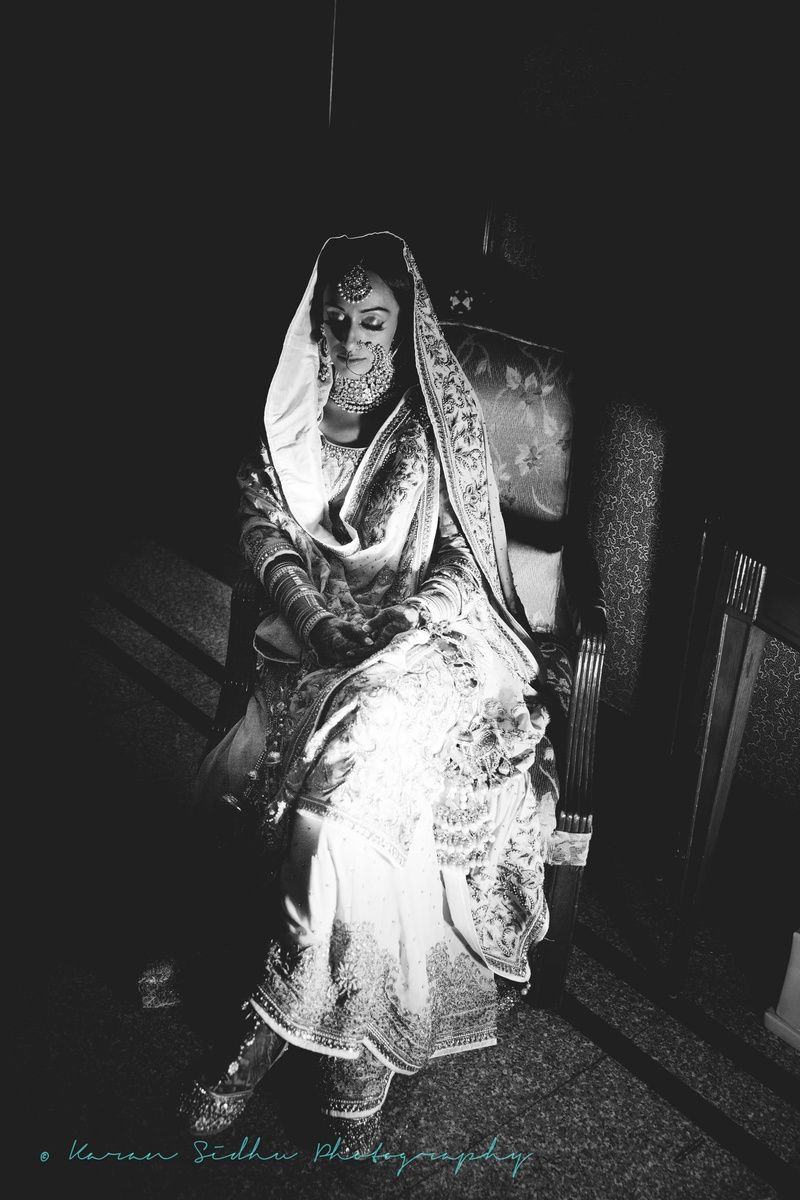 Photo Courtesy: Karan Sidhu Photography★ 5
Yes, we know. Any photo can be made black and white in post production, but make sure you mention it to the photographer that you want a classic one. The poses are a wee bit different than candid- but it makes for a stunning photo which you can keep for posterity and look like a classic bridal beauty!
---
The back shot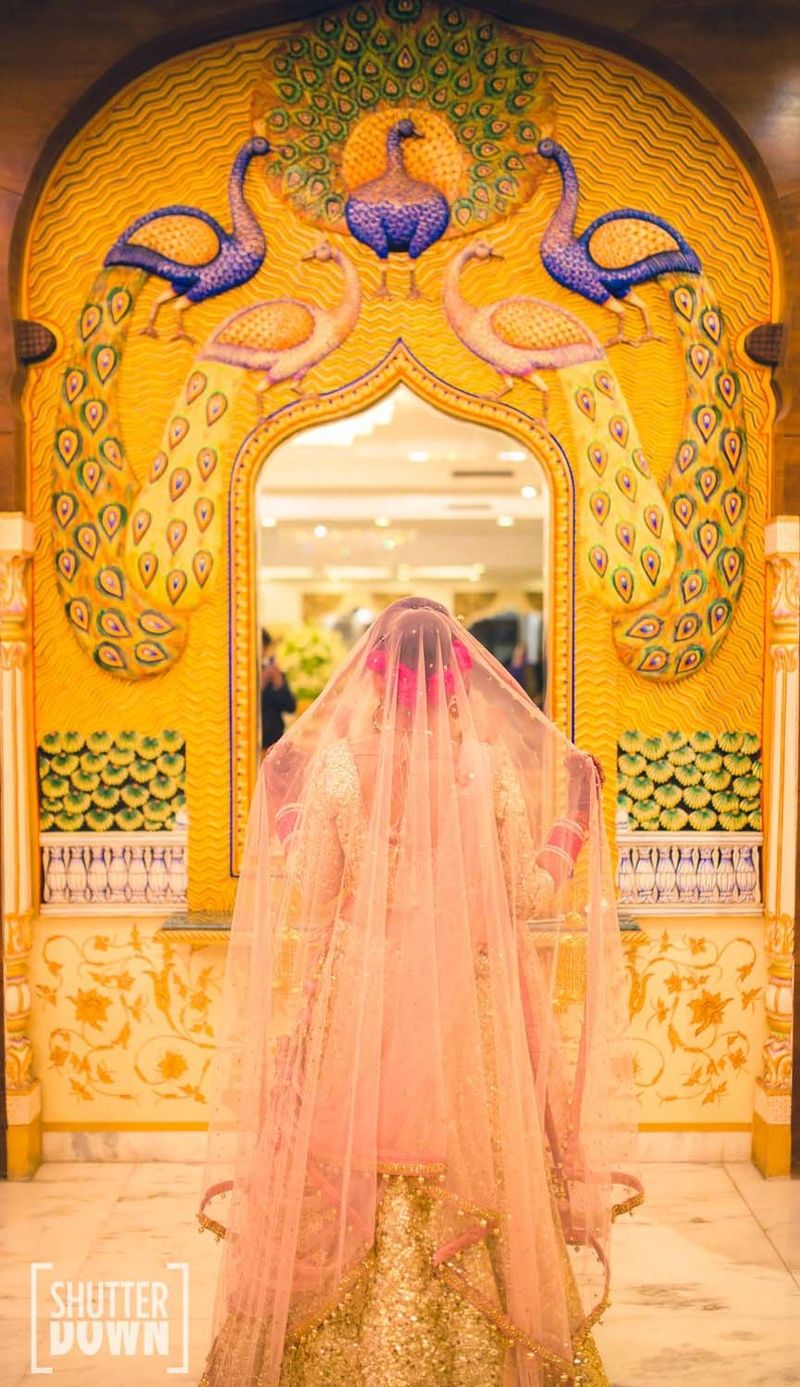 Photo Courtesy: Shutterdown - Lakshya Chawla★ 4.9
The pretty hairstyle and dupatta of yours deserves a shot too, which most brides forget! So make sure you get it, looks pretty right?
---
The Bridal feet Shot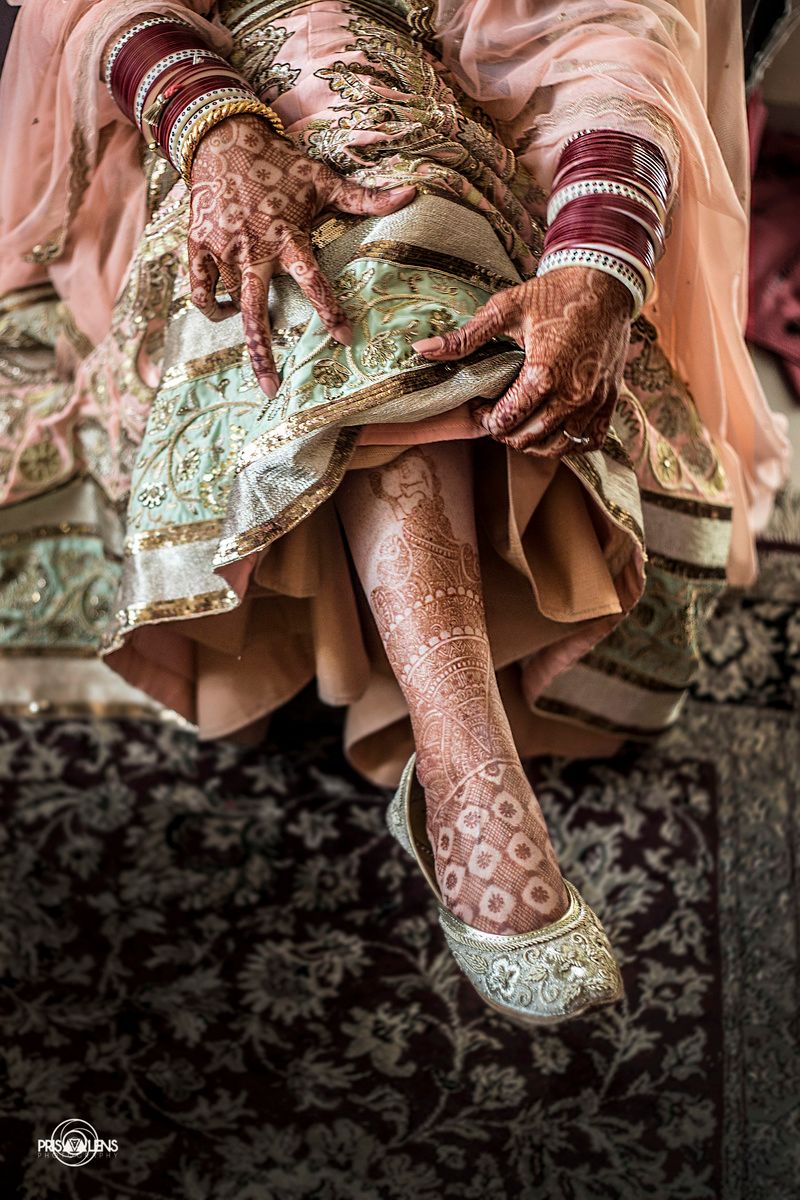 Photo Courtesy: Prism Lens Photography★ 4.9
So you've spent a bomb on those pretty bridal heels- why only get them shot separately? Your mehendi looks awesome, so get a shot of you wearing your bridal shoes and your lehenga, focusing only on the feet. You'll be surprised at how many brides forget this simple shot!
So, all sorted now?