Taking a Double Dupatta : Here is how to pick one
BY The WMG Bride | 18 Feb, 2015 | 5291 views | 4 min read
If there is one thing that has really stuck in terms of Bridal trends, it;s the double dupatta. It's become more of a norm, rather than an exception and lets face it - only adding to your budgeting dilemmas!
What is the Double Dupatta trend:
Well it started with Sabyasachi about 4 years back but basically involves you taking the regular dupatta as a regular drape and getting a lighter dupatta made for  your head . This is in contrast to how brides traditionally wore their dupattas i.e single dupatta wrapped around the body and then taken over the head
How to choose the second dupatta with your lehenga/ sari
- If your lehenga has a ton of color going on (Example: multiple color in the skirt, or skirt, blouse and dupatta of different colors), then a good rule is to get a second dupatta in the same color as your original dupatta just with a thinner border
- If your lehenga is more or less one color say mint green, then picking a contrast such as a salmon pink, or a shimmery gold veil is a great way to break the color monotony
- If you are a south Indian bride wearing a kanjivaram and are looking at a veil to cover your head, a contrasting color is great for you guys as well.
- If your lehenga has a decent amount of color and you do want a contrast colored second dupatta then pick up the color that is least visible on your lehenga and make it from that
- Always remember that as a bride, the dupatta on your head is closest to your face. Picking a bright color like yellow or orange instantly brightens your face while a navy can add dullness around your face.
- You could also do a veil concept, where the second dupatta is simply a light, gold veil on your head.
- Make sure the dupatta on your head is of a lightweight fabric like net or chiffon with  lightweight embroidery
 How to drape a second dupatta
- Read all about draping styles here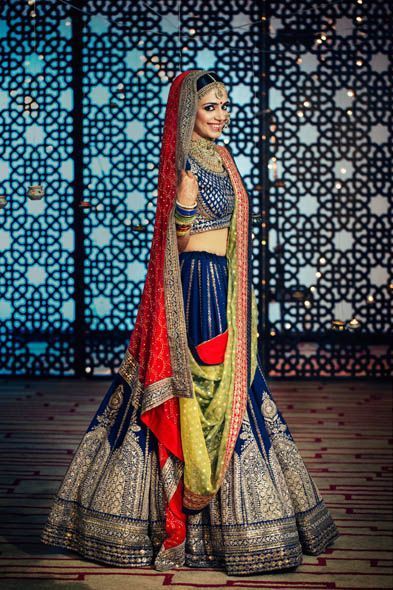 Above: The minimal, monotone lehenga in blue provided the perfect pallette to add colors on the lehenga by using two contrasting dupattas - one in yellow and one in red . Photography by Dotdusk Studios from the Album Band Baja Bride shoot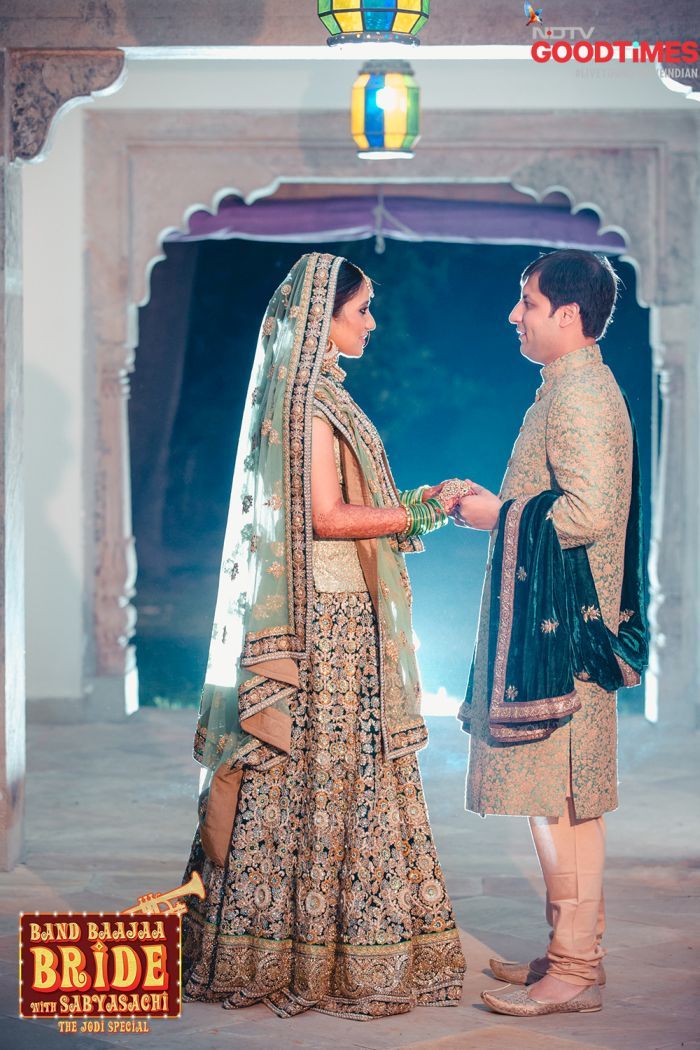 Above: This bride had emerald, mint, gold , white and silver on her lehenga. She chose to keep both the dupattas in the same color instead of adding contrast to an already busy lehenga.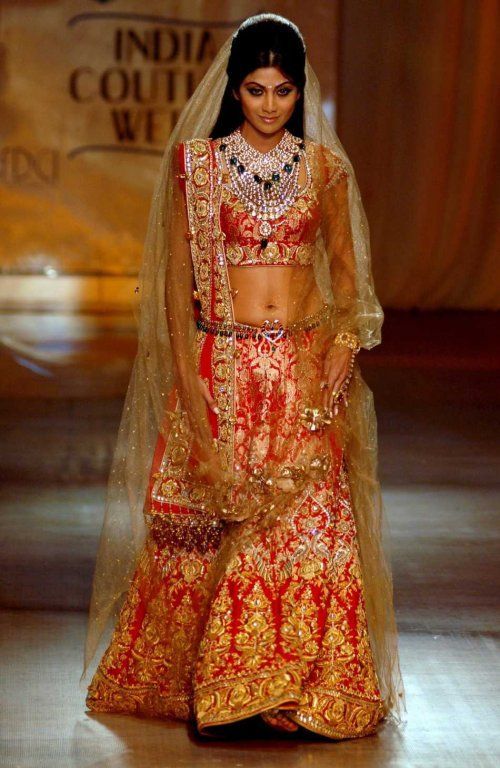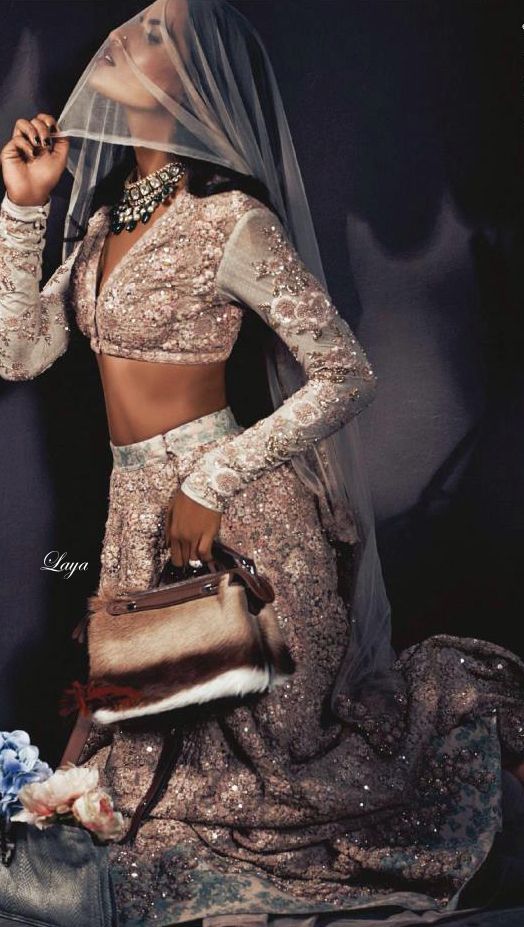 Above: Wearing a veil made of toulle, is another new trend for your head though not many people in India have a good idea of how to make a great veil.
Do you really need a double dupatta ?
- If you have a relatively simpler lehenga,  a second dupatta can instantly elevate your look making it look regal
- If your existing dupatta is extremely heavy then you MUST take a second dupatta as a light veil and keep the heavy dupatta just for draping (Trust us, the number of brides who have neck problems because of the heavy dupatta on their head is insane!)
- If you are going for a mughal, old world nizam kind  of look then a second dupatta is a fabulous way to layer and make you look vintage .
- If you have a monotone lehenga and are looking to add a dash of color to it, then too a second dupatta can be a great way to break the monotony.
- In general two dupattas do add elegance to your look, but if your main dupatta is light enough to be worn on the head, then you dont need the second one.