The Best Blouse Designs For Your Muhurtham Saree
BY Meenu | 10 Feb, 2020 | 21676 views | 4 min read
It's a known fact, the best way to complement a saree is by finding the perfect blouse. And if you are a Bride who's wearing a pattu saree or a kanjeevaram saree for her muhurutham, you know how important a decision it is to get the perfect blouse made! After all, the blouse is what will help you ace that bridal look perfectly. While we know that heavy embroidery like maggam work or aari work is a part and parcel of your bridal blouse, it's always better to be inspired to have something totally unique and a design that matches your style! So, scroll on and bookmark these blouse designs we found perfect for a Muhurutham saree.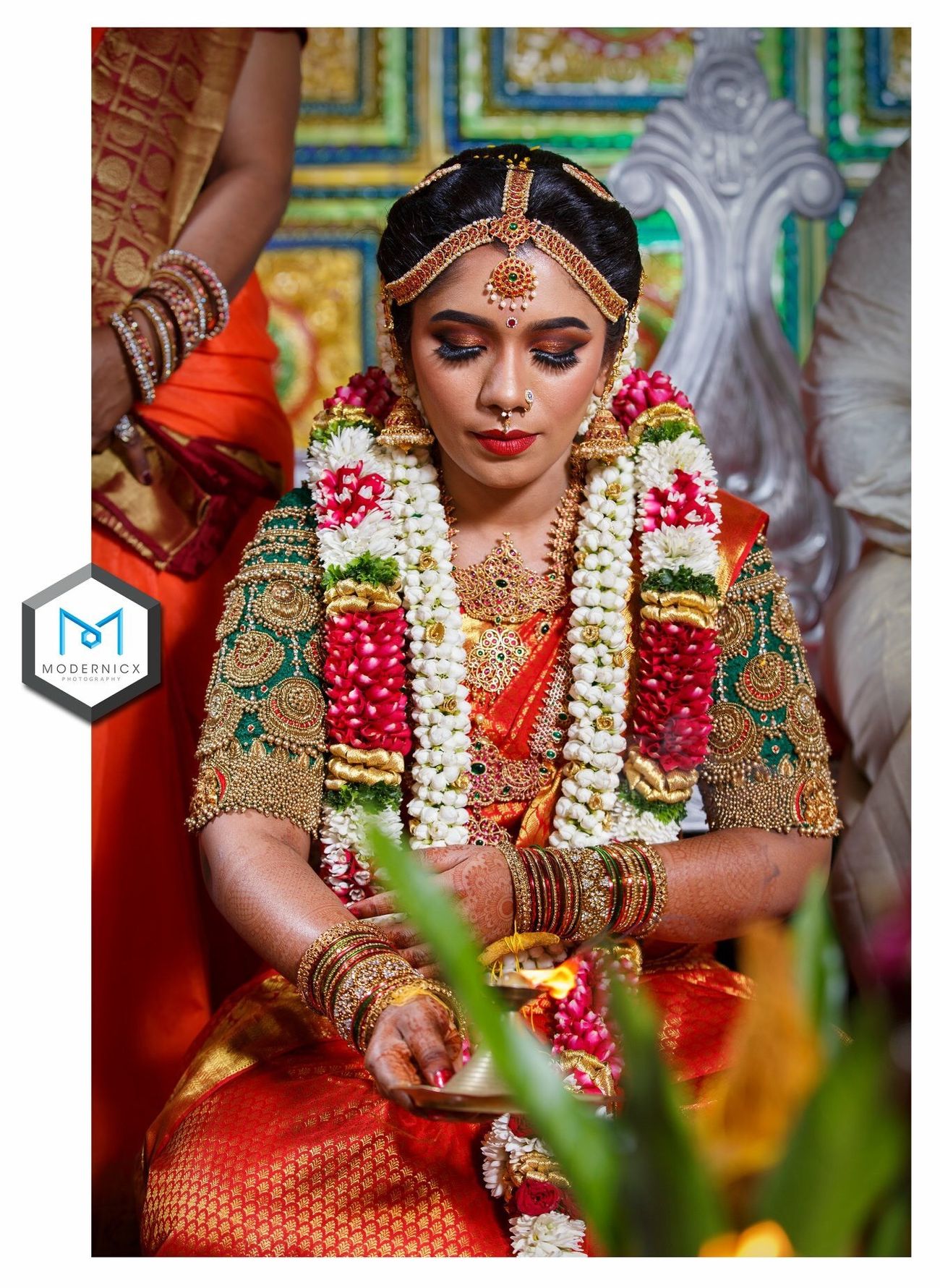 Image Via: Sruthi Kannath
The Classic Elbow Length Sleeve Blouse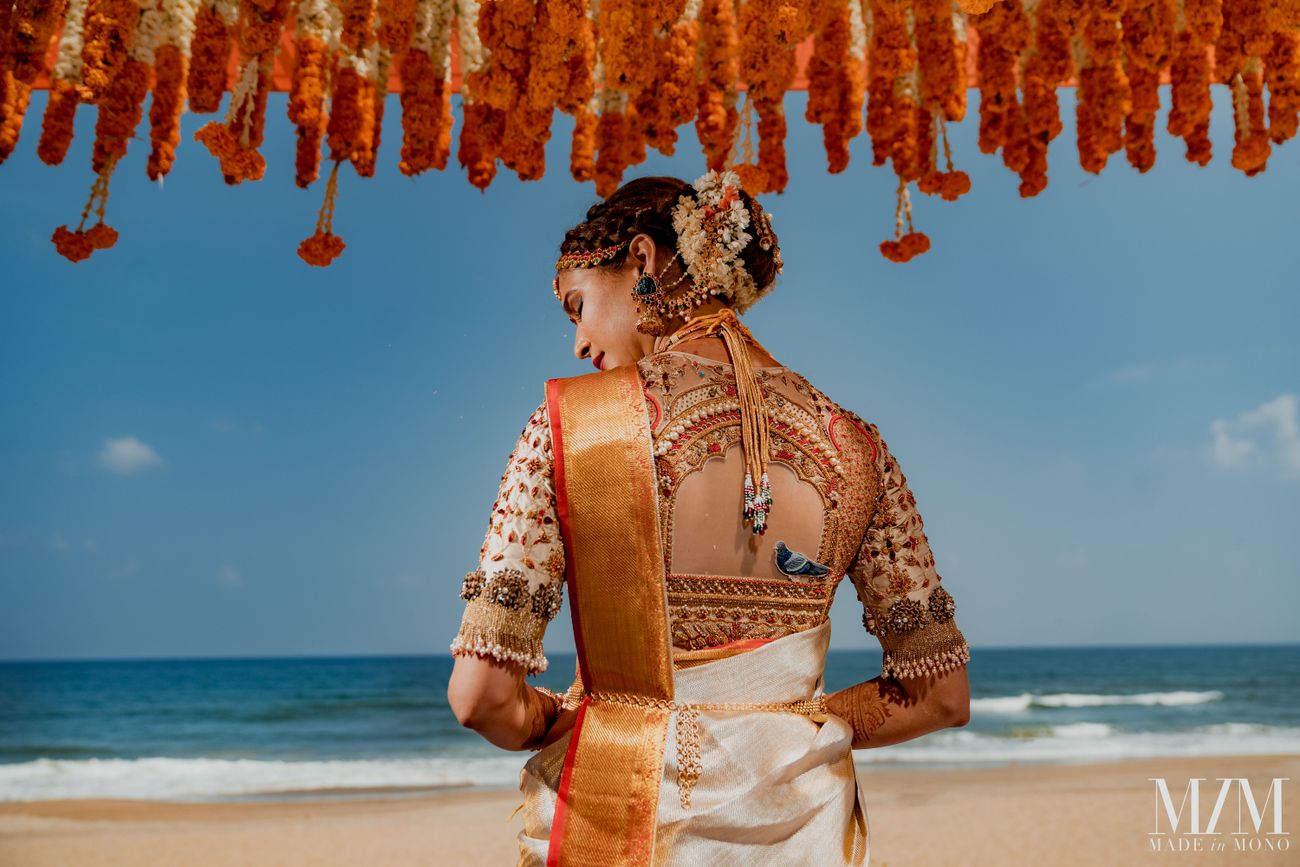 Image Via Made in Mono
The elbow length sleeve blouse is one of the easiest, risk free choices for a Kanjeevaram saree. This sleeve length goes well with all the types of pattu sarees. If you are the bride who wants a heavy blouse, you can choose this sleeve type as this can fit in some beautiful, heavy embroidery. Alternately even using the heavy border on the sleeves works equally well too. This sleeve line and length can also work with high necks.
The Princess Puff Sleeve Blouse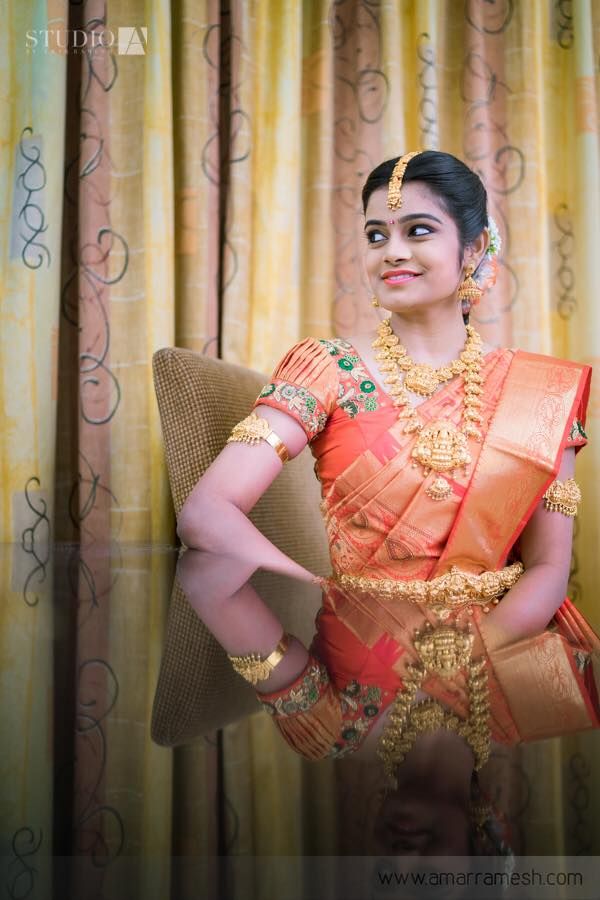 Image Via: Amarramesh
A beautiful choice when your wedding is all flowers, hearts and feminine. A short sleeve with a neat puff always works with a Kanjeevaram saree. When you choose this with the Muhurtham pattu saree the choices of how you can deck it up are many. Choose to go plain with a delicate piping or a small string bow to channel the vintage vibes. Use the border to make the puff as a contrast option. You want a heavy blouse, with the puff sleeve that is possible too.
The Exaggerated Puff Sleeve Blouse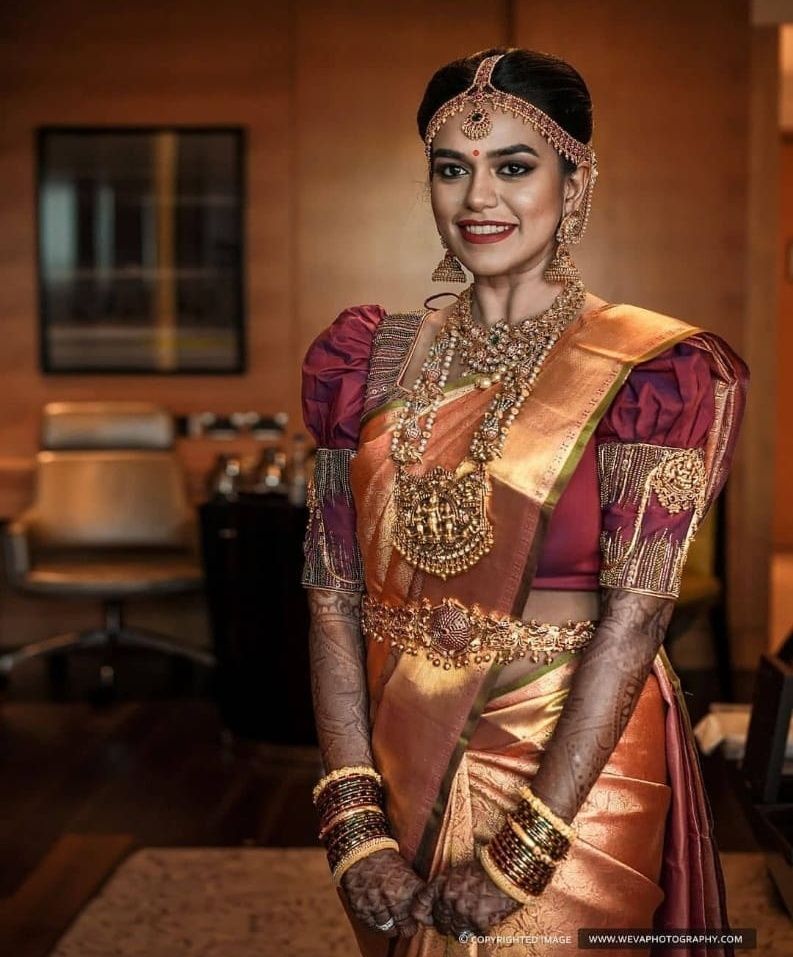 Image Via: Weva Photography
The exaggerated puff sleeve is very similar to the regular puff sleeve. This blouse works very well if you wish to use your heavy border on the sleeve and if you prefer slightly longer sleeves than the usual puff sleeve blouse. Since bridal Kanjeevaram sarees are heavy use the heavy border below the puff and you can always add some jewelry work to make it richer.
The Cute Cap Sleeve/Short Sleeve Blouse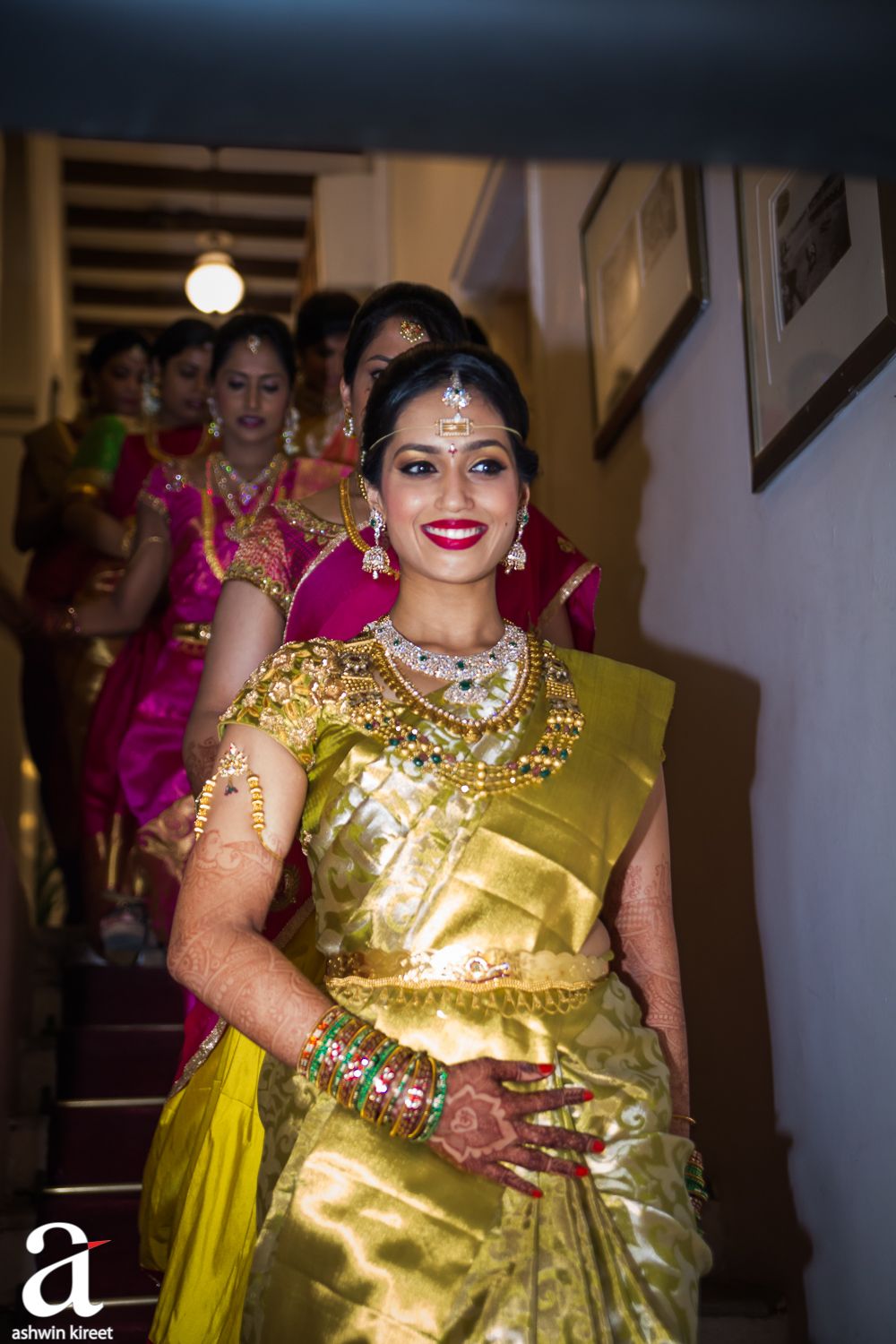 Image Via: Ashwin Kireet
If you are one of those brides who love those short sleeve blouses but are in a dilemma if this can work with your Muhurtham pattu saree, think no more. A short sleeve blouse also is a perfecr bridal blouse. You can let the saree do the talking by opting for a plain contrast or a same color blouse. You can also opt for a heavy short sleeve blouse and can add on a heavy arm band/vanki (baaju bandh).
The Unique Full Sleeve Blouse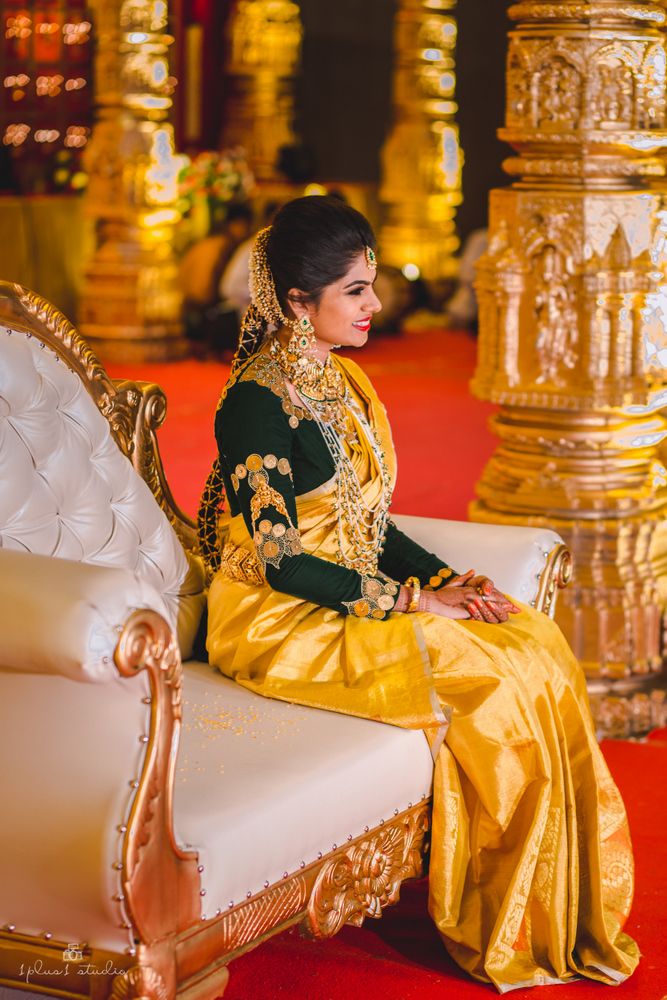 Image Via: 1 plus 1 Studio
Full sleeve bridal blouses are a little unique. For those brides who have to be in front of the havan for a long time you can safely opt out of this. For those brides who do not have to go through that, you may surely give these full sleeve blouses a thought. Delicate maggam work all over instead of stone work or choosing a plain alternative with a piping is a great choice. You can also work with the borders to add more dimension to the blouse.
Remember a few things while getting your Muhurtham blouse ready - 
Padded blouses are easier to manage and make long hours comfortable.
Make sure to get a trial as that will help you get the perfect fit for your blouse.
Choose your blouse based on your comfort. The intricacy of the design and the fabric are best decided based on your personal comfort. 
Here is hoping all you beautiful brides find the perfect match even in your Muhurtham pattu blouse!!