The Best Fabric Stores In Mumbai To Get All Your Wedding Outfits!
BY Apoorva | 16 Oct, 2016 | 3893 views | 3 min read
So you have been to the gorgeous designer stores and ready to pick up boutiques , but the excitement of going through crowded markets to find that awesome piece of cloth never gets old. Blouses are an integral part of your wedding outfit. Be it a saree or a lehenga, a blouse can make or break your look! So we hunted the best fabric stores in Mumbai for that perfect wedding blouse (or sharara , or lehenga...hey whatever floats your boat)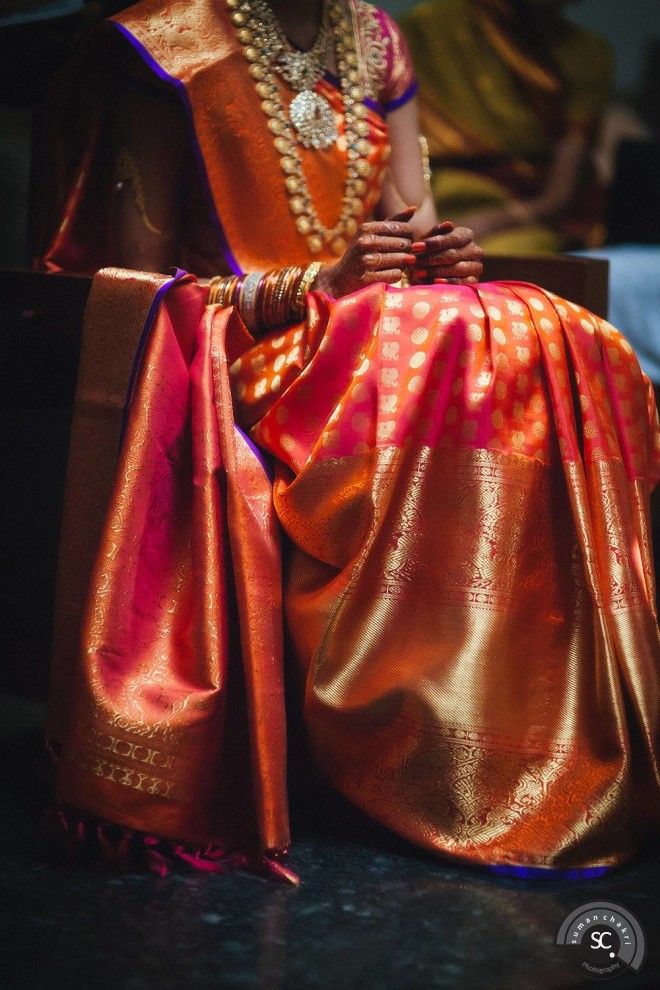 Photo: Memory Lanes Productions (SumanChakri Photography)★ 5
Samrat, Santacruz-West
It looks like another Seasons showroom from outside but it is home to yards and yards of gorgeous fabric. If you take your saree or lehenga along, the salesmen even guide you on different options for your blouse fabric. They also have a list of handwork artists who can help you get custom work done on the blouse!
Ph: 022-26055923, 26465039
---
Gandhi Market, Sion
This is another treasure house full of jewels! Right from 200 GSM raw silk (you will know these terms once you start bridal shopping) to beaded fabric, Gandhi Market shops has an array of choices for you! Note: The entire market is shut on Mondays.
---
Saroj, Bandra West
This hidden gem is the ultimate store for your blouse shopping. Right from embroidered fabric to sequins, they have it all.
Ph :Find them here
---
Mangaldas, Crawford Market
The shops are divided into 'katras' according to the type of fabrics being sold. Unique fabric is the key. From really delicate Kutch embroidered pieces to the best ikat designs, it houses all. Note: Entire market is shut on Sundays!
---
Anwarallys, Elco Shopping Centre Bandra
Looking for something in gotapatti work or lace fabric? Anwarallys in Bandra is your calling!
---
Glanz Fabrics, Andheri West
If you are looking to mix and match, Glanz is your best choice! They have a variety from the simplest of cloth to heavy ones. You select depending on your budget and needs & take home the perfect blouse fabric for your D-day!
Ph: Find them here
---
Tirumala, Manish Nagar Market 
This one's where all the suburban designers go to get all those fun borders and the sweet Benarasi and tulle fabrics - the good thing about this market is the fact that there are tailors around so you could get things stitched right away. Plus, the guys over there also dye colours you like onto fabrics - so you can pick and choose what you want.
Ph: Find them here
---
Mulji Jetha Market at Kalbadevi 
Located near the famous Zaveri Bazaar, this market is super old, connected into lanes and bylanes and is known as Asia's largest textile market. It's the oldest textile market and is also known to house fabrics from all over India at cheap rates.
---
Hind Mata Market in Dadar
This one's really old and very much well-known throughout Mumbai - from cotton sasta-wala fabrics to exquisite gossamer stuff, there's something for every person and every budget. It's a smaller market compared to the others and the Hindmata store, located almost at the center of the market is known to have cotton, silk and polyester sourced from all over to suit every kind of outfit.
________________________________________________________________________________
Vandana in Bandra
You save the best for the last? We do too! Vandana in Bandra is amazingly awesome for the kind of fabrics and the quality that you get here. Right from kalis to complete fabrics for lehengas, you get them all! The salesmen are also very adept on helping you out with contrast colours and much more
Any more hidden gems that you know of? Share them in your comments below!