The Best Meenakari Jewellery Pieces We Spotted Online for Your Mehendi!
BY Sakshi | 03 Aug, 2017 | 22182 views | 4 min read
Mehendi events are all about colours and bright hues. Usually one of the first events in the wedding line up, most brides opt for fun outfits in lovely colours to brighten up the event. So why limit it to only bridal outfits? Add a pop of colour to your entire look with stunning meenakari jewellery. Meenakari jewellery is a killer option as not only does it look smashing, but it's pretty affordable too! Plus you can buy meenakari jewellery online, allowing you to browse to your heart's content. From gorgeous meenakari jewellery sets to kundan meenakari jewellery to statement meenakari earrings – meenakari jewellery has it all for you. Here are some pretty pieces we spotted online which are so so amazing for a bride-to-be on her mehendi event!
1. Pretty Meenakari Satlada by Miss Khan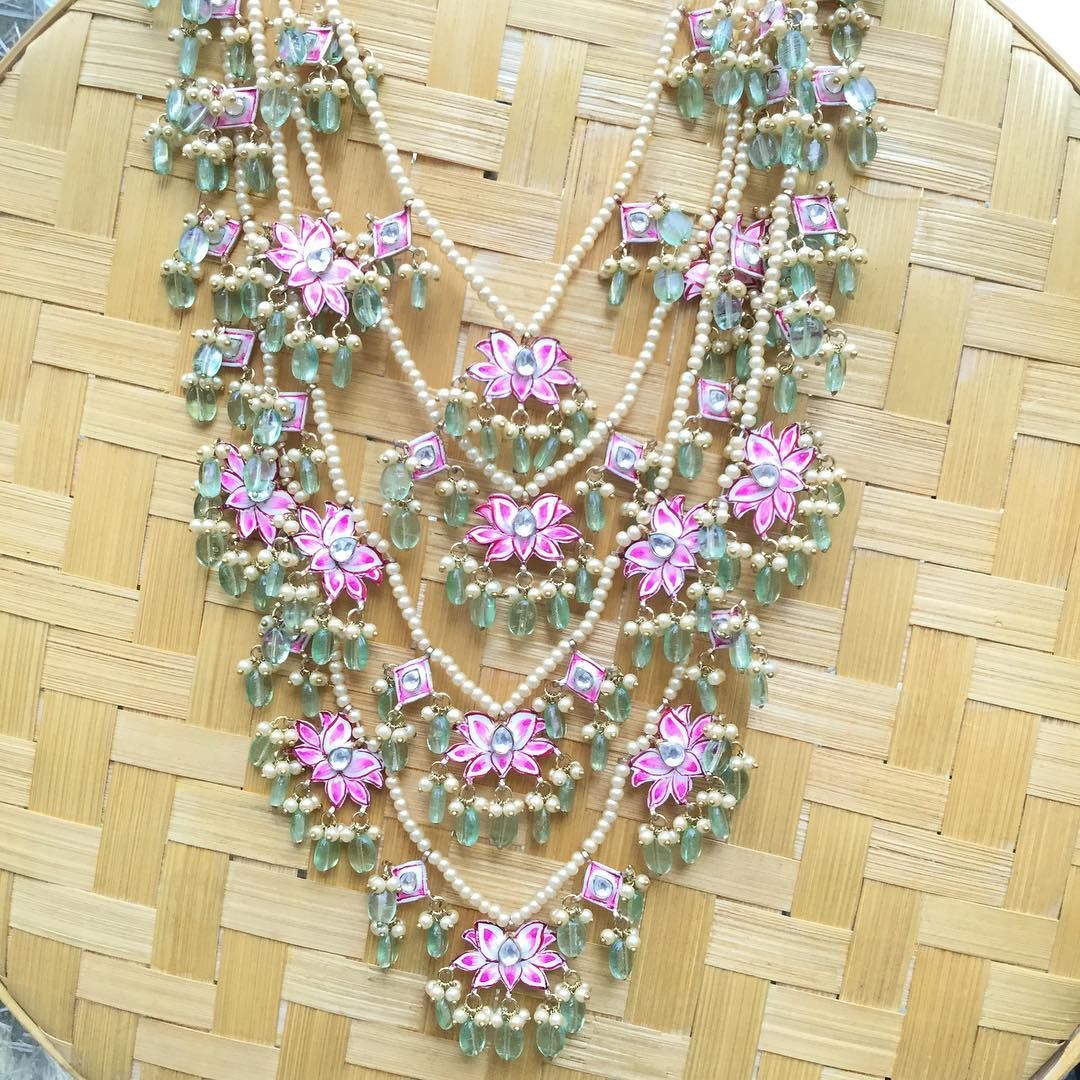 While meenakari jewellery is gorgeous, add a satlada design to the mix and it becomes more stunning! This satlada is so unique, we haven't seen one in these colours before.
Price: Rs 6000. Buy it online here.
2. Multi Coloured Meenakari Necklace Set by Mortantra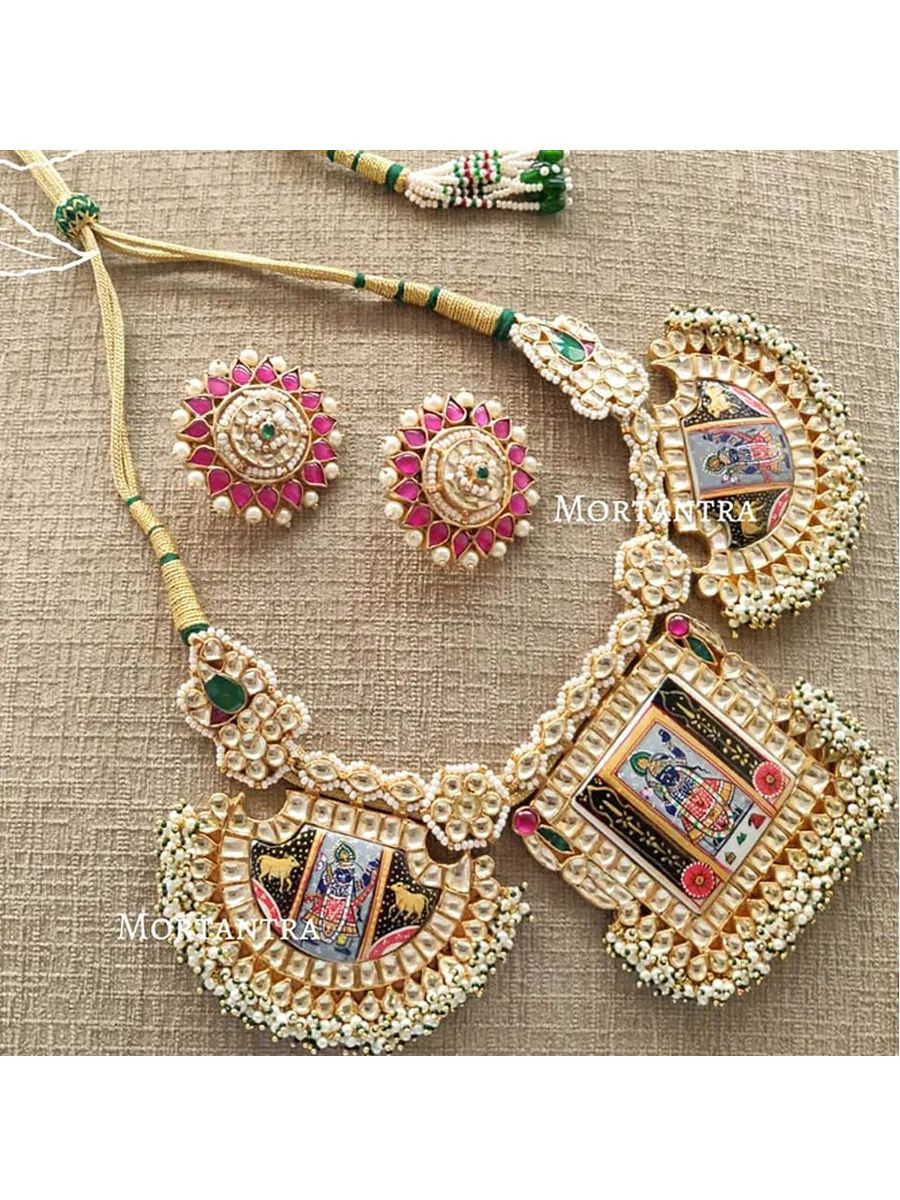 If you are looking for a statement piece over a light lehenga or just want to go all out with a super-exquisite meenakari necklace set, then this is the one for you. Not only can you buy and order this meenakari necklace set online but also have it customised depending on what your outfit colours are!
Price: Rs 20,000. Buy them online here
3. Gold Plated Pink Enamelled Lotus Pearl Moon Earrings by Tribe by Amrapali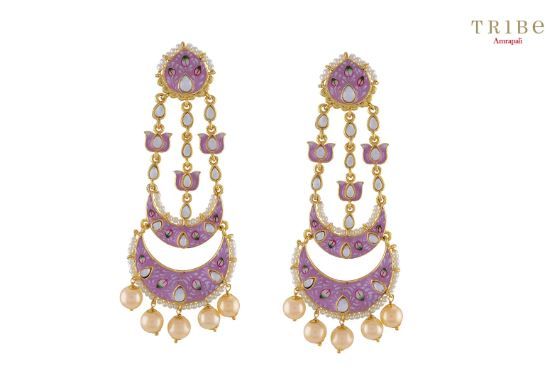 Beautifully crafted gold plated pink enamelled moon earrings adorned with pearls, white glass and lotus motifs. So pretty!
Price: Rs 6,900. Buy them online here.
4. Pink & Blue Necklace by Mortantra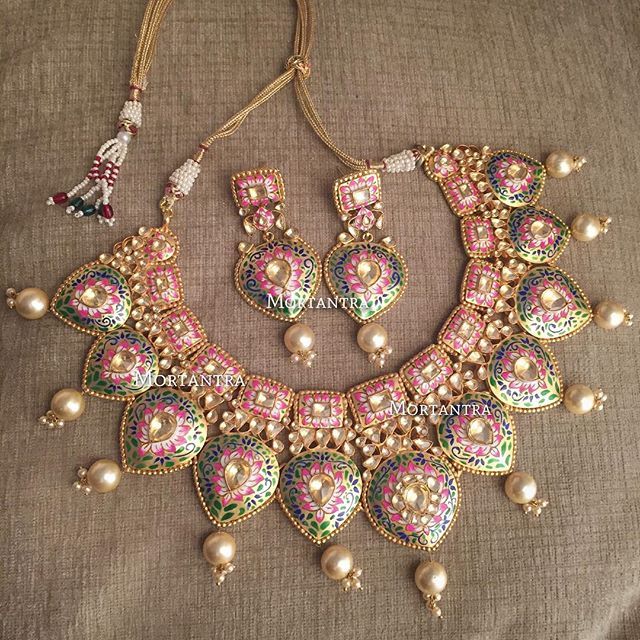 Buy this here
5. Gold Finish Kundan and Pearl Tassels Double Crescent Passa by Firdaus by Akshita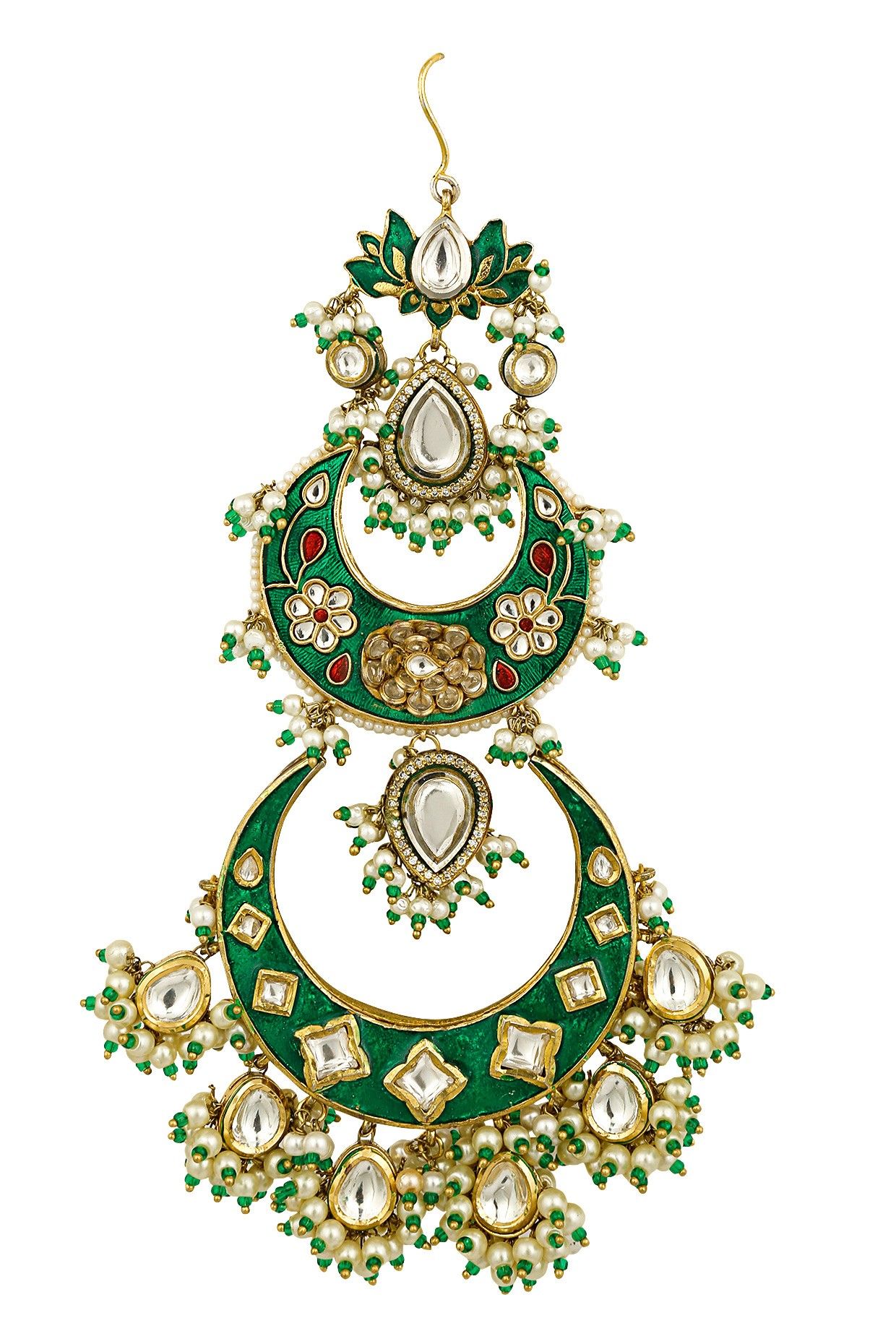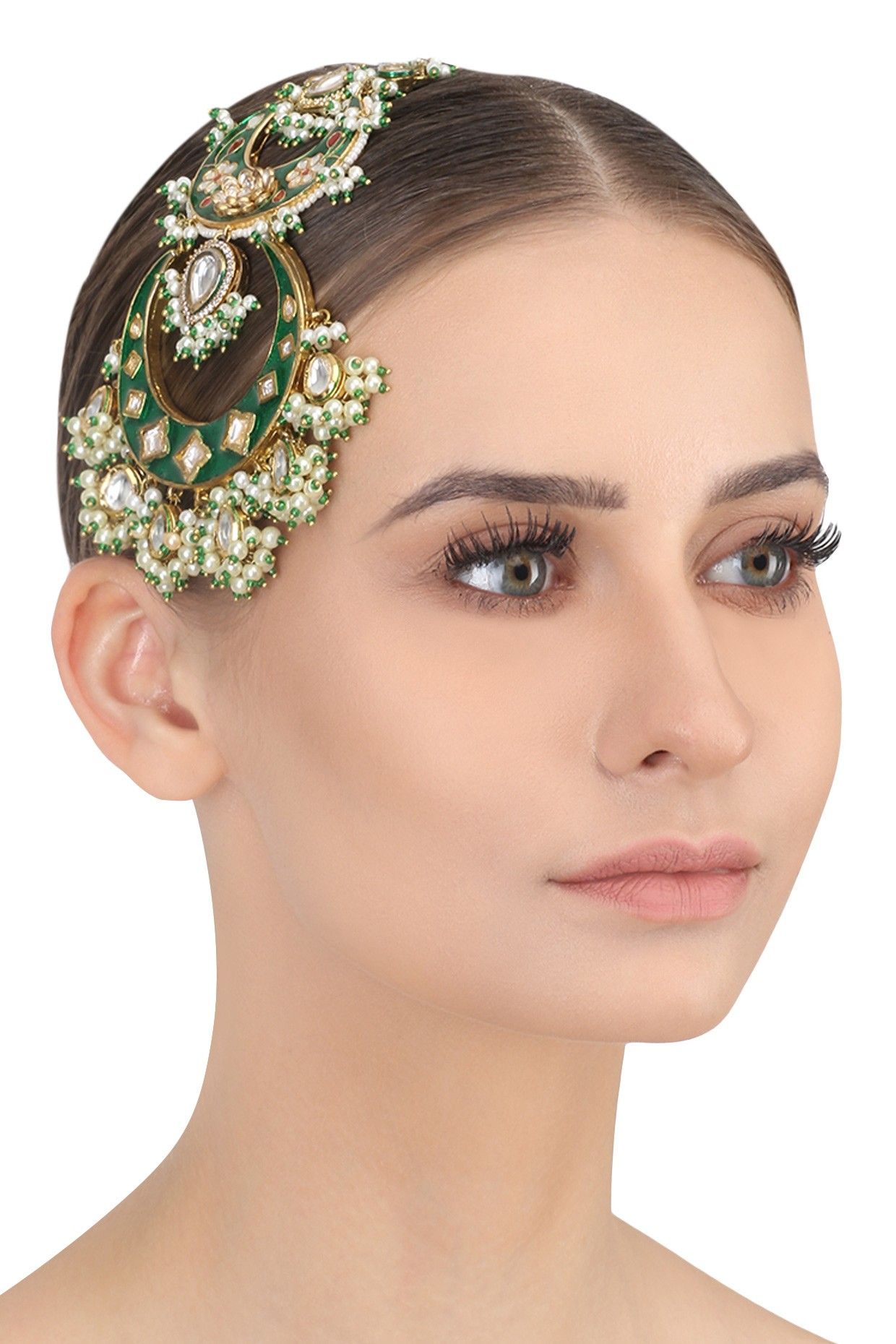 Image via Perniaspopupshop
This one is so royal! Featuring a gold finish double crescent passa studded with kundan and peral tassels with green enamel detailing , set in silver metal, it's so apt for the bride on her Mehendi!
Price: Rs 9,500, buy it online here.
6. Indigo Kundan and Meenakari Necklace with Pachi Work by Maisara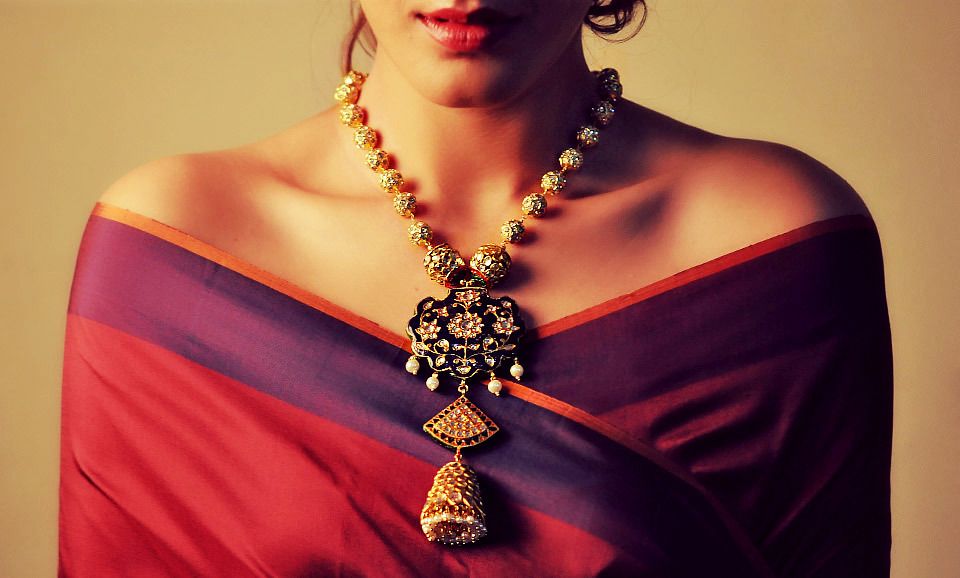 Image via maisarajewelry
So amazing! If you're a fan of antique or temple jewellery, then you'll love this one!
Price: Rs 9850, buy it online here.
7. Gold Plated Maharani Necklace Set by Opalina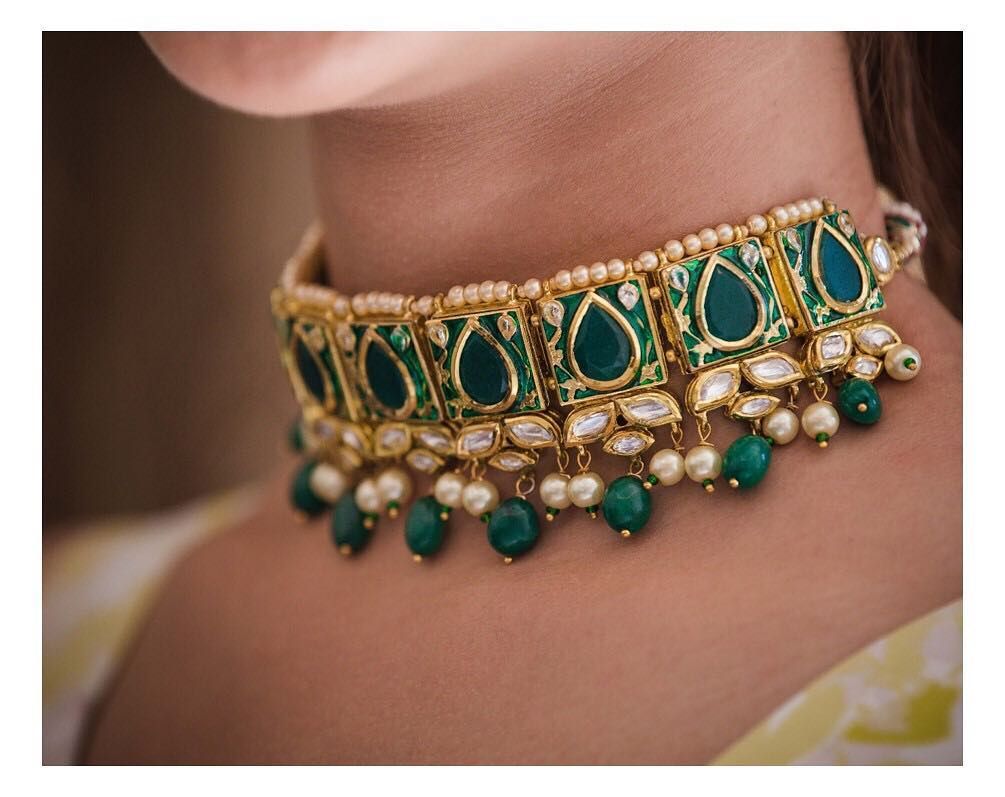 Image via opalinajewellery
Made of enamel, Kundan, heavy metal that's gold plated in that gorgeous hue of green, this one is such a pretty choker for the Mehendi!
Price: Rs 38,500 (with earrings), buy it online here.
8. Gold Plated Enamel Work Ring by Silvermerc Designs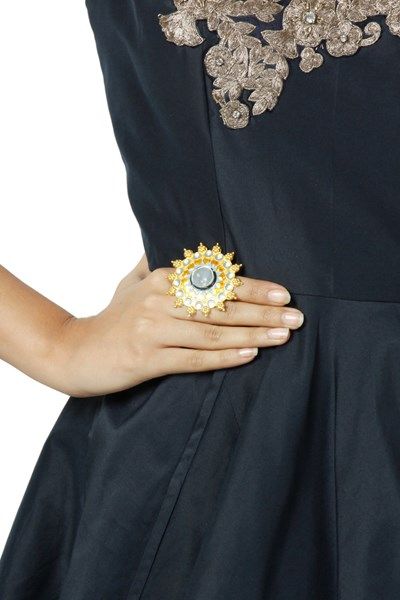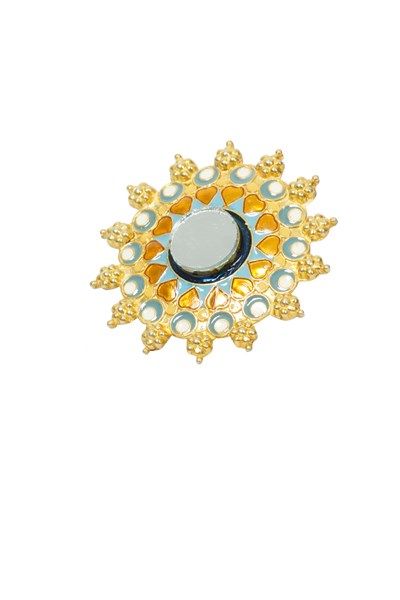 Image via Carmaonline
A  gold plated carved adjustable ring with enamel and mirror work, set in silver alloy, which will more or less go with any outfit!
Price: Rs 4,600, buy it online here.
9. Stunning Temple Jewellery Style Meenakari Necklace Online By Joules By Radhika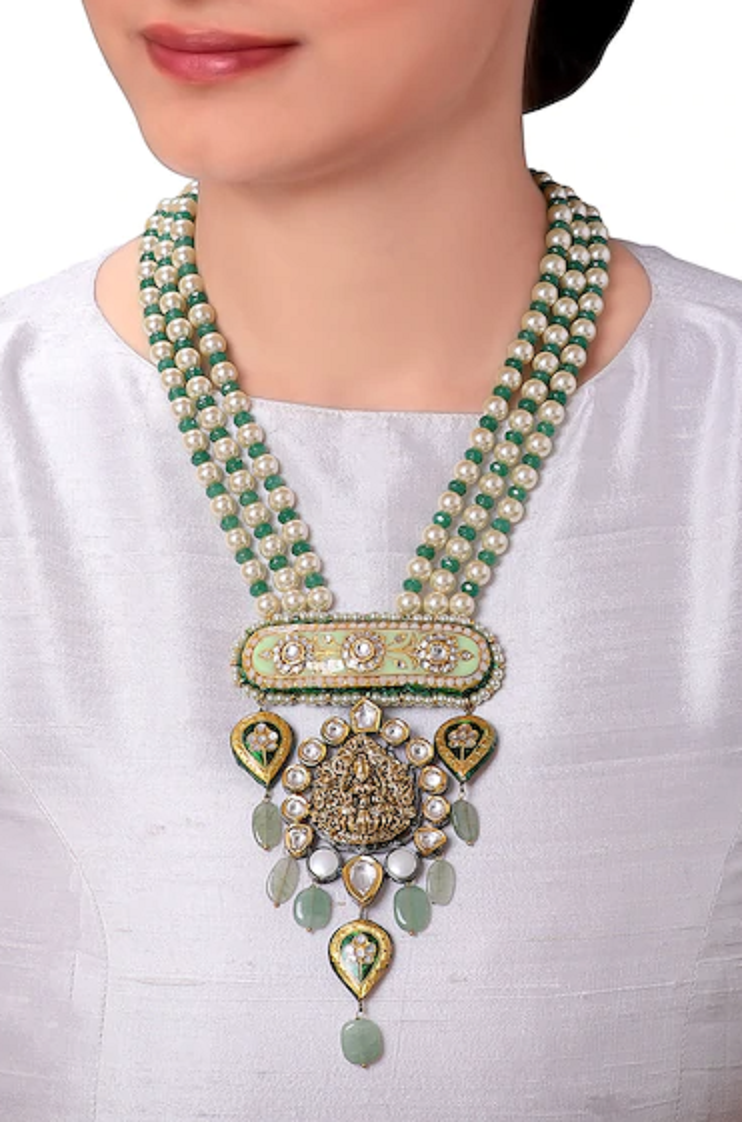 Image via Aza Fashions
Looking for a raani haar style or temple jewellery style meenakari necklace online? We found the perfect one for you. This long golden meenakari necklace with encrusted stones, enamel detail, carved pendant & multi-pearl, bead strings is great to wear on a simple blouse to create that wow-look!
Price: Rs 6,600, buy it online here
10. Green Meenakari Earrings In Peacock Motif And Five Jhumka Designs by Mortantra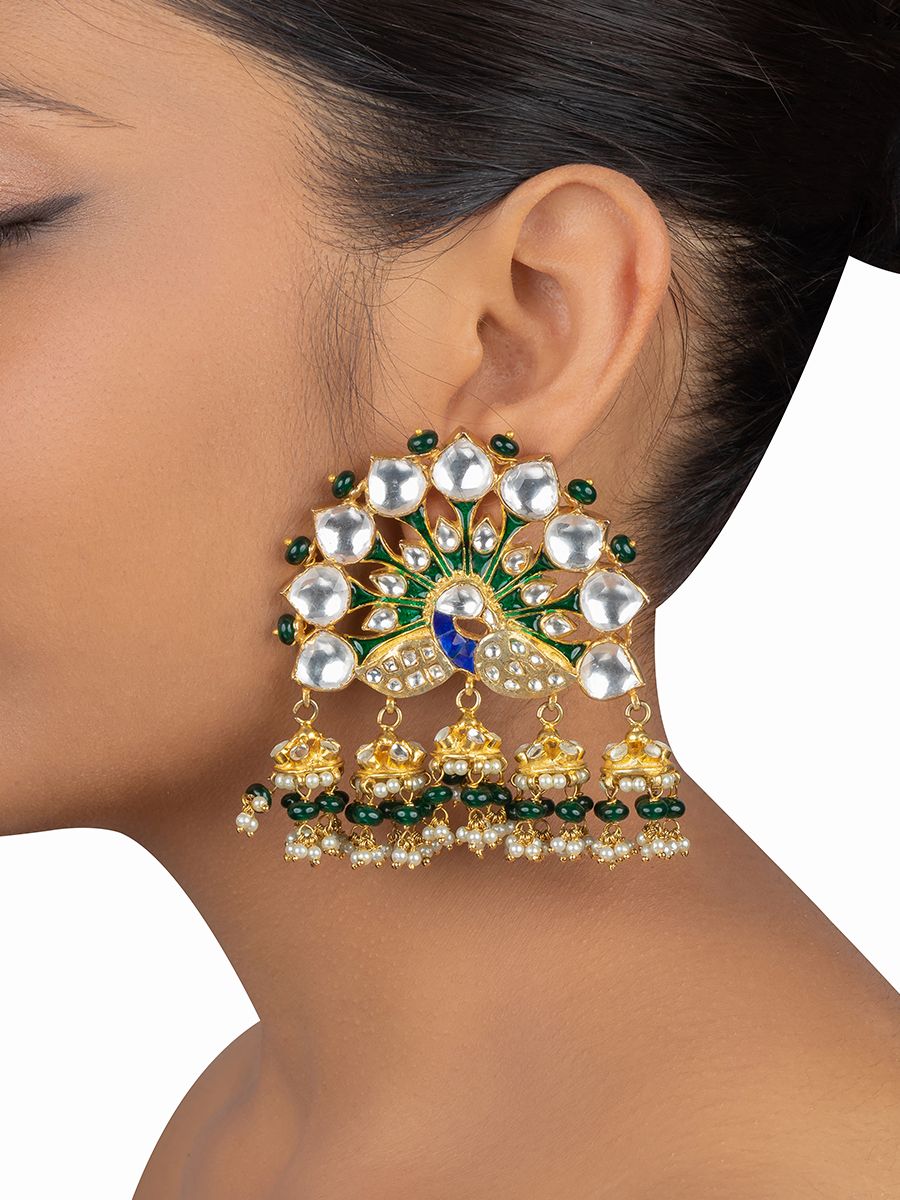 Image via Mortantra
If you want to wear meenakri jewellery on your mehendi but don't want to splurge on a complete meenakari necklace set online, pick these statement meenakari earrings instead! Not only will they give your entire look a unique touch but will also add a brilliant piece to your meenakari jewellery collection for your bridal jewellery trousseau.
Price: Rs 7,000, buy it online here
11. Red Meenakari Choker by Monica G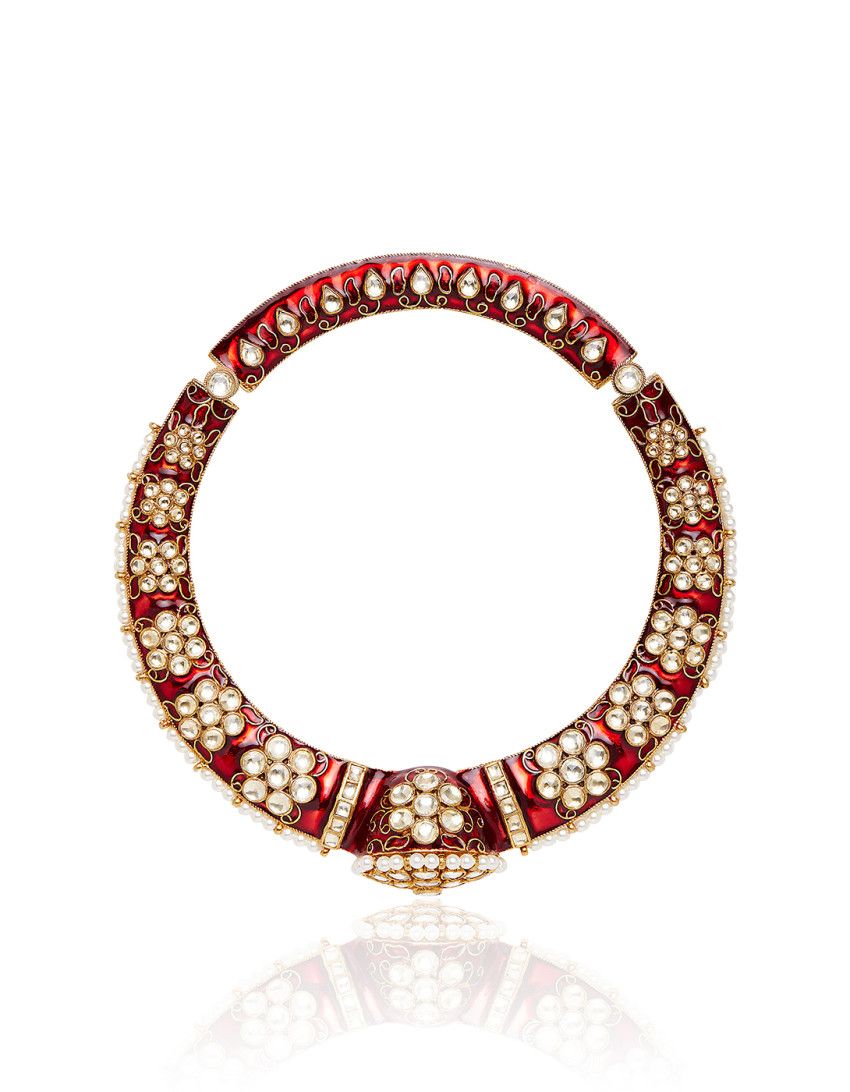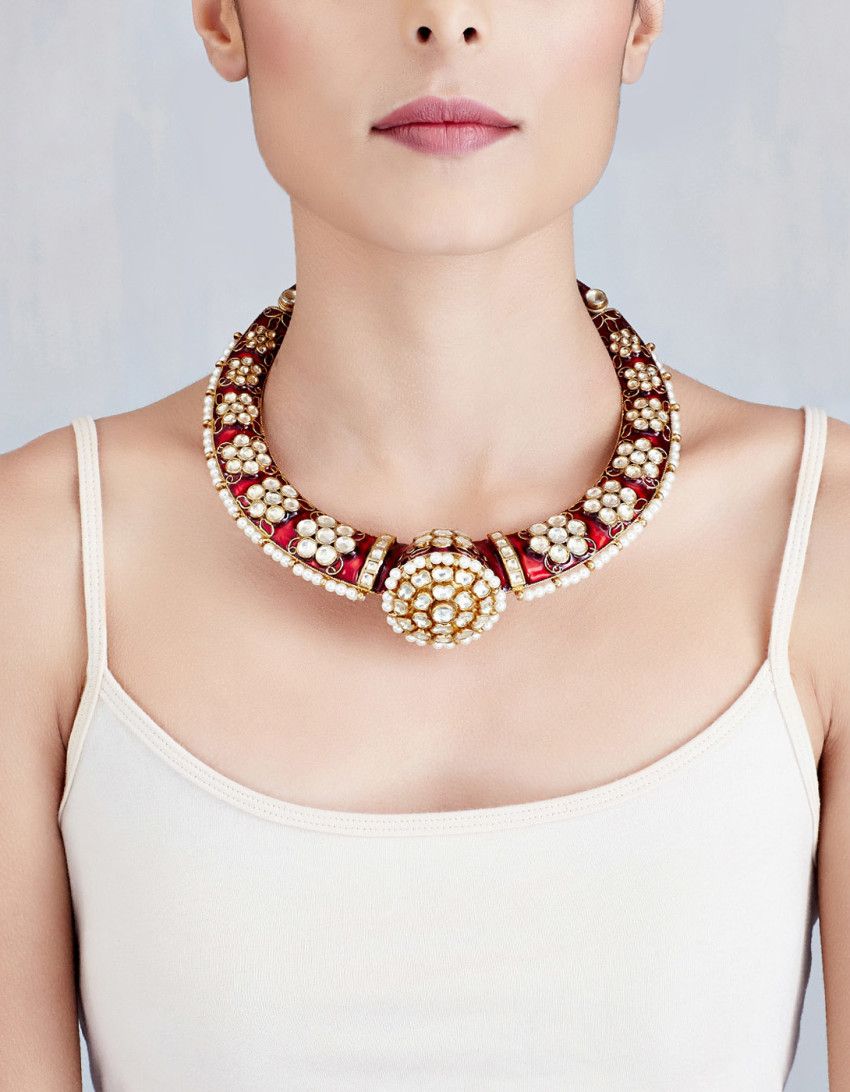 Image via Ogaan
With kundan, gold, and pearls, this one is a trendy piece to complete your Mehendi look! So bold and gorgeous!
Price: Rs 35,400 (without earrings), buy it online here.
12. White and Pink Meenakari Kundan Earrings by Jewellery Creation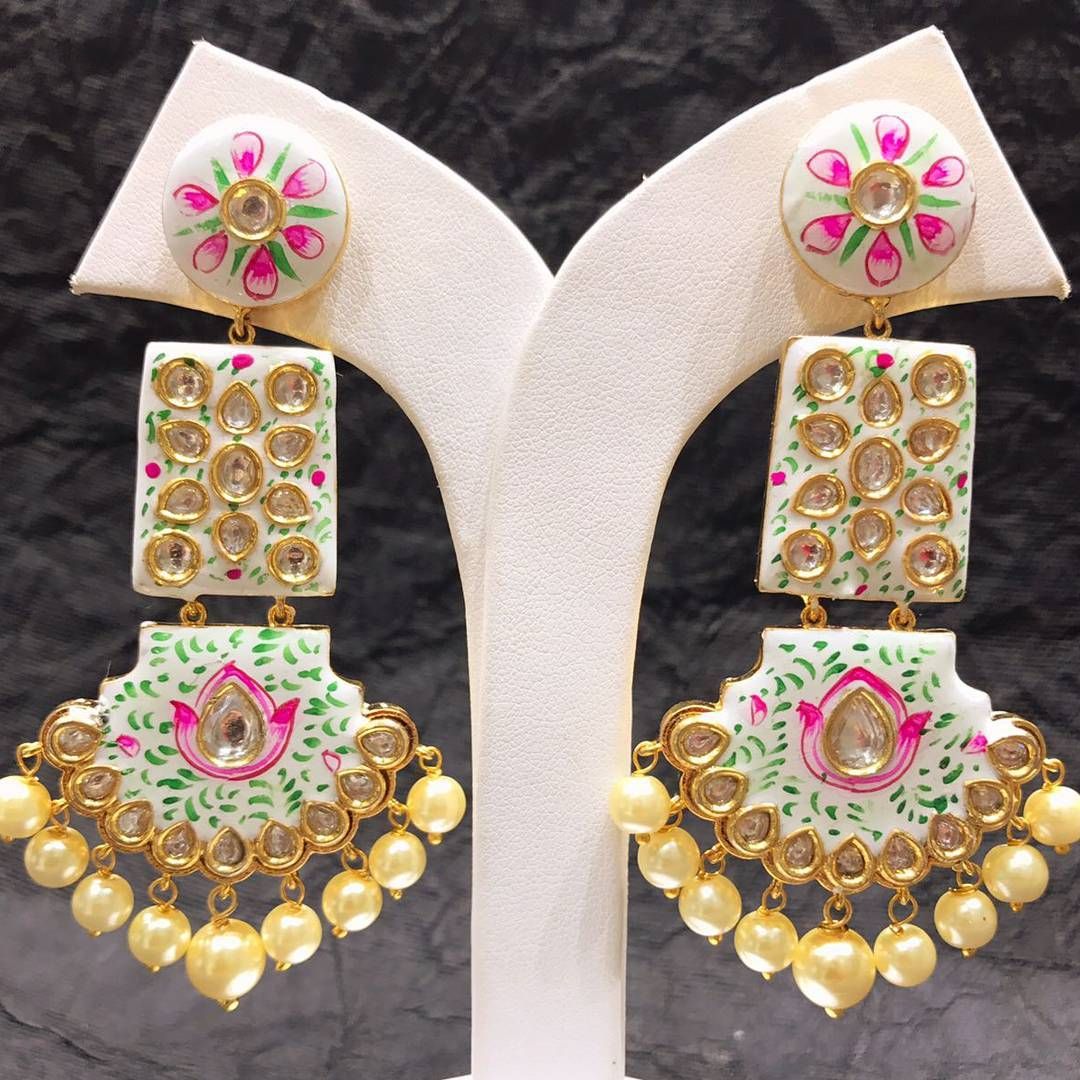 Image via jewellery.creation
Price: Rs 2750, buy them online here.
So, which one do you love?