The Coolest and Quirkiest Table Centrepieces we Spotted at Real Weddings!
BY Sakshi | 29 Aug, 2016 | 2214 views | 3 min read
It's high time to move on from normal flower bouquets and candlesticks as centrepieces guys! It's somehow the most predictable things when it comes to decor at Indian weddings... with table settings becoming more and more important prominent, why not give the old centrepiece a cool twist? Yes, you can still do florals and candles, but just a wee bit differently, which makes quite a signature statement! That's why we've put together some of the coolest quirkiest table centrepieces we have spotted at Indian Real Weddings, which will make flower bouquets feel like they were 'so yesterday'!
Quirky Theme Accessories
Photo Courtesy: Desert Pearl★ 5
How awesome is this Moulin Rouge Themed table setting with the top hats and feathers as a part of the lavish centrepiece? It's so unique and refreshing... adds the perfect amount of drama to an Indian wedding! So basically, you can choose whatever theme and have a prominent centrepiece made with accessories!
Matte Metallic Bottles
Photo Courtesy: Eventwala★ 4.6
Metallic matte paint looks so amazing, and these painted recycled bottles really stand out as centrepieces!
Cute and Quirky Models
Photos Courtesy: Designer Events Inc★ 4.9 , The A-Cube Project and ColorBlast★ 4.8
Scaled down models like the truck, giant wheel or even the Eiffel Tower make for cute and quirky centrepieces which are bound to put a smile on everyone's face!
Umbrella Centrepiece
Photo Courtesy: Stallion Events★ 4.1
Using umbrellas in decor is so so in these days, and table settings are no exception! Add it to the centrepiece for your own customised table decor! Kettle Centrepiece
Photos Courtesy: Purple Tree Events Solution★ 5 and The Art of Weddings★ 5
How cute do these colourful kettles look as centrepieces? Whether you wanna do them up with flowers or some paper art like pinwheels, they are super charming anyway!
Birdcages
Photo Courtesy: Peppermint Events & Entertainment★ 5 and RG's Designer Wraps★ 5
While birdcages have become pretty common in wedding décor these days, you cannot ignore the fact that they make for super pretty centrepieces!
Mason Jars
Photo Courtesy: The Wedding Soul★ 4.9 and Baqaa Glamour Weddings & Events
Mason jars are huge these days, and supplementing your vase for a mason jar is also a cute and budget-friendly idea! Depending on your theme, you can get coloured, transparent or even decorated ones and have a simple or complex floral arrangements in them!
With Funky Figurines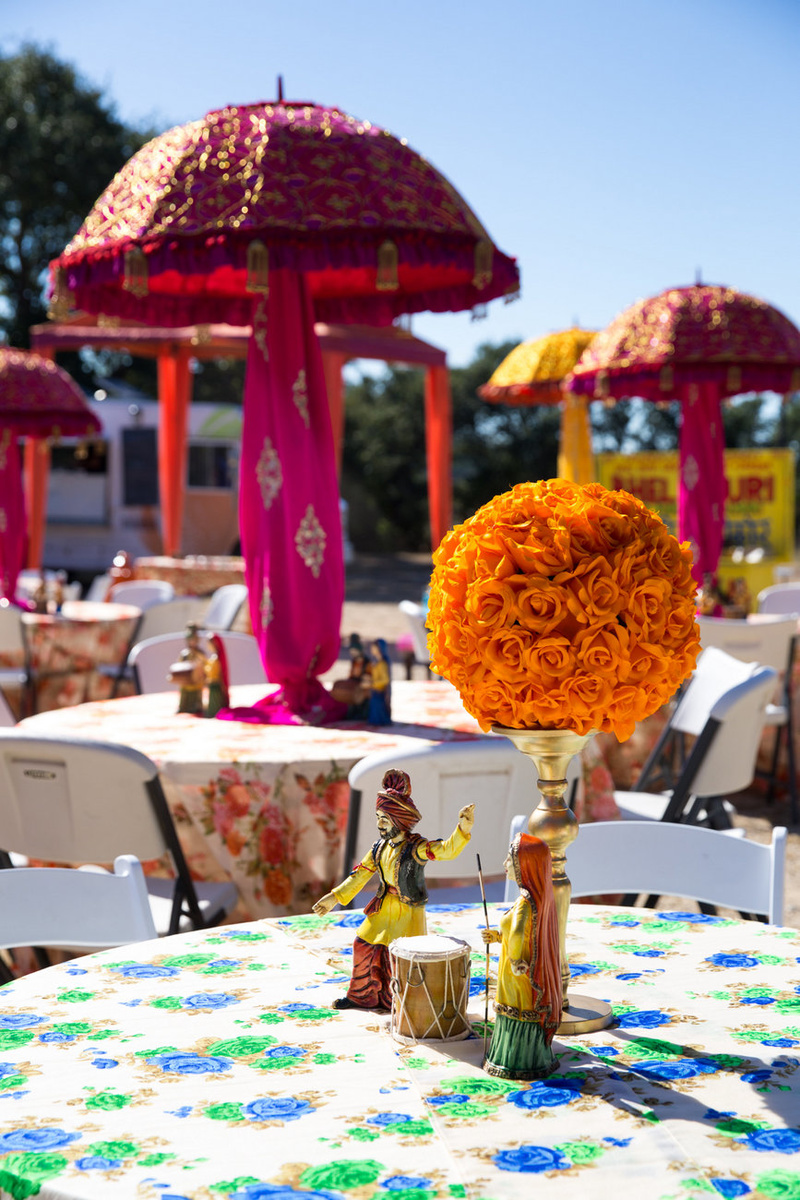 Photos Courtesy: Pooja and Shanjeet's Real Wedding
How cool is this idea for a Mehendi or even an NRI wedding to show everyone your roots?
Mini Flower Garden
Photos Courtesy: Signatures by Neha★ 4.9 and Chic Events★ 5
An assortment of different flowers put together this way also makes for an interesting yet unique centrepiece idea! You can even stick in a tiny chalkboard with a message!
Fresh fruits with Flowers
Photo Courtesy: Devika Narain and Company★ 4.9
Freshly sliced fruits like lemons and oranges dipped in juice or water in transparent vases also make for super cool table centrepieces.. especially for summer weddings!
Super cool, right?