The Cutest Proposal Story Of a Wedding Planner #WeirdoAndBeardo! (*Save Your Awwws For The Story)
BY Sakshi | 14 Sep, 2016 | 1716 views | 3 min read
So how do you propose to a girl who isn't fond of diamonds and weaves magic in weddings for a living? Nilma and Abhineet's proposal story has everything- from the warmth of a home-cooked meal to a unique ring, and we're sure this proposal is going to give a lot of people #proposalgoals!
Nilma runs With Love Nilma★ 5 an event styling company which Abhi works alongside on production, designing invites, spaces and photography. Abhineet runs Yellow Umbrella Productions, a production house based out of Bangalore which produces TV commercials and print ads which Nilma co-produces as well. So basically they have hectic schedules which doesn't allow them any breathing space as they run two companies together and are working day and night and on weekends too! But Abhineet still managed to pull this intimate proposal off... so save your 'awwwws' for the end!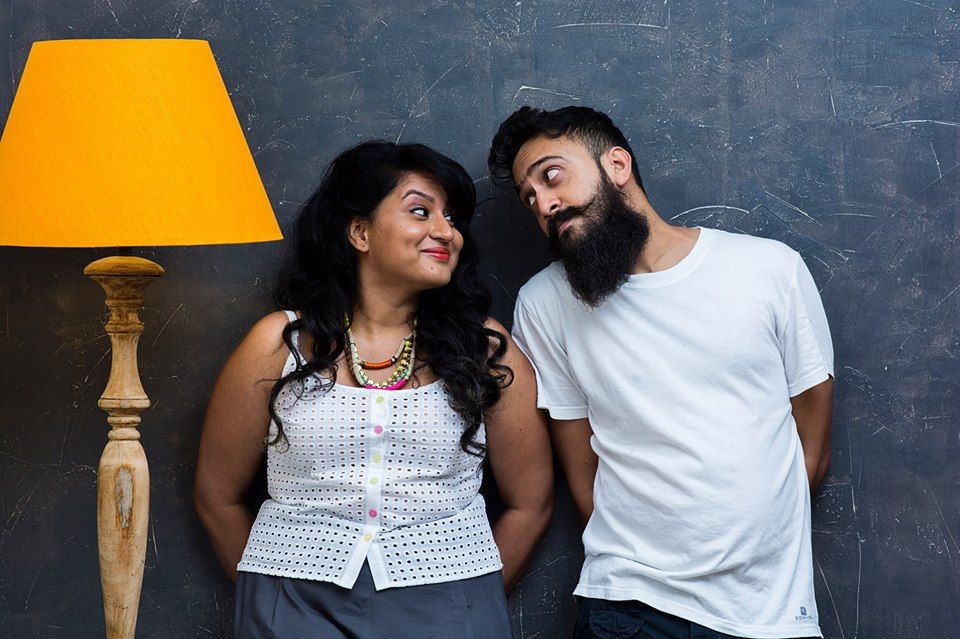 Abhineet and Nilma have known each other for about 10 years... they bumped into each other about 3 years ago at a mutual friends wedding and they've been inseparable since then!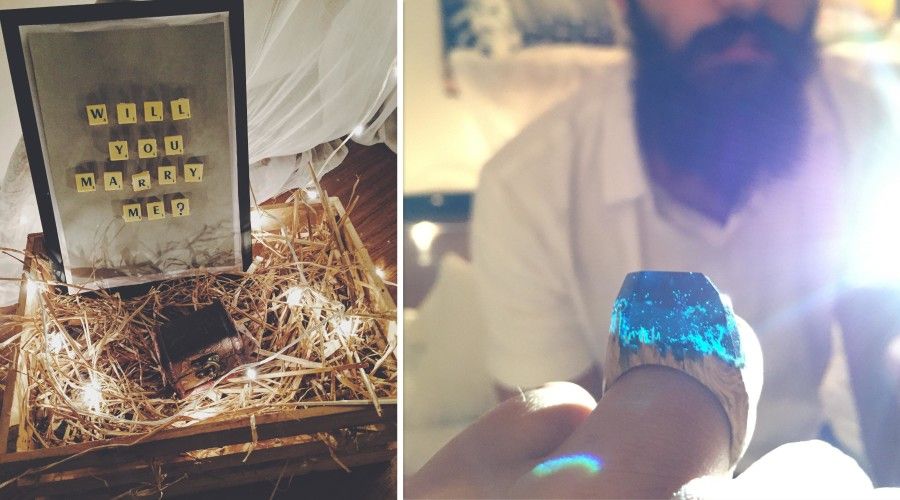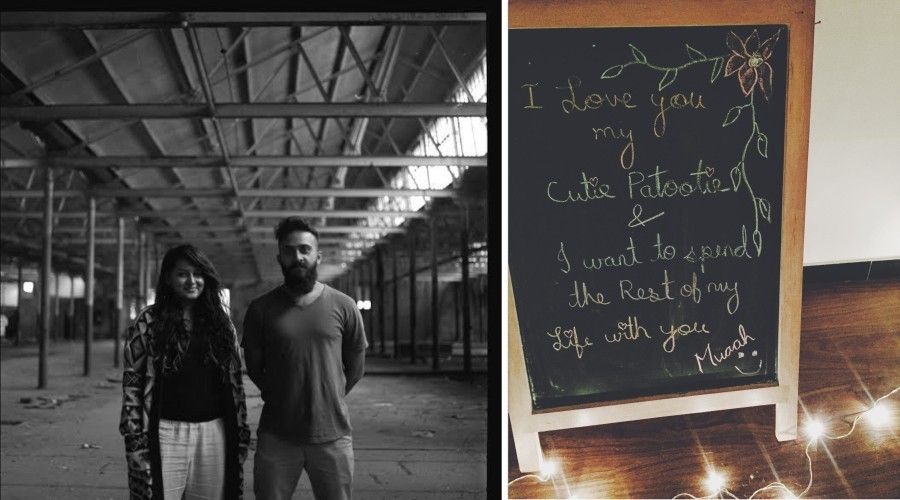 Our Proposal Story by Nilma
Amidst the chaos Abhi decided to take the plunge. He pre ordered a wooden ring from Secret Wood 3 months prior, all the way from Canada which his sister brought to India when she traveled back after university there. The ring is handmade and one of a kind and is called arctic forest...if you look closely it looks like there is a forest growing inside.
We have a common office for both our companies and one evening with the help of our colleagues Manvi & Sanjana between hectic schedules of back to back shoots and events Abhineet set up the office with fairy lights and pretty props. Apparently he had created a secret Pinterest board with the two girls and shared pins and ideas of what he would like to do. That i thought was adorable! That he actually put some thought into the actual event :)
I landed exhausted late that night on a flight, got to the office, opened the door and saw that the furniture was stowed away whilst a tiny teepee was put up on one corner, a  tree branch painted white with our printed photos together clipped on it, pompoms hanging from the ceiling and most importantly a delicious hot, meal cooked by Abhi waiting on the table. Obviously i got all teary eyed looking at the setup, especially the chalkboard which he had written himself in his handwriting that looks like it belongs to a 6 year olds. He also DIY'ed the words 'Will You Marry Me' with scrabble tiles on a frame. For me the fact that he genuinely spent time to think about this night and make little personalised things for me despite our crazy schedules completely floored me! And that ring! Its gorgeous and it's just what I had in mind as i've never been a fan of diamonds.
The cozy, intimate proposal with not much show and fanciness made me extremely happy as that's how the both of our personalities are.... and I just found another ring box in the office cupboard couple days ago... I didn't have the heart to open it.. But when I asked him about the same, he replied its for the wedding day... and now I cannot wait for my next surprise! :)
Now THAT's called a proposal right? And their hashtag is #weirdoandbeardo... How cute is that!!!