The Most Unique Mehendi Decor We Spotted At Weddings These Days! (Kites Are A Thing Now, Guys)
BY Sakshi | 26 Oct, 2016 | 5182 views | 4 min read
Mehendi decor can be so fun, but most things you see are so done to death
yaknowwhatimean
! We put together some alternative ideas we spotted on our amazing
inspiration gallery 
Giant genda phool frame photobooths
Event Filmers Photo Courtesy: Shutterdown - Lakshya Chawla and Event Filmers
We're sure you've spotted these on WMG off late, but this is such a fun new trend for the Mehendi and looks so happy and festive! Plus, this way you can really differenciate the Mehendi photobooth from the other functions!
Hanging Kaleere in decor
Photo Courtesy: Designer Events Inc★ 4.9
If you're looking for a break from the usual genda phool decor, then hanging kaleere as props looks so pretty and 'weddingy'! They give like this traditional charm to the decor which is what a lot of brides are going back to these days!
Alternatives to floral strings
Photos Courtesy: Anika & Akshay's Real Wedding and Abhinav Bhagat★ 5
Again, if you're bored and tired of the same genda phool floral strings (which are still awesome btw!) and want something
hatke
for your mehendi decor, then there are some cute new alternatives to them! You can hang gota strings which look so festive and nice or even choose pompom strings, which are fairly new to the Indian Mehendi decor scene!
Indianised Dream Catchers
Photos Courtesy: Vintage Nutters
Dream catchers are pretty as it is, but when combined with Indianised elements like ghungroo and genda phool, become even prettier and so much more festive! These can be used pretty much anywhere- as hanging props indoors or outdoors! Make them indianised and they're pretty cool statement display props!
Reusing old tyres
Photo Courtesy: Nupur and Adish's Real Wedding and The Con Artists
Reusing old tyres after painting them in bright colours is also such a cool idea for the Mehendi! You can hang them for a photobooth or even convert them into cool-looking seats by throwing cushions on them!
Floating floral arrangements
Photo Courtesy: Nuptials by Priyanka Pandey
A lot of outdoor Mehendi venues have pools these days, so why not deck them up as well? You can have some floral arrangements floating, which looks super cute!
Suspended Umbrellas
Photos Courtesy: Nupur & Viren's Real Wedding and Jodi Clickers
We've been spotting more and more umbrellas in decor off late, especially for Mehendis and we must say this is a decor trend we like! Whether they're traditionally decorated cloth ones or your simple rain umbrellas, they look smashing as tent decor or for backdrops!
Pin Wheels
Decor by Silhouette Events★ 5
Adorable little pinwheels are cute props to keep as not just table centerpieces, but also random hangings from the ceiling or just stuck to a wall.
Kite-themed decor
Photo Courtesy: Devika Narain & Co and Anyonya★ 4.6
Kites as themes in the decor work so well- and they're pretty versatile as a prop- they can be used in table settings, for corner displays and even for backdrops! Plus, they look so awesome and colourful!
God-inspired decor
Photo Courtesy: The A-Cube Project★ 4.9
Hanging cute little God idols for Mehendi decor is also catching up, plus it looks festive and colourful!
Candy Station
Photo Courtesy: Shreya & Deep's Real Wedding
A candy station is something that's gonna make everyone happy- from the young to the old! Also, it looks so cute decor-wise!
Mela Props and Theme
Photo Courtesy: The Creative Lens★ 4.9 . Decor by The Wedding Minions★ 5
A mela or carnival theme is really picking up for Mehendi functions, and this idea really works well for a destination wedding! You can work very element around this theme with stalls and even these cute mela jhoolas like a smaller giant wheel!
Curtains for entrance decor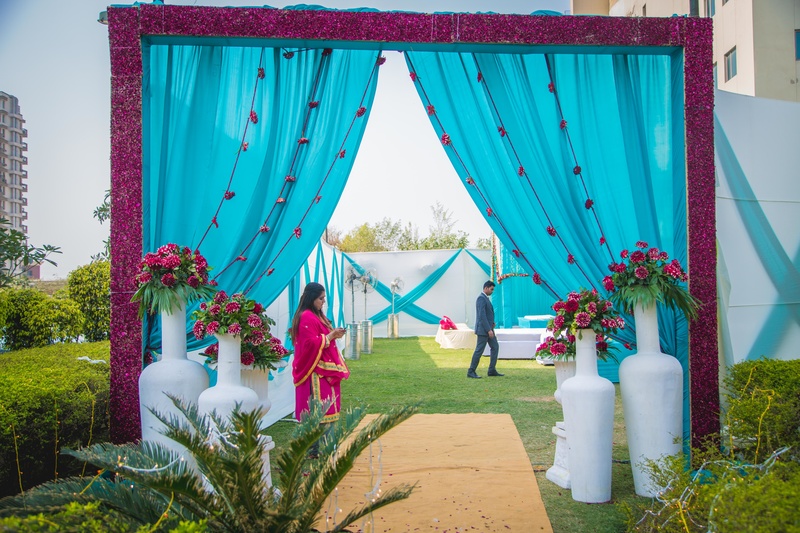 Photo Courtesy: Girl in Pink Photography
Having tied back curtains, whether they're made of fabric or floral strings is also big as entrance decor these days! And also, doesn't bright blue and pink look so awesome as a Mehendi colour theme?
Fun hindi words on props
Photos Courtesy: Picsurely Films★ 4.9 and Simran and Divyajot's Real Wedding
Adding words like 'Dulhaniya', 'Pataka' on photobooths or cushions is also something we've been seeing in a lot of Mehendis these days... adds that fun Indian vibe to it, no?
So, which idea are you gonna pick for your Mehendi?