The Newest Phoolon Ka Chadar Ideas For Your 2019 Wedding!
BY Sakshi | 06 Dec, 2018 | 11823 views | 2 min read
Find all the inspiration you need in one place! Yup, there are a lot of new and interesting ideas when it comes to the phoolon ka chadar, and we decided to put all the ones we loved in one place- so if you're looking for ideas, then look no further! Here are all the prettiest ideas you need for your upcoming wedding!
Something matching your lehenga!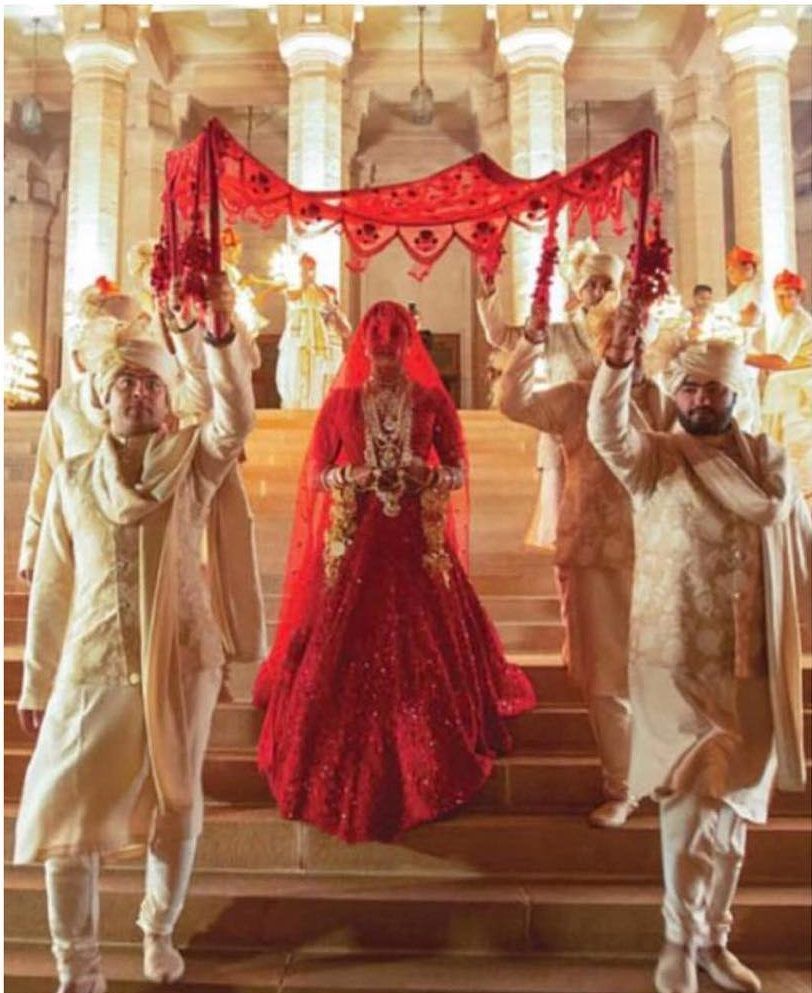 PeeCee walked to her wedding with a chadar that matched her bridal lehenga, and this is a new and pretty idea, especially if the groomsmen wear something neutral!
These that are so dreamy and gorgeous!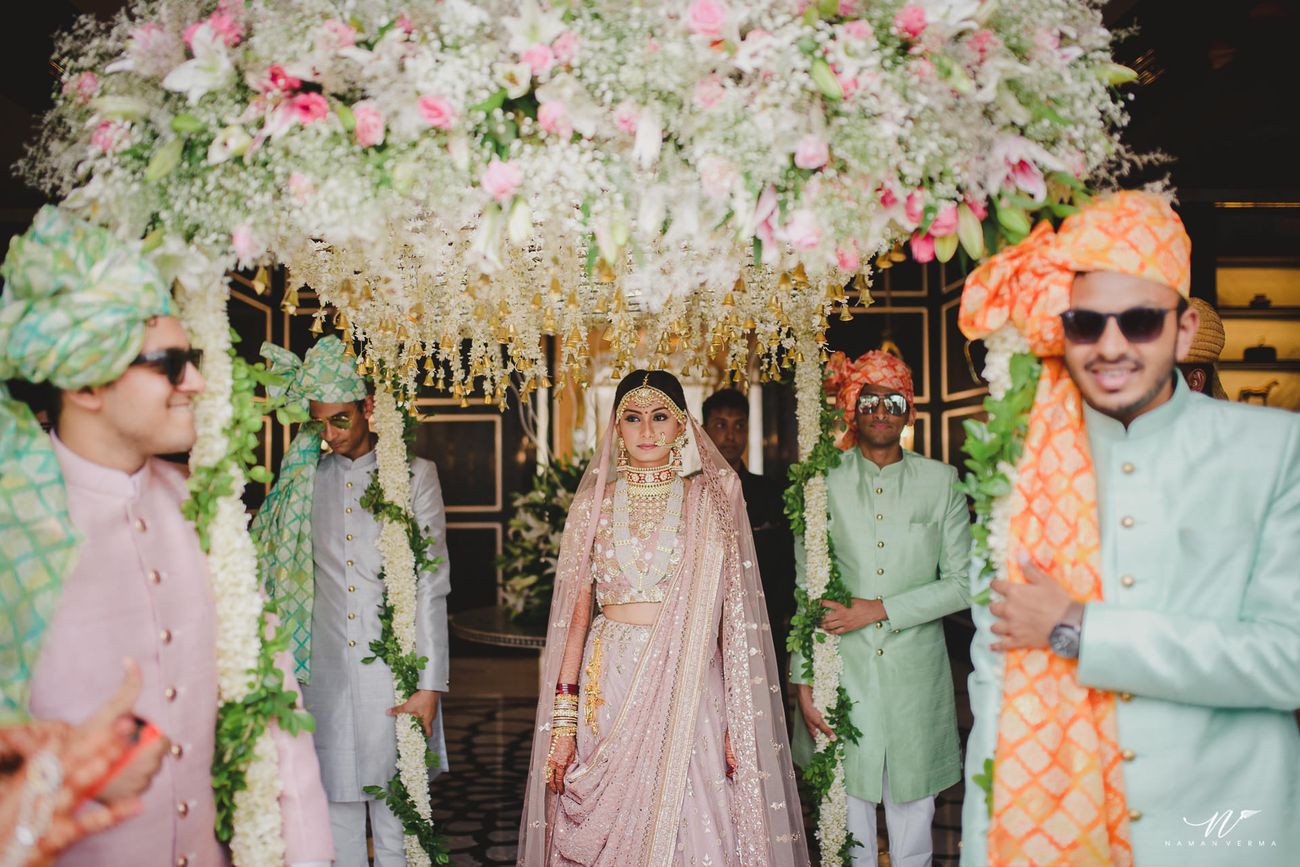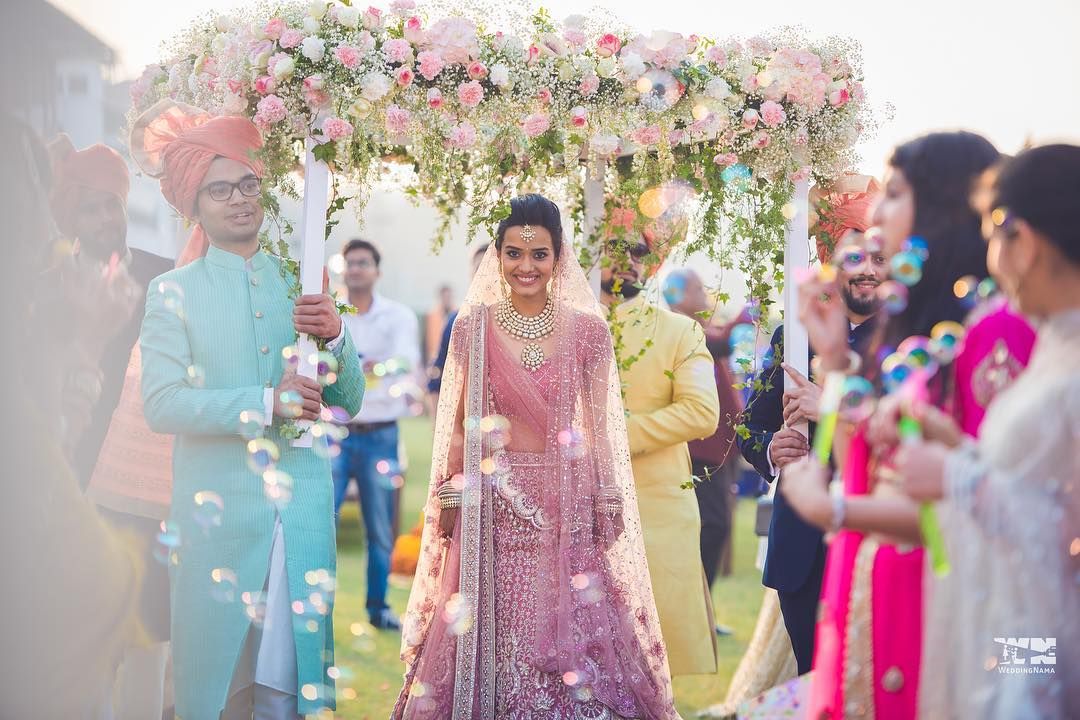 Image via Naman Verma Photography★ 4.9  and WeddingNama★ 5
Florals with baby breath and hanging kaleere or floral strings- so beautiful and fairytale-like!
Or literally just a simple dupatta or chadar!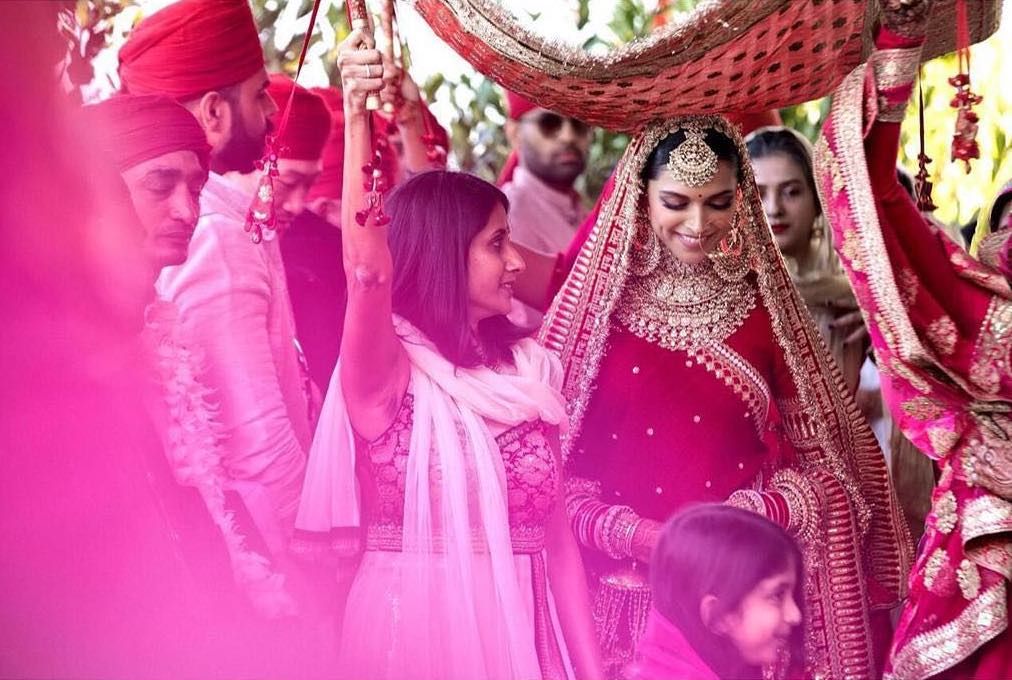 \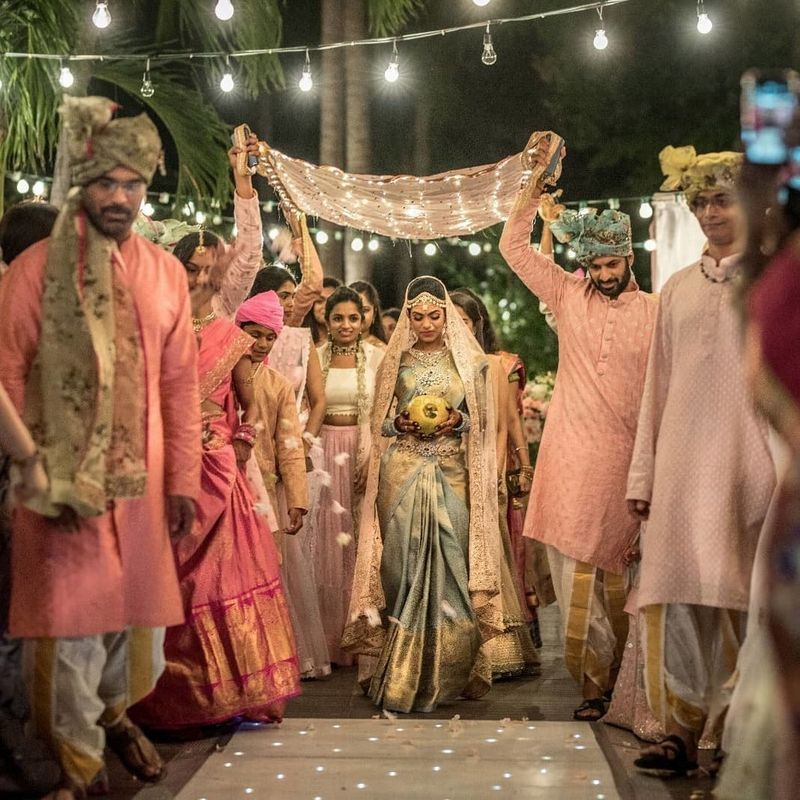 Image via deepikapadukone and Momento★ 4.8
Deepika Padukone did it, and so can you! No frills and fuss, but looks super cute too! You can even do it up with some LED lights!
Botanical-inspired with lots of greens!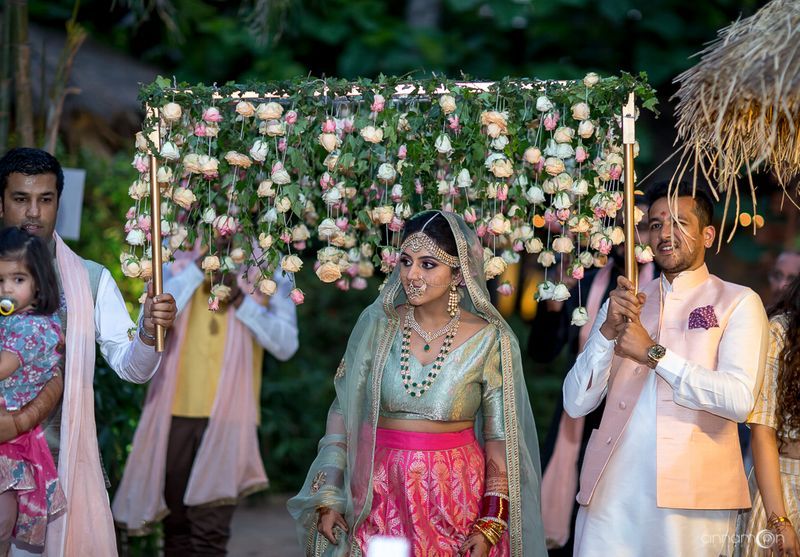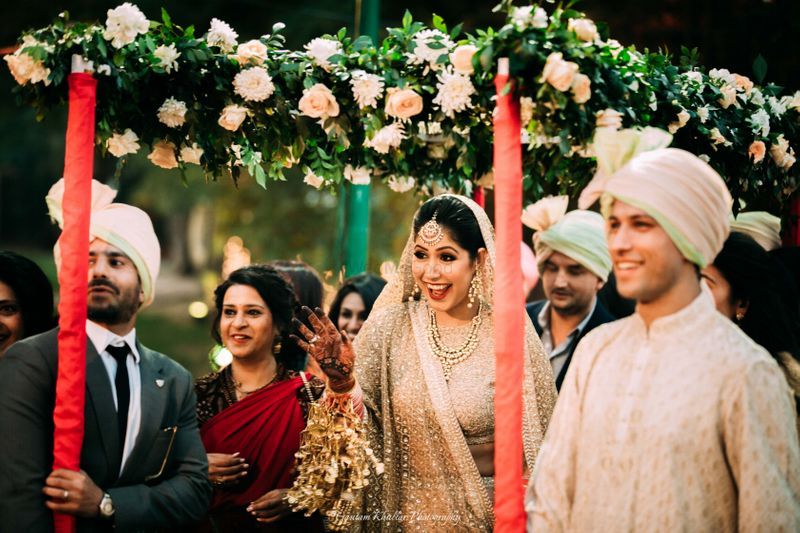 Image via Cinnamon Pictures★ 5  and Gautam Khullar Photography★ 4.8
Botanicals are big at weddings- and don't they look amazing?
Arch-shaped ones which look so different!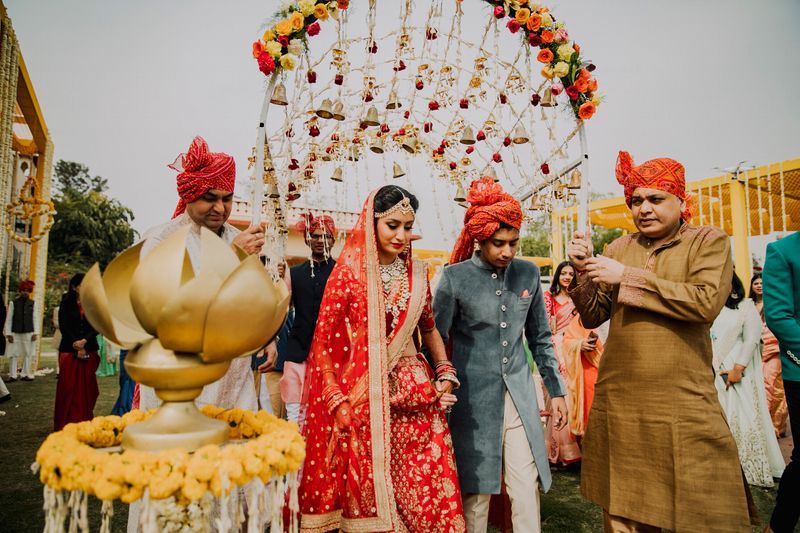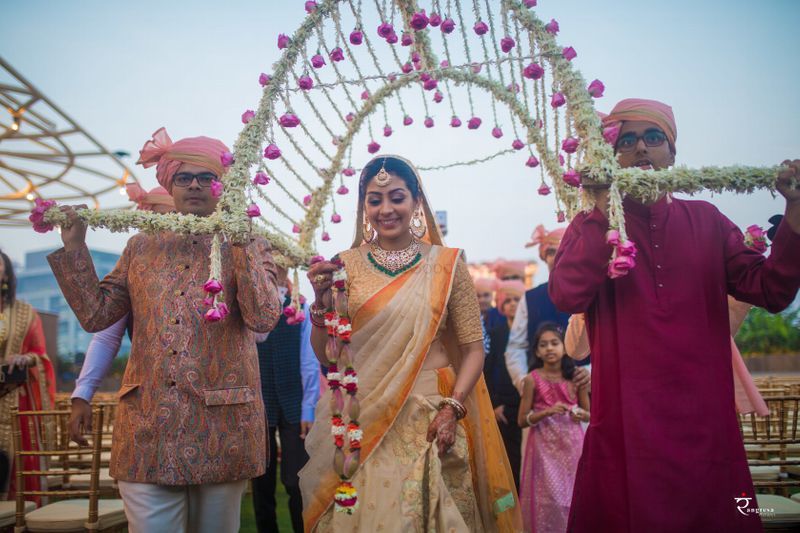 Image via Ambika and Athang (Jaipur) and Rangresa Pictures★ 4.9
Bells look amazing in phoolon ka chadars too- this one even stands out thanks to that arch-shaped design that's so unique!
Criss-cross floral strings that look amazing!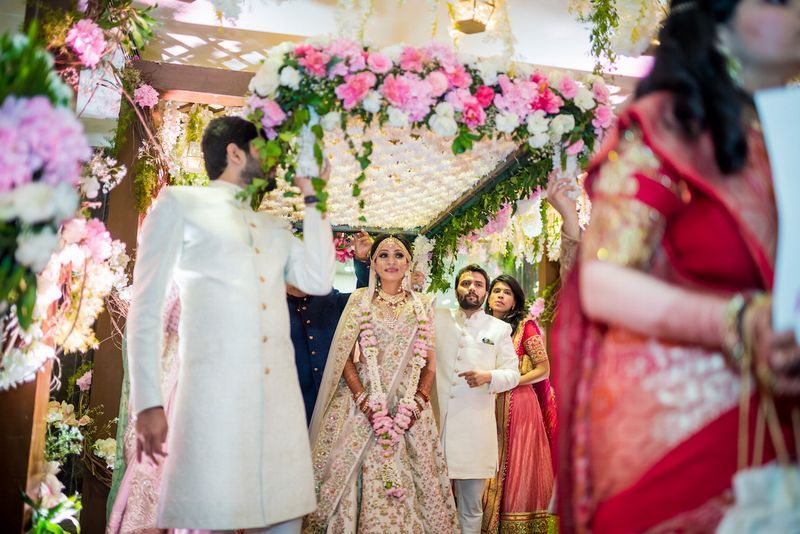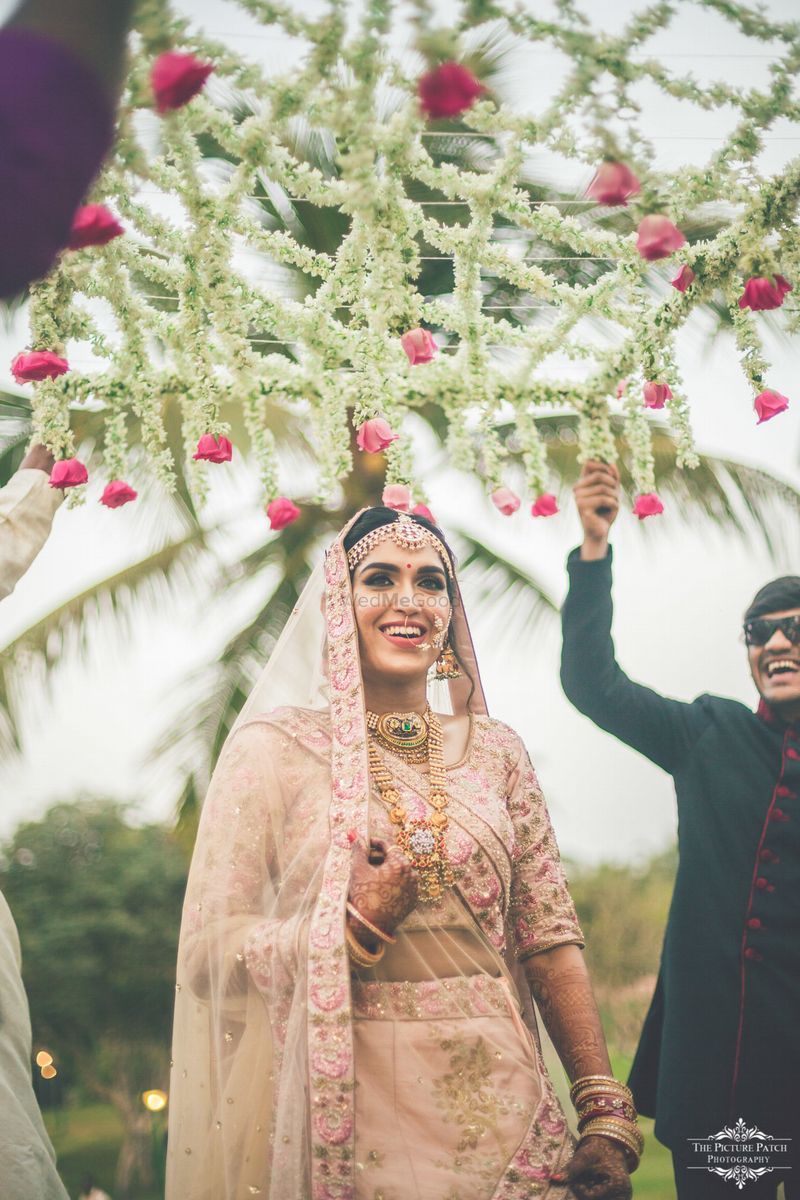 Image via Dhvani & Samarth (Mumbai) and The Picture Patch Photography ★ 4.9
Criss-cross floral strings look so pretty and dainty- works really well whether you hang something from them or not. 
This one with the hanging upturned roses!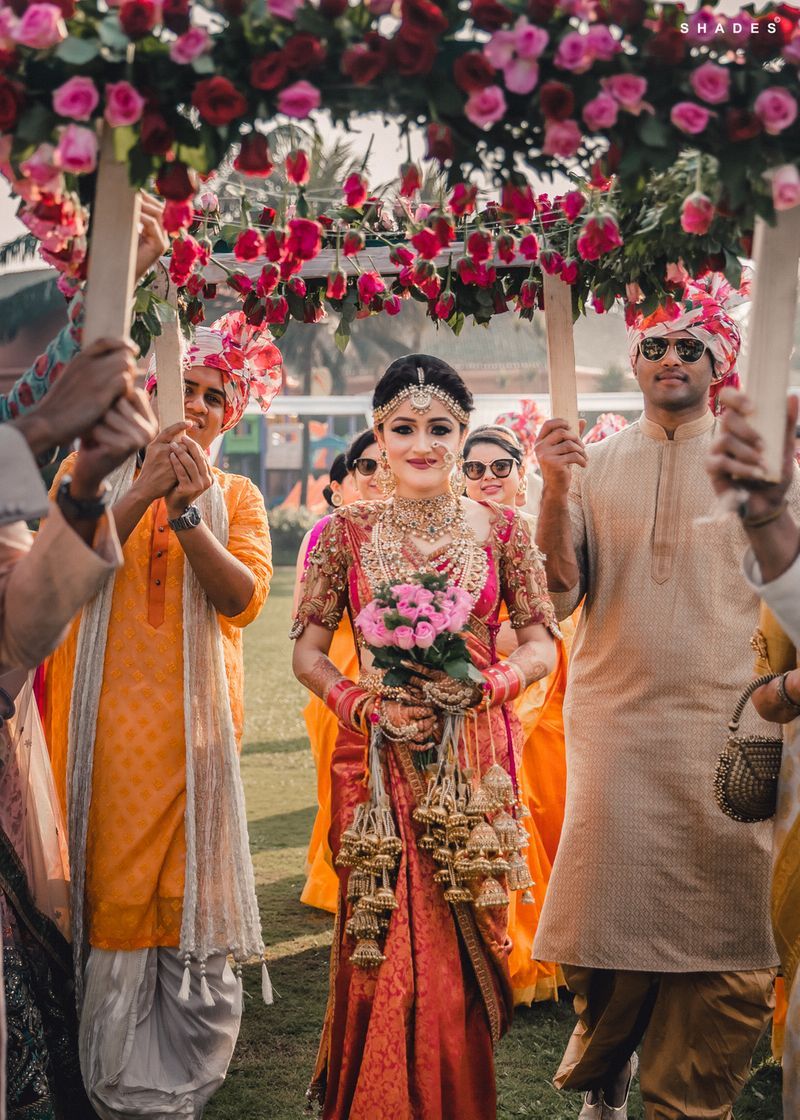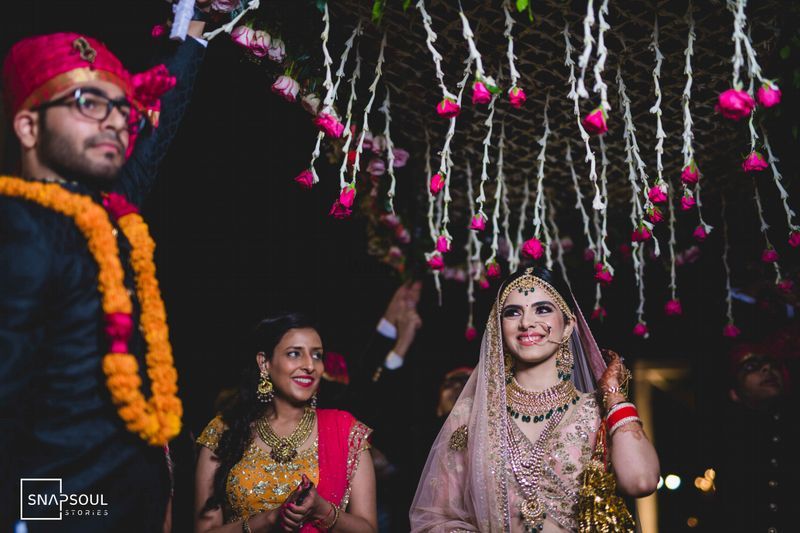 Image via Palak & Dhruv (Goa) and The Wedding Curator
So so gorgeous and pretty- you can be as simple or as grand with this as you want!
Or do you fancy lotus instead?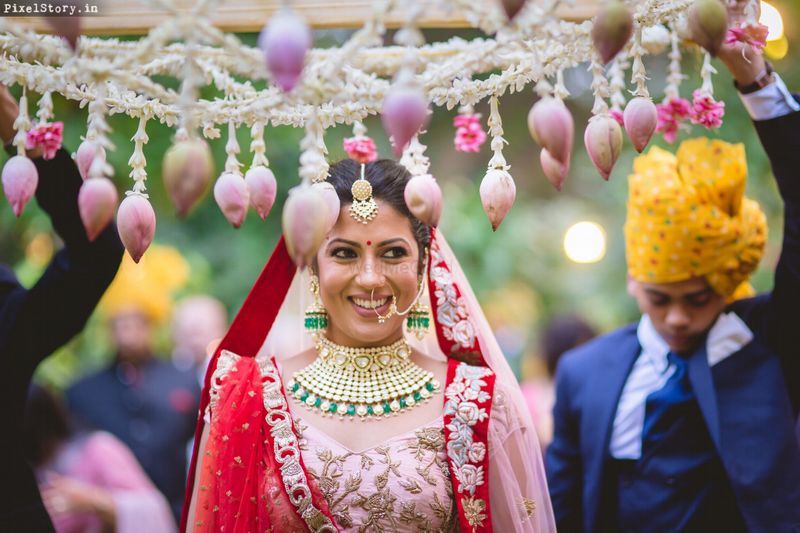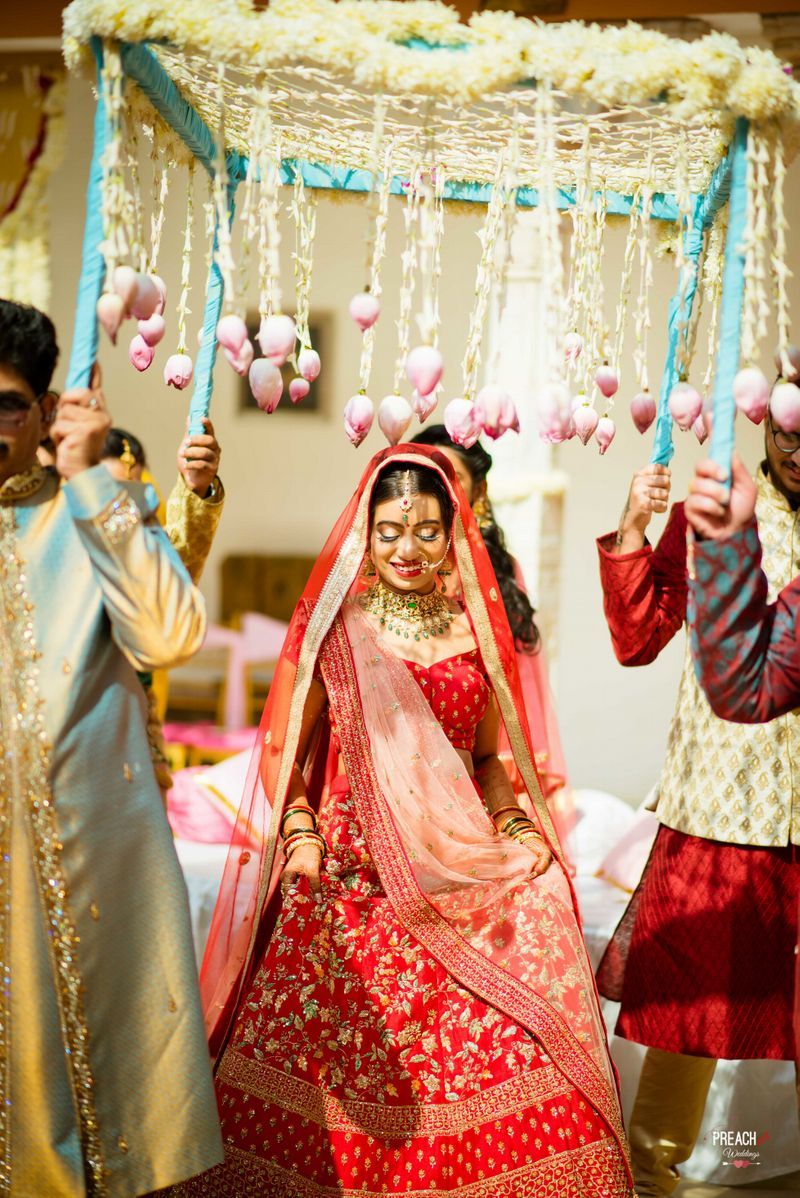 Image via Nikki Neeladri★ 5  and Preach Art★ 4.9
Lotus look so pretty too- and so unique and different!
Genda phool looks pretty too!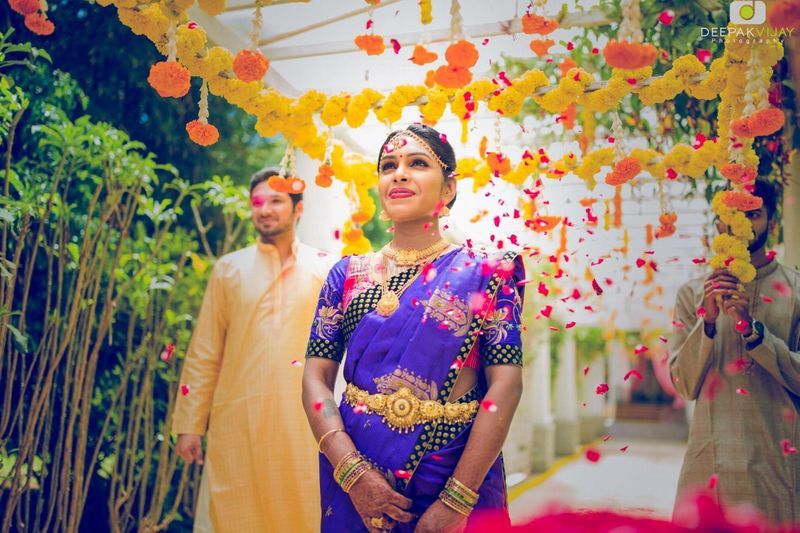 Image via Deepak Vijay Photography★ 4.6
So happy and cheerful! Love how it adds a pop of colour! 
With kaleere adding all the magic!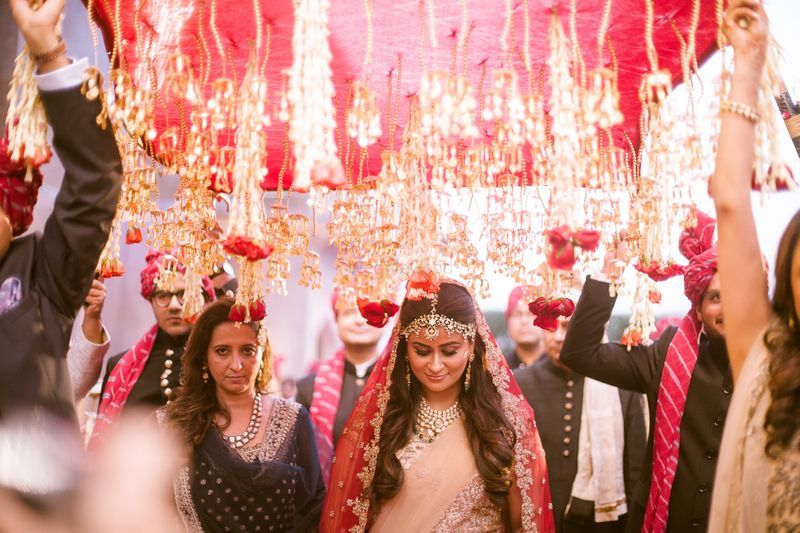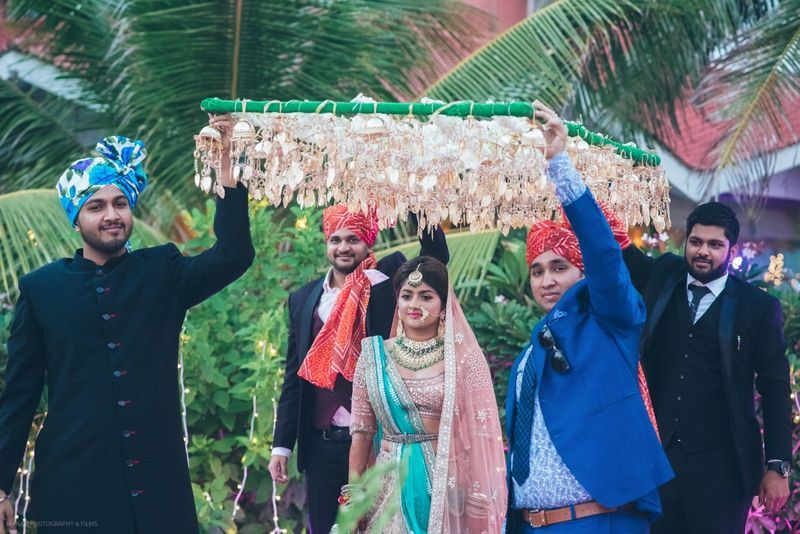 Image via Akshay & Anushka ( Jaipur) and Vidhiti & Tushar (Vizag)
We've seen brides to a few kaleere on them, but full-blown ones also look so amazing!
Something rustic with paper florals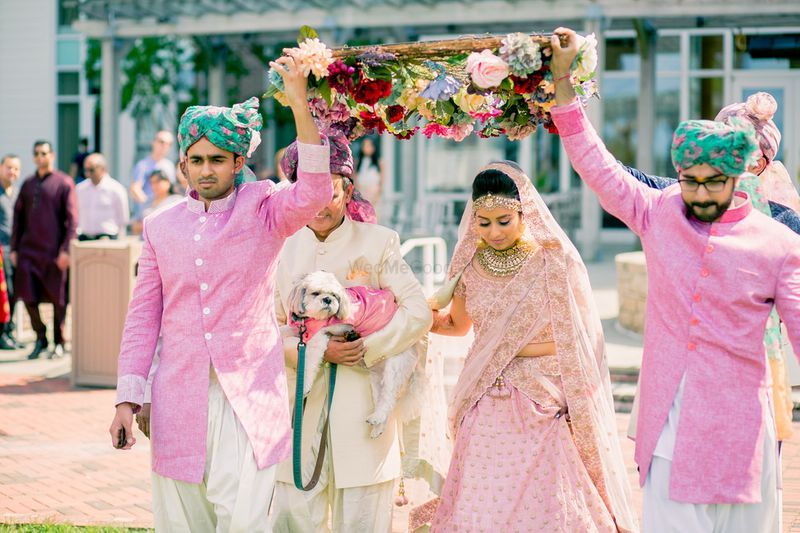 Image via Shriya & Rahat (USA)
Sweet and simple! Something like this can be DIYed as well!
ALSO READ: #BudgetBrides: 7 Cool DIY Ideas For Your Phoolon Ki Chadar!
#Trending: Brides Are Entering With ONLY Bridesmaids, & We Think It's Cute!