The Ultimate Father-Daughter Bollywood Song Playlist!
BY Twinkle | 23 Aug, 2021 | 132403 views | 4 min read
I am sure all you brides-to-be agree that out of all the sangeet performances, the most special one is that dance with your daddy dearest. Wondering why it's so special? After all, he's the first man you loved and is your superhero. If you are a daddy's little girl, this one is definitely going to top your list of performances. What will make this performance even special is the right song choice. Yes, the song needs to be meaningful and must perfectly describe your relationship with your dad as well as heighten up emotions. 
I am sure you are making notes and have started the search for 'the' song already. But we've already done all the research for you! Here are a few songs you must consider for that daddy-daughter dance:
Bridal Entry Songs With Father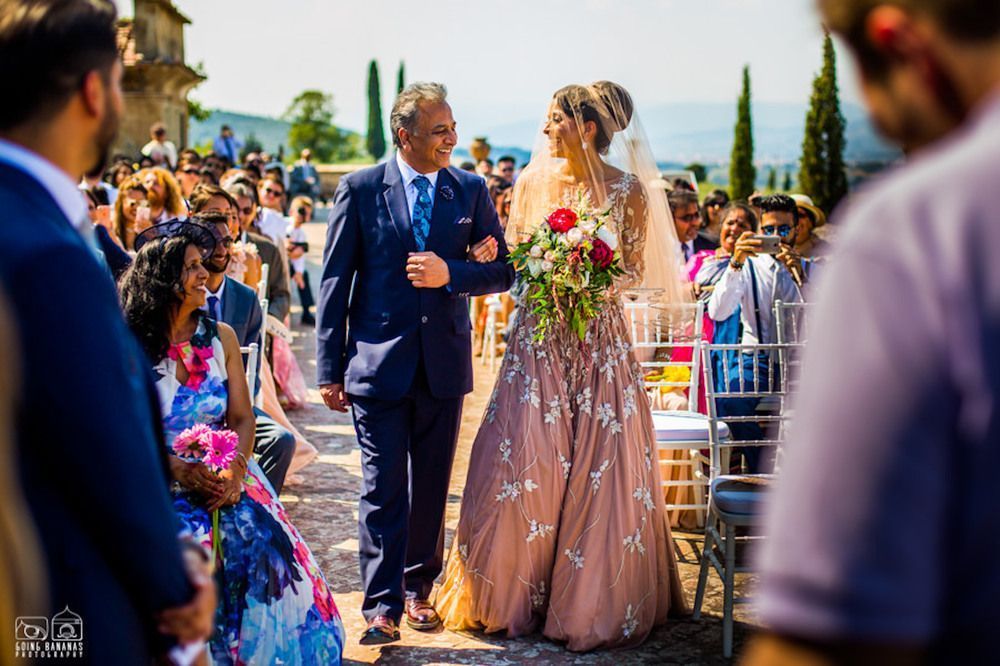 Image via Karishma & Sandeep
Here are the songs you can consider when making your bridal entry with your father.
Doesn't get prettier than this track does it when you're walking down the aisle with your father. It's such a soulful, beautiful track with meaningful lyrics that can bring tears to anyone's eyes!
The word Laadki is a fond way of addressing a daughter. And this song is the celebration of their unique bond and the journey of a girl growing up to be a woman.
This mashup has our heart. Unique and undiscovered, it brings out emotions and makes for the ideal song to dance with your dad on.
Latest Songs for Father-Daughter Dance
This one has been really trending for Father-daughter dances off late, and we love how the lyrics make so much sense for this special relationship too!
A very unlikely song, but we saw a performance on this with a father daughter duo, and loved it!
Soulful Songs for Father-Daughter Dance
This one is dedicated to mothers, but the track's starting is beautiful for fathers too, especially for the introduction to the dance.
This is also such a pretty track that can describe the beautiful father-daughter bond- love it for your dance with your dad. 
If the performance is a surprise to him, this not-so-mainstream song is perfect and will take him by surprise (in the good way!). It describes all your emotions as a daughter and how beautiful your bond with your dad is. 
While the female version is over done, the male version of the song still remains quite special. Have a slow and meaningful dance with your dad and we're sure the memories of this you shall carry in your heart forever.
After all, you really do make up all of his world. Not sure if any other song can justify his feelings for you better than this one! 
Peppy Songs for Father-Daughter Dance
This is one song everyone can't help but tap their feet to, it's just so happy and lively, and perfect to dance to with your dad.
After all, you indeed are your papa ki pari! This song is sure to cheer up the crowd and also make for the cute father-daughter moments.
Not a typical father-daughter emotional song, but definitely has to be on the list because after all, you are your papa ki cutiepie! ;)
After all, he's the one who's there for you who'll make sure you'll be alright no matter what happens! Such a happy track to dance to with your dad. 
Classic Songs for Father-Daughter Dance
Now this one track that's just iconic, and the lyrics can be so relevant when you want a tearjerking performance with your father.
The old or the new version of Gud Naal Ishq Mitha is indeed the perfect pick for a father-daughter dance and match your fun personalities! 
ALSO READ: Sangeet Diaries: Songs For The Parents Of The Bride/ Groom !