The Ultimate Guide On Picking The Perfect Wedding Sherwani!
BY Sakshi | 16 Apr, 2018 | 3765 views | 3 min read
As a groom, you may think your options are very limited, but let us tell you that they are NOT. There are so many new ideas out there, that the sherwani has literally undergone a trendy new change, and you can really experiment with it if you want! So here is the ultimate guide on picking the perfect sherwani for yourself- with ideas and tips to really nail your groom look!
First things first: Decide the look you want to go for! 
Image via Shiv & Vasundhara (Delhi) and Happyframes
What's the look you want to go for? Simple or grand- well, those are the two fave looks we see grooms rock, and while both of them look nice, it really depends on your personal choice!
Matchy-matchy or contrasting with the bride? Decide!
Another very important decision- how to match (or not) your sherwani with the bride's outfit. Sorry boys, usually it works this way rather than the other way around. 
Contrasting: Brights or Pastels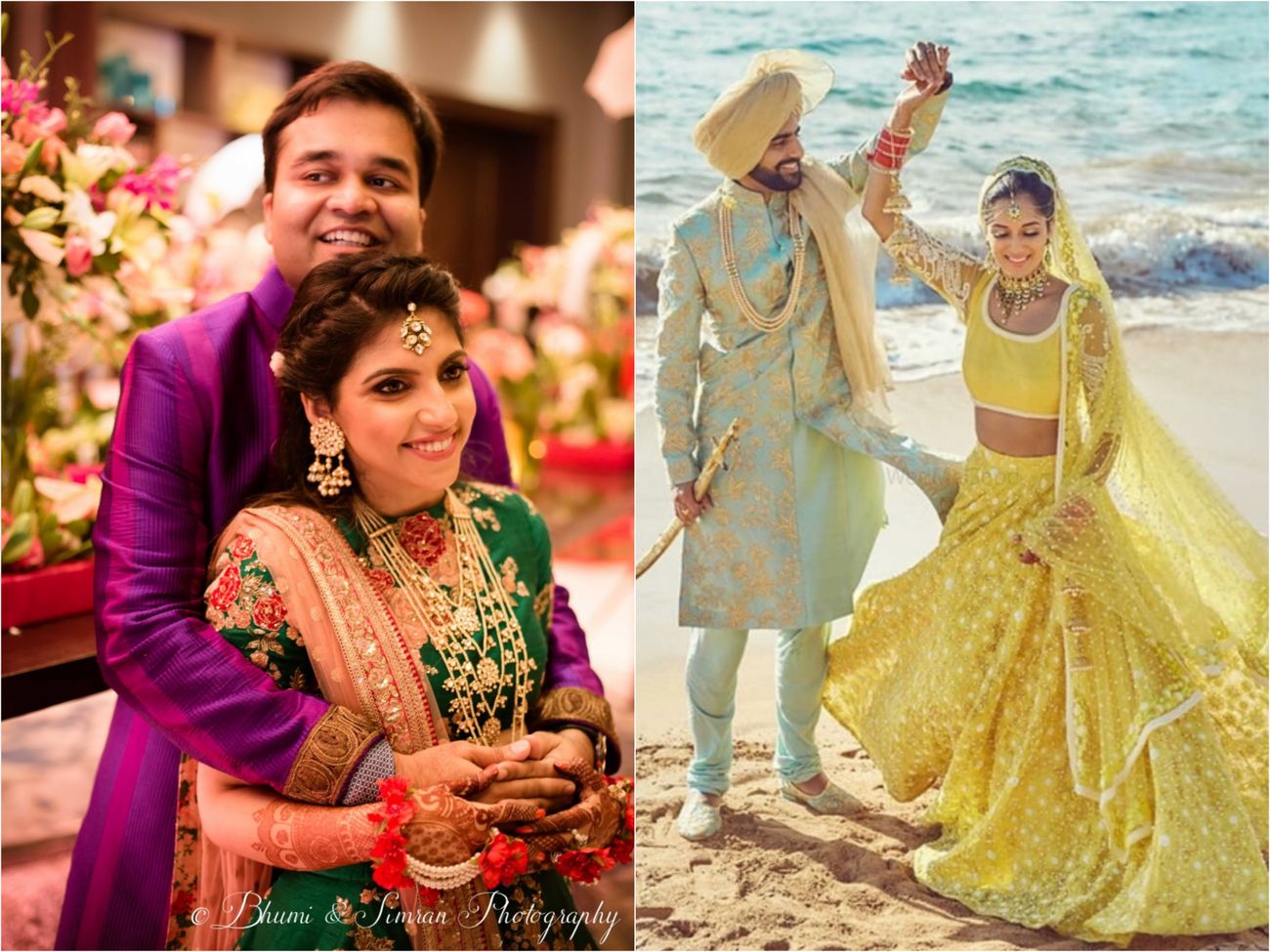 Image via Sanam & Suhel (Delhi) and Harkiran Basra
Matching: Brights or Pastels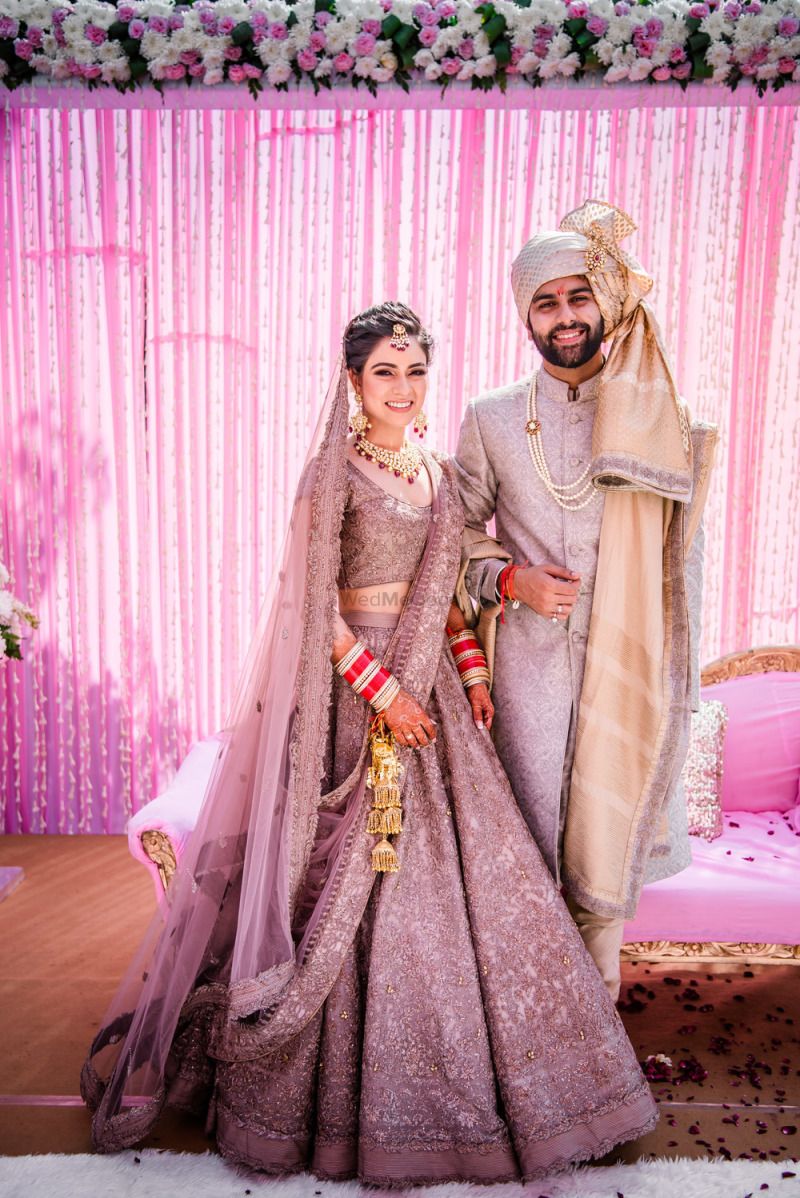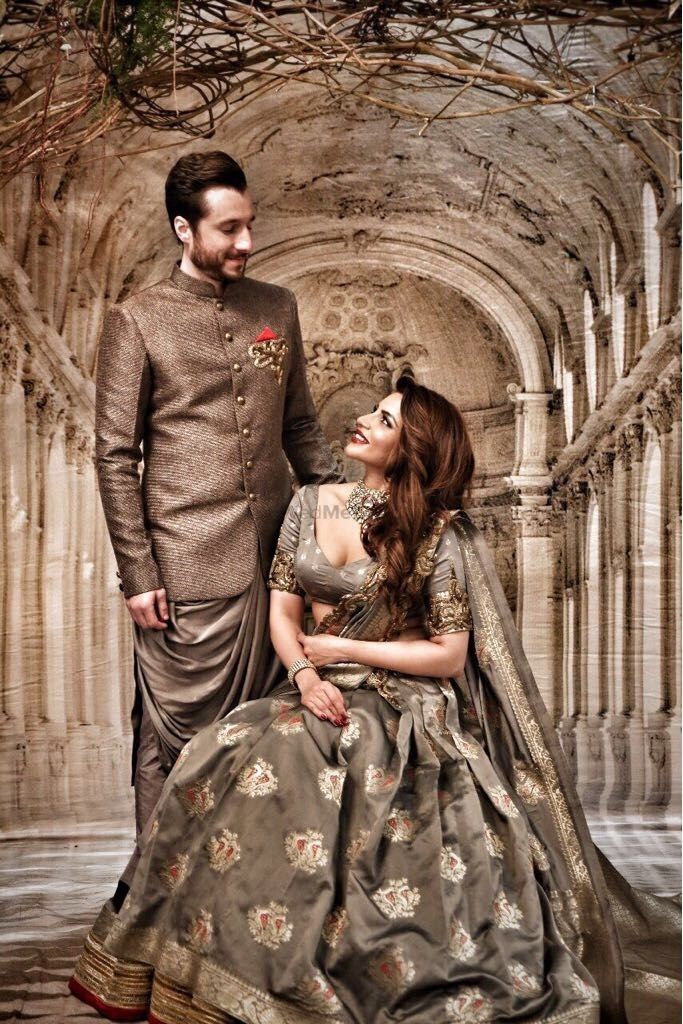 Image via Vandya & Arjun (Delhi) and Ojas Rajani Bridal Makeup Artist
Know thy fabrics and work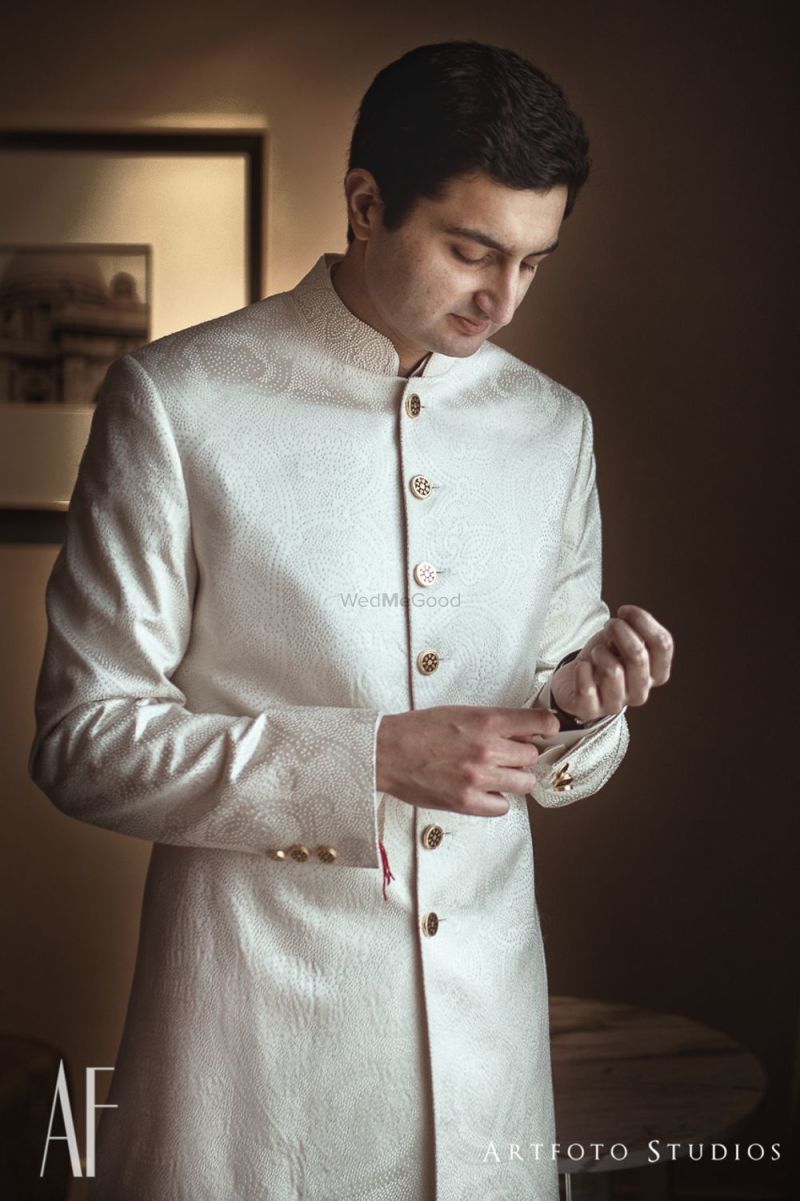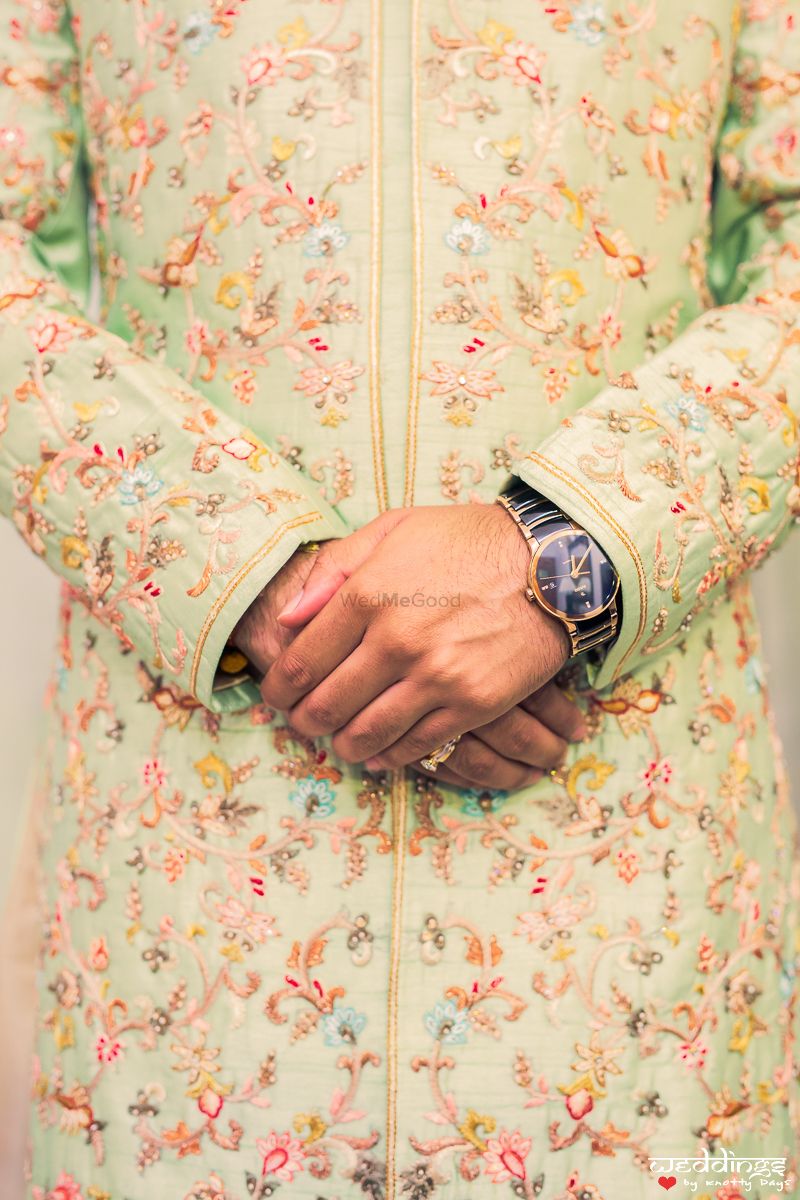 Image via Shiv & Vasundhara (Delhi) and Weddings by Knotty Days
Do you want something with self-work, printed, embellished or embroidered? There are lots of options out there, and choosing the right kind of work you like is essential. Plus, fabrics also matter- you could opt for raw silk, benarasi, velvet or brocade depending on the choice of work and the weather of course :P  
Do not be afraid to experiment!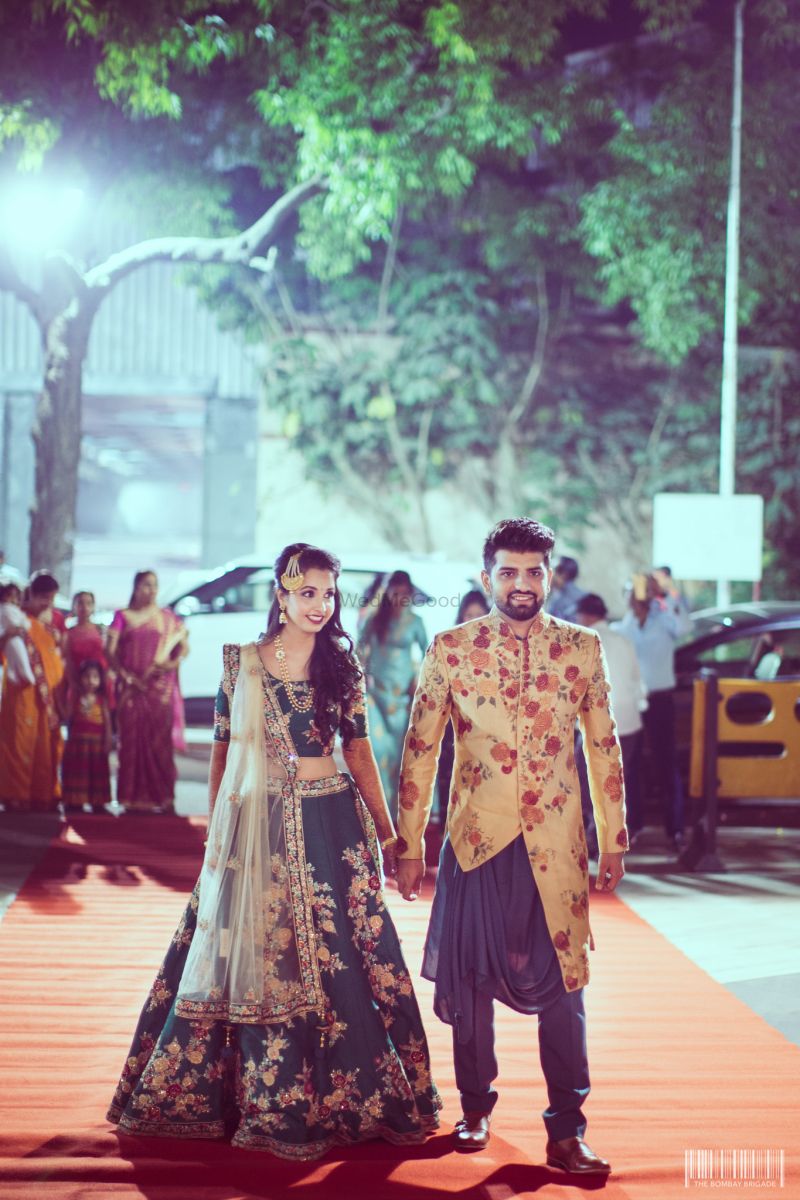 Image via The Bombay Brigade
Whether it is about the colour or the silhouette- don't hesitate in experimenting, grooms are becoming pretty trendy these days, and you're gonna fit right in!
Try out new silhouettes!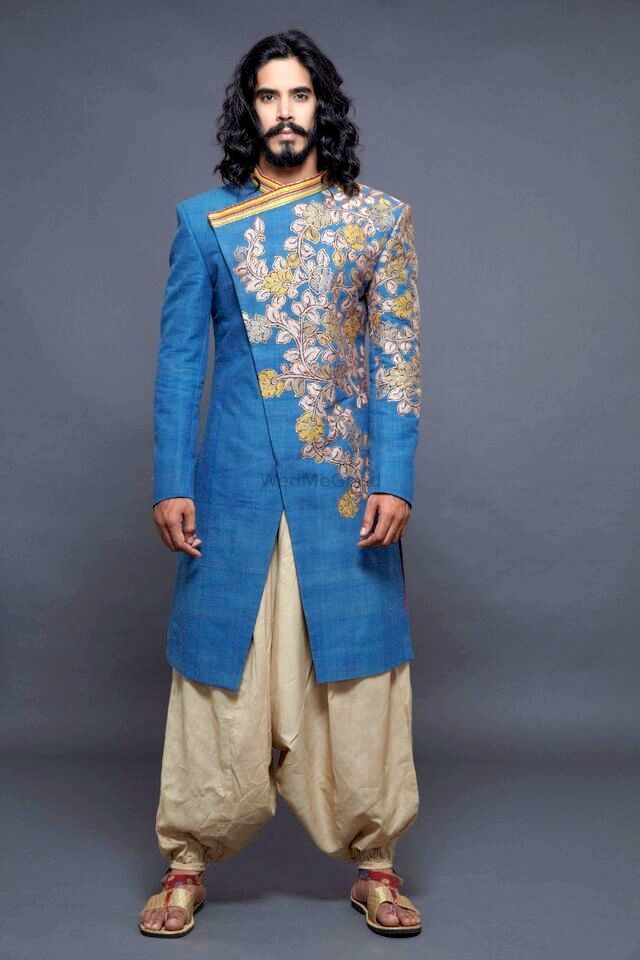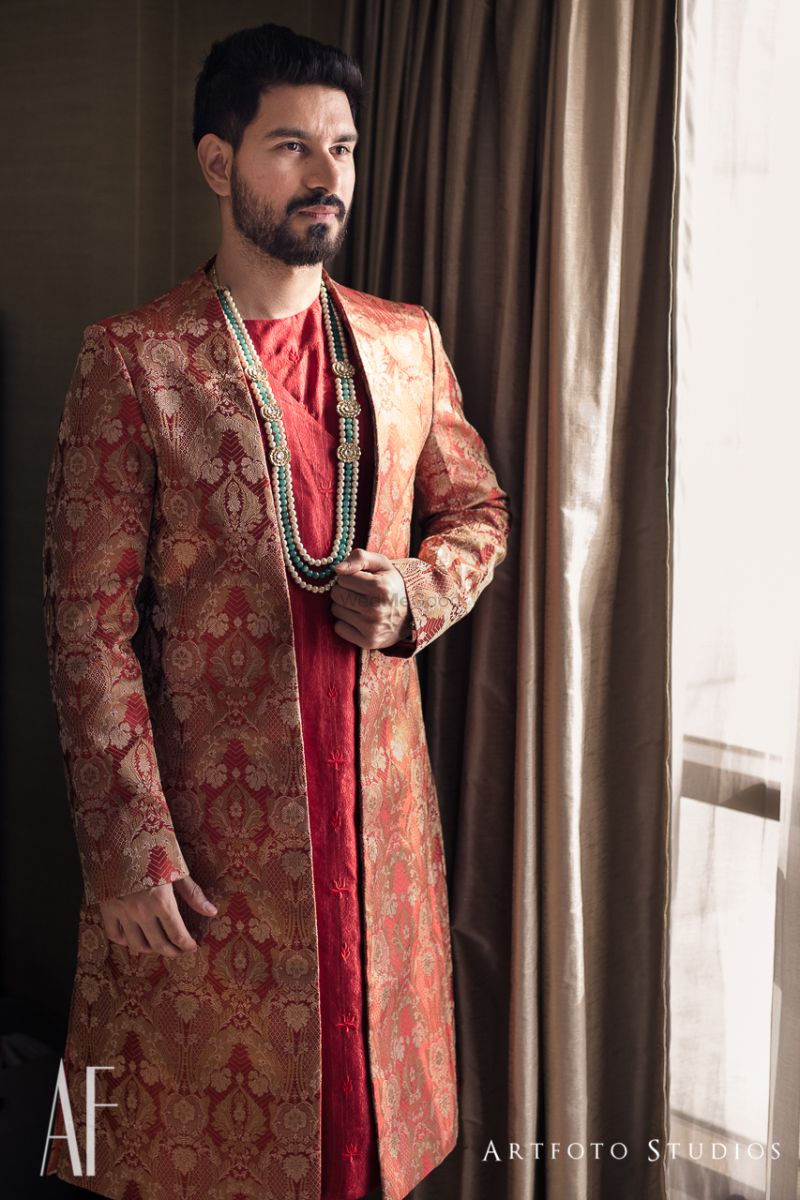 Image via Sagar Tenali and Ankita & Ranjit (Delhi)
Yes, from asymmetric to jacket sherwanis, there are a lot of new ideas out there, so do not hesitate to try out something new!
Don't hesitate to try out a new hue!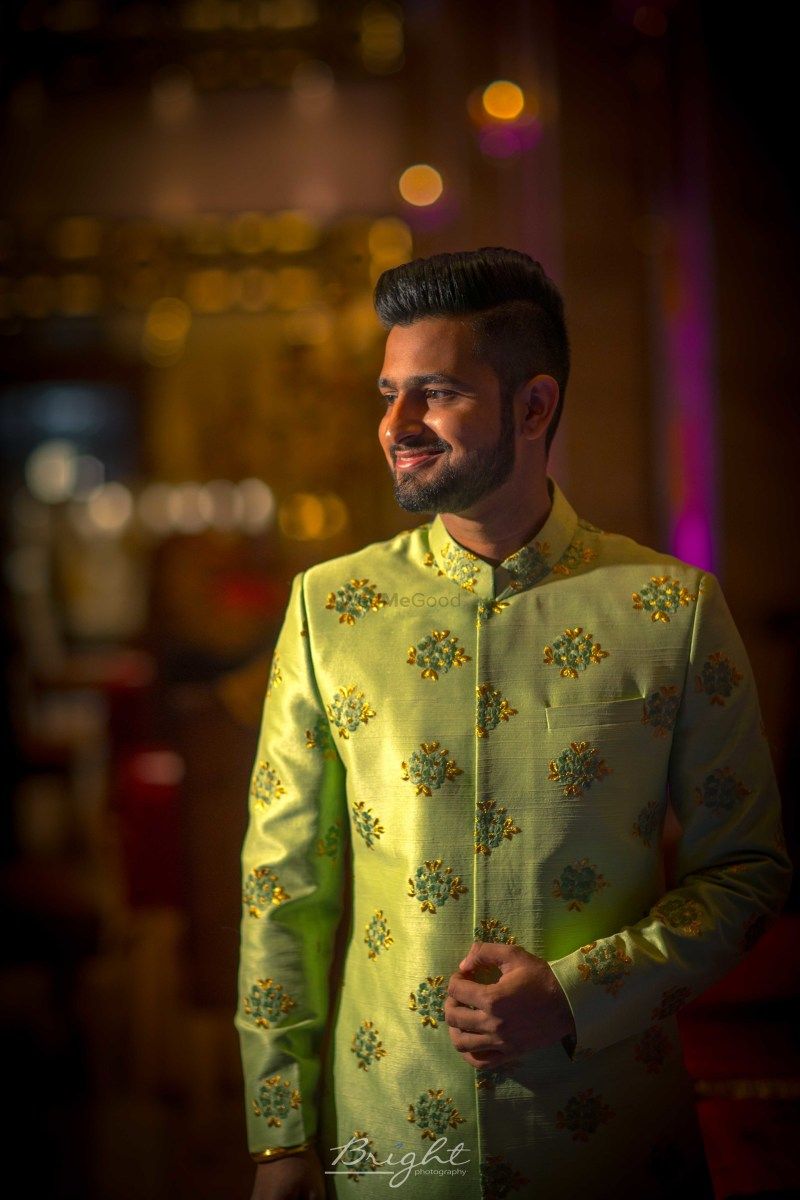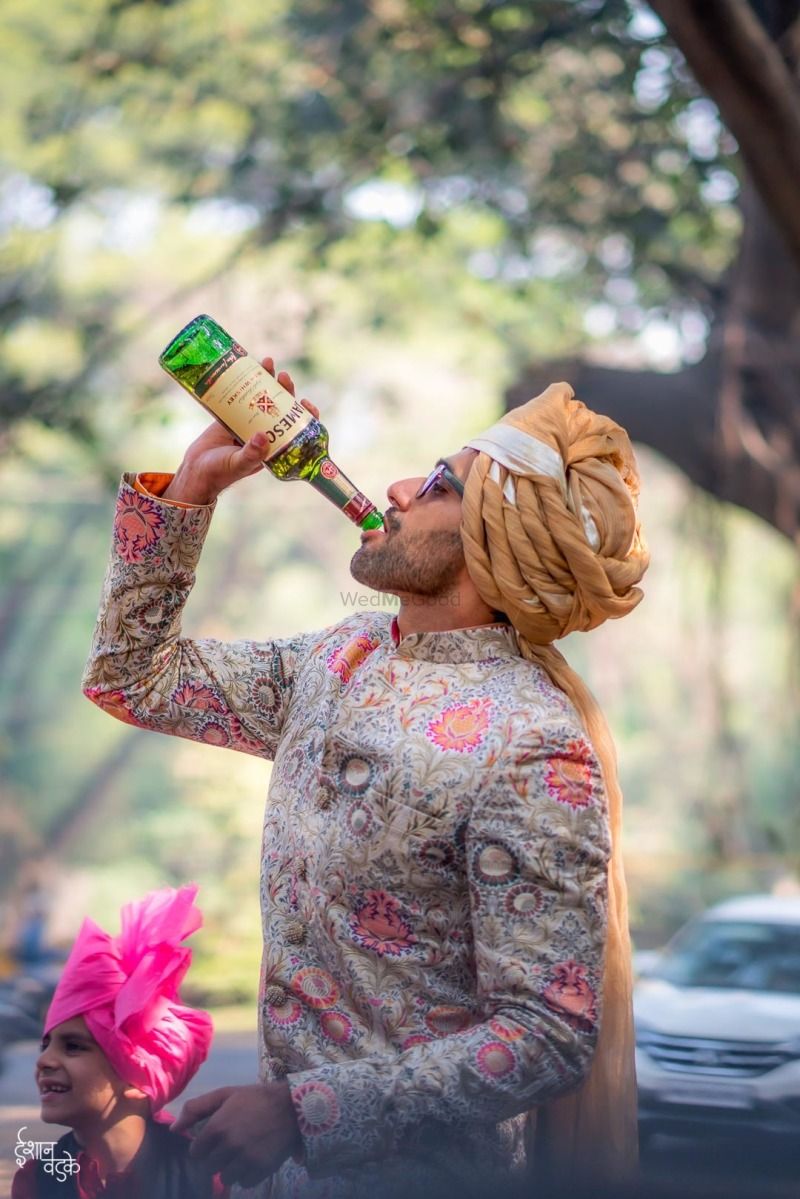 Image via Bright Photographers and Ishan Wadke Photography 
Lime green, powder blue, lilac, dusty pinks and peaches to unique shades of grey- there are loads of new hues out there for grooms- so pick a rare hue and rock it!
Pay attention to small details & accessories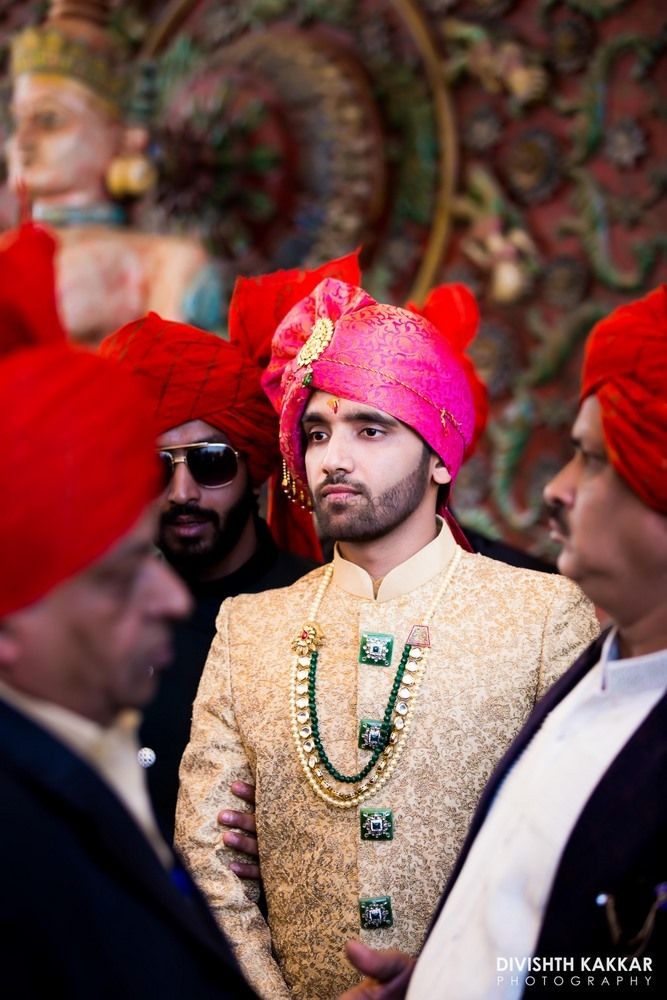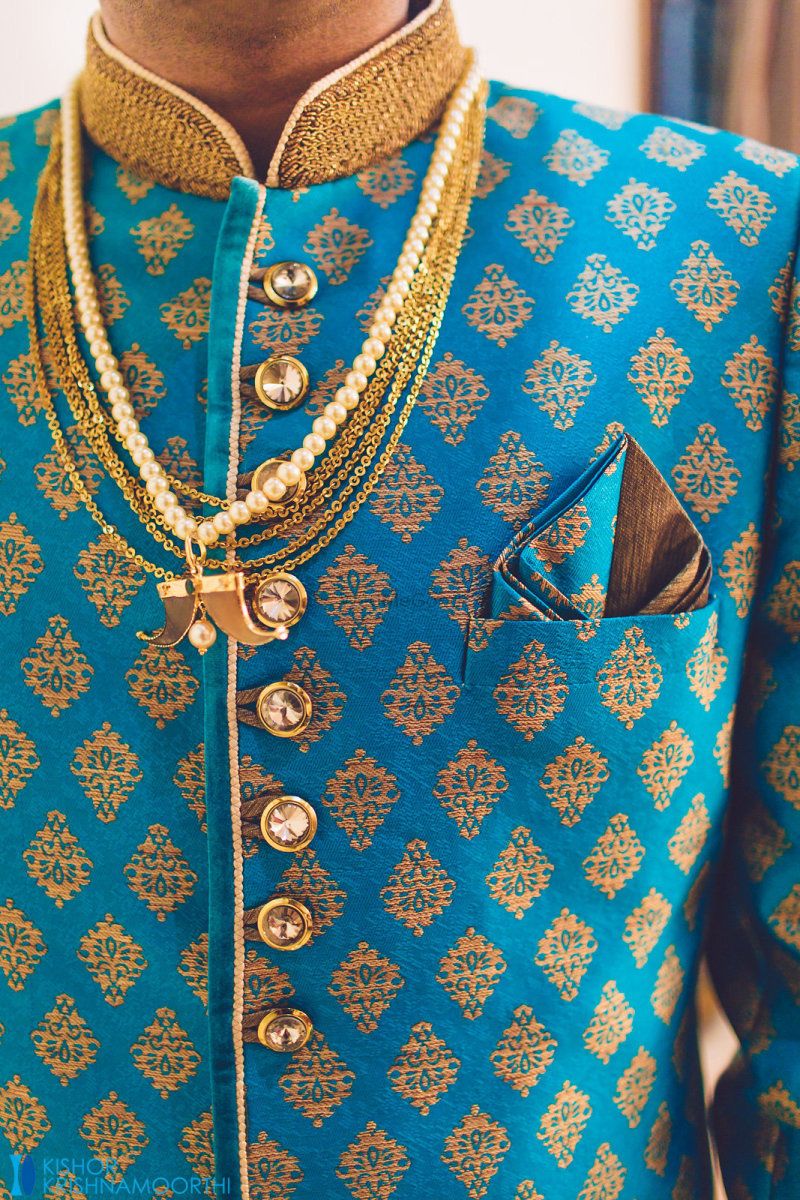 Image via Shalini & Ishank (Udaipur) and Kishor Krishnamoorthi Photography
Remember that the buttons on the sherwani do make a big difference, and that they can be customised as well. Whether you want go all out matching with the sherwani or contrasting is something you can experiment with! Also, accessorise your sherwani with jewellery and a brooch or pocket square to make it stand out and look unique!
Monotone can look amazing too!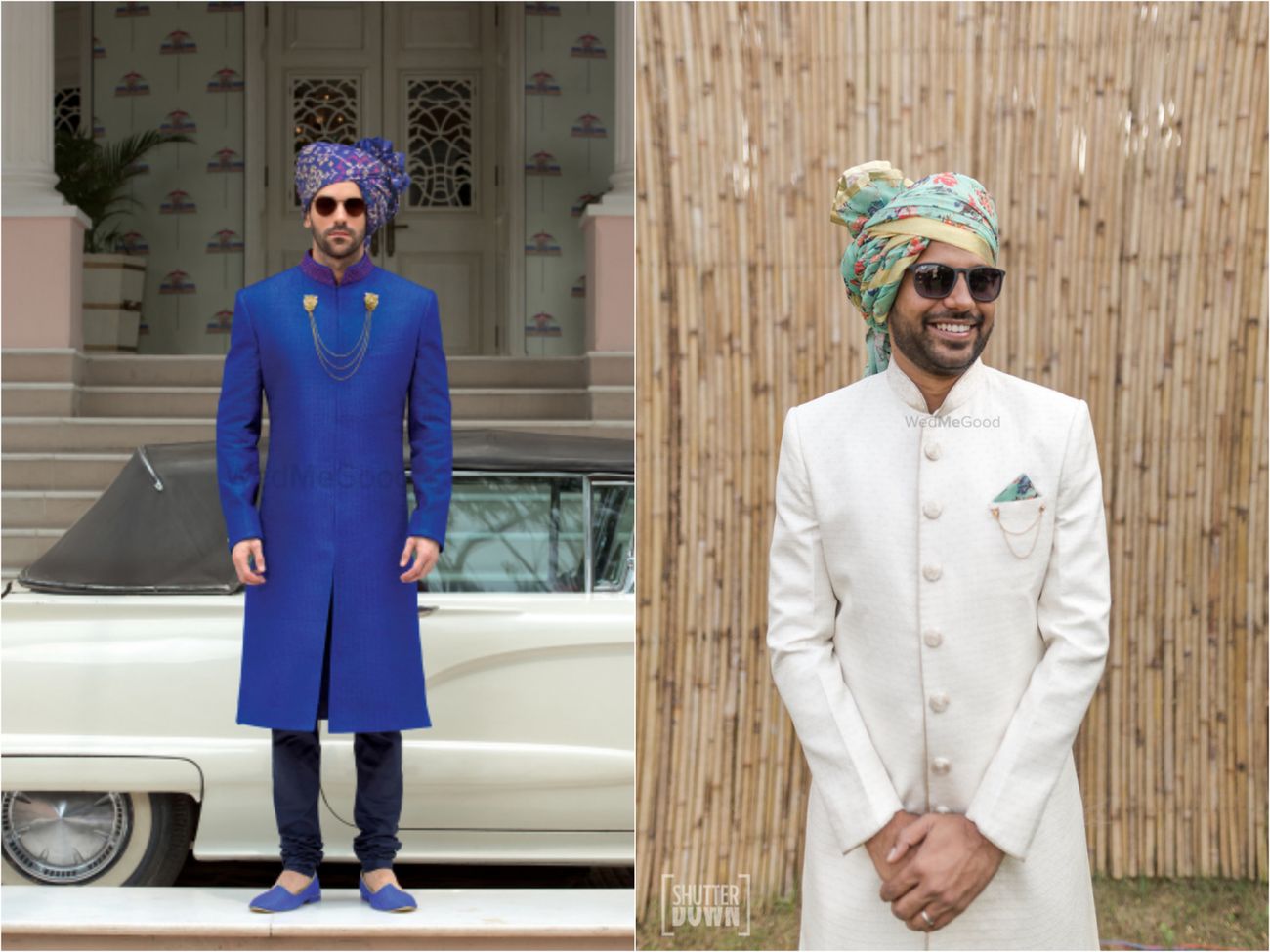 Image via Jade Blue and Shutterdown - Lakshya Chawla
So whether it's good old cream or off white or a striking colour like blue, monotone looks amazing too, as long as you can break the monotony in some way- contrasting jewellery, buttons, safa or a pocket square!
The stole makes a lot of difference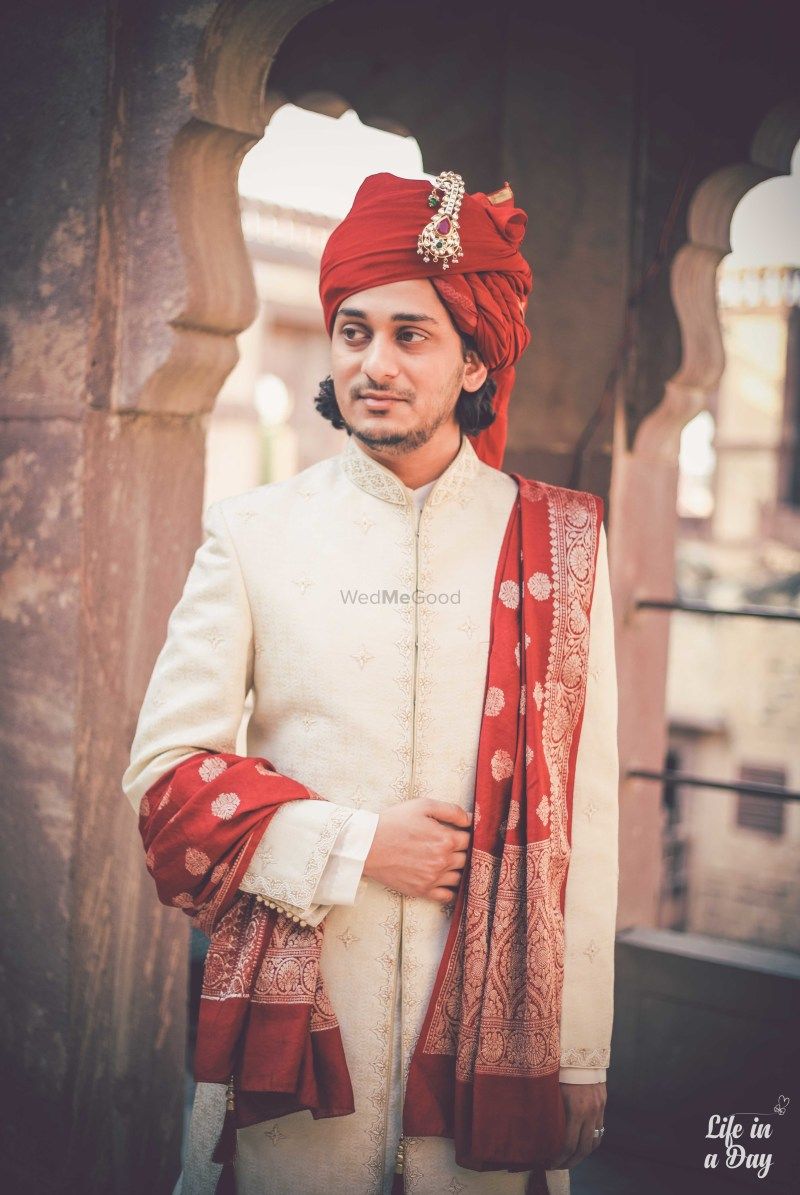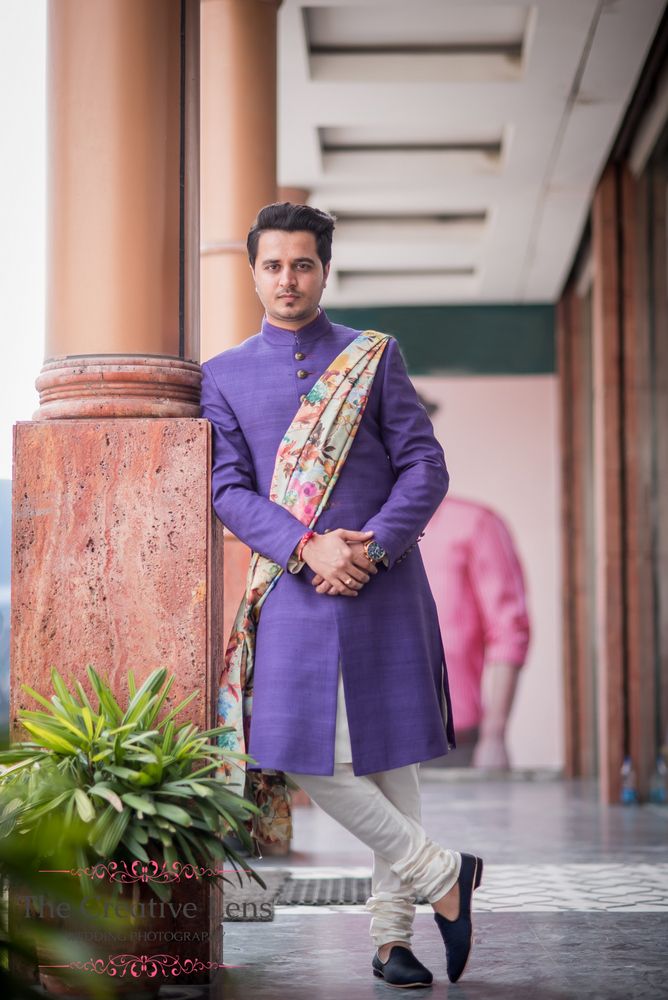 Image via Dhruv Vaish★ 4.9  and Life in a Day
Picking the right stole is also essential with the sherwani- it can make or break the look. It will depend on your sherwani and of course the weather too. You can go for something trendy like a floral or benarasi one for a modern look, and a pashmina or velvet one for winters to be the traditional groom. But one piece of advice? Go easy on it with a heavily embellished sherwani!
ALSO READ: 30 Amazing Sherwanis From Real Grooms On WMG To Give You #GroomGoals!
11 New Groomwear Trends For 2018 Weddings!