This Bridal Wear Brand Has Everything Under A Lakh
BY Garvita | 27 Nov, 2020 | 6405 views | 4 min read
There are times when we plan ideas by low-key putting brides into two categories - Budget Savvy Brides & On Trend Brides! While the latter chooses the outfits they love at first sight, for their larger than life celebrations, the former sticks to a strict budget for every wedding element.
And if we have to pick one, we're definitely inclined towards curating fabulous pieces that'll not only make you look like a diva but also, save quite a lot of moolah.
It's like coming to your rescue and helping you find a dream outfit without making you splurge. And indirectly being a part of your wedding shopping! So when we spotted this brand, with ethereal outfits at drool-worthy prices, we knew we had to share it with you.
Here are 10 bridal outfits under one lakh that you should bookmark right away (and maybe, shop as fast as you can, too)!
Quintessential hue for those on a hunt for a timeless piece!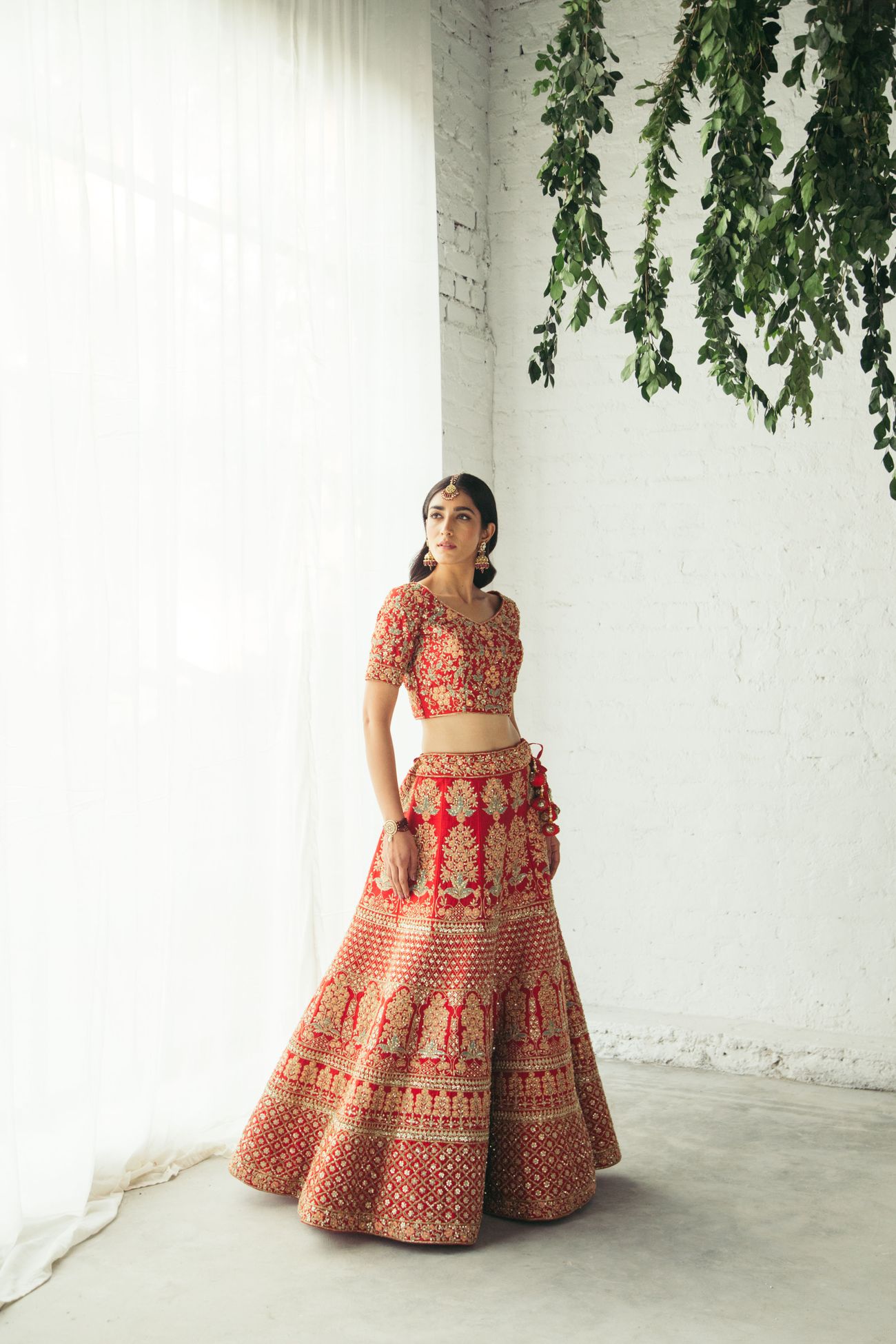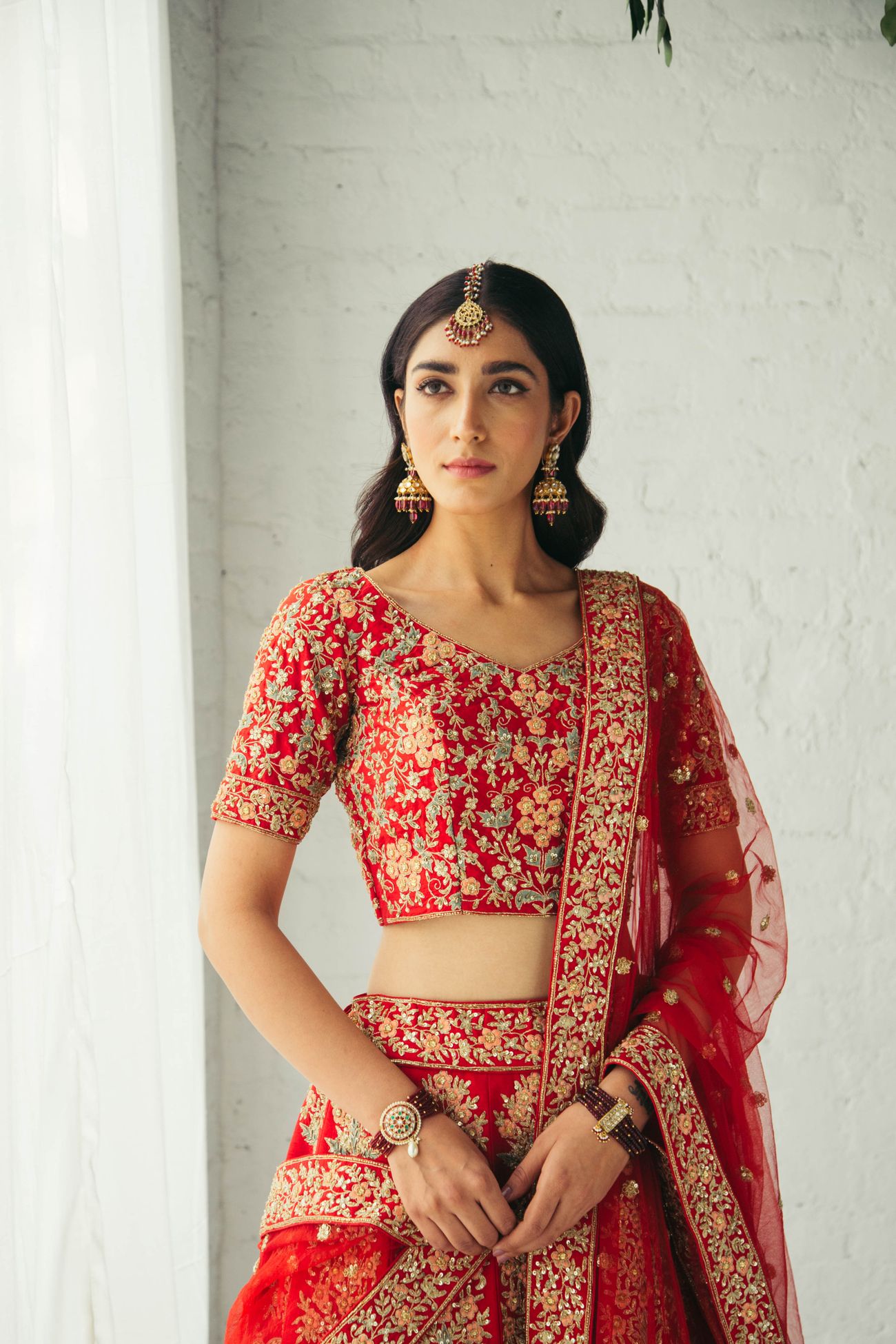 Price - INR 78,000 | Shop Red Zardosi Embroidered Lehenga HERE
What's not to love about a red bridal lehenga? From traditional details to a price that won't burn a hole in your pockets, you shouldn't let go of this one.
Spread radiance in this metallic outfit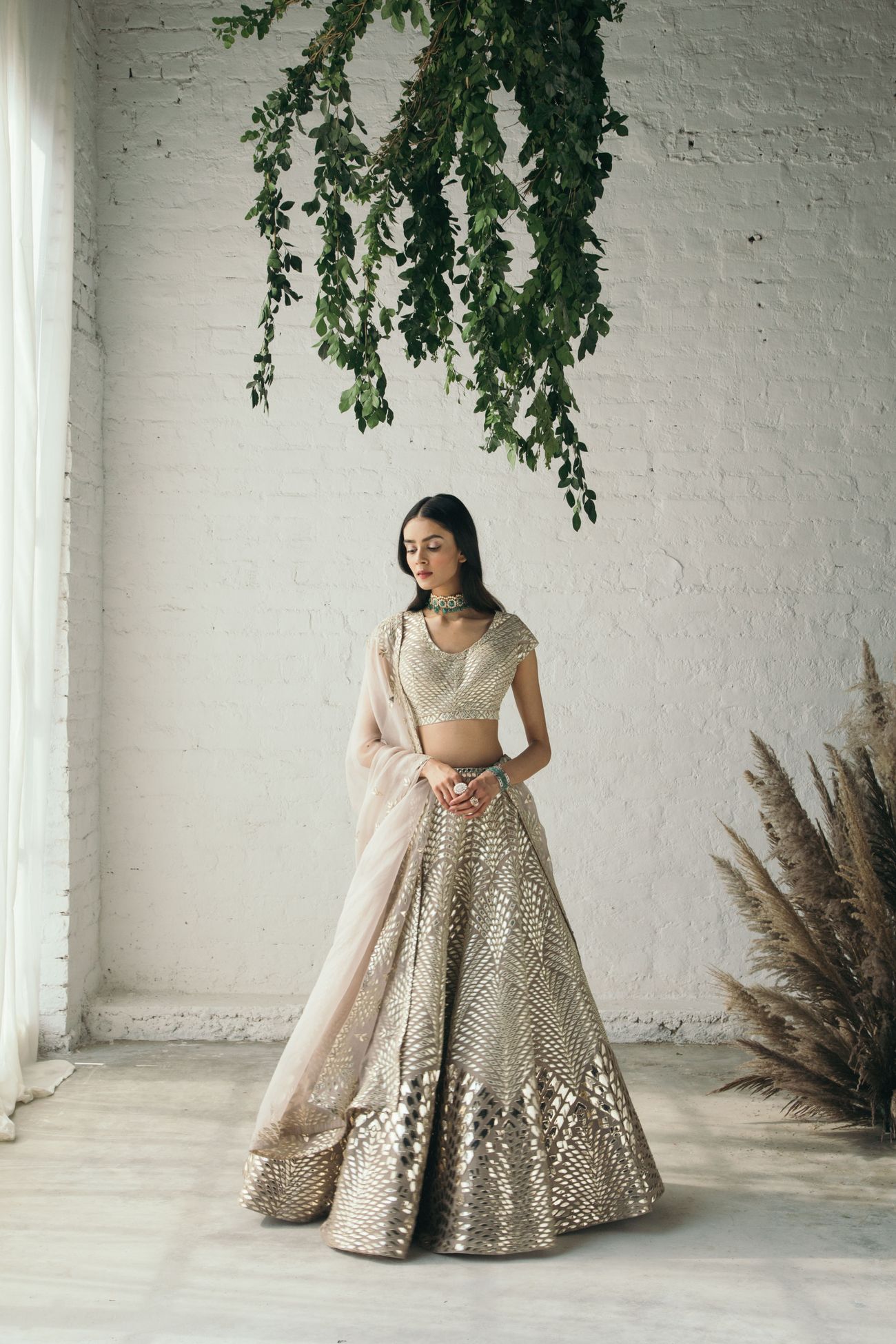 Price - INR 69,000 | Shop Organza Mirror Illusion Lehenga HERE
Winter calls for some extra bling, and this #freshoftheoven dreamy lehenga is exactly what you need right now! Ready to rule that reception night?
For the love of florals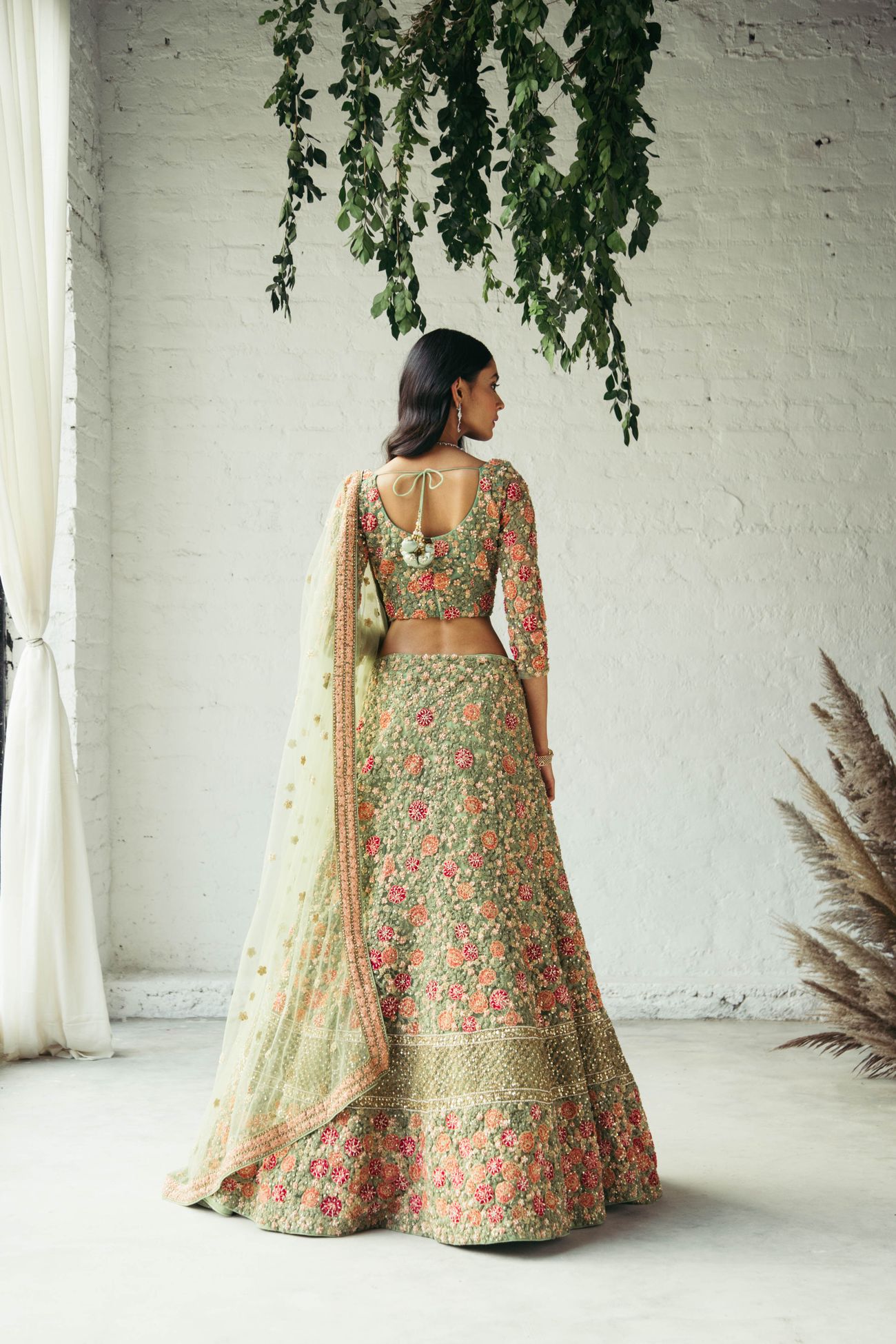 Price - INR 74,000 | Shop Green Floral Lehenga HERE
Level up the unique quotient of your bridal look by adding this Olive Green lehenga with floral threadwork, to your trousseau. Definitely a head turner!
Obsessed with this vivid outfit that screams modernity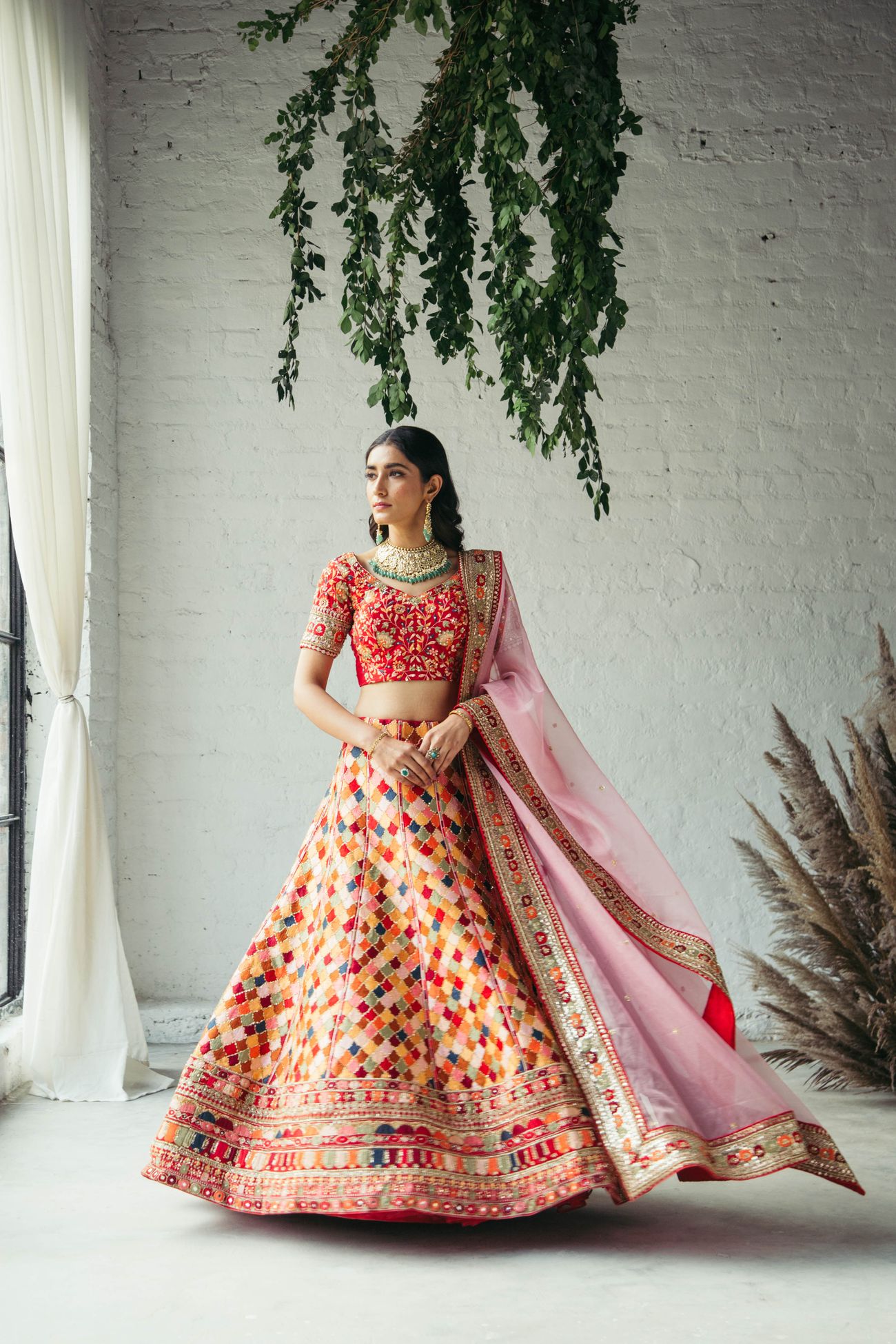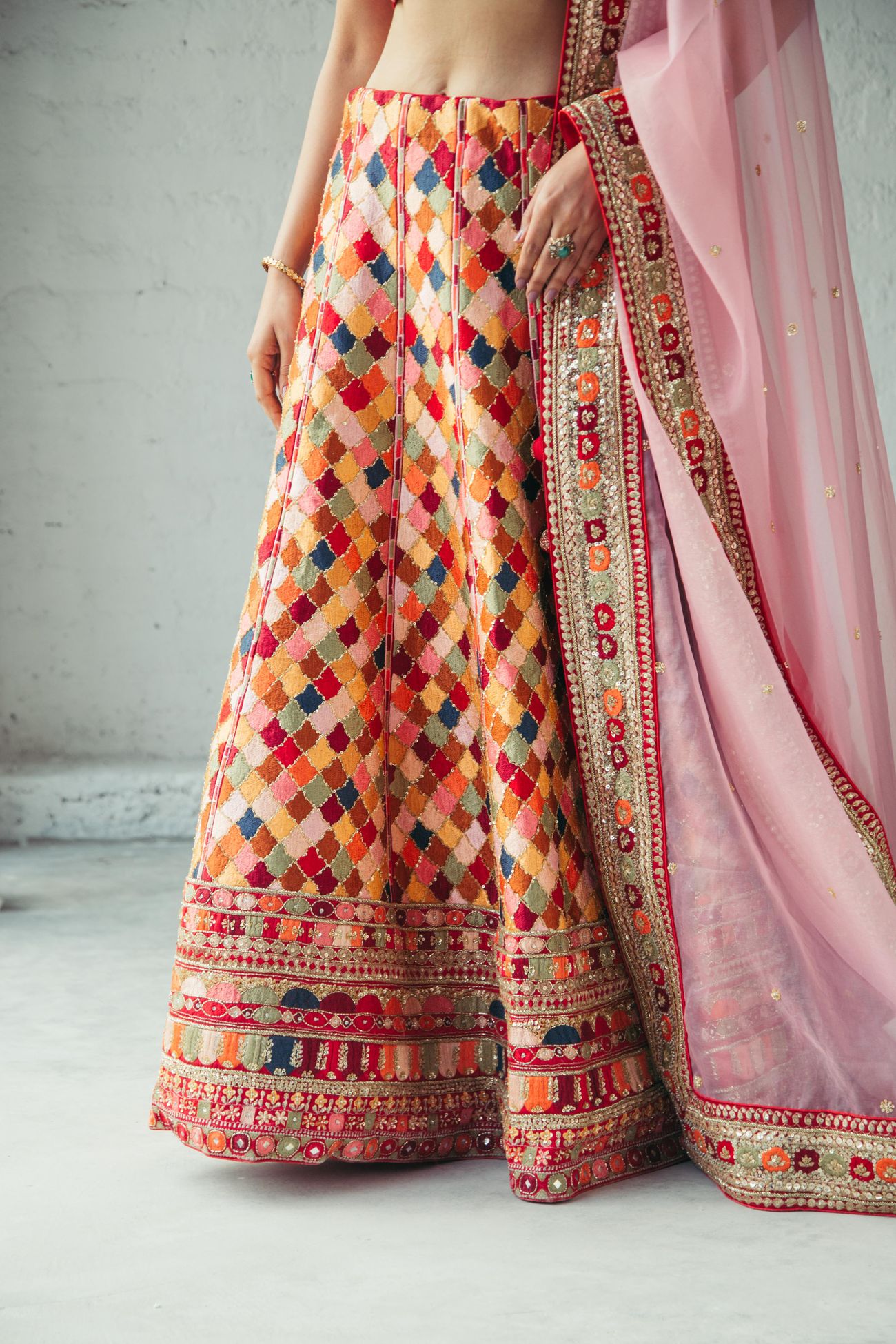 Price - INR 87,000 | Shop Multicolored Checkered Lehenga HERE
Honestly, this one's perfect for a coronial Mehendi! You won't need anything else to add zeal and pop of vibrant hues to your ceremony.
Can't take our eyes off the blouse!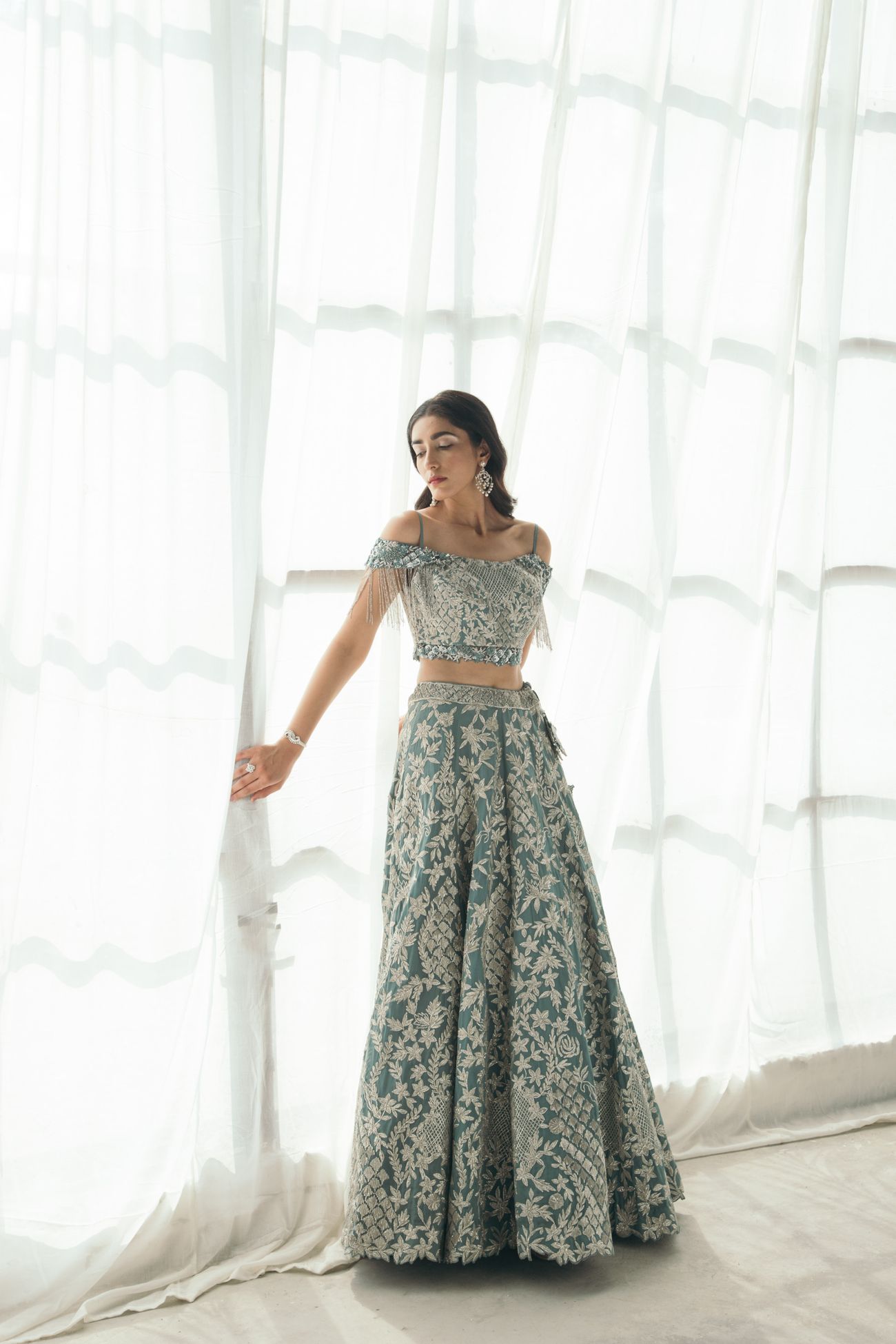 Price - INR 79,000 | Shop Floral Sequin Embroidered Cutwork Lehenga HERE
If you're one of those who pick a lehenga because it has a gorgeous blouse with it, this is what you need! The tassel details tug at our heartstrings
Plan to ditch the embellishments?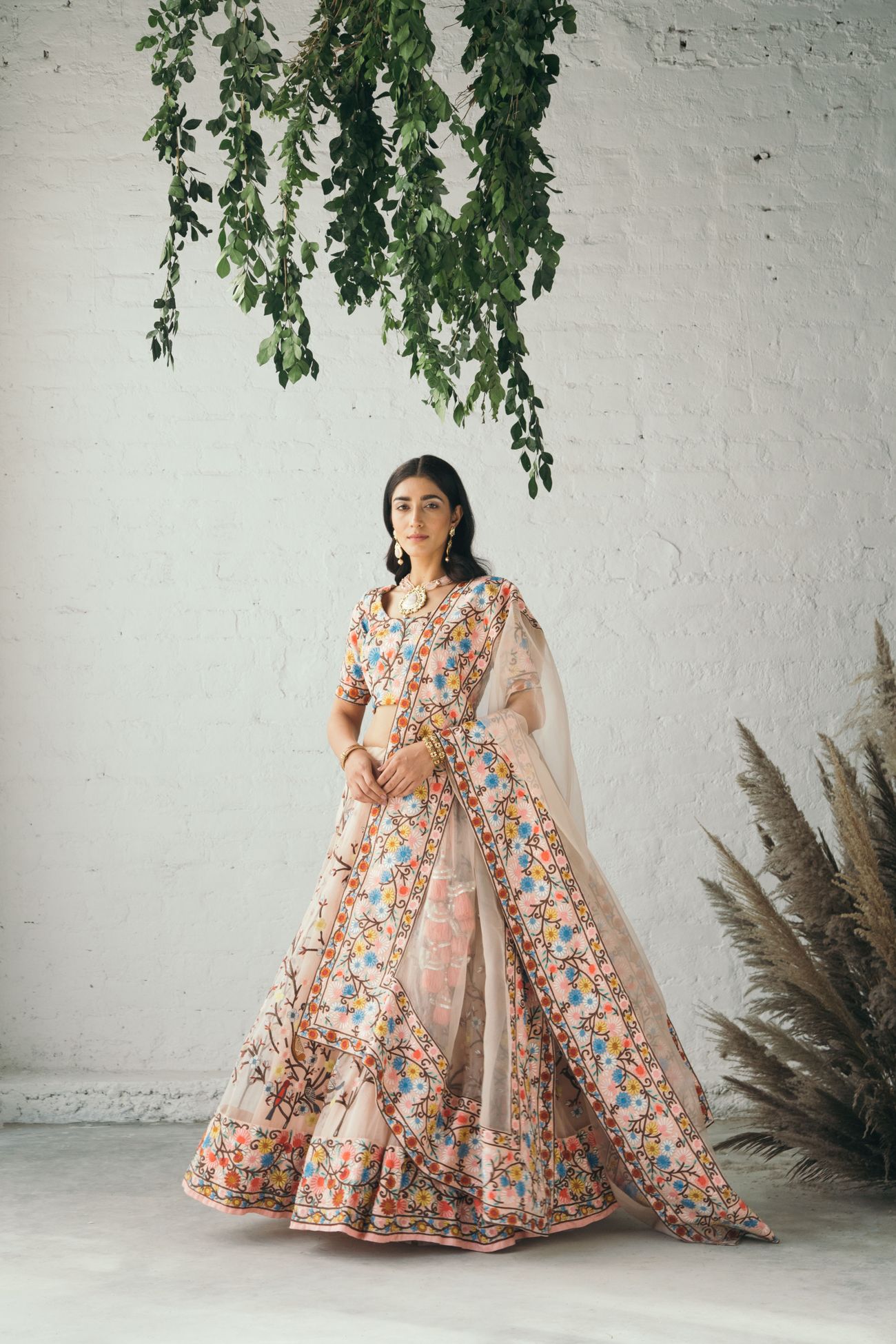 Price - INR 59,000 | Shop Blush Floral Lehenga HERE
If you're someone who prioritizes embroidery over embellished details, then this outfit is tailor-made for you. That dupatta with a heavy embroidered border takes you back to the old-world times, and maybe, you could start a trend with it? Like, to infuse vintage essence to your modern bridal look!
Zardosi work lehengas have a special place in every bride's heart!
Price - INR 74,000 | Shop White & Red Zardosi Embroidered Lehenga HERE
This one will work like magic for your day wedding. It is opulent and has a touch of conventional feel to it. Absolute winner!
Spill some sass in a deep, dark palette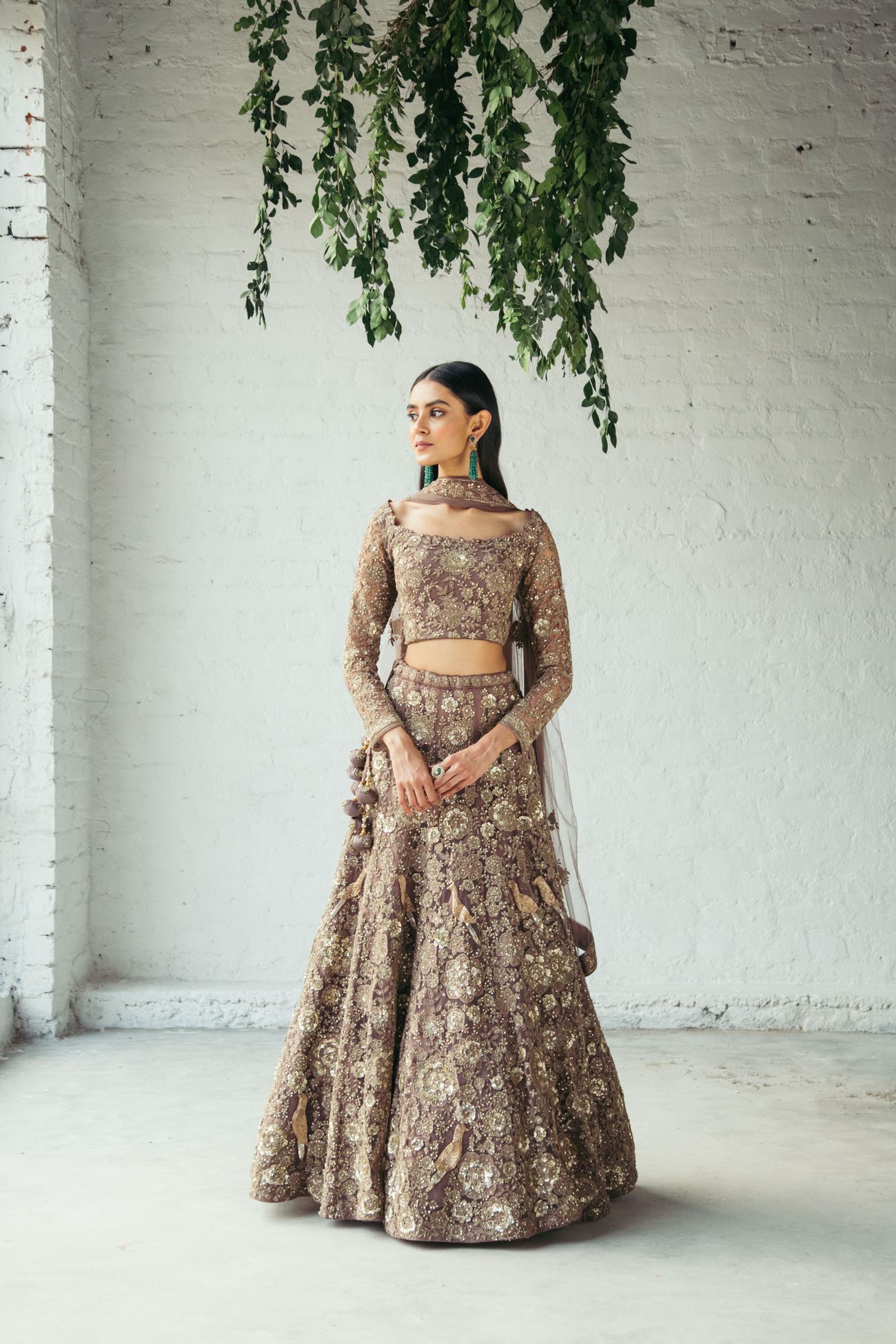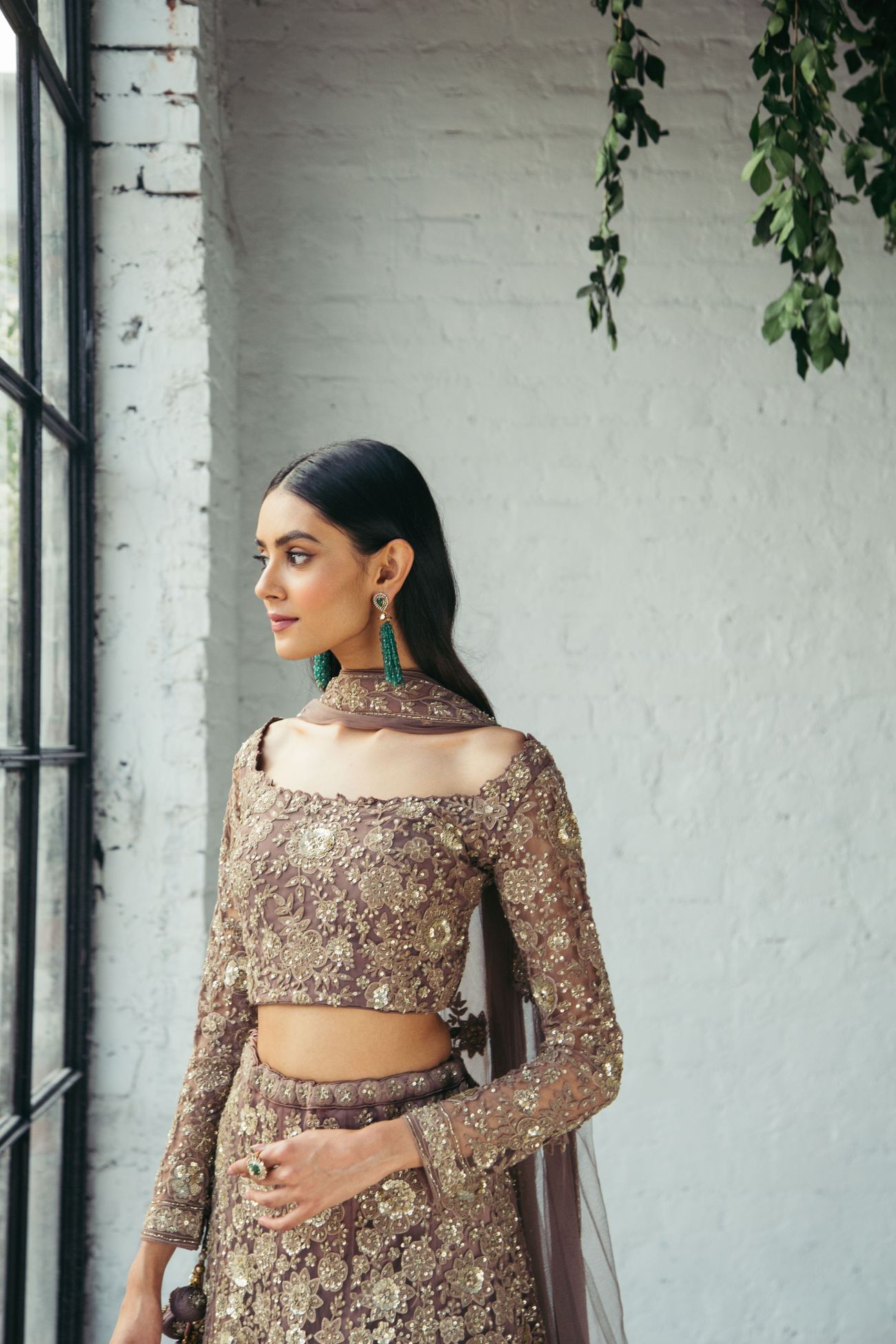 Price - INR 82,000 | Shop Mauve Embellished Lehenga HERE
With the onset of a new season, we'd definitely want to see colors that are ultra-modern and exude those wintery vibes! So what better than deep tones to compliment the same?  
Sending some Pastel inspiration your way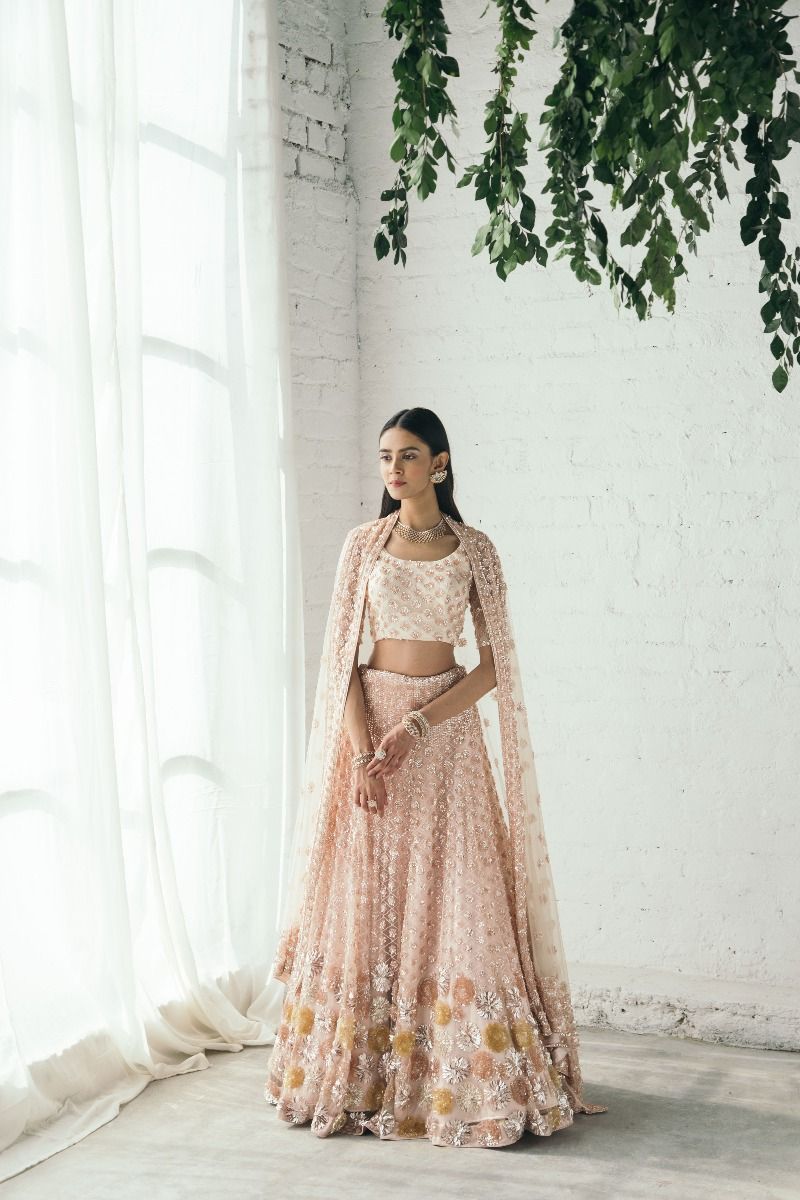 Price - INR 78,000 | Shop Salmon Pink Floral Embellished Lehenga HERE
Intimate celebrations and pastel hues have a long way to go! It's a magical combination one cannot say no to, and works great for those who are stuck in a dilemma to find an ideal color.
Twirl away in this gold gorgeousness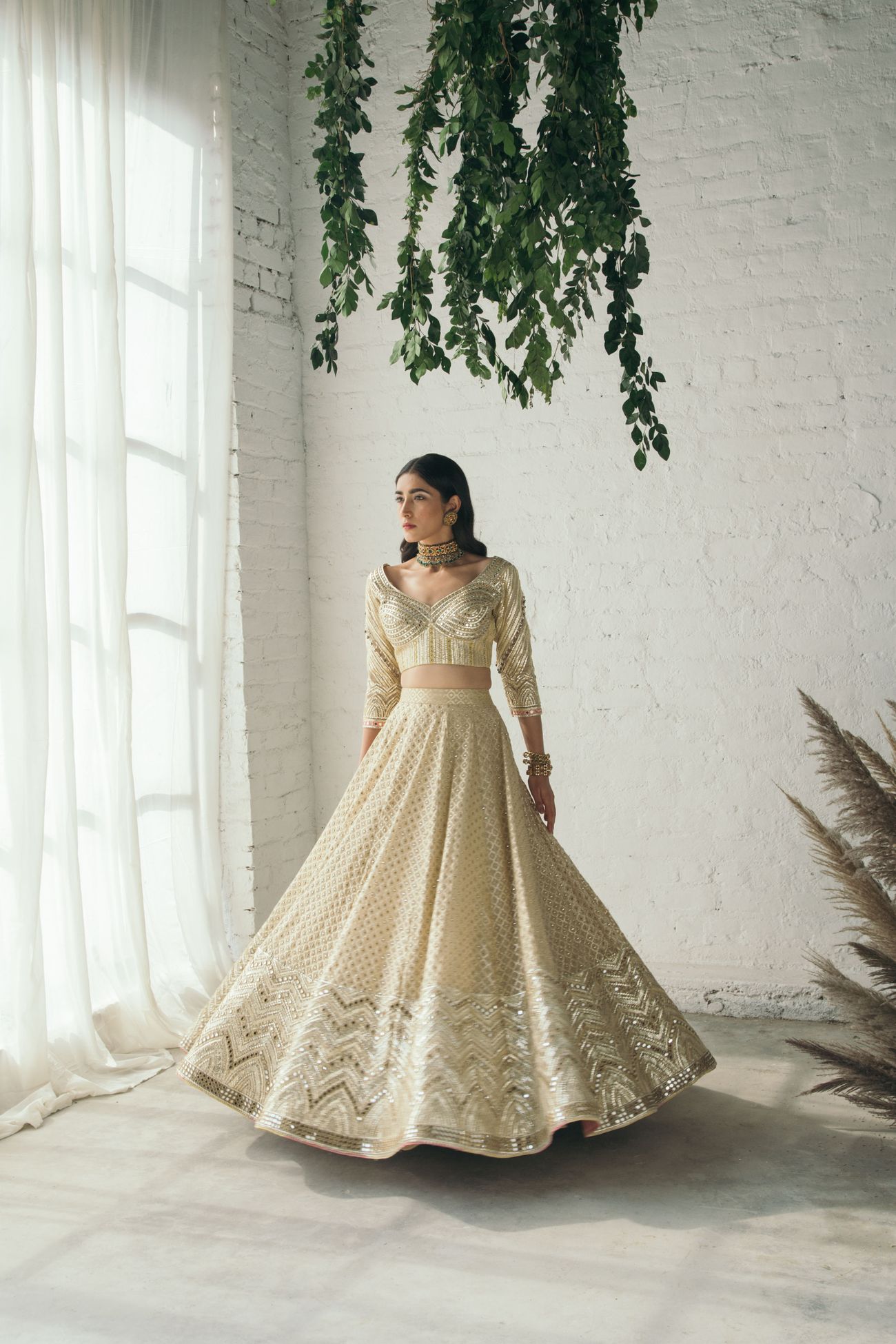 Price - INR 84,000 | Shop Gold Banarsi Silk Lehenga HERE
Have you wished to be clad in a Gold bridal lehenga on your special day? We've got you a perfect choice!
Also, here are two more lehengas, just slightly above a lakh but equally gorgeous and worth every penny! Couldn't end this without talking about them. 
Such a timeless beauty with a unique silhouette
Price - INR 1,00,000 | Shop Red Embroidered Scallop Lehenga HERE
A silhouette that hasn't been done to death! Cannot stop swonning over this piece. 
Pay extra attention to the intricate details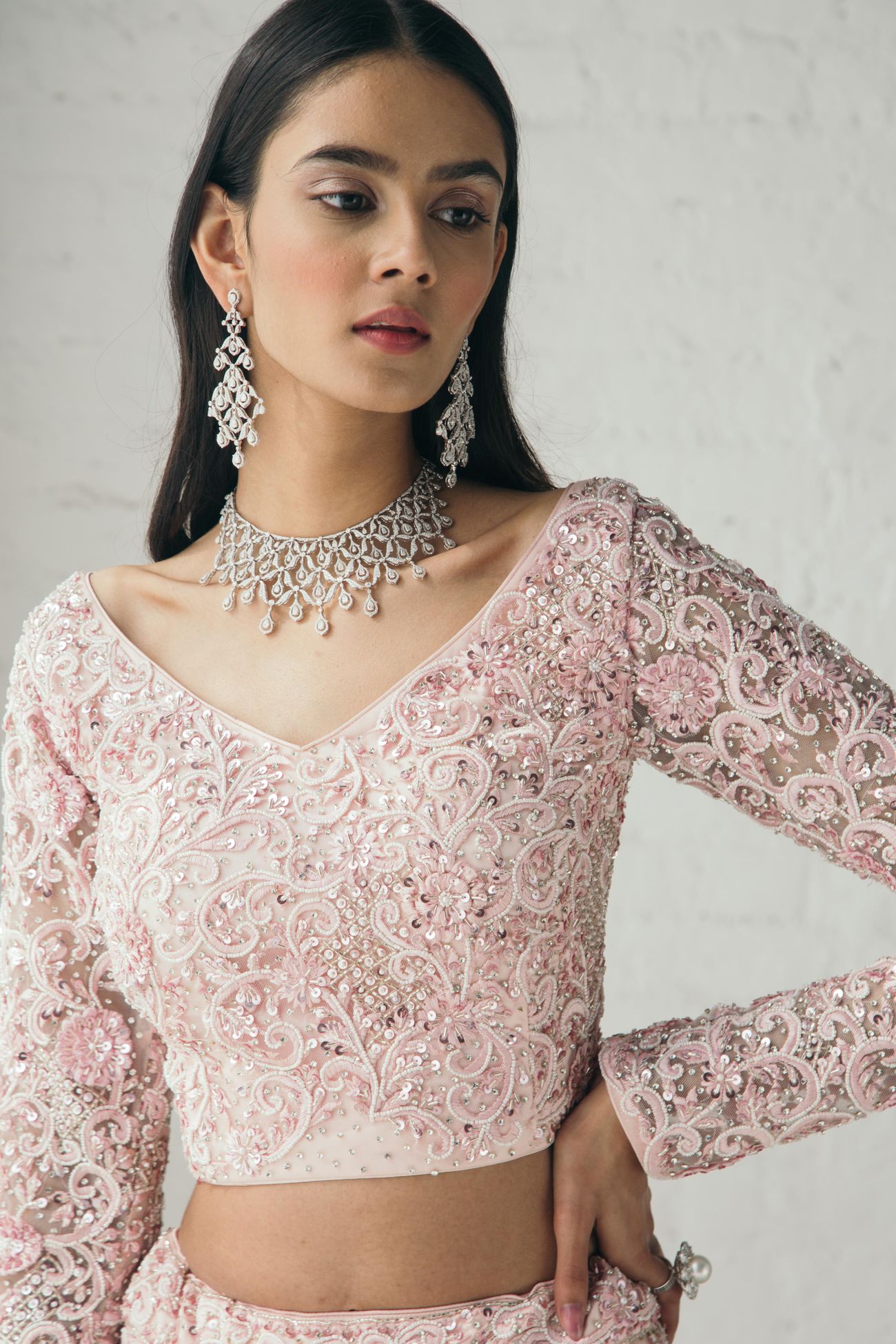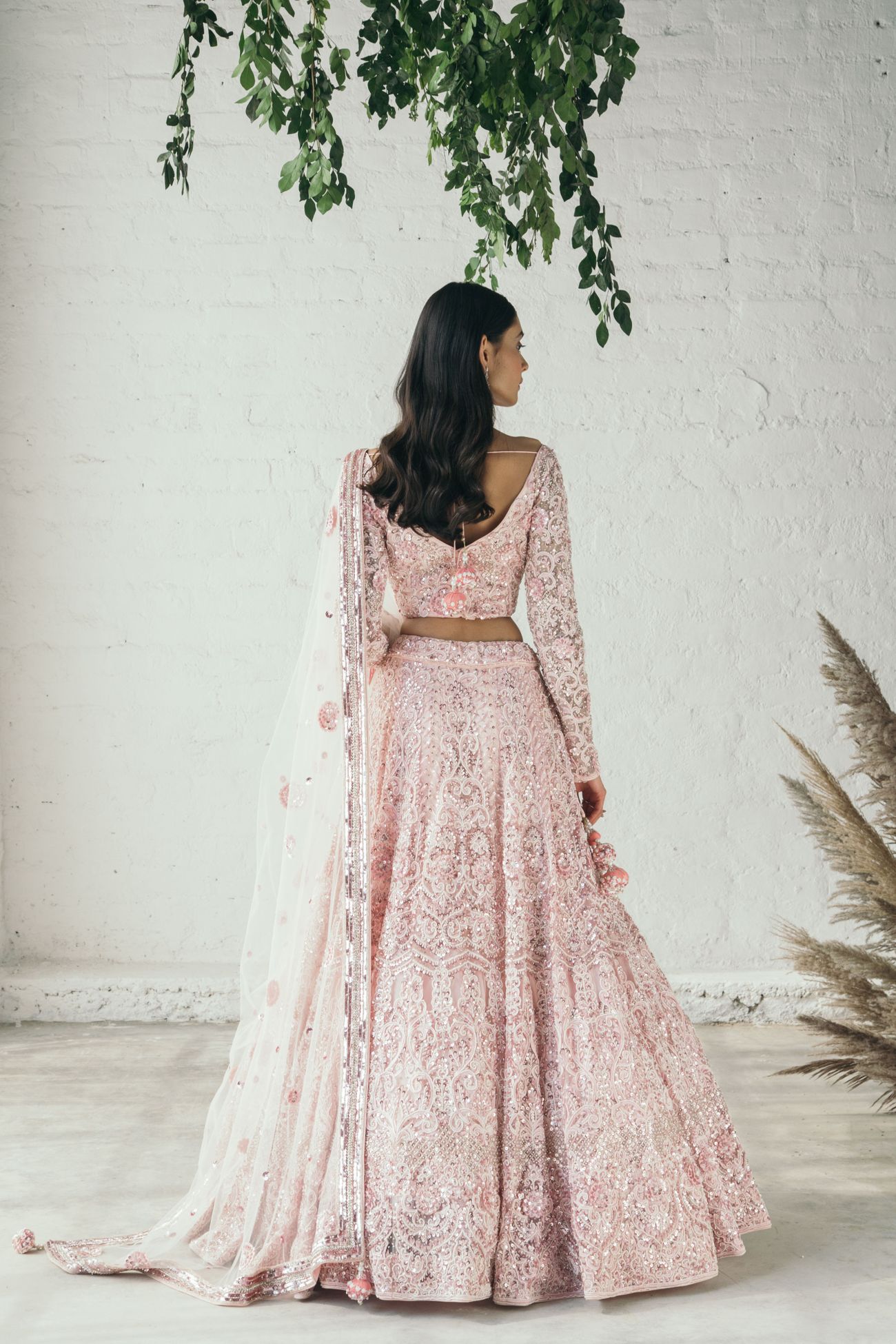 Price - INR 1,05,000 | Shop Baby Pink Thread Work Lehenga HERE
Add a touch of glam to your wedding celebrations with this ultra-mod bridal outfit. One of the 'most loved' pieces on the list! 
All Images via Studio Iris
Oh boy, aren't those some pin-worthy outfits? So brides-to-be, have you picked a fav yet? Share your thoughts in the comments below.  
ALSO READ - Stunning Diamond Engagement Rings Under Rs 1 Lakh!