This Couple Had A Unique Theme For Every Wedding Function!
BY Sakshi | 08 Apr, 2020 | 3099 views | 6 min read
Themes are super in these days, be it for the decor, the outfits, or just for the general vibe of the wedding event. So this couple had a theme for every function at their grand Jaipur wedding, and there were some neat ideas they implemented! Akansha and Ankit had a lavish wedding in Jaipur, and they had loads of interesting ideas in store, as detailed by the bride herself! The photos by Infinite Memories★ 4.8 captured all the fun!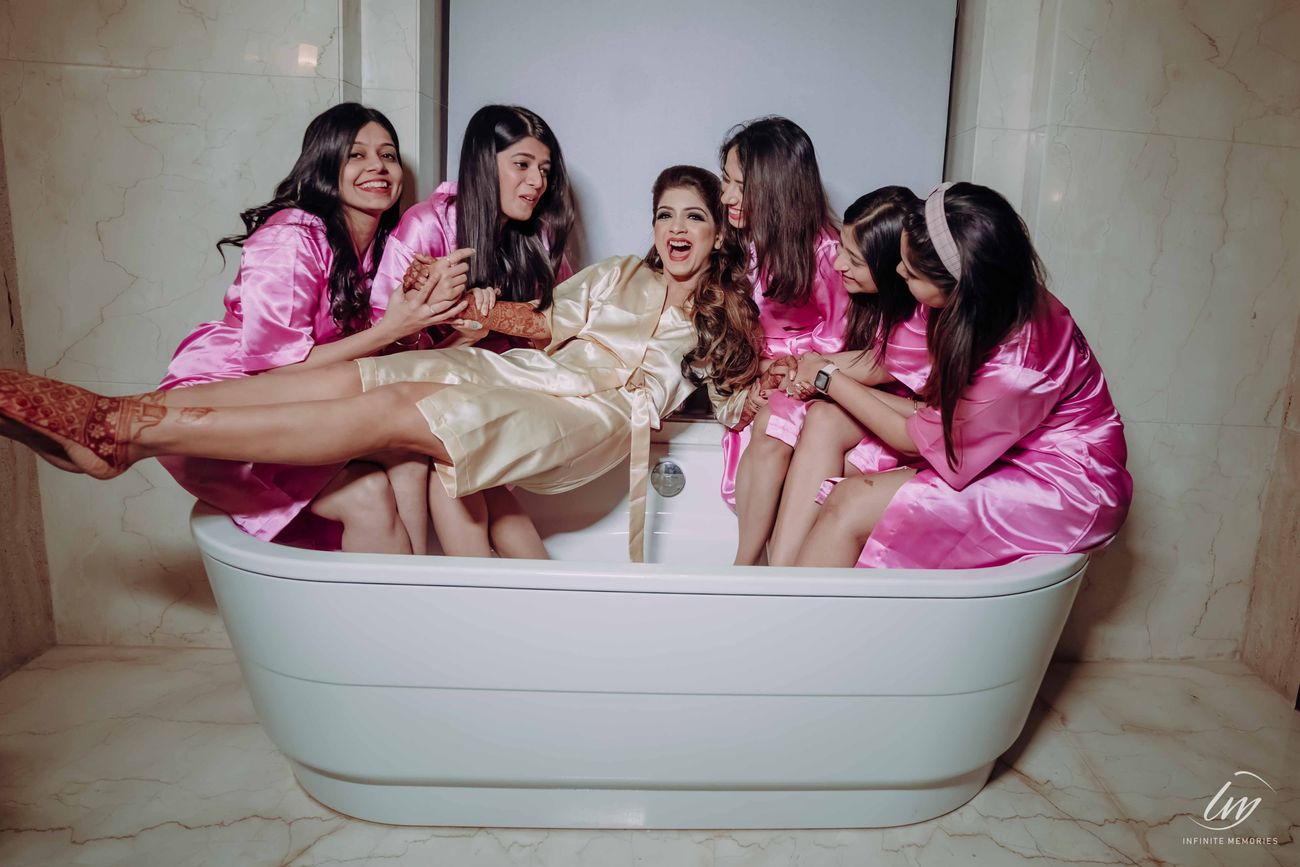 Welcome Dinner: 'Welcome To Rajasthan'
But the major functions which took place in Jaipur were started with Welcome dinner whose theme was 'Welcome to Rajasthan' in which we called the artist Shahid Khan from Jaipur. Being the 1st function the guests enjoyed it to the fullest and also since majority of the guests were supposed to arrive just before the function, we wanted to keep the function light with light decor with fairy lights, rajasthani khaats, muddhas etc and also a traditional Rajasthani dinner. We wanted to give the feel of Rajasthani culture to our guests. Me and ankit made our entry to the venue with dholwalas. It was hosted in one of the lawns of Le Meridien.
Cocktail: 'Let's take you to Tomorrowland'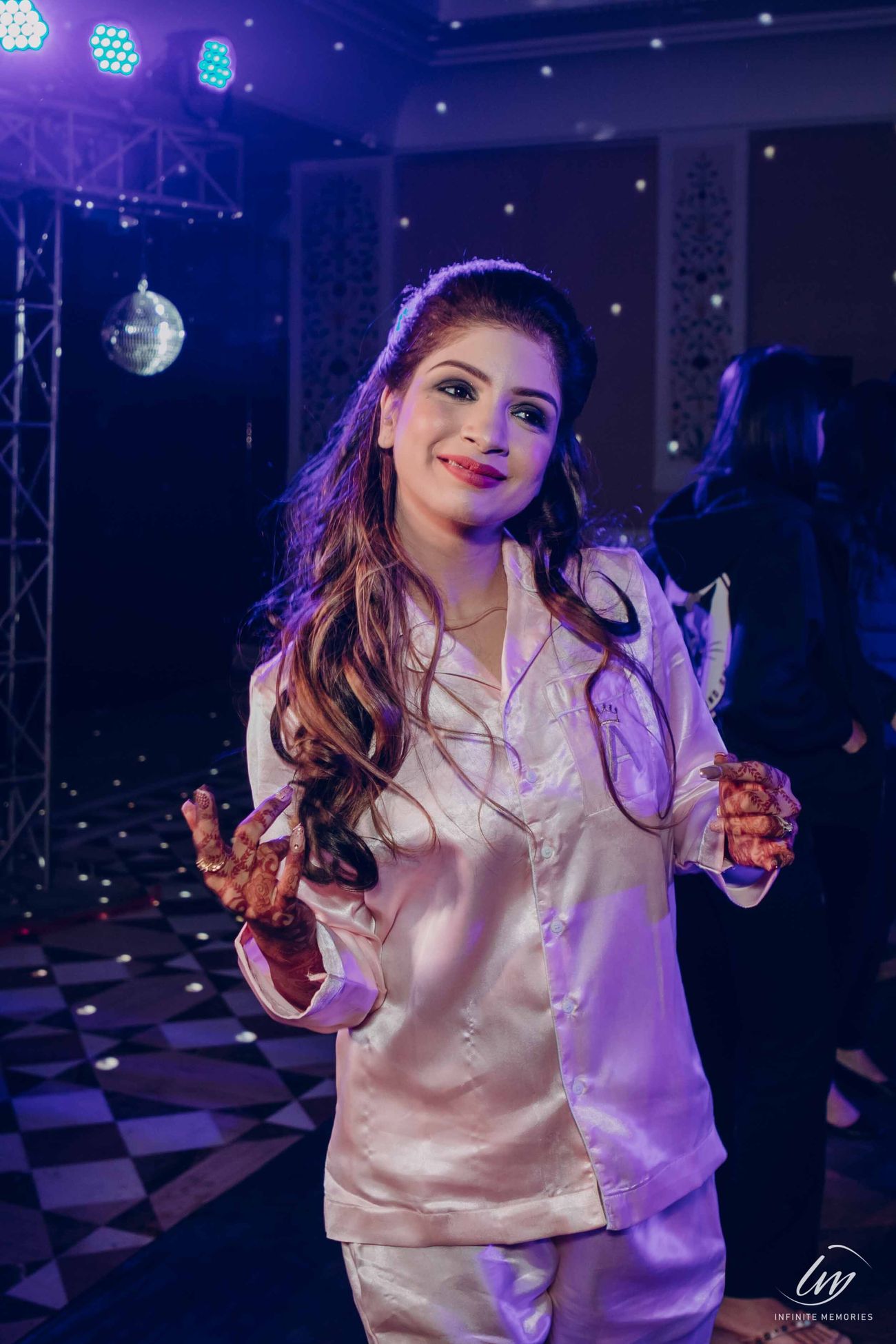 The next function was Cocktail whose theme was 'Let's take you to Tomorrowland' as my brother-in-law was very keen on this function he only wanted it to give a Tomorrowland feel. It was held in the banquet. We kept the decor light with beautiful led walls cornering the banquet to give it a club-like vibe and also there was blinking led light passage like structure and bubbles machine for our entry.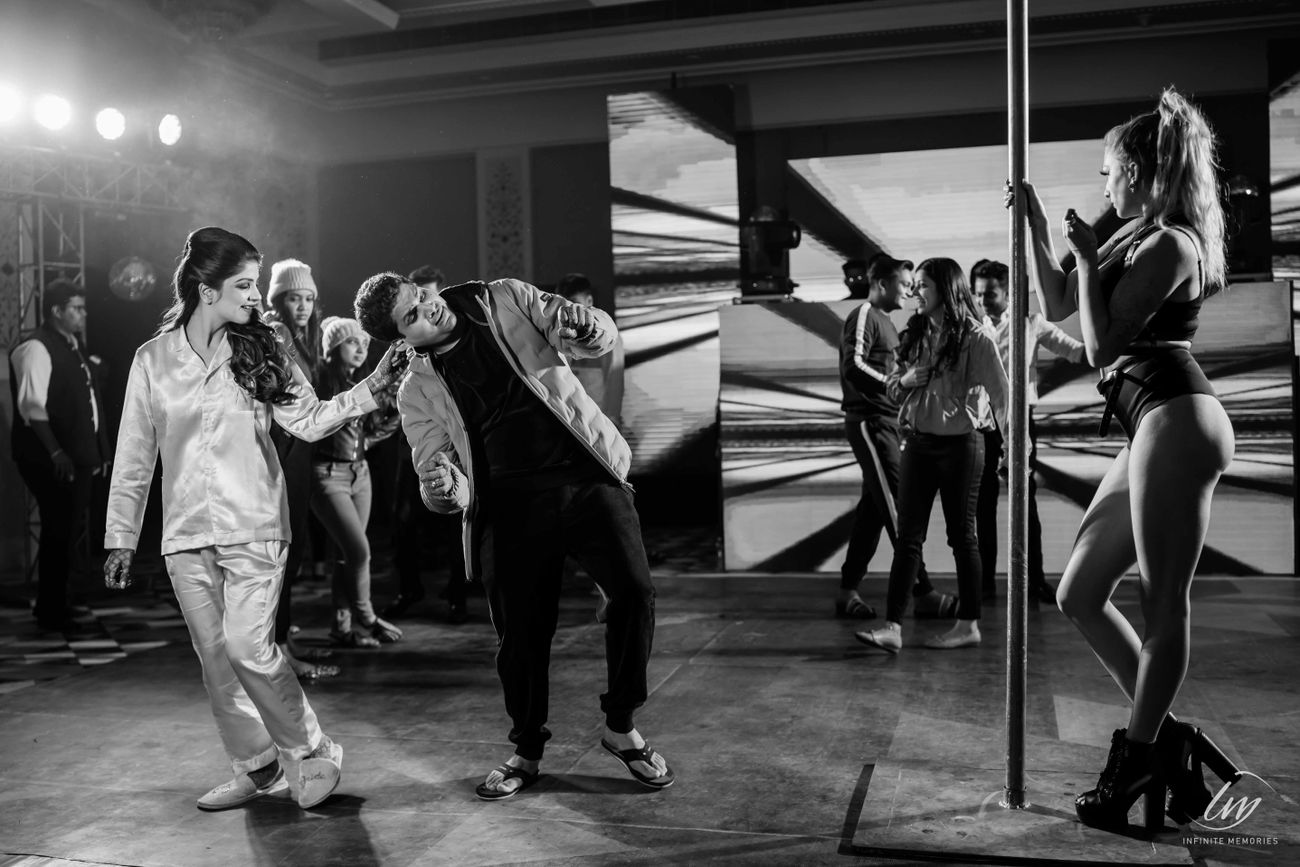 For the entertainment part we had 4 Russian dancers and bartenders. we even kept slippers for people so that they could get comfortable in their dancing shoes. Our guests partied till the last beat.
Mayara + Mehendi: 'English Carnival'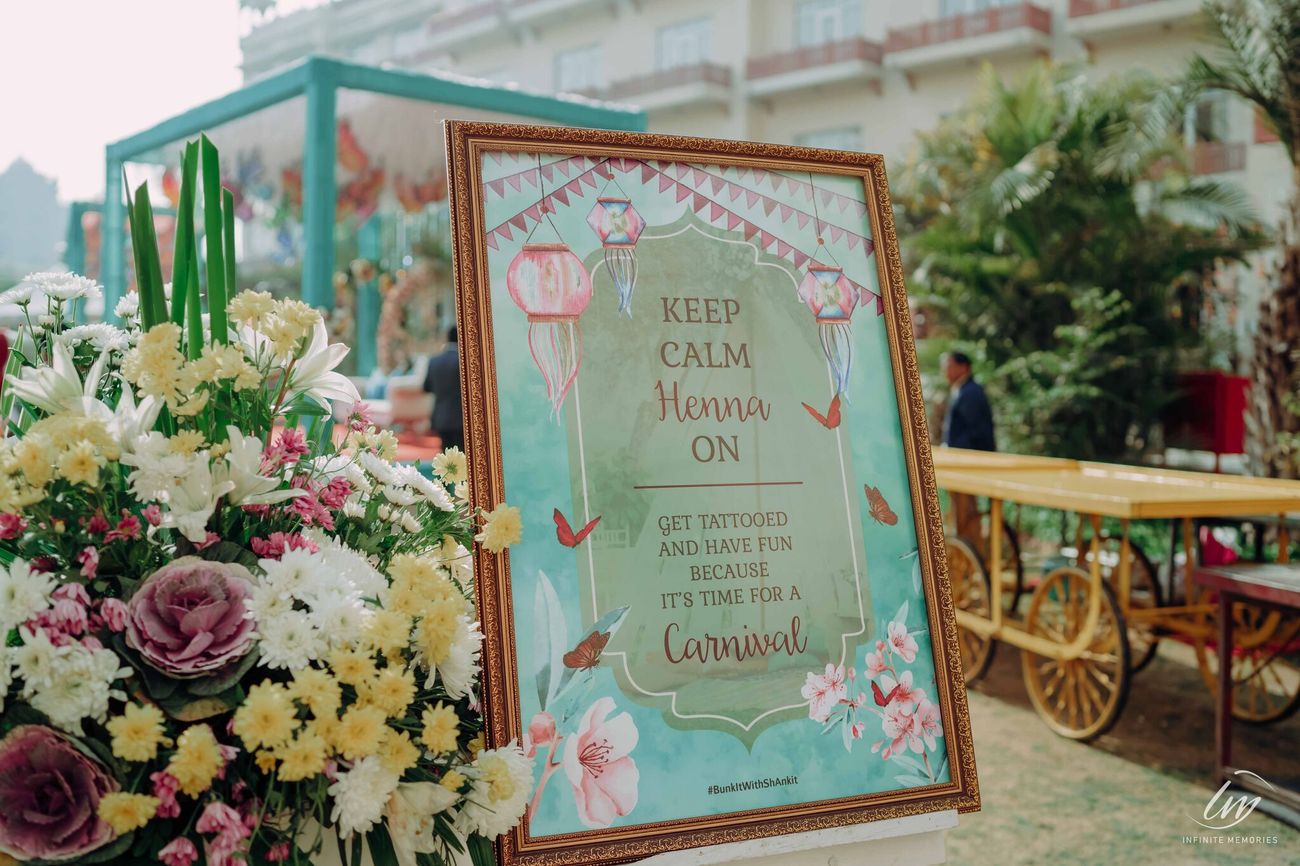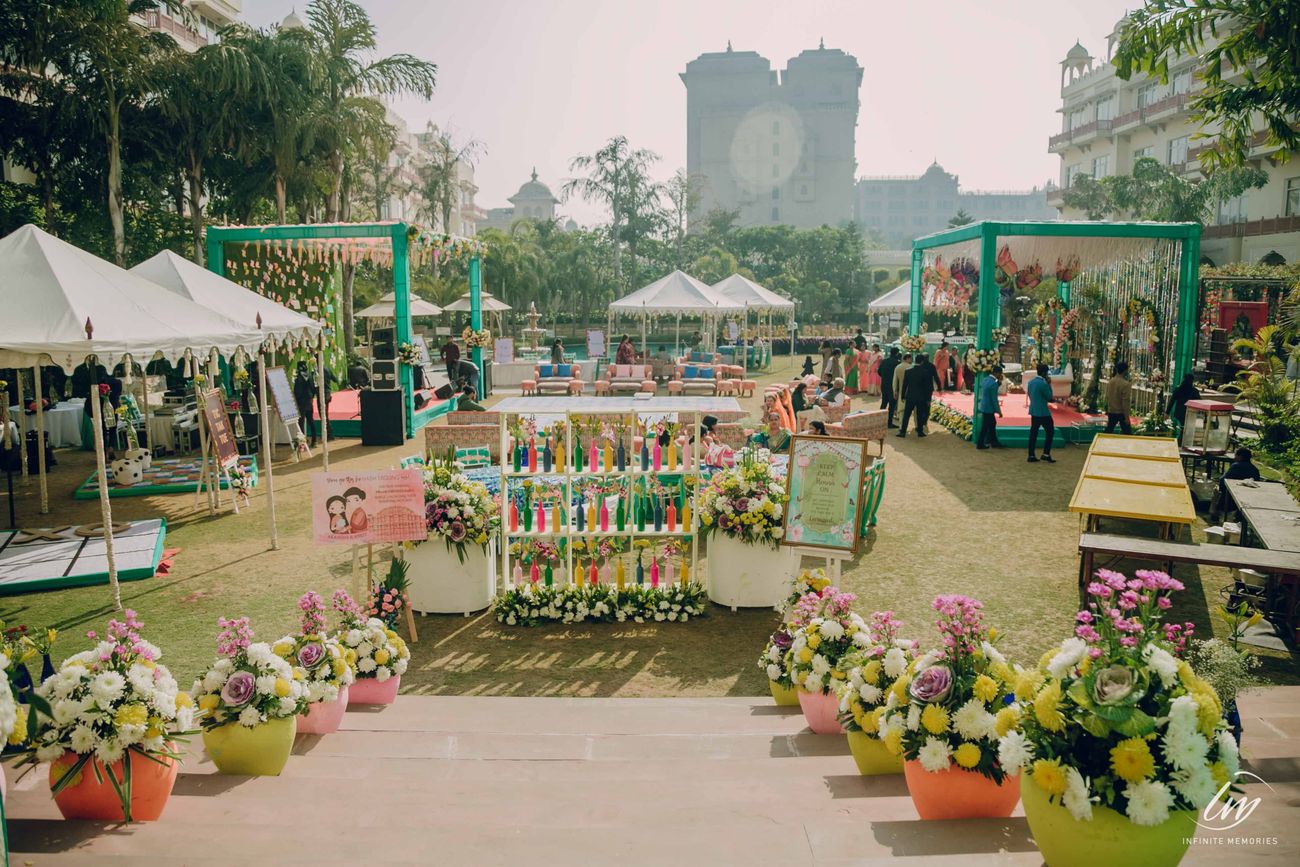 The next day started with an English Carnival which was hosted poolside in which we had clubbed Mayara + Mehendi function. The decor was mainly pastels and florals all around and also the main attraction was the butterfly hangings above our seating as I always wanted to incorporate this somewhere in my mehendi function. We had candy floss, popcorn, cone pizza counters and also small candy bar for kids. We kept many fun activities and games like giant jenga, snakes & ladders, spa stations, 7 up 7 down, caricature artist, magician to engage our guests.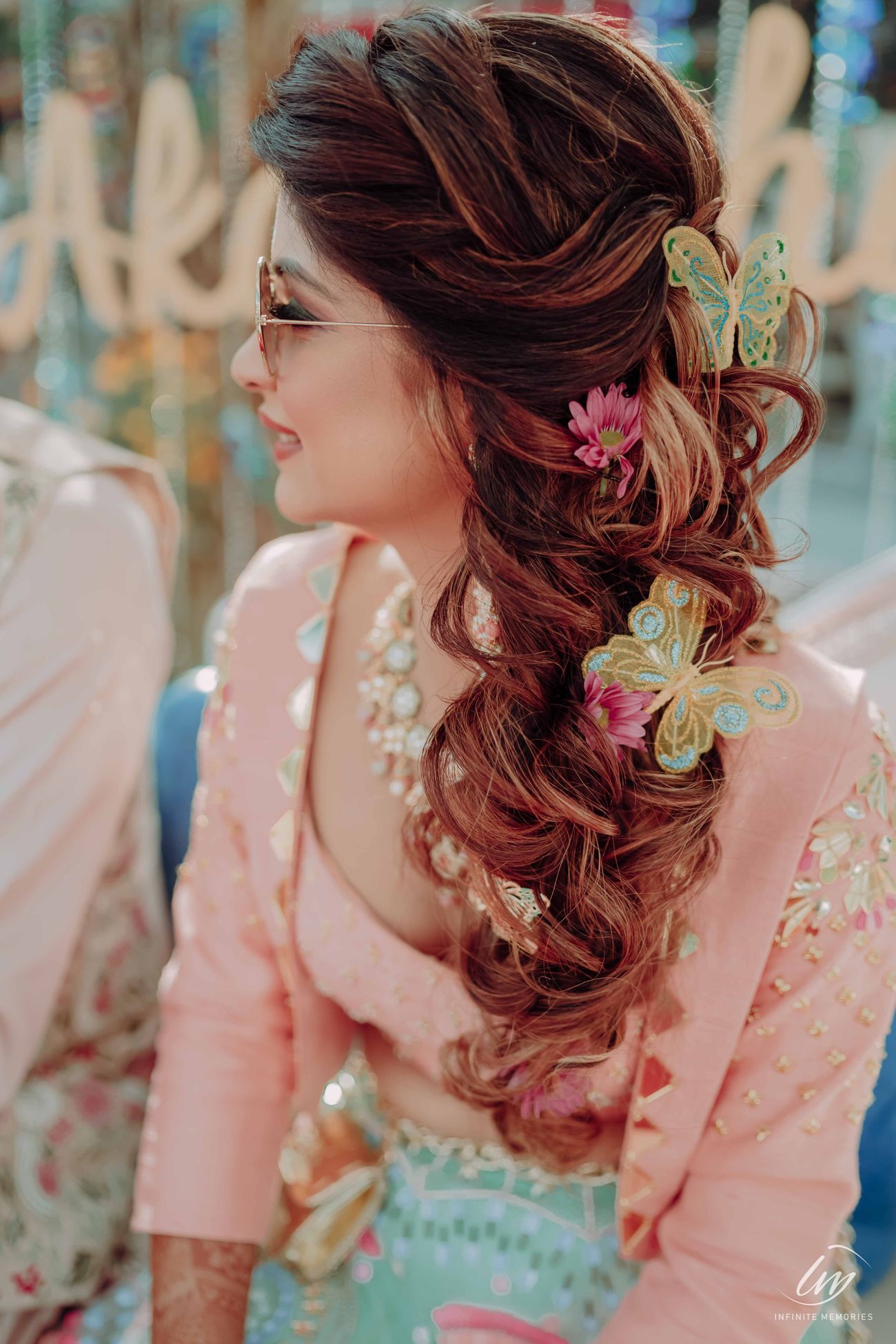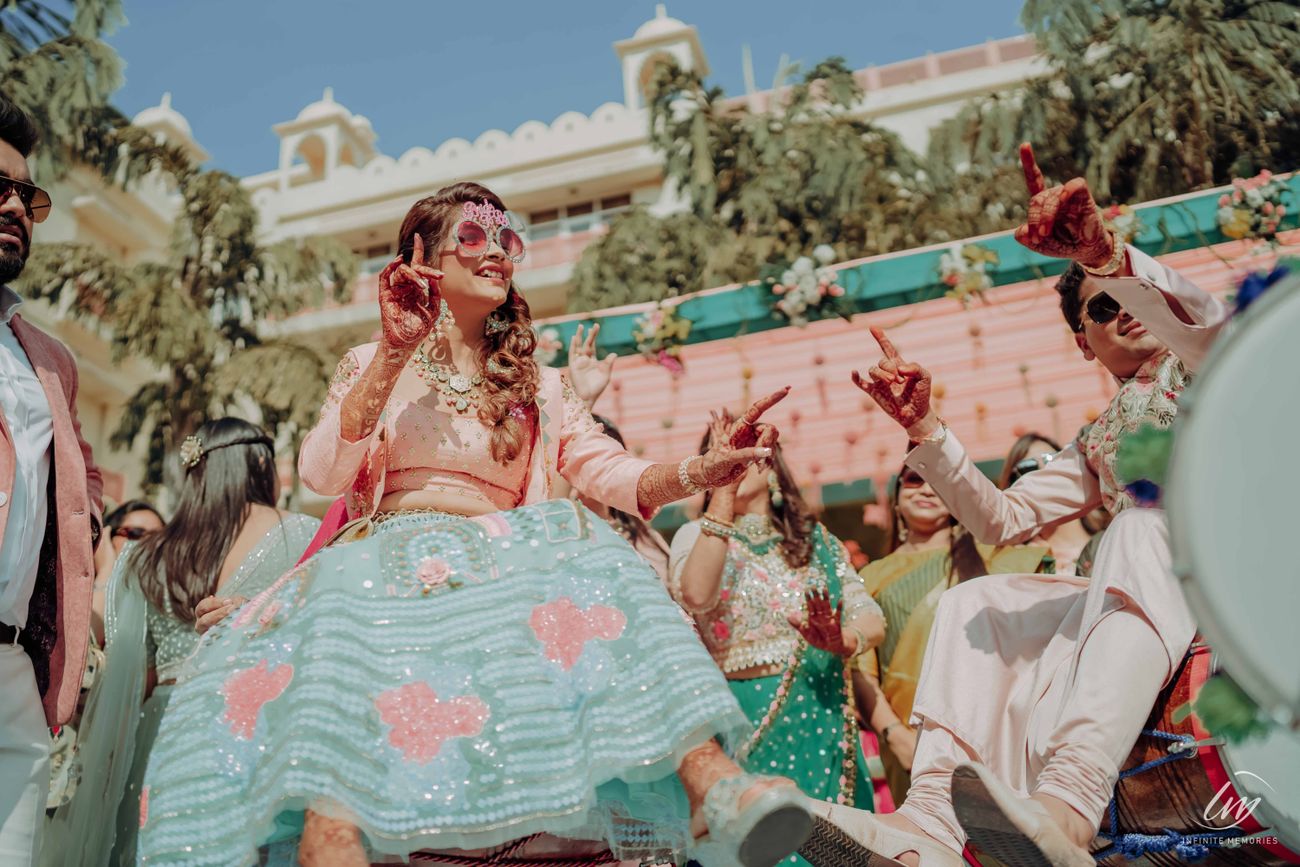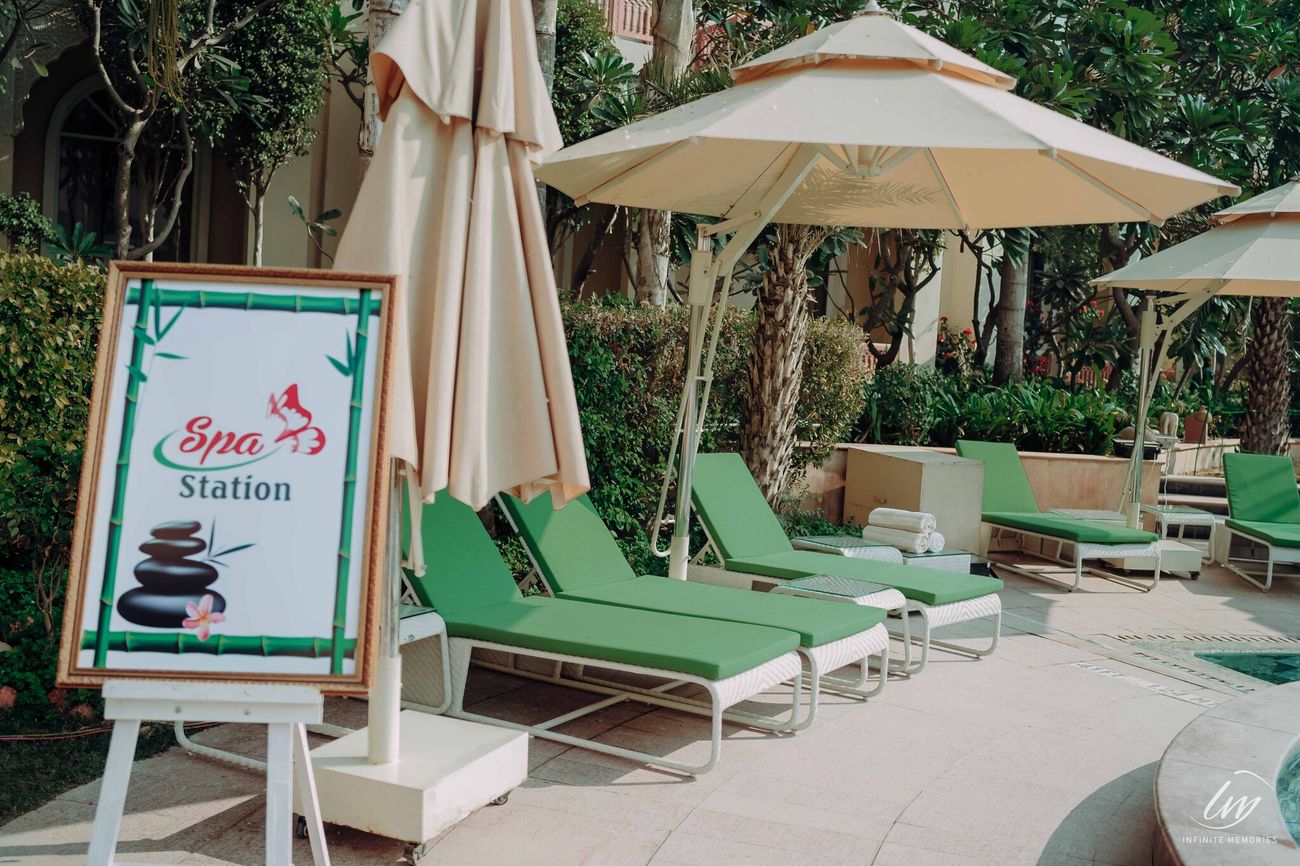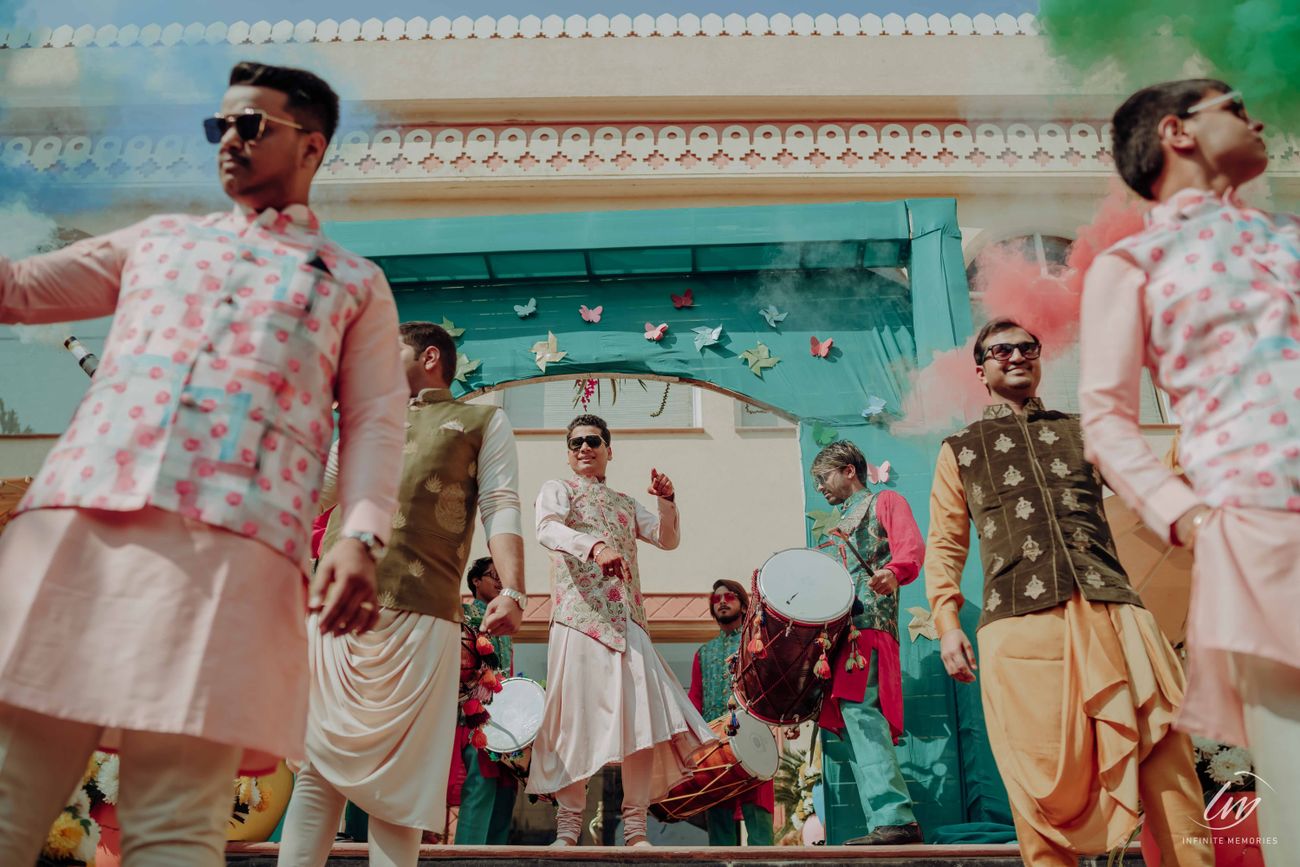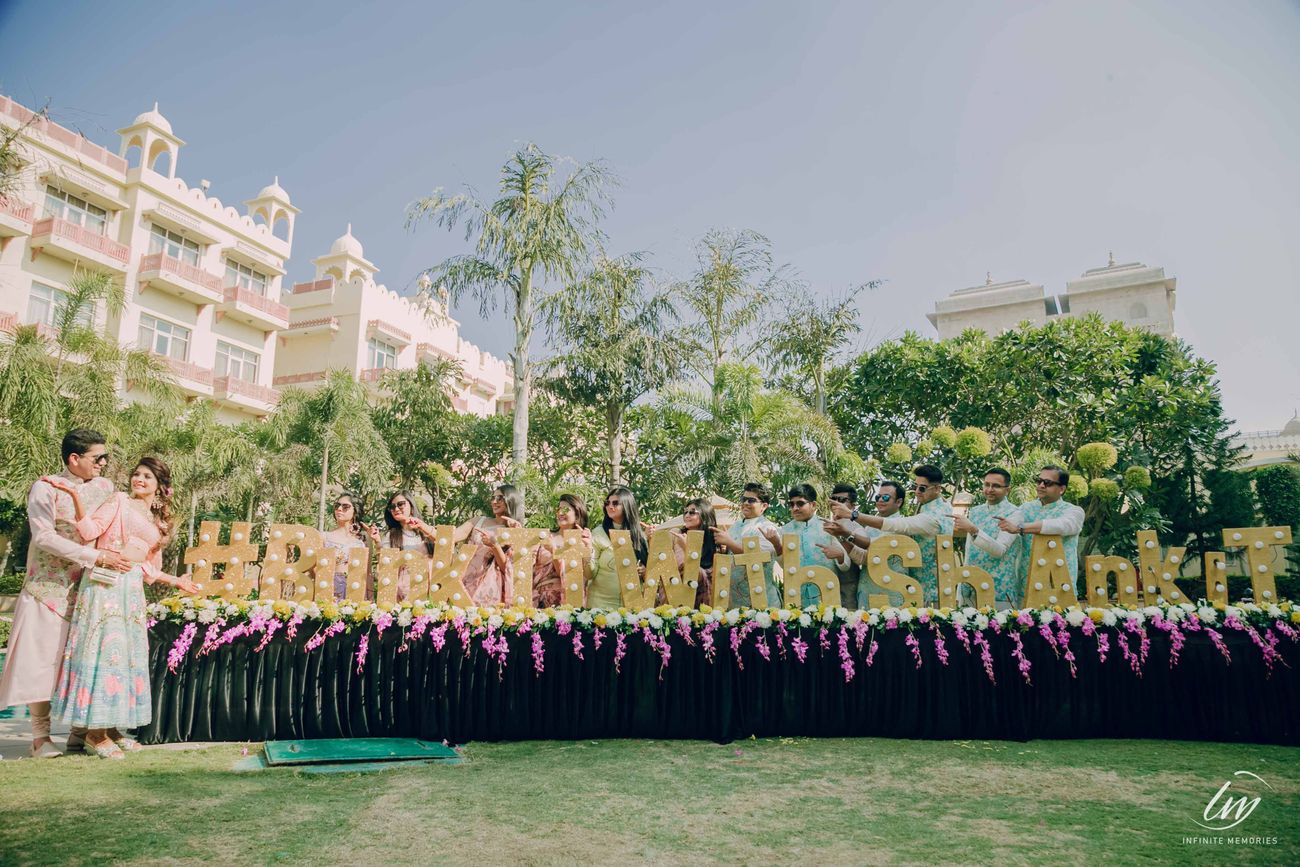 There was our giant hashtag 'BunkItWithShAnkit' placed at the pool edge which was the center of attraction of the event. There were also henna artists for guests. It was a fun-filled affair with dholplayers and also there a surprise flashmob for us by our cousins. We even kept 3-4 folk dancers for the Mayra We even had a traditional mayra singer Bhavya Chhabra from Jaipur and Anchor Ruchita who went around the venue singing and making people dance with them. I made my entry in a floral umbrella carried by my brothers who wore same outfits followed by my cousins and friends who agin were coordinated in same floral sarees. Ankit's entry was with color bombs and at the wild beats of dhol. For the Mayra function, all my maternal uncles and my mother's brothers were dressed in same outfits.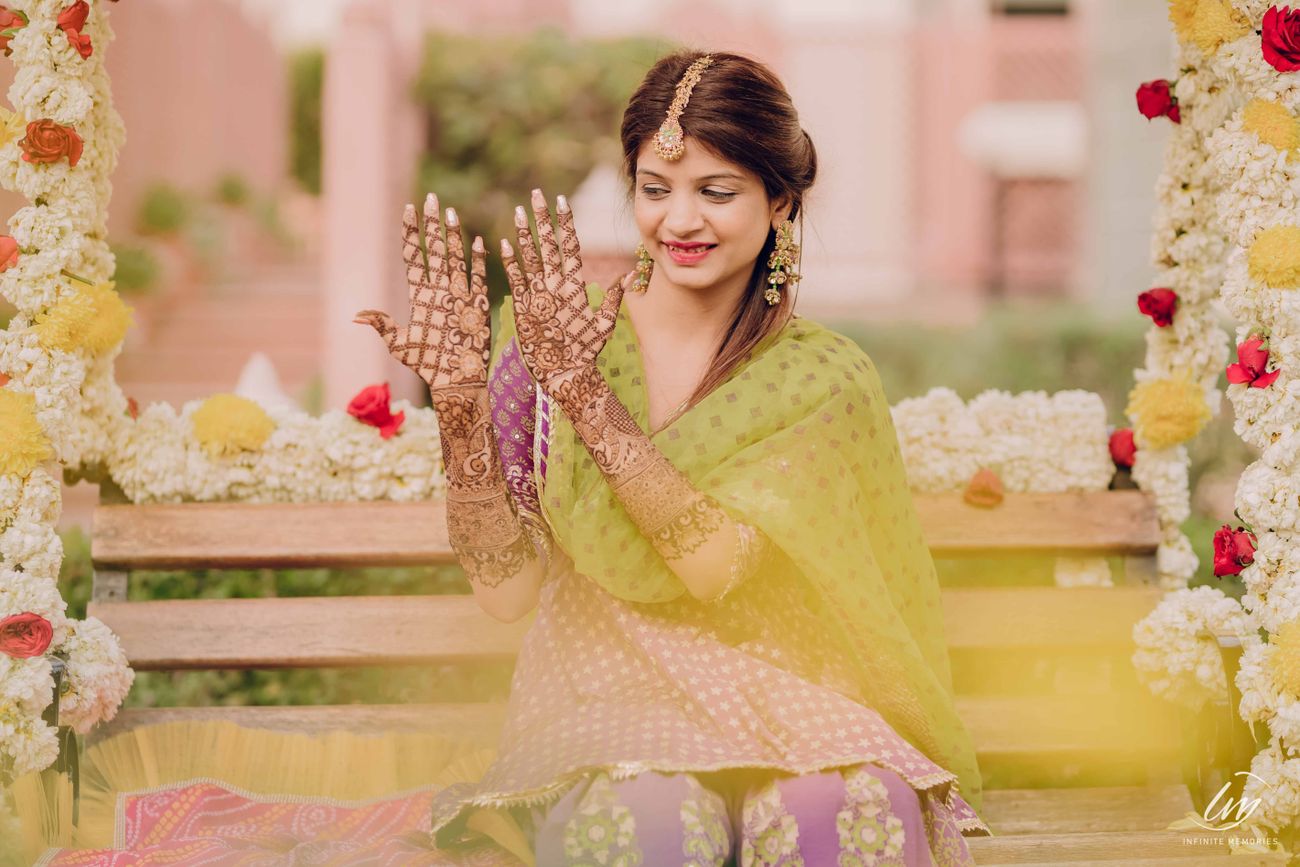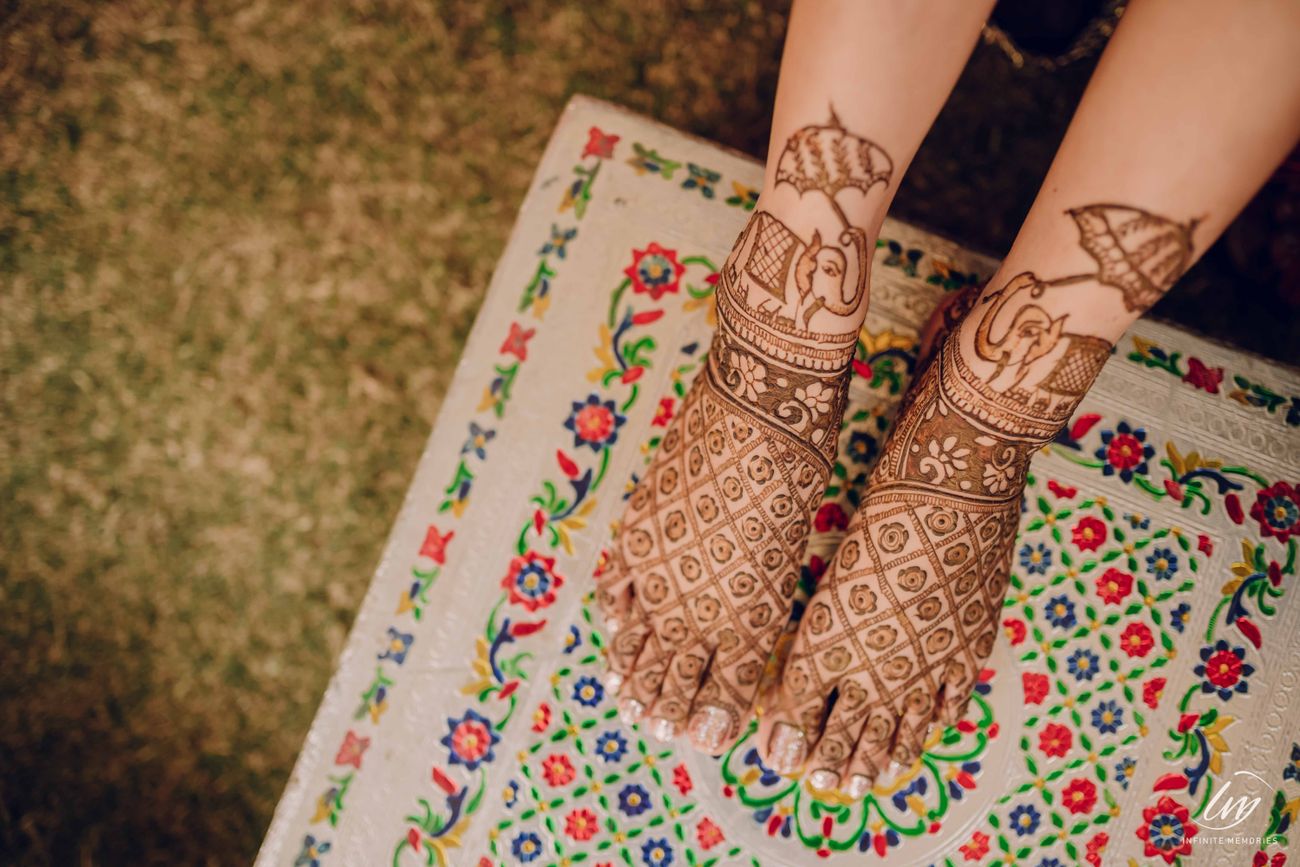 Sangeet: 'Jashn-e-Shaam'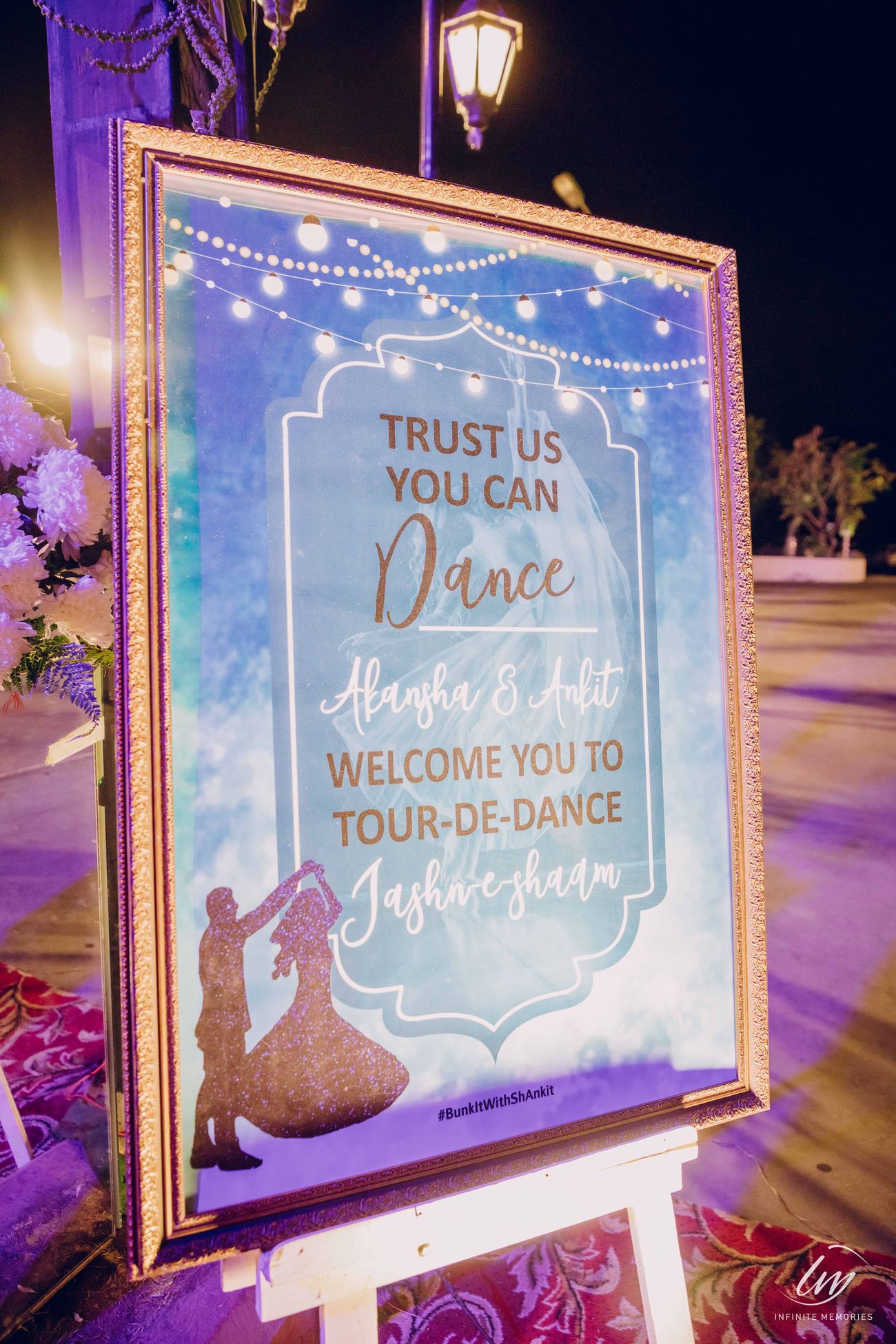 The evening started with 'Jashn-e-Shaam' (Sangeet)  at the main lawn with all the chandeliers and crystals hangings, black and silver was the color palette making it a glitzy affair.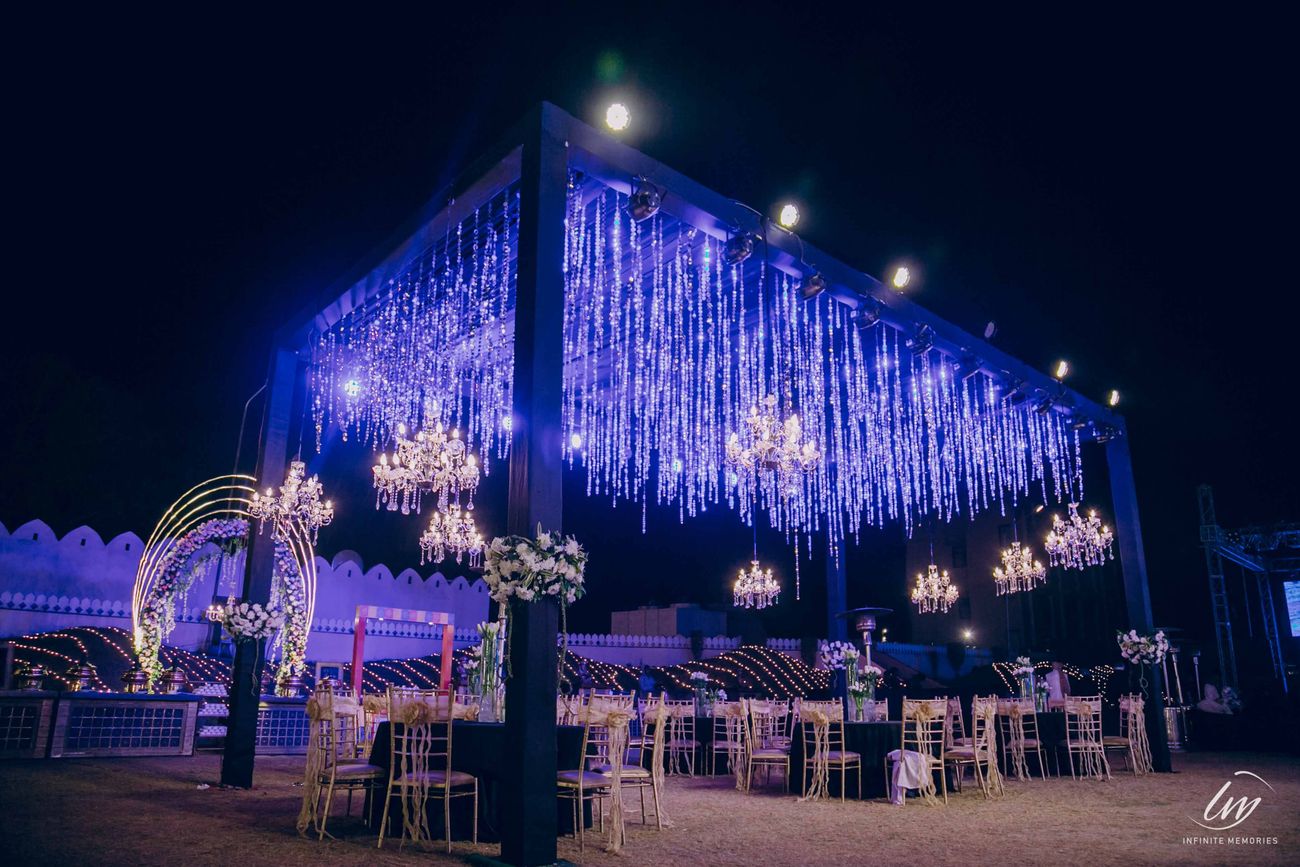 A huge LED screen was made for the stage backdrop and there were lots of family and friends performances where all our loved ones put in a lot of effort to practice the choreography and amaze everyone.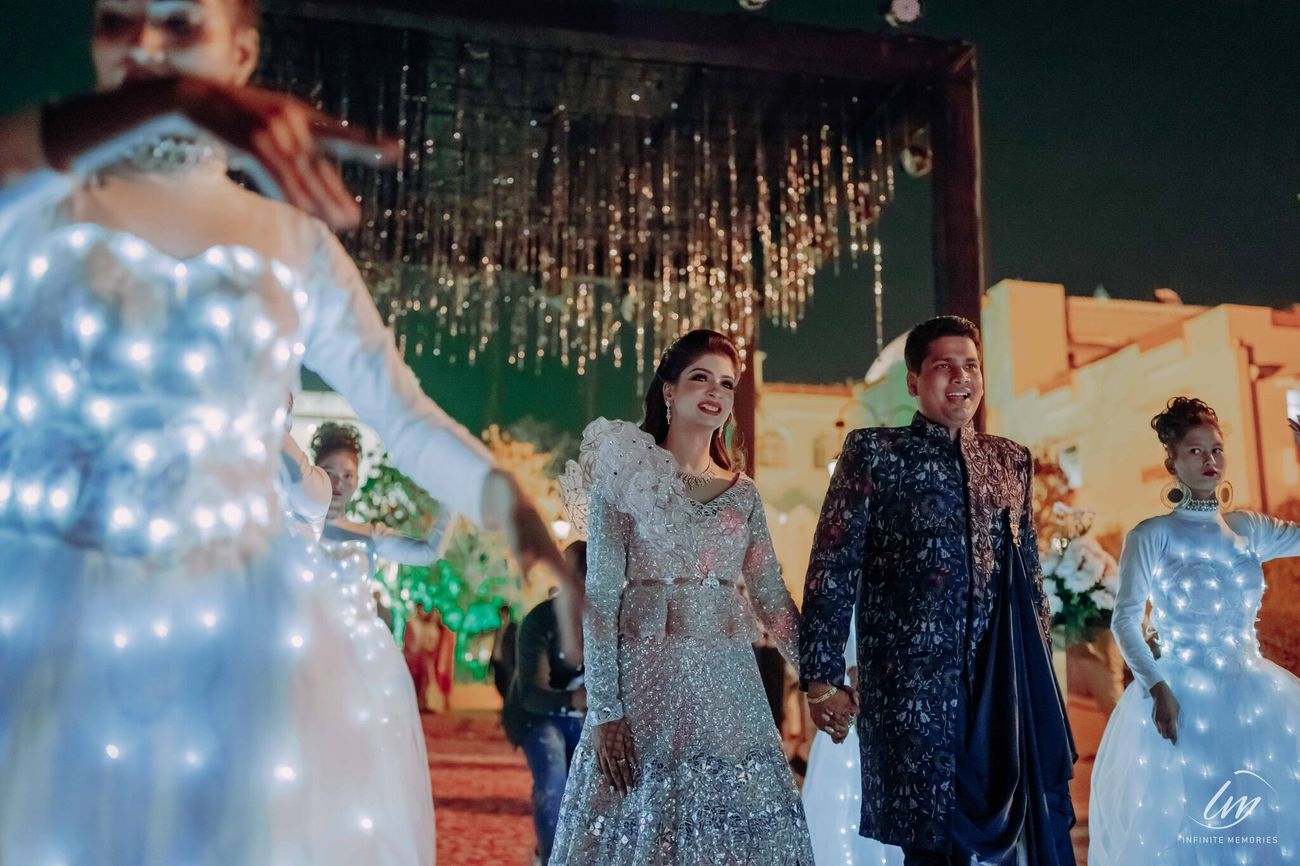 Our entry was planned with dancers wearing led costumes. The sangeet was followed by live music performance by the famous artists Nupur Pant and Saurav Kalsi which was further followed by after party in the banquet.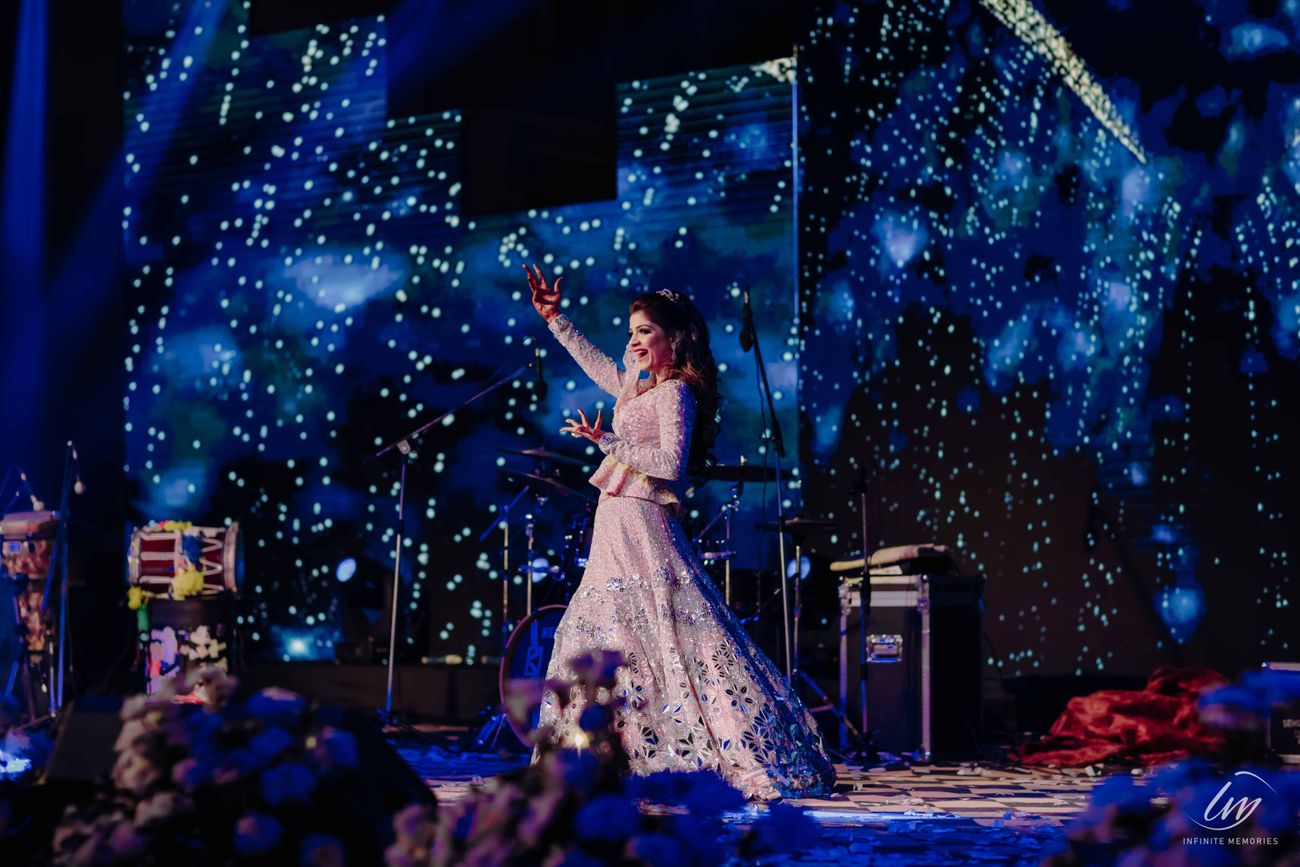 Haldi: Fusion Theme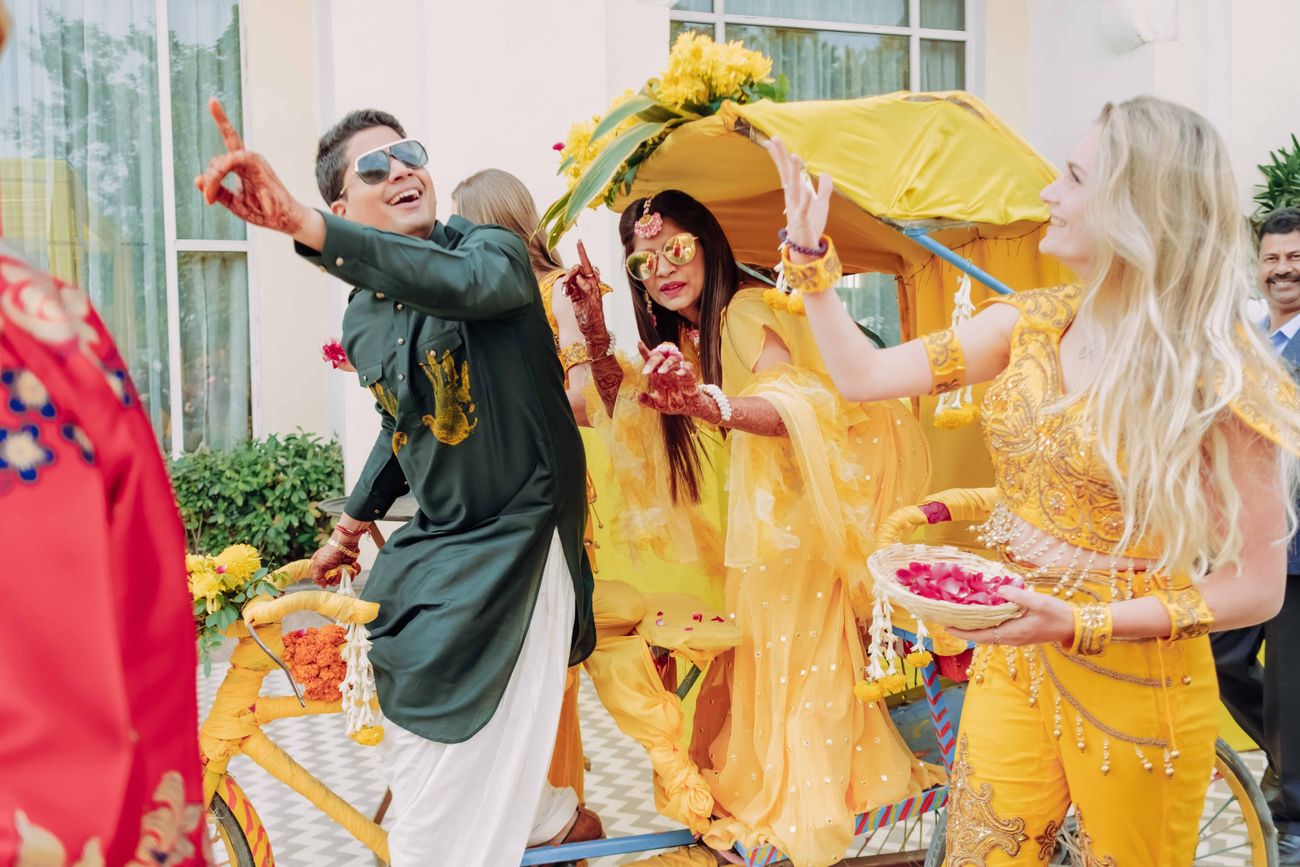 The next day began with 'Fusion Haldi which took place at the lawn. WE made our entry in a yellow painted rickshaw adorned with flowers and also Russian girls throwing flowers on us. There were colorful tassels hangings, jaipuri printed fabrics for tents. The decor hues were in yellow and white and was done with yellow marigolds. Once the ceremony was over, our friends and cousins threw buckets of water and flowers on us.
Wedding: Royal Theme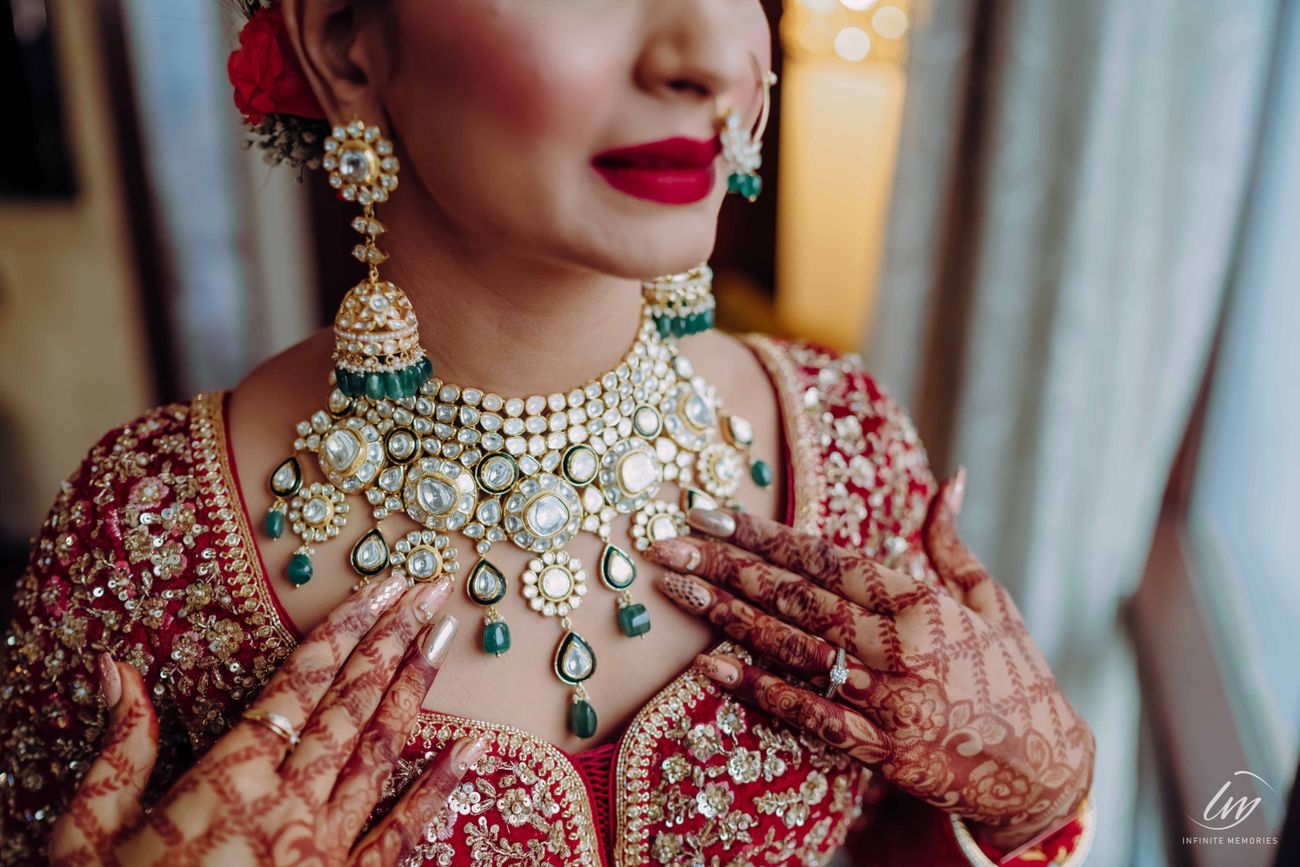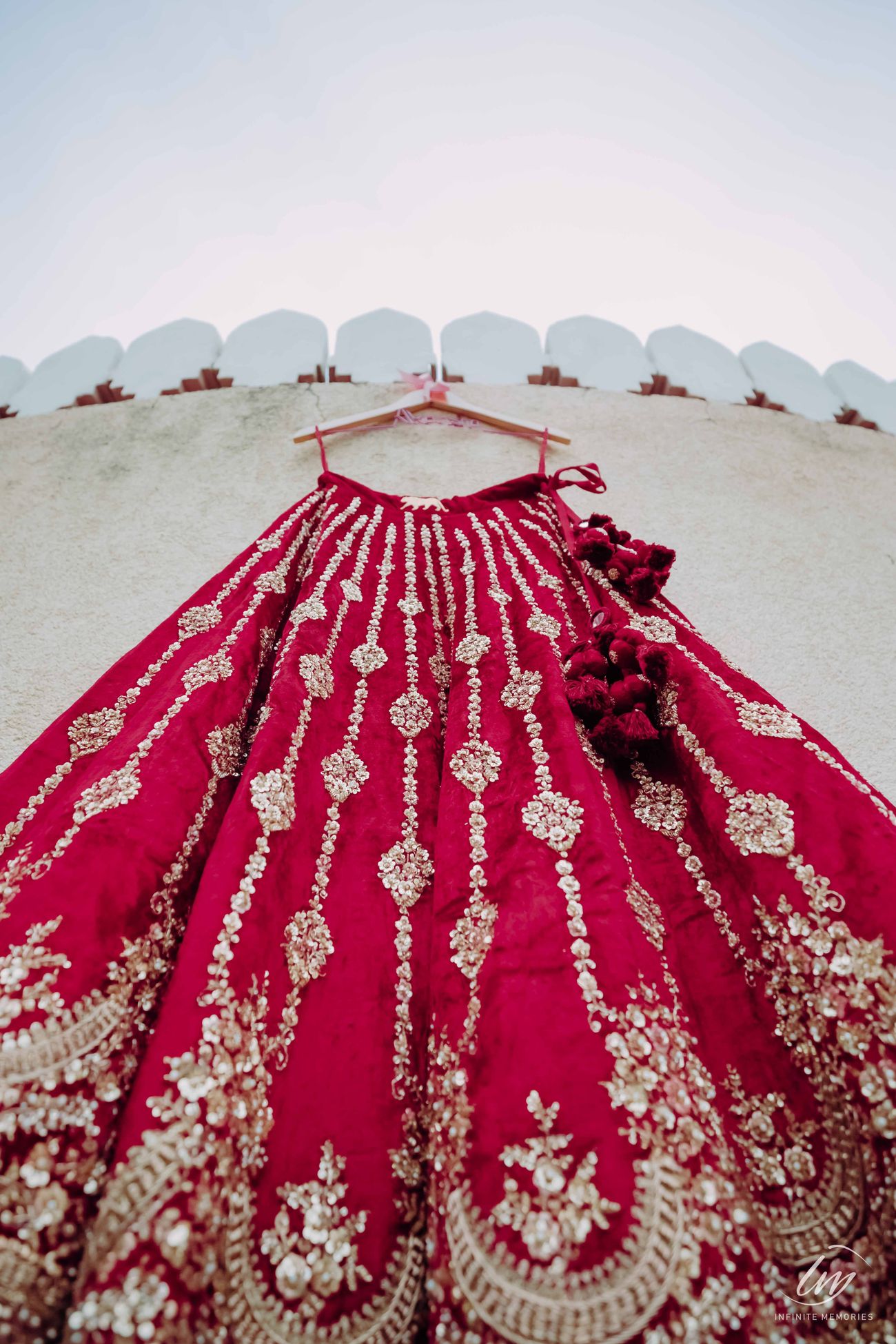 Finally comes the royal wedding which took place at The Gulmohar. For me it was the showstopper as I wanted the beauty of Gulmohar to be highlighted. The entire venue was lit with candles and looked stunning, beautifully lit with exquisite, vibrant red decor. Red and white were the colors we used at our wedding. A grand buddha was placed at the end of the passage. The baraat procession was worthy of a Maharaja. Ankit entered in a horse carriage and an elephant with the most famous Jea Band of Jaipur and the grand lawazma gave a royal touch. Ankit was escorted by lawazma men carrying mashals upto the staircase above which we were supposed to have our Varmala. I entered in a beautiful chariot escorted by beautiful shamadan girls towards the Varmala spot.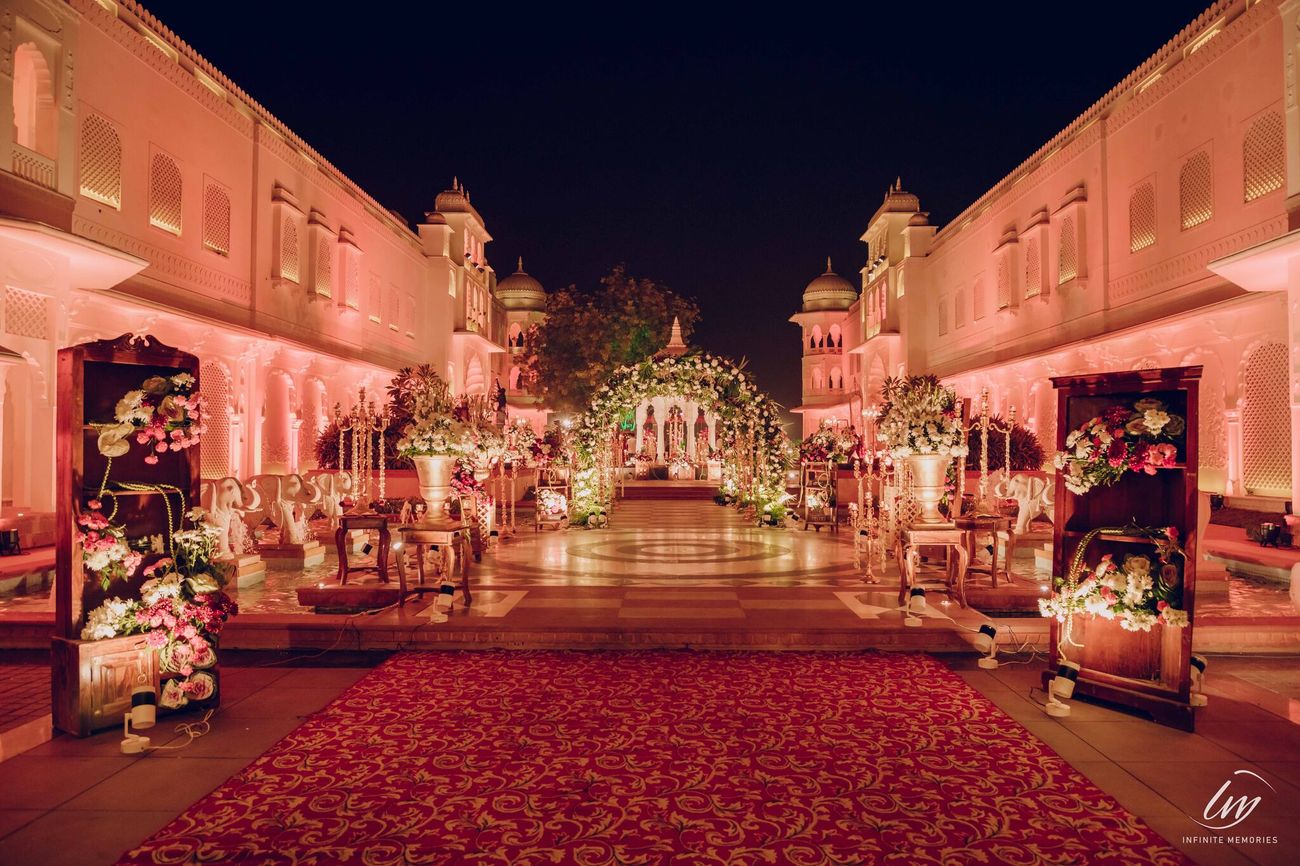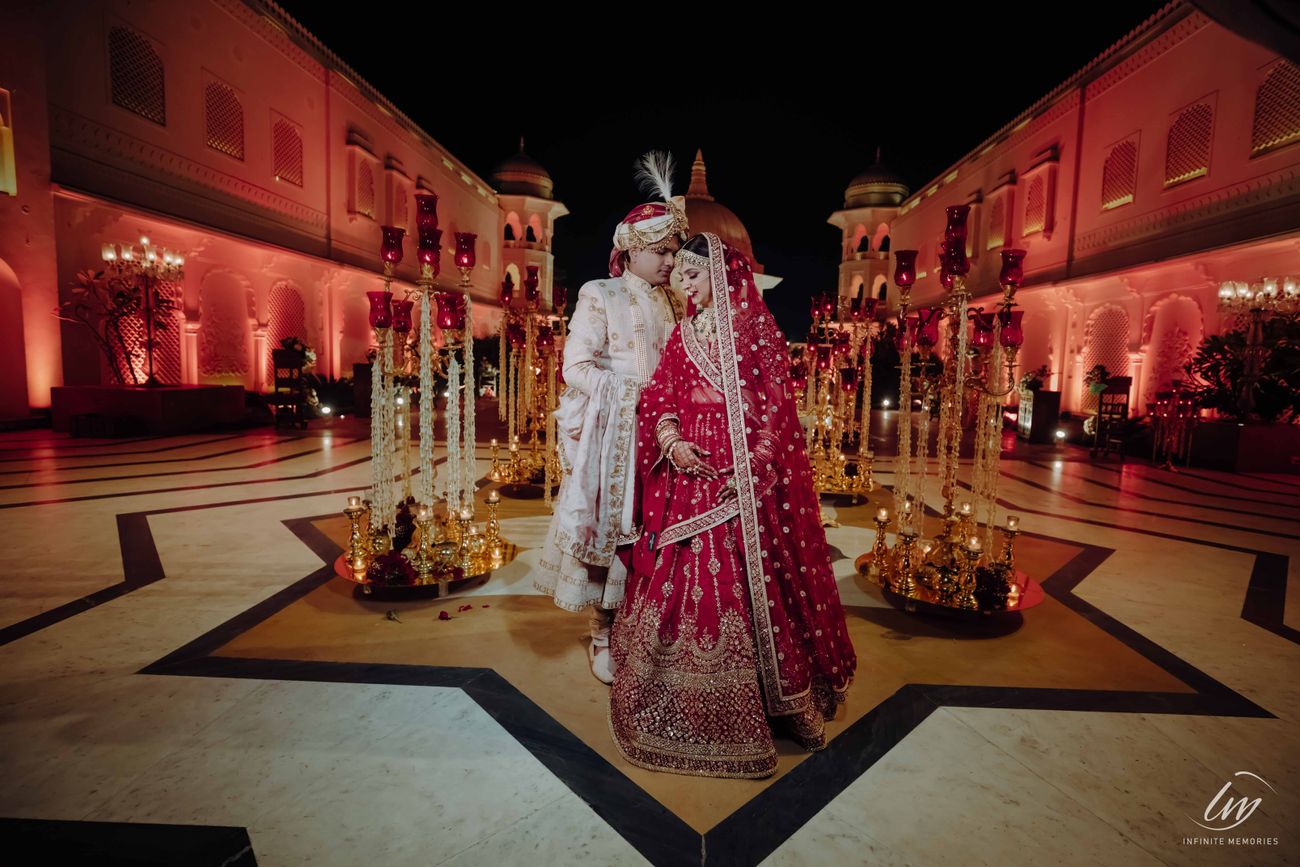 Ankit watched me enter in special chariot with cold pyros on the most popular bride entry track 'Din shagna da'. The varmala exchange set the sky ablaze with many cold pyros and spectacular fireworks. The reception stage backdrop was made of red roses and chandeliers with hangings of white flowers. We also kept the famous Dunes of rajasthan instrumental players. The mandap pillars were made from green leaves and white flowers hangings on the top. I had always dreamt of being a Sabyasachi bride and getting married in a palace like architecture. Both my dreams were fulfilled at my wedding.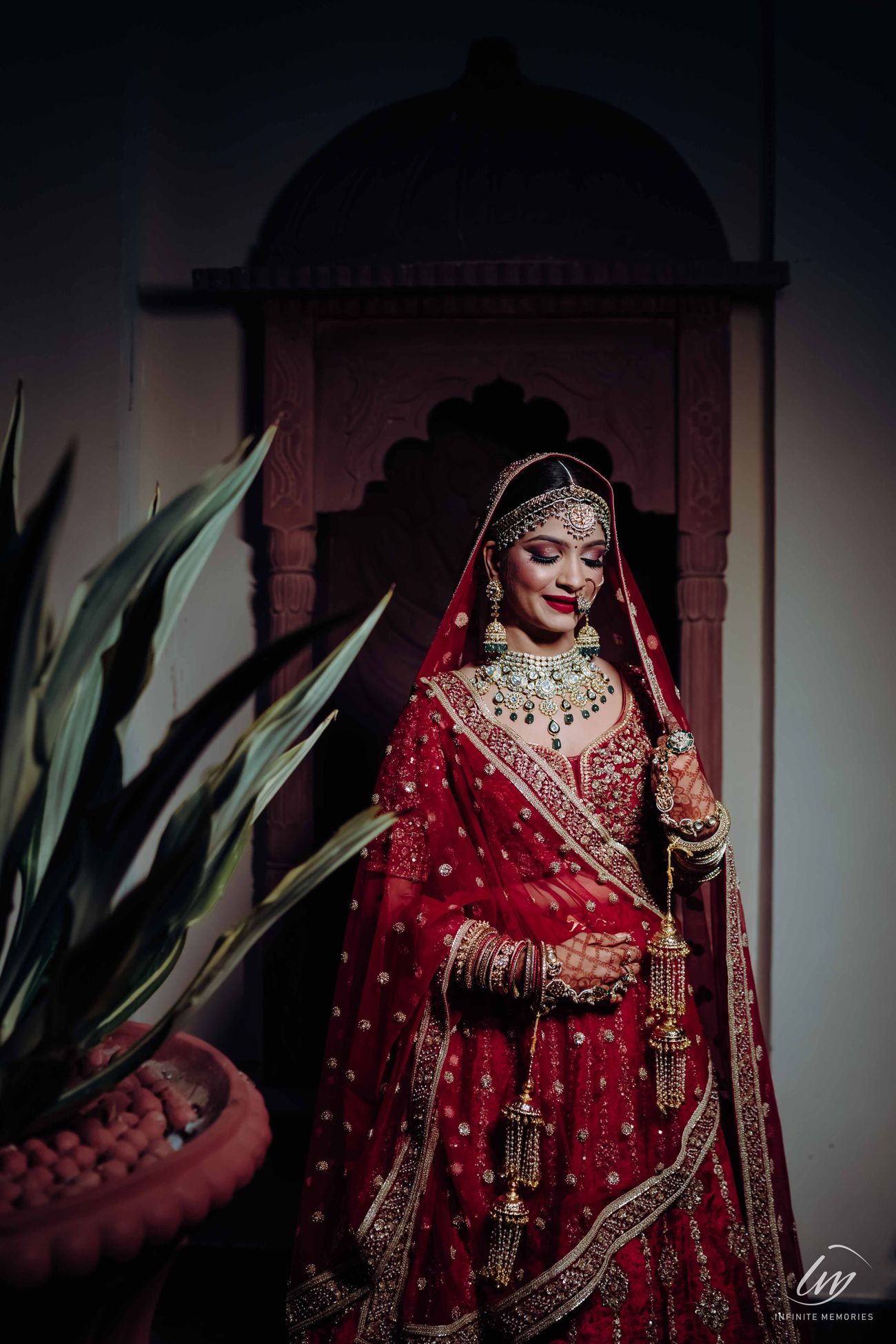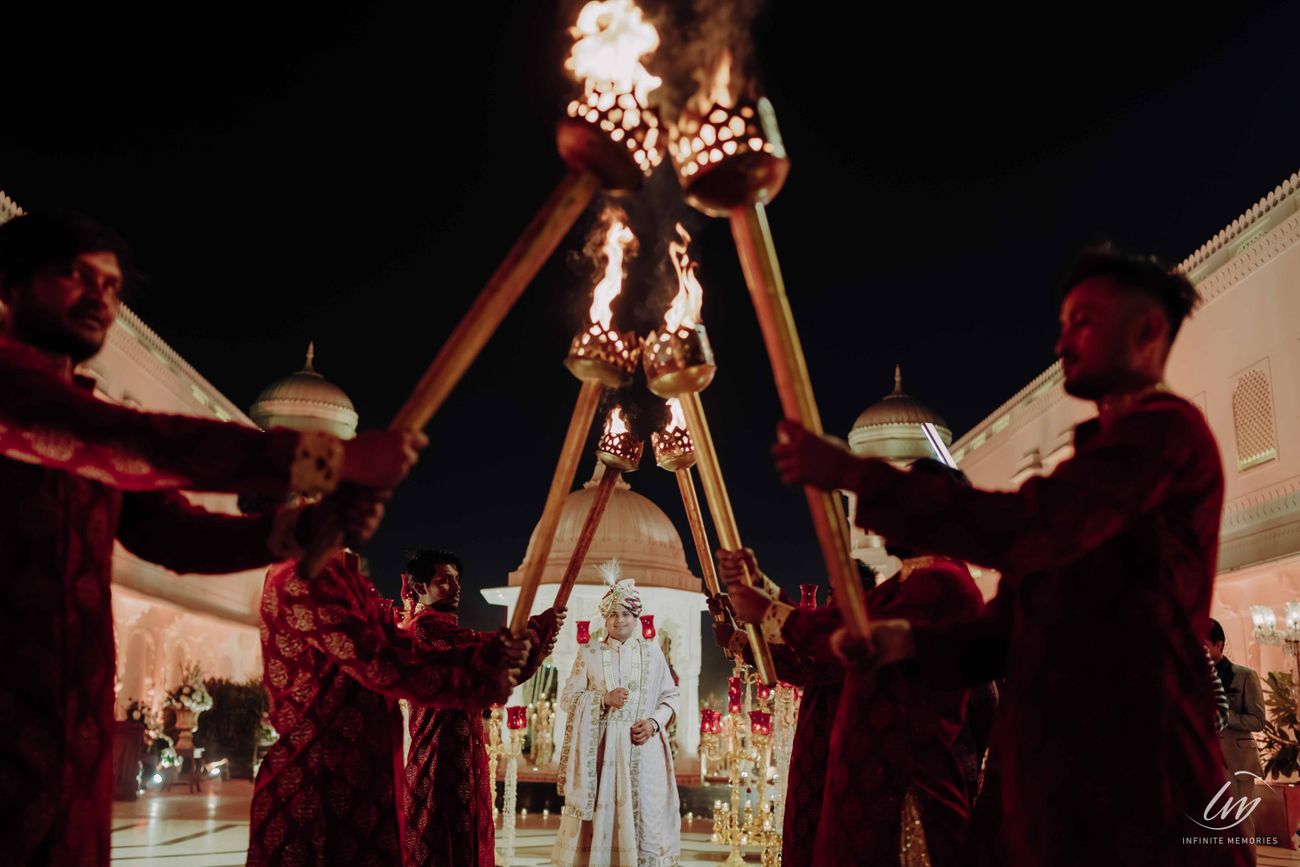 Vendors: Photography: Infinite Memories★ 4.8 ; MUA: Shahid's Makeover★ 4.2 ; Hairstylist: Arif Salmani; Venue: Le Meridien Resort & Spa, Jaipur; Wedding Venue: The Gulmohar Garden and Banquets, Jaipur; Event Planner: Elite Weddings India★ 5 ; Stationery and Invites: The Exotic Invites★ 4.9 ; Outfits: Sabyasachi Mukherjee★ 4.9 , Suneet Verma★ 4.8 , Papa Dont Preach★ 4.7 , Maayera Jaipur, Gaurav Gupta★ 4.9 ; Wedding Jewellery: House Of Rambhajos, Jaipur; Mehendi artist: Lata Mehandi★ 4.9