This Unique Hairdo Of Iyengar Brides Captured Our Hearts
BY Meenu | 21 Dec, 2020 | 25580 views | 3 min read
We know that South Indian brides are all about heavy Kanjeevarams, gorgeous jadas with heavy jewelry. We were checking out insta and we saw these beautiful South Indian brides who sported an absolutely unique hairdo. Yes it was a braid, but the small addition to it was so unique.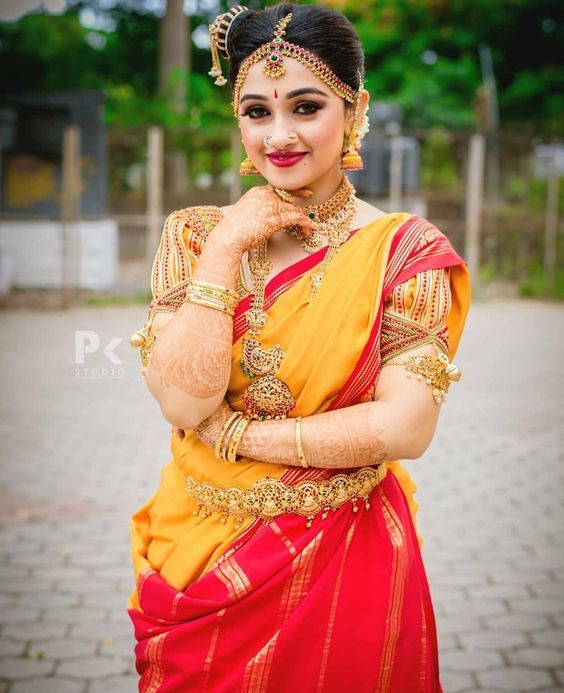 Image Via: PK Studio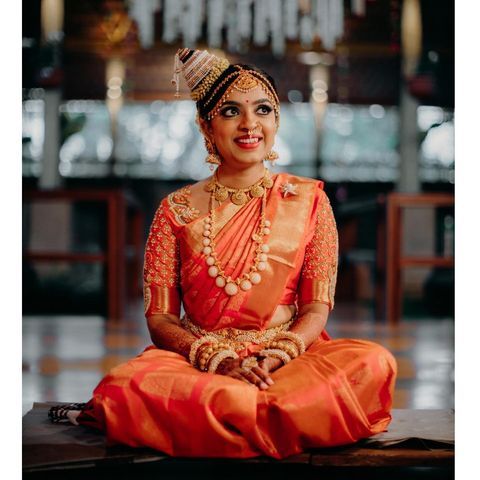 Image Via: Aashish Photography
This is the hairdo of Iyengar brides and known as the Andal Kondai. The small bun to the side of the braid is the kondai and Andal is a goddess worshiped by this community. So every bride is treated as goddess Andal and every groom lord Vishnu as Andal was the biggest devotee of the lord.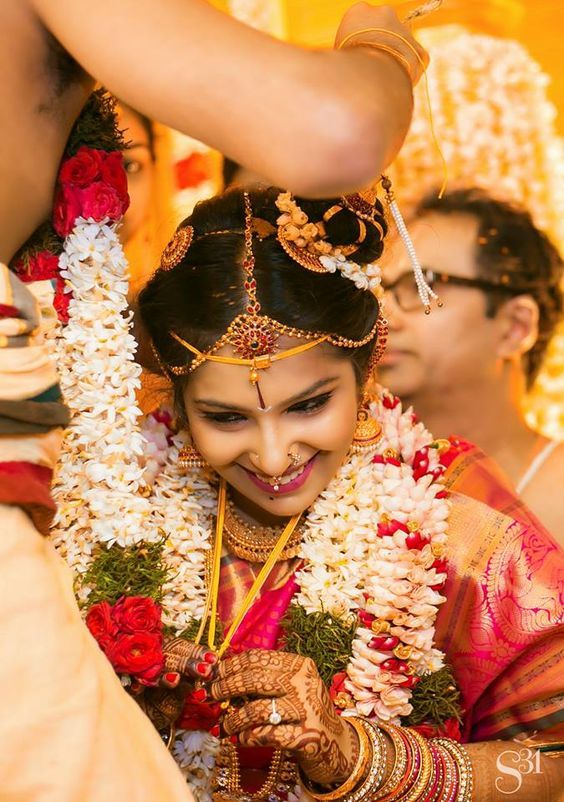 Image Via: Studio31
Now that we have told you the history and significance, let us now talk about how pretty the hairstyle is. Apart from the heavy braid of South Indian brides, this small attachment is available and is fixed into place. There are multiple options available as to how many tiers you want in the side braid to how heavy and fancy you want it.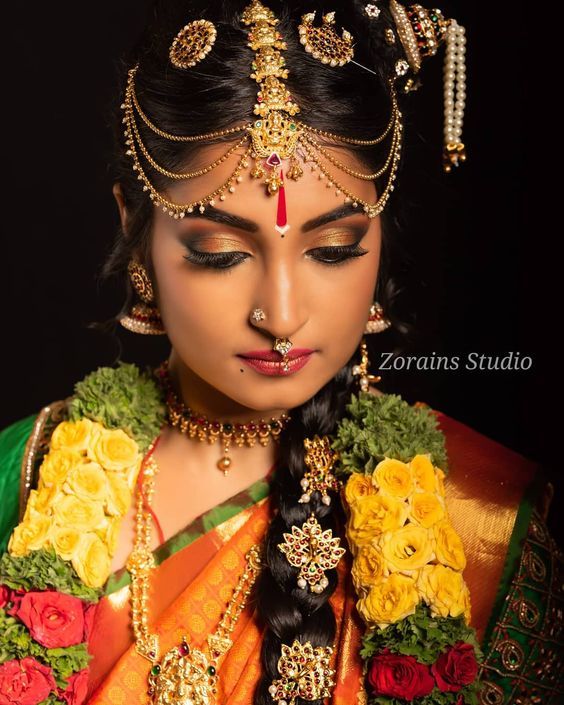 Image Via: Zorains Studio
See this really small Andal kondai decked with temple jewelry. This can work with almost all color sarees and is perfectly bridal. You can choose the one with pearls handing from the ends. If you are not a pearls fan, then check what this bride chose. The complete gold option is also a great choice.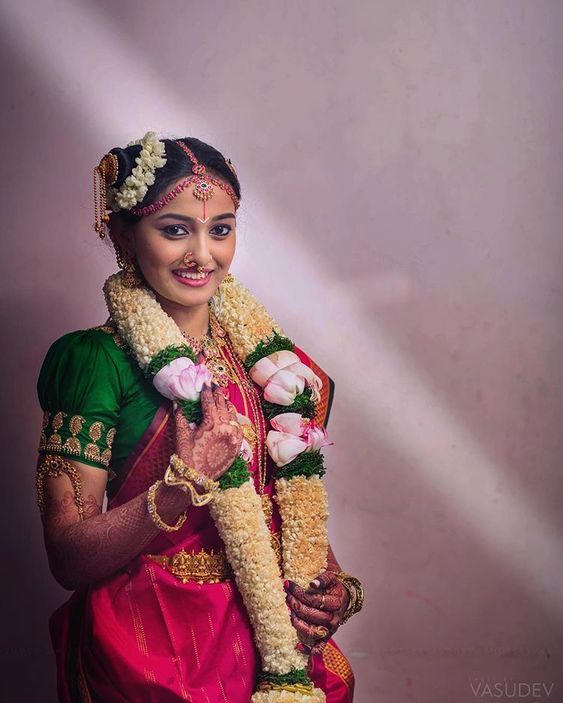 Image Via: Shots By Vasudev
This one is another barely there side bun/Andal kondai wih some heavy bling. We totally love this one!!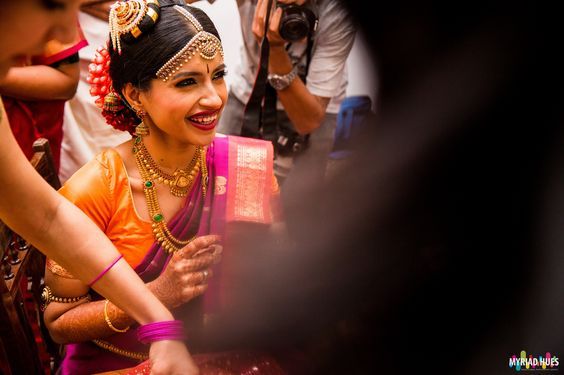 Image Via: Myriad Hues
Adding a small ring of flowers around the bun is completely your choice. Go for smaller flowers that complement with your braid. We are giving you a complete look of how beautiful the Andal kondai looks along with the bridal jada and all the finery. We totally <3 this!!!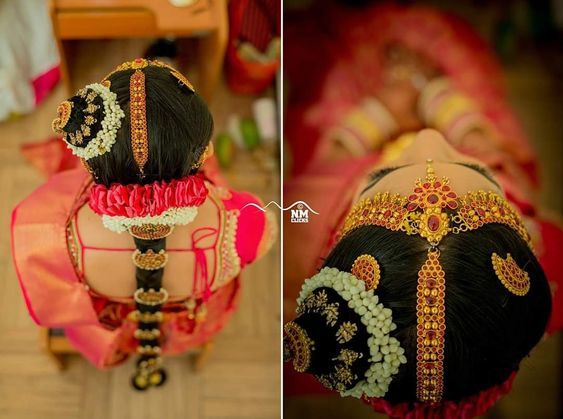 Image Via: NM Click
This bride if you see has a good amount of flowers, that the bun is completely encased. We can see the gorgeous jewlery that is attached to it too!! This is one of our fav looks.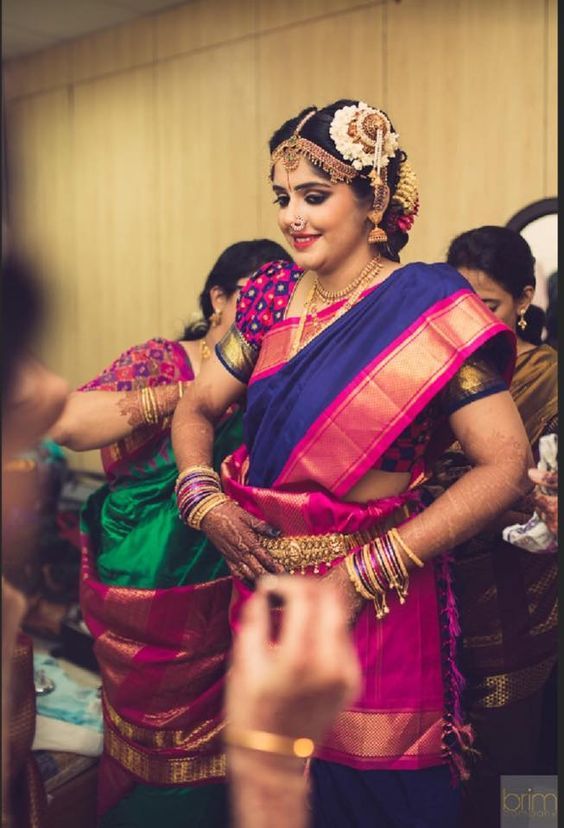 Image Via: Brim Weddings
Note: Ensure that you choose a matha patti and not a maang tikka to add more oomph to this look. Choices for your matha patti could be from traditional temple jewelry to heavy antique jewelry.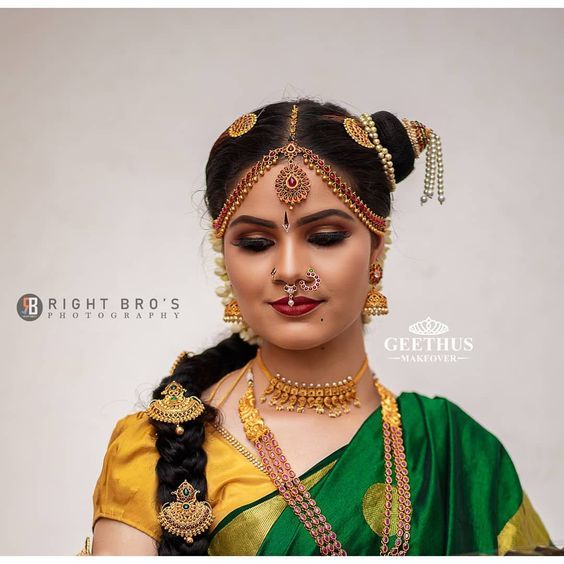 Image Via: Right Bro's Photography
Also if you notice these brides, their bindi pattern is not the circle or something fancy. The unique linear bindi is also something special to them and this look is complete with this pattern of bindi.
So how many of you brides are thinking of adding the Andal Kondal for your bridal look? Let us know.