Tips & Tricks To Spot A Replica or Fake Designer Lehenga
BY Sakshi | 23 Apr, 2019 | 15695 views | 4 min read
Indian bridal stores are flooded with replicas of designer outfits- right from those which are evident that are a cheap copy, to those which are "original replicas" or "first copies"- which means that the person copying has tried his or her level best to make it look as original as possible. Now some proprietors might tell you what they're selling to you is not the original, but in fact a copy or the "original replica". Whether you want to go down the replica route is your call- something we feel isn't right morally, but that's for another day and time. But what if someone tries to fool you into believing that what you're holding or have ordered online is in fact an original Sabyasachi, Manish Malhotra or Anita Dongre lehenga? Or maybe during renting your bridal lehenga, which is an option these days, how do you then make sure that you're not being taken for a ride?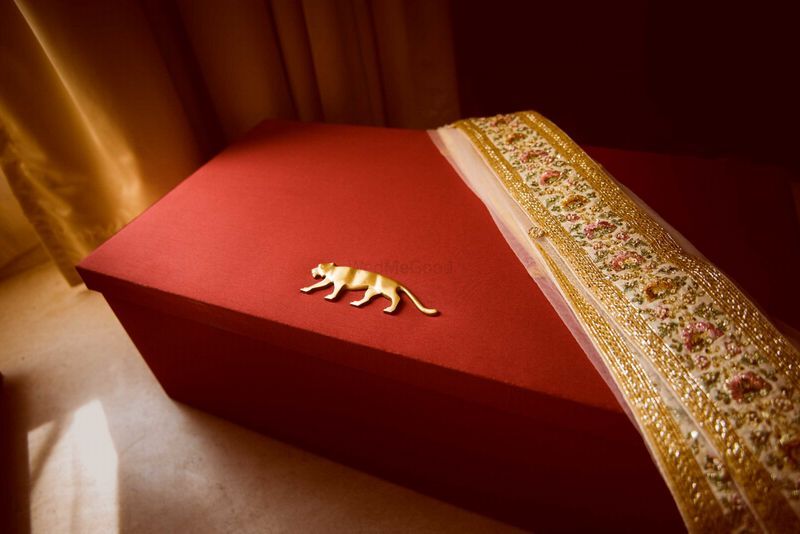 Image via WhatKnot Photography★ 4.7
Look at the finishing on not just the box, but the original Sabyasachi lehenga as well? That's the attention to detail, which you might have to look for too. Well, here are some tips and tricks that might come in handy!
Reputed designers sell only through limited stores
We can tell you with guarantee that Sabyasachi, Anita Dongre and the likes do not sell their lehengas in Chandni Chowk. They have limited stores, flagship stores and some multi-designer showrooms that they sell through, and no where else. Renting is a different ball game, and there are a few sites that rent out their creations as well. Online also, limited designs are available, which majority of the time are not the designer's latest collection. 
Check the displayed stuff at the store you're at
Usually, shopkeepers don't display replicas, they take them out of hiding. So check whether any other designer lehenga is on the mannequins at the store, and that should give you a good idea. 
Big designers' creations are not available in every city
Sabyasachi doesn't retail out of every city in India, and neither do other big designers. The circuit is mostly limited to metro cities, and popular ones like Ahmedabad and Chandigarh (at very few multi-designer stores) and if someone tries to convince you otherwise, do not believe them.
Blouses and dupattas are the biggest giveaways
So when it's a replica, the one making it will pay the most amount of attention to detail with the skirt of the lehenga, which is what instinctively decides every bride's pick. That is why, check the blouse and the dupatta also to check whether it has the same premium look and feel to it.
Insist on seeing the box/ packaging of the lehenga
With most designer lehengas, you get bang for your buck in terms of the luxurious packaging. Sabyasachi lehengas for example, come in signature boxes with the Bengal tiger logo on it- so ask to see the packaging of your lehenga when in doubt. 
Check the tag on the lehenga
Just like designer clothes, designer lehengas and even the blouses and dupattas have tags on them too- so keep an eye out for them.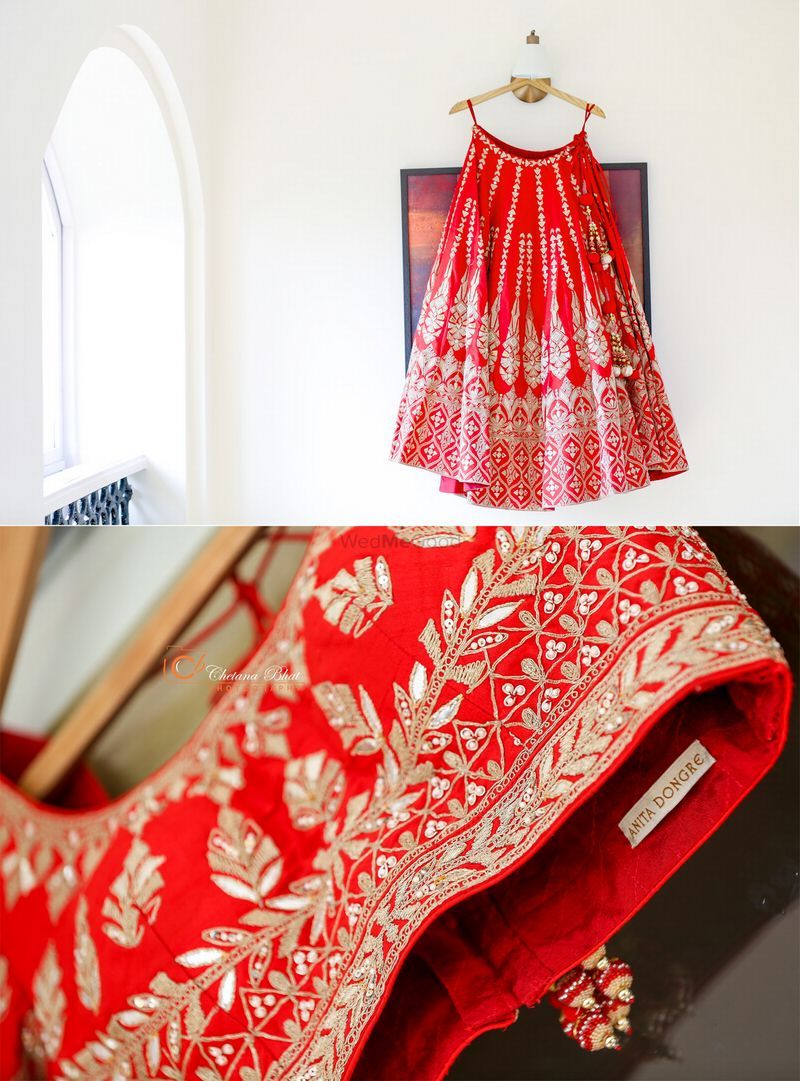 Image via Chetana Bhat Photography★ 4.8
Ask for the lehenga's name and Google it
Most of the designer lehengas have specific names assigned to them. So ask the shopkeeper the name of the lehenga or the collection it is from and google it to see the collection or the specific lehenga's original photo online. 
Pay attention to the colours- most designers don't customise certain colours
You know how you can ask them to show you a lehenga in as many colours as possible? Well, it doesn't work that way with big designers, barring maybe a few of their outfits, and if the lehenga you like is also there in an array of colours (typically, red, fuchsia and popular bridal colours), then something might be wrong. 
Pay attention to the workmanship of the lehenga
Like what you see from a distance, but is it as flawless and pretty up close too? Check the work on the lehenga you like very very closely. Most designer lehengas involve hand embroidery and not machine work, which should be evident when you pay close attention. Also check how neatly and securely sequins and other things are put on it. 
Is customisation an option? 
Sabyasachi isn't big on customisation, and other big designers also don't say a ready yes, there's a whole procedure to be followed. So if for the lehenga you like, sky is the limit for customisation from the owner's side, then that's another red flag. 
ALSO READ: To Replica Or Not To Replica: The Curious Case Of Bridal Shopping