35+ Best Sangeet Songs For The Bride's Friends/ Sisters To Dance in 2021!
BY Apoorva | 20 Aug, 2021 | 352161 views | 11 min read
There is nothing like a lot of pizzazz on your sangeet night and nobody can bring that on more than your girlfriends. We compiled a list of Bollywood songs for your best friend's wedding- right from your sisters to your best friends and bridesmaids.
To make it easy for you, we have categorised the sangeet songs according the vibe of the ceremony!
Pep Up The Mood
Can't Stop. Won't Stop!
Dedicated To The Bride
Get The Bride Groovin'
Tease The Groom
Come on ladies, go ahead, take your pick and start preppin' up! It's time to burn up that Sangeet dance floor.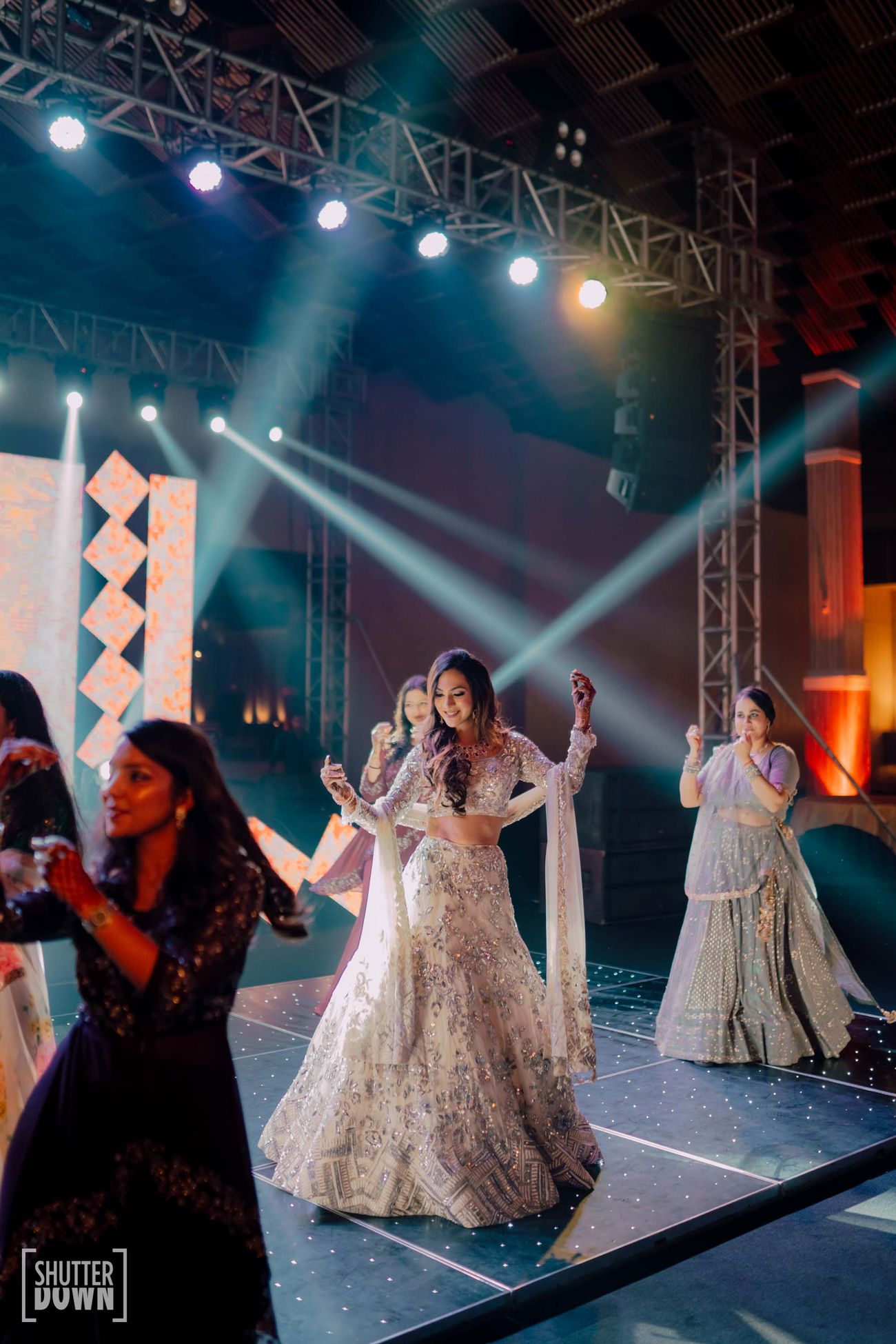 Image via Priyanshi & Kush
Pep Up The Mood
If you feel that the Sangeet ceremony is doing low, you can easily pep up the mood with these groundbreaking bollywood songs! They are latest, high on beats and will definitely make everyone at the venue groove, while the performances are on. Don't believe us? Then hear them right away!
This sassy Sangeet dance legit got viral on the internet, and we see no reason why these enthu tracks shouldn't be there on your ideal Indian wedding Sangeet playlist!
This one is beautiful because it starts slow , and picks up like crazy. The girls get to show off their elegance as well as energy. Psstt.. also, one of those sangeet songs for bride side that'll make the groom's side lose out on the battle before even beginning with it. Make sure you choreograph well to nail it with sass!
If Alia Bhatt and the other bridesmaids can set the Sangeet dance floor on fire with this dance performance, then you know it's trending AF! So don't stop & start with your practice!
Now here's a sangeet song that will lift up the spirits of a sangeet - a little mischievous and a whole lot of quirk. Pallo Latke is one of the perfect wedding songs in Hindi for Sangeet for best friends and sisters to dance to. Just wait and it will grow on you - specially the chorus!
You've heard it in the club, and in your car, and on almost every music channel. Well, why not at your sangeet too? A mash up of peppy sangeet songs with one being this song would be so much fun! It's perfect for anyone, including your girls!
It's officially the BFF song! Its quick, it's upbeat. Club it with a mix of beats of the dhol and you have just what you need for a spectacular performance at a sangeet ceremony! Literally, Nachde Ne Saare is a perfect song to pull chacha-chachi, mama-mami et all, off their seats!
Old wine in a new bottle, but when the bottle is so fun, who cares! This is the one of our favourite wedding songs in hindi for your bestfriend's wedding. Mix a little bit of Madhuri with a whole lot of Jacqueline and you have a blockbuster performance right there!
Can't Stop. Won't Stop!
In no mood to listen to the DJ announcing 'last song of the night'? Then you need to ensure that your playlist for sangeet performances is headbanging enough to convey that it'll go all night! Pick your favourite right away!
Looking for sangeet songs for the squad, which isn't fast-paced? Don't fret, Chitta Kukkad by Neha Bhasin will be just the right fit for you.
This is one of the coolest medleys we've heard of lately! Three of the most popular tracks mixed together to create a power-packed Sangeet dance performance. Thoughts?
Yet another easy number to dance on! It's a little slower in comparison to the other sangeet songs on this list, but it will make you swing to the beat, no matter what!
This Sonam Kapoor track is an ideal song for all girlfriends to go crazy and dance! Pay attention, that's exactly what the song is saying too - dance like there's no one watching!
Chogada from LoveRatri will remind you of countless nights spent playing Garba with your friends throughout your teenage. The Gujarati touch in this song, coupled with the soaring energy levels is definitely going to make you want to shake that booty too!
There's something very unusual about this song. Instead of giving a very club-like vibe, this ladies dance song has a more soothing tone which is what makes it so much fun! Another great track to fit in to the list of sangeet songs for bride side!
Are you the sister of the bride? And you want the world to know, how she's been a drama queen of your life? THIS IS WHAT YOU NEED TO DANCE ON! Well, this is one of the many ladies sangeet wedding songs for sister's marriage with peppy beats. Great lyrics, and a whole lot of fun! This one just cannot be missed!
Another song that may be didn't do very well commercially, but in case you are looking for something that's super fresh and hasn't been done to death, you've struck gold! This one is so catchy you'll just hum forever!
Full-on fun song and the choreography is bang on too! Here's another song that basically got lost among the thousand sangeet songs that basically come out every day, but definitely deserves a chance at the next sangeet ceremony you attend!
Dedicated To The Bride
Your sangeet songs list is incomplete without one dedicated to the bride-to-be! Since her being the star of the night, you can make her feel even more special by dedicating a performance which is all about praises and appreciation for the beautiful lady in the house. And incase, you're confused about the choice of ladies dance songs, well we've got you covered with the list.
For the brides who plan to start with a solo dance performance, and moving ahead, involve the squad with upbeat tracks, we'd recommend you to place your bets on 'Nainowale'. It's soft, romantic, and still hasn't been done to death.
What better song than Navrai Maajhi to explain the rollercoaster of emotions a bride goes through as she enters wedlock! Think no further, ADD IT to your Sangeet playlist asap.
This remix is everything you want in a perfect sangeet song. It's groovy, it's peppy and we are sure the lyrics are gonna fit perfectly! The bridesmaids get to throw some attitude while letting everyone know what a 'Proper Patola' our bride is.
Bride lookin' as sassy as a 'Morni' in her sangeet outfit? Don't forget to as her 'kithe challi aye'!! And with the entire khandaan coming together, great food, dhol and nights spent dancing, how about amplifying the fun with a thumka or two on this Punjabi ladies sangeet dance songs track!
Our bride-to-be is indeed a cutie pie with a 'no care in the world' attitude! It's one of those very few punjabi ladies sangeet songs that'll be a part of a sangeet ceremony for a long-long time? Well then what are you waiting for? Get on the dance floor NOW!
This has to be a squad  song! It'll be more fun if you can pull in the bride to dance with you for the last one para – ye chori badi drama queen hai! Again one of the teasy-weasy ladies sangeet songs for bride sister, that'll make her go red with a mix of emotions!
A new one on the list! We are guessing you may not have heard this song, but trust us this is a sangeet fire-starter. It has so many different variations, it sounds like 3 different wedding songs in hindi for sangeet and we absolutely love the chorus.
This one is for the Queen Bee (bride) and her friends dancing around her! Or may be, one of the few sangeet songs for sister of the bride solo, that'll remind the bride-to-be of their crazy childhood! Well, the bride deserves some pampering before she kisses goodbye, right?
Get The Bride Grooving
No one likes the bride-to-be seated throughout the performances! While there are are certain wedding songs in hindi for sangeet on which she can't shake a leg on, but how about playing it smart, and ensuring that she does get to groove on many. Still wondering how's that possible? Just screenshot the list below, right away!
Undoubtedly one of the best ladies sangeet songs for sister's marriage! With easy steps and choreography, you're bound to rock this one. Love the energy and the choreography of these girls on this peppy track! Take cues, ladies!
This mash-up of two totally opposite tracks, Senorita & Odhani left us awestruck! And trust us, it's a crowd puller performance. Haha, you won't see the guests leaving for the food station while you & your tribe gives a set the stage on fire!
'Baby ko bass pasand pasand hai' is the right amount of fun with great beats and high energy. Plus you can also throw in your guy friends and make this a couple song.
Super retro, but with the new Sunny Leone track its super crazy now ! The beats are really fun, the lyrics are perfect for all the friends or sisters and its an all out blast party Sangeet song!
We are all in for signature steps and crazy lyrics. And if the bride is full of 'chull', this one is perfect for your entire squad! Loop her in to join in on the fun!
Woah, the bride and her desi looks - this one will definitely set the mood for the night! As the BFFs flaunt their style on this song, you can easily get the bride to join in between - a definite show stopper.
Desi, quirky and full of what I call 'millennial swag'. Perfect bridal entry with her bridesmaids flanking her in the punjabi bridal sangeet songs. Top it up with jazzy glares and some sparklers and you've got yourself the most stunning entry!
Tease The Groom
A sangeet performance is incomplete without pulling the groom's leg! Well, it's bound to make him go red with awkwardness, but we feel its no harm and full of fun during weddings.
Now, here's one song you and I have grown up dancing to. But mix it up with Mika's voice with 10x more energy, and who would be able to resist shaking a leg or more on this number?
We know it's an old track but what better way to tease the groom by letting him know that 'Ik Tu Hi Mere Naal, Naiyon Naiyon Janchda'. Also, if a ladkiwale vs ladkewale face-off is on your mind, it easily fits that theme too, and this video is proof of it.
How about dancing on a song that actually talks about the couple's life? Dedicate it to the groom and give him a shock. The lyrics are super cute and perfect add a competitive zeal during the ceremony!
Well, do we even have to say anything about this one? Welcome the groom-to-be with full swag with this one. The opening beats are just enough to force you off your chairs and get to the dance floor! The most classy yet highly-listenable song ever for that perfect group performance!
This one's for the jhalla groom! We know this one is an old track but it isn't mainstream? There's a lot of masti and teasing in this one, just what you need to break some ice and get everybody together! Its perfect for your bridesmaids, sisters and friends
Dedicated to the one who stole your BFF bride-to-be's heart! All you need to do is pull the bride on stage and effortlessly rock Dil Chori Sada. A sure shot way to grab eyeballs, this song is ek dum first class!
We are sure you must have heard this track atleast once by now. Are you shaking your head in affirmation? Well, then you would know how the peppy beats instantly make your feet move. And just in case you haven't heard this one till now, you're sure missing out on something great!
If you have any more sangeet songs on your list for your bridesmaids to dance on - share them with us in your comments below! 
Don't forget to glam up for your special performance! Avail our family makeup services right away.
Stay updated with the latest wedding trends, Download the WedMeGood app now