#Trending: Blouse Designs With Baraat Motifs!
BY Anupriya | 27 May, 2020 | 21513 views | 4 min read
Backless, plunging neck or ruffled, there's nothing that our brides haven't tried in the name of rocking a unique blouse design. And while they continue to do so, we also continue with our regular hunt to help you stay updated with all the latest blouse designs! So doing our ritual right, we found for you a new entrant in the list.
Today we're here to make a case for blouse designs with baraat motifs! While we've pretty much seen and raved about the doli blouse that went viral in the past, this one is just the quirkier version of it. With all the cutwork & eccentric detailing, you won't only find it to be a sure-shot winner, but also see how it takes your bridal look from drab to fab. Be it sleeves or the back of your blouse, you can infuse the elaborate baraat motifs into your blouse design anywhere and everywhere. But before you give it a try, take a quick peek into this listicle and bookmark a few ideas beforehand!
Some baraat motifs for the sleeves!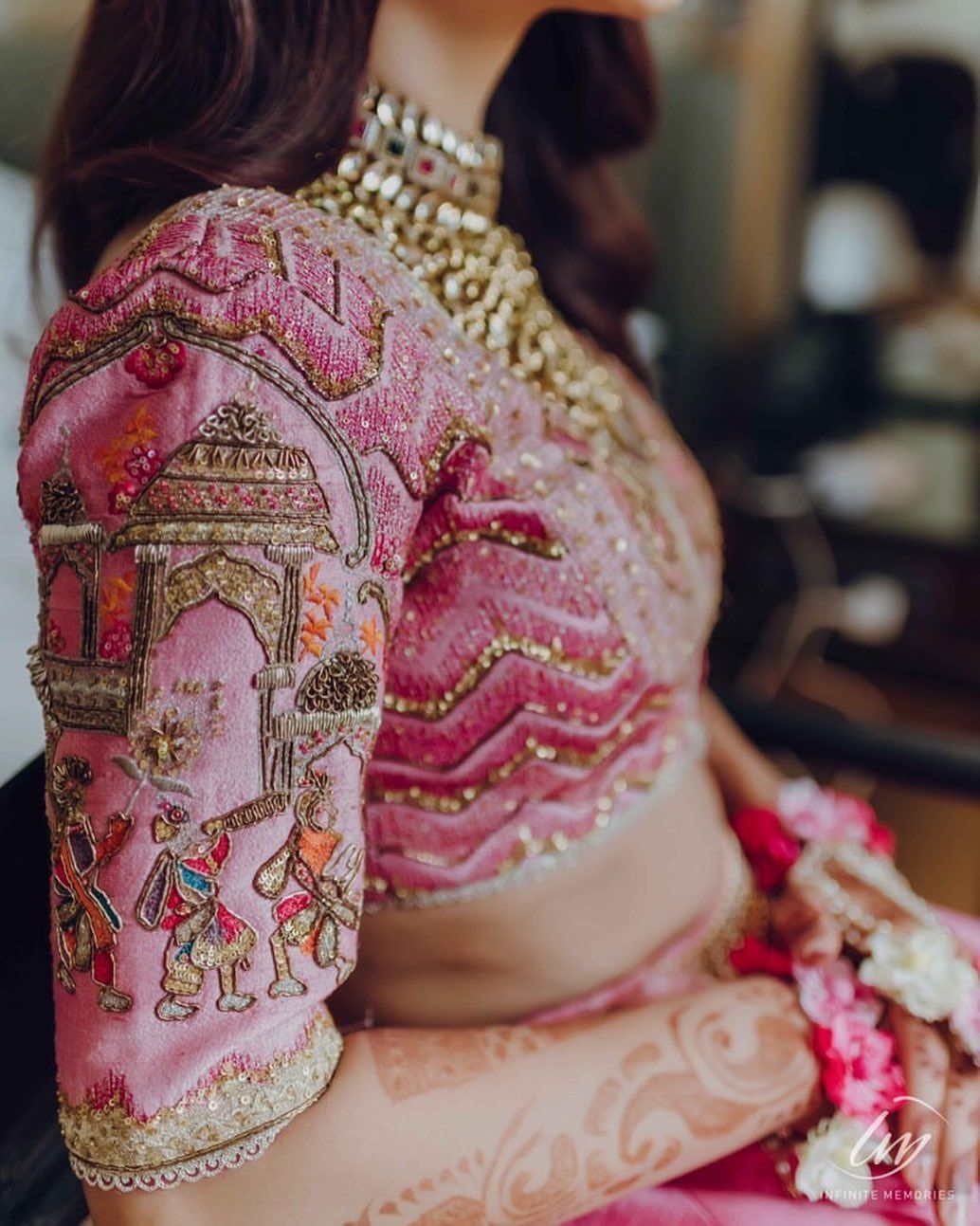 Image via Infinite Memories★ 4.7
This blouse design with baraat motifs on the sleeves is the one that first caught our fancy, and got us writing this blog post for all our lovely brides. We love how it makes for an ultimate blend of modern and traditional with those feminine pink hues and intricate embroidery.
This baraat blouse that comes in a popping hue!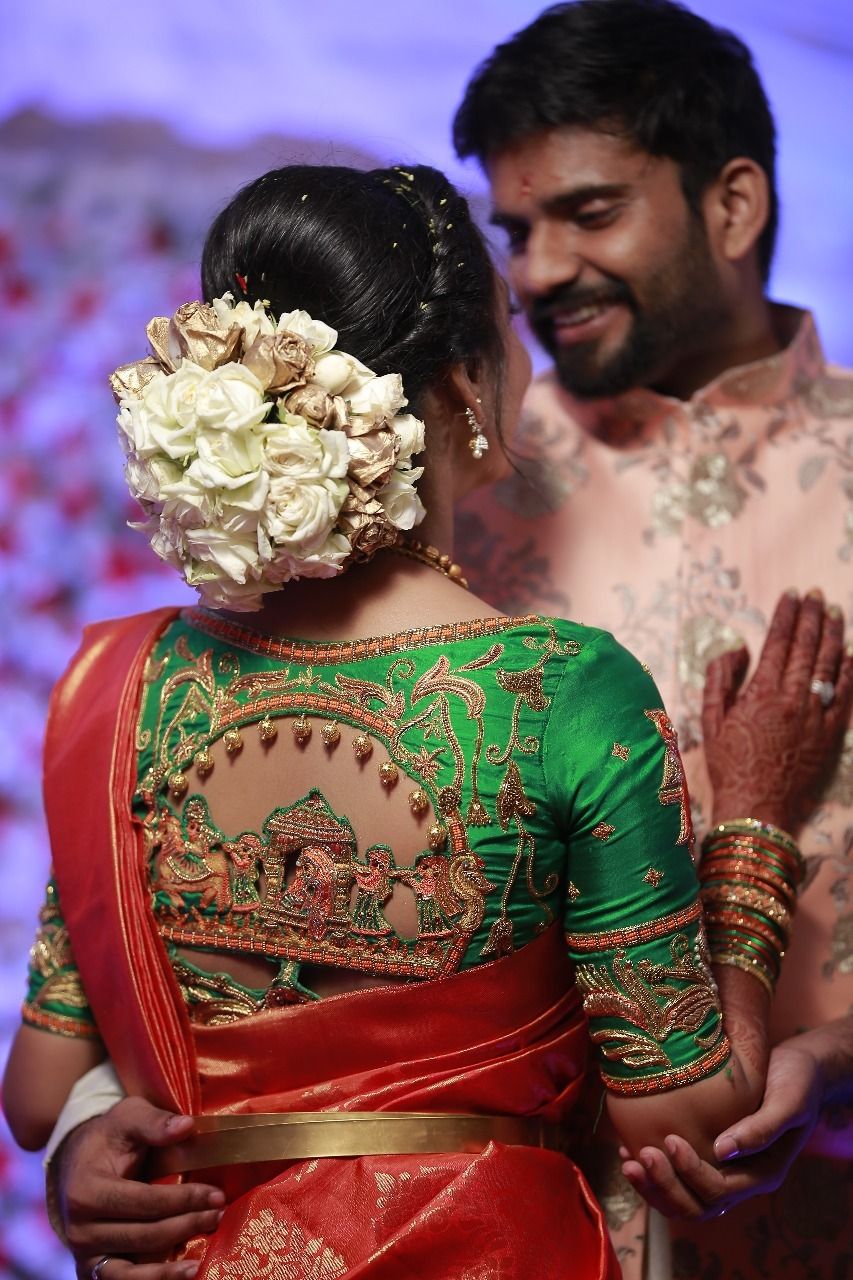 Image via Kamaladhar
Amidst the usual embellished blouse designs, here's one with impeccable baraat cutwork at the back that will make 'em heads turn! Isn't it such a unique motif to include in your bridal blouse?
This one with a royal baraat entry!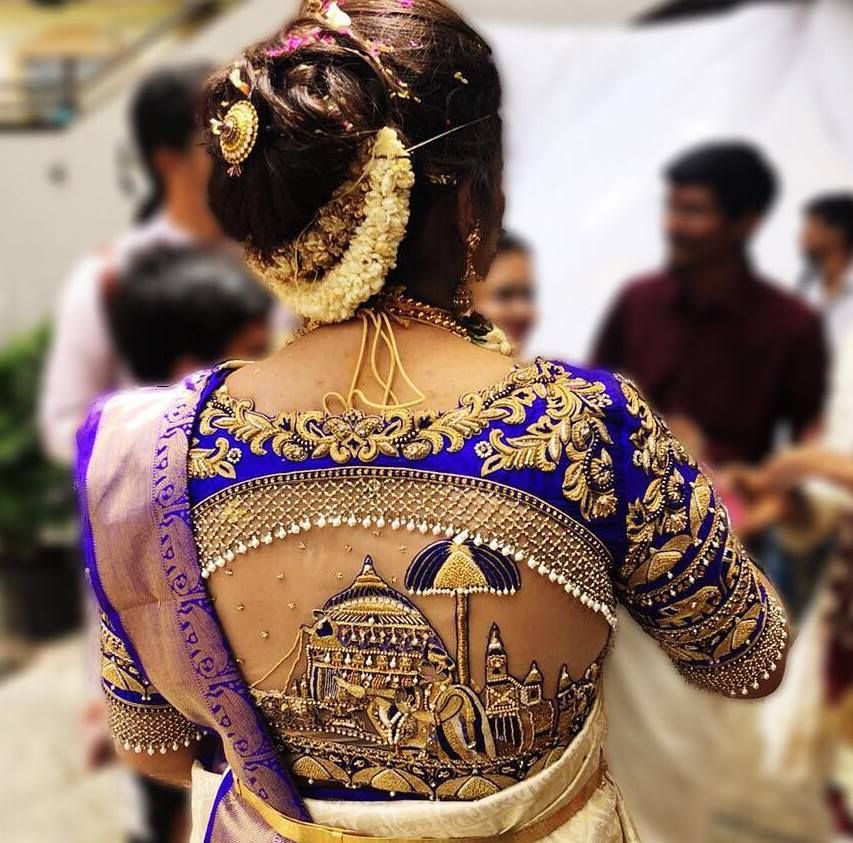 Image via Needle Eye ★ 5
Majorly hearting this blouse with baraat cutwork prettifying the back of the bride! Not to ignore the mesh details and pearl droppings that add finesse to this royal blue stunner.
This exquisite doli blouse that can be given a makeover!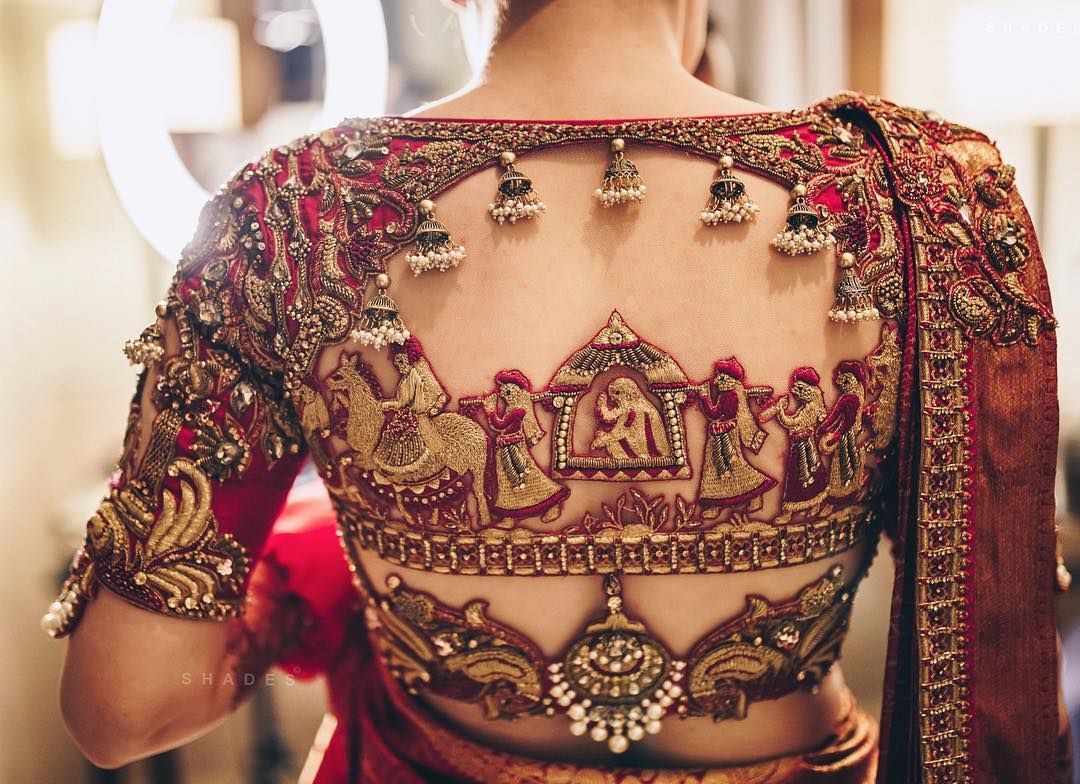 Image via Shades Photography★ 4.3
If there's one bridal blouse design that has made the loudest noise, and continues to be a favorite amongst our brides even today, it's this one with a doli cutwork at the back. From the jhumki adornments to the chandbaali motif adjoining the doli, every little and big detail is worth crushing over. Now, all you've gotta do is add to this a baraat procession and you are ready to make a statement!
One with a dual-toned embroidery on the sleeves!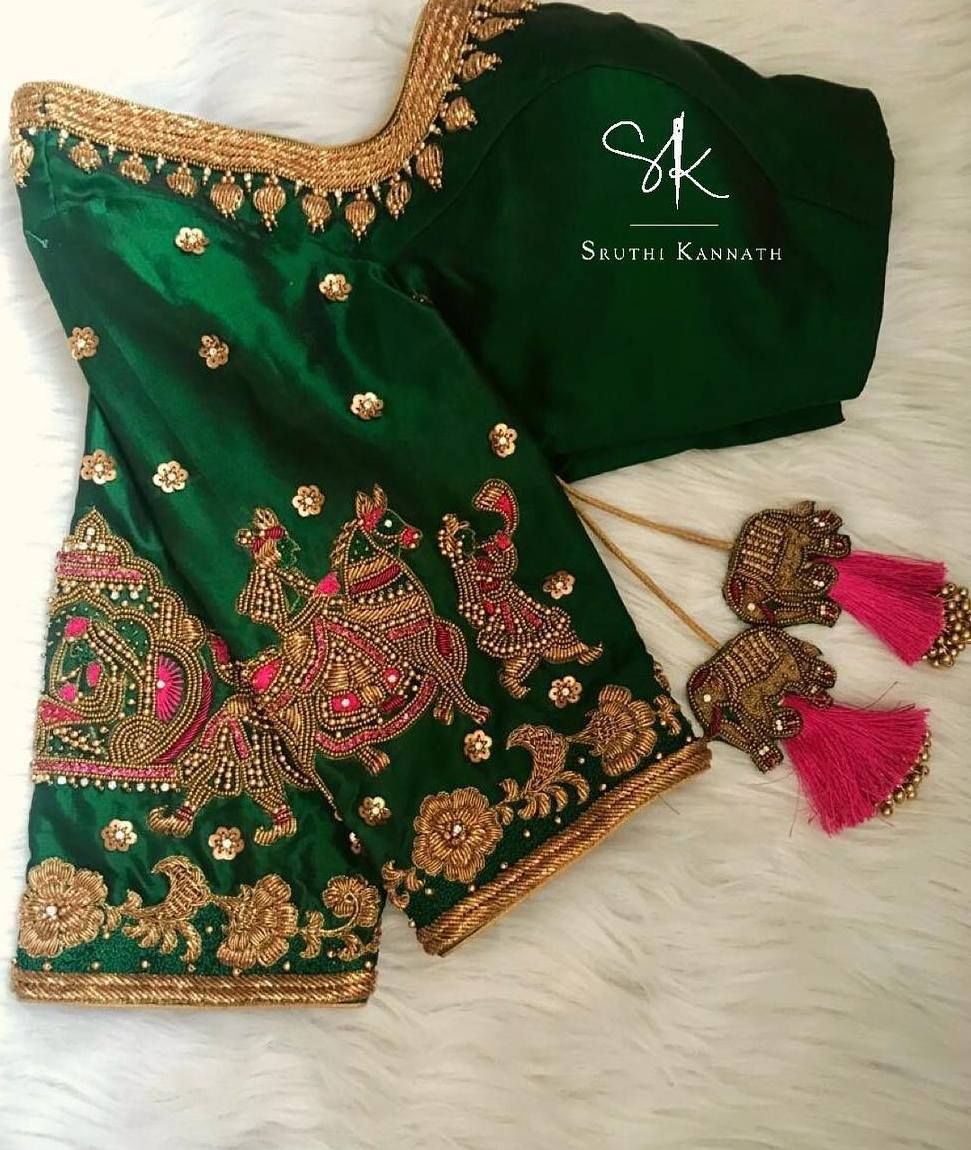 Image via Sruthi Kannath★ 4.7
How about adorning your sleeves with a baraat scene where the groom can be seen riding a horse? The above blouse design is a perfect representation of that, and you must tick it off!
A huge keyhole + A baraat motif = Back of the blouse sorted!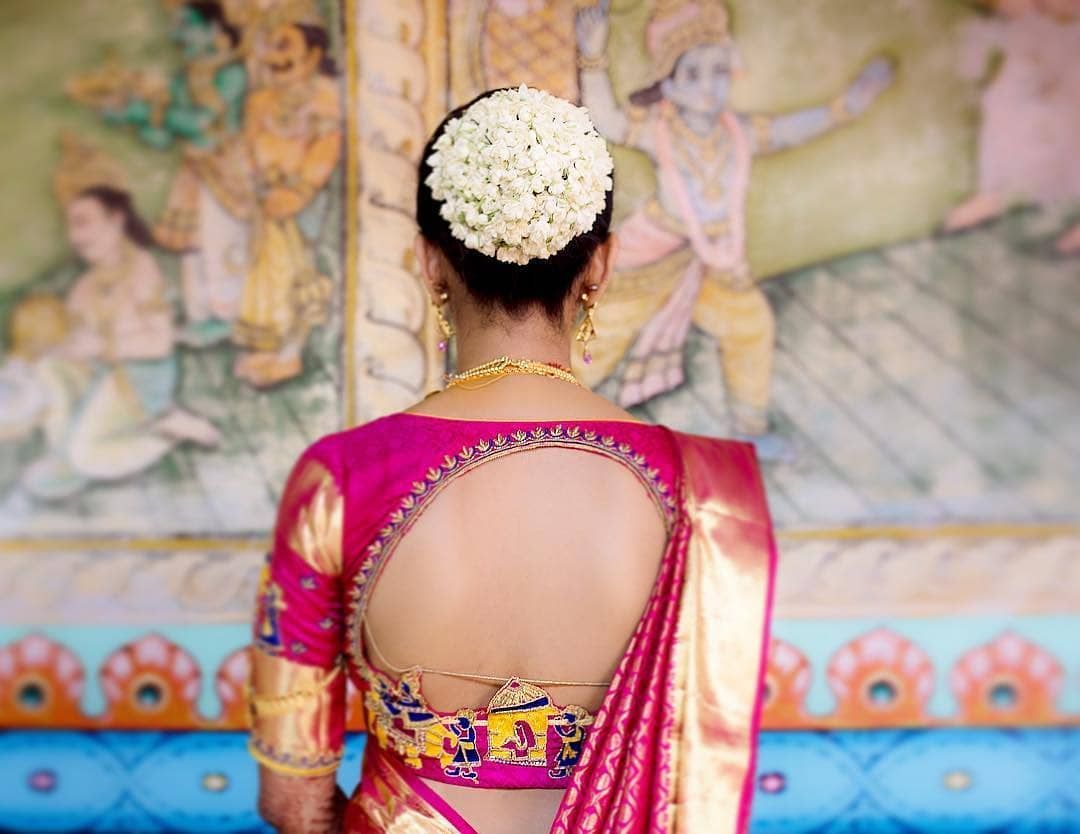 Image via 1plus1 Studio★ 5
Looking for unique saree blouses? Guess, we've found you the one! This one in pink not only has an impressive keyhole, but an eye-catchy baraat patchwork at the bottom. You can very well pair it up with your silk sarees. Just make it a point that you pin the pallu on one side, so the details keep showing!
For the love of vintage charm!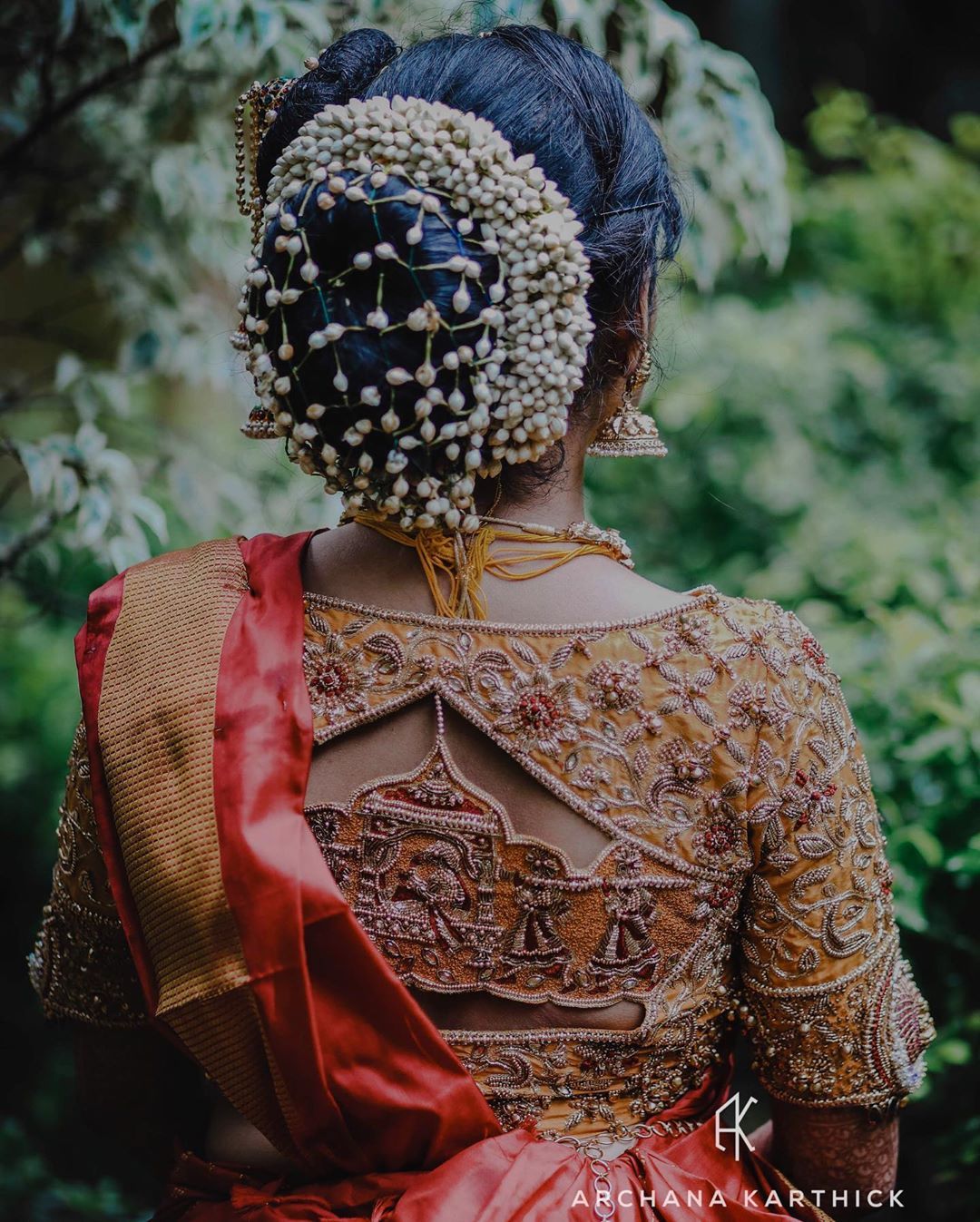 Image via Archana Karthick★ 5
Double up the look of your bridal blouse by adding an eccentric baraat motif like this one to all the beguiling details.
Another doli blouse that is pure goals!
Image via Color Frames
If you don't want a cutwork pattern, how about this one where the embellishments and the embroidery alone did all the magic!
This baraat blouse with super intriguing details!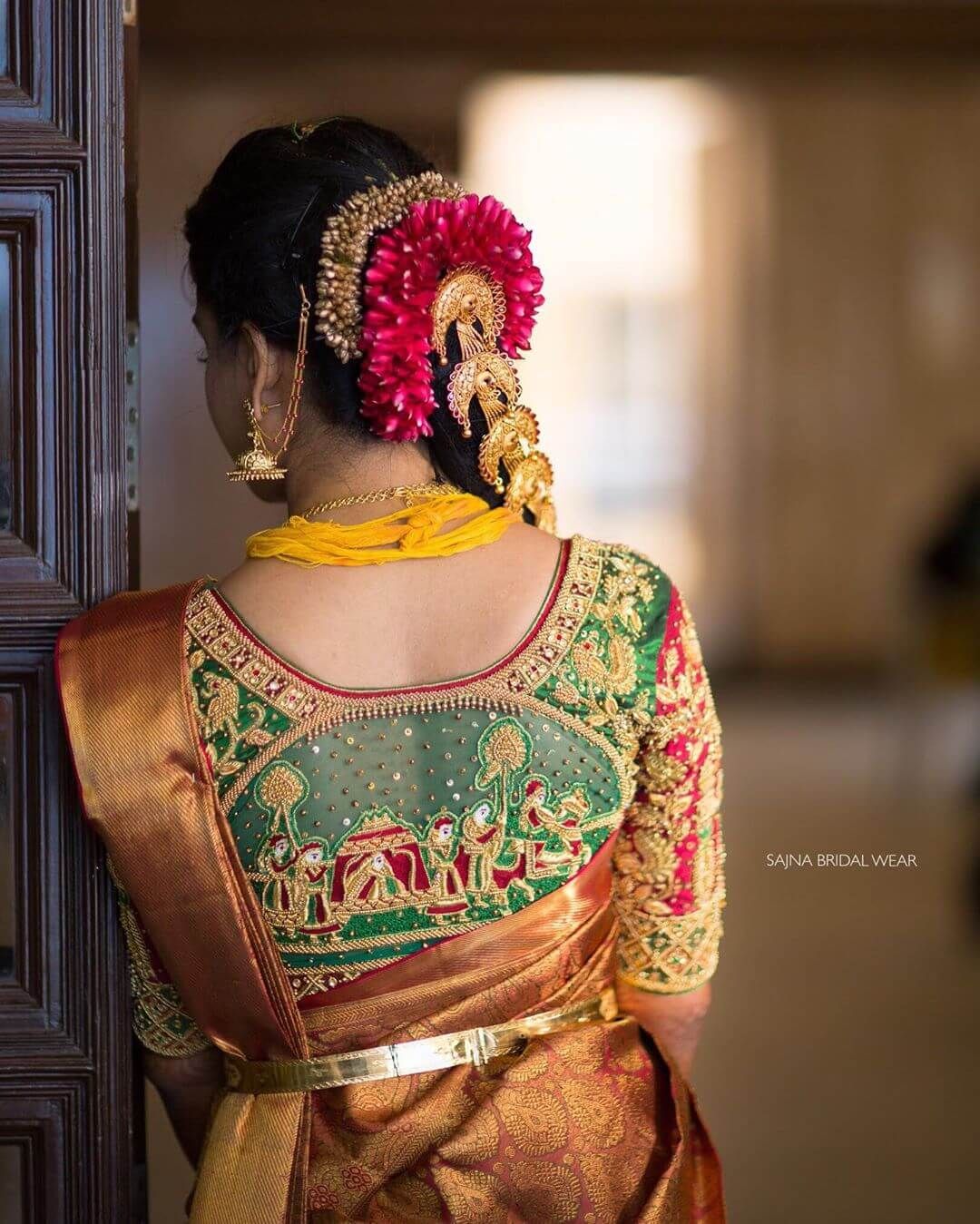 Image via Sajna Bridal Wear Designer ★ 5
This red and green blouse design with a baraat is too good to give a miss!
Lastly, this one that also has peackock motifs!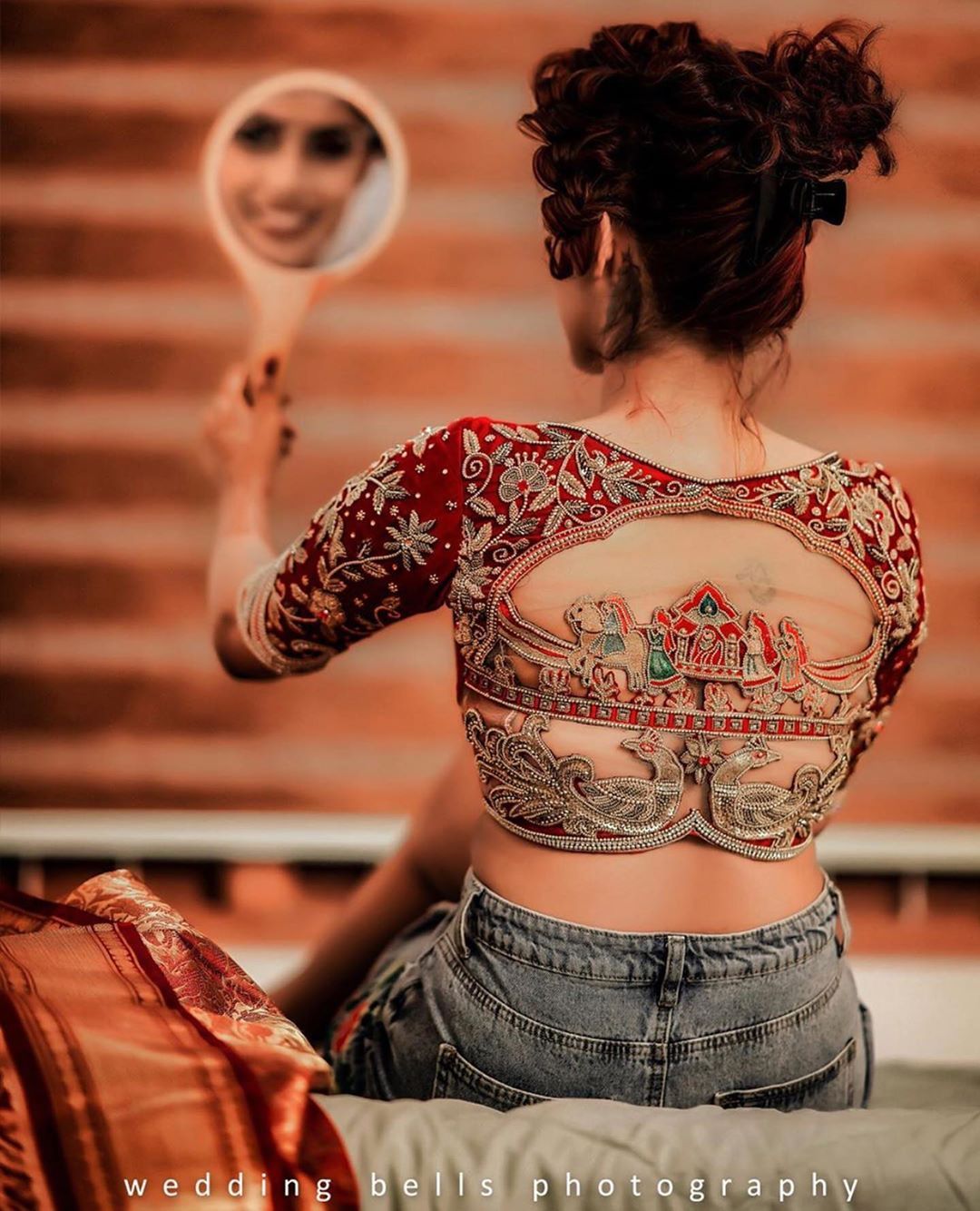 Image via Wedding Bells Photography★ 5
This picture is proof that you can go all experimental with your blouse, and include as many elements as possible to make a statement!
So which one are you planning to get customised for your wedding? Let us know in the comments.
Planning your wedding? Check out venues, makeup artists, photographers and more that can help you plan your perfect dream wedding! Also, download the WedMeGood app today for a seamless wedding planning experience and tons of inspiration!