Trending: Layered Jewellery
BY The WMG Bride | 17 Sep, 2014 | 3778 views | 3 min read
So when it comes to your wedding day, your mum, grandmum and all the other aunts in your house are probably debating whether that set you bought is "big enough" for the bride ! High five if your mum thinks a  bridal set is one where no inch of your neck is visible  ... but as of late- instead of the focus on one large piece what is really trending is layering delicate strands of jewellery in different textures.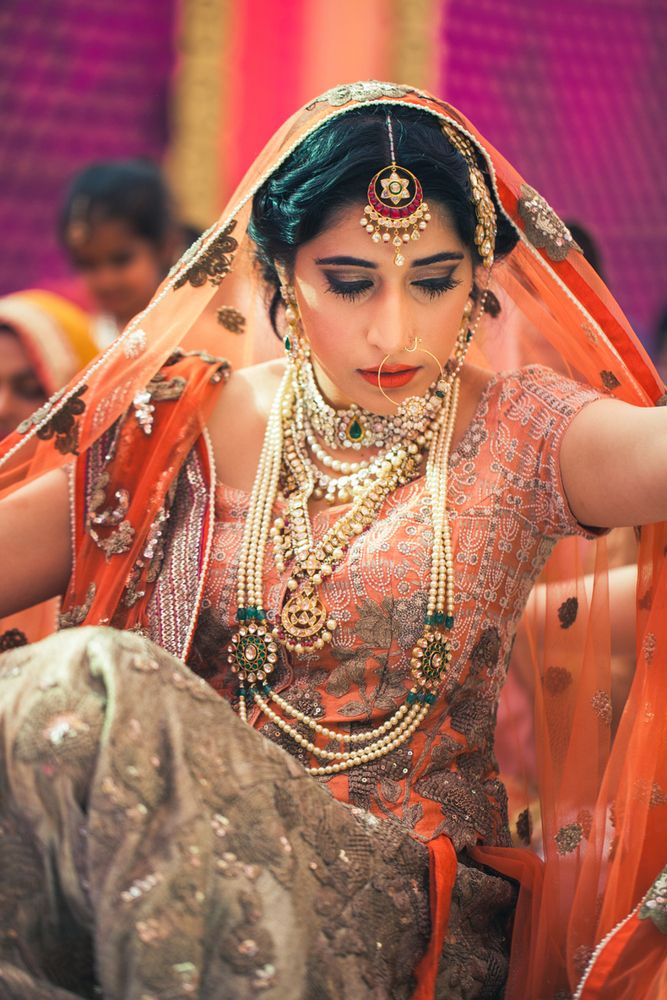 Remember
Real bride Kirat
from one of our fav real weddings shot by
Dot Dusk
. She layered strands of polki, pearls and a hint of emeralds to create a royal, understated charm and it was super effective !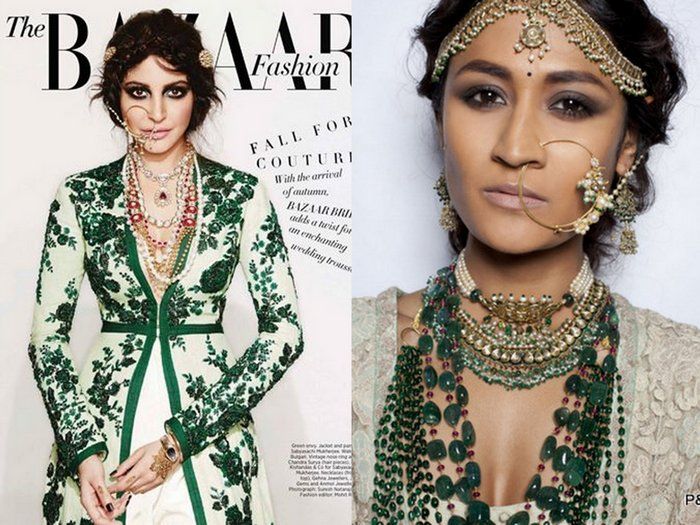 The latest issue of Harpers Bazaar bride features a rather scary looking Anushka Sharma wearing
Sabyasachi Couture 2014
with layered of pearls, gold and rubies as a contrast. Infact Sabyasachi couture 2013, on the right saw tons of layering as well!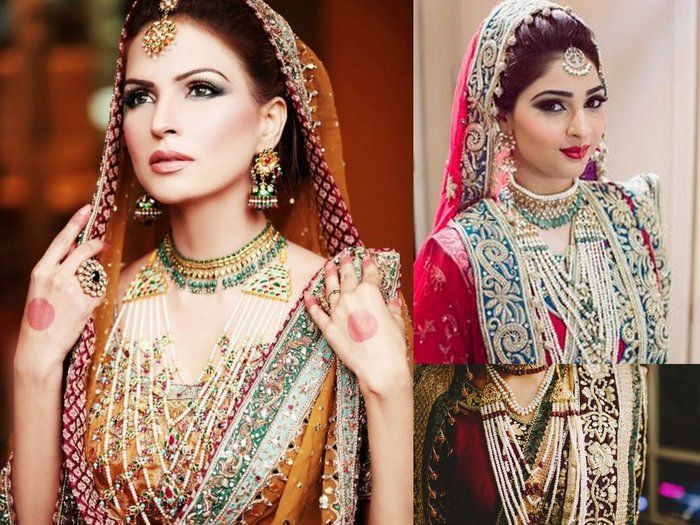 One of the things that are super hot right now are hyderabadi jewels. The 'V' shaped signature necklace with tons of pearl detailing worn with a choker and other accompanyments is the perfect way to add the Nizami touch to your look and still look absolutely stunning.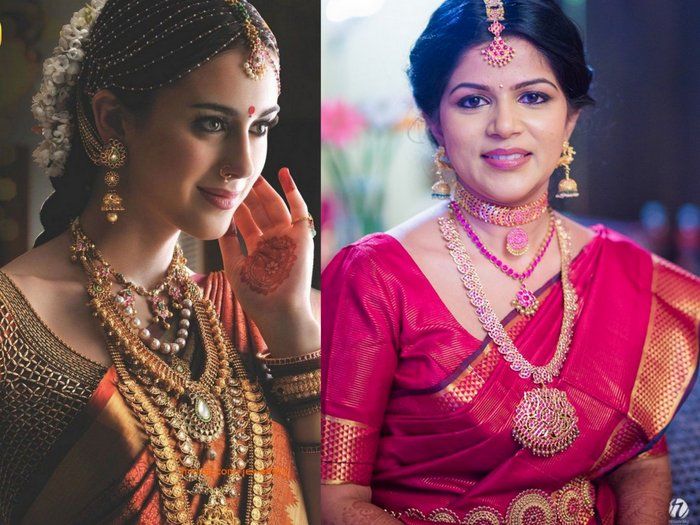 South Indian Brides have been layering jewellery since ages. On the right is
real bride Anusha
 shot by Regan Raj who layered different tones of red rubies. On the left -south  Indian bride with layers of gold!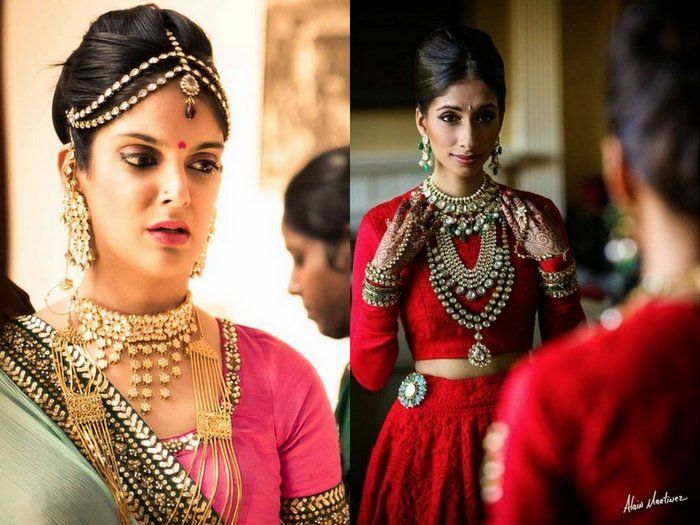 Real bride Samudrika
 shot by
Ravneet Puri 
wore a beautiful polki piece and then a layered piece with thin gold chains. Source: Pinterest.com
How to layer jewellery as a bride
Use thin, delicate pieces layered over each other to create a delicate, royal effect rather than very big, statement pieces
Stick to two or one color. You don't want to layer rubies with polki with emeralds and sapphires. Pick a color scheme in contrast to your lehenga. Example: Kirat used green and gold in contrast to her orange blouse and used that to layer
Experiment with different textures- smooth round pearls, shiny kundan strings, oval green emeralds all mixed up together create an interesting harmony.
Make sure the longest piece of jewellery while layering, ends not below the navel or it can look overwhelming.
Use this as a simple rule to layer- one choker, one long rani haar /strand of pearls, and two strands in between these two!
Keep in mind the shape of your blouse while layering jewellery. Layering works best when your neckline is clean, and uncluttered with embroidery. Any simple neckline- a scoop U, a simple V or even a high boat neck works great- just don't add on too much of  the embroidery at the neckline because that can interfere with the play of layering.
Layer jewellery as a wedding guest
Pick one strand of pearls or one strand of emeralds/ rubies and use just that to create 2-3 layers by twisting it in high/ low strings.
Layer this over a plain black, raw silk anarkali for a stunning look (Black plain high neck anarkali with layers of shiny rubies= super chic ness)
As a wedding guest you can go funky as well and just layer colored beads over a simple white outfit or thin, wispy strands of gold worn over just about anything.
Don't forget to check out our
Jewellery gallery right here