#Trending: Pineapples Are Taking Over Our Wedding Decor And They Are Gorg!
BY Latha Sunadh | 29 Jul, 2016 | 991 views | 2 min read
You know what's the new birdcage at weddings? Well, its this new trend which  had us giggling like a pack of teenagers. Welcome the humble pineapple people, because it can surely replace your floral arrangements and your sweet pinwheels in a jiffy and look meta in minutes! Of course in true WMG style we went crazy and found a few ideas that really really work. Take a look and add your own whimsy twist. P.S these beauties are just the things you need for a fun tropical wedding, a beach locale or a desert wedding.
Use them as vases 
Pic via Devika Narain
Just cull them out hollow and throw in flowers you like. Crazy and cute, plus, affordable.
Use them as table centrepieces
When in doubt, just spray paint. So just go for a gold or silver paint to add a chic touch and use them in table numbering or as centrepieces.
As cake inspiration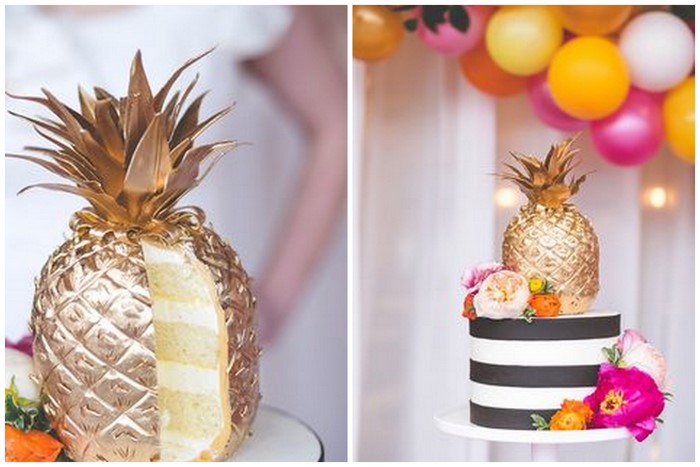 Now a tropical wedding is nothing without a fun pineapple cake - just get your frosting right and you are set!
On the Pathway 
Picture Courtesy: Inspired By This
We've tried flowers and bouquets but this cool idea is just what you need to stand out - pineapple ushers! :)
As table numbers
Cut a pineapple in half and use it as a table number holder - how innovative is that!
As an installation
Picture Courtesy: Wedding Chicks
Add them and bunch them up and make them a spectacle - how cool is this installation and it costs nothing!