#Trending: This Bride Got An Artist To Make A Live Painting Of Her Reception!
BY Soha | 17 May, 2018 | 4003 views | 4 min read
One of the best parts of my job is to spend half my day sitting glued to the internet to find something new and interesting doing the rounds. (Most people call it stalking, but hey!) And look what I have found! There is a new artsy trend in town and trust me, you can NOT miss out on this!
Thanks to beauty vlogger Deepica Mutyala, (Err… If you don't know who that is, you are seriously missing out on a ton of beauty tips and inspo, girl!) and her sister, my radars first saw the concept of live painting pop up at an Indian wedding!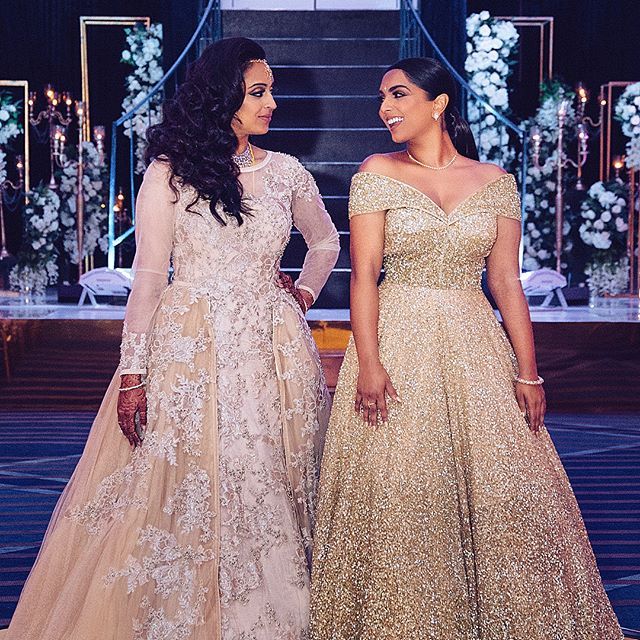 Picture by Deepica Mutyala
Lo and behold, we introduce to you the art of getting your wedding turned into a painting LIVE!
USA based illustrator and visual artist Laksh Sarkar used his magic-wand to bring Monica Mutyala's reception ceremony to life on his canvas as it unfolded. The final masterpiece looked truly mesmerizing; I just couldn't stop drooling over the pictures.
Yep, artists are now popping up at weddings to bring a couple's most treasured moment alive on a canvas. The trend is yet to debut in India, but it has already been rolling abroad!
Live Paintings Are A Big Trend In The West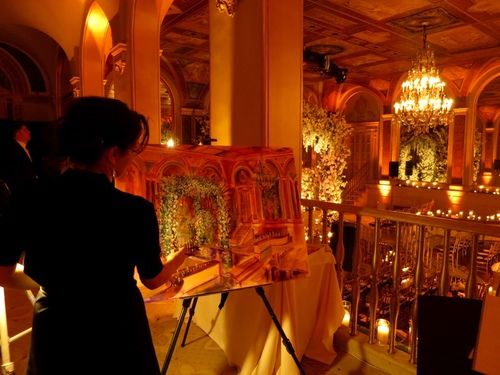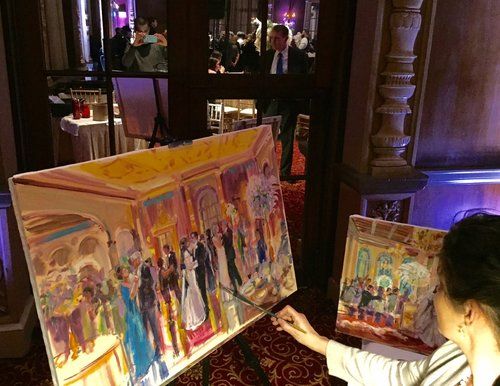 Photos via Agnes Csiszar Russo
You must have come across trained artists who specialize in painting live portraits, right? Spot them in the streets, in fairs, in birthday parties. Now just imagine how exciting would it be to get that done at your wedding!
Live Painting is a specialty service where an artist paints all the wedding hungama on a canvas as it happens, all in real time! These paintings usually include the couple, and the guests in attendance, the venue along with other big and small details, turning your wedding into an even more beautiful memory for you both.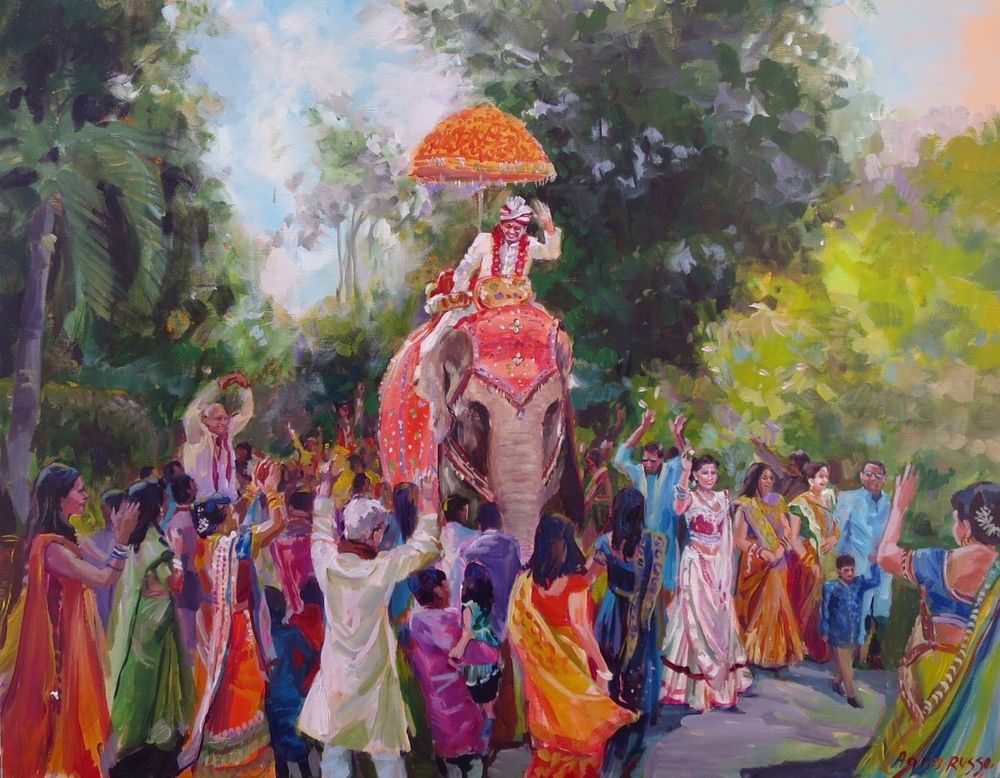 Picture via Agnes Csiszar Russo
Will A Live Painting Be A Good Idea For Your Wedding?
Live Painting artists establish their compact setups in one part of the room and continue with their masterpiece, without causing any interference to your celebration. They usually use acrylic colours that dry up pretty fast and leave no smell, so you don't have to worry about foul smells or colour spills either. These paintings can be customised as per your choice and are ready to be hung immediately upon completion.
I don't know about you, but I see no harm!
We Are Loving The Colours of These Live Paintings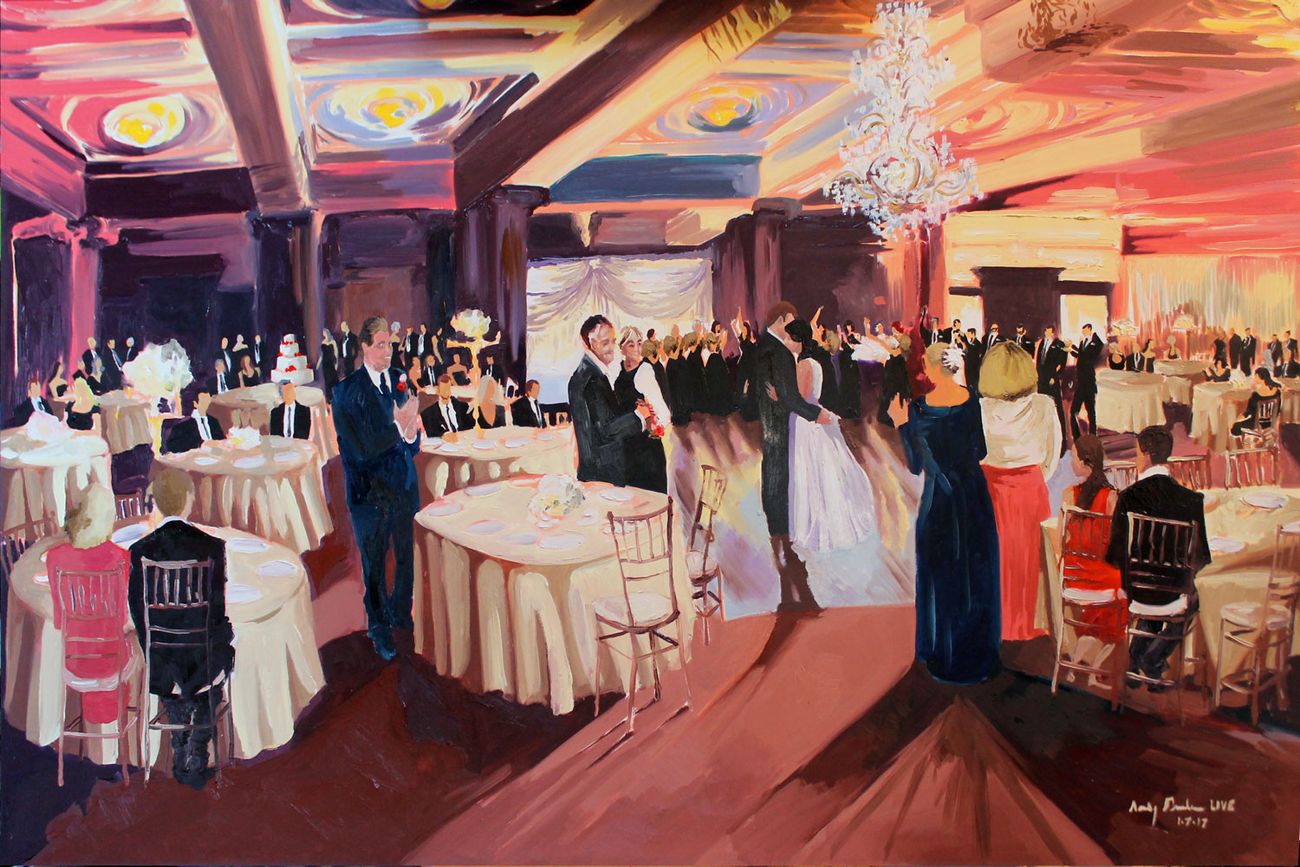 Image via Celebration Paintings
In an age where every guest is taking and posting photos on social media, there truly is something timeless about having a painting that captures your wedding ceremony in a work of art. Hang it in your home or place it on that table in the centre, and remember your celebration every day after! I can't say about you, but this is giving me all the right royal feels!
It's unique. It's smart. It's unexpected. And it is something that you will both cherish for the rest of your lives! So, if you are on the lookout to have a one-of-a-kind and trend-setting wedding, I say you go big on this new Live Painting trend!