We Asked 3 Fitness Bloggers To Give Us Advice On Where To Start On Bridal Fitness!
BY Apoorva | 31 May, 2017 | 5099 views | 5 min read
Some of us couldn't care less about getting those abs in our lehenga , but there are others who are definitely obsessed .  So we asked three fitness bloggers to tell us what would be the ultimate bridal fitness and this is what they told us!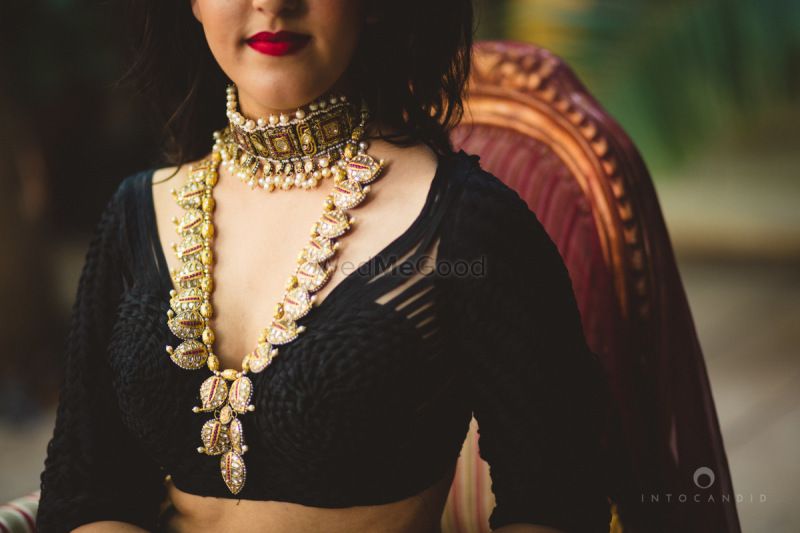 Image via Bespoke Vintage Jewels - By Shweta & Nitesh Gupta
Tarunpreet from Indian Weight Loss Blog says
You should be doing a 30 min cardio session 3 to 4 times per week and the same goes for strength training. However, it has to be adjusted based on your weight loss goals. You can choose anything from brisk walks to cycling for cardio. The main thing is that you should enjoy doing it!
Eating habits:
Just workouts won't do, you need to adopt healthy eating habits too. Start by eating more veggies to bring down your body fat. Keep your focus on foods that have protein in them so that you get filled up faster and stay full for a longer period of time. Stay away from junk food and sugary stuff. Include whole foods in your daily diet. Ditch the processed and ready-to-eat stuff as it is not good for your health as well as your waistline. Drink lots of water and stay hydrated throughout the day so that your skin stays healthy. After all, you need to glow with health on your wedding, right?
Aim to lose weight all over, there is nothing called spot weightloss. 
Most brides just focus on their upper body but you should work on your entire body so that you look ravishing form head to toe.
Whatever you do, always stay realistic with your weight loss goals or else you will get de-motivated. "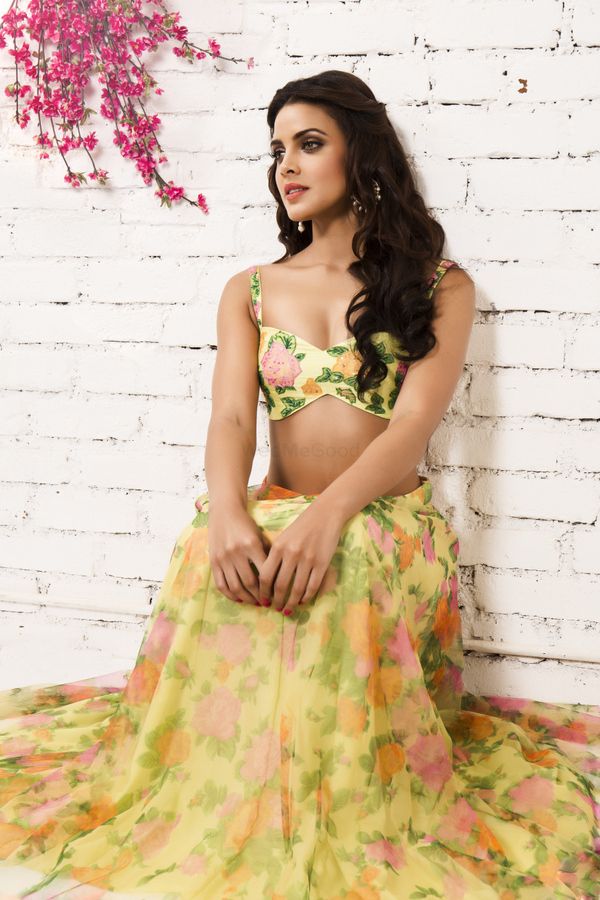 Image via Natasha Dalal
Poorna Daftari from GoFigure Fitness says
Firstly it's important to understand what your goal is and how much time you have in hand to achieve it. If your wedding is 6 months away, I would account only for 5 months as the last month is usually jam packed with events and thousand other things. Moving on to your goal, understand if you want to lose 10-15 kgs of weight or you are looking to lose just a few kgs + tone up. Understanding that and working towards that goal is extremely essential – or you might just get lost in the way.
For 10-15 kg weight loss – Start with 4-5 days of workout , initially focusing more on cardio and then gradually increase it to a 6 day workout adding body workouts listed below to help you tone up and look fit.
For 4-5 kgs weight loss + toning - You need to start with 3-4 days a week with 30-45 mins of cardio and then yoga. Yoga helps in tightening all your body parts, which is extremely important if you are wearing a lehenga.
Body workout can entail zumba, yoga, bootcamps or even kickboxing. I would suggest opting for body workout rather than just gym, as it's more difficult for your body to put on weight once you quit it as compared to the gym. You also need to make some dietary and lifestyle changes if you want to lose all that weight. Most of your pre-wedding time goes out in shopping and running wedding errands. So follow these few mantras and you will be sorted.
Drink lots of fluids – coconut water, buttermilk without masala, nimbu pani, sugarcane juice. Most shopkeepers offer you drinks, opt for nimbu pani over a cold drink or tea.
Start your day with two bowls of fruit, that way even if you aren't at home, your fruit quota is covered.
Avoid eating anything after 8.30 pm
If you have to eat out, opt for a saddha sandwich over a grilled cheese one and load it with lots of vegetables. Also, don't get the brown bread as it's not natural and full of colour.
Have bhelpuri over sevpuri and pani puri
Eat tandoor, barbecue or grilled meat/vegetables along with a soup while eating out.
Opt for roti vs naan and no cream based soups.
Don't work out for 7 days/week, you'll end up looking exhausted. Stick to the 4-5 days/week plan.
Cut out all maida, cheese and butter from your diet for those 6 months"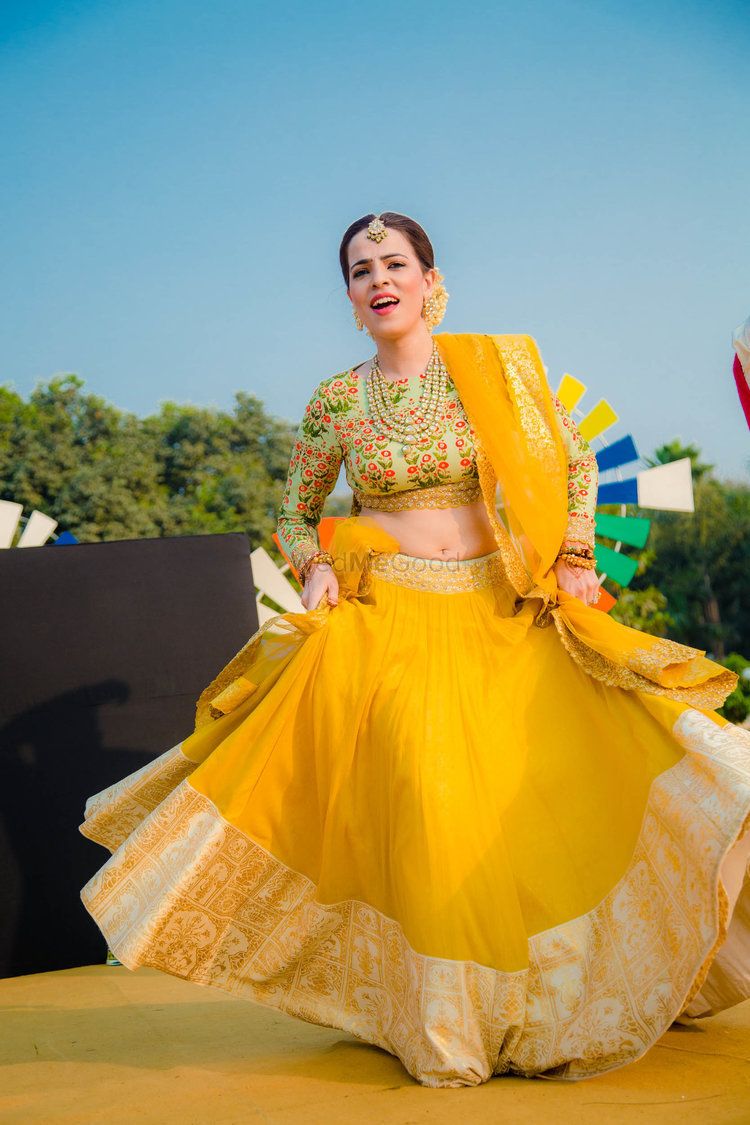 Anupriya Kapur from Mom On The Run says
Do not make drastic changes to your workout routine and don't fall for any fad diets. If you are used to working out then stick to what has worked in the past. 
They say your body is 70% food and 30% exercise. Switch to eating clean and smaller meals. Incorporate all the good things to your diet like chia seeds, pumpkin seeds, fresh fruits and vegetables, nuts etc. Cut out on alcohol and white sugar. Include strength and core workout apart from cardio. Cardio could be walks, dance routines or a light jog. Strength training should be strictly under the supervision of a good trainer as your form and technique matters the most. Don't worry strength training will not make you bulky or manly, it will help you get a toned body.
Join a good pilates studio, spinning sessions or a CrossFit box. This will help deal with the wedding related stress as well.Ensure you work out only 3-4 days in a week as recovery is really important. And sleep 7-8 hours a day.