Where Can You Buy A Cocktail Gown From For Your Intimate Wedding Under 50K?
BY Sakshi | 11 May, 2021 | 795 views | 3 min read
If you're looking for a pretty cocktail gown that might double up as a roka, sangeet or engagement gown too for your intimate wedding, you're at the right place. We picked out some gorgeous outfits that you can buy online! They are not only stunning to look at but perfect for an intimate celebration, and are also all under a budget of 50K. Most of them are from designers who work within this budget, so you can check them out for more options too. 
This stunner of a gown by Shloka Khialani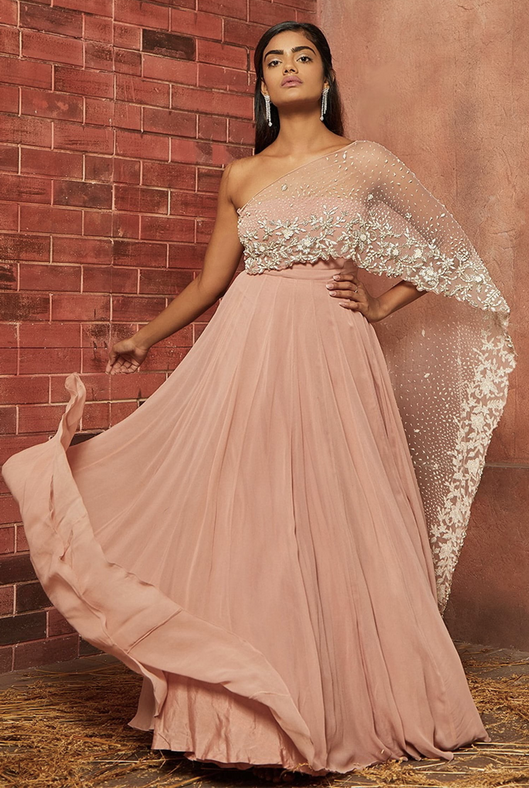 Price: INR 45,000
How dainty and unique is this nude bandeau gown with that pretty embellished drape? 
Or this one with the feathers by Geisha Designs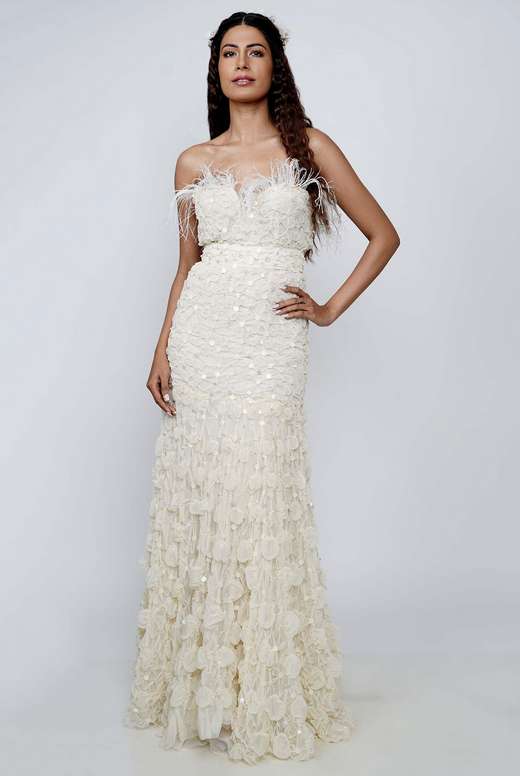 Price: INR 46,900
This fringe bandeau gown is so perfect for a summer or winter soiree. Love it for an intimate wedding or a grand one!
This beaut by Tarun Tahiliani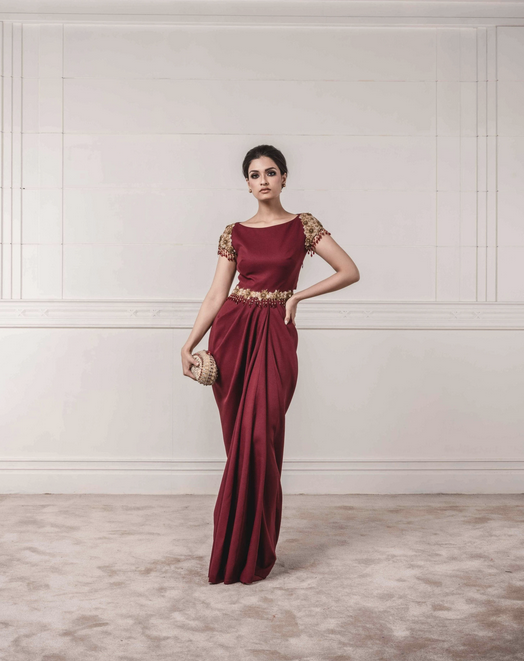 Price: INR 44,900
This elegant gown in double georgette fabric with zardozi embroidery details on sleeves and waist is a definite winner for an intimate function.
Buy here.
This pastel pink mermaid gown by Tamara by Tahani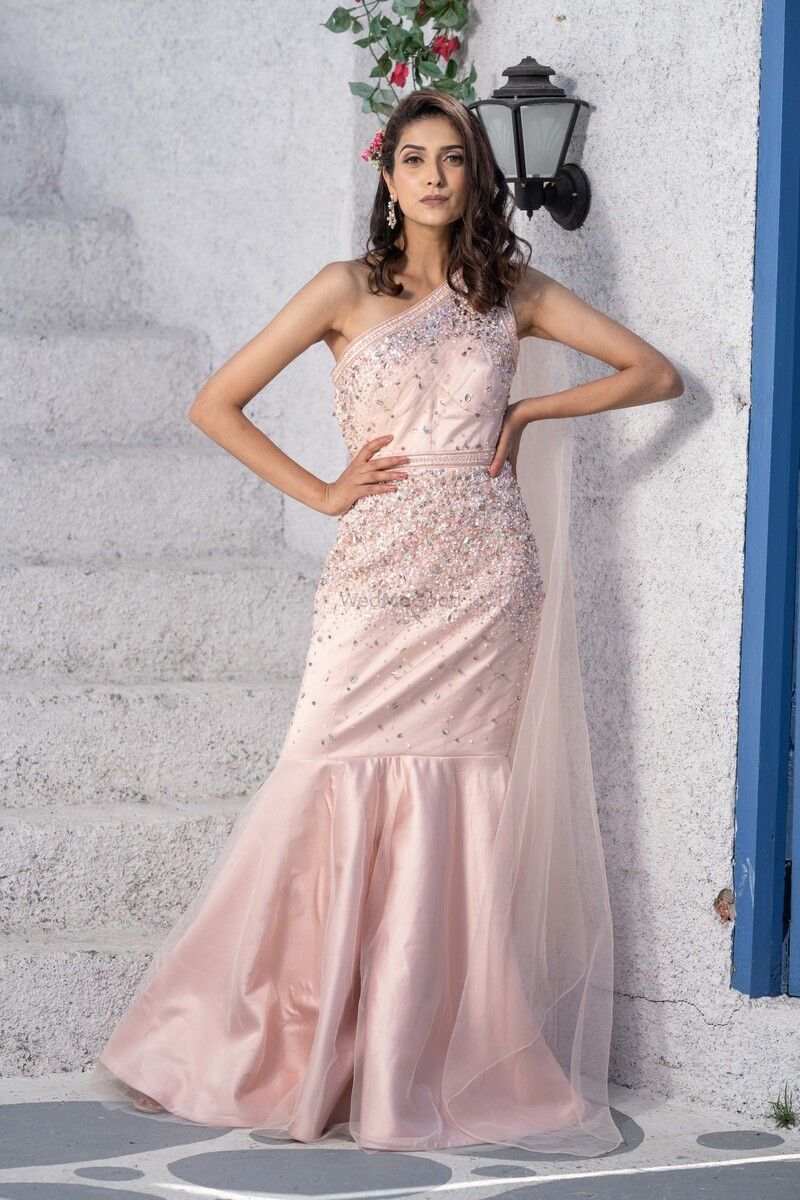 Price: INR 35,000
Pink one shoulder mermaid gown with a shoulder trail and strap back detailing- very elegant and classy!
Buy online here.
This shiny blue layered pick by Ohaila Khan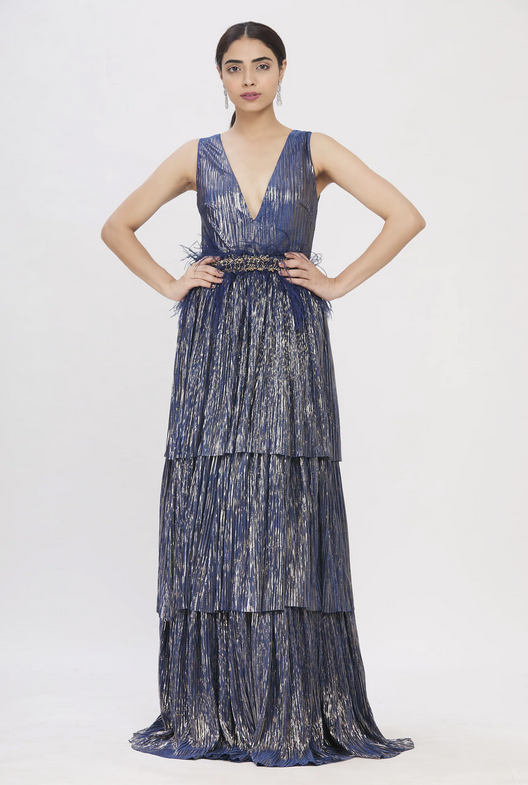 Price: INR 38,000
If you're looking for some sparkle and shimmer, then how about something like this? Drama without being over the top or gaudy. 
This royal blue one with drama by Mandira Wirk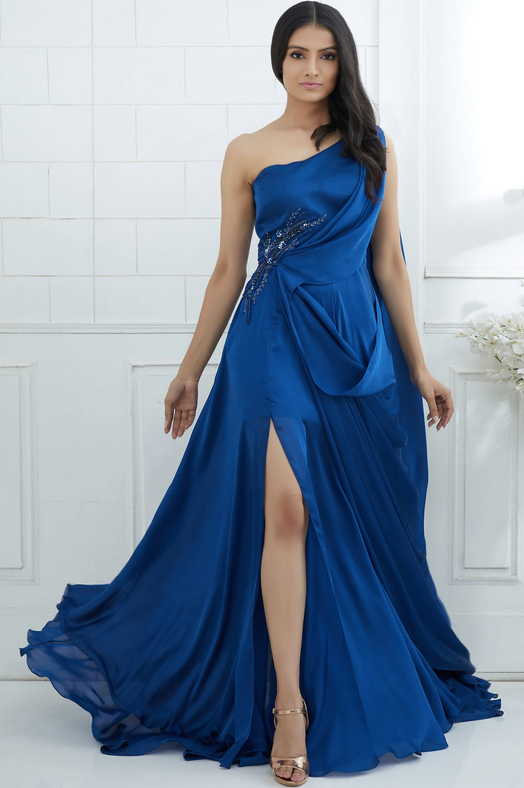 Price: INR 38,000
Love the neck and the thigh high slit- very nice for a smaller event or a bigger one, and such a gown can always be reworn.
This shimmery tube gown by Shreya Agarwal Label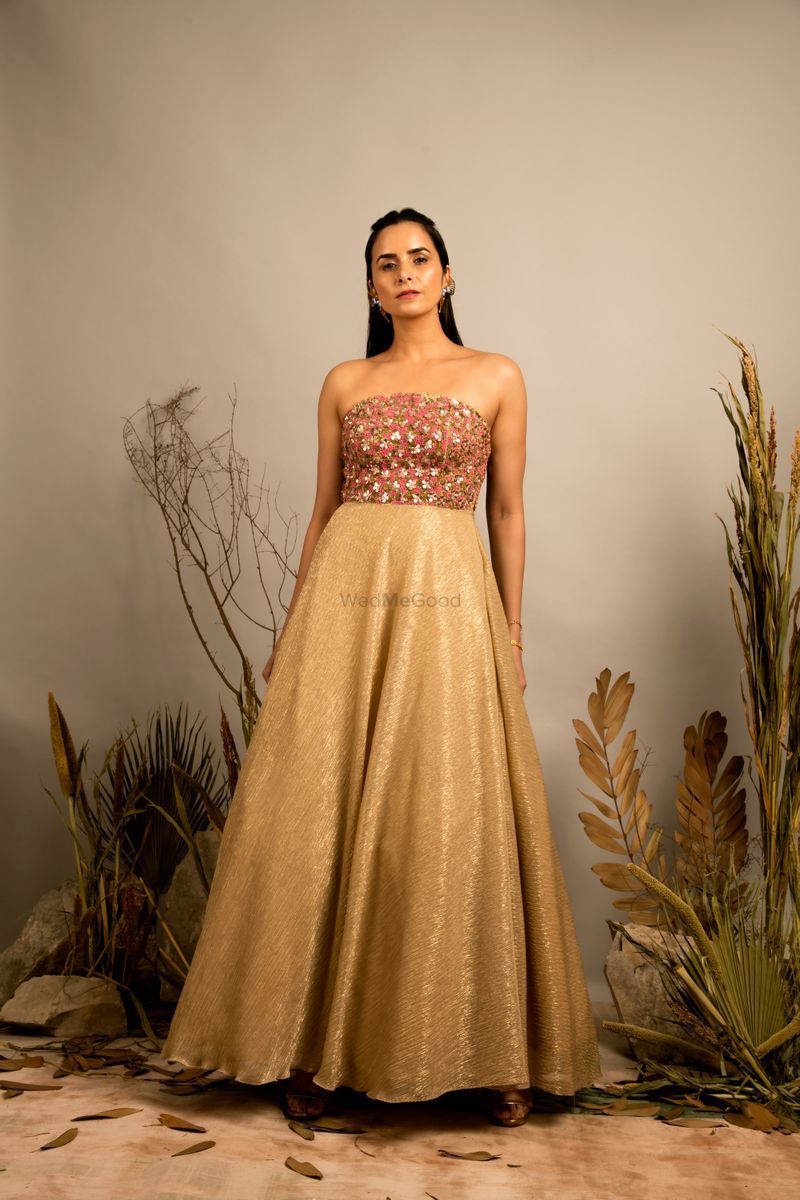 Price: INR 19,430
Love the elegance and colour of this one, and of course the tube neck makes it sexy while still being classy. 
This lavender beauty by Pooja Peshoria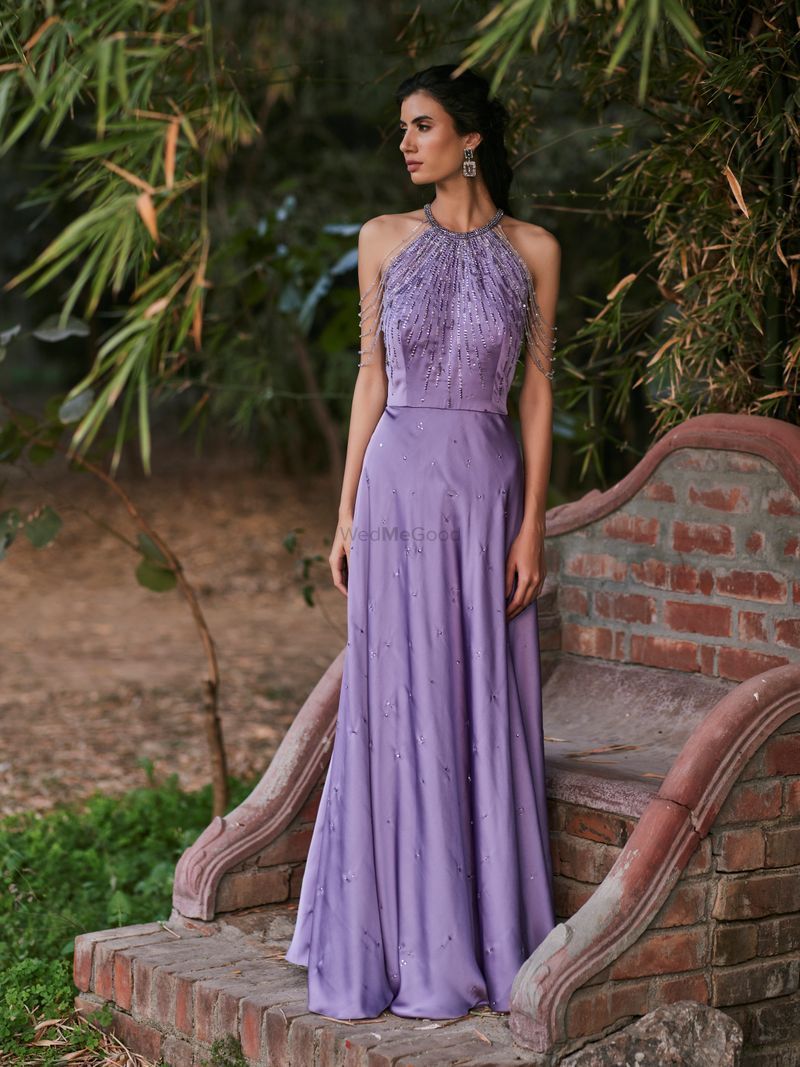 Price: INR 49,000
A purple satin gown with dangling strings- pretty for a summer or winter event, and especially for smaller functions where you do not want to go over the top but still want to stand out.
This Chanderi Silk gown by Vasansi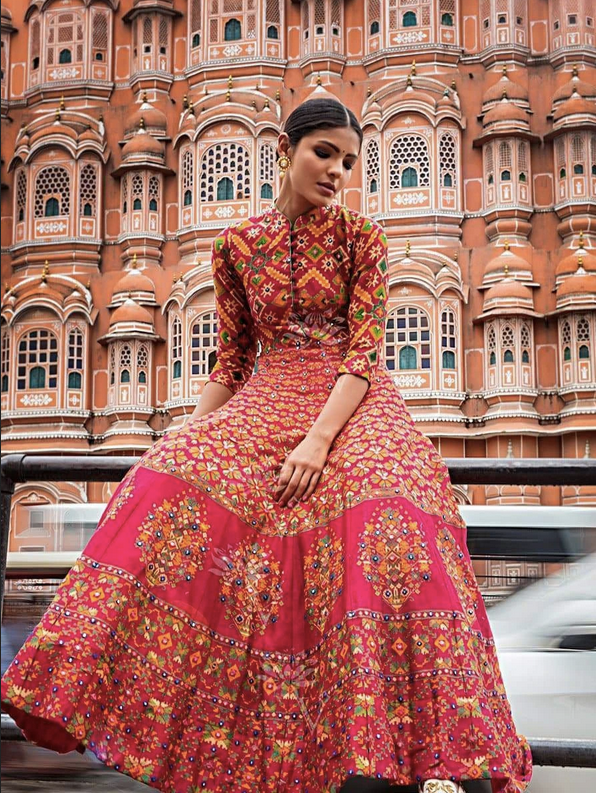 Price: INR 12,500
If you're looking for something with a little Indian touch, then how about this one which has that striking print and looks beautiful as well?
Buy online here.
This flared net gown by Asopalav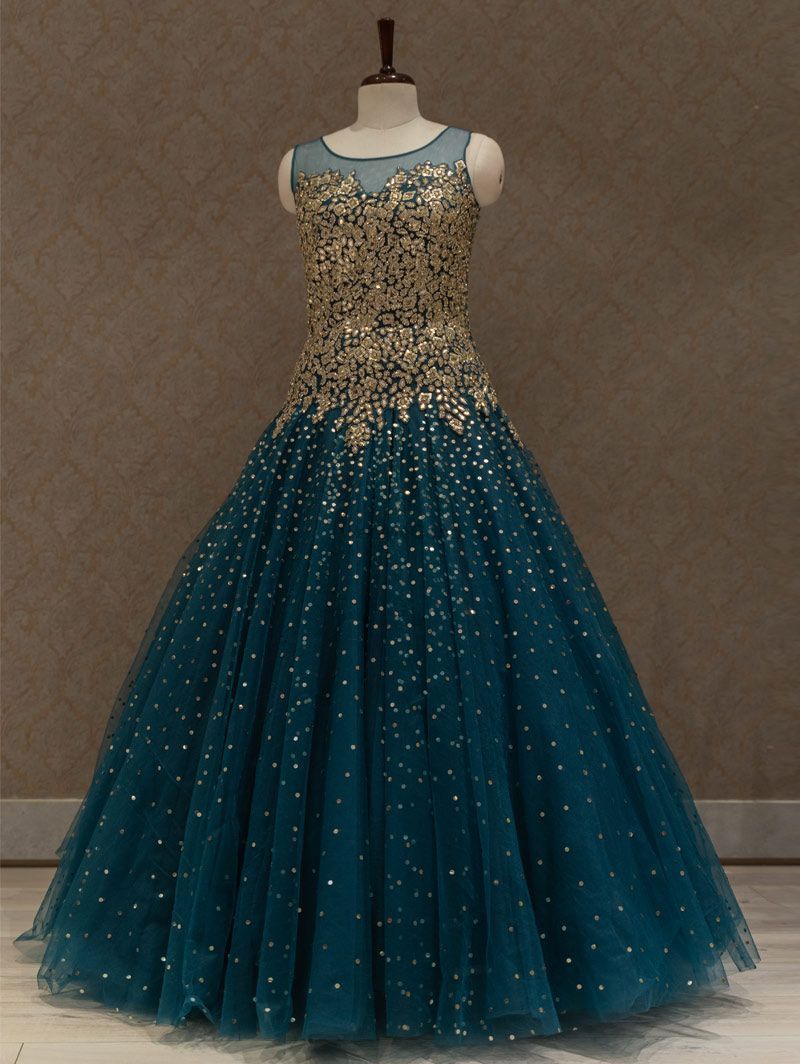 Price: INR 28,500
A princess cut gown will forever be in demand by brides, and if that's the style you want, then how about this one with that pretty colour?
Buy online here.
ALSO READ: 10 Gorgeous Gowns For Your Reception Or Cocktail
Don't forget to browse and shop more gorgeous gowns from our exclusive WMG Gallery at amazing prices this wedding season!