Where To Get The Best Jewellery For Grooms!
BY Sakshi | 12 Jul, 2018 | 5154 views | 3 min read
Groom jewellery is one of the single most important accessories that a groom dons on his wedding day. Unfortunately jewellery for grooms is something that is not commonly known. After all, you can see nice photos of grooms all decked up and looking amazing, but no one really gets into where to get the right accessories from! Of course you can get the perfect cufflinks and brooch with that tux of yours, but when it comes to decking up the groom's sherwani, most of us do draw a blank. So if you are looking for something more than a simple gold chain or are hunting for that perfect moti mala for groom online, you have arrived at the right place. We've rounded up some stunning groom jewellery for weddings labels for you.
Yes, Sabyasachi jewellery caters to groom jewellery too. From pearl necklaces for groom to more opulent ones, you will get it all here!
From rings to bracelets they have it all in gold and diamonds!
If grand and opulent is your pick, Archana Aggarwal's grooms jewellery collection is amazing!
If you are looking at budget friendly costume jewellery, Just Jewellery does a fabulous range of moti malas, haars and even more traditional heavy pieces!
While they don't have an exclusive collection for grooms jewellery, most of their pieces can be styled as wedding jewellery for grooms. These gorgeous rows of Zambian emerald beads with natural graded pearls are such a brilliant design!
Along with amazing sherwanis, they also have a range of matching costume jewellery for grooms. The best part? They have matching sets as per the sherwani you pick from their collection, making it a hassle-free buy!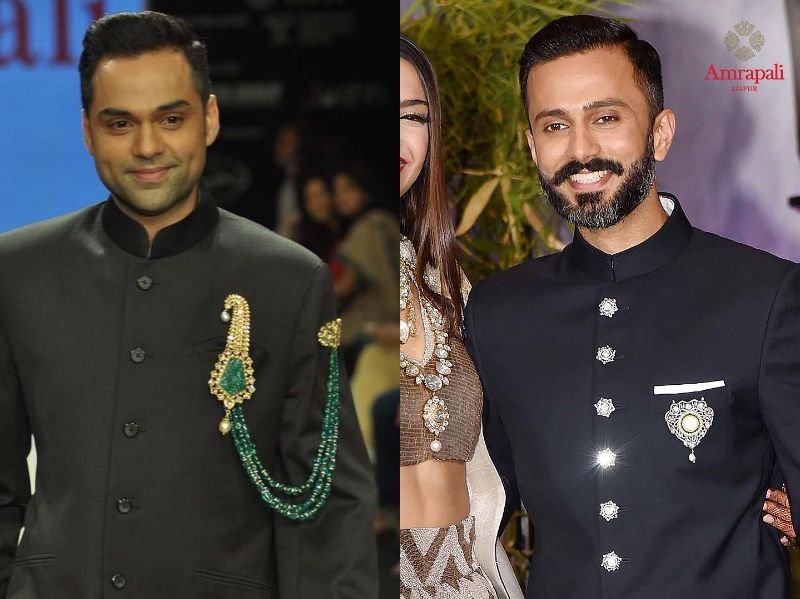 They have some cool cufflinks, brooches, buttons and bracelets for men, which are perfect for grooms! We especially like their different types of kurta buttons if you're looking to swap yours!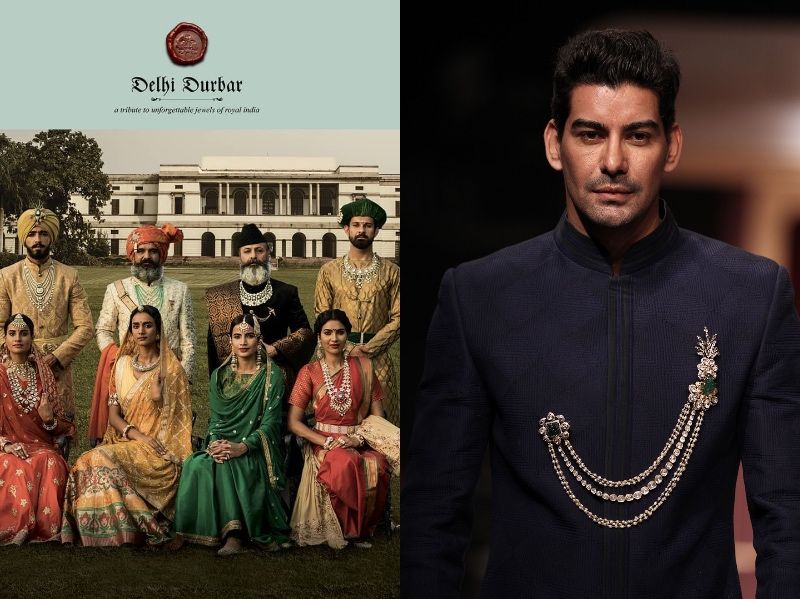 They do some amazing jewellery for men, which of course is ultra luxe- real jewellery that's quite eye-catching yet regal!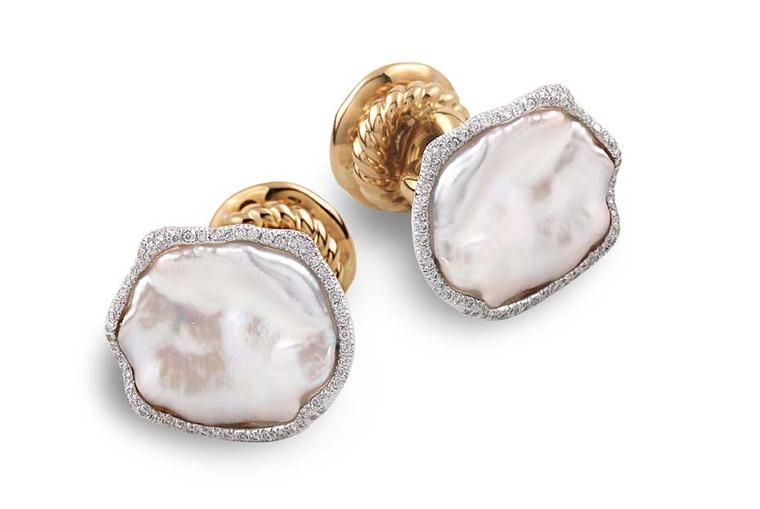 While of course, she does some amazing ultra luxe jewellery for women, her trademark minimalism style has a few options for men too! She has some stunning cufflinks like these pearl and diamond ones!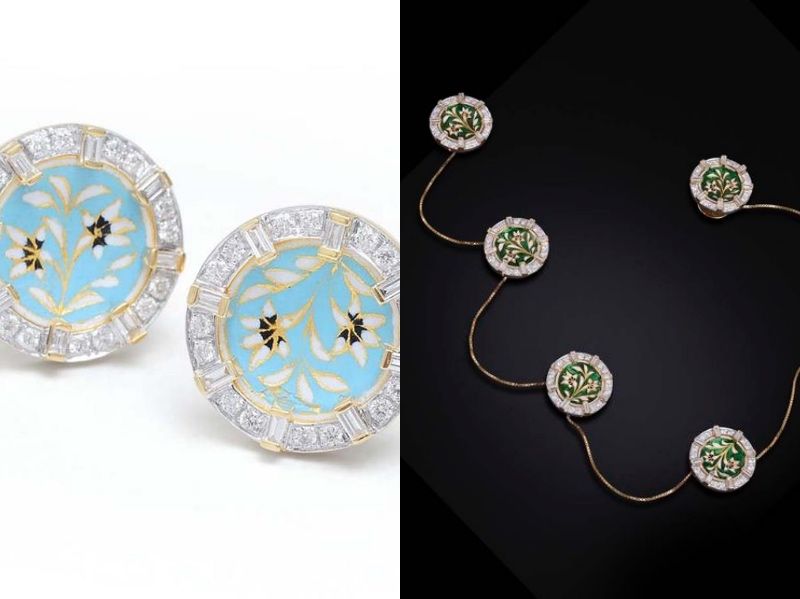 She has some gorgeous enamel and diamond work buttons and cufflinks which are perfect for any groom and his sherwani! Love the intricate details on them!
They do customised creations for grooms- so they'll do just about any kind of jewellery- from necklaces to kalgi and a lot more!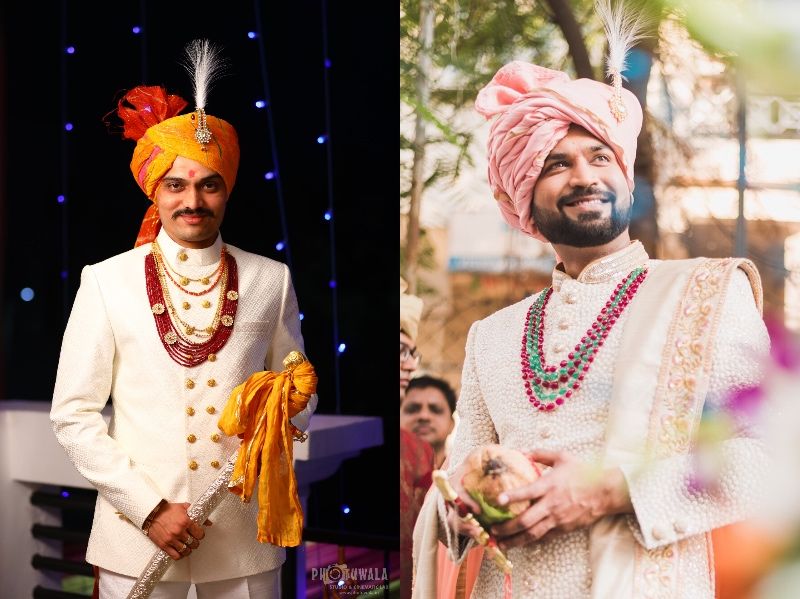 They do some nice jewellery for grooms, and customise as well! From necklaces to kalgi and other accessories you can think of in as many shades and combinations!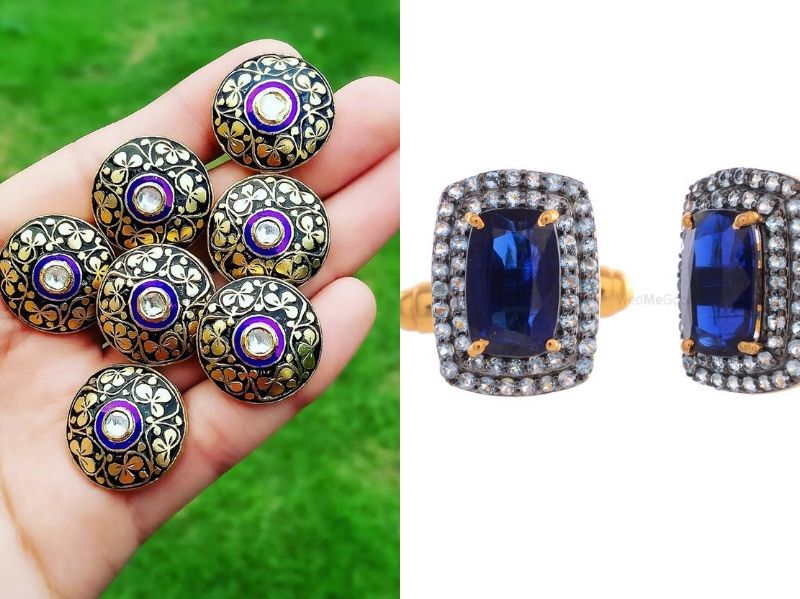 They make limited edition concept jewelry for the modern man. If you're looking for the real deal- jewellery for grooms in diamonds, precious & semi-precious gemstones in gold and silver, then this is the label to consider! Their sherwani buttons and cufflinks are quite unique!
Groom to be in 2020-2021? Check out these grooms jewellery designs that will make you swoon! 
Also check these 10 grooms that rocked amazing jewellery designs on their wedding day!
Don't forget to read The Only Groom Accessory Checklist You'll Ever Need!