Where to shop for Bridal Wear in Hyderabad (Part 1: Lehengas )
BY The WMG Bride | 26 Mar, 2019 | 60938 views | 10 min read
Okay, girls, we hear ya! After we covered Mumbai (still looking for more inputs there), Kolkata, Ahmedabad, Chandni Chowk (Delhi), Shahpur Jat (Delhi) and most recently Bangalore: it was only a matter of time we moved to the city of Nawabs & Biryani - in search of bridal wear in Hyderabad. Okay, a confession- most of our friends from Hyderabad or even real brides from Hyderabad always seem to go for bridal shopping from outside that city so we assumed there isn't much to offer there. But thankfully our local genie, Sindhura put together this neat little list of the best places to shop there!
Bridal shopping in Hyderabad is a tad bit different than the other cities. To categorise broadly, we have two types of weddings happening here- South Indian wedding with brides wearing Kanjivaram sarees and the weddings with brides wearing Lehengas. Honestly, I must say that there are comparatively fewer options for saree or  wedding lehengas shopping in Hyderabad than you would find in Delhi, Mumbai or Kolkata, but some are worth checking out nevertheless, when you are looking for where to buy bridal lehengas in Hyderabad.
But before you go to buy bridal outfits in Hyderabad, make sure to keep these points in the head, after all, it is your wedding outfit and you want it to be the best!
Budget & Style: Always set a budget for each and every function. Note down every function you've planned to have before your D:day. With every function decide what kind of outfit you'd be wearing. If you are planning for lehenga, salwar-kurta, saree or a gown. Label each and every function and decide the price you are ready to pay for each day for your bridal wear.
Designer Wear Stores: 

Look out for designer stores

as much as you can but don't let go of local stores. Designer stores would give you a fair picture of what kind of designs are in fashion, trending styles and the most important point, it would let you know about the budget that would suit your pocket. Designer wear can never go wrong in terms of fitting, design, embroidery motives and elegance.

Local Stores: Don't forget to go to local bridal wear shops in Hyderabad as it is important to know about the prices over there too. You need to look out for local stores to buy things in the budget. Obviously, you didn't plan to spend all your money on just bridal wear. It isn't just your wedding day when you wish to dress your best but you have a number of other functions like mehendi, sangeet, engagement, reception and haldi to look marvelous. To go for such wedding functions bridal wear, local stores are a good stop.
Research Well: Go through every social media platform, magazine, trends thoroughly, we know that you have a certain style and design in your mind for your wedding but you need to know about the

latest bridal lehenga fashion

and moreover the best place from where to buy bridal wear in Hyderabad. You don't want to get stuck up with a bad investment and you surely would be looking for something really nice. Even if you are planning to go for something off-beat, you need to make sure that things fall right in terms of price, design, elegance, fitting and most of all comfort.  
This post is for Lehengas, we will be doing a seperate article for Kanjivaram Pattu Sarees!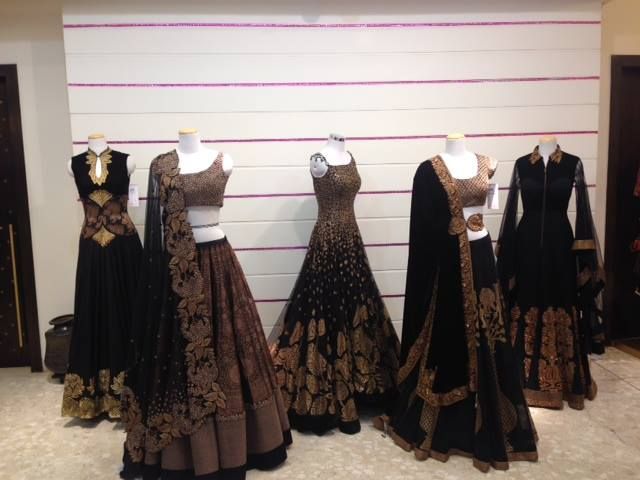 (Lehengas displayed in Elahe)
Lehenga shopping: For the ones with deeper pockets/ High end ones
Tarun Tahiliani- I consider it a sin if I introduce this man! This should be the first store to check if you are on a look for the wedding lehenga. And if you are like me who always wondered why they are priced the way they are, you should see the lehenga with your own eyes and touch it once. The excellence in their craftsmanship spills all over! The price range starts from 1 lakh onwards depending on your preference. They take 30-45 days to bring out your type of Bridal wear.
Address: Road No 7, Zehra Nagar ( lane opposite to GVK One mall), Banjara Hills, Hyderabad– 500034
Sabyasachi: One will fall in love with the store interiors! They stock less of lehengas and more of wedding sarees. The lehenga style sarees are a perfect fit for the engagement or a reception. The lehenga style sarees are priced from Rs 1 lakh and above and the lehengas start at Rs 2.5 Lakh.
Address: Plot No 14, Road No 10, Banjara Hills, Hyderabad 500034.
Vikram Phadnis: A beautiful store for one of the most recently opened designers in Hyderabad, this one is a definite must visit! With their extraordinary designs and fabric choice, you would not be able to stop yourself from buying their beautiful design. Their bridal range starts from Rs 1.5 lakh (approx.) onwards.
Address: Shop No 8:2:581/1, Plot No 26A, Road Number 8, Banjara Hills, Hyderabad- 500034, Near Advanced Hair Studio
Anahita★ 5 Multi-designer store stocking collections of all the famous names in the business: Pankaj and Nidhi, Ridhi Mehra, Aneesh Agarwal, Atsu, Manish Gupta, Payal Singhal, Arpita Mehta and Anushree Reddy (drooling over their floral lehengas).  This store is the best to make all purchases for the pre-wedding rituals like Mehendi and sangeet. Apart from apparel, they also have in-house jewellery and pretty sandals to match the bridal trousseau.
Address: 8-2-418, Imam Khomeini Road, Resham Bagh, Banjara Hills, Hyderabad- 500034.
Elahe: Another multi designer store featuring Manish Malhotra, Sabyasachi, Dolly J, Manish Gupta, Anamika Khanna, Rohit Bal, Pankaj Nidhi Ahuja, Anand Kabra, Niksha Tawadey, Kavitha Bhartia, Divyam Mehta, Namrata Joshipura, Gaurav Gupta and Anju Modi.
Address: Elahe Milestone, Road No. 10, Banjara Hills, Hyderabad- 500034.
Ritu Kumar: This designer wear store features more of heavy zardosi embroidery lehengas for someone looking for a total traditional look in reds and maroons. Price range of Ritu Kumar sarees: 30k to 3 lakhs; lehengas range from 1 to 5 lakhs.
Address: Milestone 476, Road No 10, Banjara Hills, Hyderabad- 500034.
Shantanu & Nikhil: They bring in a contemporary structure to vintage India. Elegant and lightweight wedding lehengas which are super comfortable for the bride to move around. Lighter on the body but a little heavy on the pocket! The prices start at 60k and lehengas are priced around 3 lakhs.
Address: Road No 36, Venkatagiri, Jubilee Hills, Hyderabad- 500033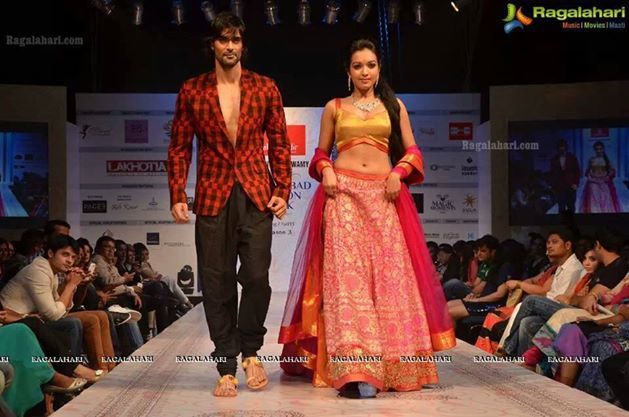 Lehenga in Pink by Shravan
Lehenga shopping: Lesser known designers who do a great job
Shravans Studio His outfits are actually very very nice, even for heavy bridal lehengas and they look pretty high end too- with good fabric, impeccable tailoring and nice cuts. Definitely worth checking out.
Address: 6-1-74, Shree Venkateshwara Hotel, Lakdikapul, Hyderabad, Telangana 500004
Contact & Photos:  Sharavan Studio
Mrunalini Rao★ 4.9 This designer store offers really beautiful bridal wear with some nice, on-trend pieces in a lot of different colours, and can make lehengas for the modern bride and the bridesmaids. Their price range starts from 1.5 lakhs. 
Address: 8-2-316/5/10 Karan's Mumtaz Villa, Road Number 14 Landmark: Asha Hospital, Banjara Hills, Hyderabad, Telangana 500034
Contact & Photos : Mrunalini Rao Facebook  
Sagar Tenali★ 4.9 A nice option for your pre-wedding events like Mehendi or a small sangeet and this guy also does groom wear! Doesn't it look like the best option for wedding wear?
Address: 8-2-261/1, Plot No 1, 1st Floor, Near Testa Rosa, UBI Colony, Road No 3, Banjara Hills, Hyderabad, Telangana 500034
Contact & Photos: Studio Sagar Tenali Facebook
Yaksi Deepthi Reddy: Brightly coloured lehengas in sorbet colours in Banarsi fabrics, and a whole lot of customisation! With beautiful bridal sarees, being just an absolutely best option to go for your wedding shopping.
Address: 8-2-261/1, Plot No 1, 1st Floor, Near Testa Rosa, UBI Colony, Road No 3, Banjara Hills, Hyderabad, Telangana 500034
Contact & Photos : Yaksi Deepthi Reddy FB
Varuna Jithesh★ 4.9 Nice for your light lehengas on your Mehendi and Sangeet and doesn't hurt the pocket. With prices being apt for your wedding shopping.
Address: Varuna Jithesh, plot no 170, Vayupuri, Sainikpuri, Secunderabad, Telangana 500094
Contact & Photos: Varuna Jithesh 
Mamata Agarwal: It is not a retail store and she doesn't sell anything ready made. Tucked away in the corners of Banjara Hills in Hyderabad, she operates her nameless boutique from her home. You can discuss the kind of lehenga you have in your mind and she suggests some models, fabrics and would show you some pieces of her work on her iPad. The finesse in her work is incredible. She is the best in town if you want to replicate the high-end designer lehengas. Talk about the pricing in advance with her!
Address: Plot no 403, Behind Meenakshi Towers, Banjara Hills, Road No 12, Hyderabad.
Architha Narayanam★ 3.8 New entry into this field of business is already busy with many orders. She stocks a wide variety of readymade lehengas. But also can customize as per the brides choice of fabric, colour and design.
Address: Road no 2, Banjara Hills, Opposite to LV Prasad Eye Hospital, Hyderabad.
Shilpa Reddy Her clothes totally reflects her sense of styling and dressing: simple yet elegant! You will find mostly pastel shades and even the brighter colours look so elegant in her designs. This is a must to check out for Mehendi and Sangeeth outfits. Their outfit prices start from 70K. 
Address: Plot no. 1057/F1, opp. to Heart Cup Coffee, Rd Number 45, Jubilee Hills, Hyderabad, Telangana 500033.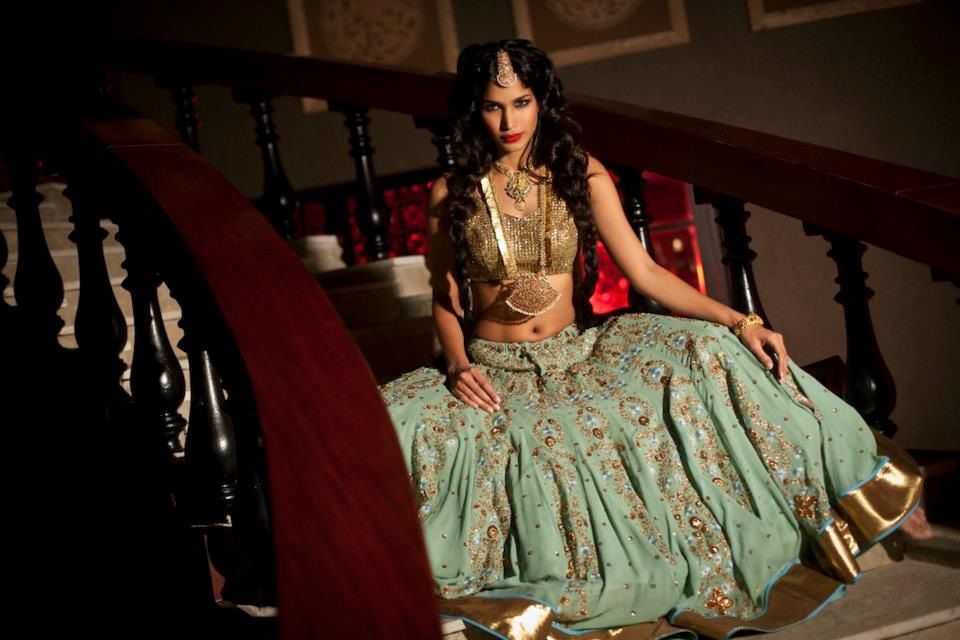 Lehenga by Shilpa Reddy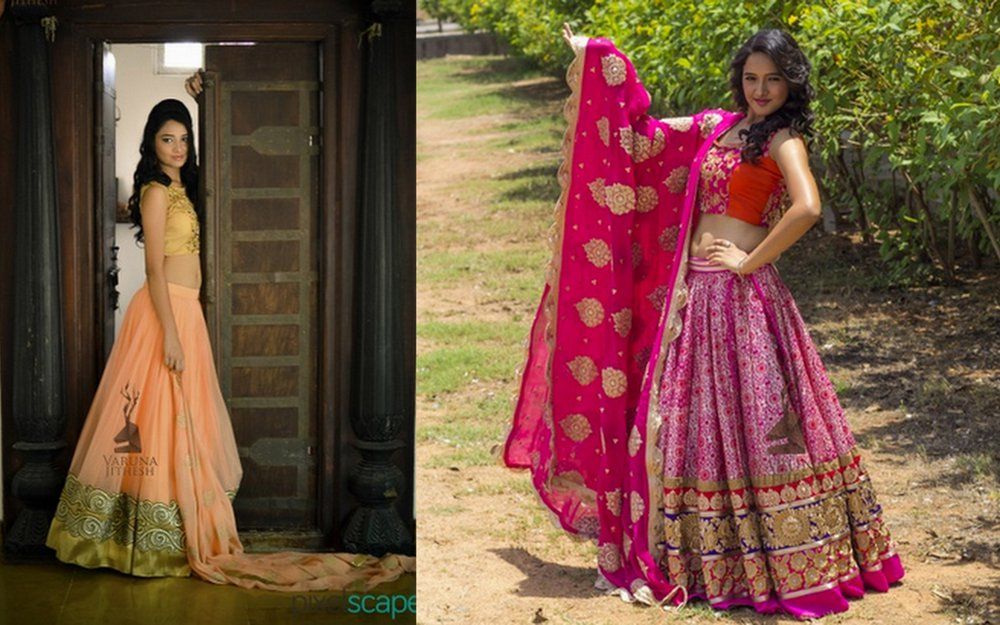 Lehengas by Varuna Jithesh
Lehenga shopping: Local Stores
Retail stores who stock ready-made lehangas. Minor customization is possible in these.
Meena Bazaar: The best non-designer retail store in town! The store has been existing since the '70s. Oranges and pink lehengas are the signatures Meena bazaar lehengas. Simple and elegant, they are available in a wide price range. They also have a super huge collection of different types of fabric in different colours with different embroidery that one can choose from if you want to stitch a lehenga.
Address: Tilak Road, Abids, Hyderabad: 500001
Origins★ 4.8 They specialize in bridal wear and accessories. And their stitching is one of the best in the city which gives the perfect fit to the outfit.
Address: Merchant Tower, Off-Road No 1, Banjara Hills, Opposite GVK One, Hyderabad: 500034
Aurum: They have beautiful lehengas and will customize their existing ones as per your choice of fabric, colour and cut. They are priced from Rs 30,000. A designer will help you in the store in customizing the outfit.
Address: Banjara Hills, Road No 4, Hyderabad.  
Neerus Emporio★ 4.6 They have a wide range of lehengas starting from Rs 20,000 to Rs 1,50,000 and the lehengas are heavy and bright with work on them. The price starts from 65K.
Address: Plot 729, Road No 36, Jubilee Hills, Hyderabad
Kashish: There are many branches for this store. Most of their lehengas are in shades of pink and red and particularly is the store for those brides who are looking for a bright lehenga.
Address: Road No 1, Banjara Hills, Hyderabad
Sailesh Singhania★ 4.3 : Famous for selling fabrics, the store now ventured into readymade garments specializing in lehengas. Sailesh Singhania's new collection of lehengas is reasonably priced in the range of Rs 25,000 to Rs 60,000.
Address: 8-2-672/S, Ground Floor, Sufi Chambers, Rd Number 1, Banjara Hills, Hyderabad, Telangana 500034
A MASSIVE Thank you to Sindhura- our local genie from Hyderabad who compiled this for us. That girl is a treasure house of info on Hyderabad! So are you all set to buy the latest bridal lehenga from these listed designers!
Hope this list is helpful. You can further check the list of Hyderabad Bridal wear stores on WedMeGood and contact them directly.
Stay updated with the latest wedding trends, Download the WedMeGood app now.