WMG-Approved Luxe Venues To Get Married At This Year!
BY The WMG Bride | 03 Apr, 2016 | 812 views | 4 min read
The weekend calls for some major lusting. This time, it's venues. From sweet boutique-y ones to general luxe choices, we got you a few hotels that are really taking it up a notch and well, might just fit into your budget! What say?
Taj Falaknuma
Interested in hosting a wedding in Hyderabad? We have two words – Falaknuma Palace. The opulence of grand marble staircases, Venetian chandeliers, gurgling fountains and exquisitely carved arches add a touch of nawabi royalty to your special day. Falaknuma – meaning 'mirror of the sky' is an iconic all marble palaces built in 1893. The famed 101 seat dining table is a treat in itself. Burroughs and Watts from England designed two identical tables, one of which is in Buckingham Palace and the other in the Falaknuma palace. The gold-hued Durbar Hall, lush gardens, aristocratic 101-seater dining hall or the immaculately-manicured Rajashthani Garden—take your pick from the palace's picturesque venues to tie the knot!
Neemrana Fort Palace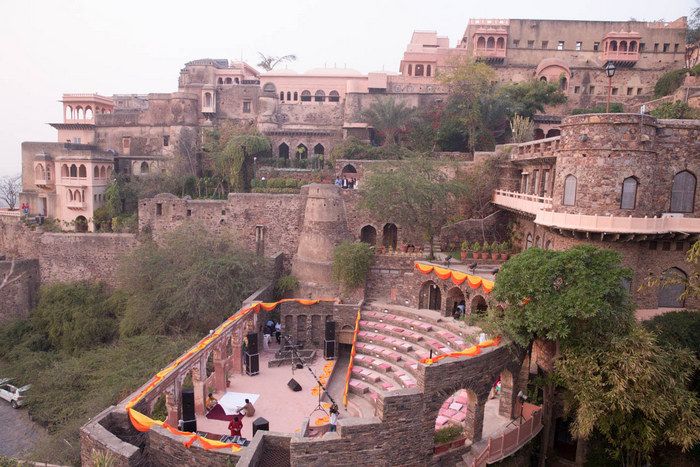 Your guests will feel like royalty when they snuggle into antique four poster beds, glide down a sweeping elegant staircase or feast on a sumptuous dinner in a tapestry hung dining room that was once a Mewar fortress! Of course, we love Neemrana as many of WMG's brides have tied the knot at this dream wedding destination. Now with a Roman amphitheatre that seats 200 guests, hanging gardens that are so mystical – no wonder palace wedding are sought after for their magic!
Rokeby Manor, Landour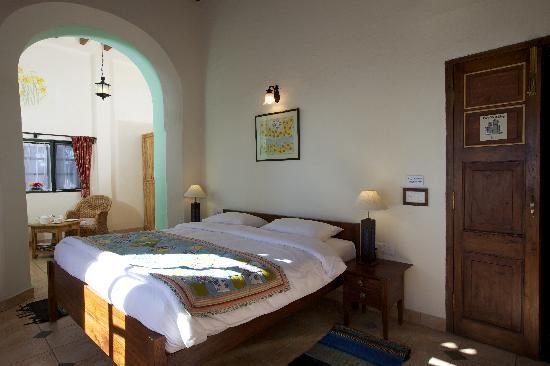 Landour is the place where all those picturesque hill station post cards are made! Think beautiful tree-covered hills looking down the Doon valley, the surreal view of the Himalayas at sunset, and clear skies giving you a brilliant display of twinkling stars of the Milky Way & the flickering lights in the valley, can be your wedding venue! Rokeby Manor, originally a British Manor, is a gorgeous place to begin your lives. Long Pines, wooden flooring, fireplaces and beautiful architecture makes it a heaven for pre-wedding pictures. The beautiful sunsets at Rokeby also make sure that you get really awesome ceremony pictures for those early evening functions. A wedding at Rokeby Manor can be a refreshing change & quite out-of-the-box. Say 'I do' atop of The Queen of Hills!
The Zuri Kumarakom, Alleppey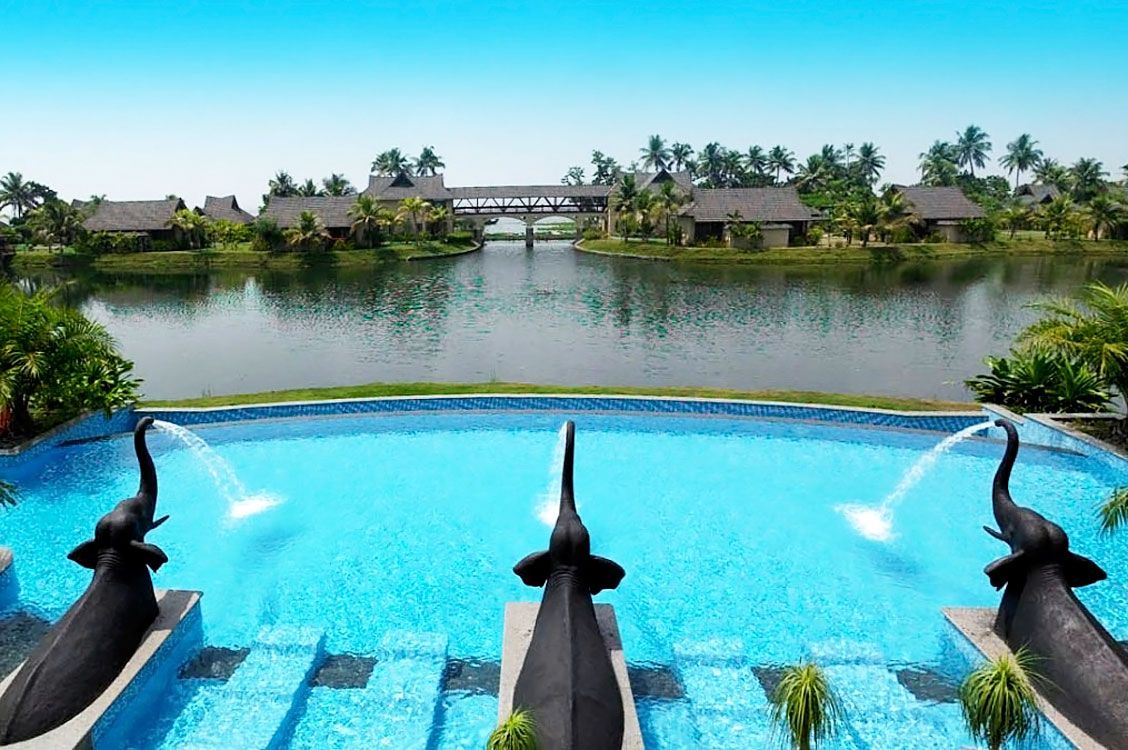 Kumarakom Alleppey picturesquely situated on an island in the centre of the lagoon, is the perfect location for an exotic wedding. Wedding on the banks of a breath-taking Vembanad Lake, that spreads serenely over 205 square kilometres of picture perfect beauty. You cant ask for anything more!
The Oberoi, Udaivilas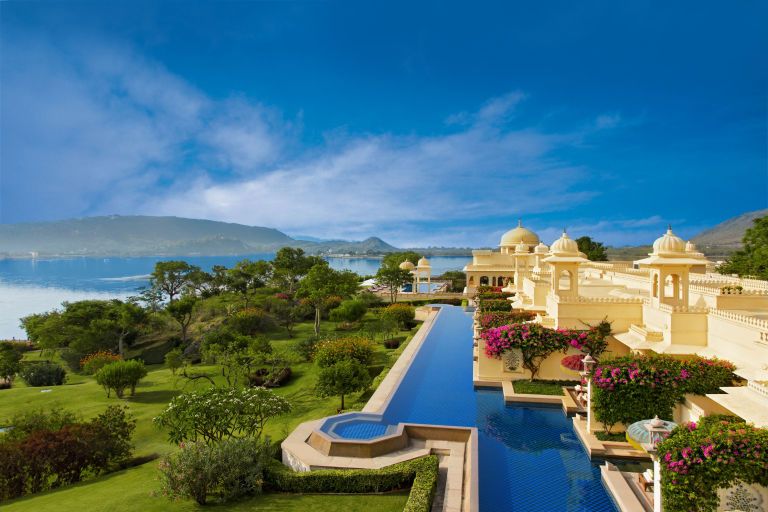 Thinking of a baraat in a boat? Think of Udaivilas – the dream wedding destination. Located on the bank of Lake Pichola, The Oberoi, Udaivilas stands on the 200 year old hunting grounds of the Maharana of Mewar. Spread over a luxurious fifty acres, which includes a twenty-acre wildlife sanctuary with deer and wild boar, The Oberoi Udaivilas affords spectacular views across the verdant gardens and sparkling Lake Pichola. It's even beautiful to think about a wedding here!
Sea Shells, Havelock

If you want a gratifying and romantic beginning to your life, Sea Shells at Andaman & Nicobar Islands would be the perfect destination where you can plan for your wedding. The soothing and pleasing climate of these islands is excellent for your romantic getaway. The coconut palms along the seashore of these islands add zing to your wedding voyage. So, when you choose these destinations, you not only invite your guests to your marriage ceremony, but also treat them to a holiday destination as well!
Glenburn Tea Estate and Boutique Hotel, Darjeeling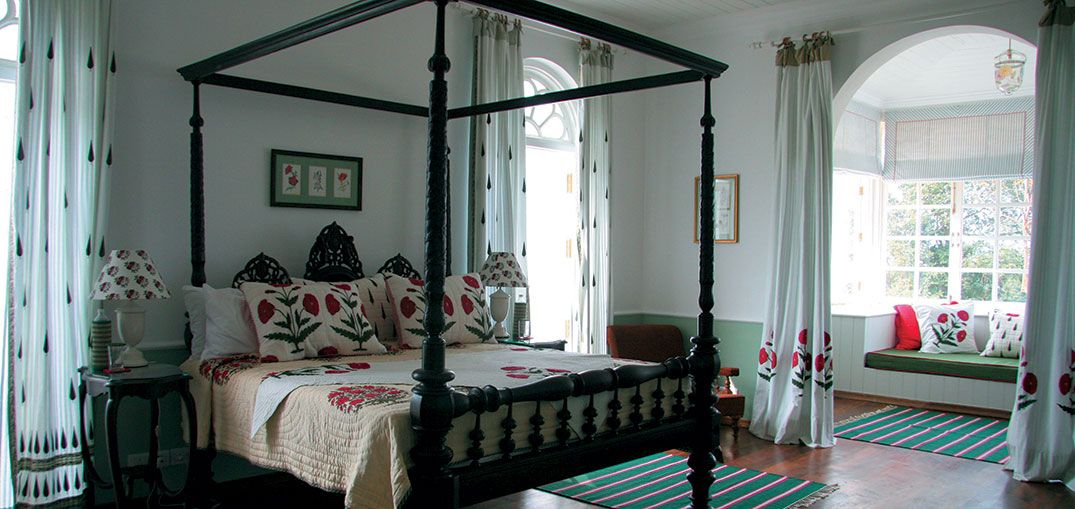 Tea estates are the next beachfronts, do you agree? That's why this one is super special because the space is boutique-y and keeps your guests at ease. Glenburn is known to be a heavenly little plantation retreat near River Rungeet and was started by a Scottish tea company in 1859. Now it's managed by the "Chaiwala family" - which literally means "tea planters". It's quaint and cute and very vintage-y. Perfect for a nice sweet summer wedding because it's not too hot nor too cold. The food is supposed to be very old-school with local fare and traditional Indian dishes, to exotic South-East Asian delicacies. They will throw in family recipes too including Tea-Leaf Pakoras, Chocolate Brownies, Tibetan Momos and Burmese Khow Suey.
Find more such Luxury wedding venues here, you can filter them by your city, check reviews, pictures and contact the vendor directly.
Also, if you need assistance with your wedding venue search, fill this form and our venue experts will send you best recommendations.