WMG Red Carpet Bride with Dolly J : Sonals Engagement Shoot !
BY The WMG Bride | 25 Jun, 2014 | 3259 views | 3 min read
If you are a WMG Stalker , you would know that every now and then we give an opportunity for brides to be, to get a makeover, be dressed in designer outfits and be shot by a candid photographer. This time, we went to one of our absolute favourite bridal wear stores in Delhi-
Dolly J
!!!! Three girls- Sonal , Vidhi & Jasmeet all wore outfits each representing one event . First up, is the engagement outfit we chose- this is Sonal girls, get ready for blush pink gorgeous-ness. Armed with two other members from our
Handbook
-
Simran Kalra (makeup artist)
&
Lakshya Chawla (Photographer)
, we  had a total BLAST in the Dolly J studio!
Meet Sonal
She is working as a senior consultant with a German MNC. She is getting married in December, and currently enjoying all things bridal prep (read shopping and WMG) !!!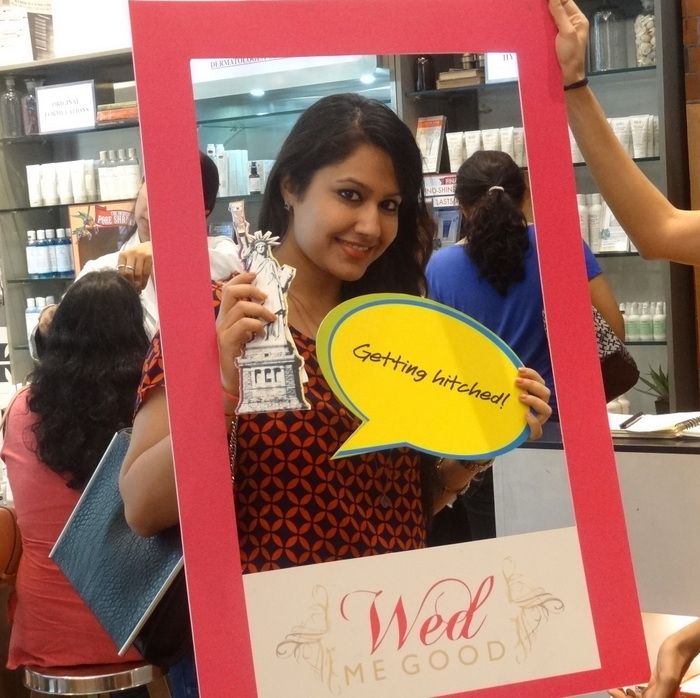 That is Sonal- straight hair, everyday makeup and outfit!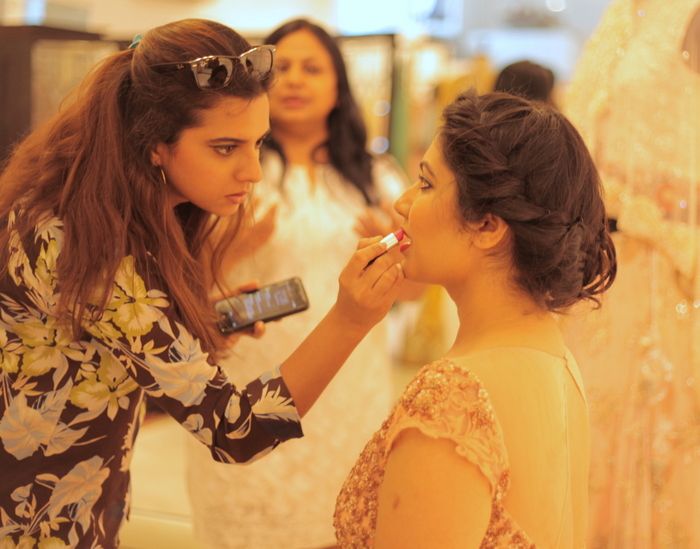 That is Makeup artist Simran Kalra who did a phenomenal job with the brides ! No jokes, they looked like super stars! Who loves that braided bun???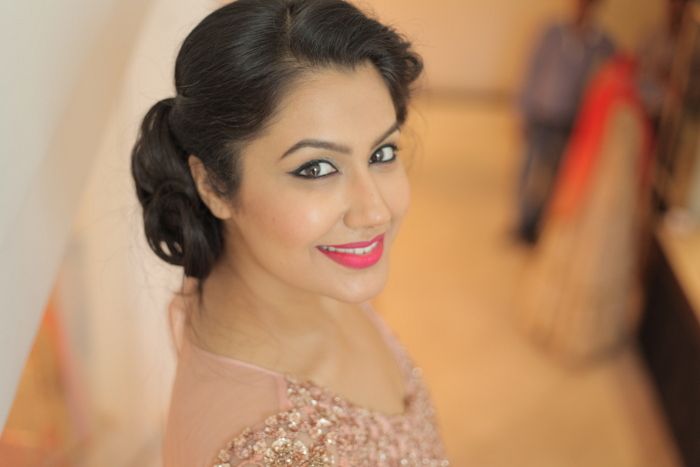 And...tada !!!!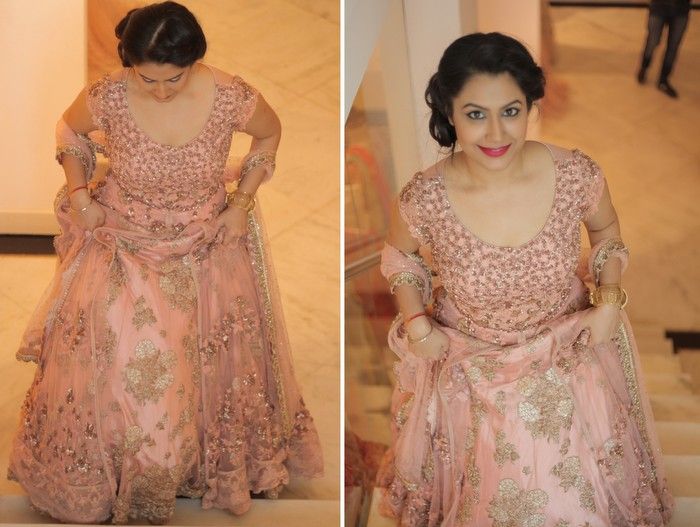 Ready. Set. Drool . That GORGEOUS floor length outfit in pastel pink with sequins, and lace is the perfect outfit for your engagement girls. You HAVE to check it out in the Dolly J Store - its like fairytale level !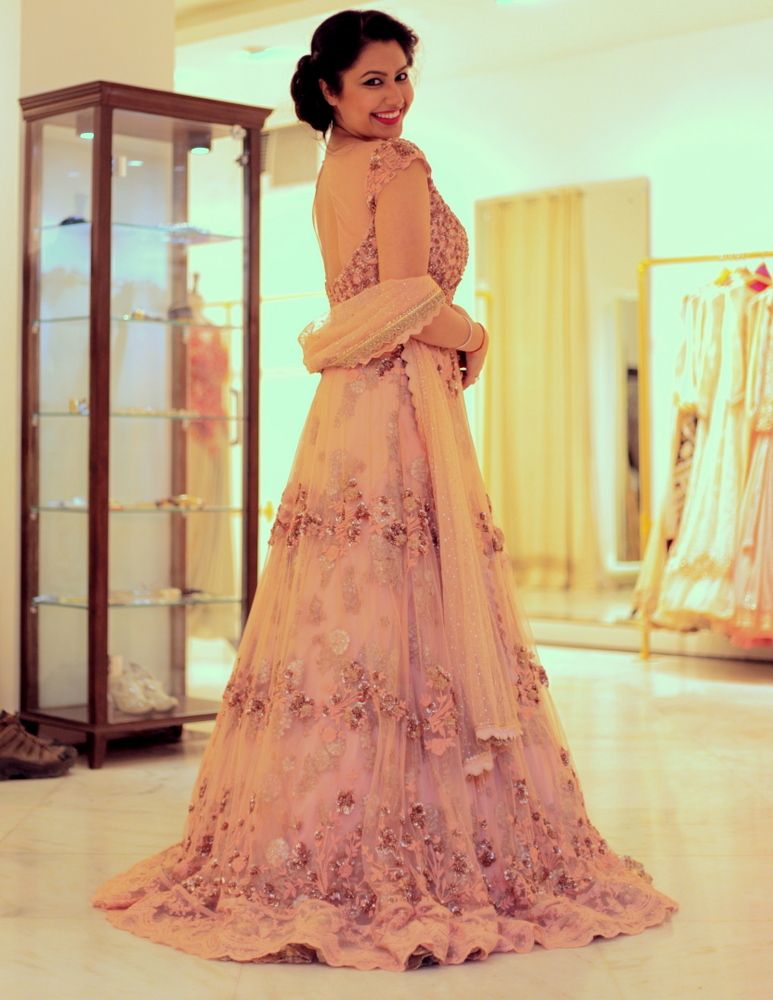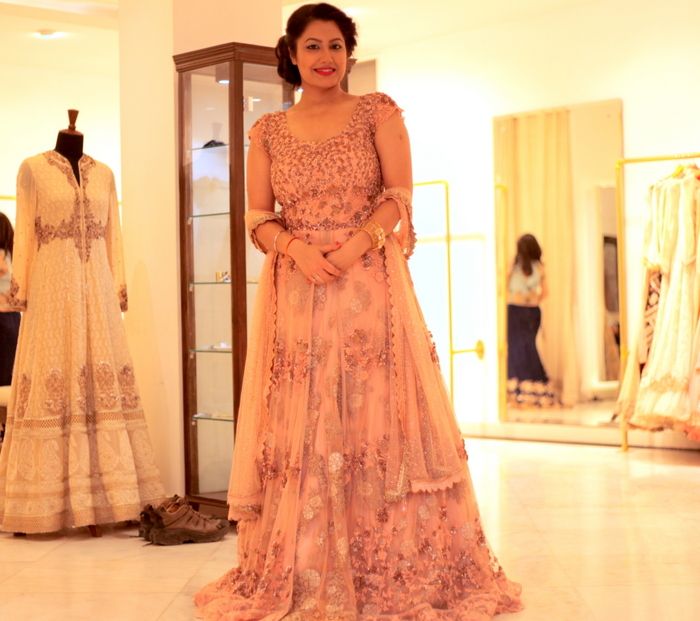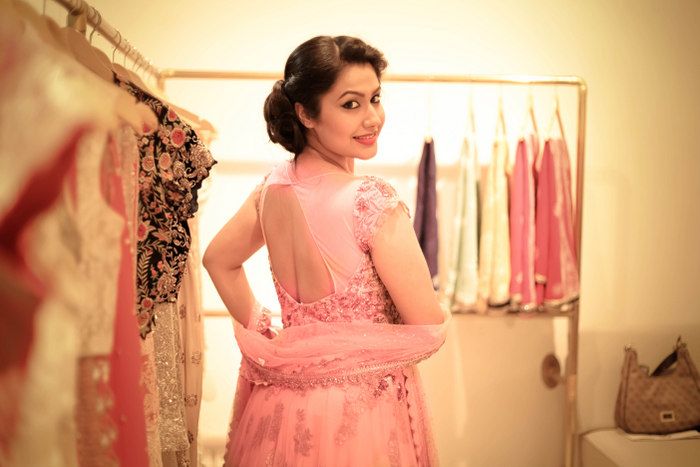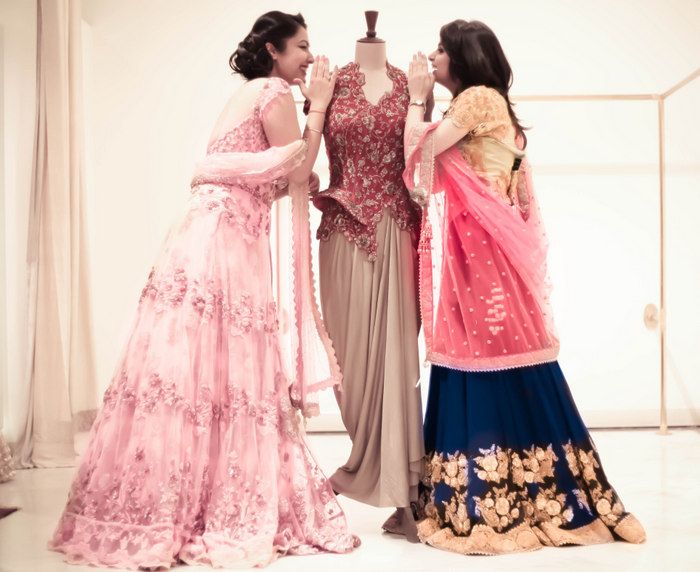 Having some fun gossiping with the mannequin. The girl on the right, thats our next red carpet bride!
That by the day is the AMAZING Dolly J ! Whome we forced to strike a  'Hand on hip' pose despite her resistance
From Sonal : The day spent at Dolly J was absolutely amazing. Not only is Dolly's collection stunning but I loved both the outfits I wore.  One was an oh so intricately done gown in a blush pink which just had a subtle shimmer as it caught the light. I was tempted to buy it for my own engagement ! Absolutely loved the colors, cuts and the subtlety of it all. I also wore a red lehenga, which you guys will see later.  
All in all it was an experience in itself, felt like a bride for a day. Loved the clothes, the make up, the pictures, the people and the day well spent :D
 I usually keep my hair straight and open but this time around was tempted to try a side messy bun, didn't know they can do such a great job in less than 20 minutes! I always thought buns make you look a little older but I guess I was proved wrong! As for the make up, Simran gave me shimmery eyes with a winged liner and deep red lips. I loved the way she planned my look - a little Victorian I say :). She happily answered all my queries and told me about a lot of make-up must haves! It was fabulous to have Lakshya behind the lens. I must say I was a little nervous posing for the pictures but what came to the rescue was the way he puts you at ease by constantly talking to you, cracking jokes! Loved all the candid shots he took, his ideas during the shoot - highly recommend his work.  Above all he is just a pleasure to be around :)
Pink Floor Length Outfit:
Dolly J's
new 2014 collection which is full of gorgeous pastels
Price
: On Request
Makeup by
:
Simran Kalra
Photography by:
Lakshya Chawla