60+ Bridal Solo Songs For Your Sangeet That Are Not Done To Death!
BY The WMG Bride | 11 Oct, 2022 | 453345 views | 13 min read
Bridal entry songs sorted? Well, your job ain't done yet! After all, finding the perfect song for your bridal solo performance is just as important as anything else. And being your ultimate wedding guide, we are here to shoo away your woes with a wedding songs playlist!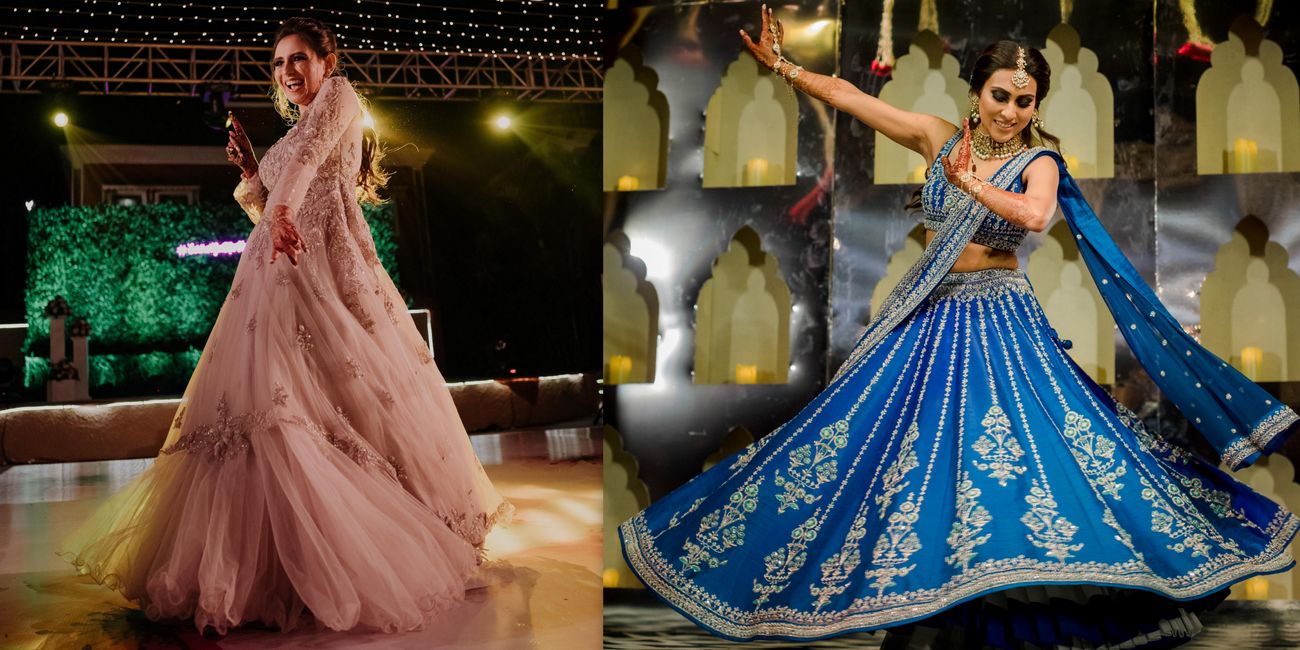 Image via The Picture Patch Photography, Smiti & Nilesh
Planning to dance solo for one or more songs at your wedding? That is one of the best ideas ever. And for that, you need that perfect bridal song. So we made your job simpler and made an amazing list for you. These may not be all the latest songs, but they are definitely fresh and not done to death! And while you're at it, don't forget to ask your bridesmaids & sisters to check some of these dance-y songs for the bridesmaids performance!
Stay with us and go through our list of bridal sangeet songs. For your convenience, we have divided them into the following categories
Bridal solo songs with a touch of Bollywood
Romantic bridal solo songs
Peppy bridal solo songs
Bridal solo songs with some Punjabi flavor
Because What's A Party Without A Touch Of Bollywood
The mashup of your dreams for perfect solo dance songs for the bride! This medley has the uber-famous Rang saari, the classic taal song as well as the lovely iktaara sangeet songs for brides
This latest bridal dance song by Neeti Mohan describes the right emotions of a bride-to-be waiting for her better half. Perform on this song and remind him about all the instances where you waited for him.
Remember when this song took over Instagram reels? We now have a female cover for it which is perfect if you are looking for your solo dance performance on Bollywood songs female!
Fresh and new in the sangeet song list, Manike is the remixed rendition of the original version, making it one of the best sangeet songs for brides
Here's the ultimate bridal solo anthem for all the brides who are big dance enthusiasts! It's a hoot. The flow instantly tugs at your heart and you can't help but get grooving!
Are you a Salman Khan and Katrina Kaif fan? Then this hit Bollywood number has to be on your wedding playlist. It's super groovy.
7. Dilbaro + Laadki + Teri Khushiyaan (Medley)
Planning to give a filmy dedication to your parents and siblings on your Sangeet? Look nowhere else and settle for this fail-safe medley with some tear-inducing songs.
Almost synonymous to bridal solo song, Makhna is a hit Bollywood number that has been topping the popularity charts amongst our brides even today, and that too for all the right reasons! It's peppy, it's dancy and it's just the kind of track you need for your bridal solo.
View this post on Instagram
For all the dancer brides out there, channel your inner Alia Bhatt and frolic about on this classical song with crisp choreographed steps and swift twirls.
This medley is the ultimate roller-coaster of emotions. It starts with a mellow & heartfelt number, takes off a dancy flight in between and ends on another sappy number. Whether solo dance or one with your squad, you can pick this track for either of the performances.
This fun song is perfect for all the girls who leave behind everything just to be with love of their life. Dance on this number and let your groom know about your love for them.
This is such a fun song and if you are a bride who can't do slow and sappy numbers, this is one of the perfect bridal dance songs to kickstart the party. Will set the mood just right!
Now, we're sure you must have heard this one. But trust us when we tell you it;s just right for your sangeet bridal solo.  Ignore the first half of the song and start from Anushka's singing part- just the perfect fit for our list of bridal solo songs.
There are not many solo songs that are as peppy as this one, which makes it a perfect fit for this list of bridal dance songs. Gulabo is super fun with your friends giving you an introduction and you carrying on to the solo when the girl sings.
It's been a while since we saw a bride sway to this fun number from Jab We Met. High on energy and an interesting mix of traditional and offbeat tunes, we think it is a perfect fit for our list of dance songs for bride.
If you want to show off your traditional dancing skills on a more 'family' number, then this is a good one for your bridal solo! Extra points if you dress up like Sonakshi - so chic!
A Little Romance Never Hurt Anybody
Romance, soft love, peppy tracks and stunning choreography. This performance had it all. And this mashup is a perfect bridal solo song mashup for brides who want it all!
Always been an ardent lover of soft, soulful songs? Then there's nothing better than dancing on one that matches with your vibe! Dhadak's title track is just the right pick for you. You can even make a medley out of its female lyrics and another soothing number to grab them eyeballs.
Take your sangeet performance a notch above with this soul-stirring unplugged version of Afreen Afreen. It's the perfect inter-mix of
Raise the romance quotient with this catchy track from Parineeti Chopra's film. It's a not-so-usual pick for a bridal solo performance.
Having fun lyrics, Ambarsariya is a great choice for a super fun bridal solo! And what better than a ched chad wala performance.
With soothing music and great lyrics, this one is such a gorgeous song, and if you are a naturally good dancer - the slow song is a perfect start to your bridal solo dance. You can blend it into something else
This one is romantic and pretty without being extra sappy. Just get some free-flowing props to match the mood and sway to the music-, and you'll be good to go!
For a slow but still beautifully choreographed number, this song is perfect. If you want to focus on something with lyrics that are both beautiful and meaningful, this is one of the good bridal dance songs for sangeet.
Do you call yourself a dancer? Well then we've got something for you! This song is perfect if you have a classical bent- just right for  ladies sangeet songs for bride.
Straight up- we personally love the beats in this one- it's got that refreshing vibe that's just so uplifting! Bahara is sort of evergreen because its romantic, girly and sweet without being overly melodramatic.
Slow Songs Aren't Always Sad Ones
You Can Pick One Of These If Swaying To Some Soulful Music Is More Your Style.
While the OG version is perfect for a couple song, this female only cover is such a delightful and one of the best songs for solo dance performance for girl or bride!
This major hit, Vaaste is a beautiful song sung by Dhvani Bhanushali & Tanishk Bagchi. It's a soft and soothing track with meaningful lyrics. If you're someone who swears by the trends, this song is for you!
Easy-peasy choreography with a song as touching as this one, and you're sure to make a stellar statement on your sangeet.
View this post on Instagram
Soulful & trendy, this beautiful cover of "Piya Tose Naina Lagey Re" sung by Jonita Gandhi is on every bride's hit list. It's just the right bridal solo song for your new beginnings.
31. Tera Woh Pyaar + Shagna Di Shaam (Medley)
Here's a stirring medley of "Tera Wo Pyaar" & "Shagna Da Shaam" for brides who want to take the mainstream route and get their fam to shed a tear or two.
The music is so soothing, we are sold at one go! You can begin with flowy props, and get the groom to join you on the stage towards the end. Why not grab a chance to romance your bae while the world looks on.
A beautiful track that's gonna translate your feelings into lyrics- this one is perfect to set the mood for your evening celebrations! We urge you not to get extra and use fancy props as were done in the film, but just away with the music!
Harshdeep Kaur's voice never fails to create magic and this one is proof- a beautiful song indeed for your bridal solo. Trust us, this one is going to mesmerize the entire audience!
Dev D might not be recent, but we haven't seen too many brides dance on this. A unique song for your sangeet that has never been done before, what's not to love about it?
The world knows Emran Hashmi's songs always end up being SUPERHITS, and this one is no different. Great music, beautiful lyrics and an easy, flowing tune, Ishq Sufiana qualifies are one of the perfect dance songs for bride, if you're on the lookout for something slow.
Peppy Songs To Set The Mood
Love love love this newer version of the OG classic yaad piya ki aane lagi for that nostalgic kick. Perfect for millennial brides who want to do 90's song but with a fresher take on it.
While Din Shagna Da may seem like an old and slow song, this version is fun and peppy. You can take a cue from this bride who kept her performance so upbeat and lovely!
For brides who love groovy, high-energy songs, Param Sundari by Kriti sanon is one of the ultimate solo dance songs you can pick this wedding season.
For a different contemporary dance routine, this solo dance songs is such an out of the box choice!
While the song maybe slightly old, it's still a song that is unique and not used much for bridal dance songs. So if you are a bride who loves happy songs but that aren't repeated at every sangeet, this is the one!
The most recent one that is creating ripples lately is this bolly-holly special that not only got Jason breaking into Bhangra but our brides pulling off a one-of-a-kind bridal solo.
This groovy number will force all your guest to join you in your bridal dance performance and break into impromptu dance steps.
High on energy track with a Bollywood twist-what else can one ask for, when it comes to their bridal solo song! PS. One look at the official video and Sunny Leone is sure to give you some cues with her dance steps for your choreography.
J'adore! It's peppy, it's funky and it's just right! The Girls Got Everything from Student Of The Year  is young, fresh and fun- exactly like the millennial bride- what's not to love!
Listen to the beats once- this one qualifies as one of the perfect bridal dance songs for sangeet ceremony. A mix of traditional Hindustani beats and that homely vibe- WMG approves.
View this post on Instagram
The latest addition to our list of bridal solo songs! This list would be incomplete if we don't include this remixed version of the age-old song you and I have grown up listening and dancing to!
It's cute, peppy and just what you need if you want to tease your man a little- because what's a sangeet without some innocent teasing! :P
Well for those people who dont understand punjabi, this song literally means that the guy has taken the girls heart away. Isn't it the perfect song to dedicate to your better half.
This one tops our list of bridal dance songs for sangeet performances- it's got the right mix of beats, and sets the mood just right! Super quirky, and a favorite among brides of today
Lets Add Some Punjabi Tadka To Your Performance
No sangeet will be complete without these super hit sangeet songs of Bijlee Bijlee! Its groovy has great beats for you and your bride squad to dance on.
View this post on Instagram
Talk about popular punjabi songs for your bridal solo performance, and this one had to make it to our list. It's apt for the new-age brides and we totally root for it!
Peppy beats with humorous lyrics, This punjabi track can add just the fun vibe to your Sangeet. It's super catchy and would get all of your guests humming along.
Whether planning for a solo bridal dance or willing to put up a great show with your squad, this song won't leave you disappointed. It has a chill vibe to it and can be clubbed with easy-peasy dance choreography for maximum results!
On lookout for a Punjabi number but that would instantly take everyone on a teary ride? This song is meant for you! The lyrics are super adorable and so is this bride's choreography!
Another fun bridal solo song is "Kudi Nu Nachne De". From the beats to the lyrics, everything's on point. PS. It's fresh from the oven, so make the most out of it and put up a great show on your sangeet.
If you are punjabi, then this is not just a super fun song its really interactive as it involves various members from the other family- one of the best ladies sangeet songs for the bride!
Fun, peppy, and a song that describes the happy nature of today's brides, we bet you won't be able to stop tapping your feet on this upbeat number!
What's a bride without some SWAG? So why not celebrate it too! Banno Tera Swagger is just what you need if you are one of those bindaas brides!
Ok so maybe this one HAS been done to death. It's still one of the fun bridal dance songs for sangeet out there- so why miss it out of our list!
Still worrying about bridal solo songs. Well, you shouldn't anymore. Now that you have a whole list right in front of you! So what are you waiting for. There's a song for every mood, every taste- a perfect fit for ladies sangeet songs for bride of every kind!
Know some more new songs for bridal solo songs? Let us know in the comments below!
Stay updated with the latest wedding trends, Download the WedMeGood app now.
*Updated by Apoorva Pagar.