The Ultimate Playlist, 45+ Best Indian Bridal Entry Songs!
BY The WMG Bride | 05 Aug, 2022 | 756694 views | 16 min read
In case you haven't read the 'Bridal Entry Ideas' post yet, first take a moment and have a look at it here. And once you've found that "OMG! I have to do that for my bridal entry", come back here and finalise a bridal entry song that is suitable for your grand and magical entry. To help you with the same, we have listed the top bridal entry songs trending now to make this special moment of yours even more beautiful.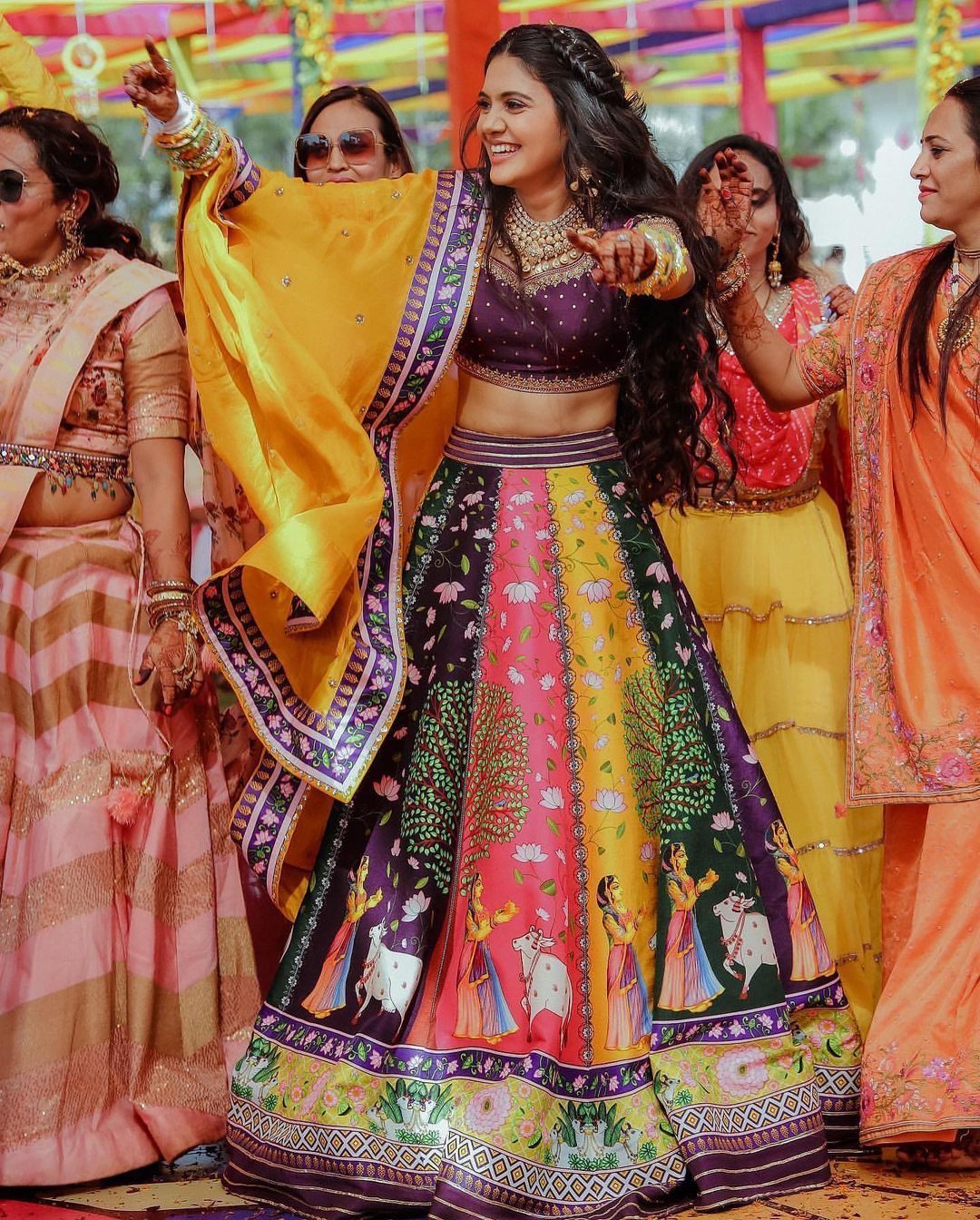 Image via @nandinii99
Trending Bridal Entry Songs For 2022 Weddings
It's 2022 and bridal entries have become more & more interesting. From brides choosing the most offbeat songs to entering with their fam, we're seeing the millennial brides do it all. Here are the best 2022 weddings songs for your bridal entry!
This is one of most romantic songs out there and is so ideal for a bridal entry. It is slow, sweet and has the sweet melody that you need when you're walking down the aisle.
#2 Chaap Tilak by Abida Parveen & Rahat Fateh Ali Khan
This song is a roller coaster of emotions and perfectly describes what goes on in a bride's heart and mind. The mix of nervousness and excitement with a tinge of sadness - this song is an amalgamation of all and is apt for your bridal entry too.
#3 Din Shagna Da by Jasleen Royal
A coy bride's entry is incomplete without Din Shagna Da playing in the background! This song was already one of the most popular songs ever, until Vishal Punjabi used his magic to make it even more awesome ! And when even Anushka Sharma used it as her bridal entry song, we knew it was here to stay! For brides who want something classic and a song that evokes all those emotions, this is the perfect choice.
View this post on Instagram
This song became an instant favourite as soon as it was released. With peppy tunes and such happy beats, it was the perfect song for bridal entry. And our bride proved it! It not only made her dance but vibed up the entire wedding.
Enough to give people goosebumps when you enter! This also is a great song choice for mehendi entry or as an engagement entry song to capture all eyes in the span of seconds!
#6 Sooraj Ki Baahon Mei From Zindagi Na Milegi Dubara
This song was so perfectly shot in the movie and the bride & her fam recreated it perfectly for the bridal entry. If you have a fam that is up for such a rocking entry, start practicing now!
#7 Kithe Reh Gaya by Neeti Mohan
Another epic bridal entry song for the bride who wants to "make an entrance"! And you can convert your entry into a full blown performance just like this bride did.
#8 Kande Kacheya Ne from Daana Paani
View this post on Instagram
A few lines of this golden medley are enough to get you hooked but these particular lines are perfect to desribe your love and how you are looking forward to spend the rest of your life with your partner. A song worthy of your bridal entry.
Dance it away brides! If there's one thing we've learned, it is that a dancing bridal entry is always fun. And if you do it with a medley of the top trending songs, it will be like cherry on top of a very pretty cake!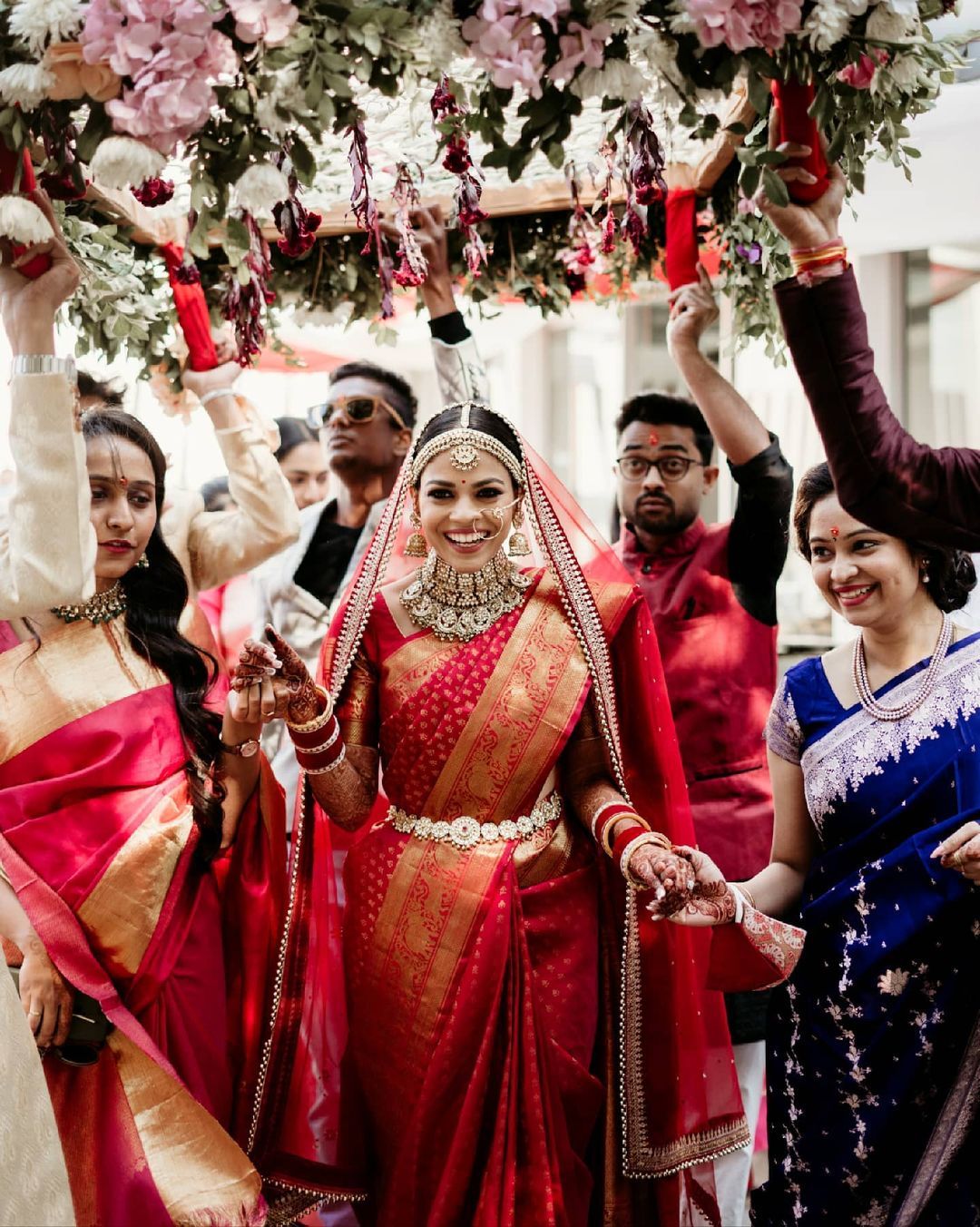 Image via DelhiVelvet - By Divishth Kakkar★ 4.4
Bollywood Entry Soft Songs For the Romantic Bride
Looking for an apt entry song for bride to express your love for the man standing on the stage? Well, we've got you covered! These songs below are full of love and will make the guests go 'aww', once the DJ starts playing any one of them. Trust us, the groom won't stop blushing!
#10 Vaaste by Dhvani Bhanushali & Tanishk Bagchi  
This refreshing song for bride's entry by Dhvani Bhanushali & Tanishk Bagchi is absolutely beautiful. With the soothing music and lyrics, you can enter for your better half. This song has not been used much so why not you begin the trend? 
When released this song, we knew it already could be one track for bridal entry in the playlist. Listen to this one and you will know we're not wrong!
#12 Afreen Afreen Coke Studio Version 
This one's our forever favourite bridal entry song ! Not only is it a classic song, but Momina Noor's vocals are absolutely perfect for a bride's entry. We know this has been done to death in the past few years, but it's still going strong and is here to stay! Well your groom-to-be already thinks that "aisa dekha nahi khubsurat koi" so why not just have it one of the go to songs for bride's entry already?
#13 Laadli by AR Rahman and Lata Mangeshkar
A bridal entrance song can be magical and meaningful all at once with this one. When music and poetry come together, the lyrics make so much sense! Plus, when it's AR Rahman, you know it's going to be magical. Very traditional and beautifully worded, just the perfect entry song for bride that you could have asked for!
Songs for bride entry need not always be emotional, it can also be something which takes words straight from your heart to his. This is one of the most underrated bridal entry songs on this list! Not many people know about it, that's why we haven't really heard it at the weddings. Psst.. you'll love the Rajasthani vibes in the lyrics!
#15 Jogi (Female Version)
Sweet, simple and soulful , this track is totally on point for the romantic brides who want an effortless entry. Also, this song is an ideal choice if you're looking to make an eye-catching entry at your engagement.
This bridal entry song is super apt to let the world know how much you're smitten by him! It's fresh and hasn't been used before for an entry sequence! So if you're looking for something not done to death, then go for itttt!
#17 Moh Moh Ke Dhaage (Female)
This one is a must on a list of bridal entry songs! We all have listened to it on loop when it was new and we're still not ever it! Ideal for a bride who is extremely romantic at heart! He can be a little ditzy for choosing an 'oh-so childish at heart girl' like you but you wouldn't be for choosing this number as your bridal entry song.
#18 Jag Ghoomeya Song - Female Version
We know your man in one the million, then why not enter on a song expressing the same!  Out of all the dulhan entry songs in the list, it's the best choice when you want those #BridalEntryGoals.
#19 Tu Bin Bataye - Rang De Basanti
You have lived your love through the years, you are finally getting to celebrate it and this song would just be the perfect bridal entry theme to walk down the aisle upon. We know you never thought that this can be used as an entry song, but if you go through the lyrics, you'll realise the amount of love this song possesses! It might just make your groom sob a little with happiness!
#20 Heer - Jab Tak Hai Jaan
Act all pricey while you enter on this song! A stark contrast between the song and your personality would be a fun sight to witness. Make it more grand by holding a guitar in your hand, just like the way Katrina did in the video! Unleash your inner bollywood diva by making an entry on this bridal song.
#21 Raabta (Female Version)
We are here to tell you that this bridal entry song has been curated by God, specially for you! Now you may not think of this one as one of those typical bridal songs, but hey! Possibly one of the most romantic songs of our time, and this female version is soul-stirring and subtle - JUST THE PERFECT ENTRY SONG FOR BRIDE!
Since we are talking about the best bridal entry songs there isn't any way we are going to miss out on this one. If you're in no mood to dance as you enter, then go for something slow yet trendy! This one's contemporary, and would give a classy vibe and weave the magic you always dreamt of for your bridal entry.
Remember how bad-ass and modern  Kalki was as a bride in YJHD?! If you correlate with her on-screen personality, then this is the song that you need! Take the part from 2.26 onwards where the female sings! The lyrics are pretty apt for a beautiful, modern day entry song. This bridal entry song is surely gonna lead you to the making of a one in a million "jodi aasmaani".
Peppy Bollywood Dance Songs For Your Bridal Entry 
Sweet and sappy songs are not your cuppa tea? Fret not, we have something to amp up the volume jussst a tiny bit.
Looking for wedding entry songs to sway down the aisle? This is a really popular bridal entry song with beautiful lyrics and a powerful voice! Definitely the perfect one to kick-start your wedding celebrations.
This next addition to our list of  songs! It's bound to add a dreamy vibe, the one you always wanted!
#26 Mangalyam from Saathiya
Take the first part of this song as the start of your entry and when you reach on stage there can be the 'Hum Dum' part starting. The thumping music and DJ's bass would electrify the ambiance with an ease! Thank us later for giving you this never done idea before for your unique bridal entry theme.
Are we looking for an entry song worth the whistles?! This song would really make your bridal entry a rocking one. Dance like no one's watching, because why should only the groom get a chance to dance his heart out, while entering with the baraat! Or wait! You could both enter the premises dancing your heart out on this bridal entry song. Now that's something fun!
If you've made a decision that you have to dance for your bridal entry, then why not on a peppy number, like this one! Bring in your squad to make a lot more dhamaakedaar.  Saiyaan Superstar is probably the most peppy number on our list. Grab onto your sunnies and unleash your  inner superstar while making an entry on this bridal entry song.
Bridal Entry Songs in English all the way from the West!
If you have grown up listening to Enrique, Taylor Swift or grooved on the title track of The F.R.I.E.N.D.S then my friend you surely love English songs. Yes, hindi and Punjabi have been used over and over again so we have listed some english songs you can use as bridal entry songs!
#29 Young & Beautiful - Lana Del Rey
Are you someone who is looking for an out of the box bridal entry theme? So why not have. A list of wedding songs with a Lana Del Ray song on it, whaaaaaaaaaat? While most of the bridal entry songs are in Hindi, this one would set your entry apart! We all LOVEEE Lana Del Ray, don't we? They why not enter on one of her beautiful songs! The lyrics make this song completely special ! Perfect to the t, to say the least.
We are vouching on the fact that this song would definitely make your man go, Aww, OMG! Because you have found the man of your dreams so this song is Perfect for real!
#31 Thousand Year - Christina Perri
This song is as romantic as it gets. We know you have heard this a thousand times but does it feel any different? The soothing beats in this music can give you that dramatic feeling as you walk down the aisle.
#32 Simply the Best - Schitt's Creek Version
Did you too have a teary eye when Patrick sang this song by Tina Turner for David? Because we surely had! Because your better half is surely the very special person of your life and simply the best. 
#33 Can't help falling in Love - Kina Grannis
We really love Elvis Presley but this version by Kina Granis gets us even more. We surely fell in love with this song from Crazy Rich Asians and we planned a bridal entry already in our head from that scene. Listen to it once and you will surely want to consider it! 
Bollywood Sufi Songs For Your Emotional Bridal Entry
Awhh! Are you one of those coy brides, who doesn't wish to have an OTT element in her bridal entry? Don't worry, we have a list for you as well. With these songs, you'll effortlessly manage to give goosebumps to ones around. All you need to do is, to keep that beautiful smile on and sway your way down the aisle on these mesmerizing bridal entry songs.
#34 Laayian Laiyan by Rizwan Anwar
We know this song is almost a decade old but are we still over this song yet? NO! This song by Pakistani Singer Rizwan Anwar is nothing but beautiful! If you love acoustic music and want to tell your better half 'tere naal hi jeena, tere naal hi marna?' Aww, we are already imagining you walking down the aisle on this bridal entry song! 
There is something about this music that is so powerful yet kind of innocent and shy which makes it a perfect addition to our list of  songs! Just right for the demure Indian bride and is also a song that, quite frankly, has not been done to death. It sounds fresh, Indian but with a contemporary twist! Go down the memory lane while you make your bridal entry on this never done before wedding entrance music.
#36 Madhaniya | Neha Bhasin
Madhaniya was mostly played during vidaai in old times! But this fresh take on this folk song by Neha Bhasin is super apt for a bridal entry as well. Trust us, it'll make everyone around sob, as you make your grand entry and who doesn't want a bridal entry song like that? That's why it deserves a spot on our list of  songs!
Raahat Fateh Ali Khan's voice is mesmeresing and this popular number is a great balance between being mainstream bollywood, but still unique and eclectic and not completely commercial. Shy brides, are you listening?  Bookmark this number and practice your oh-so beautiful bridal entry on this song.
Some Punjabi Songs For A Bridal Entry With Bridesmaids!
We know being a bride-chilla ain't that easy, amidst so much craziness happening around you! But we've actually seen brides forgetting all the hustle and making an entry like a bawse with her bride tribe by her side! They dance, they laugh, and they make funny faces, that literally leaves everyone awestruck! If you're one of them, who gives zero effs to wedding jitters, then you ought to enter on one of these  entry songs with your bridesmaids by your side.
#38 Bajre Da Sitta - Rashmeet Kaur x Deep Kalsi x Ikka
Yes, we know you have listened to this 12345 times on Instagram Reels but isn't it catchy? For all the millennial brides who just cannot stop but dance their way on the aisle, well, this is for you!
#39 Akh Kashni - Neha Bhasin
To the punjabi brides who have sung this song all along it's time to make your bridal entry on this one, as this song is full of sass and so are you! If you're looking to set the mood for your celebrations, this one is the perfect entry song for brides! So what are you waiting for, wear those glasses and make a fire-cracker entry!
#40 Patt Lai Geya - Jasmine Sandlas
If you are that bride who just loves to dance then you can definitely consider this song. Jasmine's groovy music and lyrics could be a perfect pick for your engagement bridal entry or maybe use it for your wedding, your choice! 
#41 Nai Jaana - Neha Bhasin
Neha Bhasin, the queen of folk Punjabi songs has given us this another song for all the brides to enter the room. Listen to this song and you will know how beautiful the lyrics are for your bridal entry. 
Some Lovable Songs For A Bridal Entry With Your Parents 
This is a beautiful song that is a perfect ode to what a bride feels when she leaves her home and begins a journey into a new home, with a new family. If your bridal entry is with your parents, this emotional song will be the perfect background track needed.
This melodius song expertly manages to capture the roller coaster of emotions that not only the bride is going through but also the parents. It might bring tears to everyone's eyes, but it will be a track, and a bridal entry, that you will remember for the rest of your life.
Parents are the first people to teach a kid the meaning of unconditional love. The heartbreakingly beautiful lyrics of this song represents that bond, that love that is irreplacable for any daughter. This is not just an emotional track but can also be a thank you from a daughter to her parents. An apt fit for a bridal entry with parents by your side.
A song that describes what all daughters mean to their parents for your bridal entry? Yes please! A soft melody, the lyrics are so relatable and touching but the music has a tune that makes you smile throughout. It is an ideal choice for your bridal entry with your parents.
Do comment below and tell us which songs you entered on or thinking of entering on? Or if there's another entry song for brides that you can think of! And, if you still need more bridal entry songs, then check this playlist by Gaana!
Stay updated with the latest wedding trends, Download the WedMeGood app.
*Updated by Smridhi Sablok.