70 Bridal Hairstyles For Indian Brides
BY Palak | 10 Jul, 2019 | 207173 views | 14 min read
Just as a bride's lehenga and makeup play an important role in the overall look of the bride, her hair are also equally important. A bride's hair should look perfect on her special day. Even when you're not the bride, you always want perfect hair, so wanting that when you're going to be the bride, is a given. Indian hairstylists generally prefer the bun for the Wedding day. It helps to pin the dupatta on the top of the head and gives the desired height and volume too. However, brides with short hair do not need to lose heart. Short hair is so chic and trendy and there is so much you can do with it. If you want to leave your hair open, we have just the right look for you. Consider beachy waves, soft curls and some gorgeous accessories. Indian wedding hairstyles can be very versatile and because we have so many lovely accessories, the hair becomes all the more important. So if you're a bride who wishes to rock her hair and inspire future brides with #hairgoals, here are a few bridal hairstyles that you must try. In fact, we have some lovely suggestions not just for the bride, but for the bridesmaids and her close family as well.
1. Traditional Bridal Buns
A bun is an ideal hairstyle for Indian wedding functions. It is a classic bridal hairstyle for the wedding ceremony. From engagement, to jaimala, to reception, to mehendi- you can try the bun hairstyle, for any function! Here are a few bridal bun designs that we love:
1.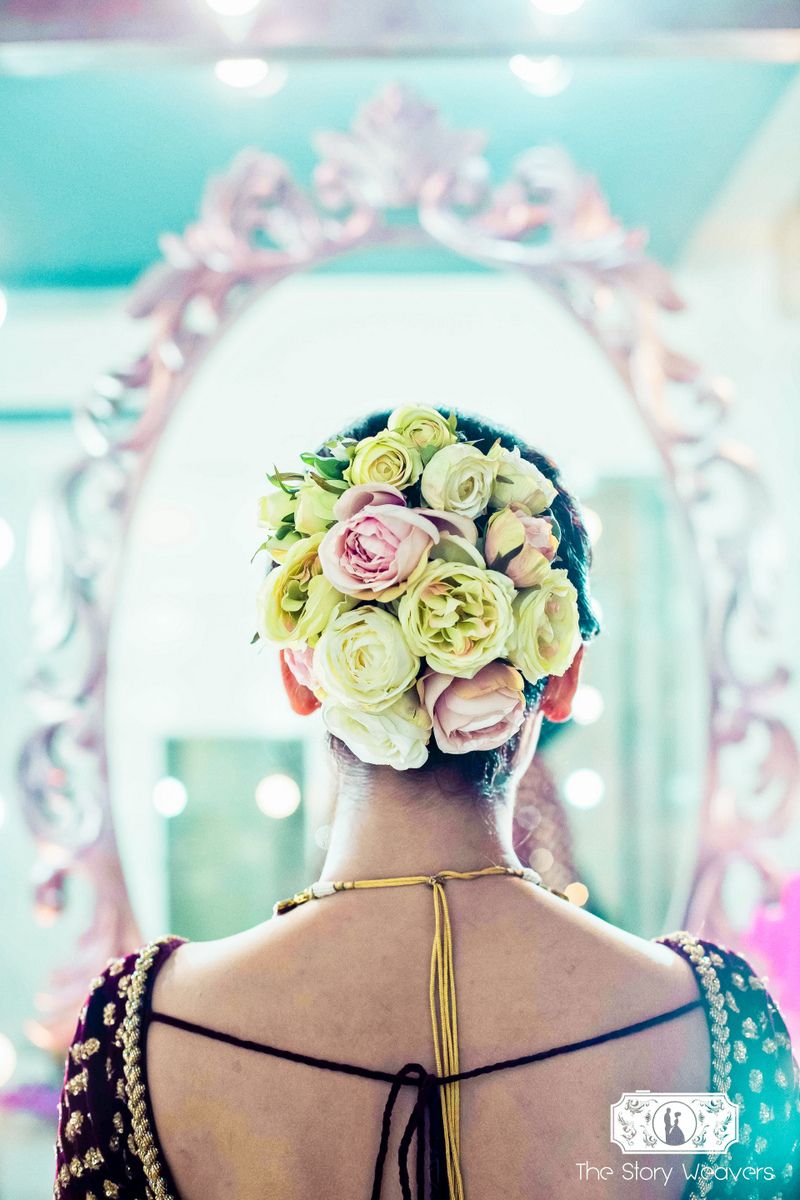 Image via The story weavers
Gajras on buns are conventional, but trying different flowers is a great idea! Roses, red or otherwise, add charm to a simple bun. In fact, not just roses, you could also consider other flowers like carnations, jasmine, lillies etc. You won't just look pretty, you'll smell lovely too!
2.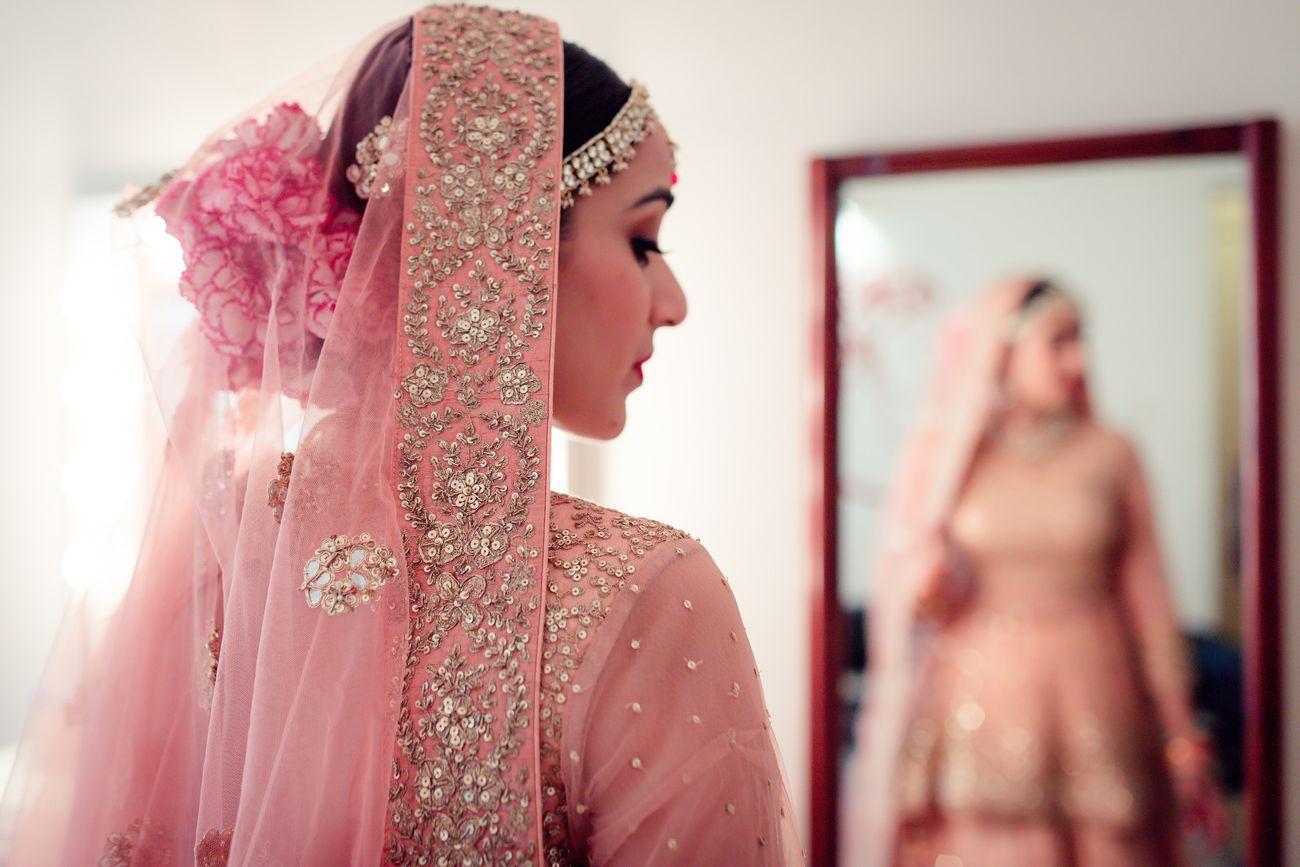 Image via The Wedding Conteurs★ 5
These pink roses matching with the bride's outfit look absolutely stunning! Flowers and buns are a typical Indian hairstyle for weddings and they look so graceful.
3.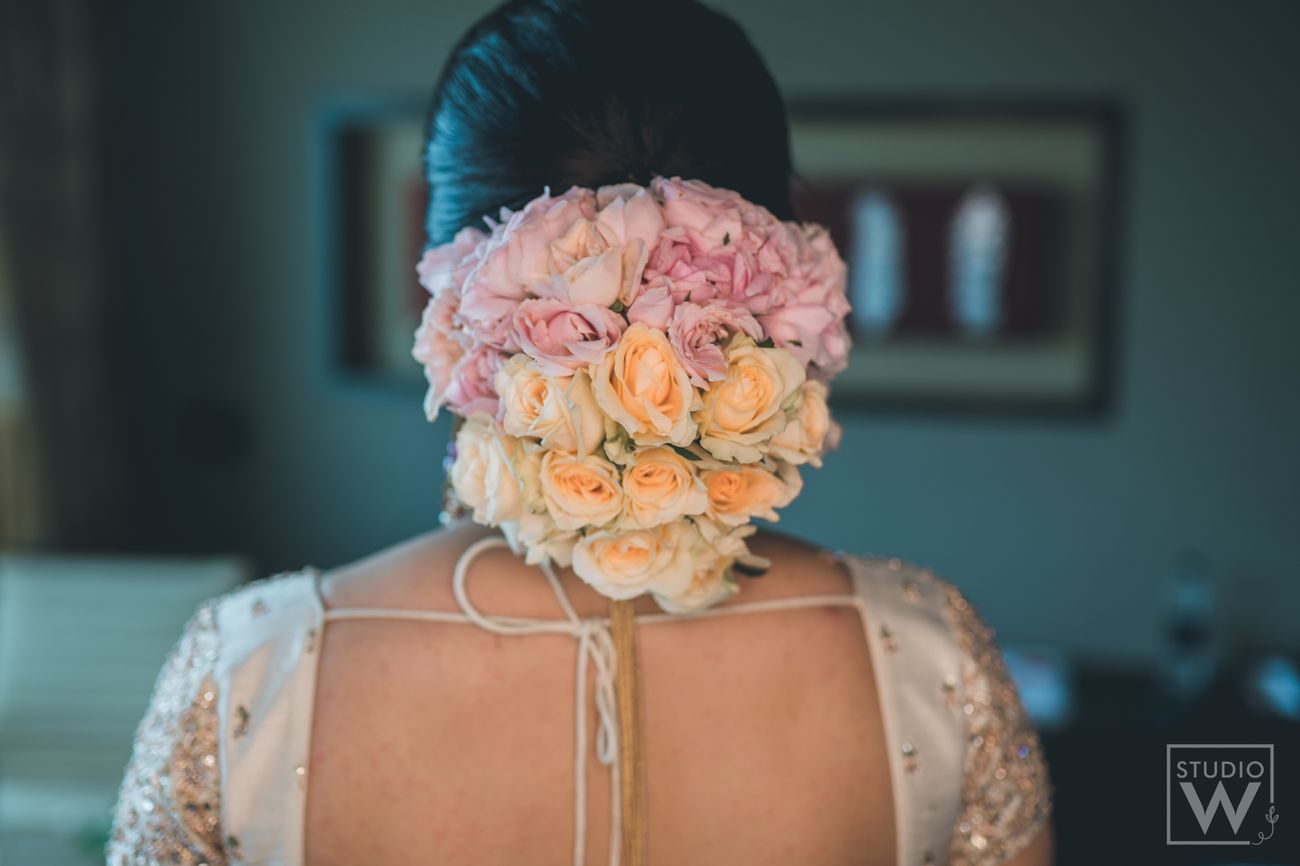 Image via Studio W- Photography & Live Stream Experts★ 4
Adding two subtle colours is also a great idea, like the bride here has used pink and yellow roses for her hairstyle at her wedding. You could use a mix of different flowers of different colours too!
4.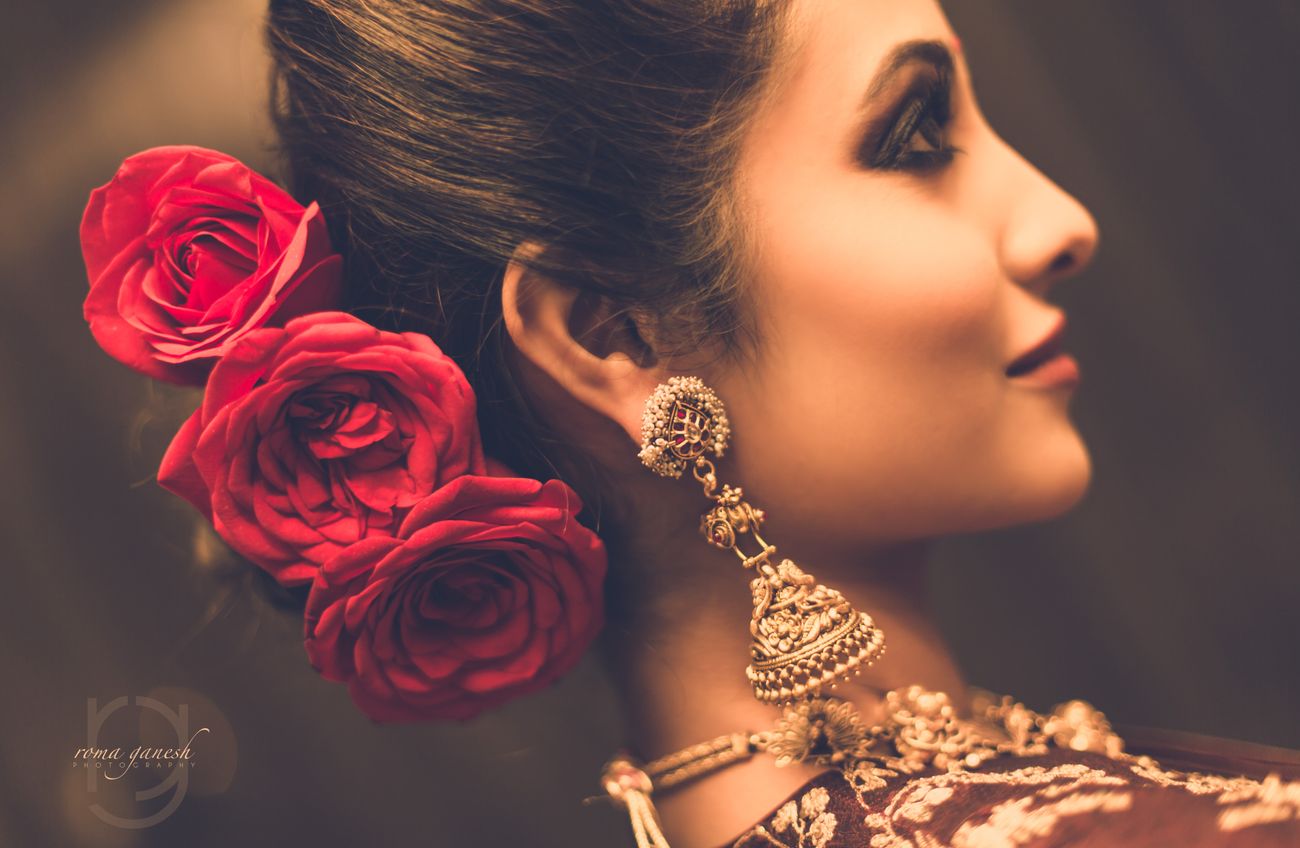 Image via Roma Ganesh Photography★ 5
Reds look amazing on an Indian bride and we cannot lie! Actually, red roses look lovely on everyone and make for a wonderful addition to any wedding hairstyle. These classic red roses add charm to any bride's outfit and her bridal bun!
5.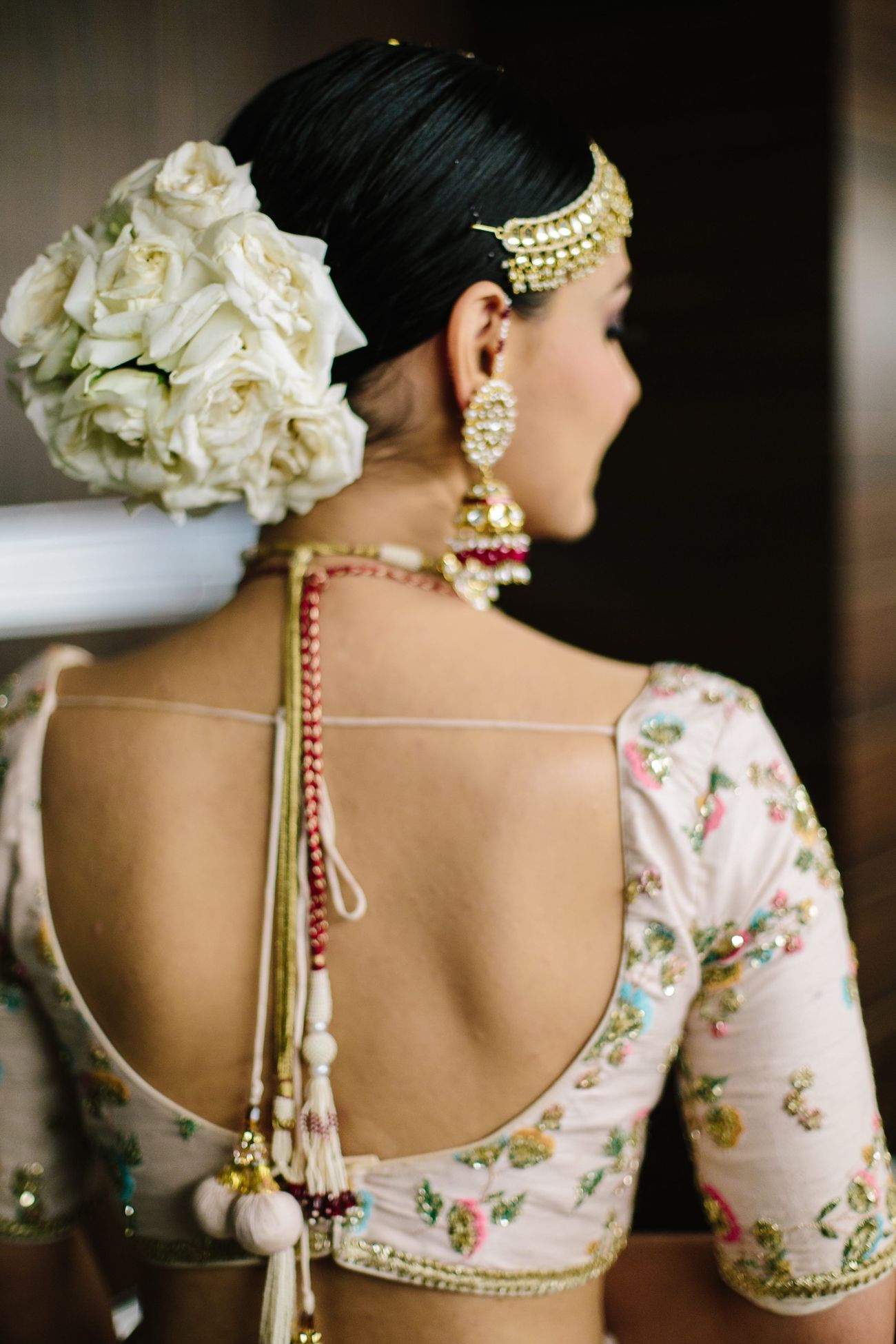 Image via We Dont Say Cheese★ 4.6
We can't get over how absolutely gorgeous this bridal hairstyle looks! The white roses soothe the eye and balance all the bling!
6.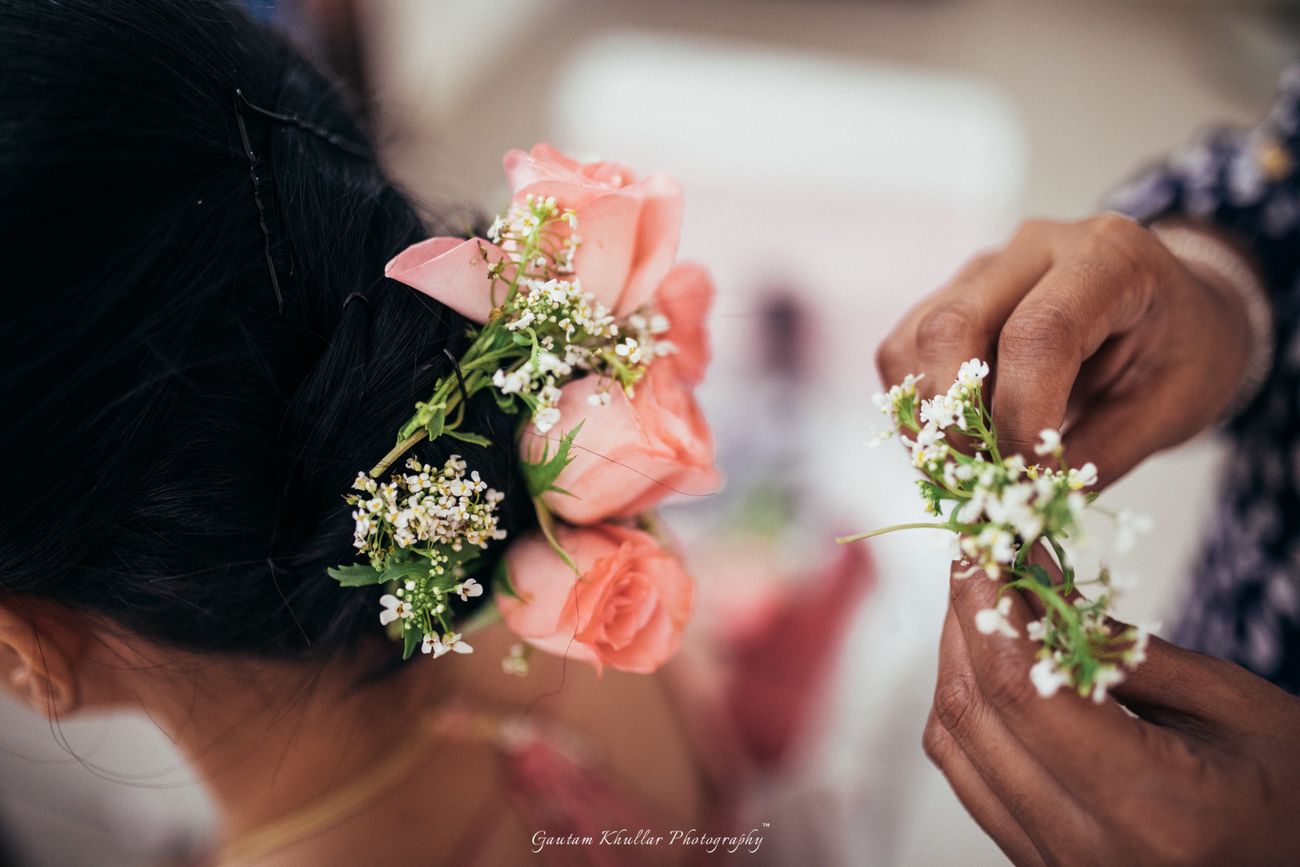 Image via Gautam Khullar Photography★ 4.8
These cute peachy pink roses are complemented beautifully by baby breaths. Adding baby's breath to your wedding hairstyle is the latest trend, because they break the monotony and add some layers to your wedding hairstyle.
7.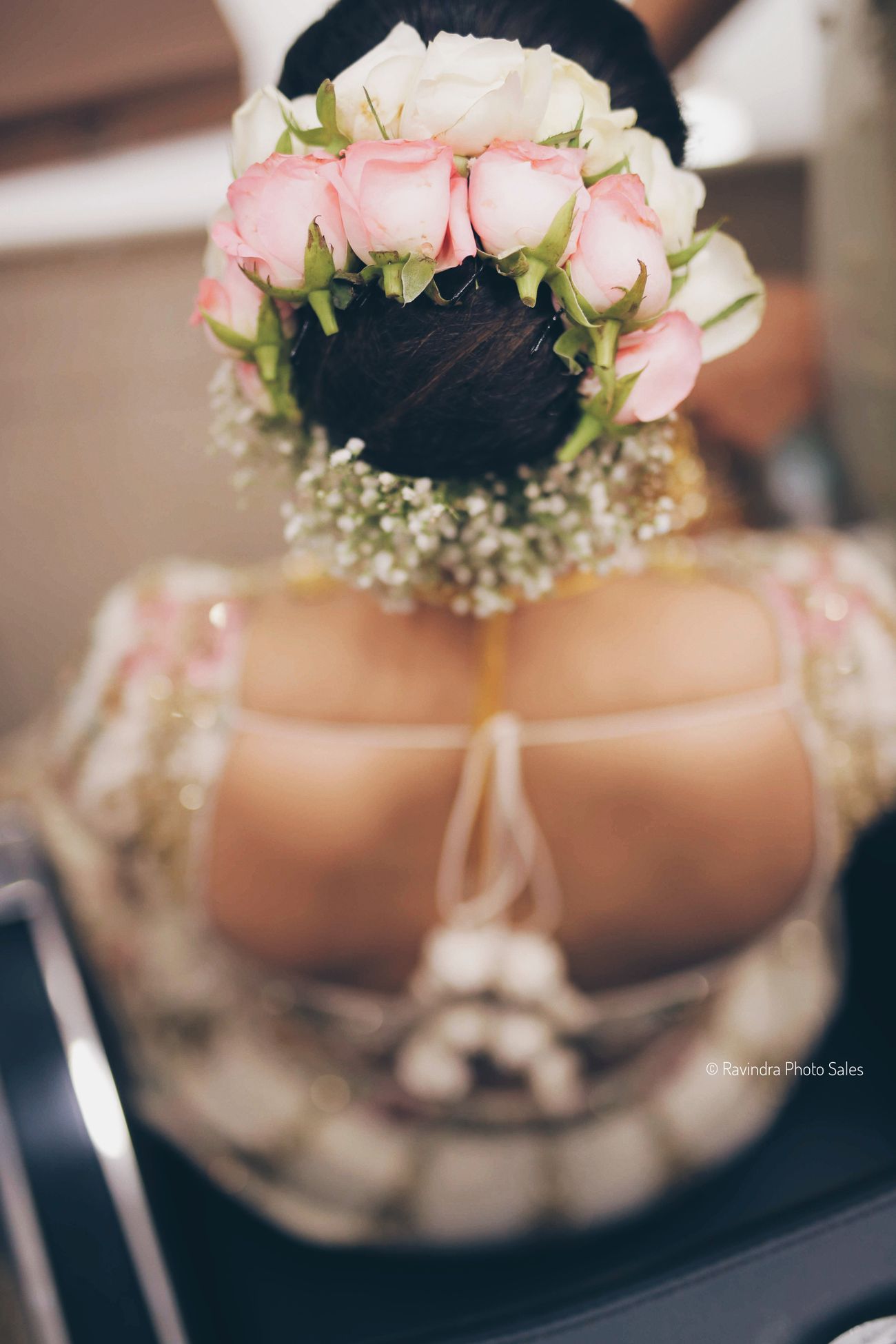 Image via Ravindra Photo Sales★ 4.8
Give the bun embellishments a little twist and tuck the flowers horizontally instead of vertically for a different, fresh look.
8.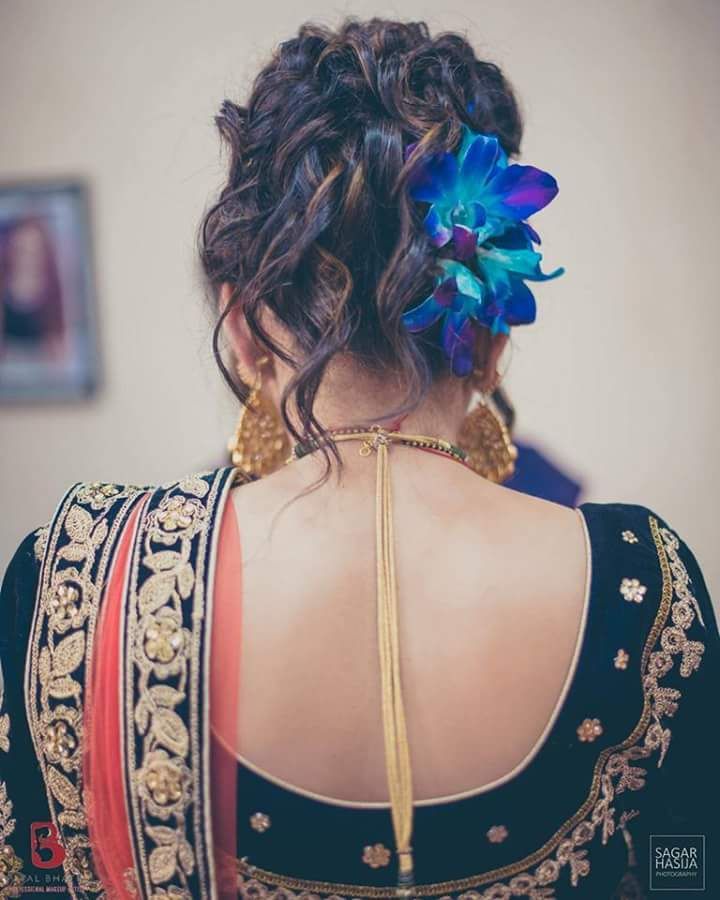 Image via Pinterest
We love this simple and elegant wedding hairstyle. It is ideal for the bride as well as the bridesmaids, or anybody attending a wedding. A bun with curls and blue lilies contrasting with the dupatta is looking chic and stylish!
9.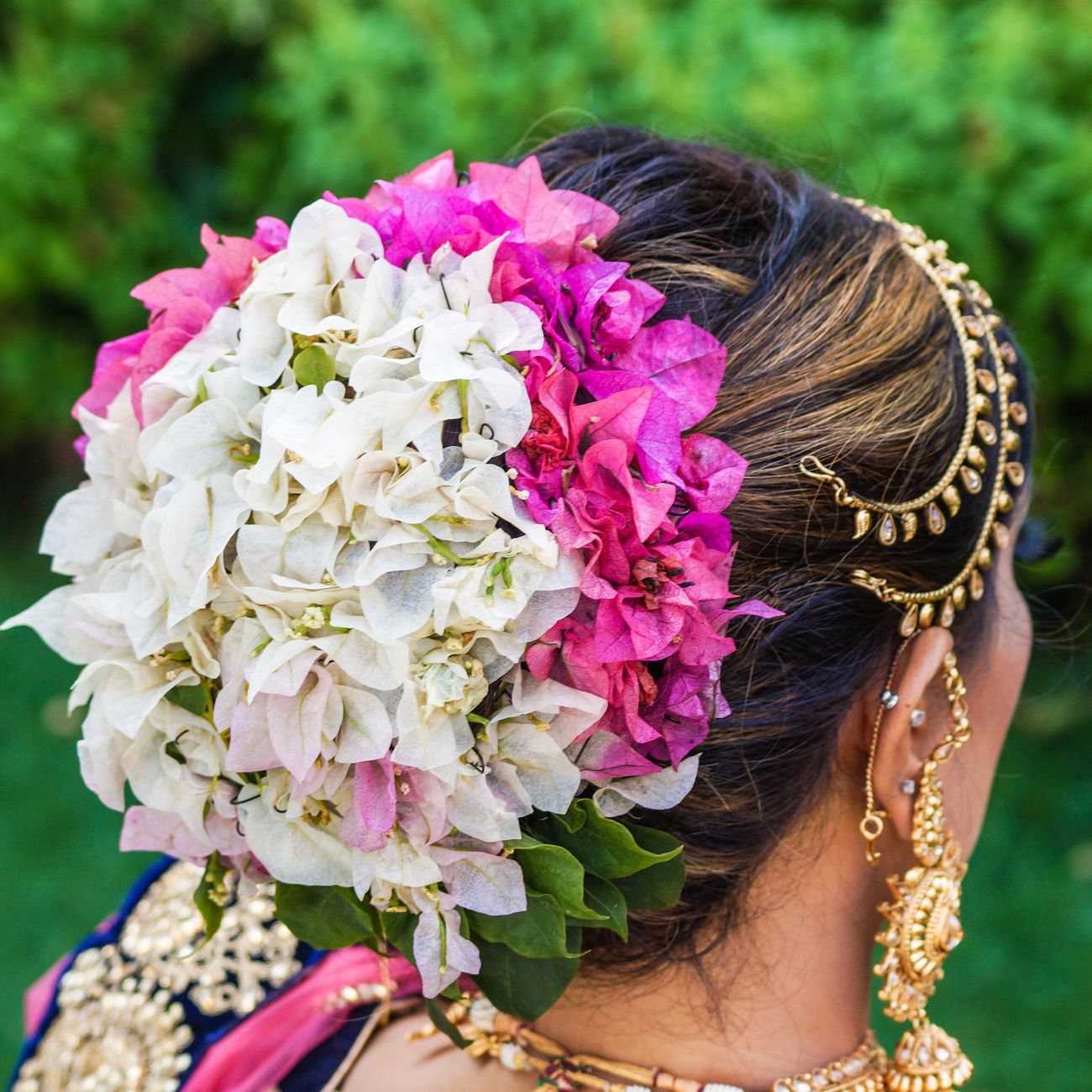 Image via Saura Salon★ 5
We are absolutely mesmerised by the stunning use of unconventional bougainvilleas instead of the traditional gajras and roses. She has taken the traditional hairstyle and given it an interesting twist.
10.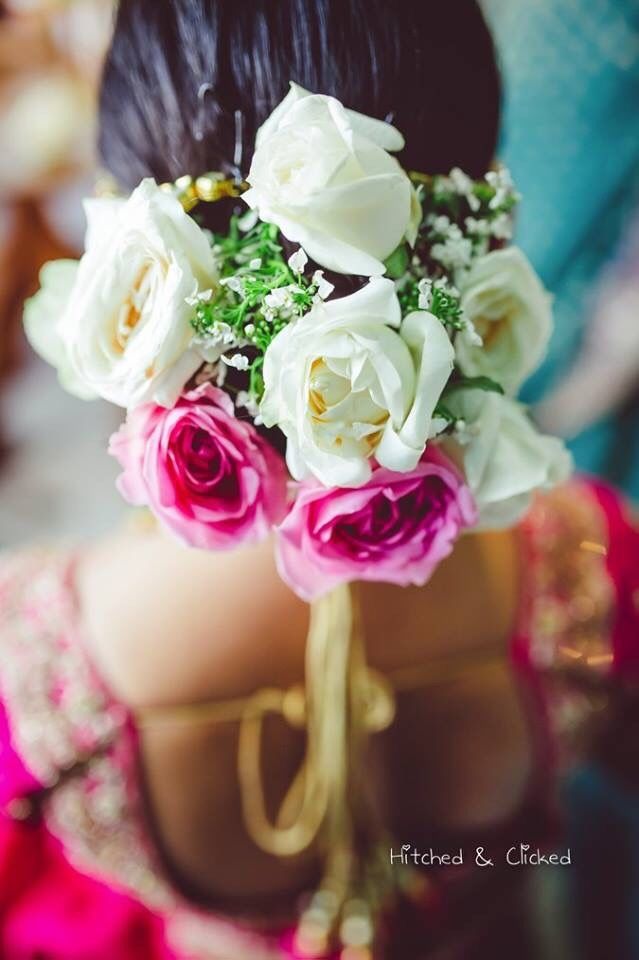 Image Via Sheetal Dang Gupta Makeup Artistry★ 4.9
White, pink and baby breaths, how elegant this looks!
11.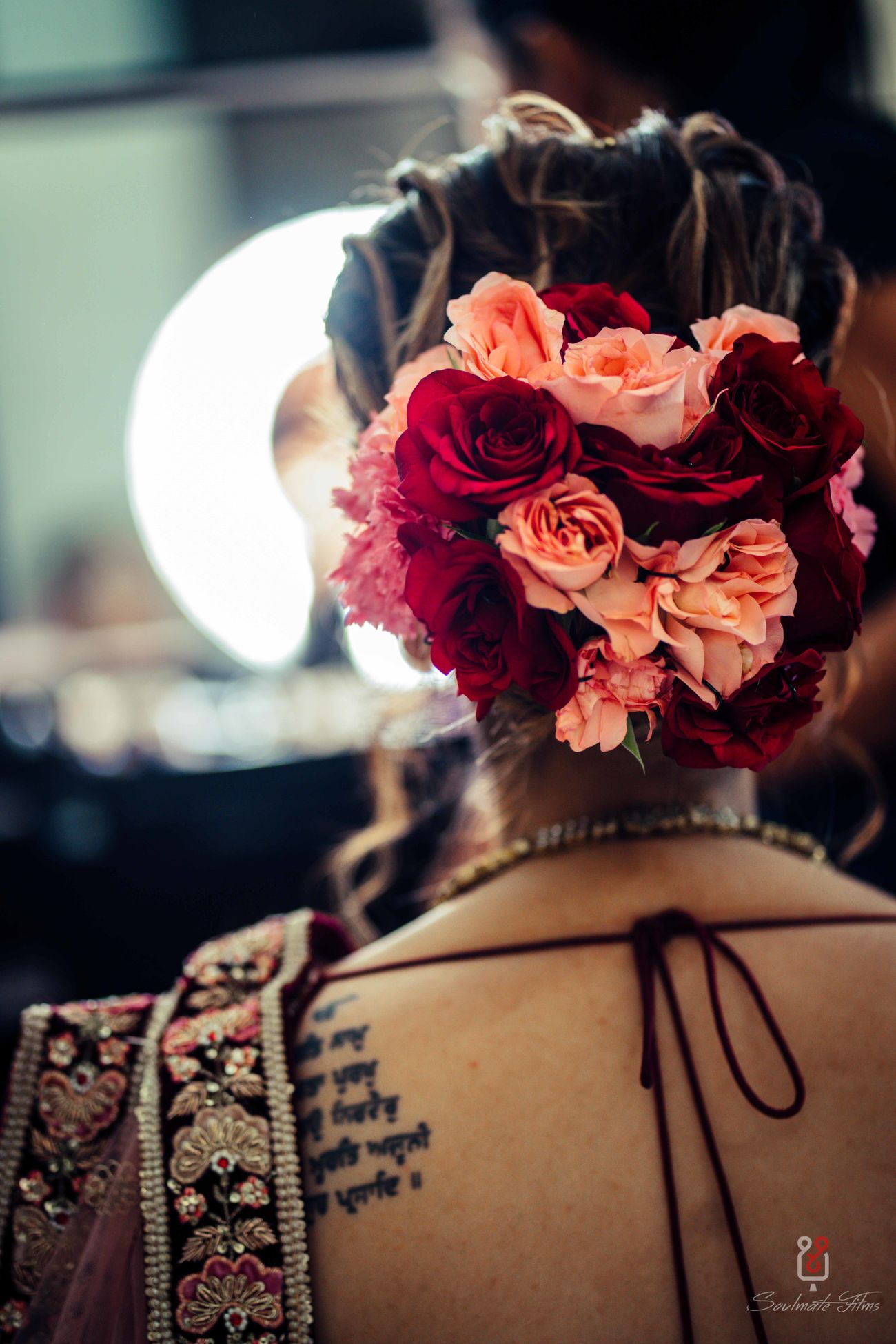 Image via Soulmate Films★ 4.7
This flower tucking in the shape of a heart has all our hearts! The use of red and peach roses looks gorgeous, and is such a unique combination.
12.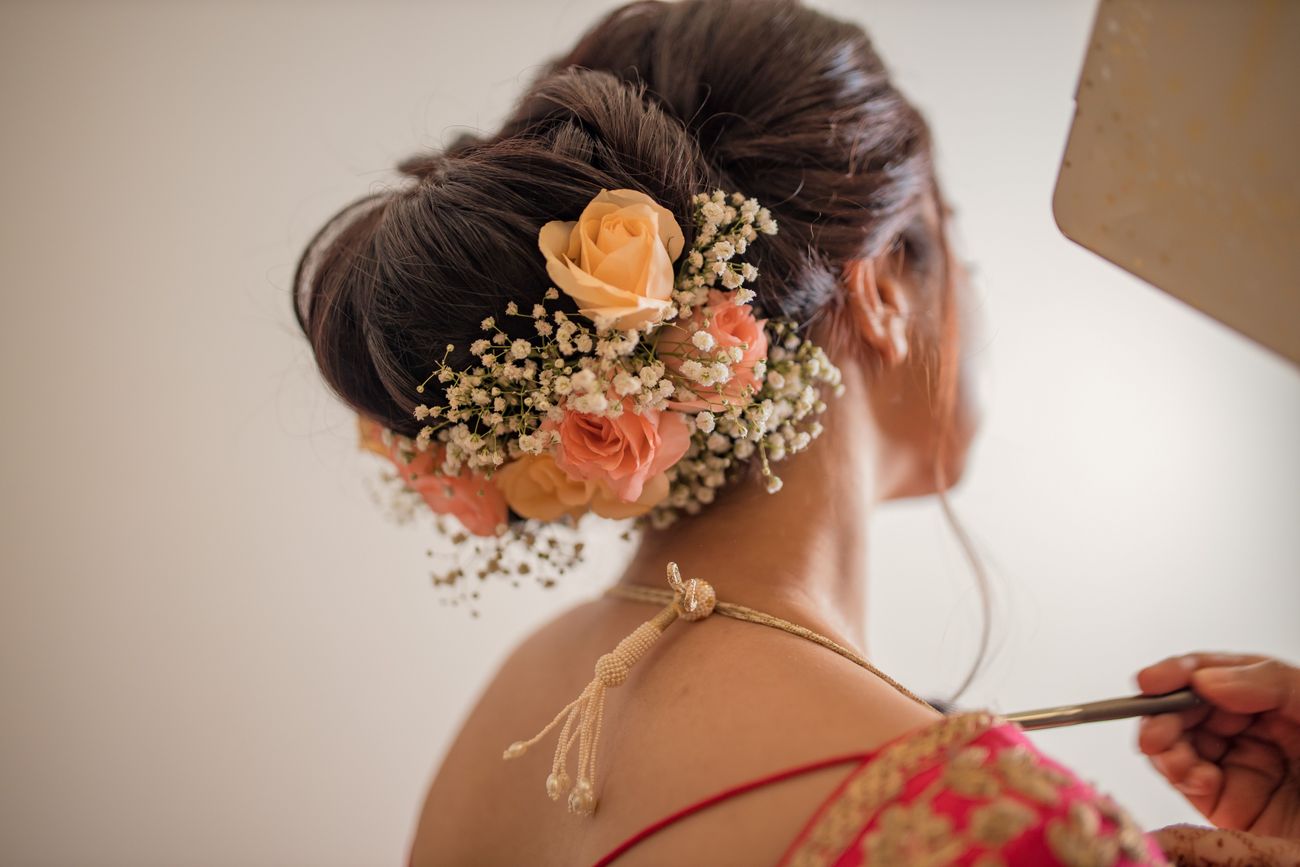 Image via Makeup by Saakshi Takiar★ 4.9
Classic peach roses and baby breaths on a heavy bun and thin tendrils of hair on both sides adds a layer of elegance to an already gorgeous wedding hairstyle. The bun is also different from the regular buns, with interesting twists and turns to it.
13.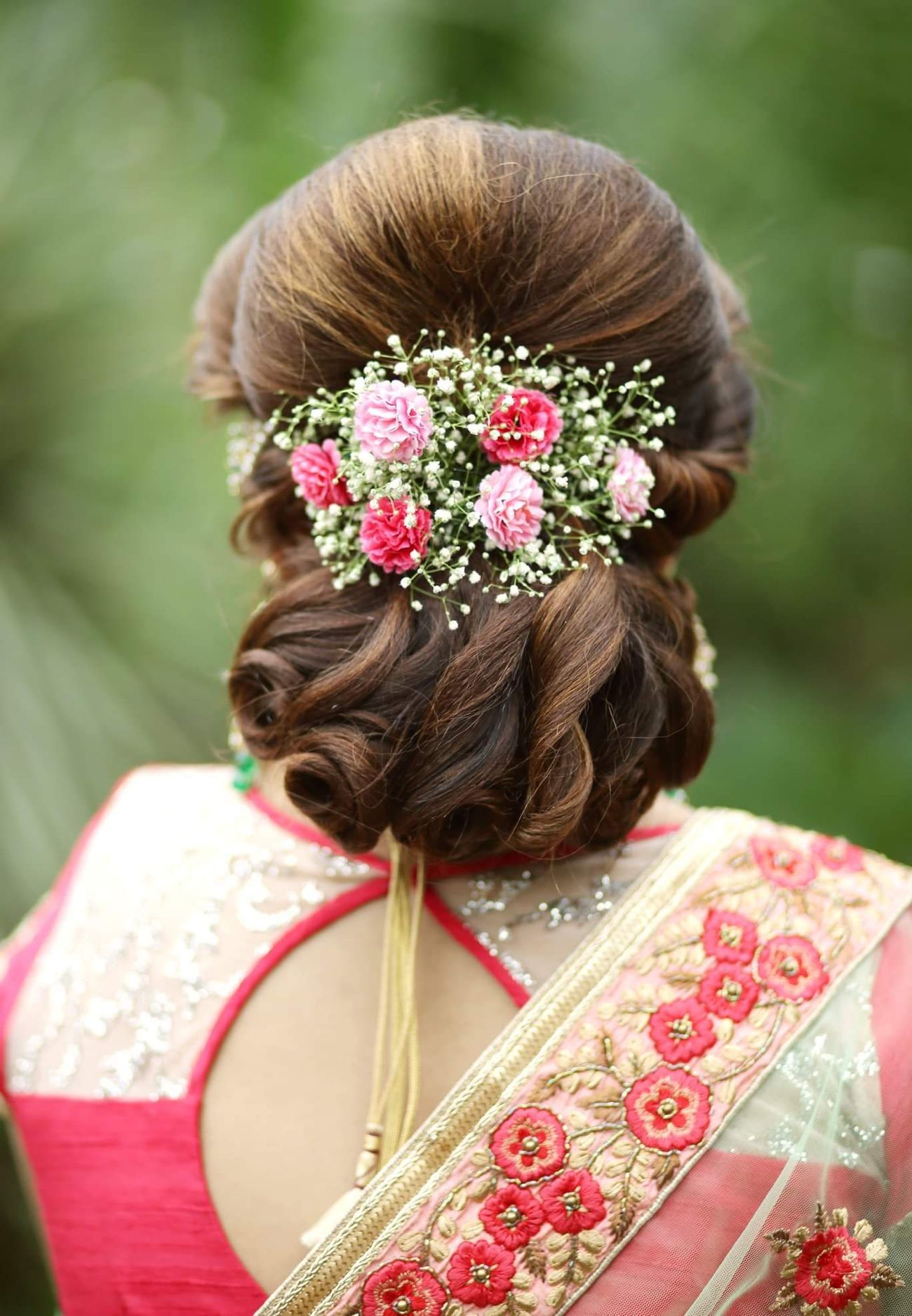 Image via Archana Thakkar Bridal Studio★ 0.5
You need not always use big flowers! If your bun is a complicated one as this is, use tiny flowers like these carnations to highlight the hairdo. This is also a lovely style for the bride's mother or mother-in-law.
14.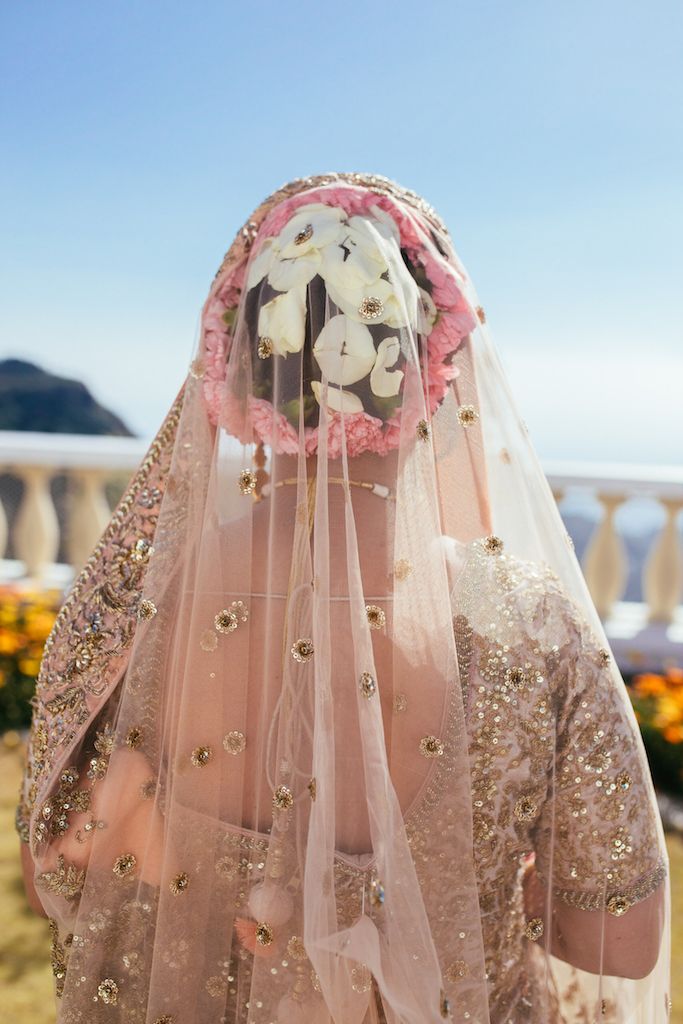 Image via wedmegood
This combination just screams understated elegance. The white off-sets the pink splendidly. The bride has matched her flowers beautifully to her outfit, without going overboard. Fix a heavy bun and use two colours of flowers on and around for a different kind of Indian wedding hairstyle
15.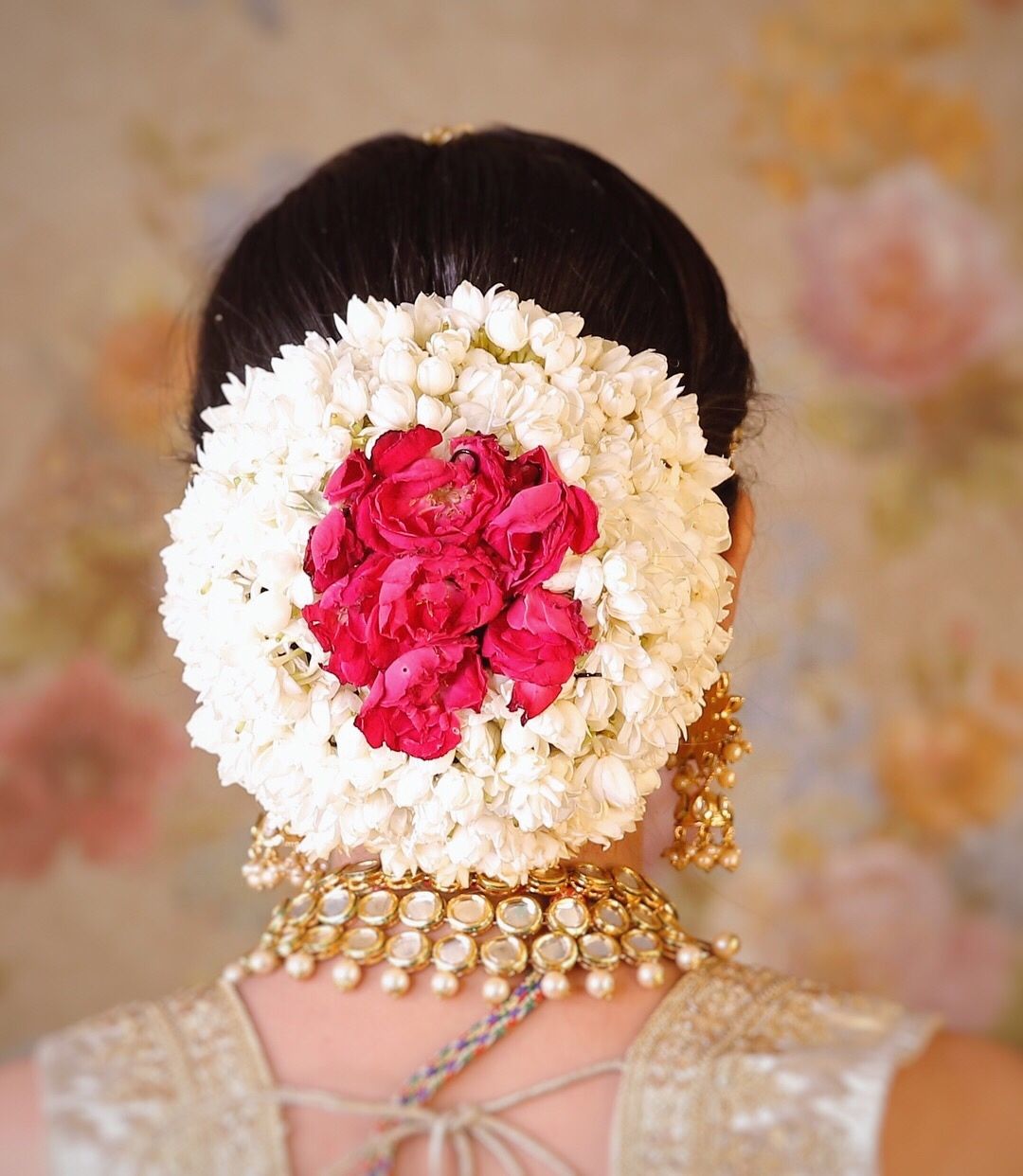 Image via Pinterest
Don't wanna ditch the gajra? Don't. Add a bunch of roses for a pop of colour and get ready to slay!
16.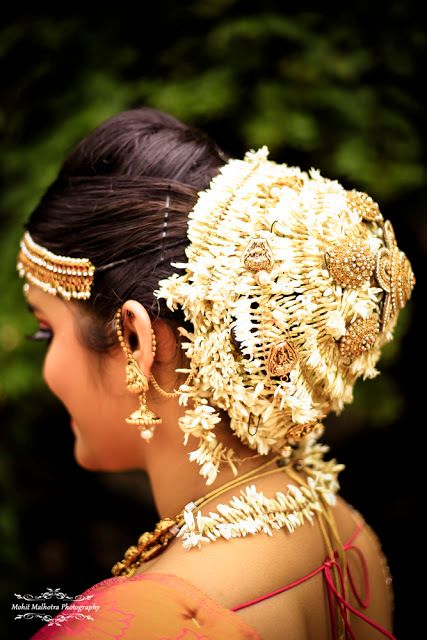 Image via Mohit Malhotra Photography★ 5
Ornaments, ornaments! If you're looking for ideas for South Indian bridal hairstyles, then go for golds and classic flowers like this one with the use of gold jewellery for hair and a traditional gajra on the bun!
17.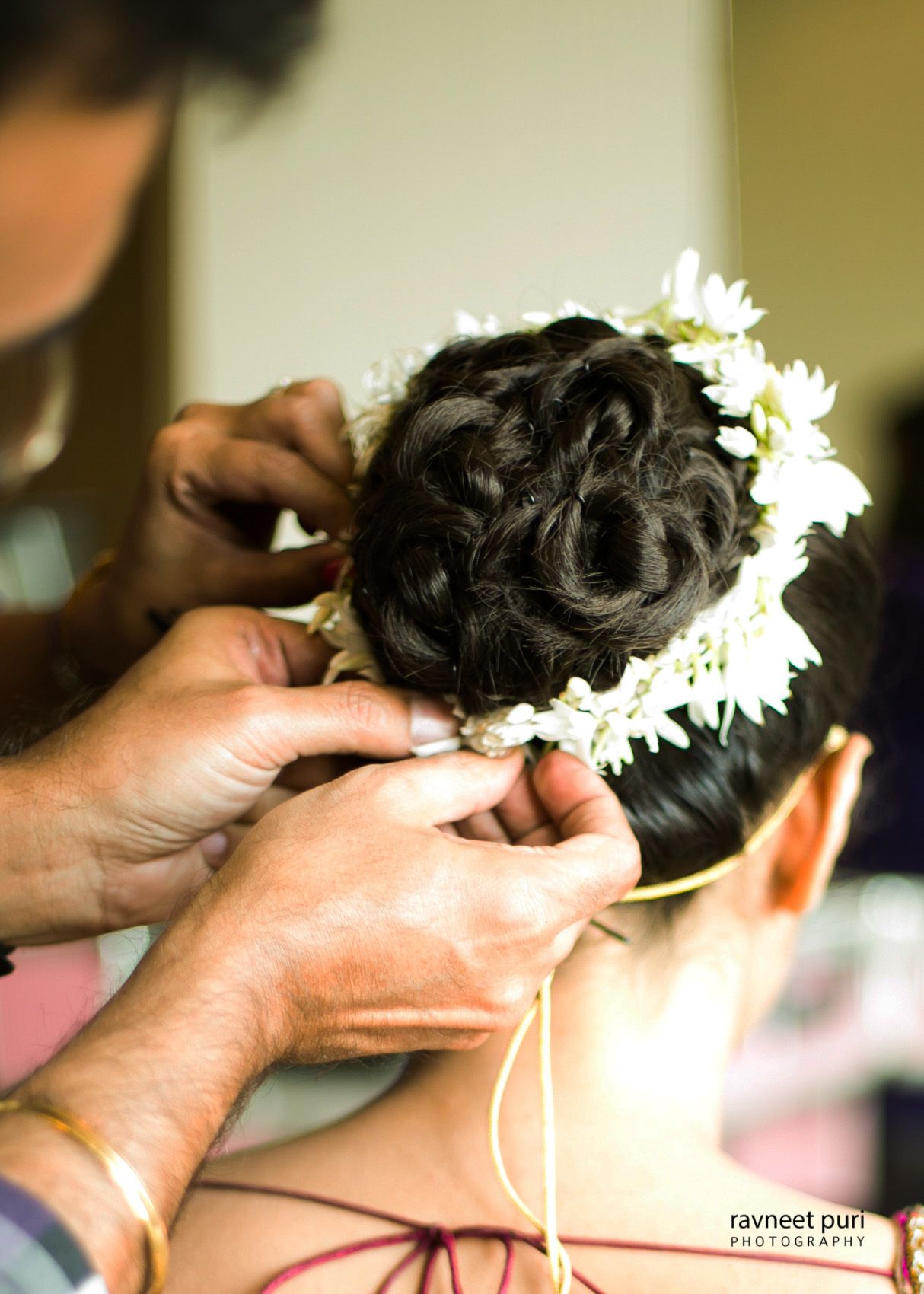 Image via Ravneet Puri Photography★ 5
This: another wonderful way to glam up Indian bridal hairstyle for your wedding! Add a little braid for added glam! The twists and turns add a delicate touch to the traditional wedding bun. It is a wonderful 'Dulhan' hairstyle and just perfect if you are looking for something a little different.
18.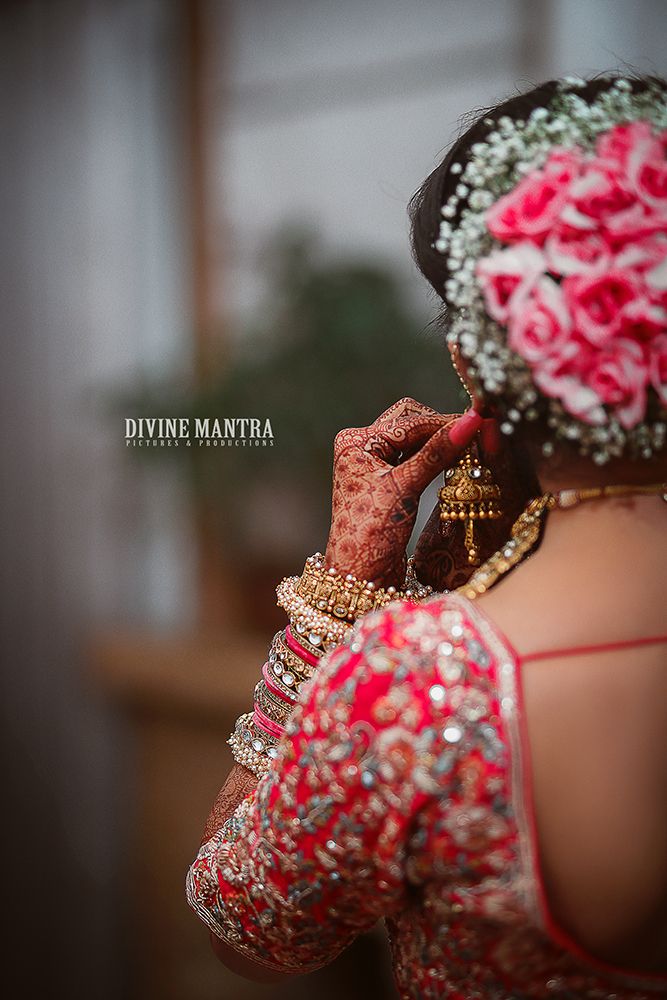 Image via Divine Mantra ★ 4.2
Less of flowers, more of baby breaths! You can totally kill in a twisted bun with a lot of fresh baby breaths for a flawless hairstyling.
19.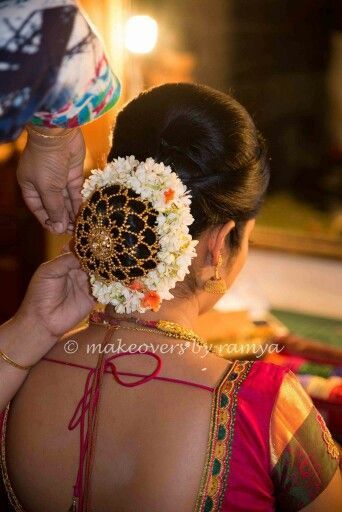 Image via Pinterest
This flower net is super adorable and looks very traditional as well. Pair with some kind of small head gear or gajra to complete the look.
20.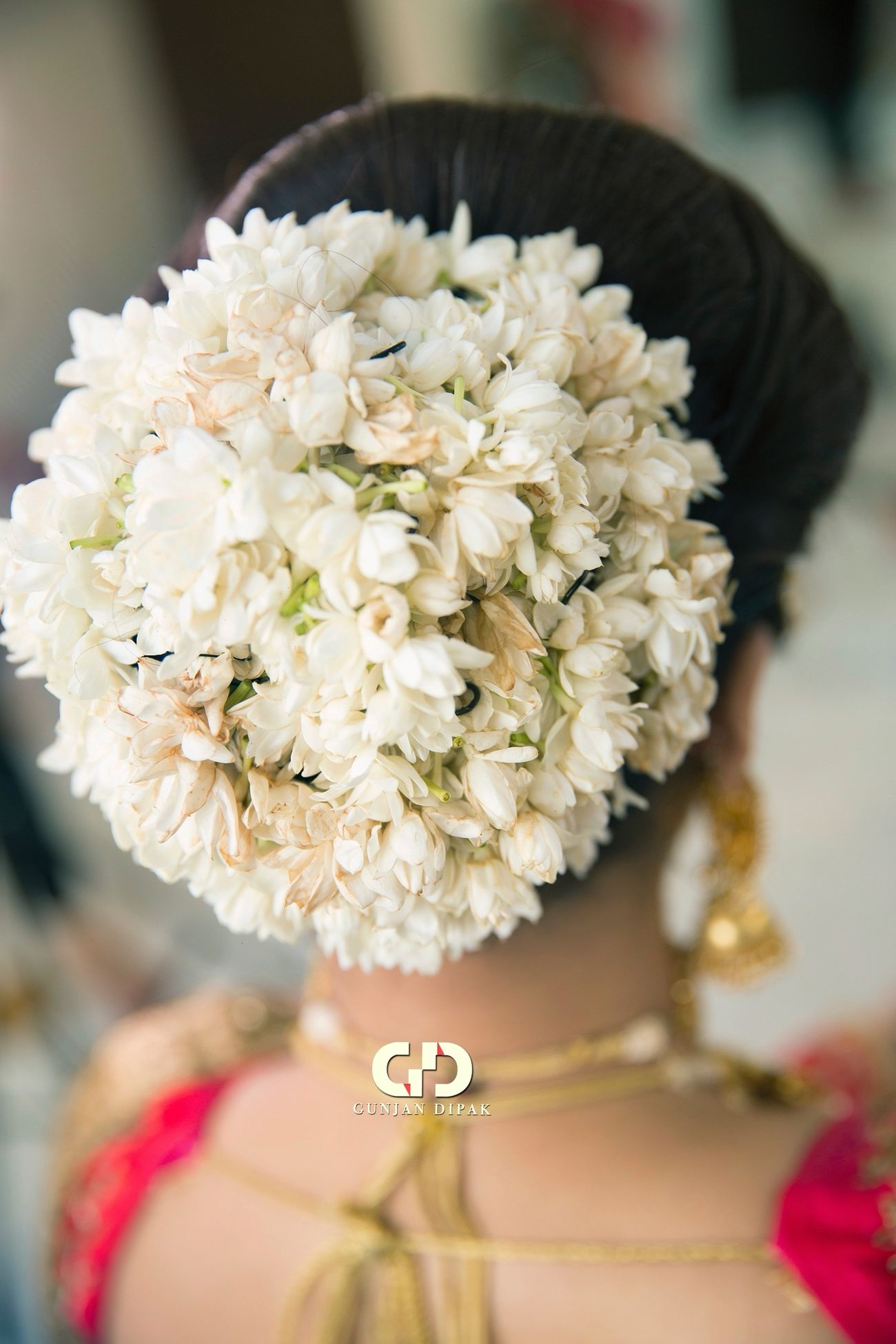 Image via Pinterest
Cover it all up with a long gajra and keep your jewellery lighter for a balanced look. This is a perfect option for bridal hairstyle for long hair.
21.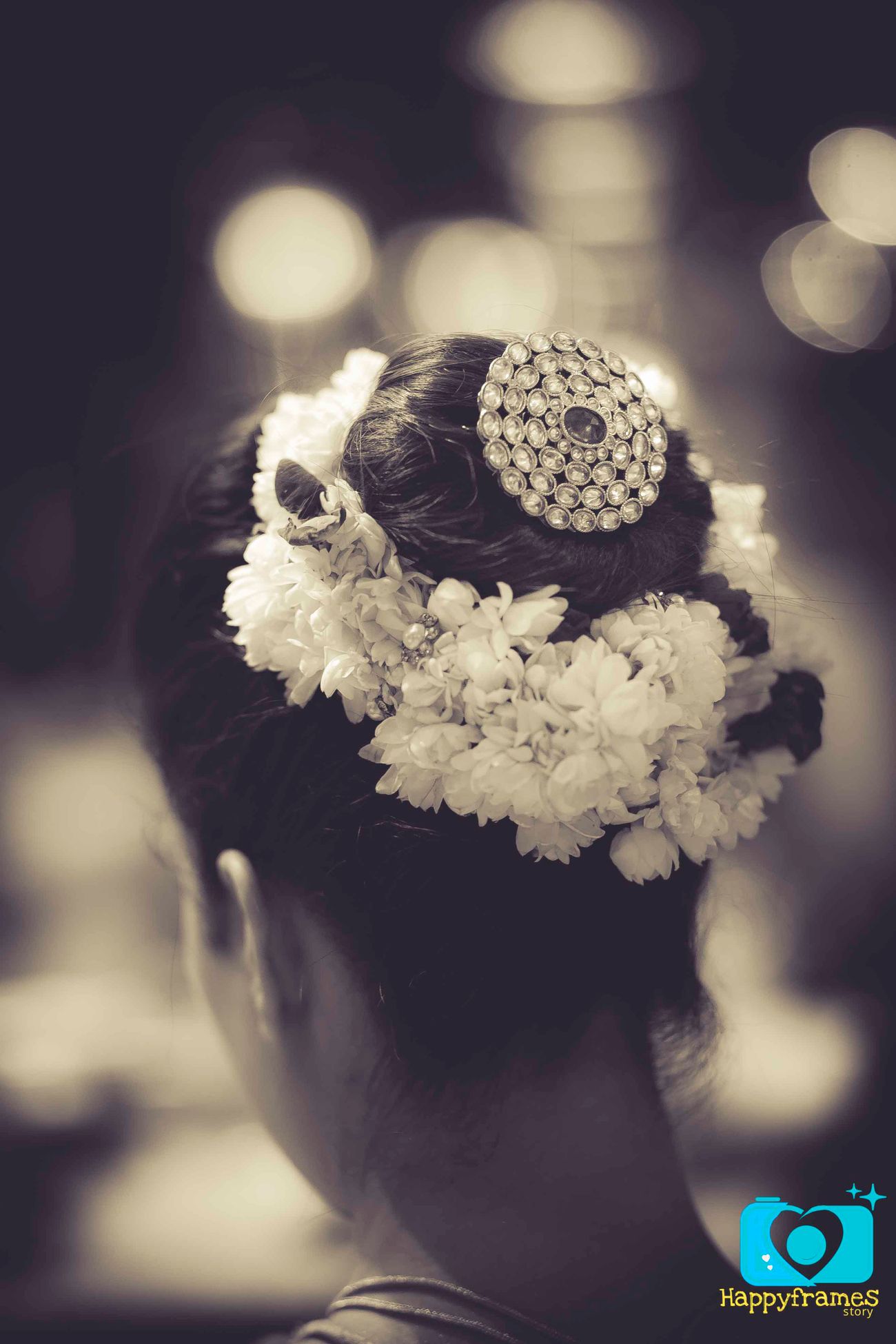 Image via Happyframes★ 4.9
You can add a fancy hair brooch along with the gajra for a different look.
22.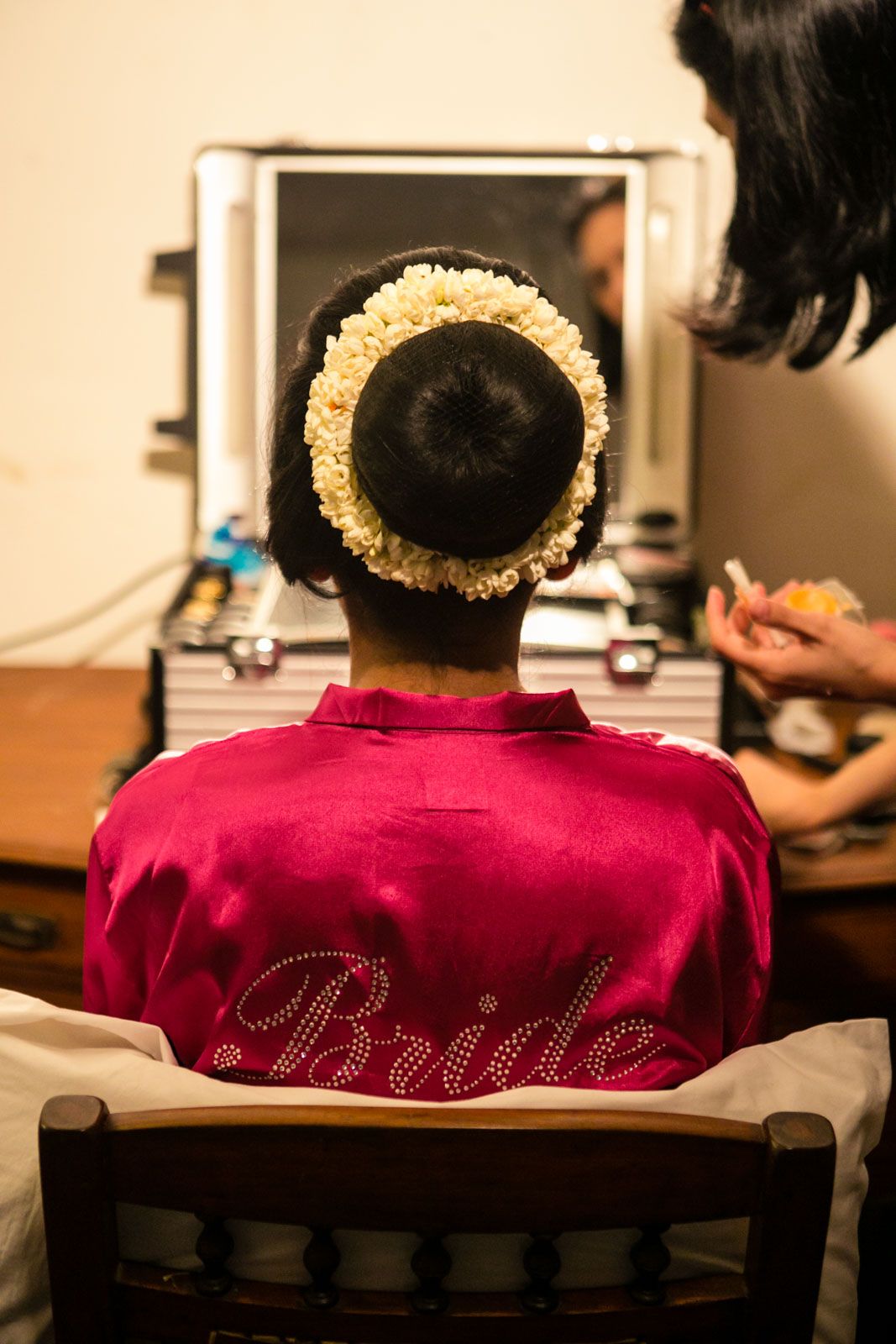 Image Via Ankit Singh★ 5
Keep it minimal, and use a simple gajra instead of a big bulky one. Let your dense hair speak for themselves!
23.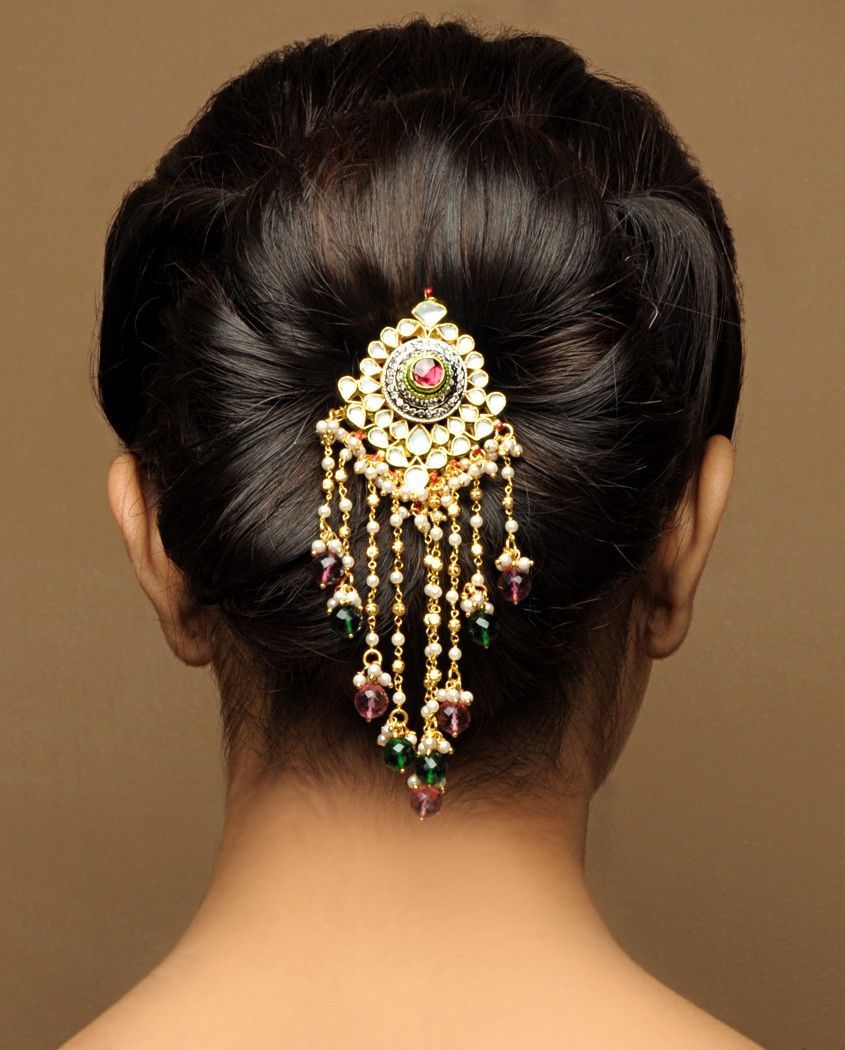 Image via Pinterest
Accessorize your bun with a jhumka hair brooch for an elegant and classic Indian bridal hairstyle. This type of a hair accessory looks very delicate and elegant and doesn't give the hair an overdone look
24.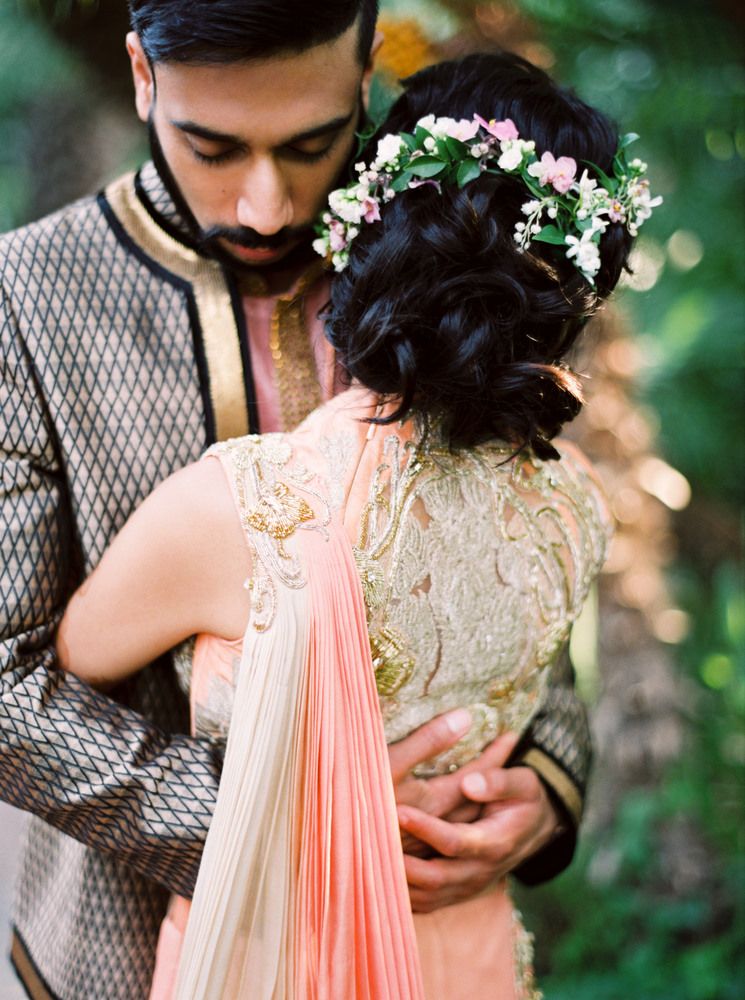 Image via Gaurav Gupta★ 4.9
Instead of a tight, conventional bun, get this kind of a hairdo, where your hair is pinned together in wispy ringlets. Embellish it with a few flowers or even a wreath, if you prefer. This type of a hairstyle is perfect for a sangeet or cocktail function.
25.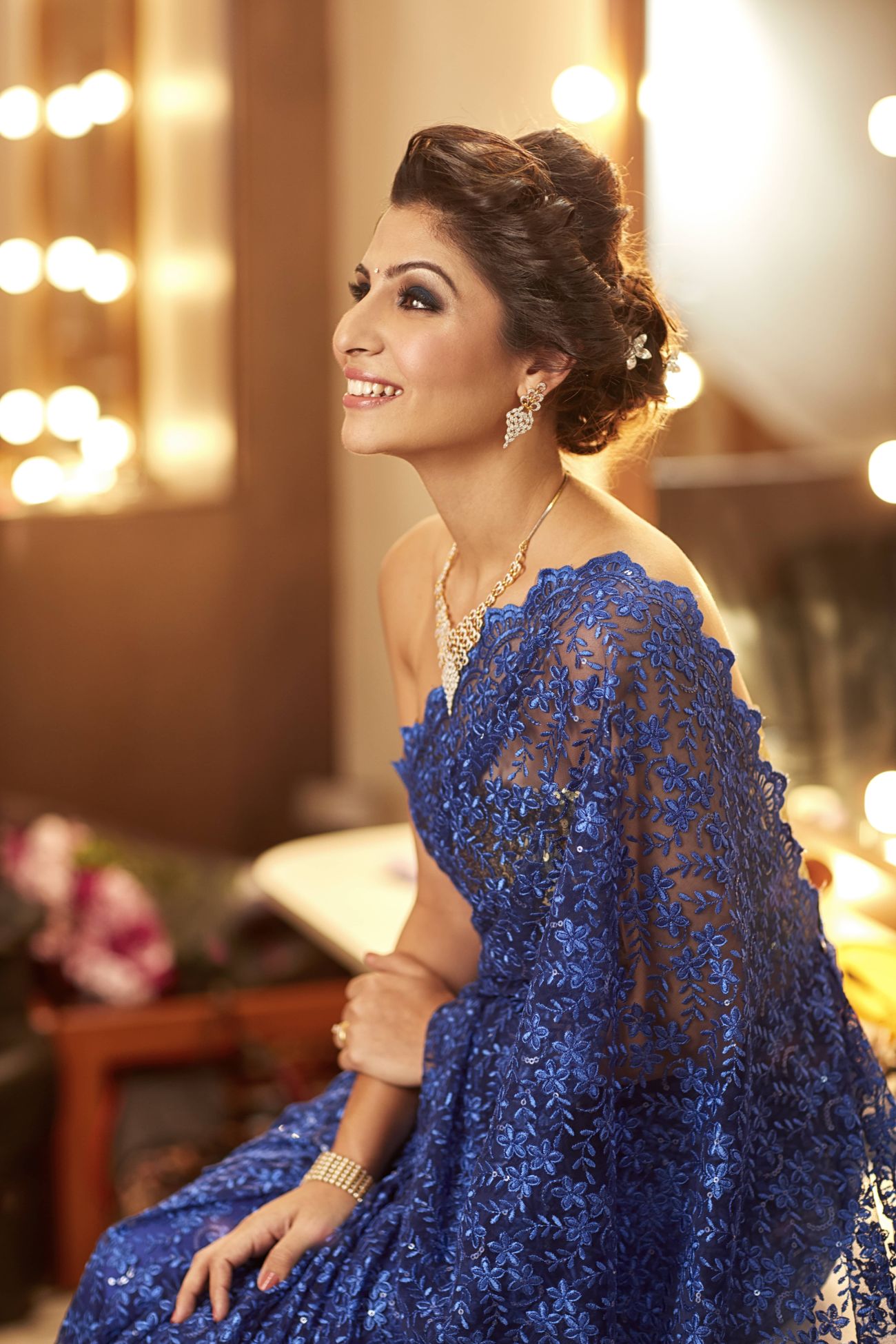 Image via Golden Clouds Wedding
Instead of using any accessory, simply use hair extensions and puffs and beautify your bun by braiding and curling at the right places! All you brides who dont have long locks, this is a perfect bridal hairstyle for short hair.
26.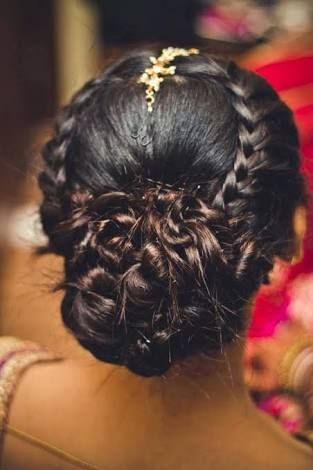 Image via Pinterest
Braid your hair into french-tails and fish-tails and wrap it up into a bun. This is such a refreshing take on the traditional bridal bun. Instead of being higher on the head, making a bun on the nape of the neck, gives softer, more elegant look. This is a wonderful hairstyle for any of the pre-wedding functions such as the shagan, mehendi or even the sangeet. A great Indian hairstyle for long hair!
27.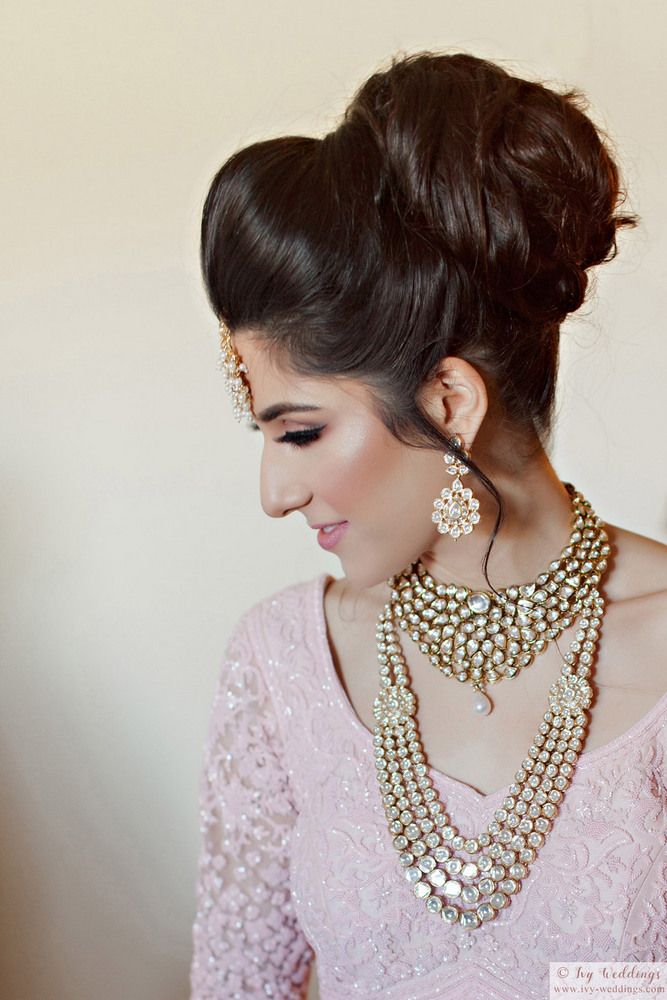 Image via Matt and Ivy for Ivy Weddings
If you're a fan of high puffs, then this is the style for you! Make a high puff in the front with your hair swept up into a high bun. Use a maang tikka if you want to, but because this is a slightly western take on the traditional Indian wedding bun, no other embellishments are required. Take out a few strands and curl them up for a perfect look.
28.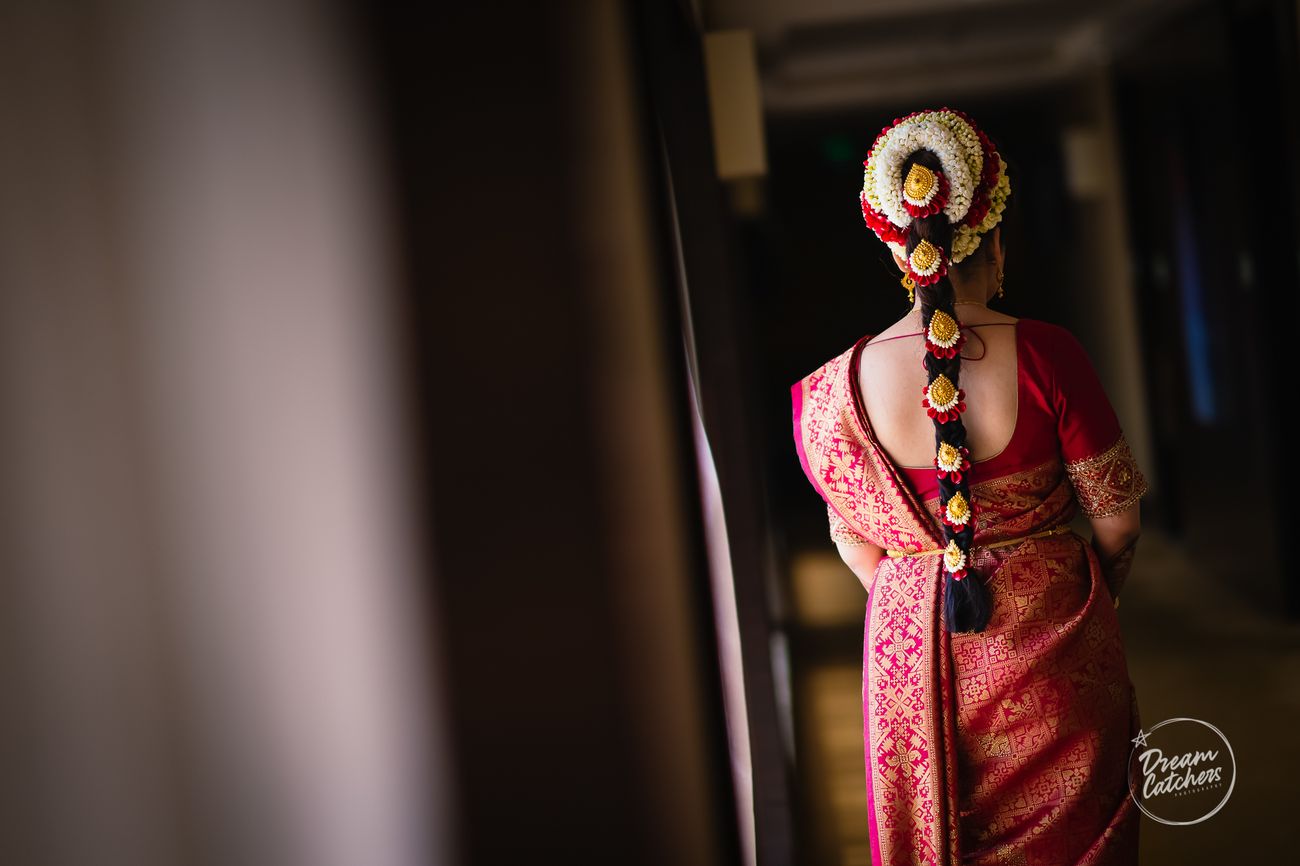 Image via Dreamcatchers Photography★ 4.9
South Indian hairstyles make us drool! This combination of the bun with the thick braidis absolutely stunning. These lovely ornaments, known as 'billai' along the length of the braid, just make it more elegant!
29.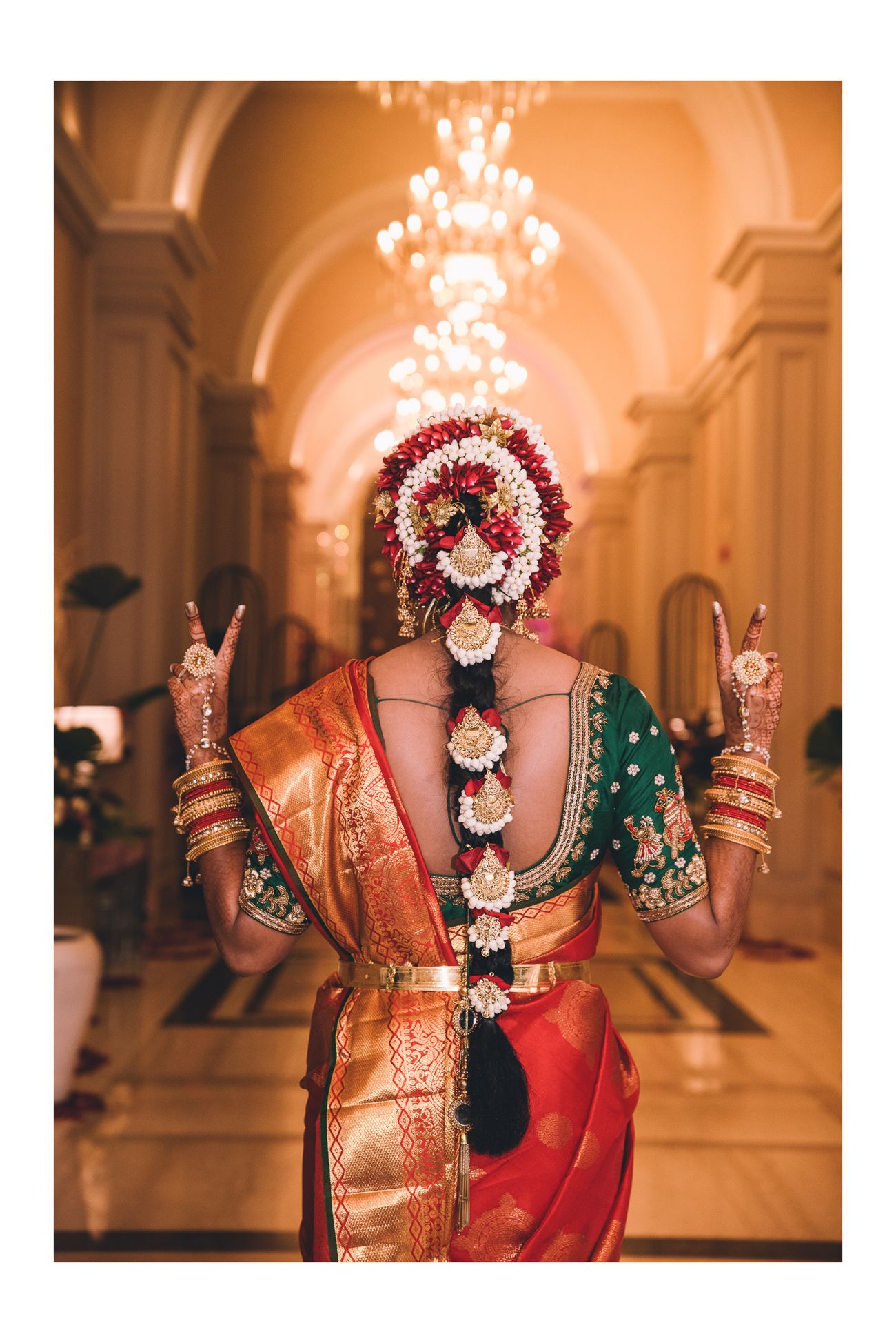 Image via Bugzy's Photography★ 4.8
This south Indian bridal hairstyle caught our attention as we scrolled through, because this bride has used red flowers along with the gajra and we love it!
30.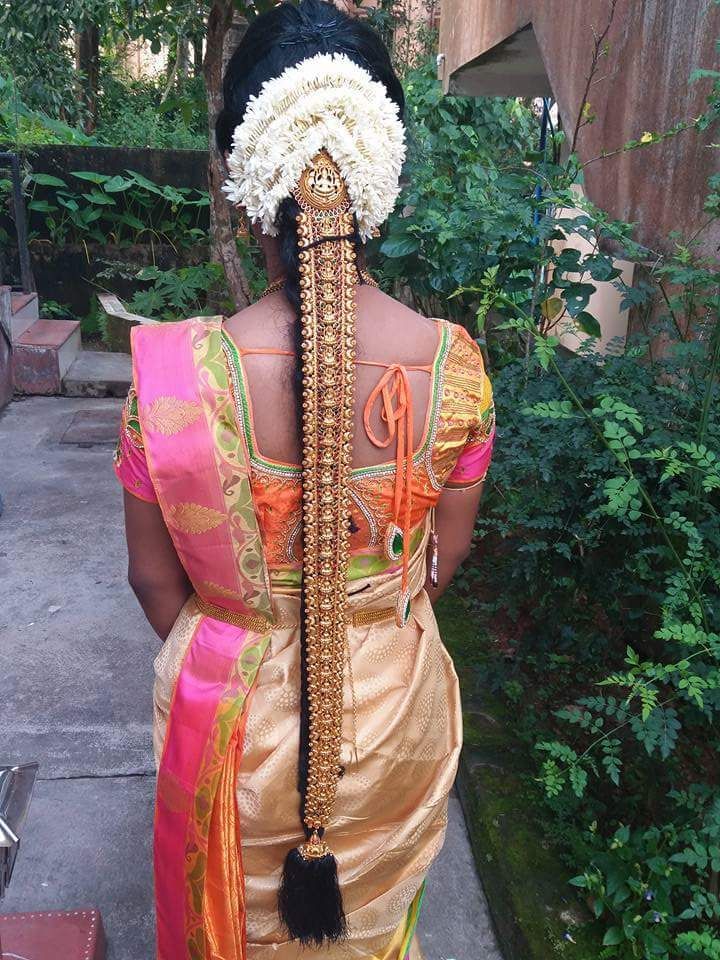 Image via Pinterest
Flowers+ gold? Check! What more do you need in an Indian wedding hairstyle?
31.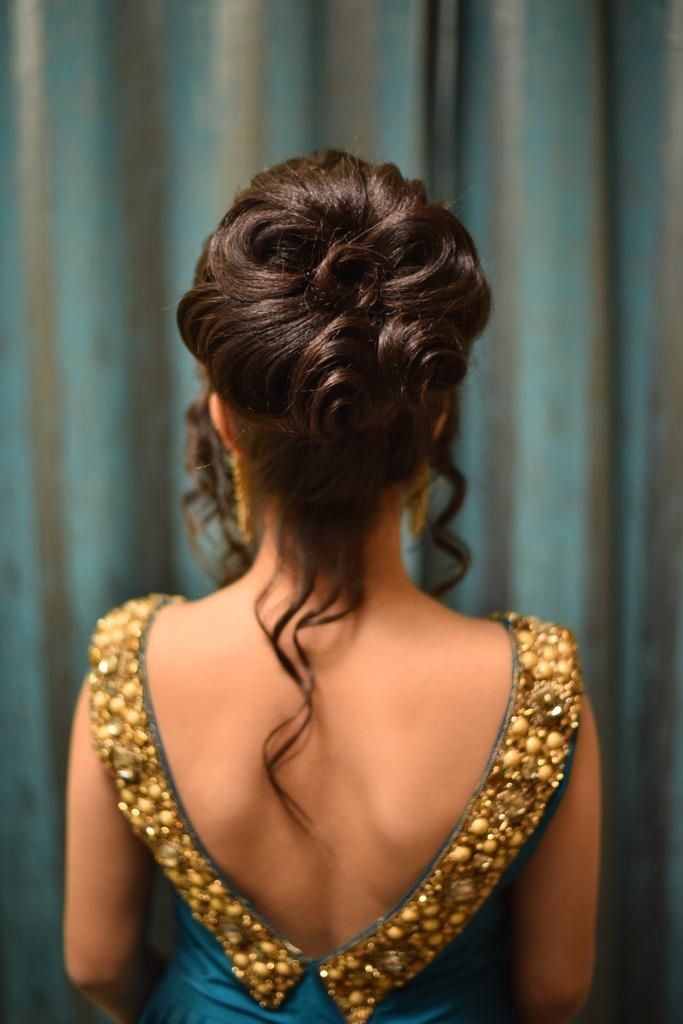 Image via Pinterest
Keeping it simple and wonderful and letting a few strands loose. How gorgeous!
32.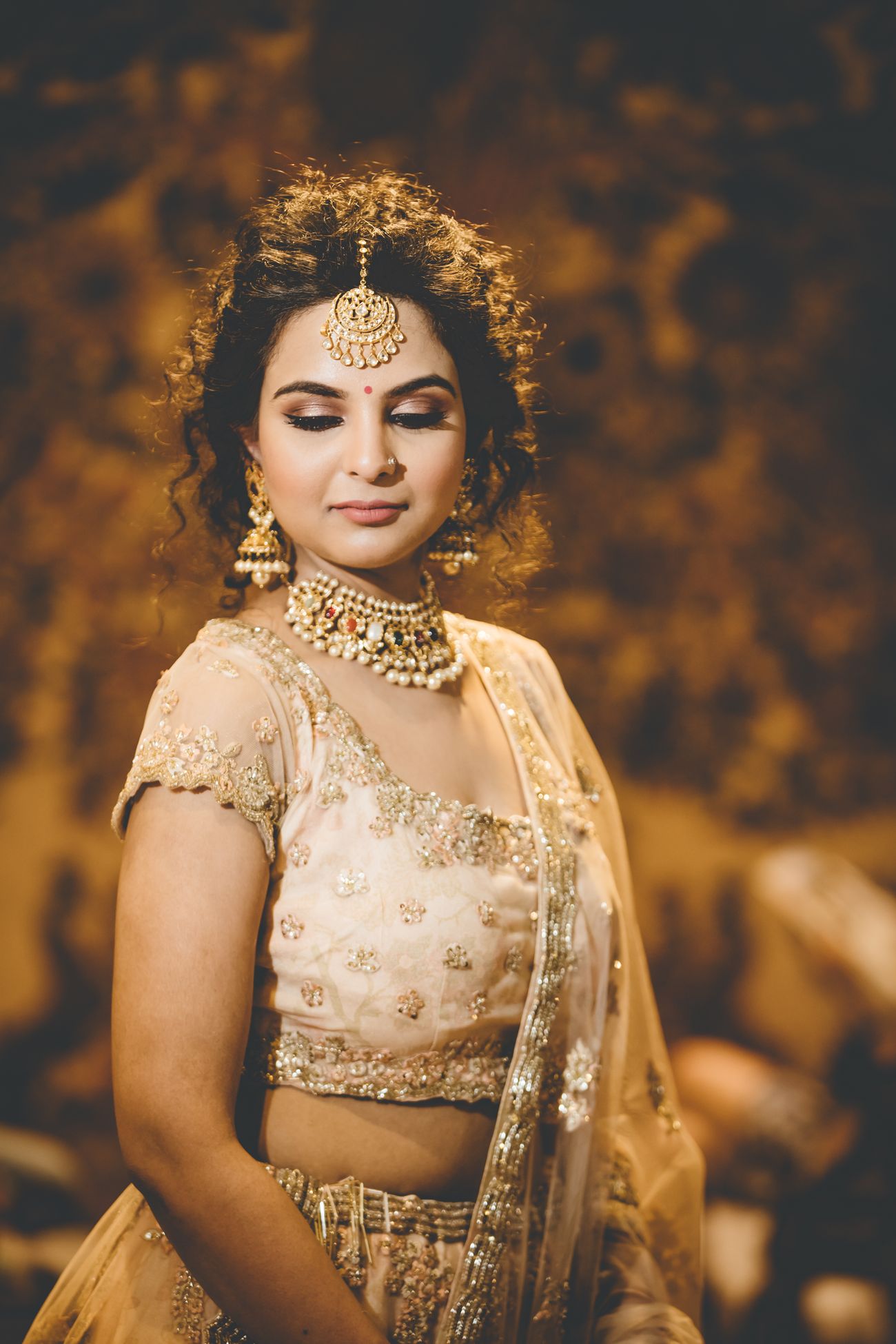 Image via Artcapture Productions★ 4.5
Girls with frizzy and curly hair, don't straighten your hair for the day and keep it real! A loose bun to show off all your curls would look striking!
33.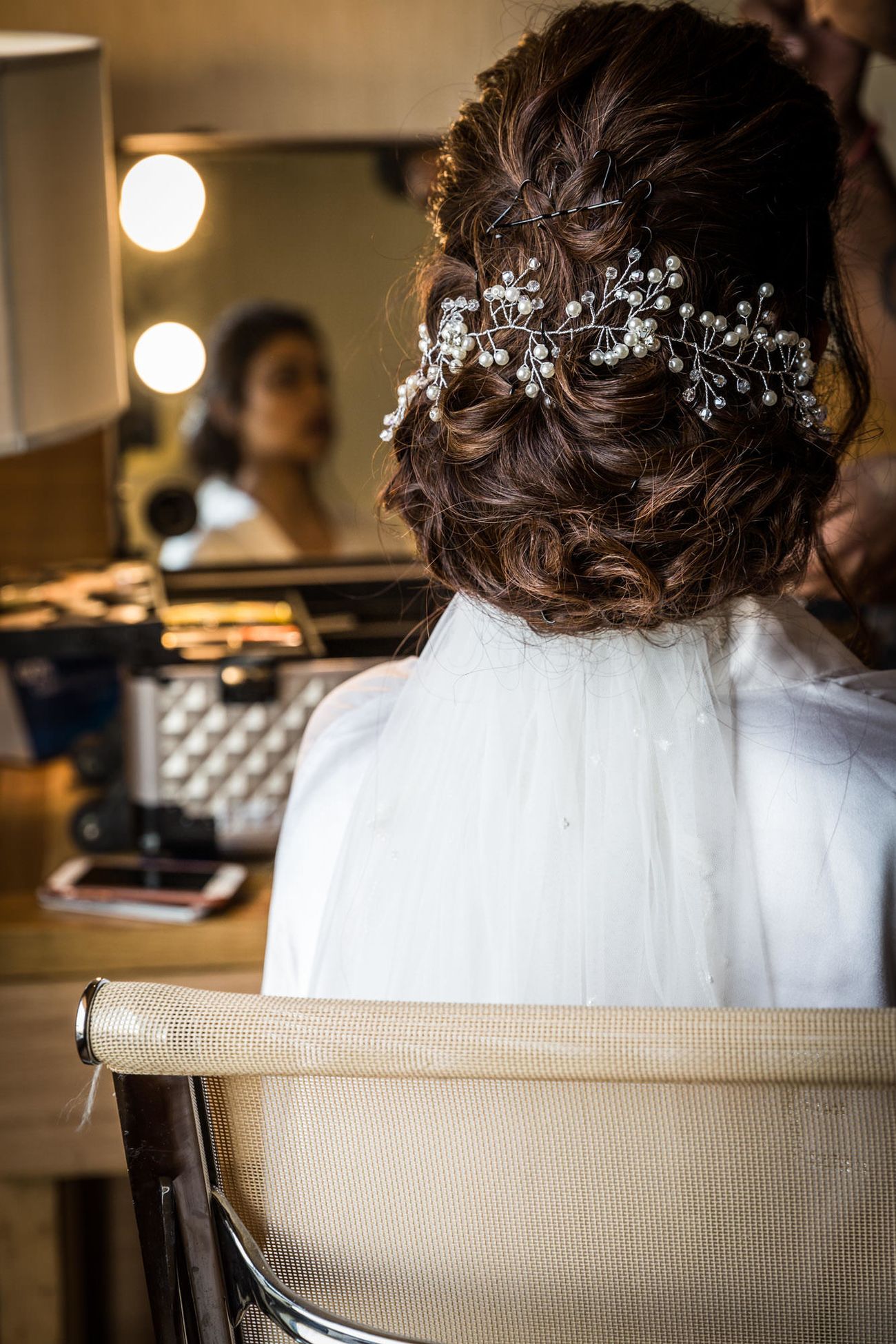 Image via Wedding Photo Diary By Prateek Sharma★ 5
We love the simplicity of this one. Just some simple curls and twists, embellished with a delicate pearl vine, to match your outfit.Curl a little, decorate a little. This curly, low bun is perfect for any pre-wedding function and even your big day!
34.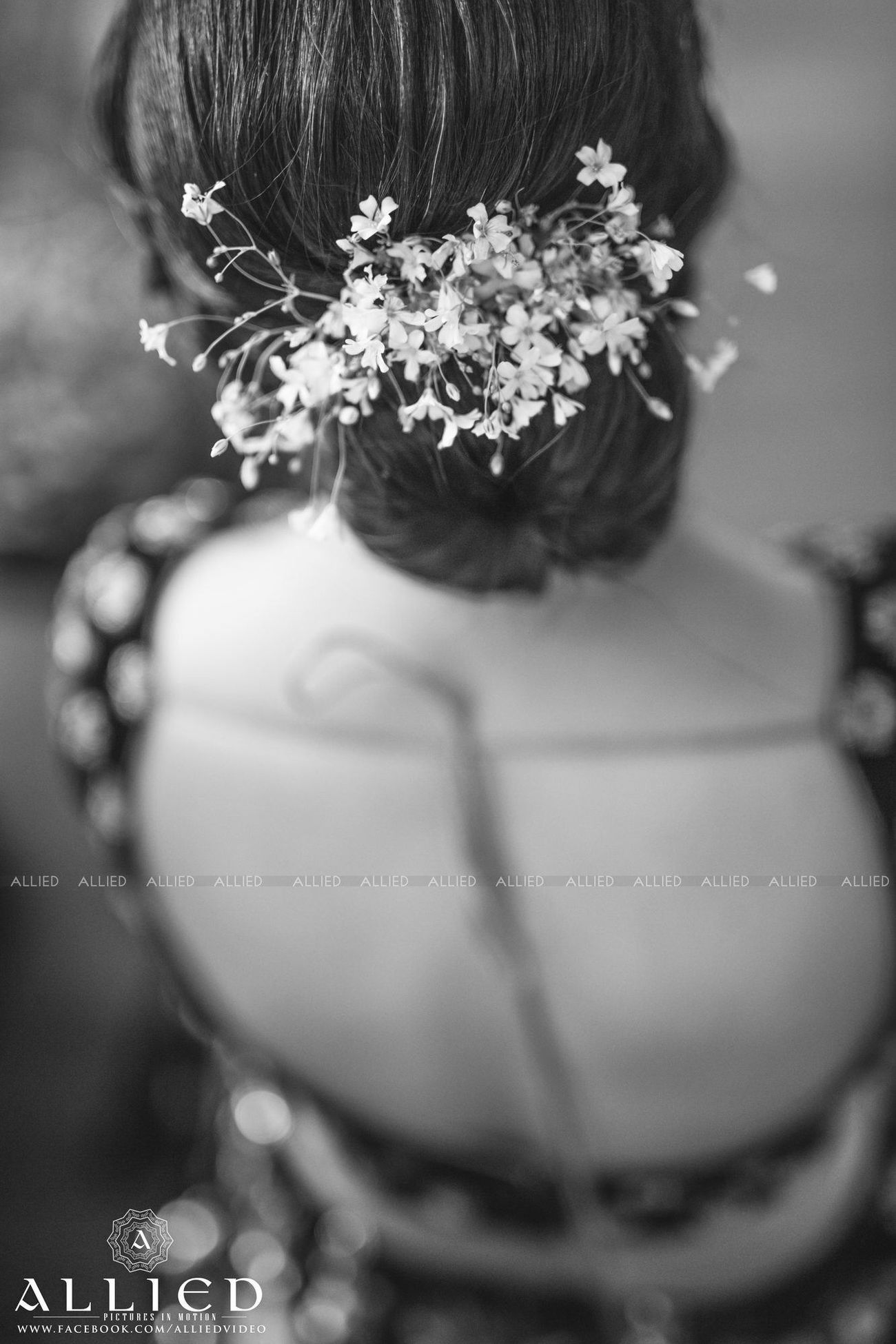 Image via Allied★ 5
How breathy and fresh this minimal baby breath bun looks!
35.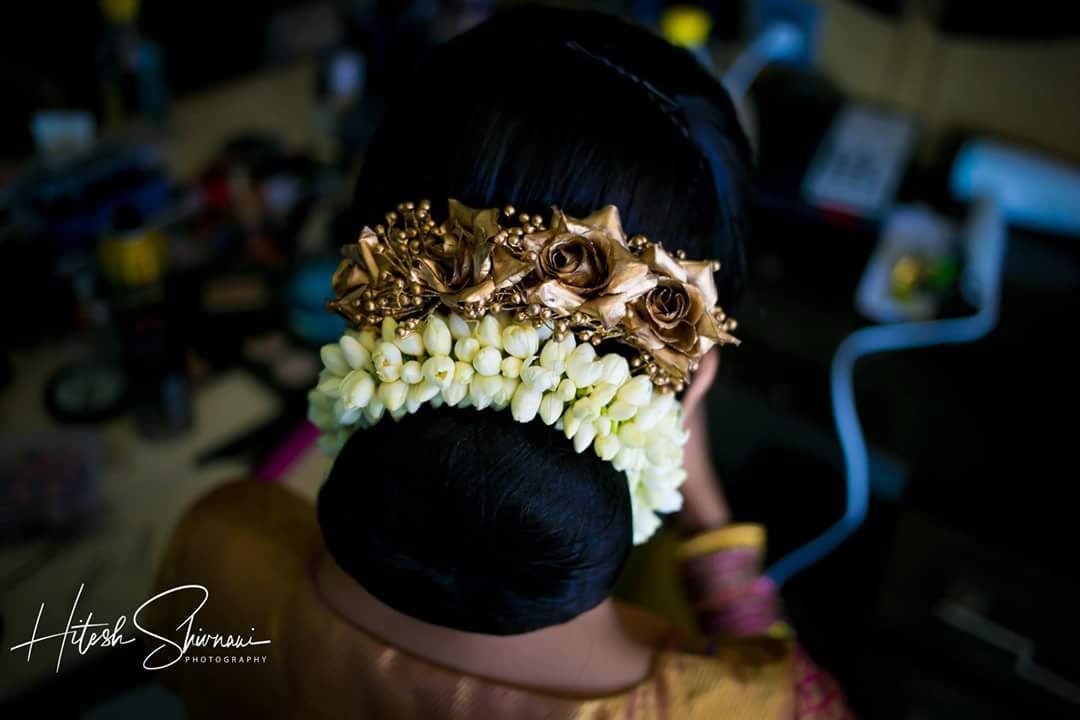 Image via Sheer Hitch★ 4.8
A little twist to your hairstyle! Add GOLD flowers instead of real ones and make it look ethereal!
36.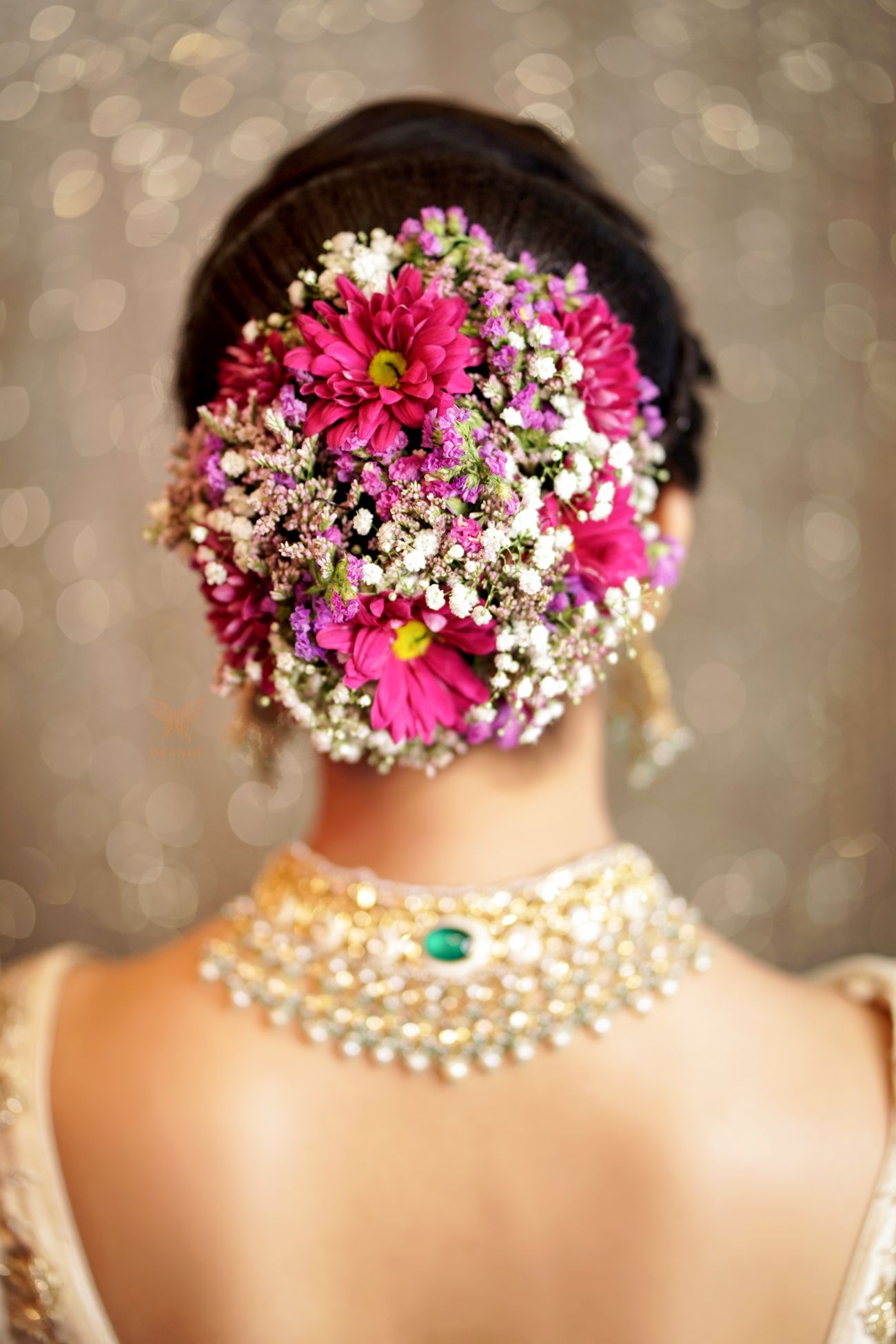 Image via Pinterest
Colours! If you're wearing a very simple pastel outfit, a pop of colour on your bun would be like a breath of fresh air!
37.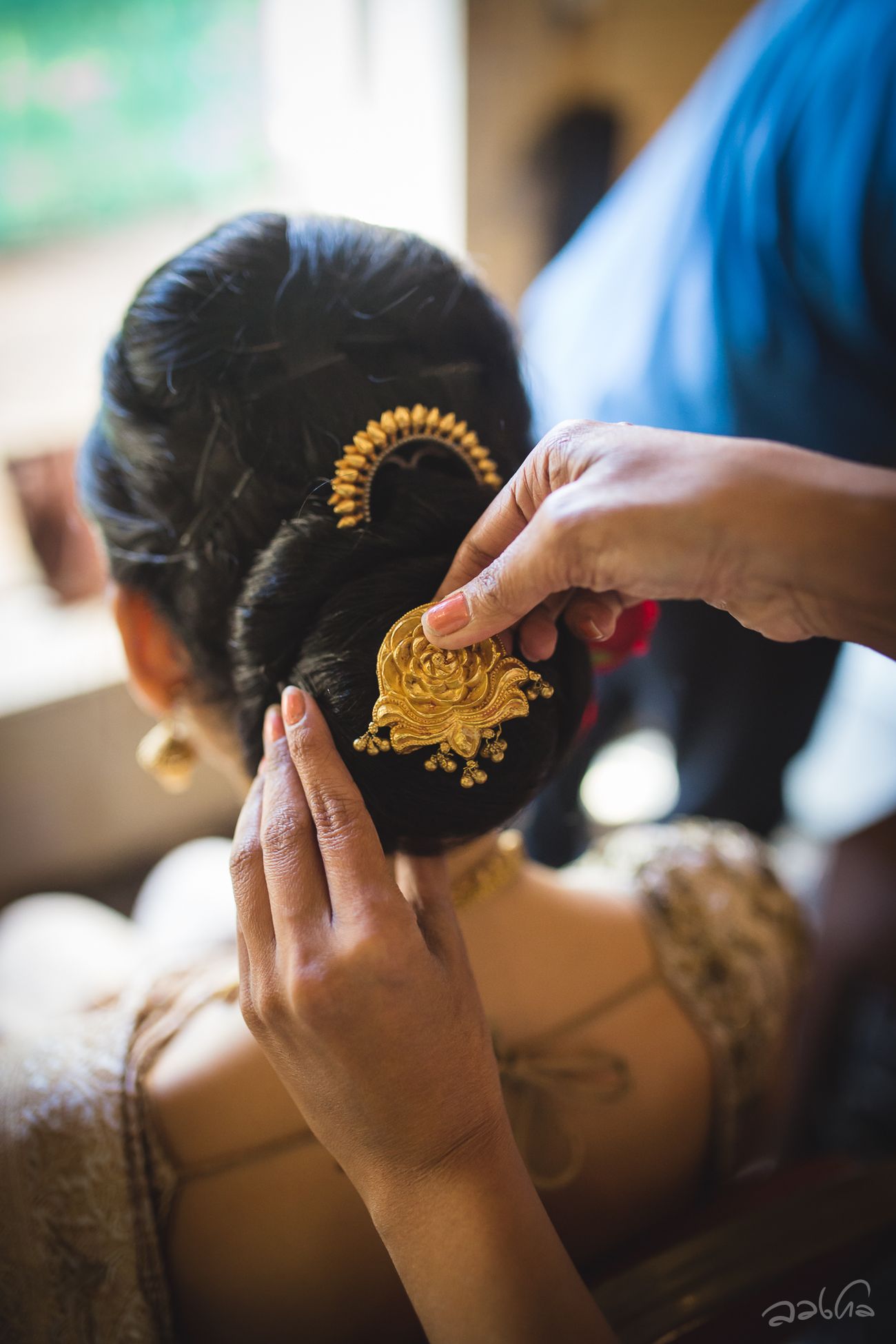 Image via Aabha Chaubal Photography
Simple bun and gold jewelry? sorted.
38.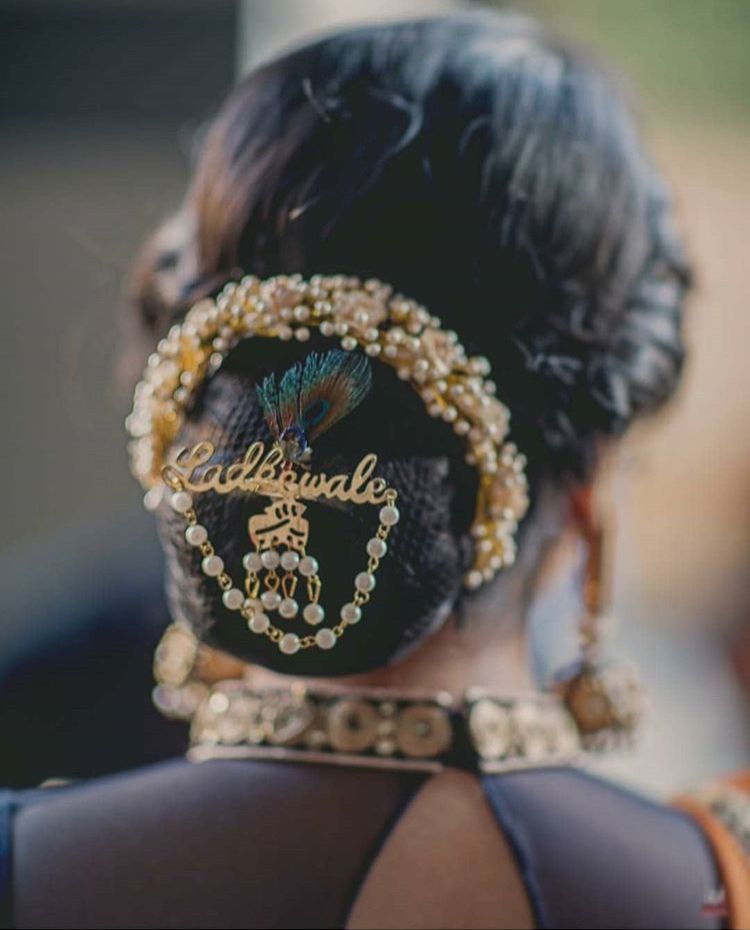 Image via Craft Haat
Now this is something really interesting and fun! A quirky, personalized accessory for your bridal bun, and so different from the regular jewelled hair accessories and flowers! We love how the brooch is highlighted with artificial accessory around the bun. Could this be any cooler?
39.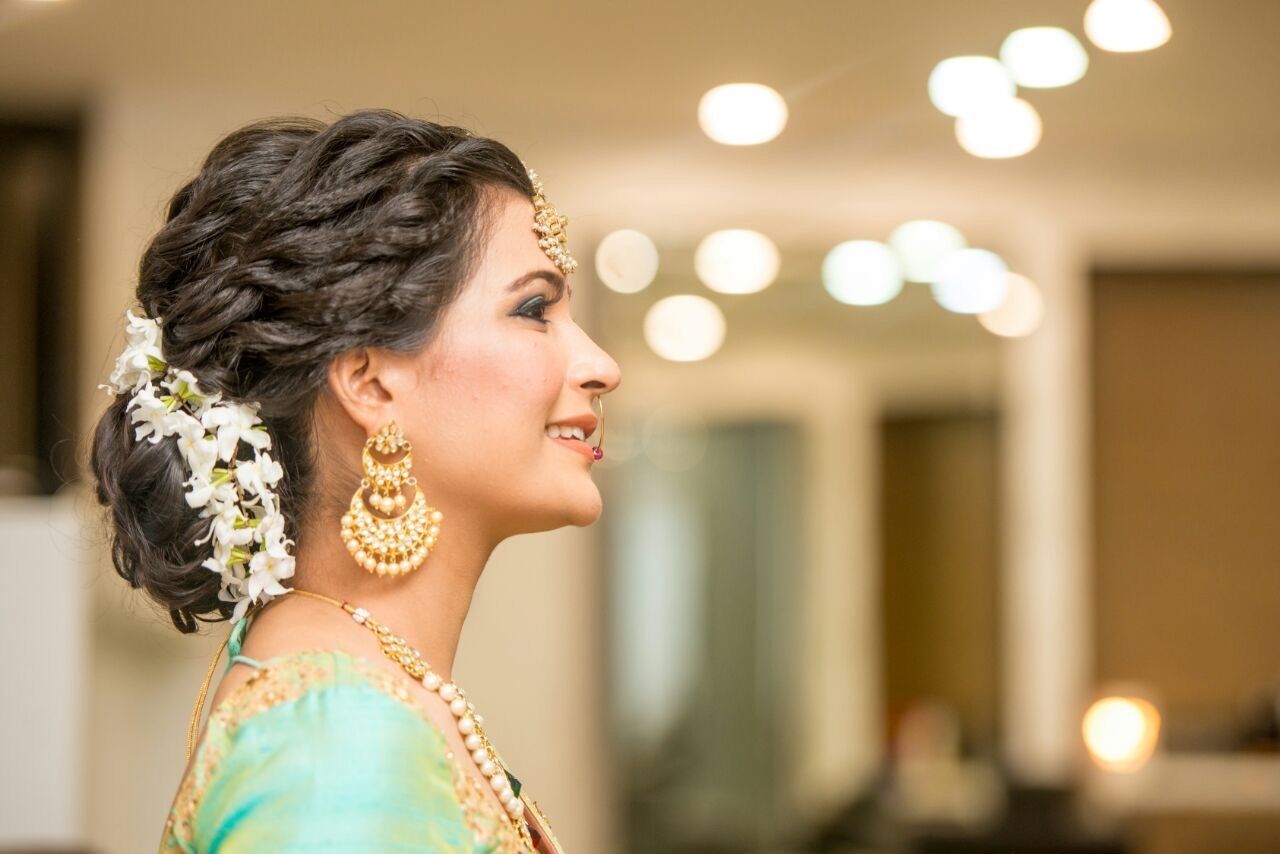 Image via Pinterest
Loose braids from the top of the hair, forming an elegant and very stylish looking bun,pairing up with a minimal gajra.
40.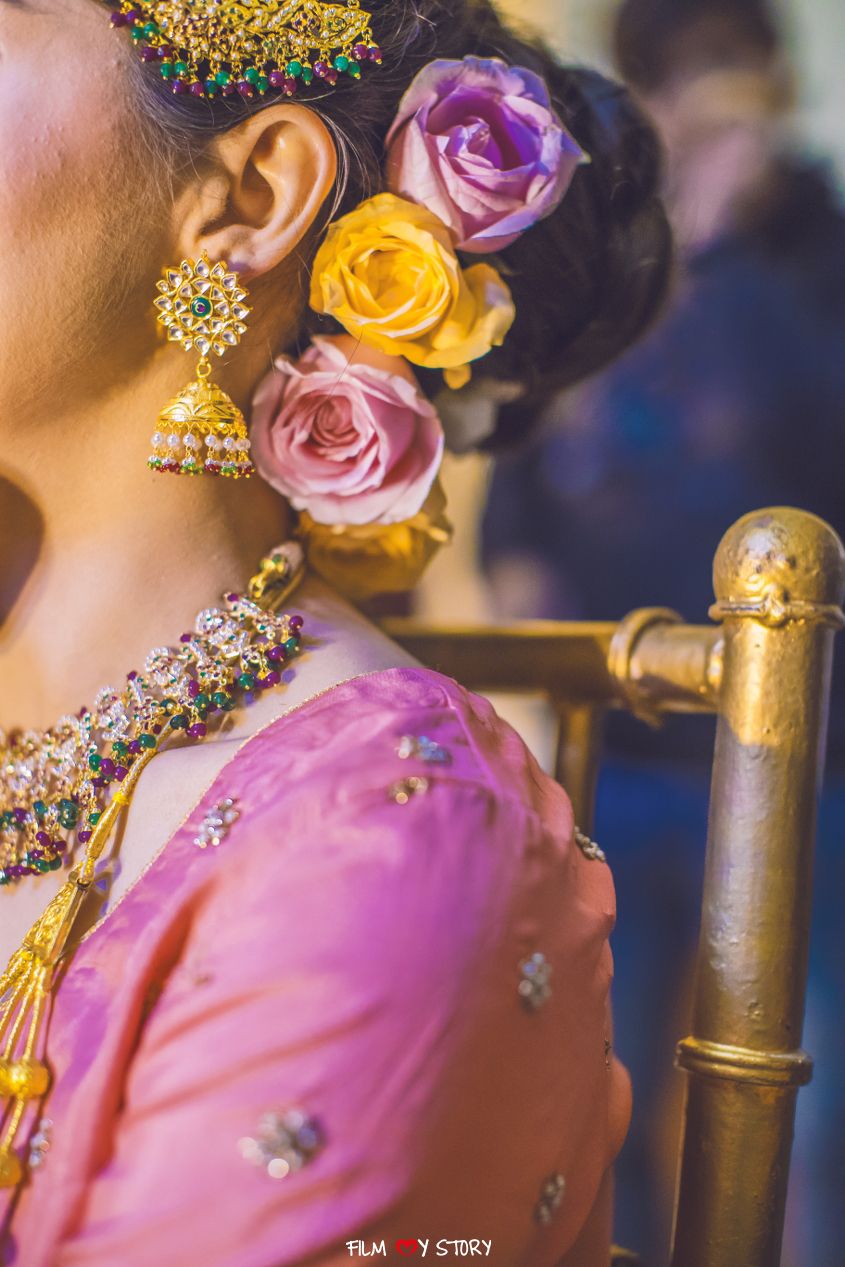 Image via Film My Story★ 4.8
Roses to match your wedding outfit? A big YES!
41.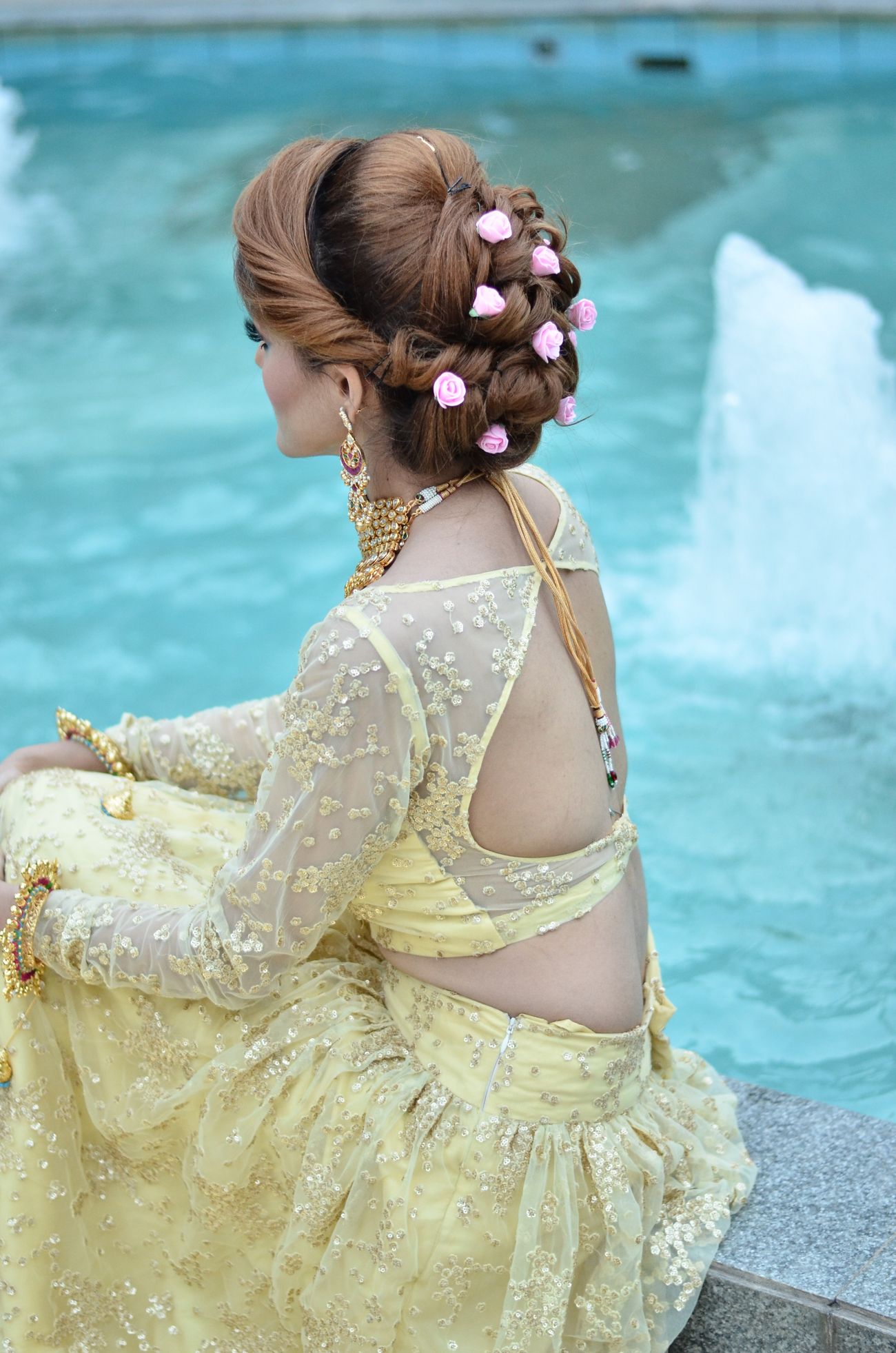 Image via Pinterest
You can always use artificial small flowers if you're not a fan of big roses.
42.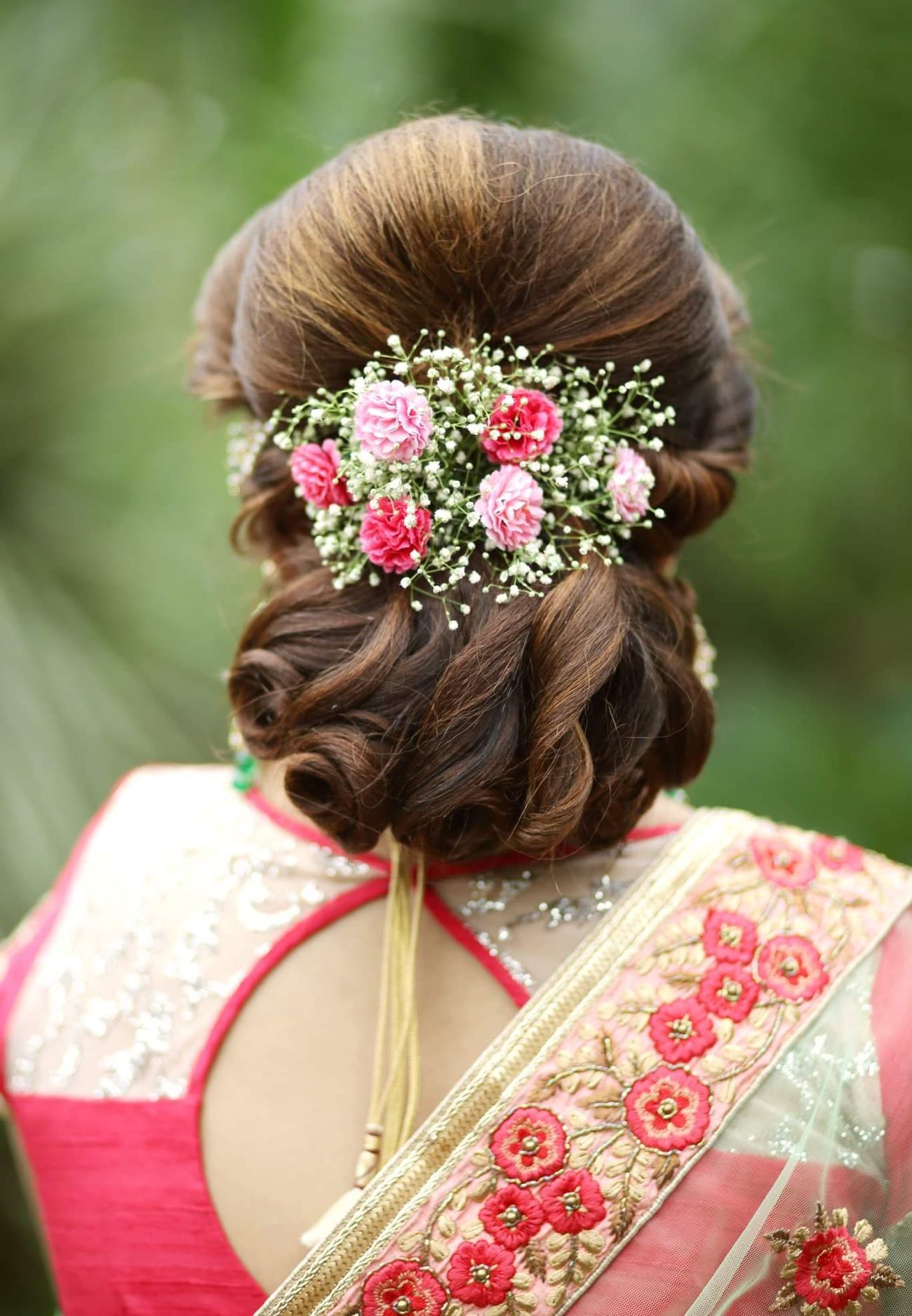 Image via Pinterest
According to us, baby breaths are adorable! They look just as good with artificial flowers like they look with real ones.
43.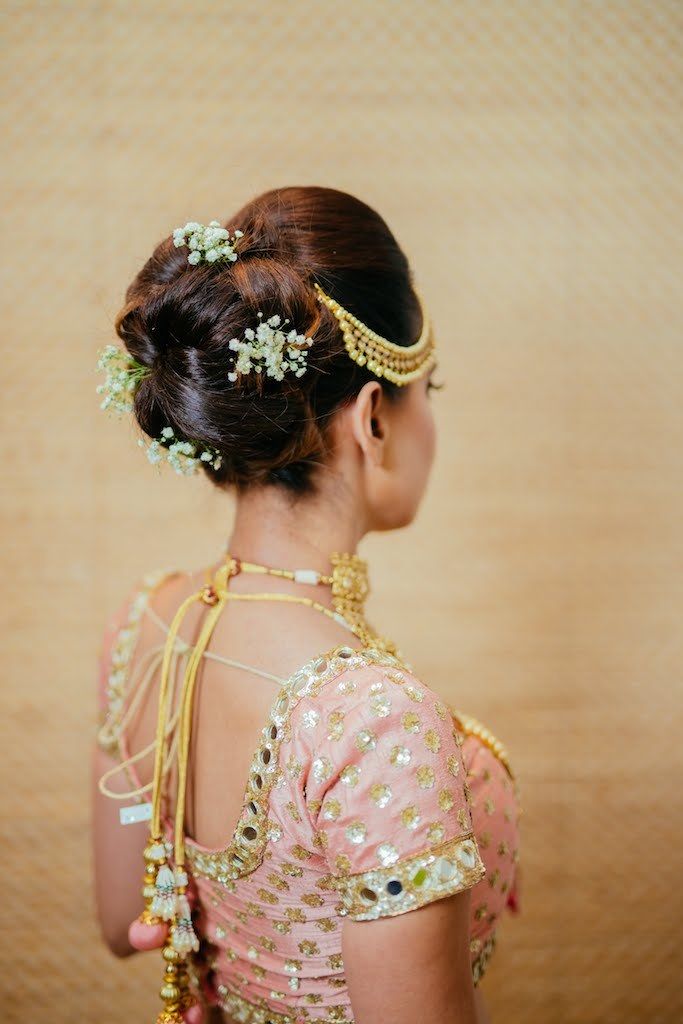 Image via Pinterest
According to us, baby breaths are adorable! They look just as good with artificial flowers like they look with real ones.
44.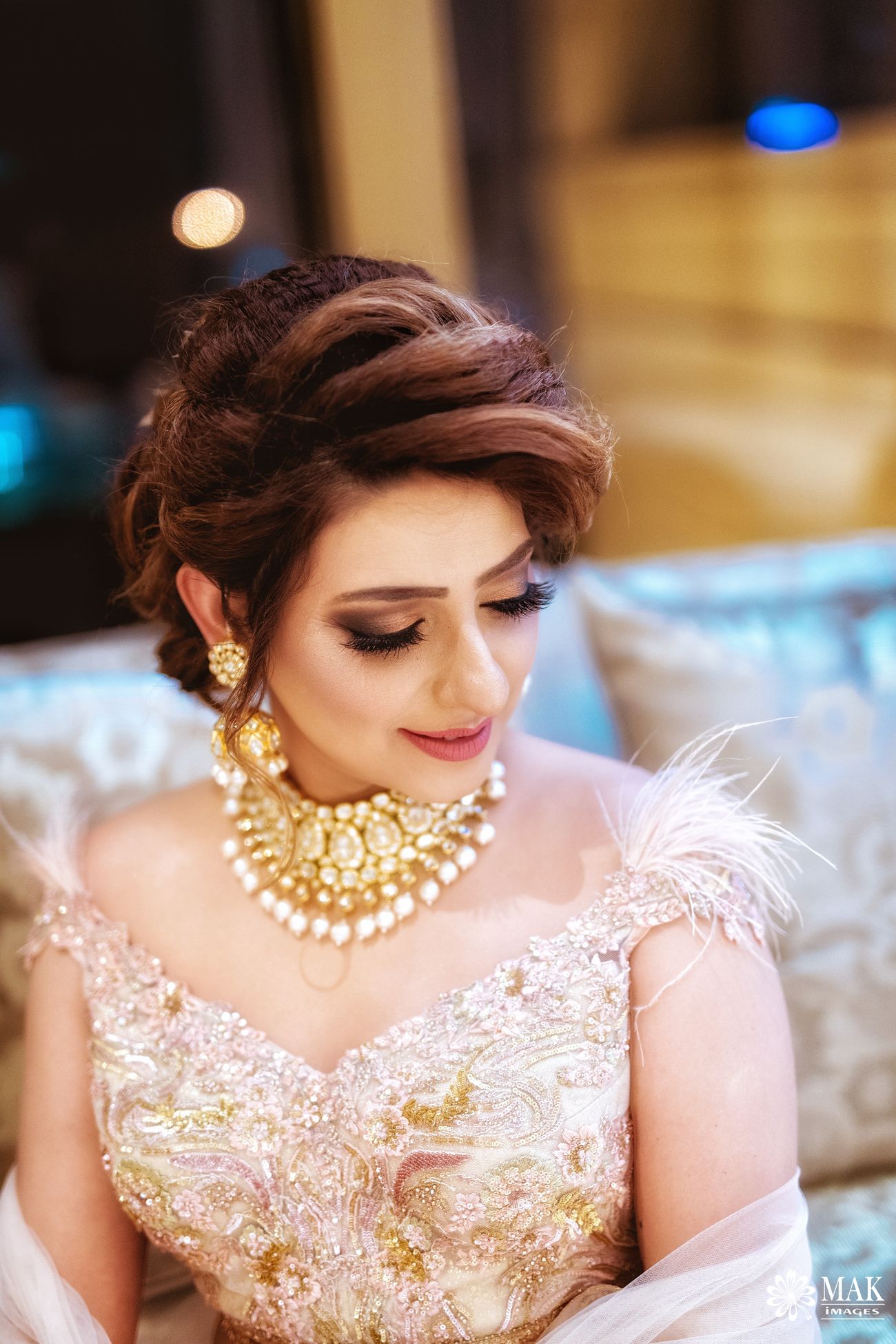 Image via QMedia Production★ 5
If nothing works, a low bun and side parting will. A classic Indian hairstyle for brides with long hair! The styling of the hair in the front looks so delicate and soft. This wedding hairstyle is perfect for young girls
45.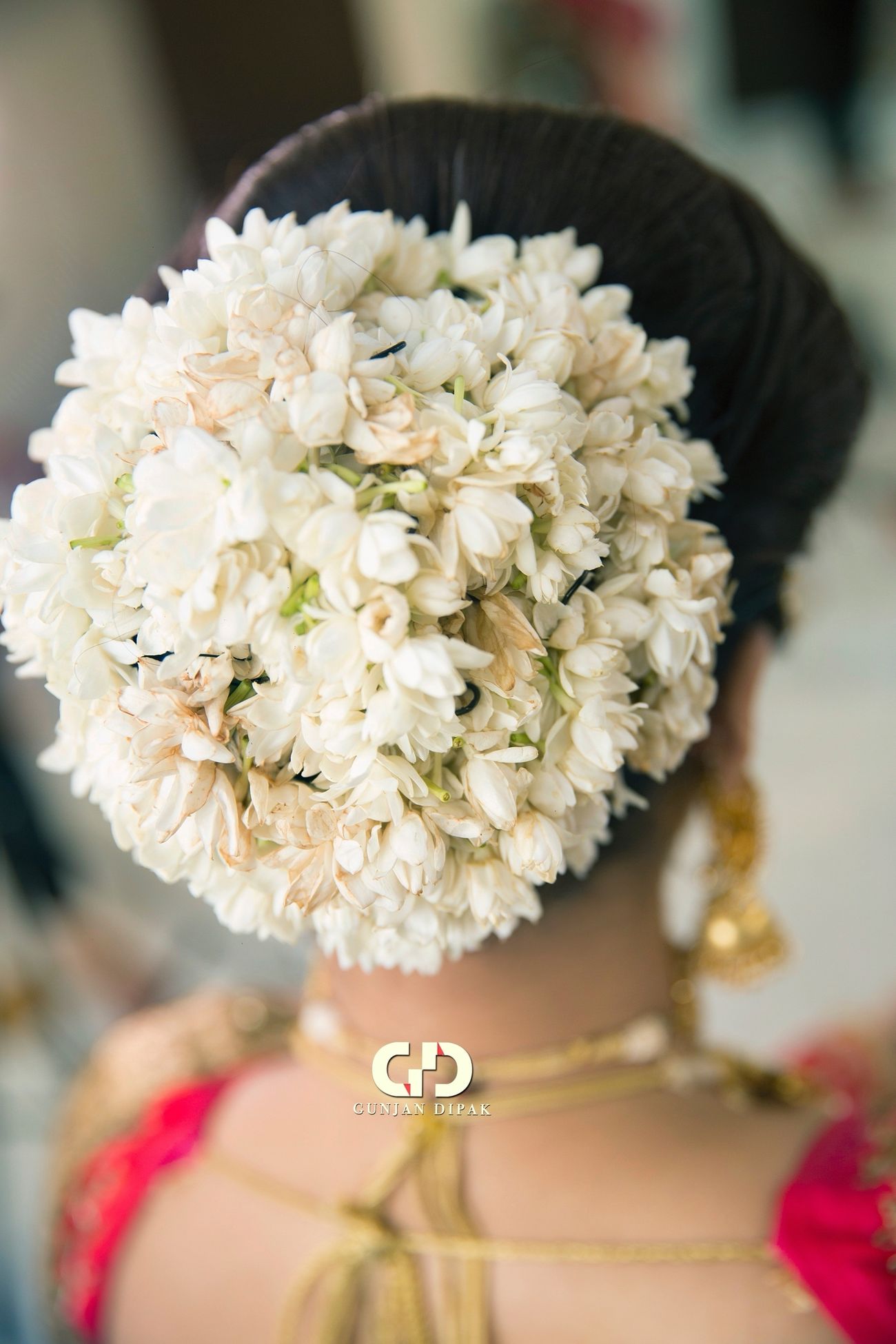 Image via Pinterest
Cover it all with the classic gajra and step out as the classic gorgeous bride!
46.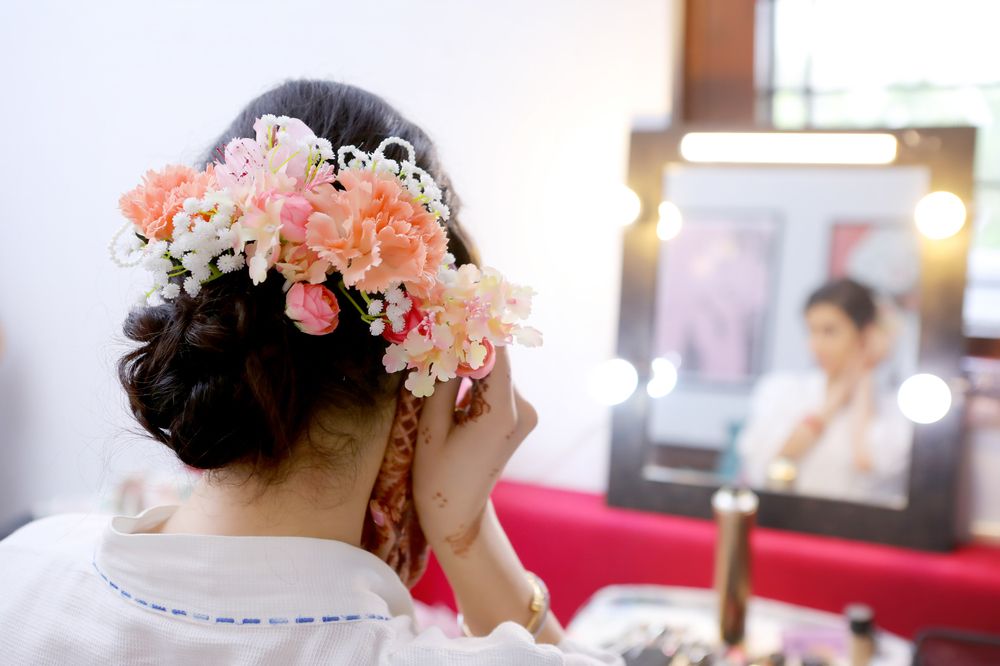 Image via Pinterest
We found this unique style of putting flowers above the bun and it is super cute! All you need to do is some back- combing in the front to get that slight puff and then some flowers on the top of your bridal bun.
2. Bridal Hairstyles for long hair
If you are someone who is not a very big fan of buns and also have long hair, then do not worry because we have got you covered!
47.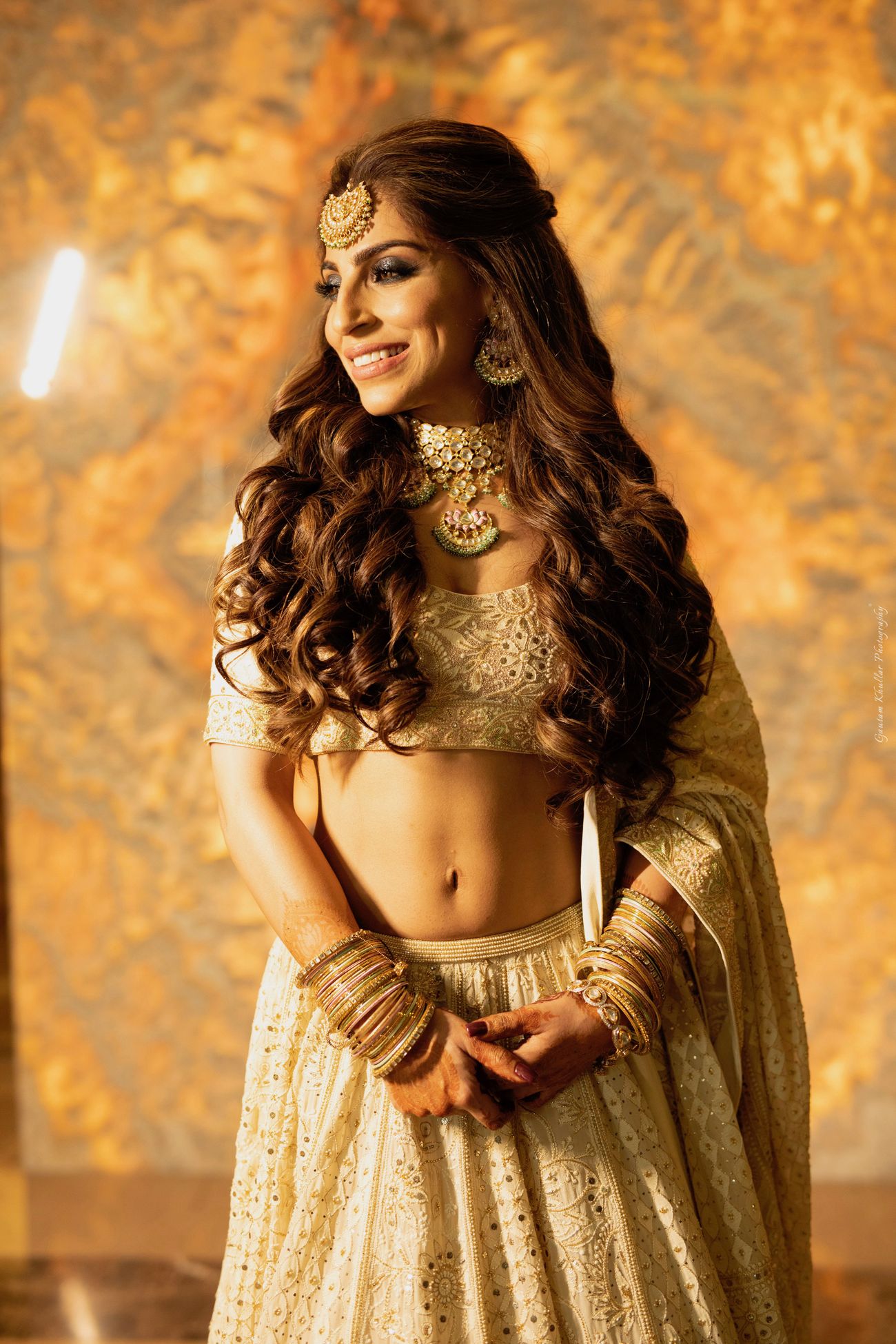 Image via Gautam Khullar Photography★ 4.8
Braid the top part and curl the rest of your hair for a fun, captivating look. This is a lovely look for a sangeet or a shagan ceremony. You can even get this type of a hairdo for your mehendi ceremony.
48.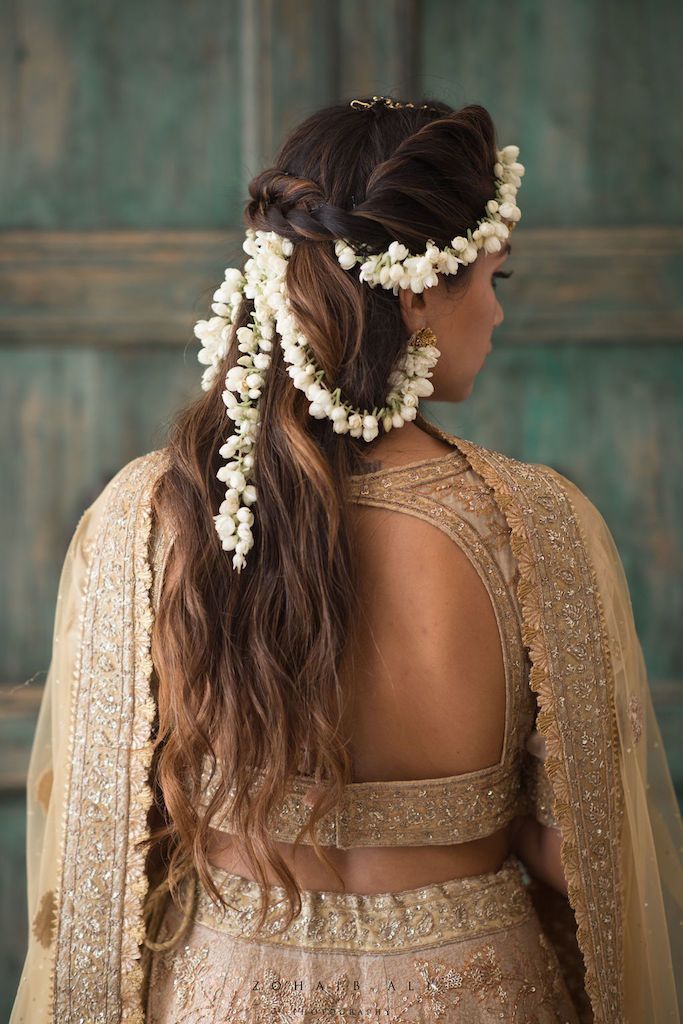 Image via Zohaib Ali Photography★ 5
Instead of a lot of gajra, use strands of flowers and weave them through your hair for a nymph-like look. Interweave them with braids or some interesting twists and turns. This is a fuss-free hairstyle for Indian brides with long hair!
49.
Image via Makeup by Saakshi Takiar★ 4.9
Adding colorful flowers and breaths for a super fresh and fun look. Braids for added elegance!
50.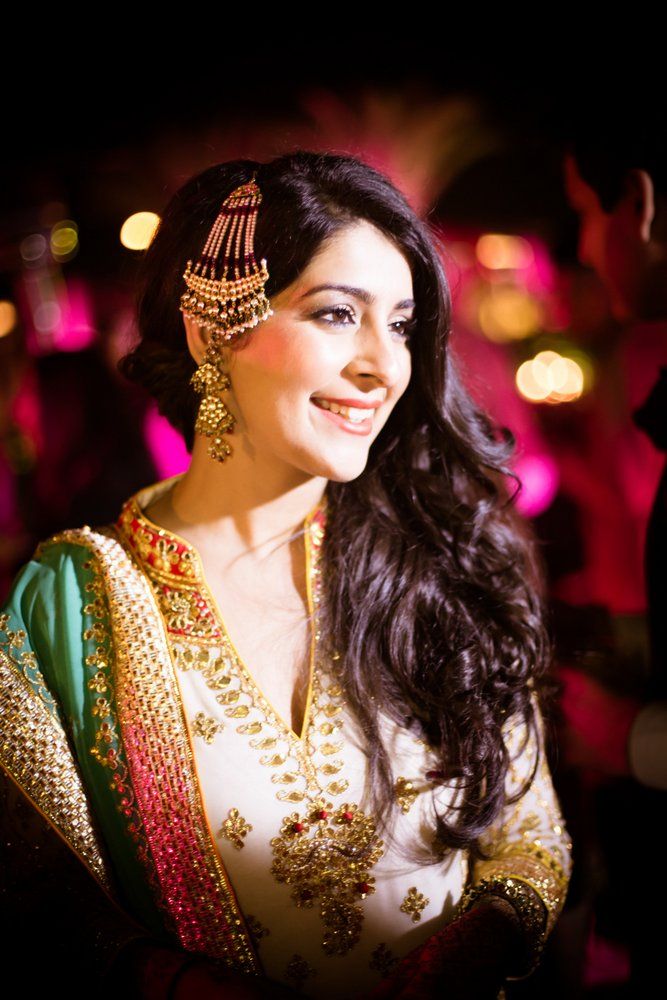 Image via Savleen Manchanda★ 3.5
A Pasa can make any hairstyle look stunning! All you brides with long hair, just curl them and add a gorgeous hair accessory and you are good to go.
51.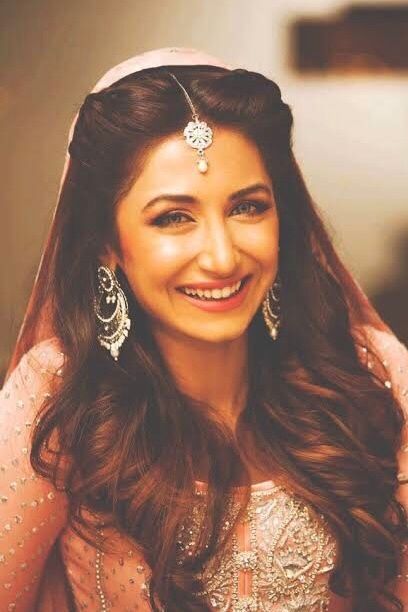 Image via Neelam Mahant Makeup★ 5
Adding puffs in a middle hair parting is the cutest thing ever! The bride looks younger and even more pretty!
52.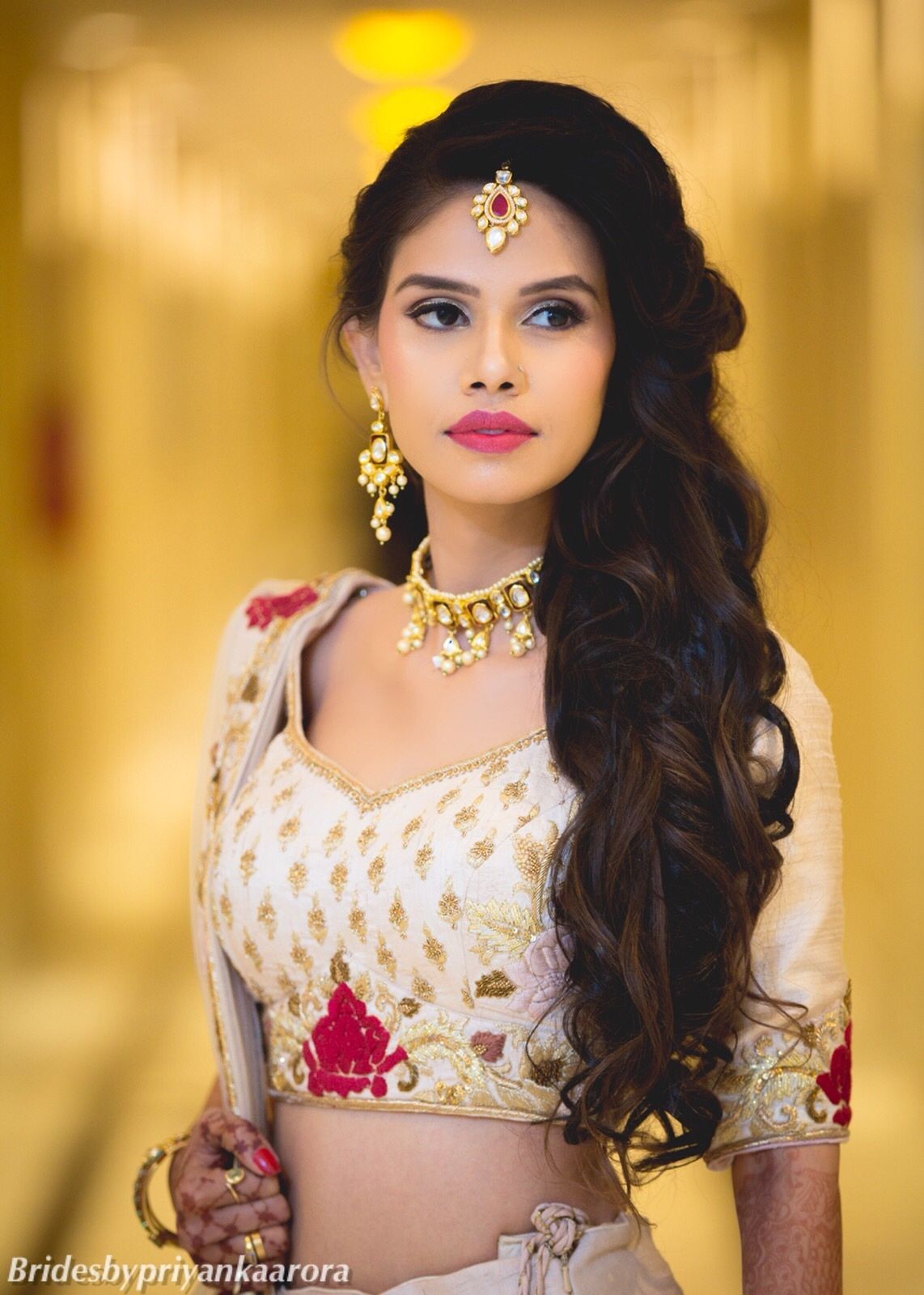 Image via Priyanka Arora
Tying your long hair in the traditional simple way and adding stone studded jewelry.
53.
Image via Rashi Sehgal Official★ 4.8
Is sleek hair your thing? We got you covered! These days a lot of Indian brides with long hair are going for this hairstyle for their pre wedding functions!
54.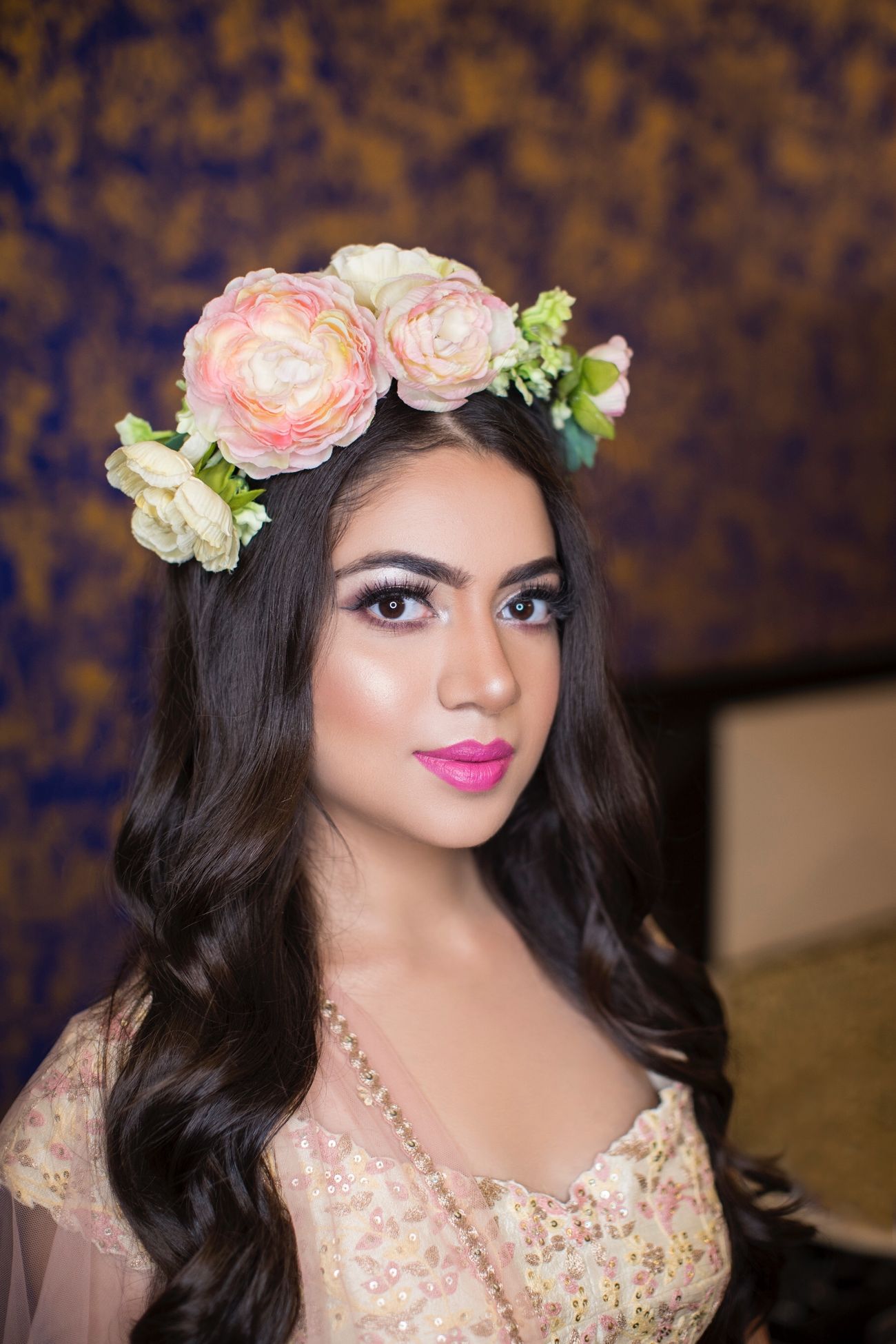 Image via Makeovers by Neha Handa★ 4.8
If aiming for the Frida Kahlo look, then this is the way to do it. Go for an over-the-top flower tiara. Use Big and pretty flowers of your choice and stand out!
55.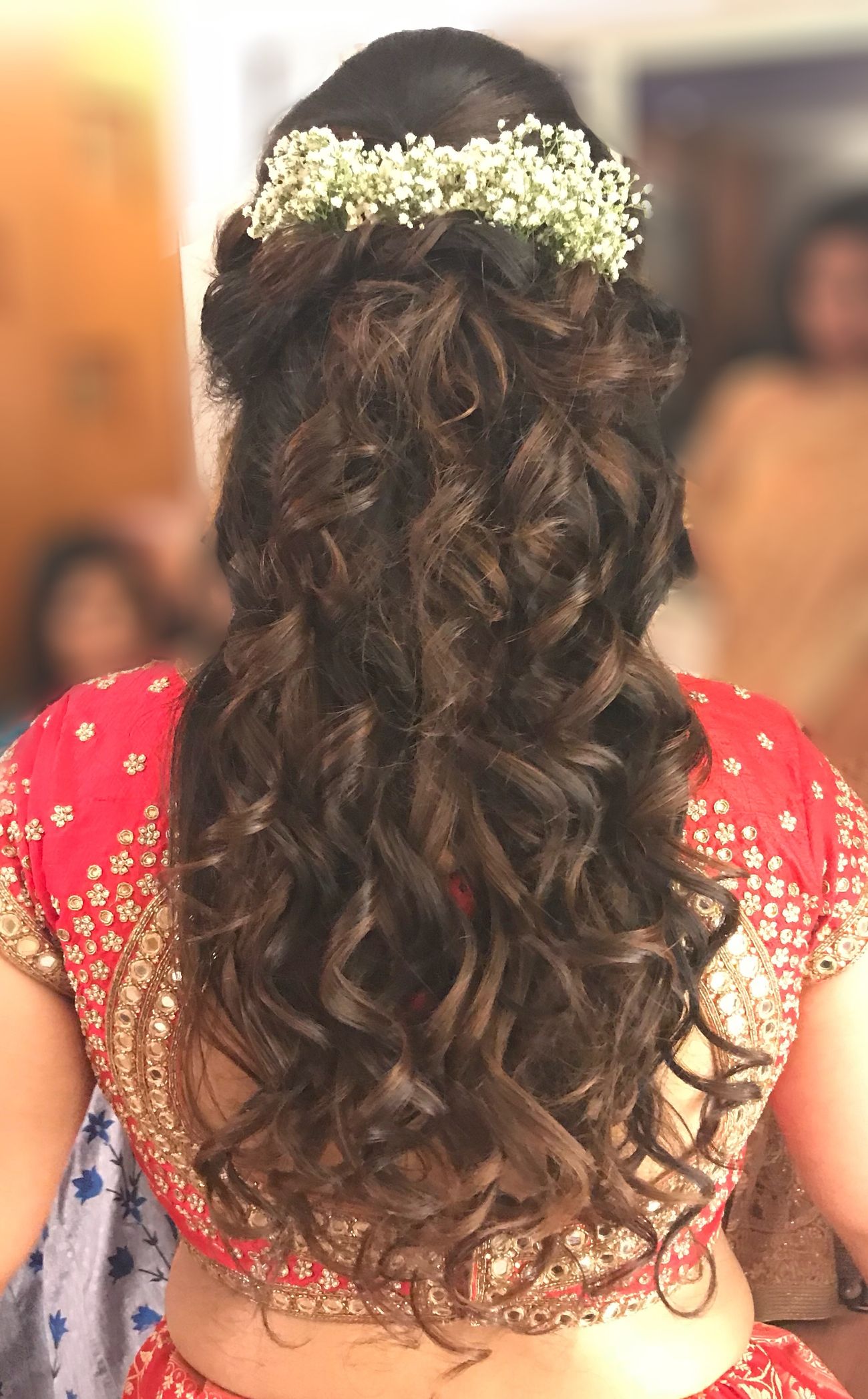 Image via Makeup by Nandini Advani★ 4.8
Keeping together the top of your hair and adding baby breaths. This simple hairstyle for long hair is just so stunning!
56.
Image via Priyanka Arora
Keeping all your hair to one side is another great option for Indian bridal hairstyle for long hair. If you are a bride with short hair, you can add extensions, keep them straight or curly, however you like and nail this look.
57.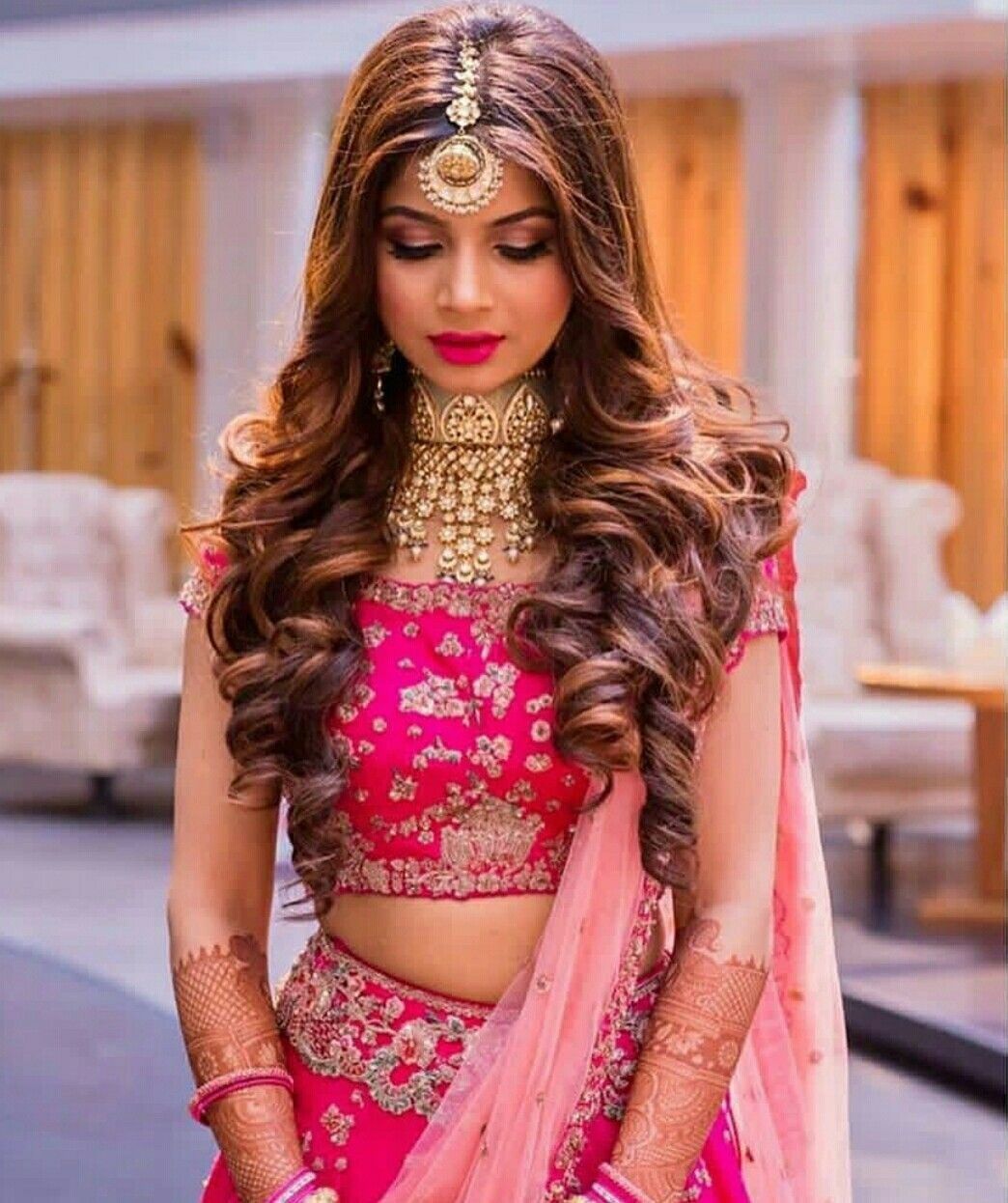 Image via Makeovers by Lavanya★ 5
Curls are the new trend! Middle parting, gorgeous mangtikka and huge soft curly hair is now a go to hairstyle for Indian brides with long hair.
58.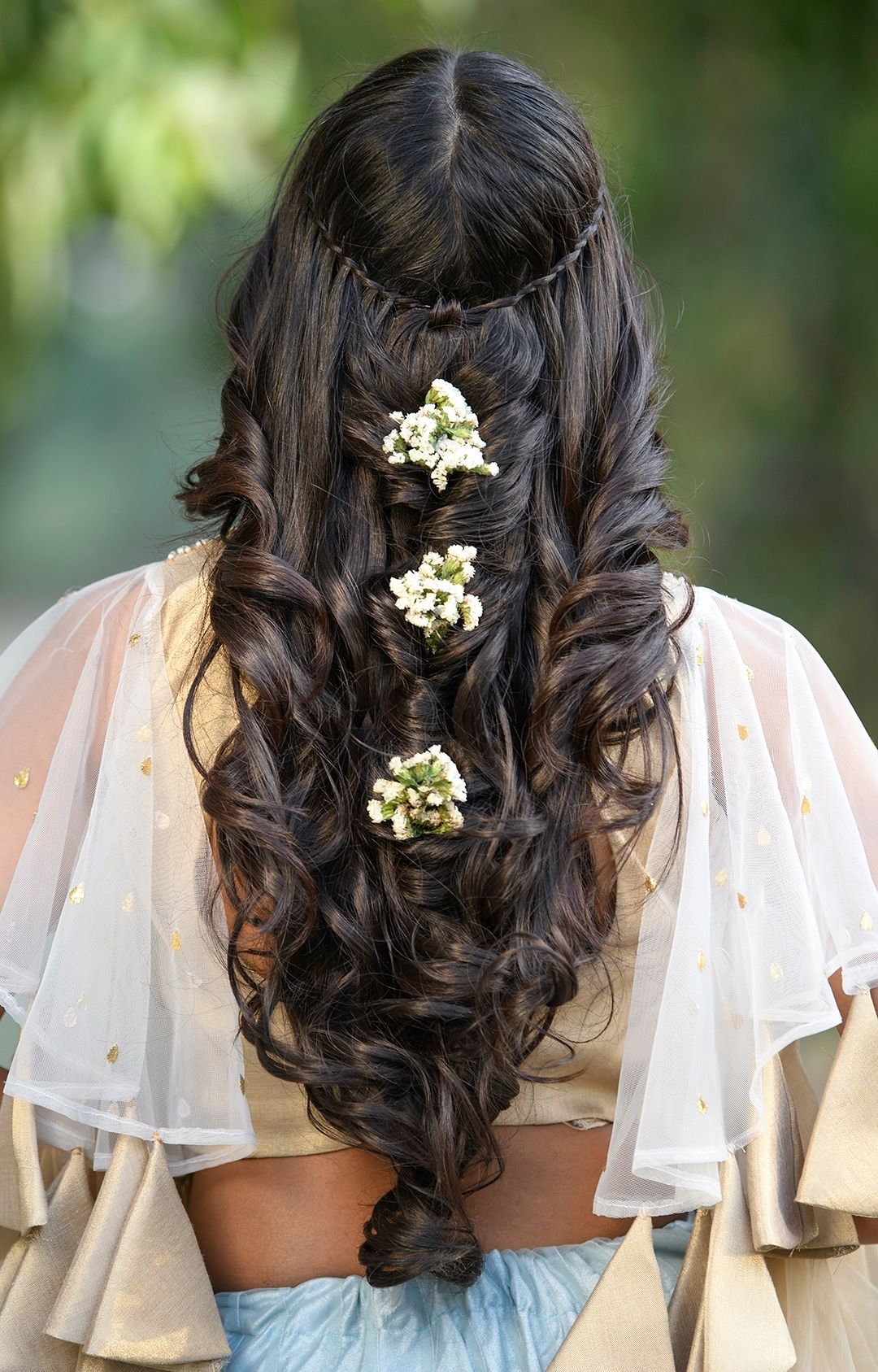 Image via The Unique Blend★ 4.8
This loose braid on curls which looks almost like open hairstyle looks ethereal and totally unique for a bridal hairstyle! The baby breaths add a nymph like quality to the entire look. Such a lovely hair style for a mehendi or day sangeet!
59.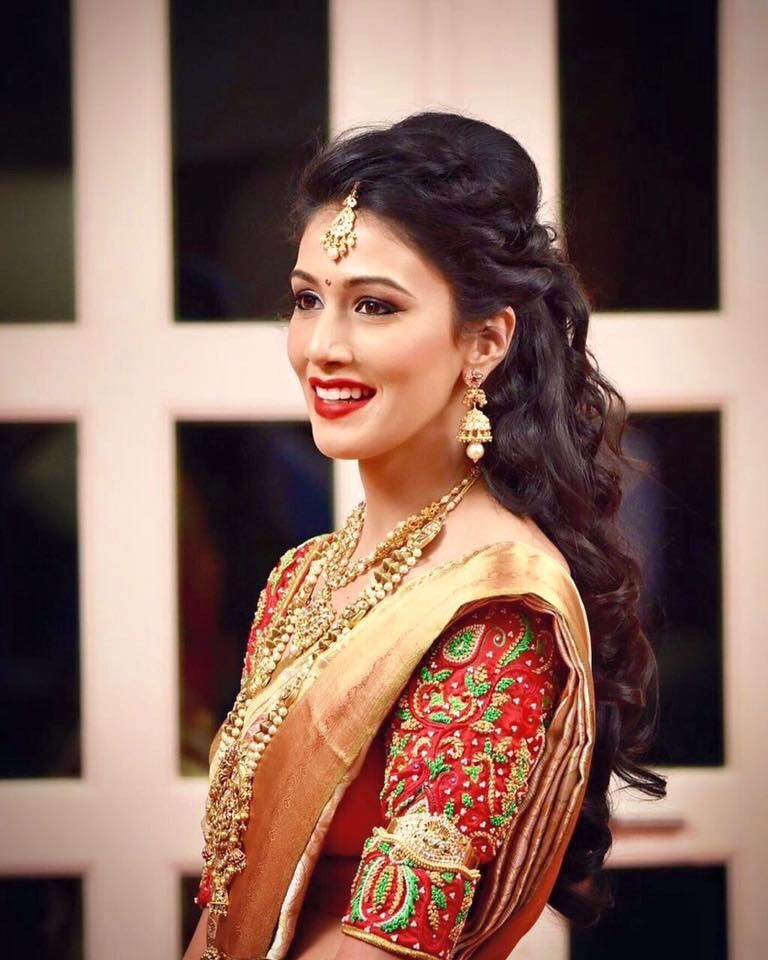 Image via PANNAS★ 4.9
Add extensions on to the sides for a hairstyle full of volume and add curls.
60.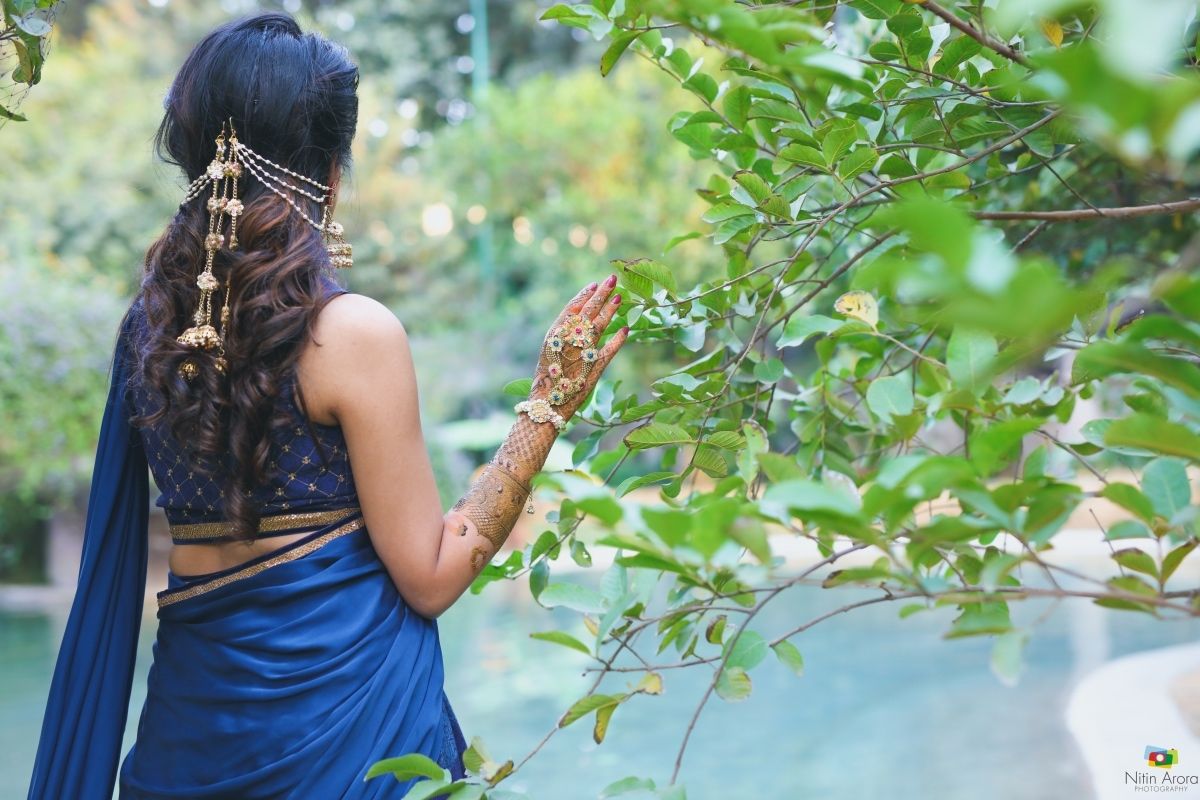 Image via Nitin Arora Photography★ 4.9
Minimal accessorizing is always a good idea! If you are a bride you loves it all minimal for their bridal hairstyle then it is just perfect for you.
61.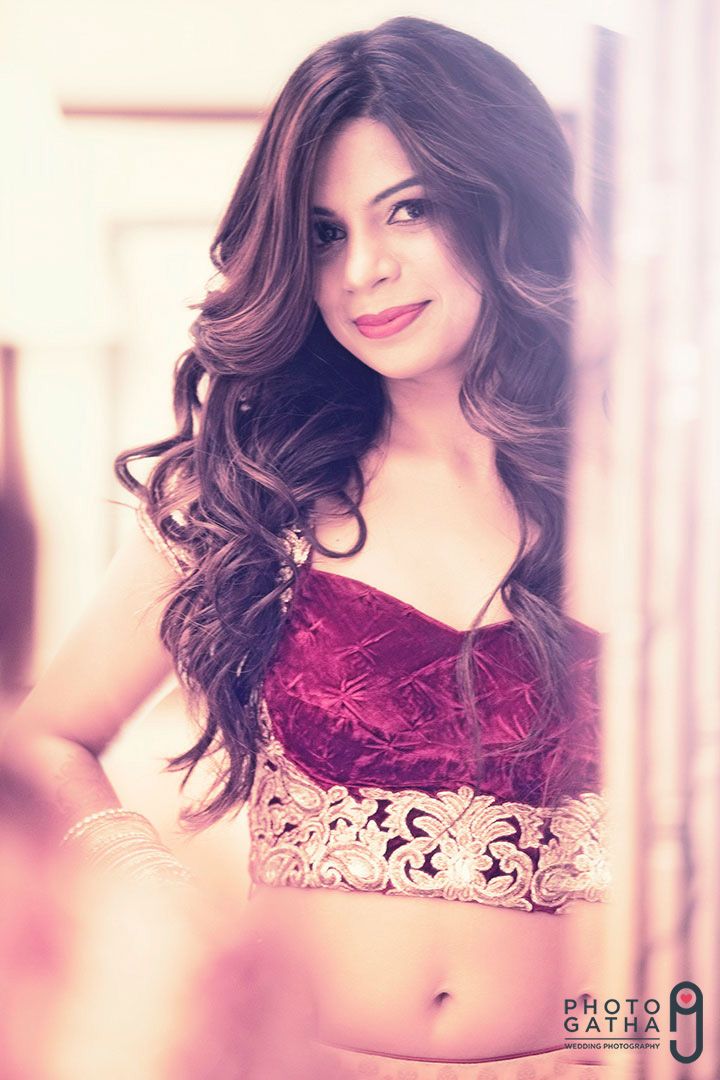 Image via Nitin Arora Photography★ 4.9
Long dense waves, simple and beautiful.
62.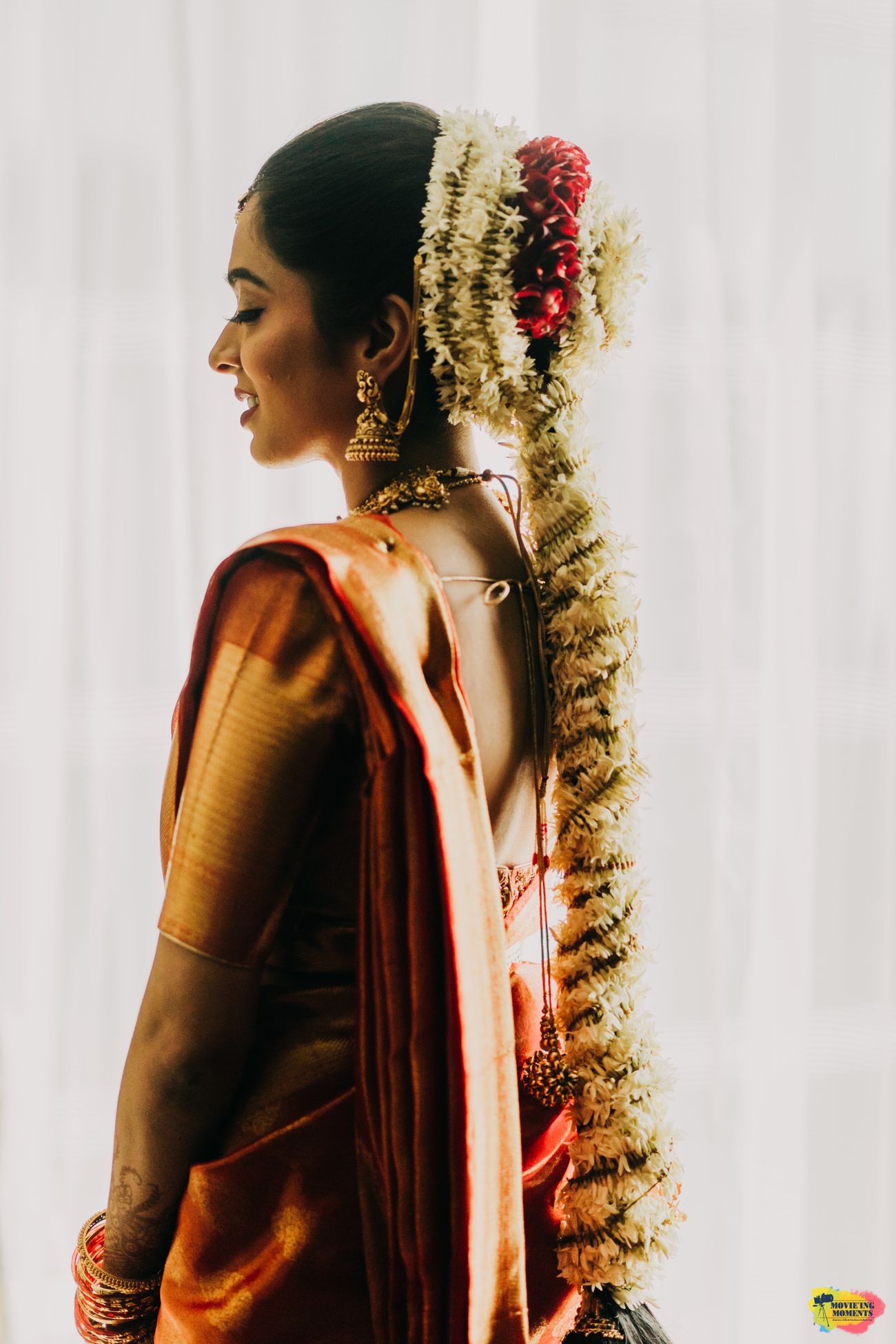 Image via Pinterest
All flowers, all gold ( And not open hair!) We love how the entire braid and bun have been covered by these beautiful, simple flowers. Such an interesting South Indian wedding hair style
3. Hairstyles for Brides with Short Hair
If your hair are not long and flows all the way to your back, it's okay! We have some bridal hairstyles for short hair too!
63.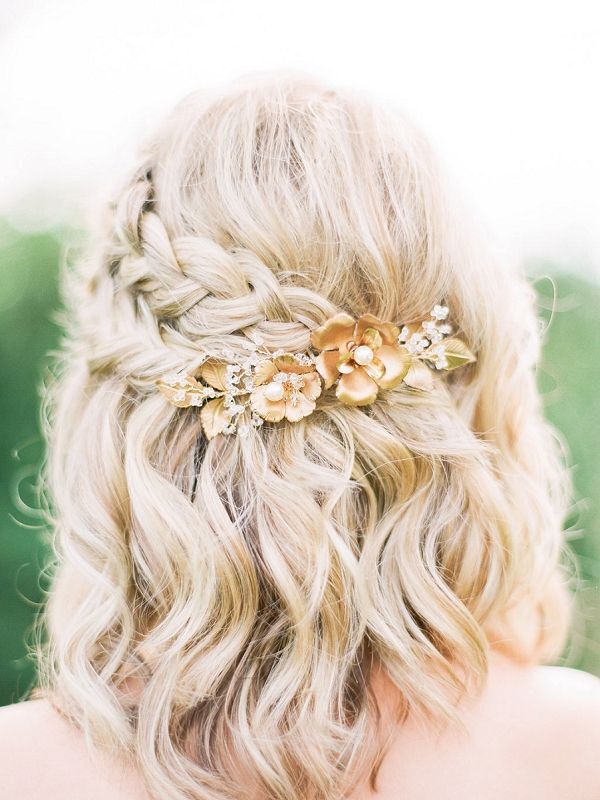 Image via The Knot
Who says braids are only for short hair? This is a great hairstyle for brides with short hair, braiding one side of the hair and adding Gold accessories would add charm to your bridal hairstyle.
64.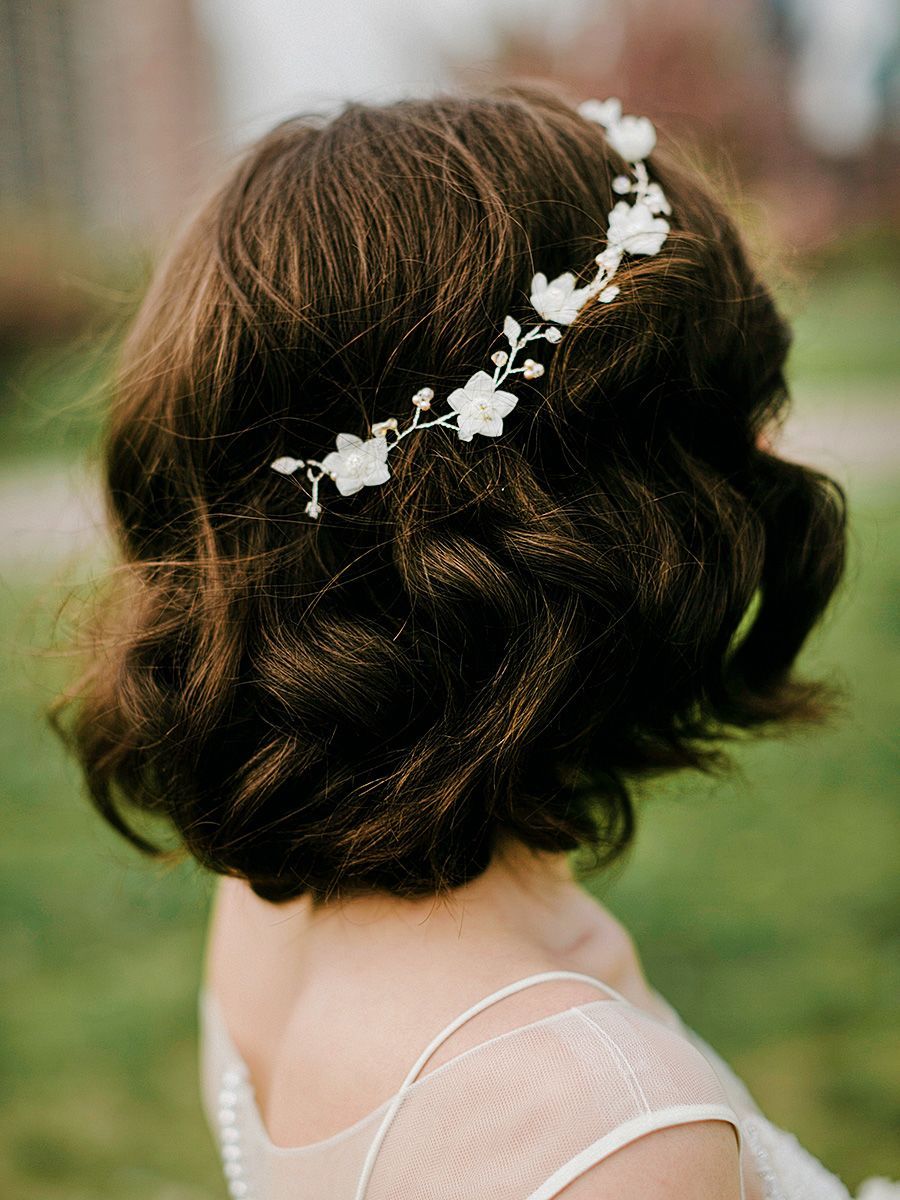 Image via The Stylish Zoo
Curl your hair and add a pretty hairband. Brides this is the perfect Indian wedding hairstyle for all you brides with short hair.
65.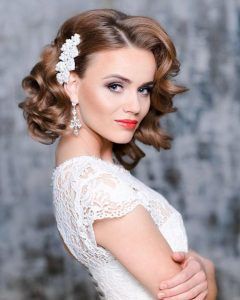 Image via Hairstyle Ideas
Soft curls and one big studded hairclip to tuck one side behind your ear. This is such a glamourous hairstyle for short hair, almost replicating Marilyn Monroe's style and charm
66.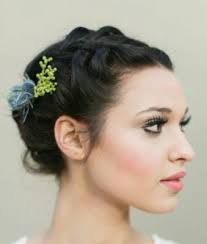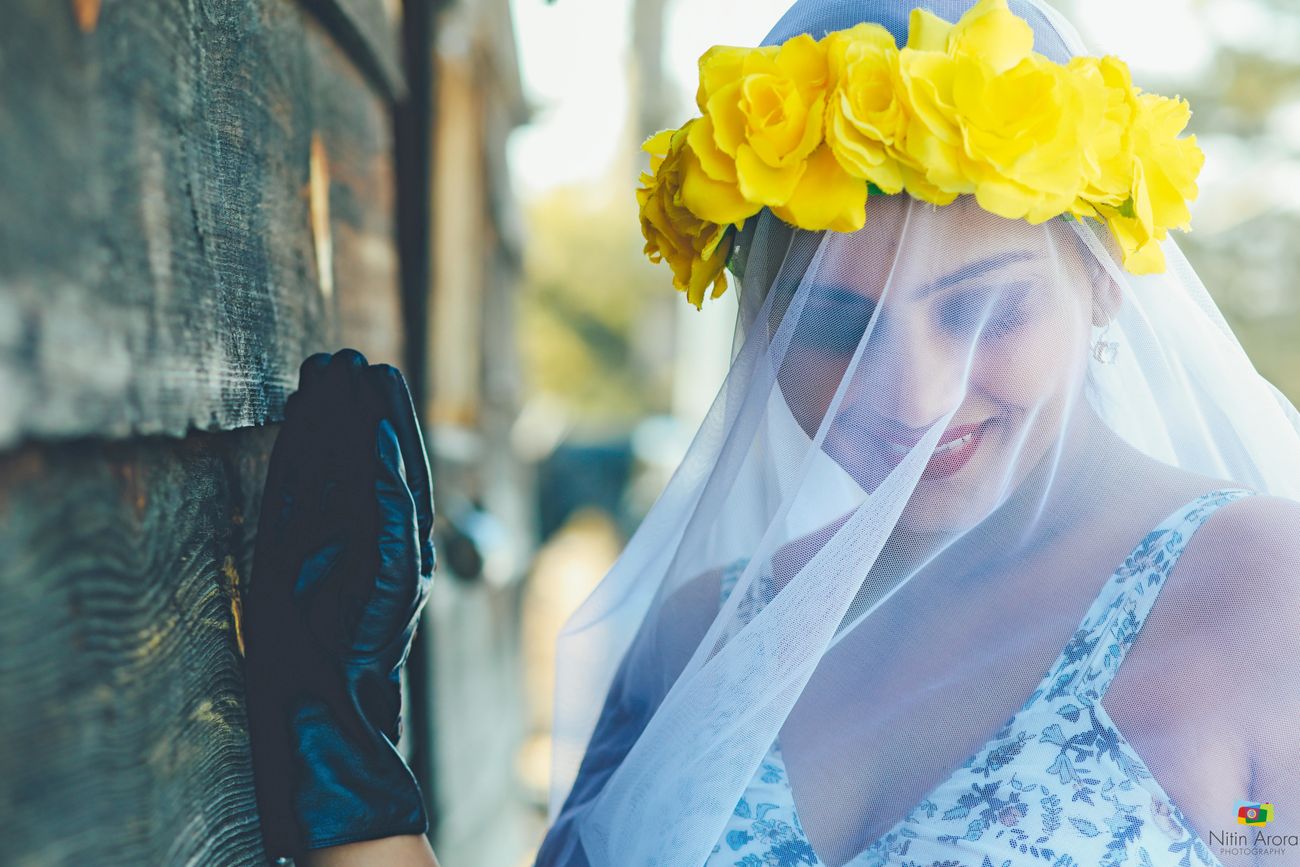 Image via Vanity Apologies
Be minimalist and braid inwards and add green baby breaths for a pop of fresh color
67.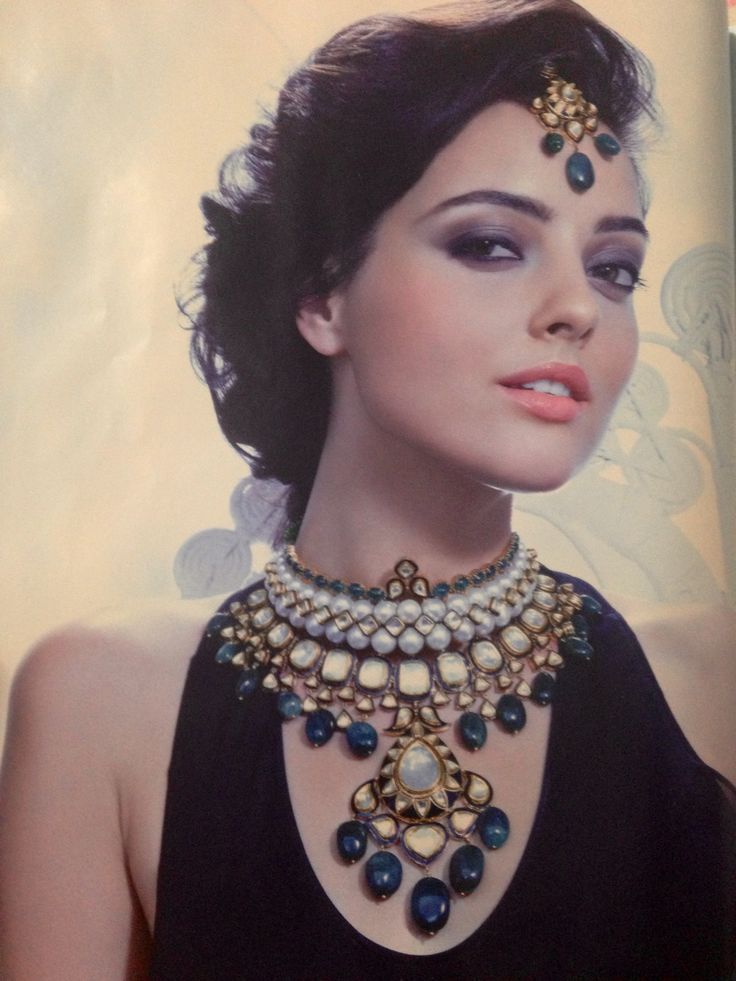 Image via Weddings Online
Gemstone jewelry can add a touch of grandeur to your hairstyle!
69.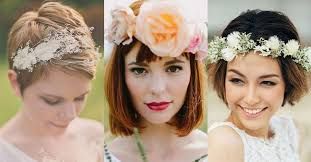 Image via Sugar Styles
Tiara game is super strong! Use baby breath or flower tiara to accessorize. This is a perfect bridal hairstyle for your pre wedding functions! Find more Engagement hairstyles here.
70.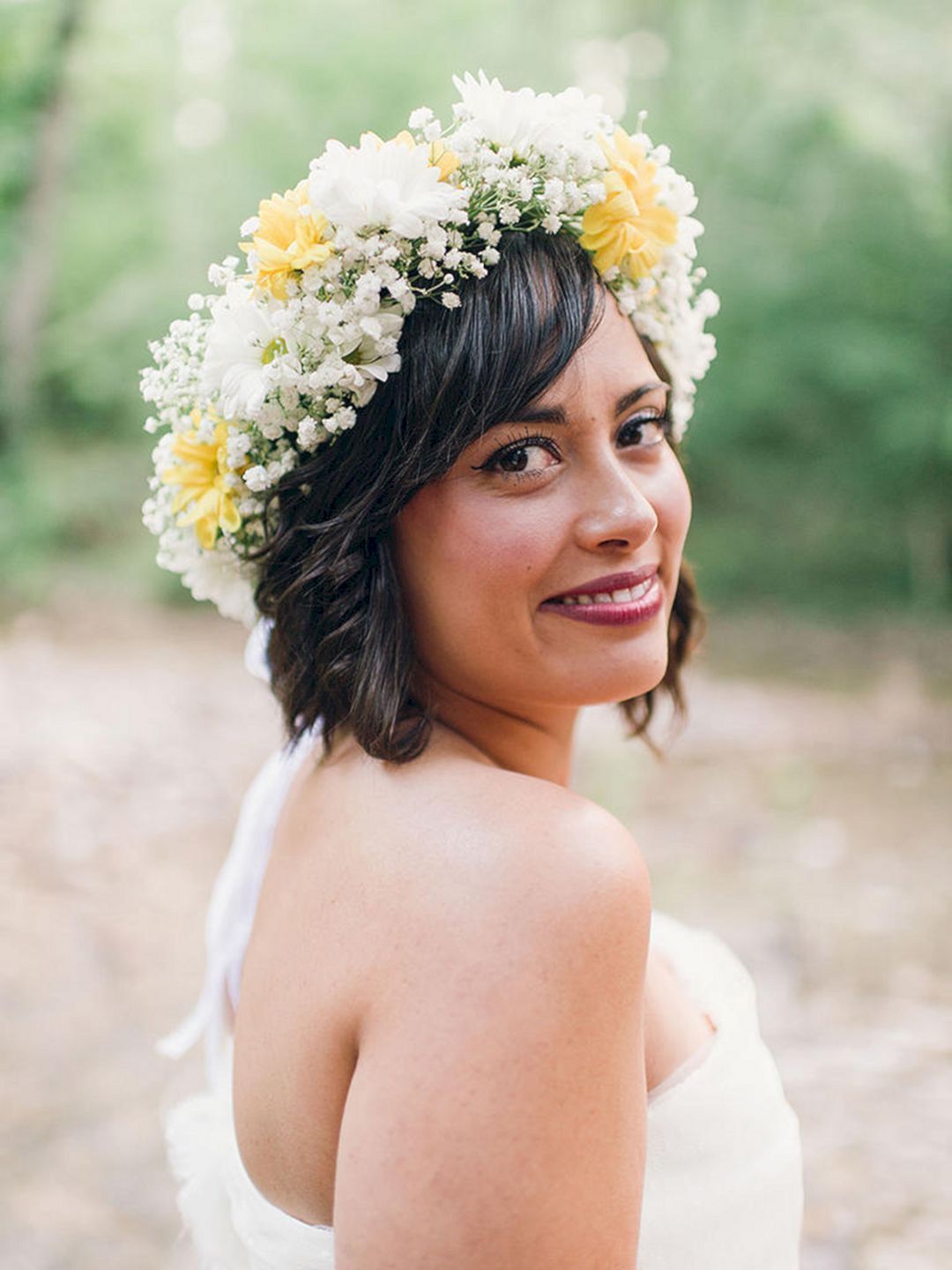 Image via Pinterest
A big flower tiara of many colourful flowers to compliment or contrast your outfit would be great for short hair. Small and pretty!
This was the massive list of 70 bridal hairstyles for you gorgeous brides to pick from, try and rock!
Good Luck, pretty ladies.
And if you are still confused about the hairstyle that will suit you the best, do check out our blog on the perfect hairstyle based on your face shape.
Also read: Tips and tricks for to nail the wedding hairstyle!