45 Most Awesome Groom Entry Songs For Your Wedding!
BY Sakshi | 17 Oct, 2022 | 344044 views | 10 min read
Move over brides, it's time for the grooms to shine! Entries are no longer limited to just bridal entries or couple entries – grooms are having fabulous entries on their own. Upping the drama at entries and baraats, grooms are bringing in josh with their groom squad. And for that we've picked up the perfect groom entry songs, baraat songs and even where you can dance with your gang. From the fresh new tracks to the oldies which are still classic for weddings, here are over 45+ songs that you can groove to on your wedding day!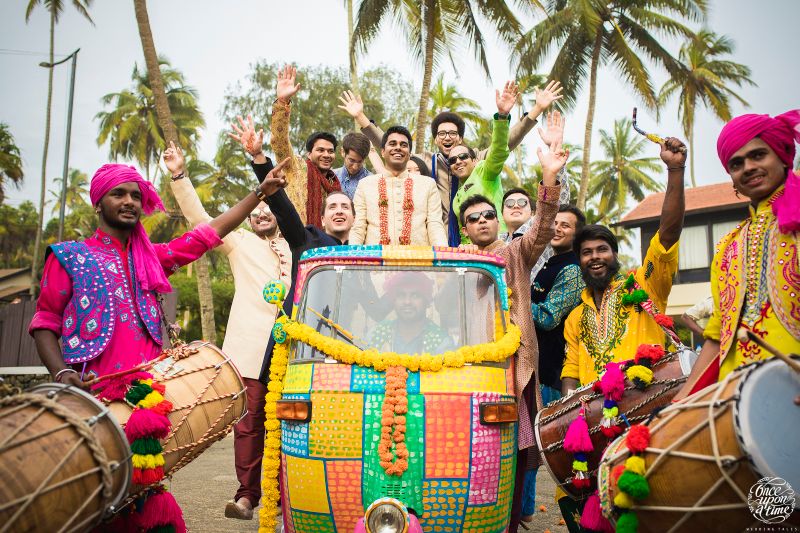 Image via Once Upon a Time-Wedding Tales★ 4.8
All The Latest Hit Groom Entry Songs
1. Kala Chashma – Baar Baar Dekho
View this post on Instagram
This song is trending and how! With this signature and viral step making it such a hit song, it's one of the best baraat songs to pick from to dance with your groomsmen.
2. Oo Atvava - Pushpa
View this post on Instagram
While this song broke the internet earlier this year, this dance sequence done by the father wowed us! So if your dad is planning to join your baraat or you just want to pick this as one of the dulha entry songs, it's going to be a head turner.
How can you forget this swagger of a song for your baraat songs? Brown munde is an amazing track for Indian looking for that Punjabi tadka for their baraat entry songs for groom
Sukhbir is back with a bang bringing loads of energy with this song perfect for an amazing groom entry!
Go around a little extra by declaring this song to your loved one and performing on the same and be the HERO of the event!
Who wouldn't include a Mika song to their list as he makes the popular groom entry songs to make your sangeet a peppy event. This remix will surely add fire to the stage.
Already performed on the original one? This song offers a whole new vibe and makes it a perfect dulha entry song!
This remix will make the toes tip and heads for a spin, an apt song for a groom to perform on his Sangeet for his lady love.
Another energising remake of this old song will make the feet tap of all the generations because it is THE wedding song for a groom. Psstt.. you can save this one for a bride & groom dance too!
The tune of Tequila makes it old school for all the Chacha's, Mama's, Uncle's to dance with you and make it a worthy Baraat song!
Groom Entry Songs for Wedding Day (Baraat Entry)
You cannot ignore a high beat, Ranveer singh song in your list for groom entry songs! Khalibali is such a high energy song that you have to have it in your baraat songs or as your dulha entry songs!
Having a temple wedding or a traditional wedding with all the ritualistic touches? You cannot find a better baraat songs that this 2 States beauty!
One of the most melodious and lyrically perfect groom entry songs, albela sanjan aayo re is great pick. You can have a royal groom entry amidst a shower of flower petals with this song as a perfect royal entry songs.
Looking for completely filmy dulha entry songs? You cannot do better than swag se karenge sabka swagat. We promise, everyone from 12 to 80, will groove to this for your baraat songs!
The quintessential groom entry song - no we're not kidding! It's fun, it's peppy, the beats are fast and playful - now what more can you ask for?
Dham-da-dum-dum-dham! Well, this song will set the tone right from the first beats. If you're looking for a song that announces a palace-king like arrival, then this one is a good choice!
A list of groom songs and we don't include this one? That's not possible.
Okay, it's super dramatic but then super dramatic grooms exist, don't they? Mark it on your list of wedding songs for groom!
Ranveer Singh's energy, coupled with peppy beats and lots of masti - Malhari is another great option if you're planning to enter with your friends in tow!
View this post on Instagram
Want to a blockbuster groom entry song? Palat from Main Tera Hero is such a loved song across age groups that we promise that everyone will be grooving!
 Slow and super romantic- this song will remind your partner of everything that you hold in your heart for her.
Thinking of something royal & romantic? We suggest this one, as it can instantly set the ball rolling and announce your entry in true royal spirits!
Thinking of a groom entry song that's more traditional and will give your wedding a dharmkik touch without making it sound tacky? This is just what you need!
Oldies But Goodies (Groom Entry Songs for Sangeet)
24. Taare gin gin
View this post on Instagram
Another classic baraat entry songs for groom, you can take a cue from this bride who joined her own groom's baraat to dance her heart out. Afterall, who can resist such amazing dulha entry songs?
A classic for a reason, this Salman song is one of the most played songs in any list of baraat songs in India.
An oldie but a classic song for a reason. Perfect for any '90s groom getting hitched as a great groom entry song!
One of those typical Bollywood baraat songs! Get all your brothers and sister together and make for a grand entrance- rest assured, this one is going to get all eyeballs on you!
This one will get you whistling and humming the song, trust us! Although a little slow, the lyrics and the beats are super catchy, not long before you'll find yourself humming it too!
Wondering how to make a crazy groom entry that is bound to make an impact? Well, here's an option for you! Suggestion: break into a quick pre-set choreography in the middle of your way - now that's how you make sure nobody misses your grand entrance!
Be the filmy Hero you had always wanted to be now does it sound like something you had always wanted to do? Enter in style, and announce it in a better way with this peppy song.
Whether you want a dance battle between the groom side and the bride side or just need some good groom songs for entry, any list is incomplete without this one!
View this post on Instagram
Looking for something that has lots of energy, fast beats, and beats of the dhol? Even though a little old, Tenu Leke is the perfect choice for baraat songs for grooms!
Well, isn't it all about asking your partner to marry you in the first place? Then why not just turn that into a song and say it out loud? Mujhse shadi karogi, the title track comes to your rescue- the next addition to a groom entry song!
How about going way back in time and pick Mehendi Laga Ke Rakhna from Dilwale Dulhaniya Le Jayenge? A classic- this song is probably as old as you and I are, but who cares when the song is so fitting?
Groom Entry Songs For That First Impression (Newer)
This one will definitely set the mood for your celebrations. Marrying someone you've known for a while? This one is just right for your entrance into the wedding (and their life)
After all aren't all groom entry songs a declaration of love for their brides? And what better than Sweetheart to declare that love as you entry your wedding mandap?
The beats of the dhol, and that fast tempo makes Chogada one of the best baraat songs of recent times. With a touch of Gujarati, but typical, peppy beats, this one will definitely make everyone get on their feet and join in on the fun!
You may not like Coka Cola in the first go, but give it another try and you'll find yourself humming it - it's that infectious! Another addition to our list of baraat songs? We say yes!
Playful- that's what this song is all about! If you're up for some fun and don't mind teasing your partner a little, you can pick this one for a fun groom entry song!
A little different from the others in the list, Ik Vari Aa is unlike any other song that you will probably think of for your entrance. Smooth, free-flowing music with just the right lyrics.
This remixed one from Kapoor and Sons has been tweaked a little, with added lyrics and funky beats, that you might find it hard not to shake a leg or two!
Who doesn't love a little Punjabi tadka? This one fits the bill just right! Although a little slow, the beats are so tempting that you wouldn't be able to resist this one.
Well, as a matter of fact, you ARE choosing to let go of every other girl in the world to be with your partner. So why not tease her a little with this song? This is just what you need!
Groom Entry Songs With Family Entry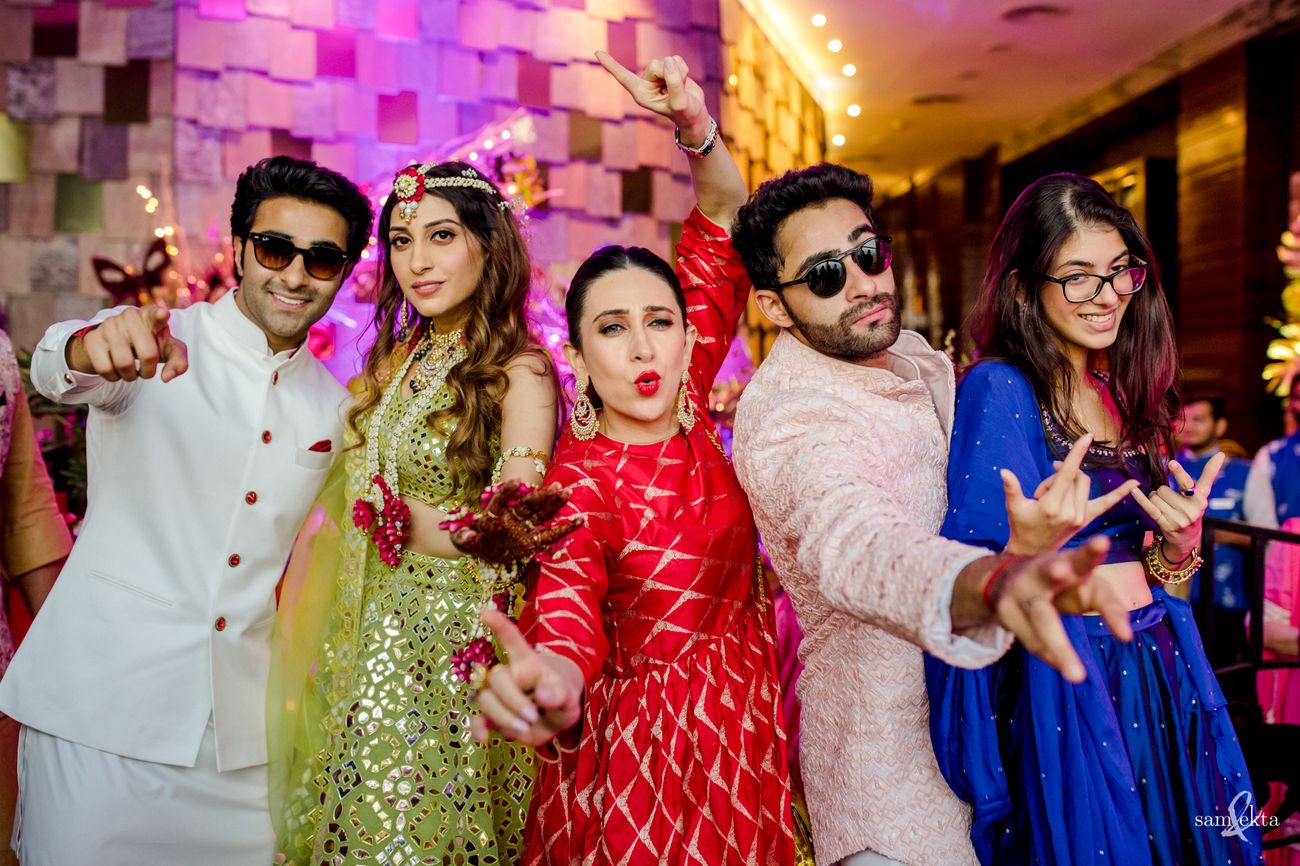 Image via Anissa and Armaan
A perfect song to perform with the gang on your Baraat, the homeliness that this song derives creates nothing but happy moments.
A touch of Punjabi lyrics, lots of dhol, a high energy family and this makes for a perfect dulha entry songs
Want a super-filmy wedding dulha entry song with your family? You cannot get more fun and filmy than this Hum Saath Saath hai song!
Now we know why they say it's nothing but a lot of stress with being a groom too! While we are sure you can very well take care of all other aspects of it, we thought we could help ease out the burden just a tad bit by making sure you no longer have to worry about your entrance. Also, in case you need here are a few songs for brothers of the groom to groove on.
ALSO READ: 50 Latest Hindi Wedding Songs For Sangeet!
11 Kickass Sangeet Songs For The Friends Of The Groom! * Full-On Peppy Numbers
*Updated by Apoorva Pagar.