20+ Sabyasachi Jewellery Pieces That Blew Our Minds!
BY Apoorva | 24 Mar, 2023 | 67943 views | 5 min read
A Sabyasachi lehenga from the Sabyasachi Mukherjee★ 4.9 bridal collection is on the list of many brides from the very first day they plan their wedding. Brides want the latest pieces while not caring about the price or cost of it. But new on the list is Sabyasachi jewellery! The Sabyasachi jewellery collection that is from the House of Sabyasachi himself is mind blowing to say the least. Along with a Sabyasachi lehenga, you can pick a wide variety of Sabyasachi jewellery from the unique Sabyasachi jewellery collections that he has launched in his flagship store.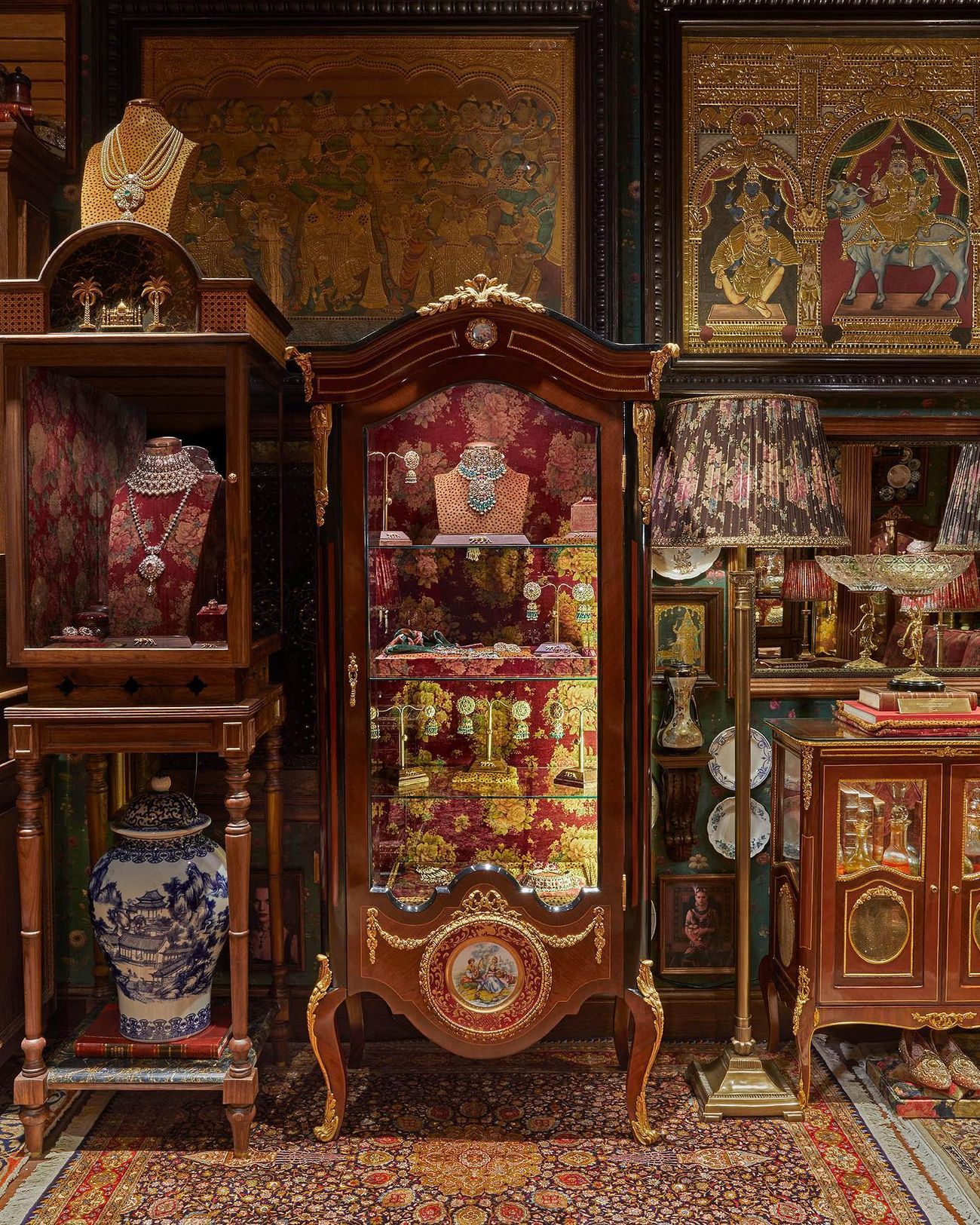 Along with the exclusive Sabyasachi bridal collection in Sabyasachi jewellery – they also have multiple pieces in wedding jewellery that you can pick up if you are a sister of the groom or bride. While most of these pieces in the Sabyasachi jewellery collection, are super-exotic when it comes to the diamonds and other stones used so we can only estimate how much does Sabyasachi jewellery cost!
We picked out 20+ of the latest Sabyasachi jewellery pieces from the Sabyasachi jewellery collection which were earth-shattering to say the least! The pieces are absolutely unique and not massy – so you won't get typical trends. But you will get some unique pieces that are lovely. From emeralds, diamonds to beautiful polki work – the Sabyasachi jewellery collection has it all. Don't believe us? Take a look at the exclusive wedding jewellery pieces here.
Some of the beautiful Sabyasachi jewellery collection pieces are:
Bib Necklaces
Emerald Work
Uncut Diamond Work
Multi-String Necklaces
Chokers
Bangle and Bracelet Stacks
Statement rings
Head jewellery like Maangtikkas, Mathapattis, Sispattis & Passas
This divine bridal set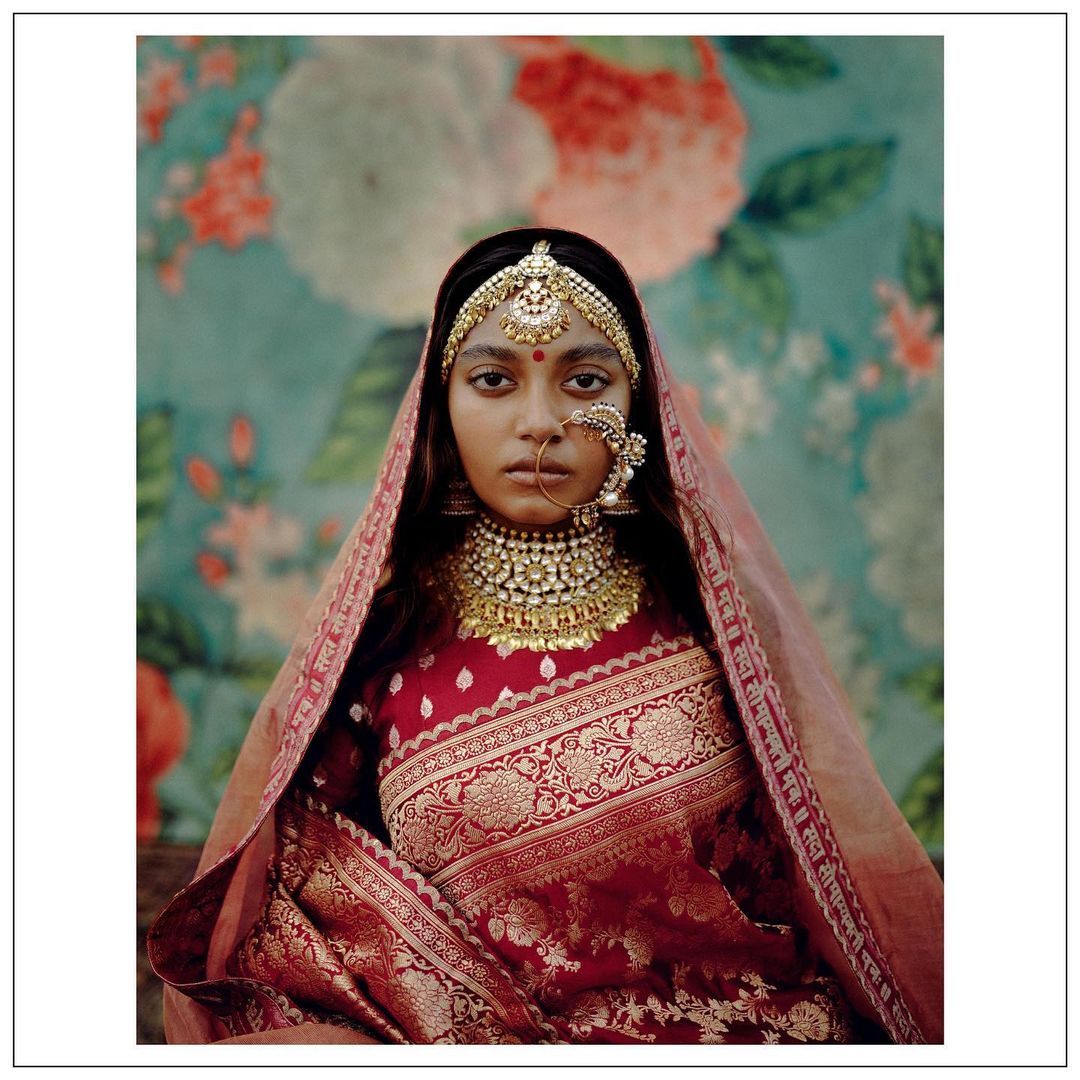 That gorgeous vintage nath with the statement maangtikka and a necklace that reminds us of Alia Bhatt's bridal one- just lovely!
Details that pop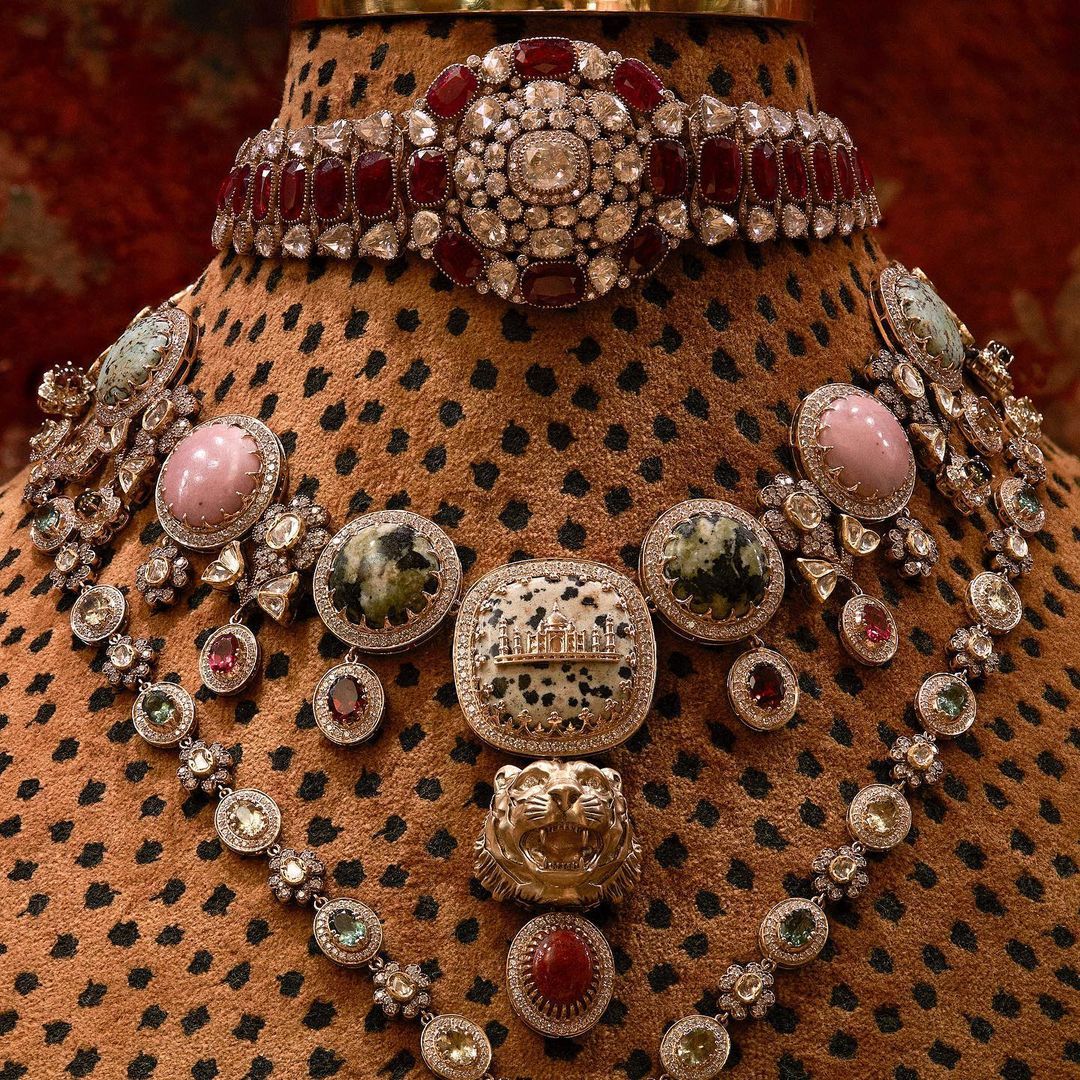 Whoa! Love the details on this one- from the tiger motif to those gorgeous gemstones- everything just pops so wonderfully!
The Royal Bengal Mangalsutra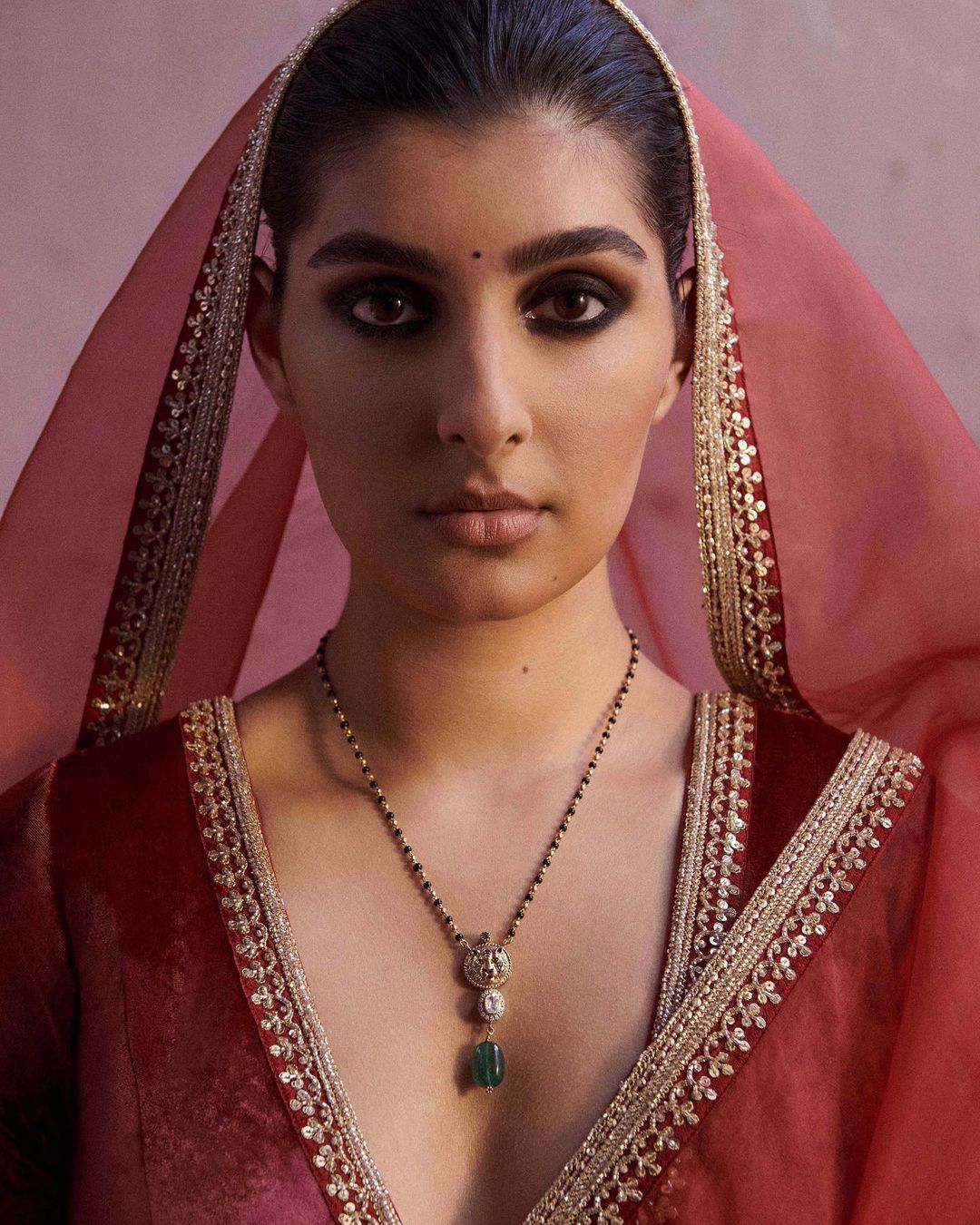 Strong, sophisticated and confident- with the signature motif and uncut diamonds, this one is for modern brides who want a twist to the traditional.
Something unique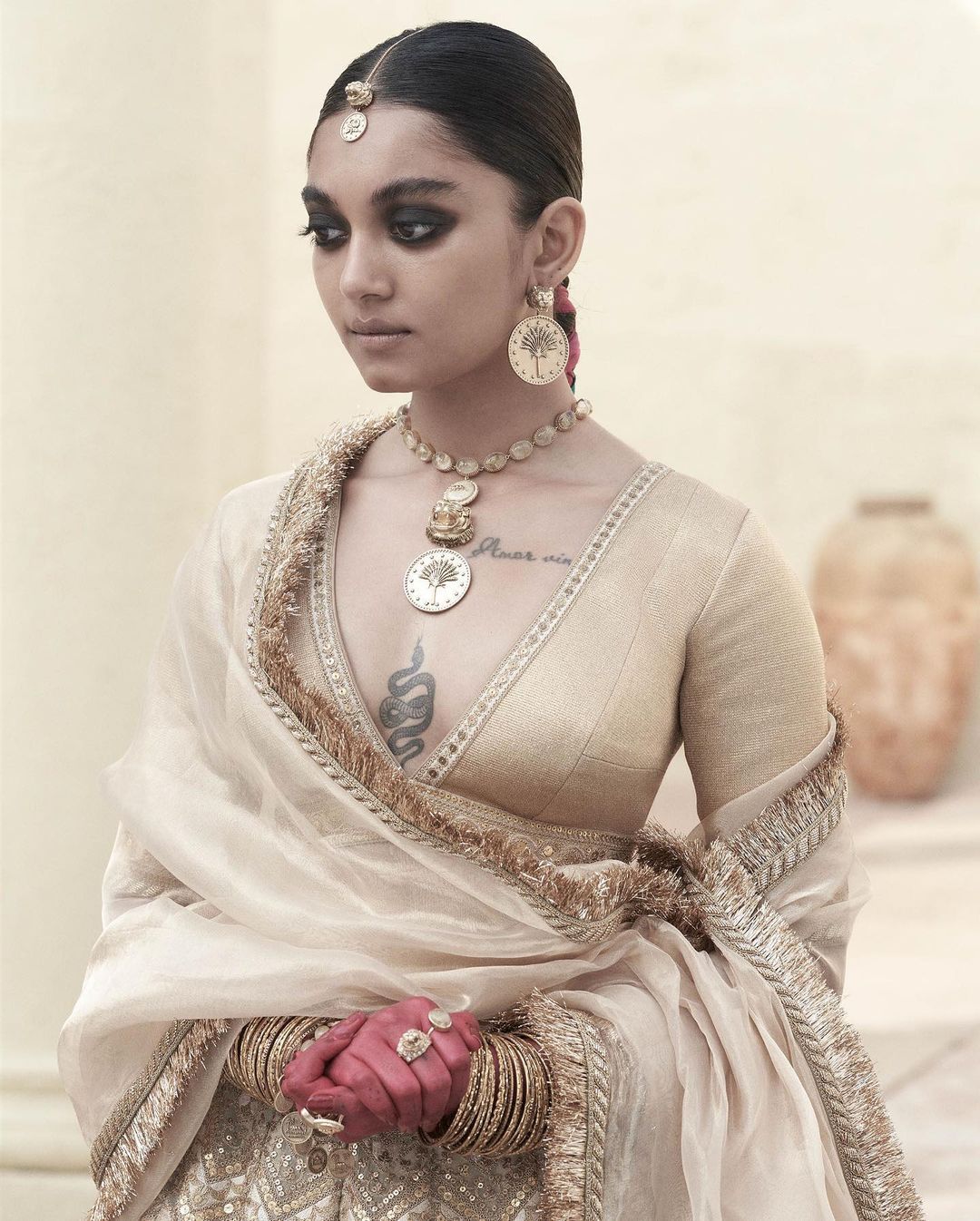 New age and edgy- perfect for modern brides!
Here for the drama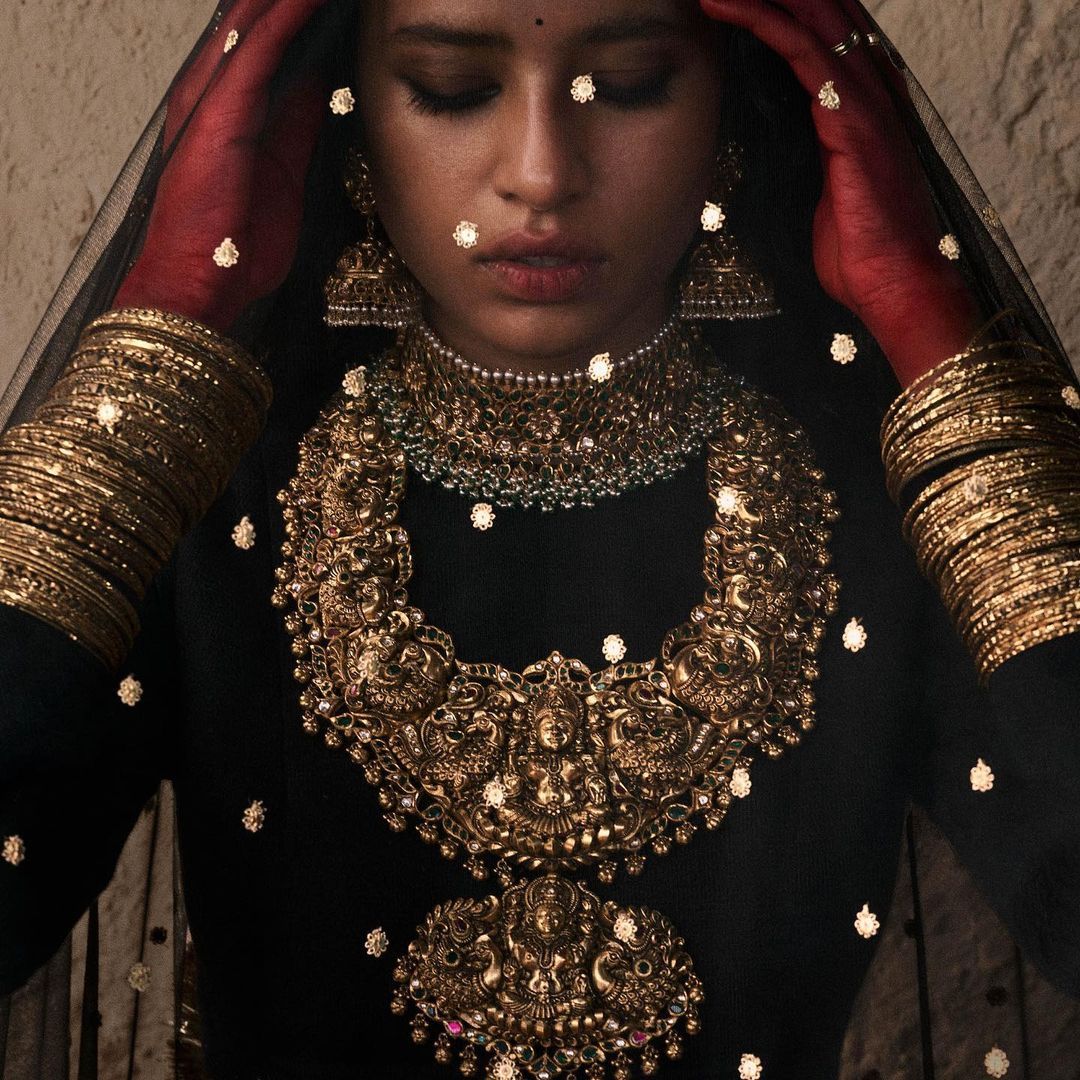 Temple jewellery that's gorgeous for North, South or Fusion brides- a piece like this is definitely worth it's weight in gold!
Temple jewellery for the win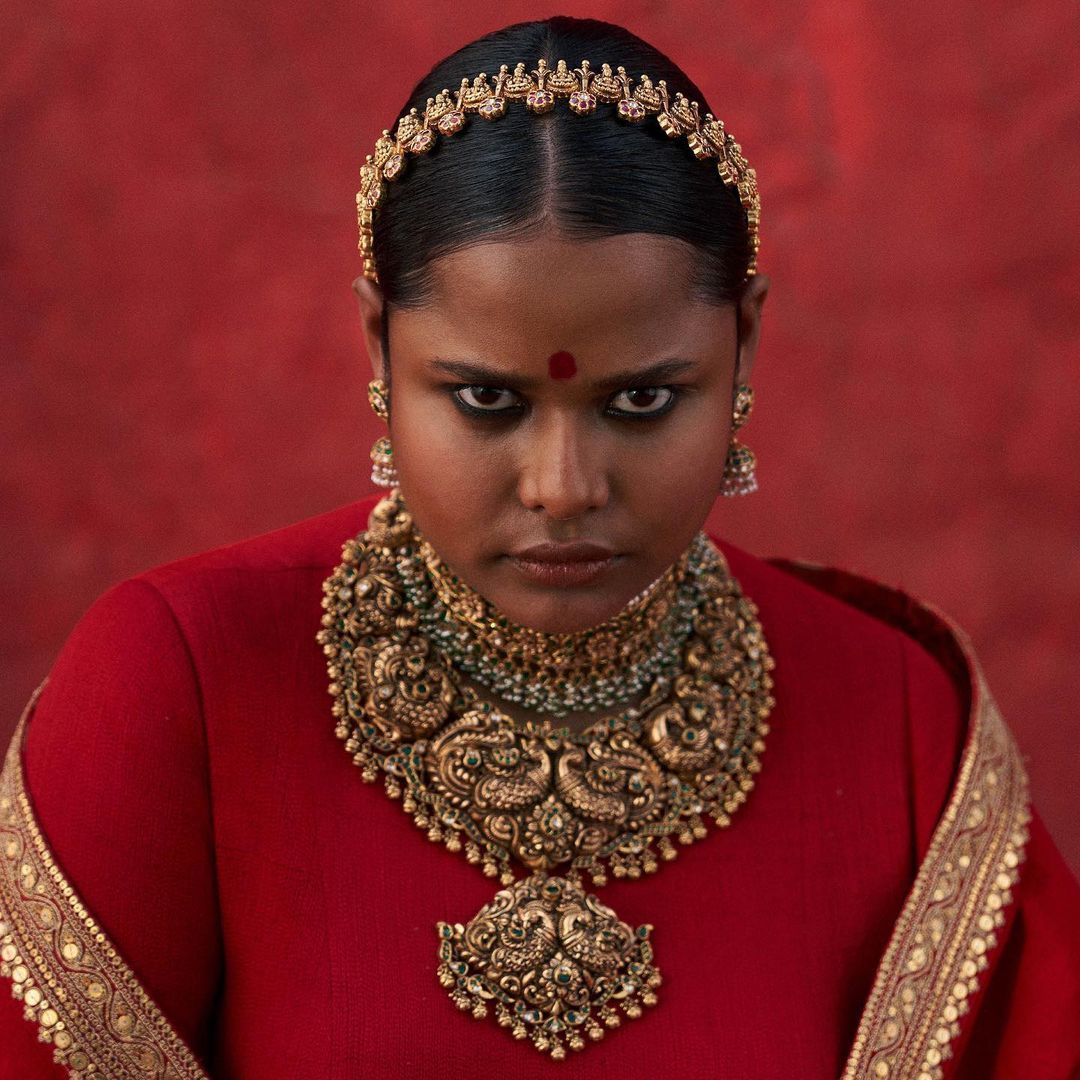 Love his collection of temple jewellery, and the sispatti that complements the necklace so well. When you have these, who needs any more jewellery?
A regal trousseau addition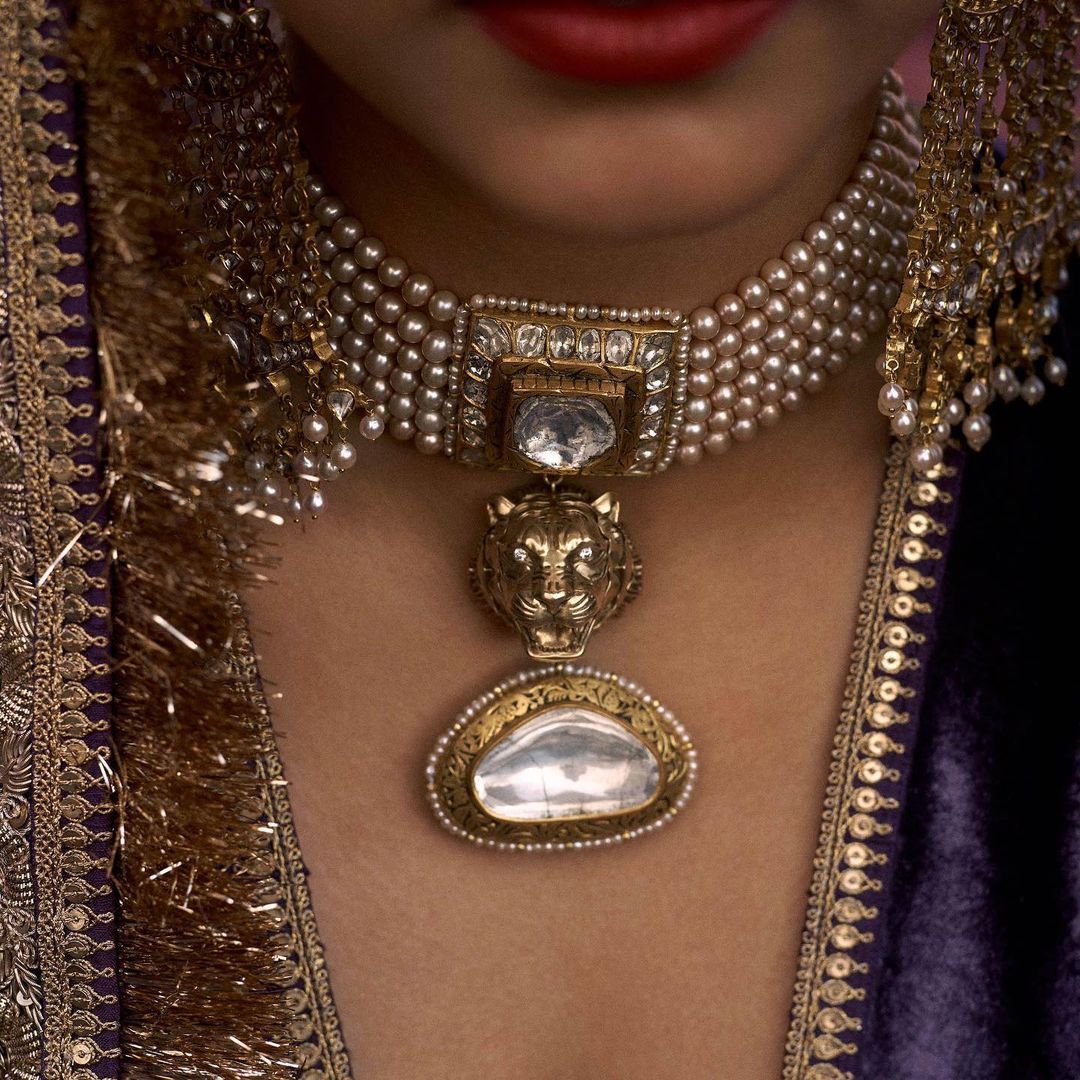 Featuring Sabyasachi's statement motif, this choker with massive polki stones is perfect for the new-age bride.
Minimalist luxury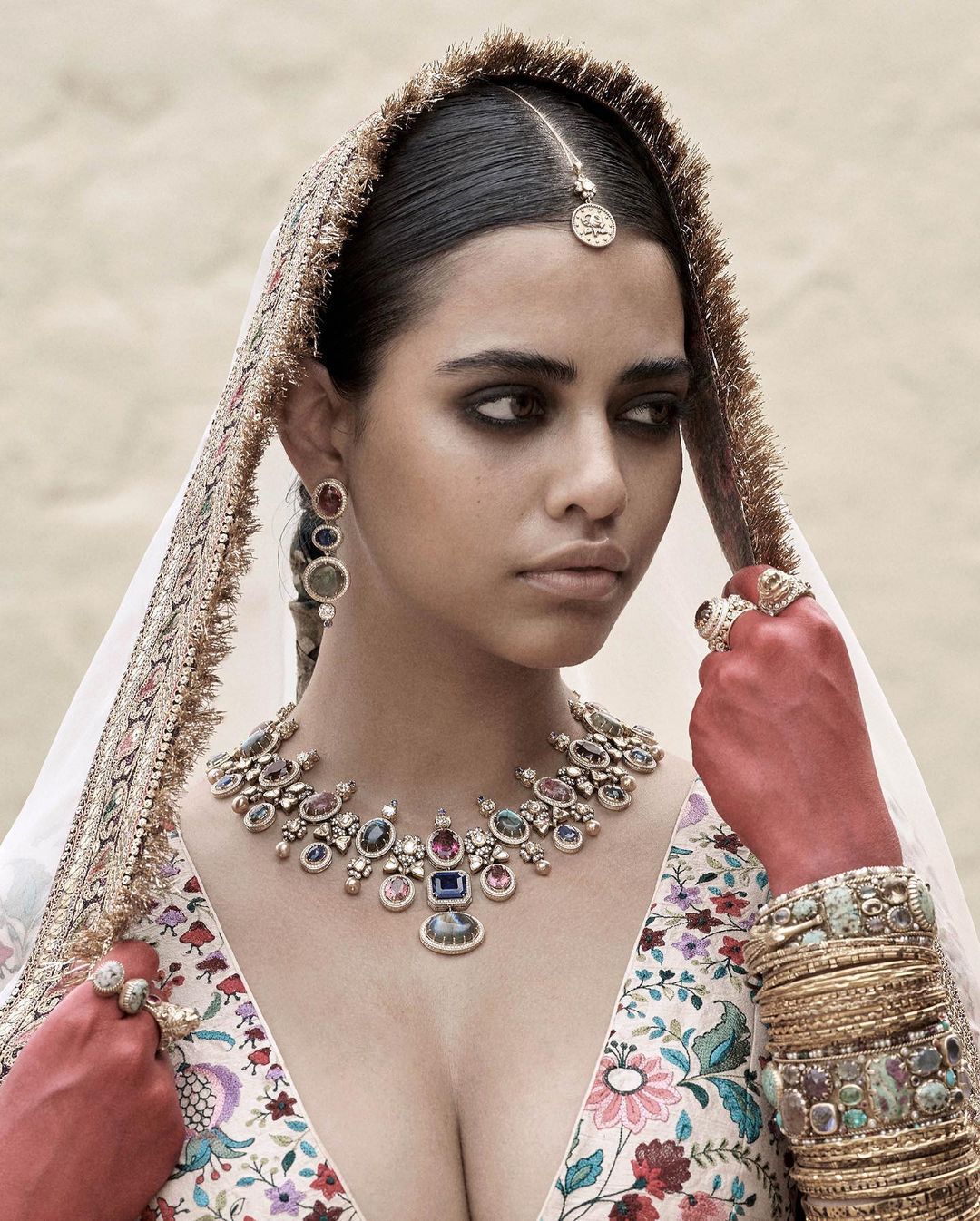 His latest 2023 collection features statement earrings, necklace, bracelets, rings and maang tikka from the Bengal Byzantine Broadway collection, set in gold with multi-coloured gemstones and VVS-EF diamonds.
This edgy bangle stack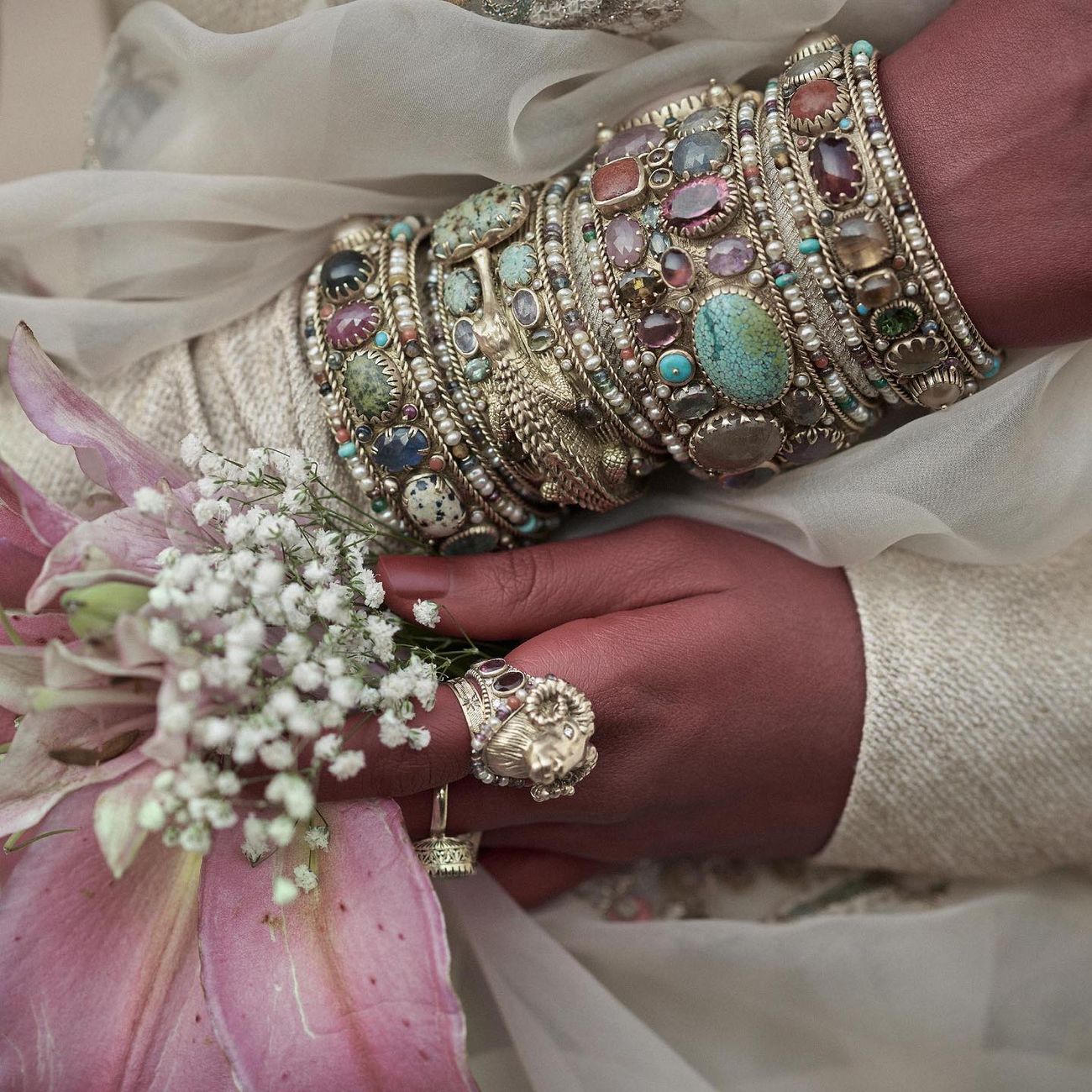 Now this is a modern day heirloom! Sabyasachi's statement bangle stack and statement rings from the Bengal Byzantine Broadway collection with diamonds and precious stones is such a stunner!
A fusion necklace like no other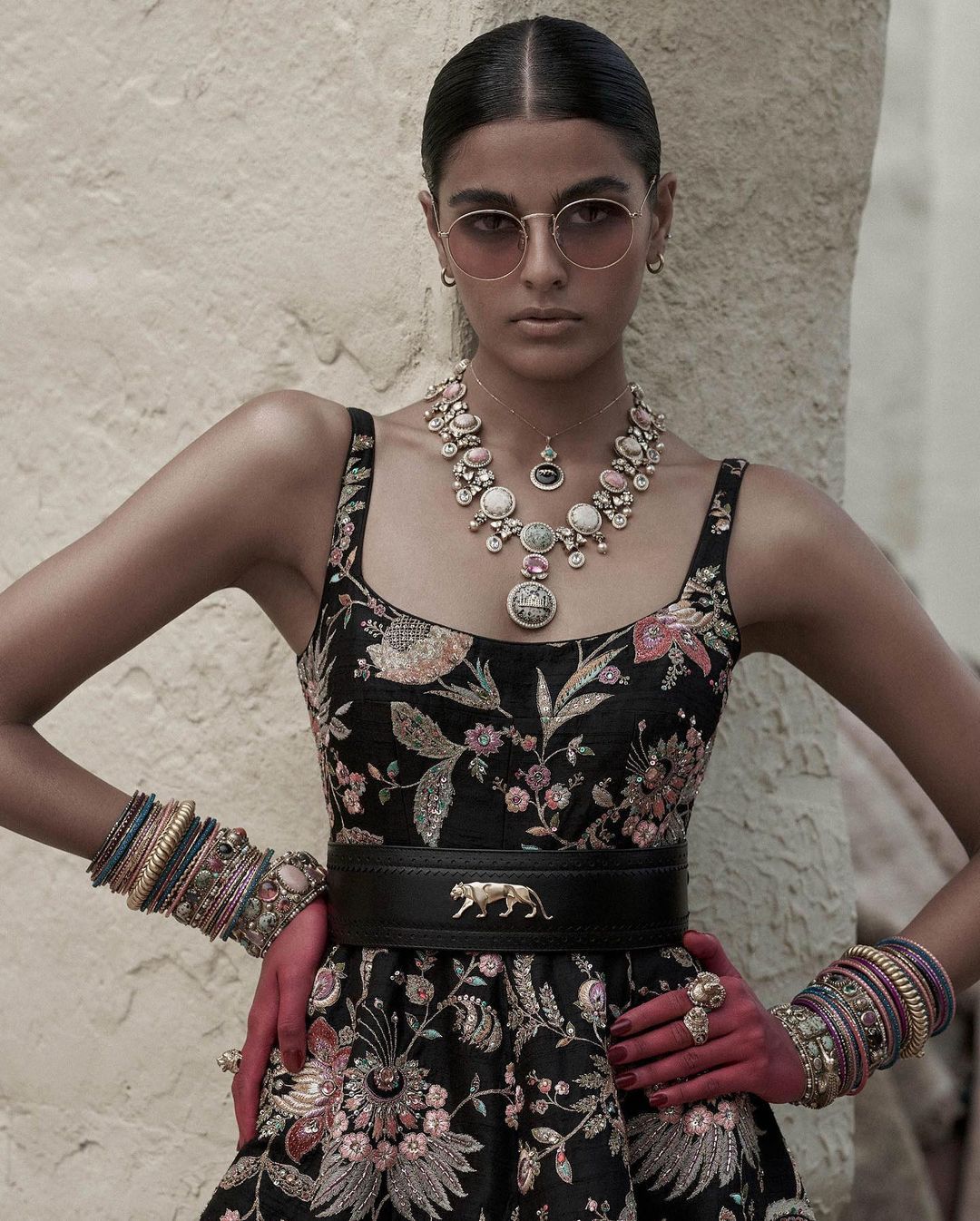 Another one from the Bengal Byzantine Broadway collection that has our heart.
This lovely gem of a necklace!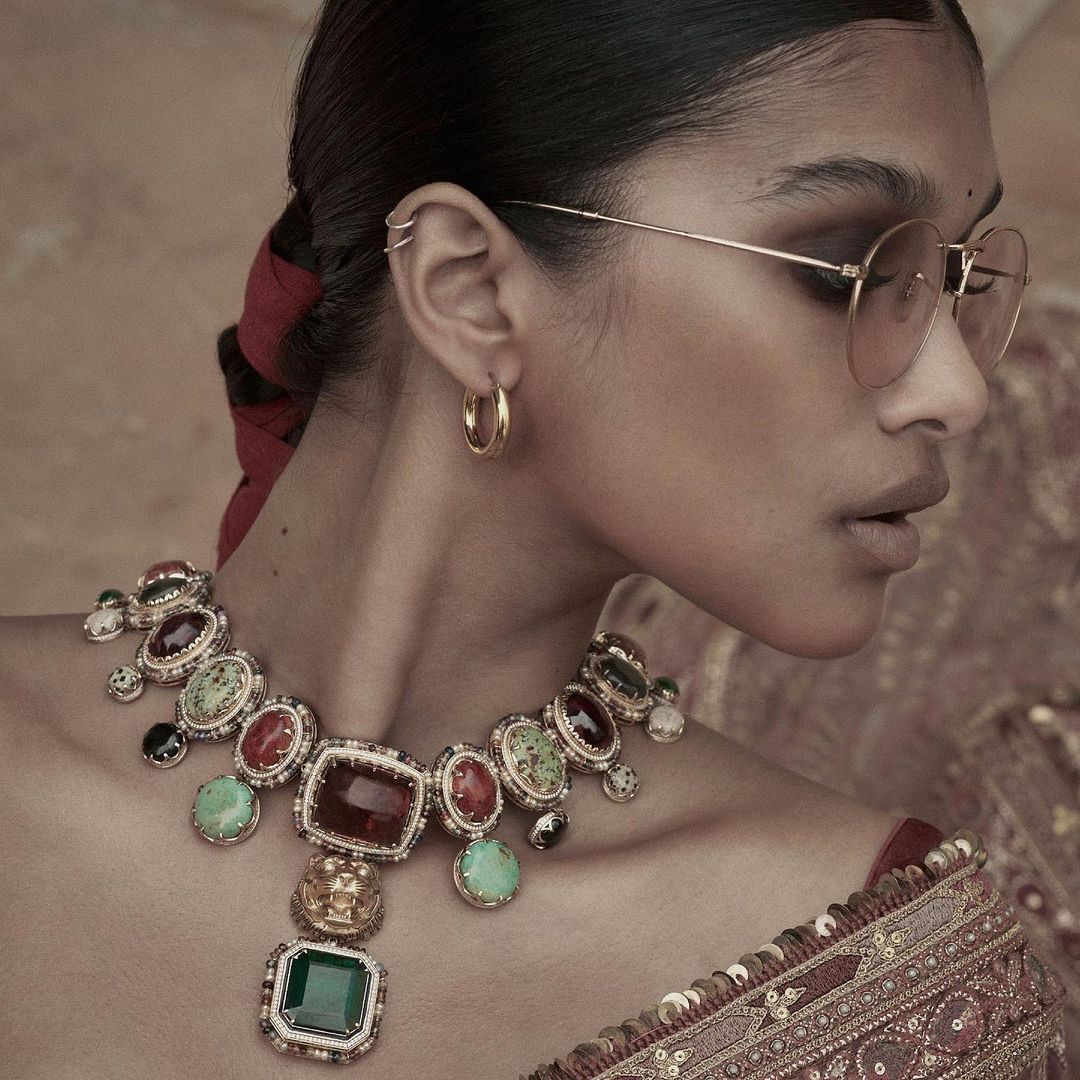 A navrattan necklace like this one is one that is going to be the statement in just about any outfit!
Drooling over this one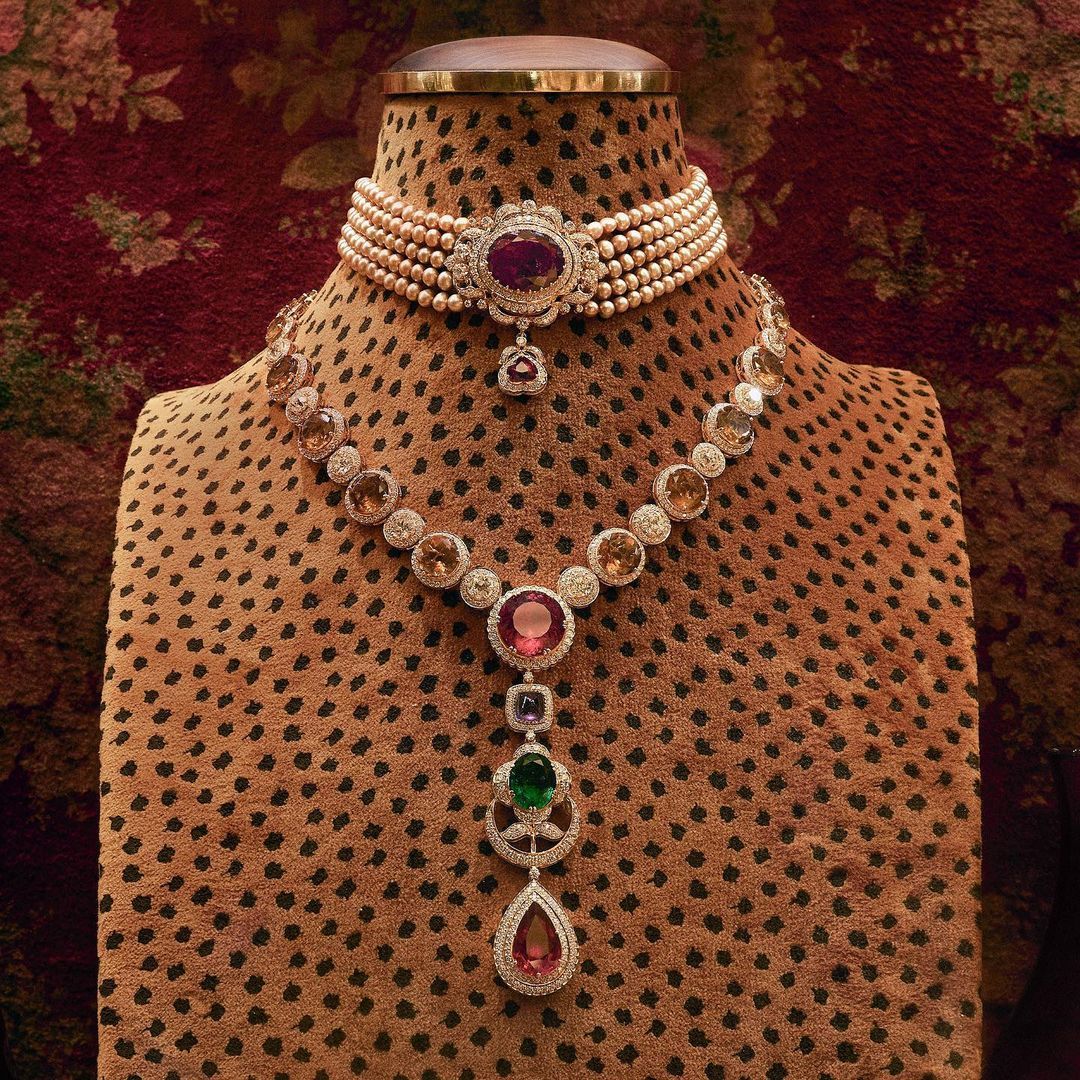 This layered choker and necklace with those gorgeous gemstones has us swooning. So nice for just about any wedding function!
A passa like no other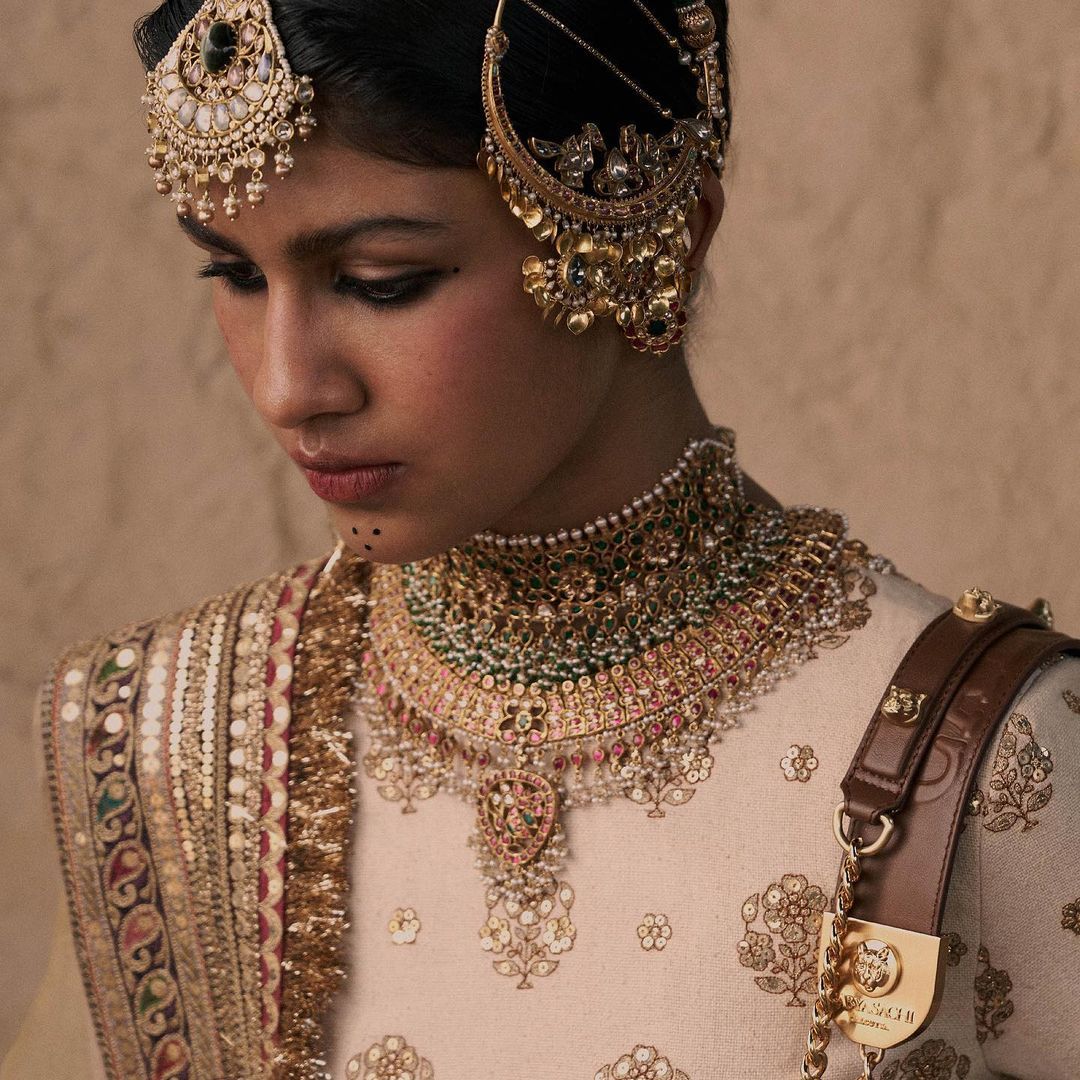 That passa and mangalsutra combination might be OTT for a lot of brides, but if you love the vintage look, then why not?
Alia Bhatt's gorgeous bridal jewellery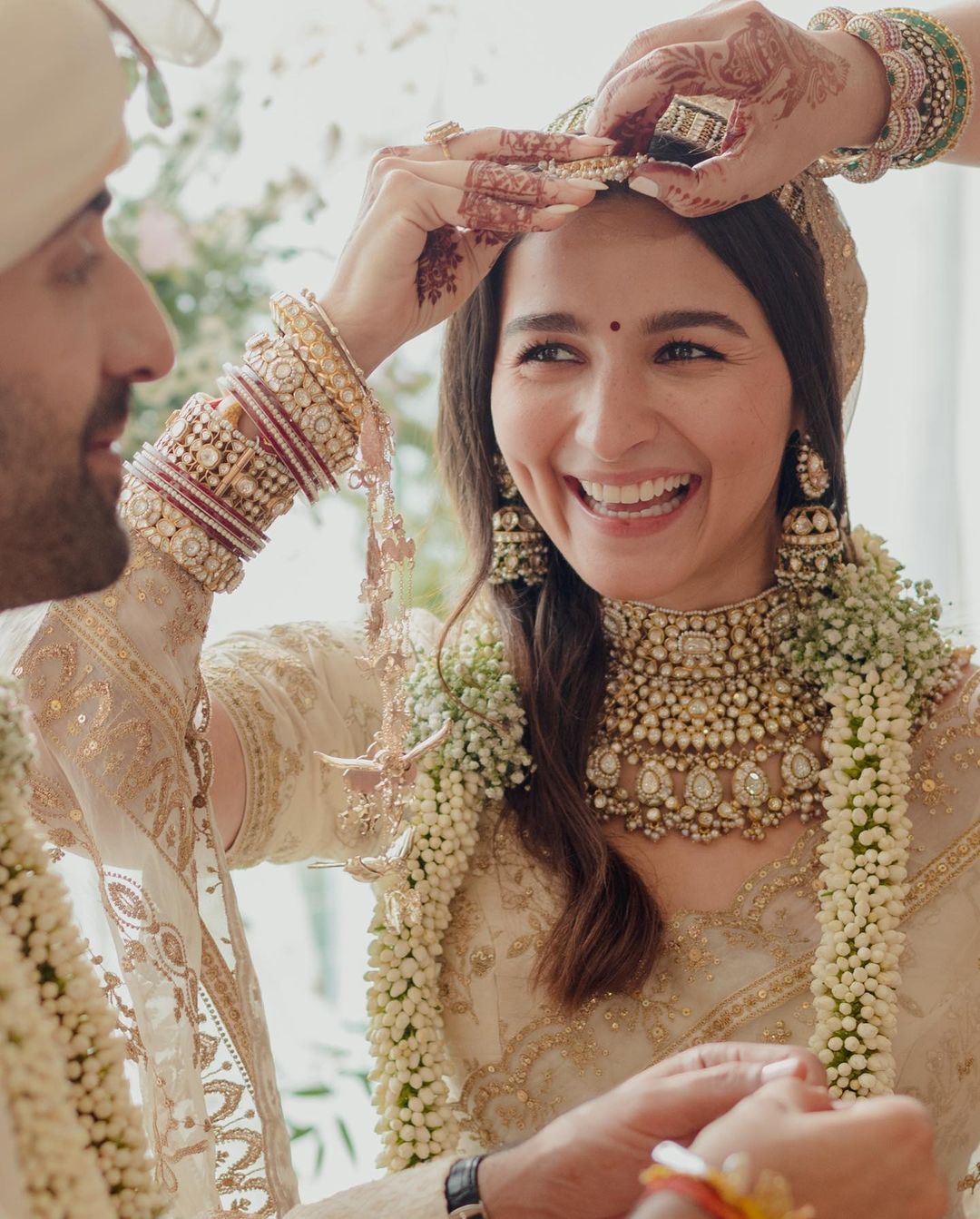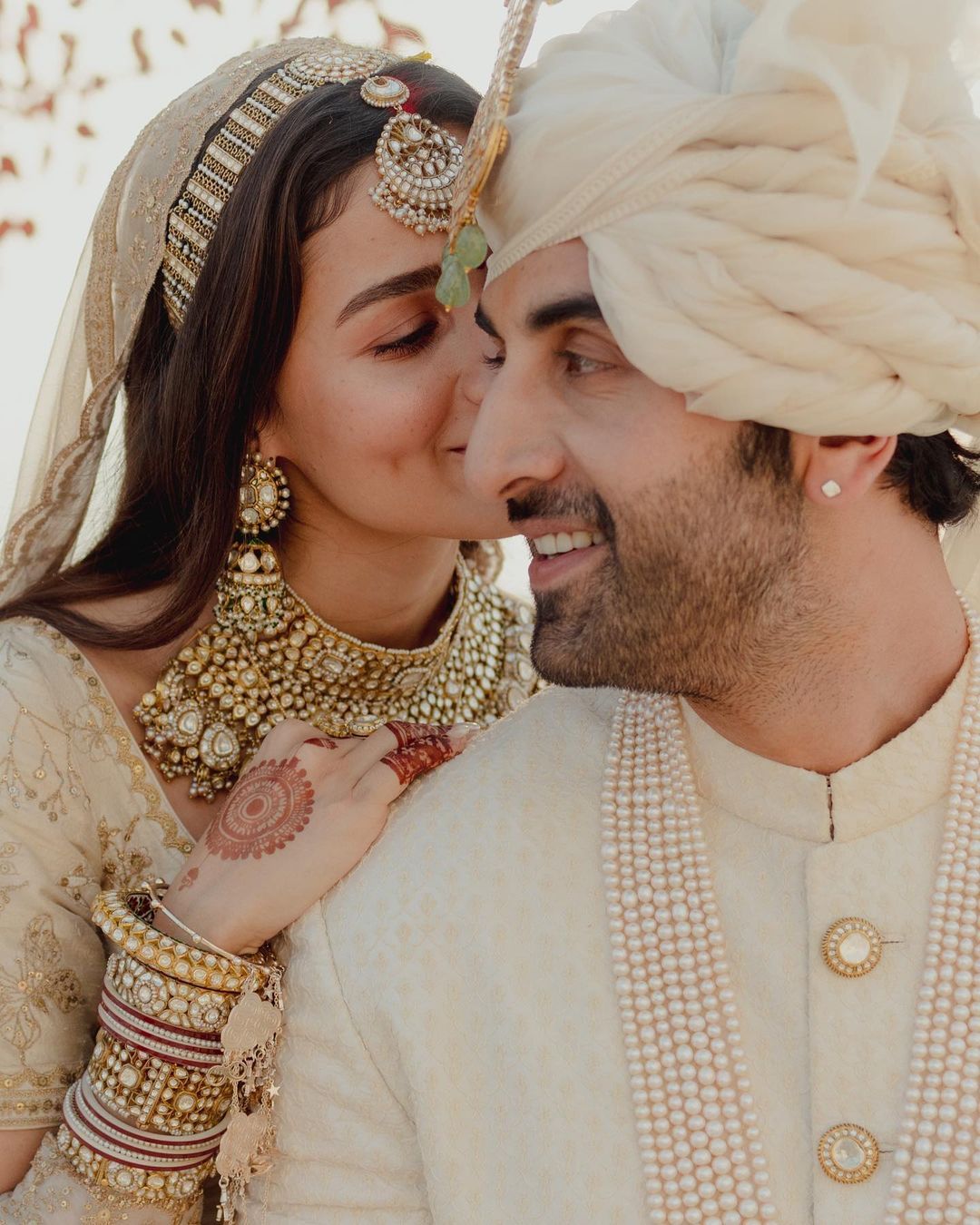 Alia Bhatt wore polki bridal jewellery for her wedding day, and it we are still low-key in love with that bib necklace and sispatti.
Bold & Beautiful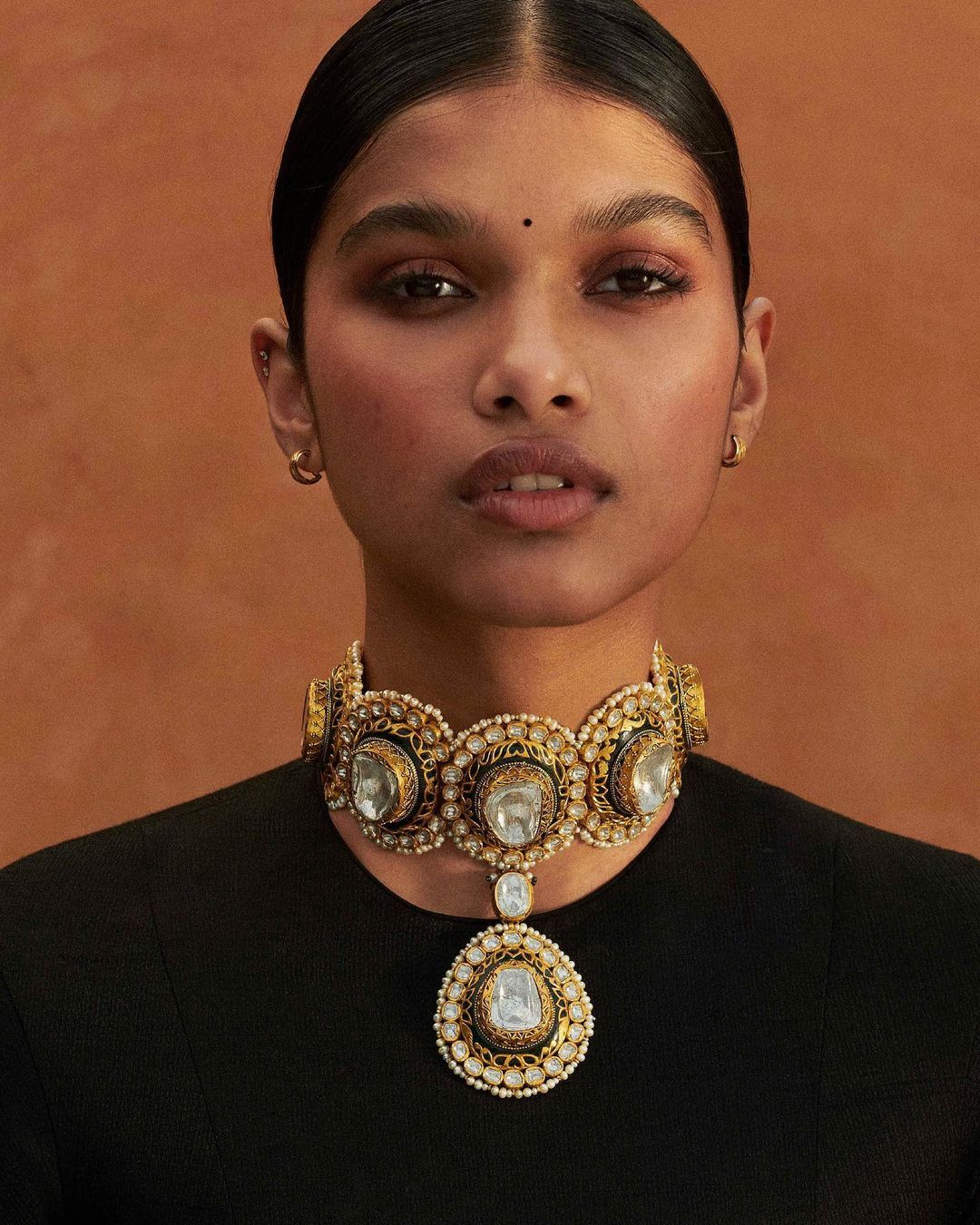 Talk about standing out in the crowd! How awesome is this statement choker in 18k gold set with uncut diamonds and pearls.
This beauty we just can't get over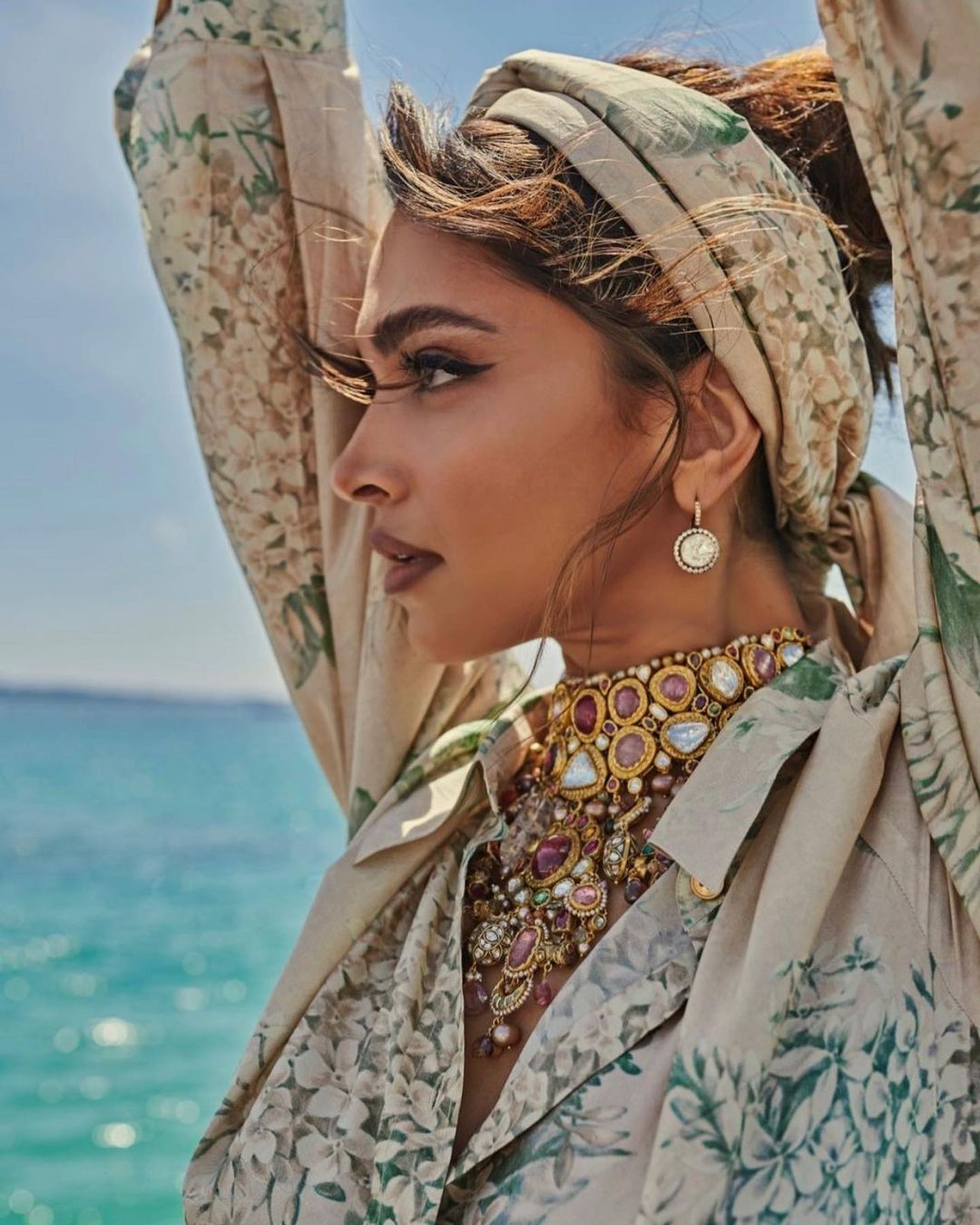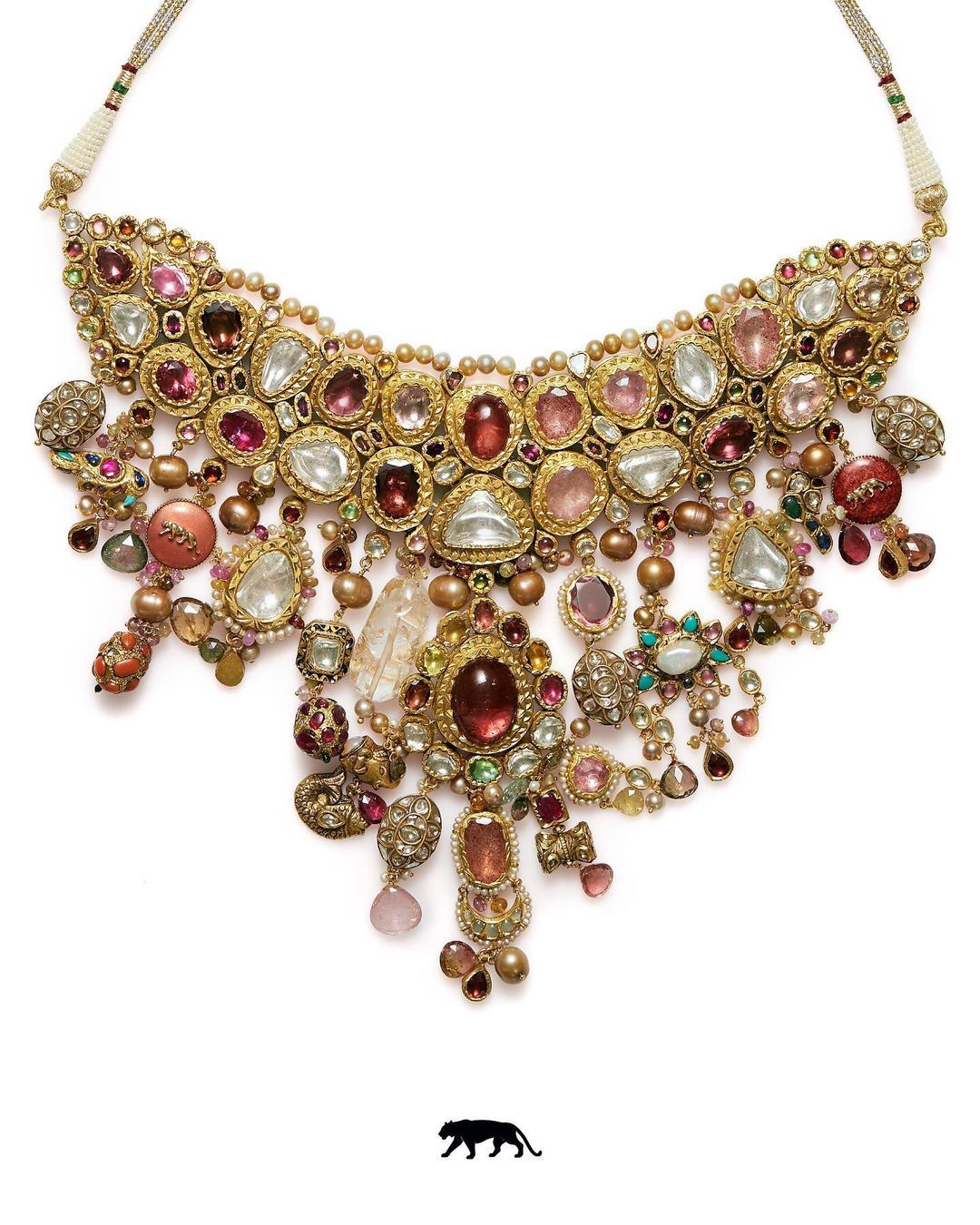 The Lucknow Rose Necklace is gorgeous- perhaps one of Sabya's best creations. A deconstructed Maharani necklace crafted with uncut diamonds, sapphires, tourmalines, pearls, rubies, turquoise, aquamarines, garnets and rhodolites... just beautiful!
A modern day Maharani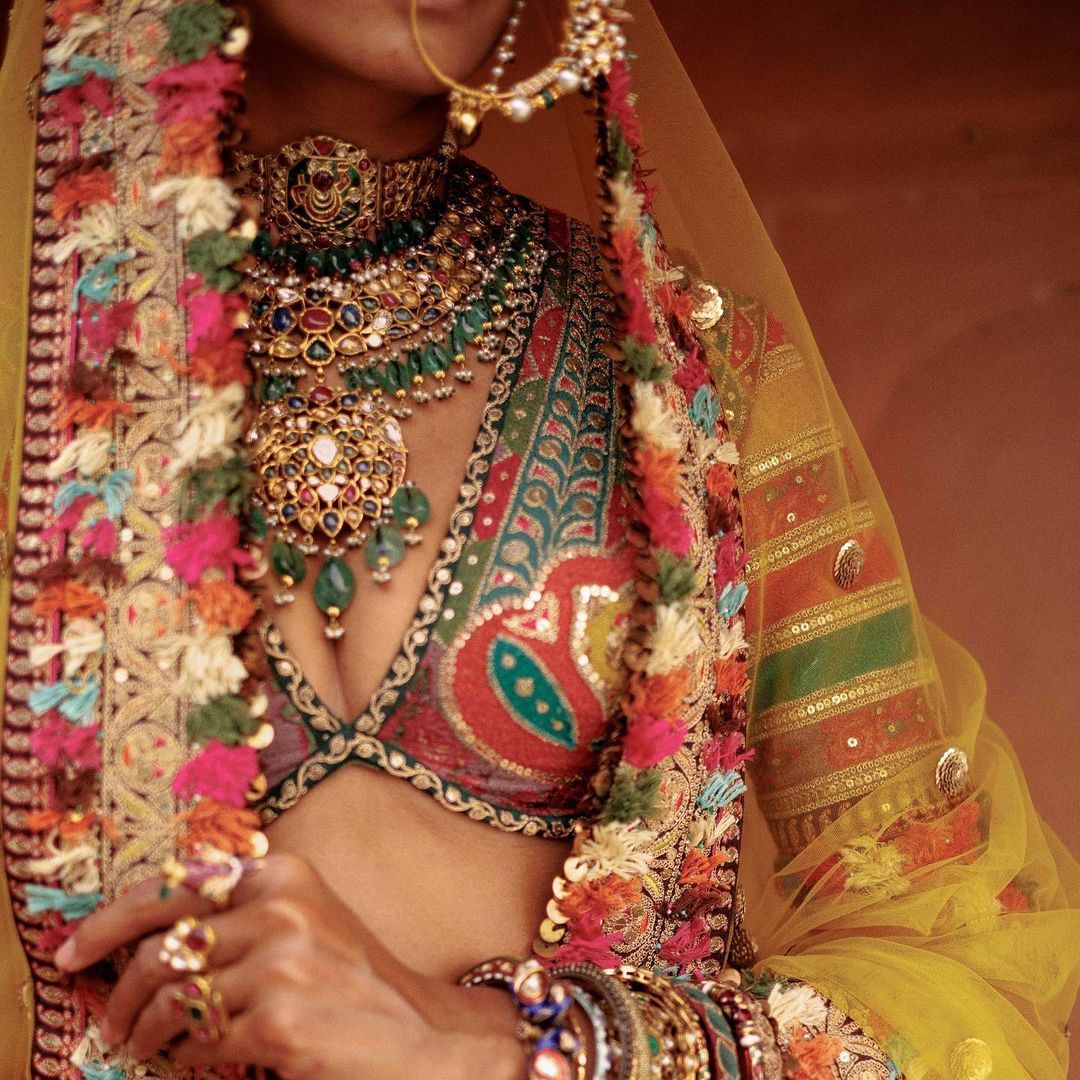 That necklace with the pop of green- want want want!
Talk about a statement necklace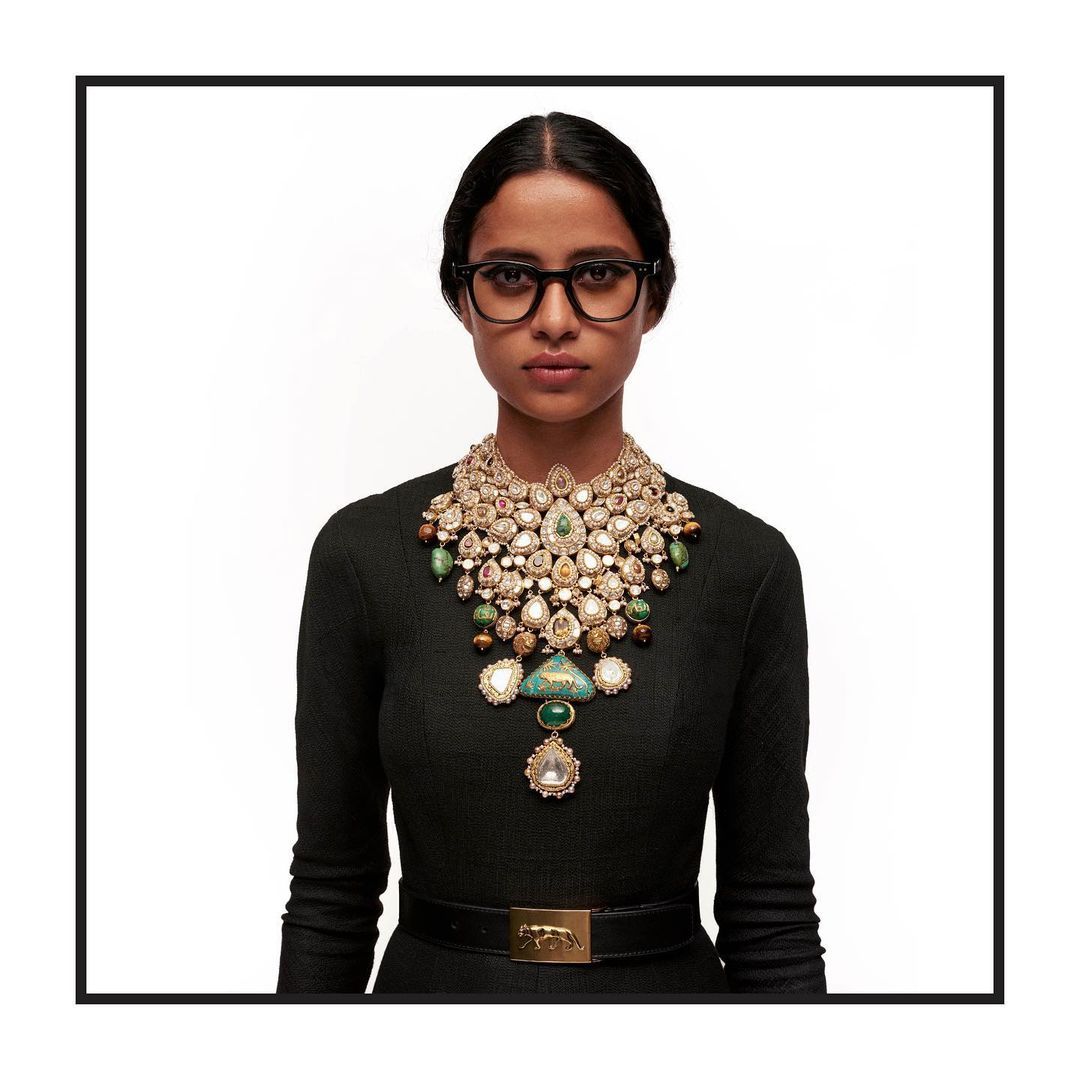 Precious stones of all kinds together to create a necklace like no other!
A cocktail ring worth admiring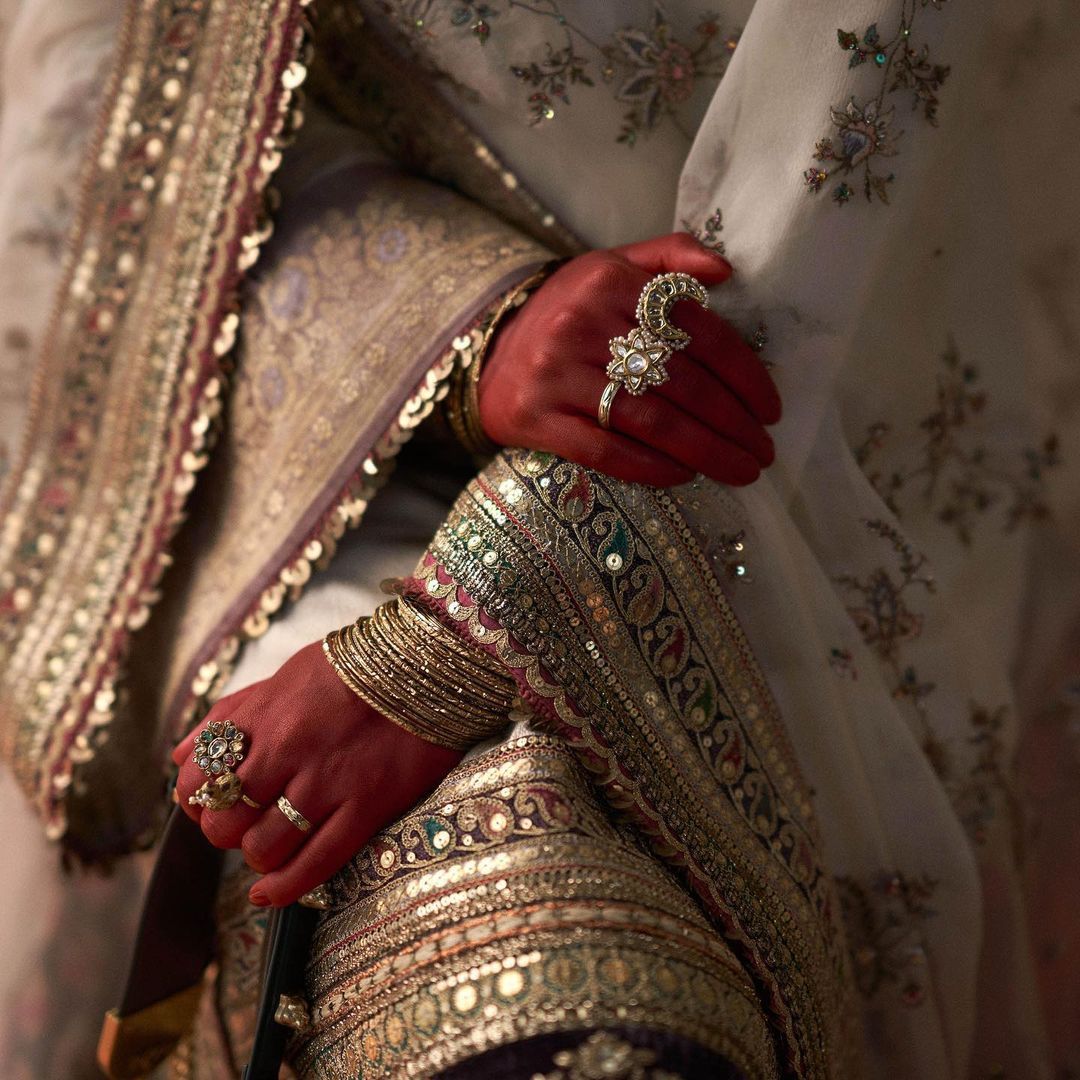 A star and moon cocktail ring with polki that is so versatile in it's wear.
Groom jewellery is trending hard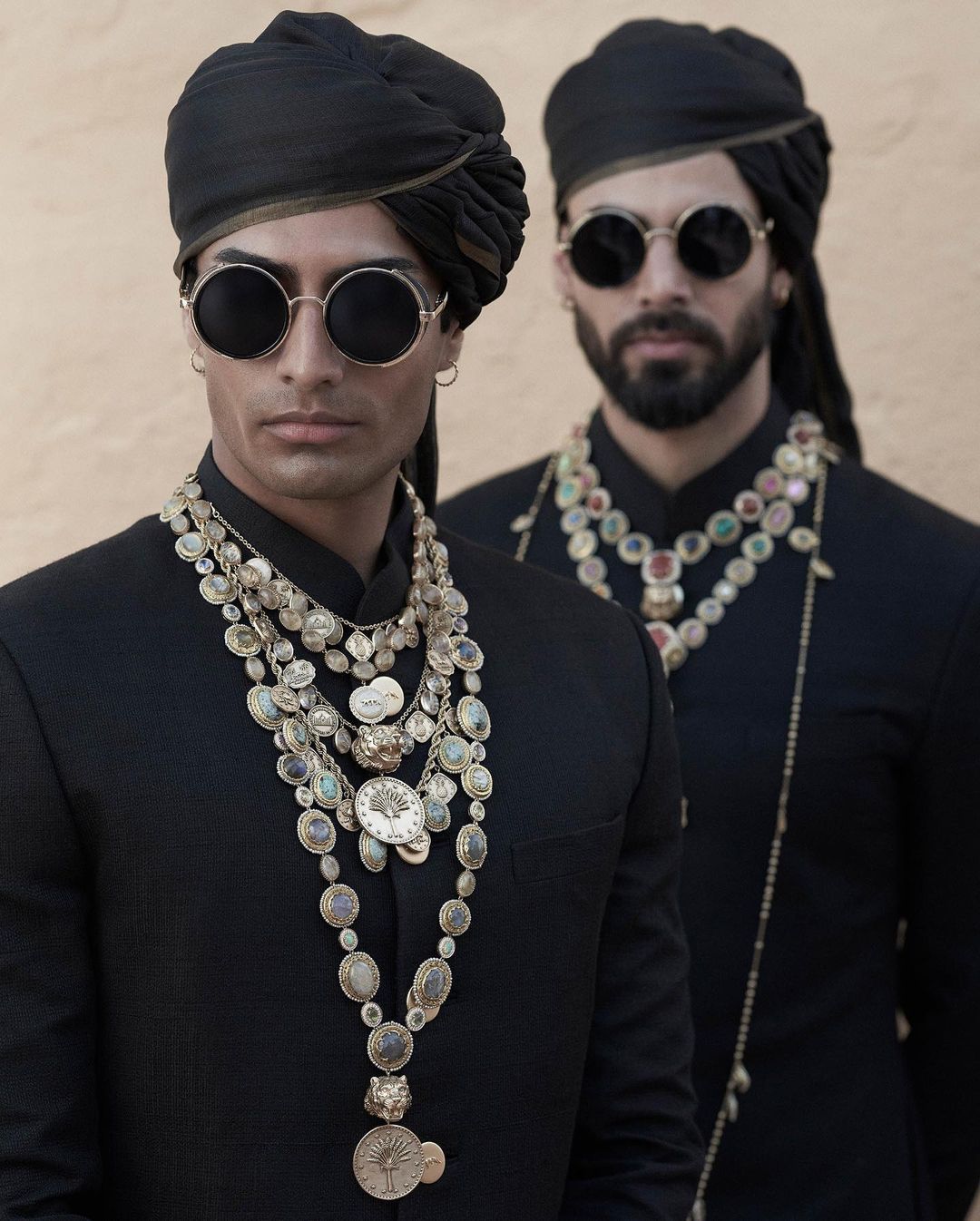 A gorgeous layered necklace from the Bengal Byzantine Broadway collection, this one is for grooms who love making a statement.
Earrings that create an impression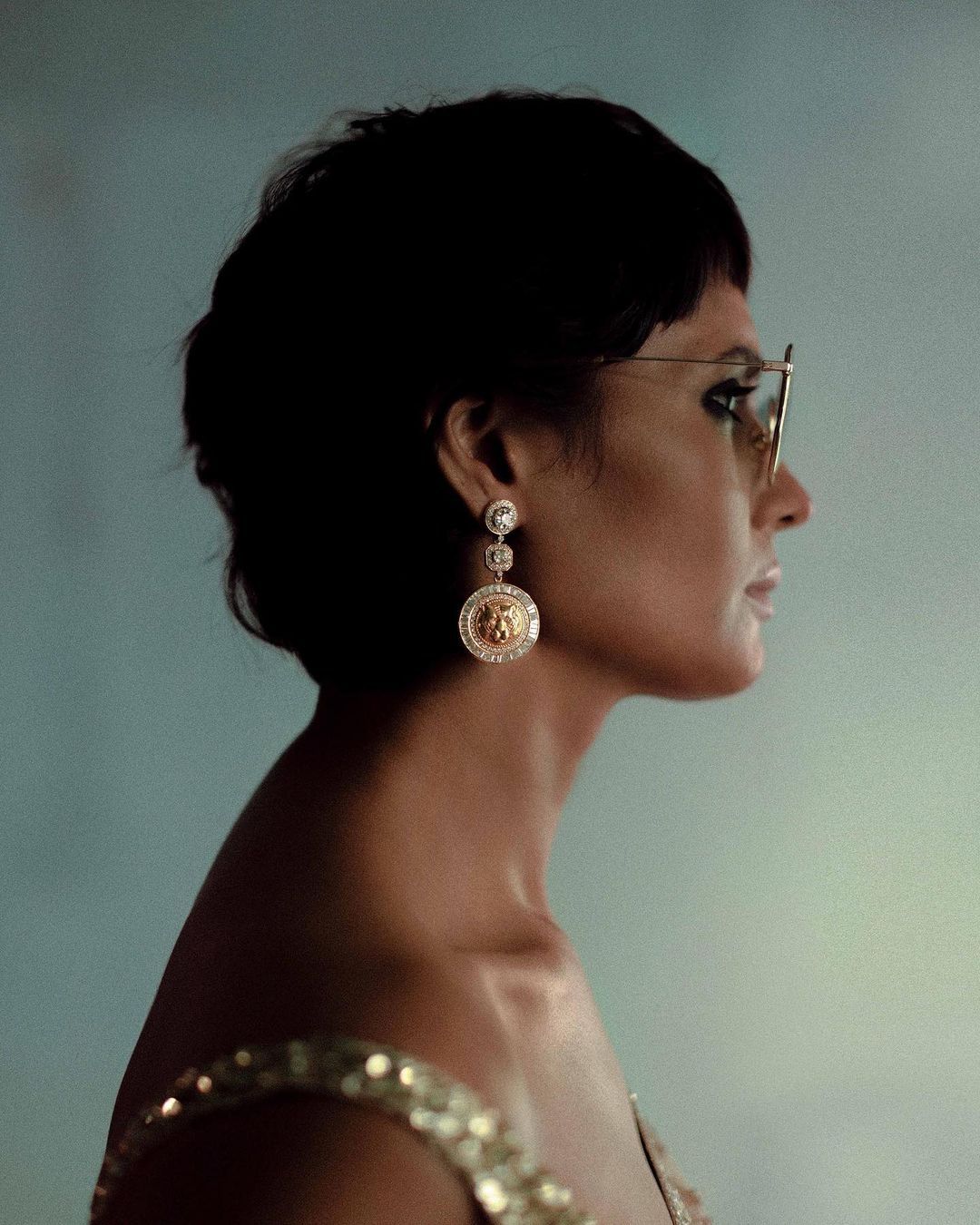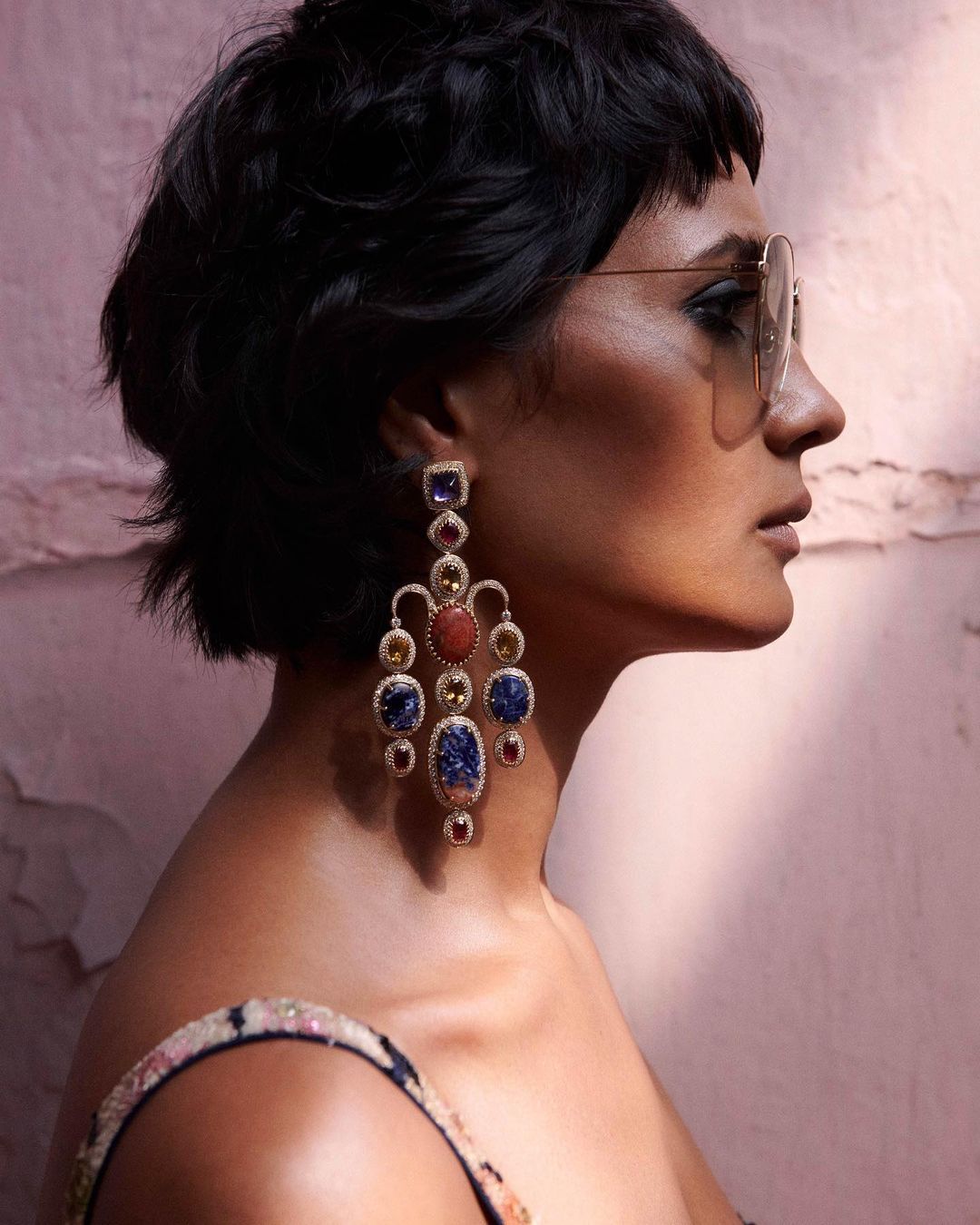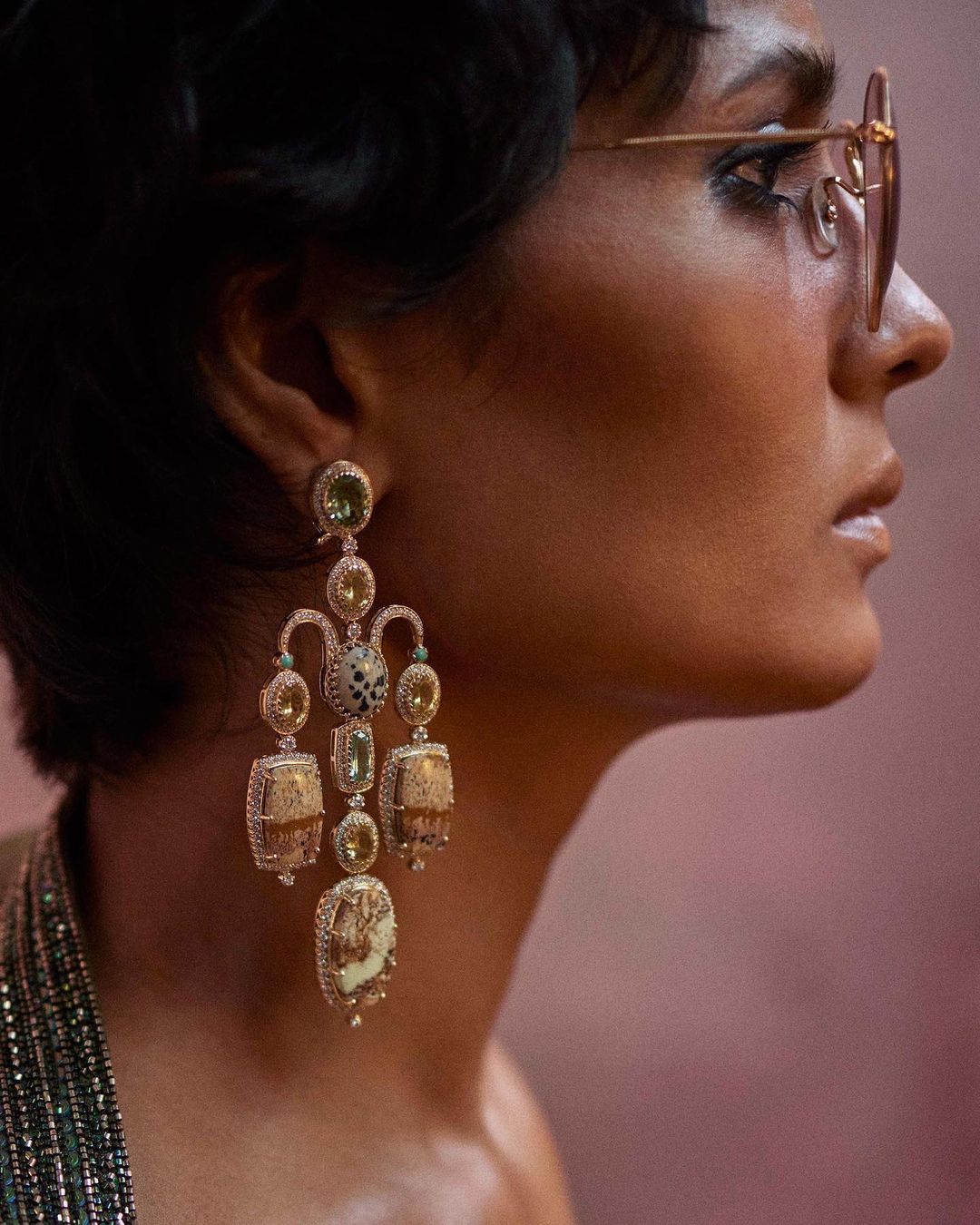 Sometimes all you need are bold earrings, and these are pretty amazing to pair with Indian or Western wear- a very versatile trousseau addition.
PeeCee's Wedding Jewellery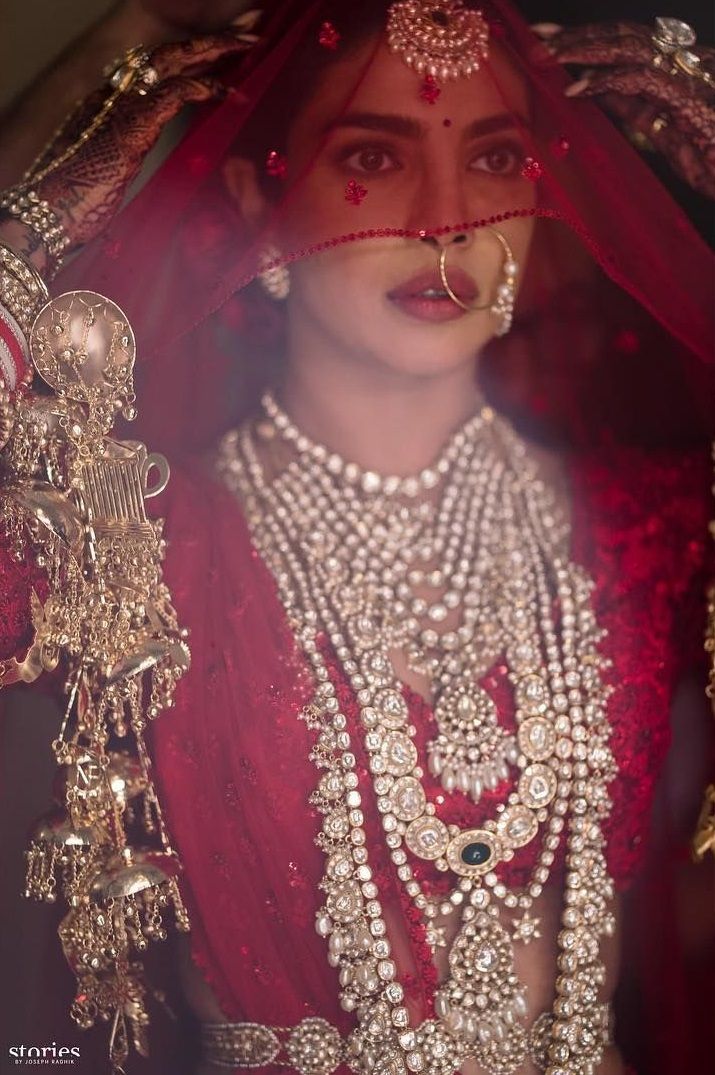 How can we do this list without mentioning the gorgeous jewellery that PeeCee wore for the Hindu wedding? Along with that stunning Sabyasachi lehenga in red, she wore all her wedding jewellery pieces from the Sabyasachi jewellery collection. Her wedding jewellery was crafted with uncut diamonds, emeralds and Japanese cultured pearls in 22 karat gold and had delicate tiny stars in uncut diamonds to give a sense of whimsy to an important traditional piece.
Bib Necklace + Oversized Maangtika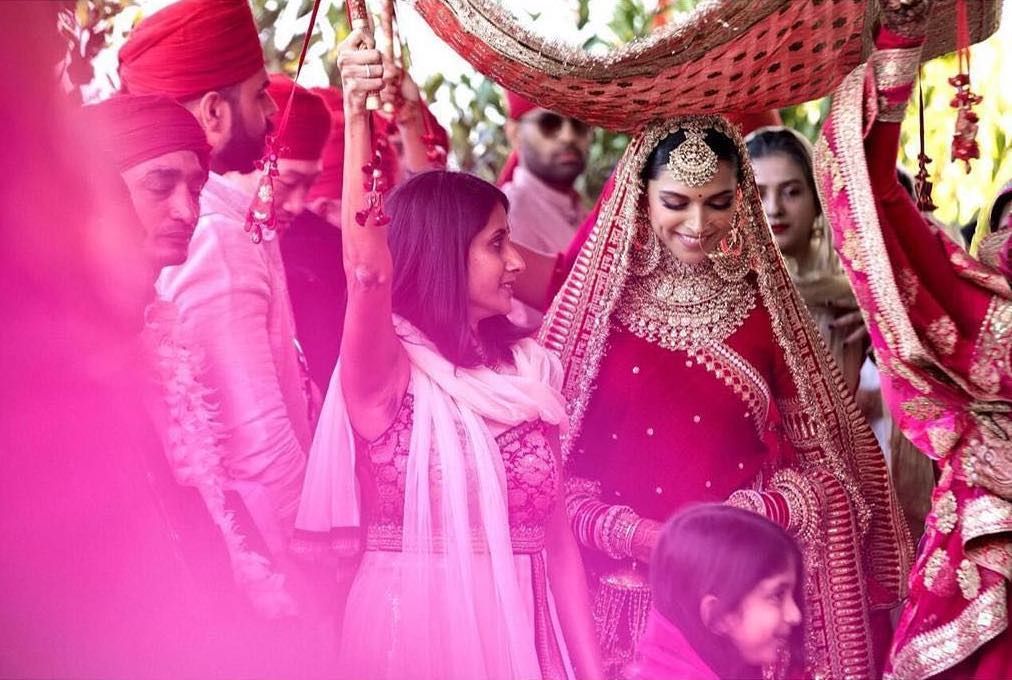 For her Sindhi-Punjabi wedding, along with that beautiful bridal Sabyasachi lehenga Deepika donned two major jewellery trends with her wedding jewellery. She went all out and wore a beautiful bib necklace along with a multitude of midi rings and an oversized maangtika.
Deepika In A Emerald Choker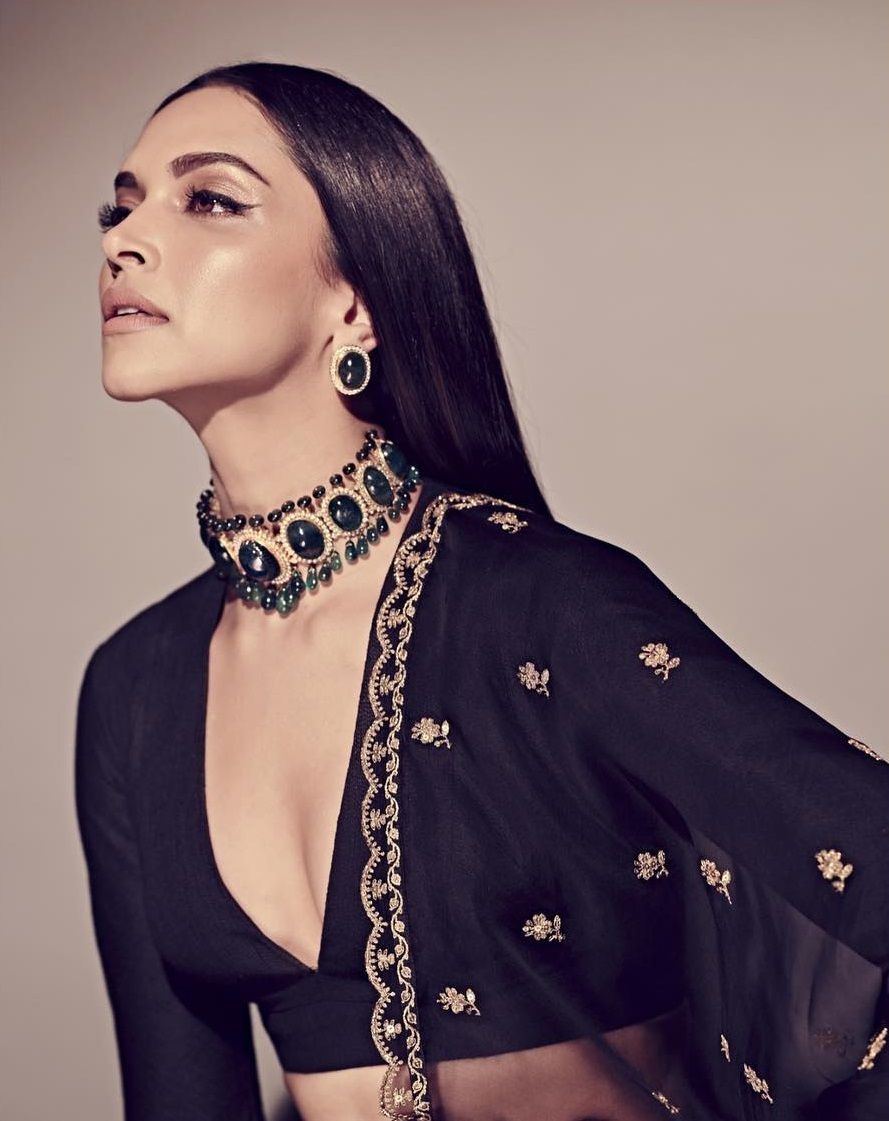 While Deepika gave brides enough looks to create a mini-Pinterest board of Sabyasachi online, her looks as a guest are breaking the internet too. Along with this plunging neckline black Sabyasachi lehenga, she wore this gorgeous emerald choker. This look was from the #NickYanka reception party!
Colours Glory!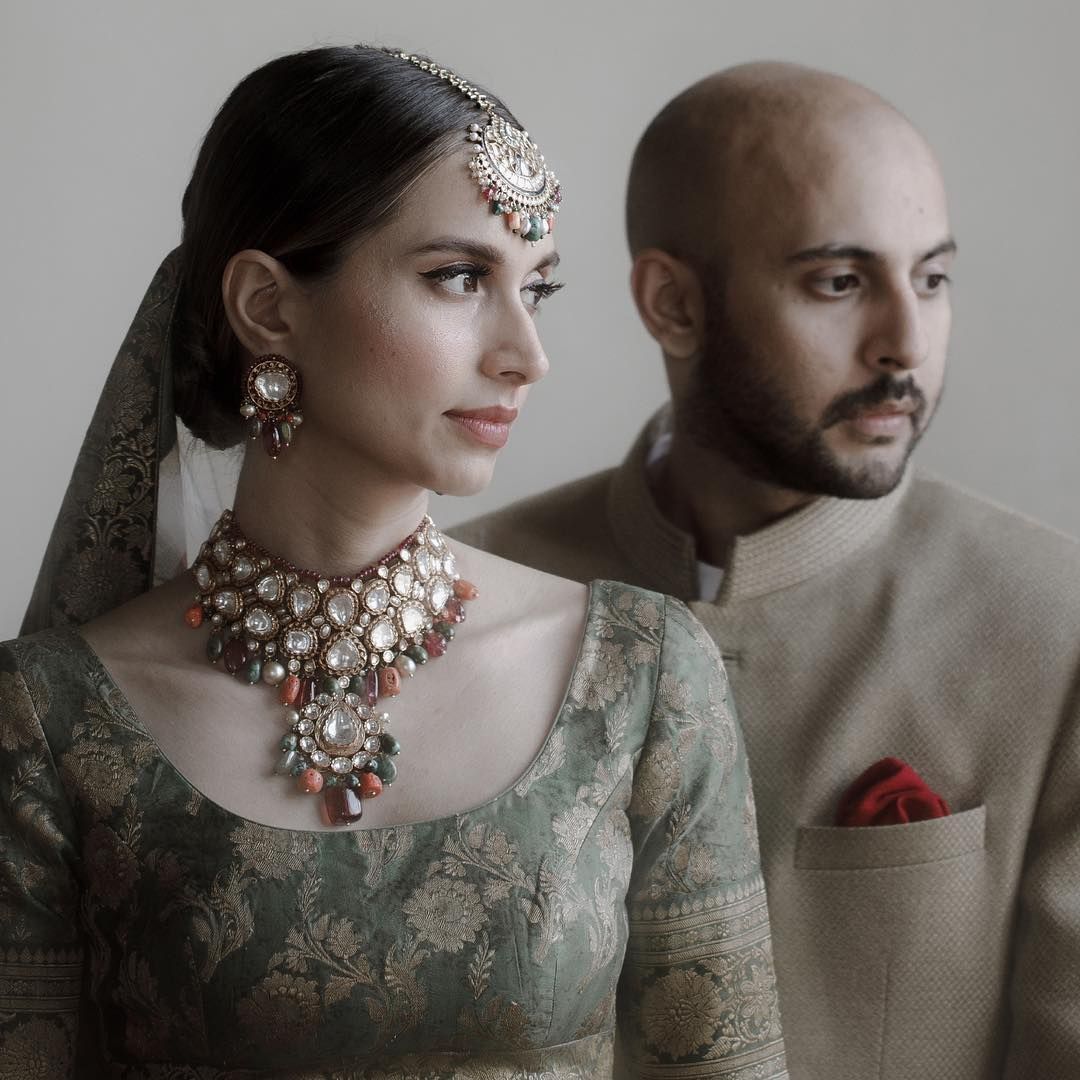 This beautiful real bride who wore an absolutely gorgeous sage green colour Sabyasachi lehenga, adorned it with this magical necklace full of colours. This Sabyasachi jewellery piece was fashioned out of uncut diamonds, pearls, unpolished corals, tourmalines and desi meena!
All images from Sabyasachi Official
*Updated by Sakshi Saxena.
ALSO READ: Latest Sabyasachi 2023 Bridal Collection With Pictures