25 Sweet & Interesting Ways To Drape a Sari To Perfection!
BY The WMG Bride | 16 Nov, 2015 | 18947 views | 7 min read
The six yards of Indian fabric has always been a bride's best friend. South-Indians cannot do without it - every other state has it's own version of a drape and well, even lehengas nowadays are trying to impersonate saris. And even if you're not the bride, saris are pretty much the best things for every body type. The versatility of the fabric is what makes it so likeable across demographics. You can wear it to a beach party, a business meeting, your wedding, a friend's wedding or even to a red carpet event. We've already got you the best ways to drape for your lehenga, now it's the humble sari. So we bring you some interesting ways to style your drape, straight off the ramp.Take a quick look and tell us what you think!
1. Marathi Navari Saree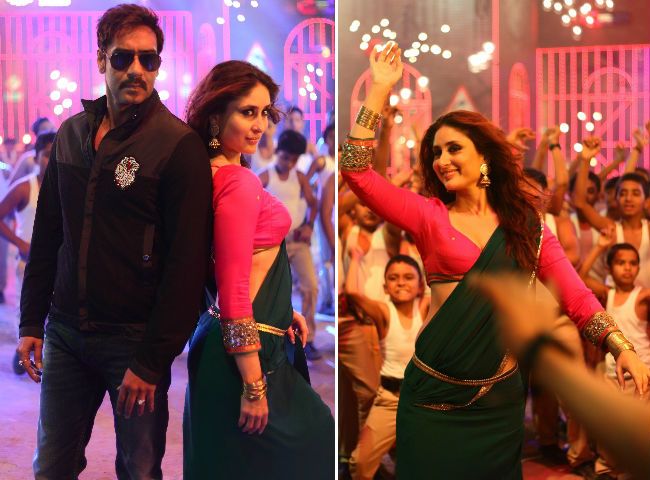 Picture Courtesy: metromela.com
Ever wondered how Maharashtrian women manage to drape that 9-yard long (yes! it is not the regular 6) fabric in such a neat, compact and super stylish way? To add to your surprise, the entire saree is tucked in on itself and you can wear it simply on your favourite pair of shorts rather than a petticoat! Look for inspiration in the Aata Majhi Satakli song where Kareena prances around in a new-age Navari - so chic!
2. Front Pallu Style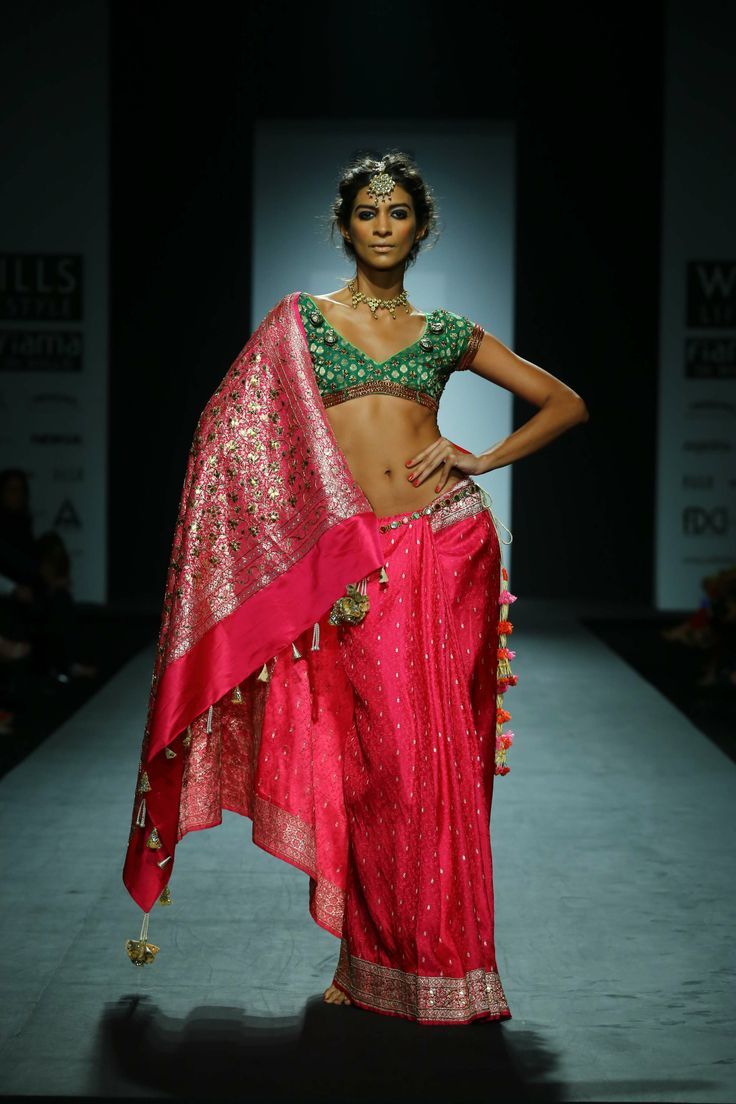 Picture courtesy: Anupamaa Dayal 
Front pallu is a very good option if your saree has nice work on the pallu or a heavy border pallu. This is a very wearable and stylish look. Add a few tassles and doris on your pallu for some extra oomph.
3. Bengali saree with a twist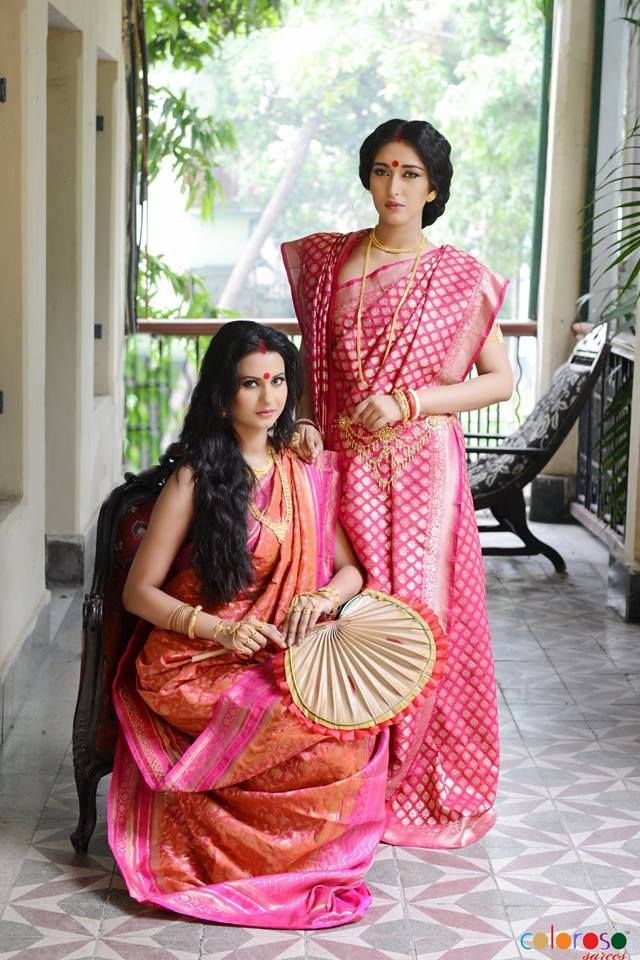 Picture Courtesy: Coloroso Sarees
You can wear a traditional Bengali drape or try this: Pleat the pallu and let it go over the left shoulder from front side itself. Now in place of going back with a key ring in traditional Bengali saree way, here we will secure the corner of pallu on the centre of the blouse. You can use a nice brooch to make it look fancier. Tada, your twisted Bengali drape is done!
4. Full Body Wrap
Picture Courtesy: Tarun Tahiliani 
Unlike the traditional saree, this saree is wrapped all over the body. The saree has been wrapped in concentric circles all over the body. Get a blouse that is sexy - an off-shoulder or a toga blouse or an interesting high neck to add glamour!
5. Lehenga saree draping style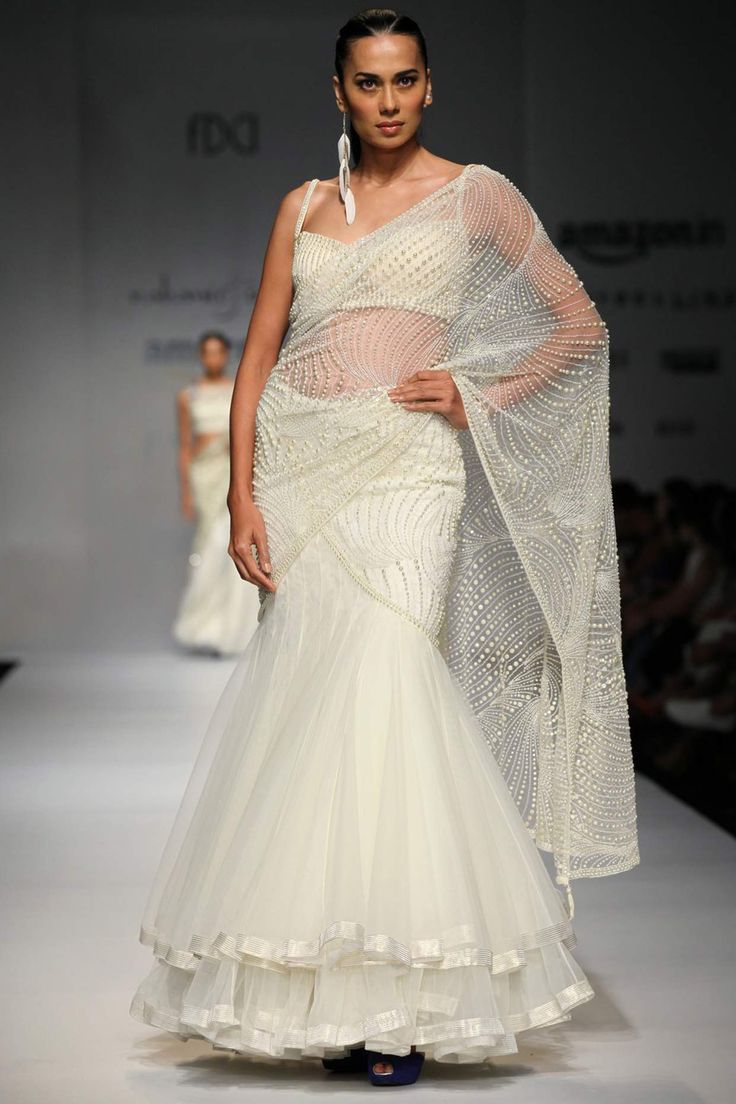 Picture Courtesy: Rabani & Rakha at Pernia's Pop Up Shop
When you have to wear your saree for a close one's wedding, you can drape it to look like you are wearing a lehenga instead! With the help of several pleats tucked around the waist to give the illusion of a lehenga, you can easily convert the regular saree to something more celebratory. Another option would be to go completely lehenga-ish, with a big billowing skirt and a half-sari drape around it.
6. Mermaid saree draping style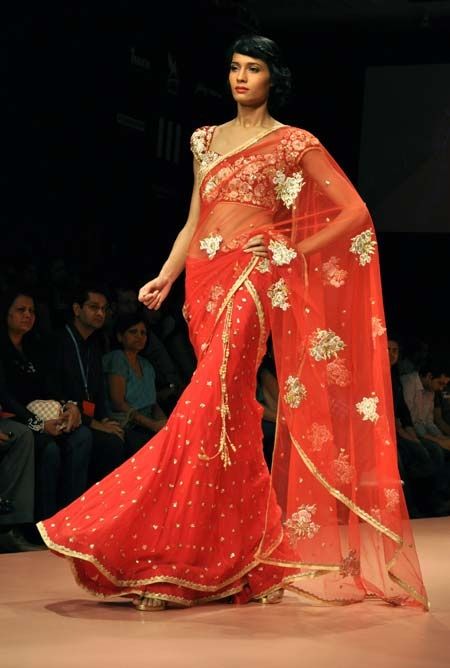 Picture Courtesy: Bhairavi Jaikishen 
Though it is suitable for almost all body types, curvaceous ones tend to get an advantage here. The lower portion of the saree is draped to look more like a skirt and gives a slimming look to the wearer. This style is particularly good if the pallu is heavy or the border is embellished.
7. Butterfly Style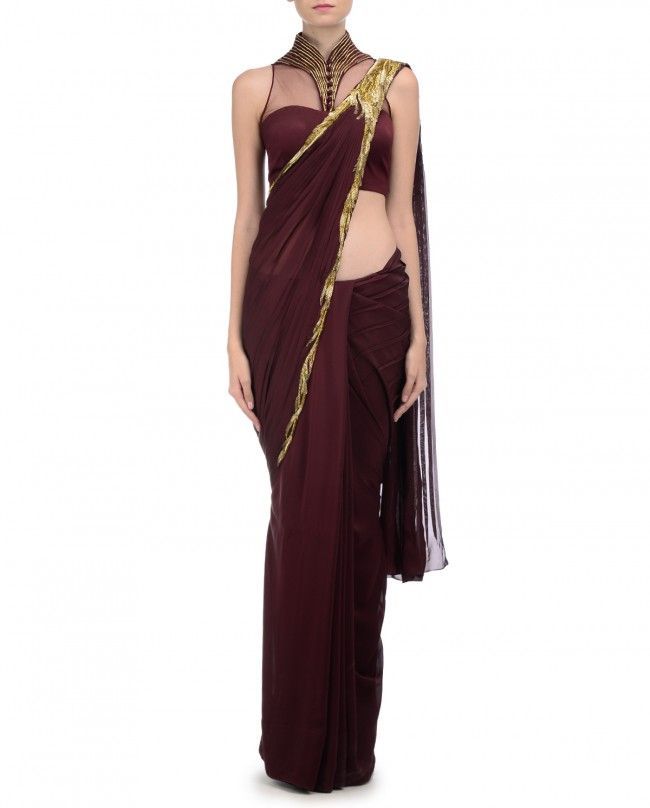 Picture Courtesy: Gaurav Gupta at Pernia's Pop Up Shop
Also known as the Bollywood style of wearing a saree, the "Butterfly" style is a slight twist to the regular style of wearing saree. The only difference here is that the pallu is made very thin, such that the midriff or navel is visible. Usually materials, like chiffon and net are worn with a heavy embellished blouse in this manner. Gaurav Gupta, the ace designer is a pro at pre-pleated saris and if he's too expensive for you, ask your tailor to pleat them up before-hand and put in a stitch.
8. Rajrani saree draping style or Gujarati style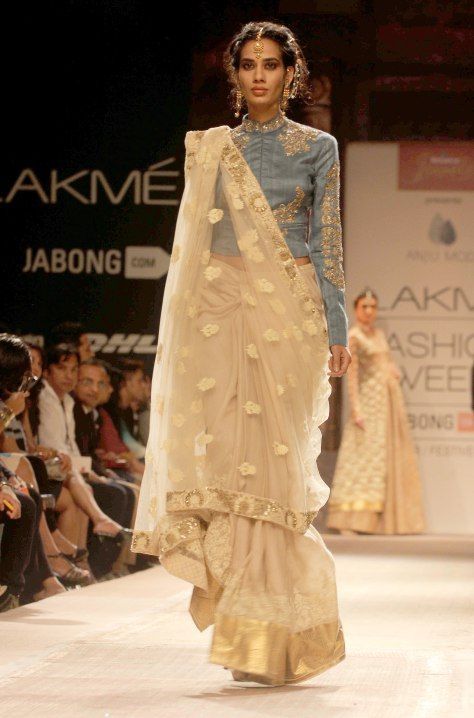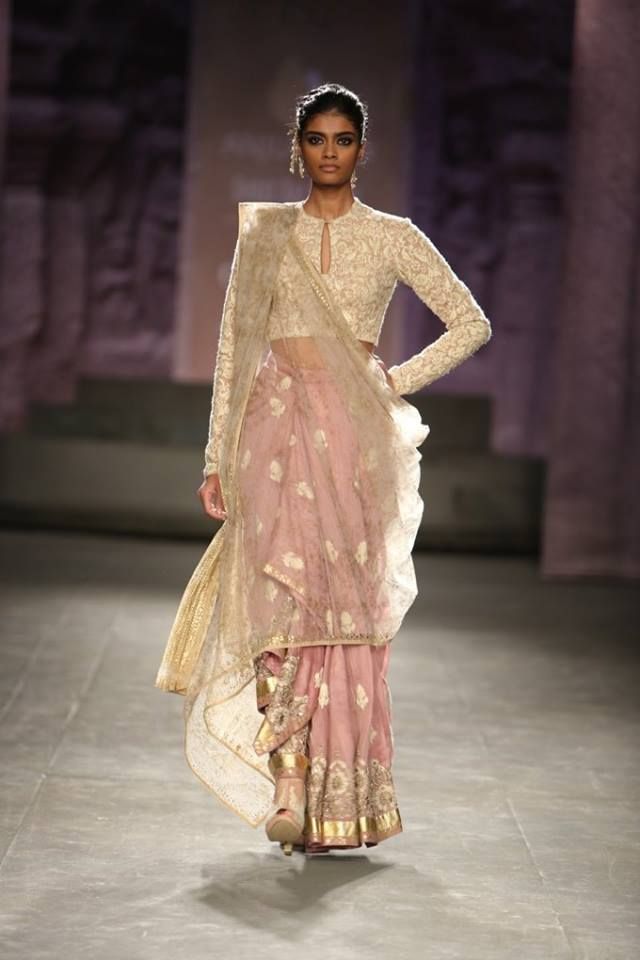 Picture Courtesy: Anju Modi 
Rajrani is a variation of the Gujarati saree draping style. The only difference in this style is that unlike others, the pleats are all facing towards the right. The pallu is also draped in the form of a slight "V" in the front. But these days, modern girls are also choosing to show the blouse so the pallu literally flows down.
9. Retro Style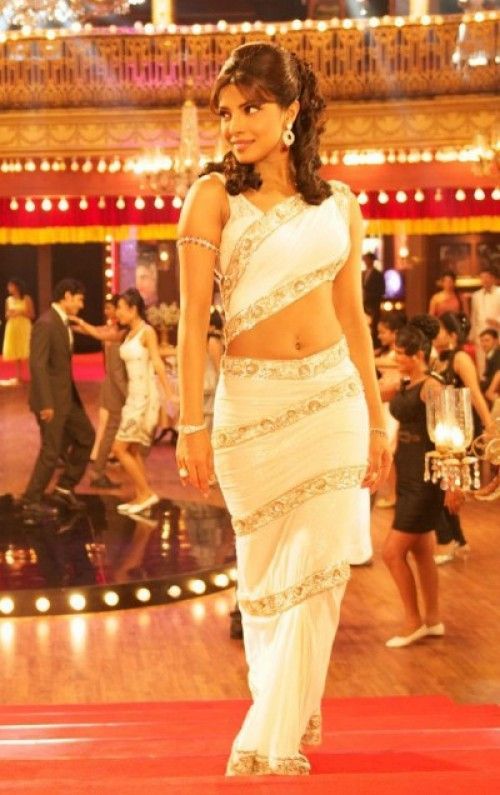 Who doesn't love Mumtaz's saree from the hit song Aaj kal tere mere pyar ke from Bramhachari? The style involves draping the saree tightly around the lower body several times, so that it highlights your figure in the best way possible. You can get it pre-stitched too like PC did here!
10. Neck Wrap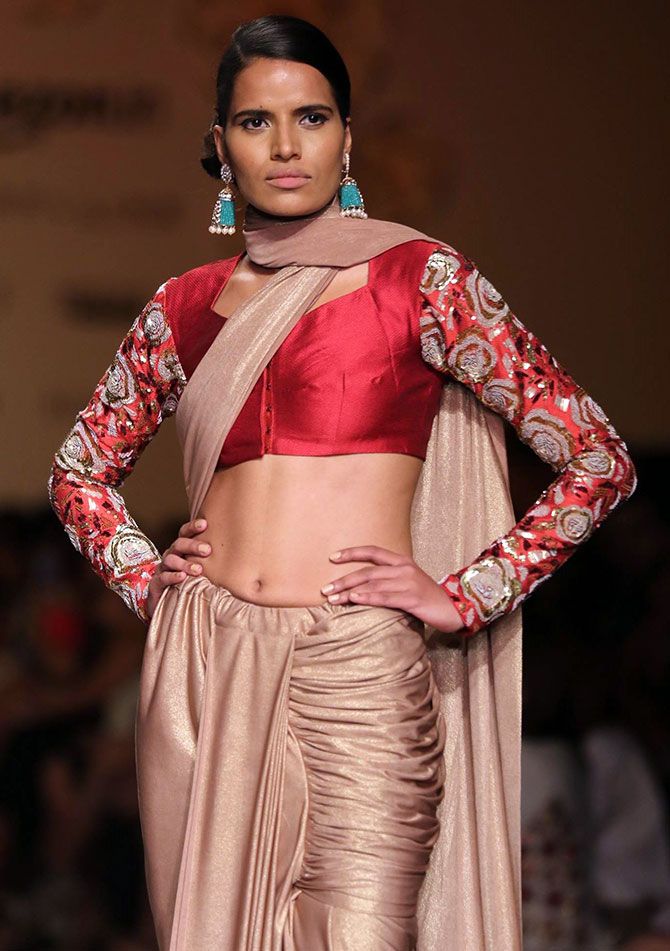 Photo Source: FDCI/Facebook
Bored of the pallu dangling on your side? Drape it like an accessory around your neck so you get scarf + pallu. Never thought of it before, right?
11. Thakur Bari Style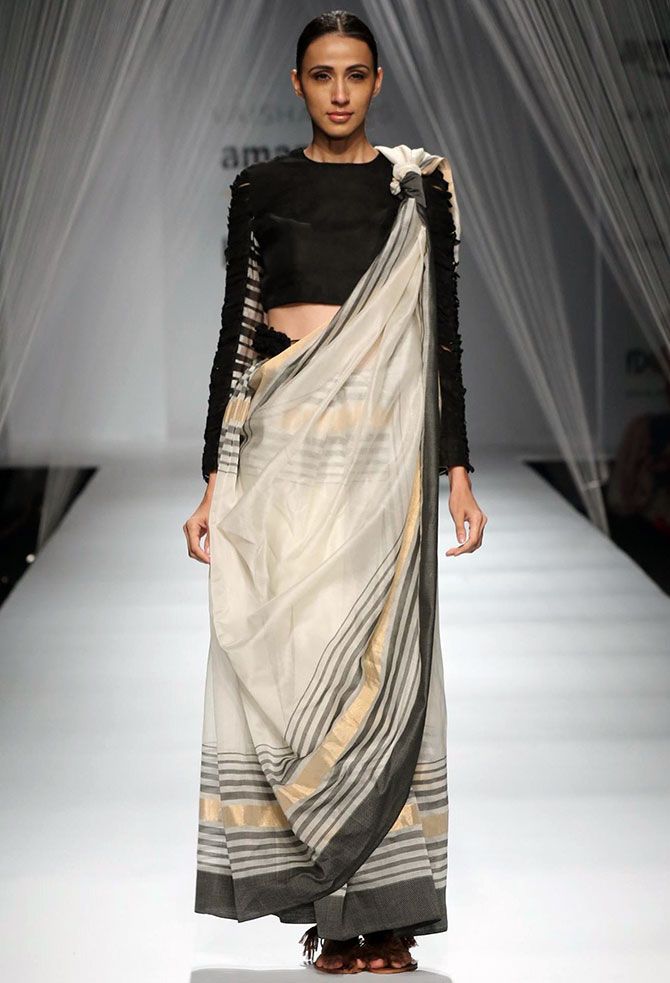 Picture Courtesy: Vaishali Sadanghule 
If you want to keep it traditional, you may recreate the classic Thakur Bari style. Take two large pleats in the front and drape the pallu of the saree twice over the torso.
12. Belted Sari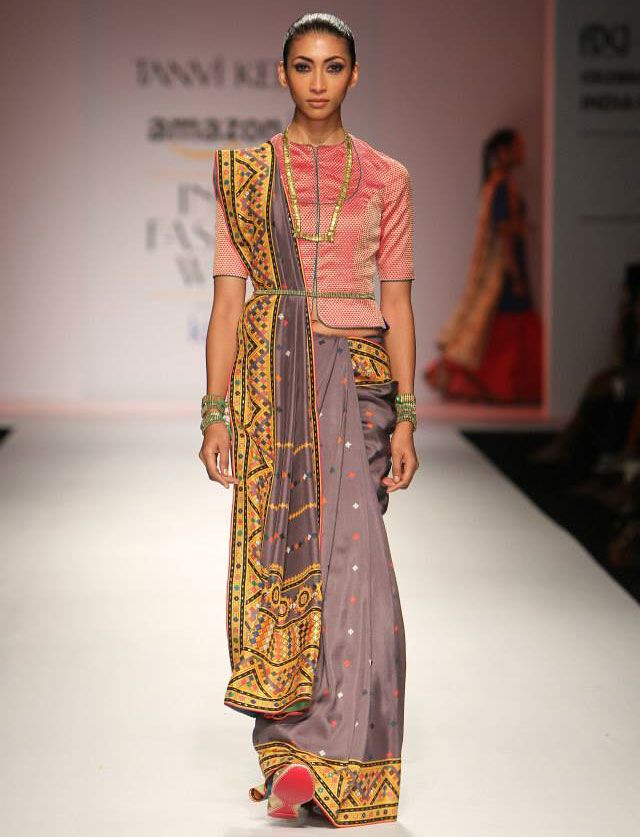 Better still, accentuate your look with an ethnic saree belt. This will require a frontal drape of the saree. It can be a gold kamarbandh or a neat little leather belt - but it's about keeping the sari together like a structured suit.
13. Dhoti Style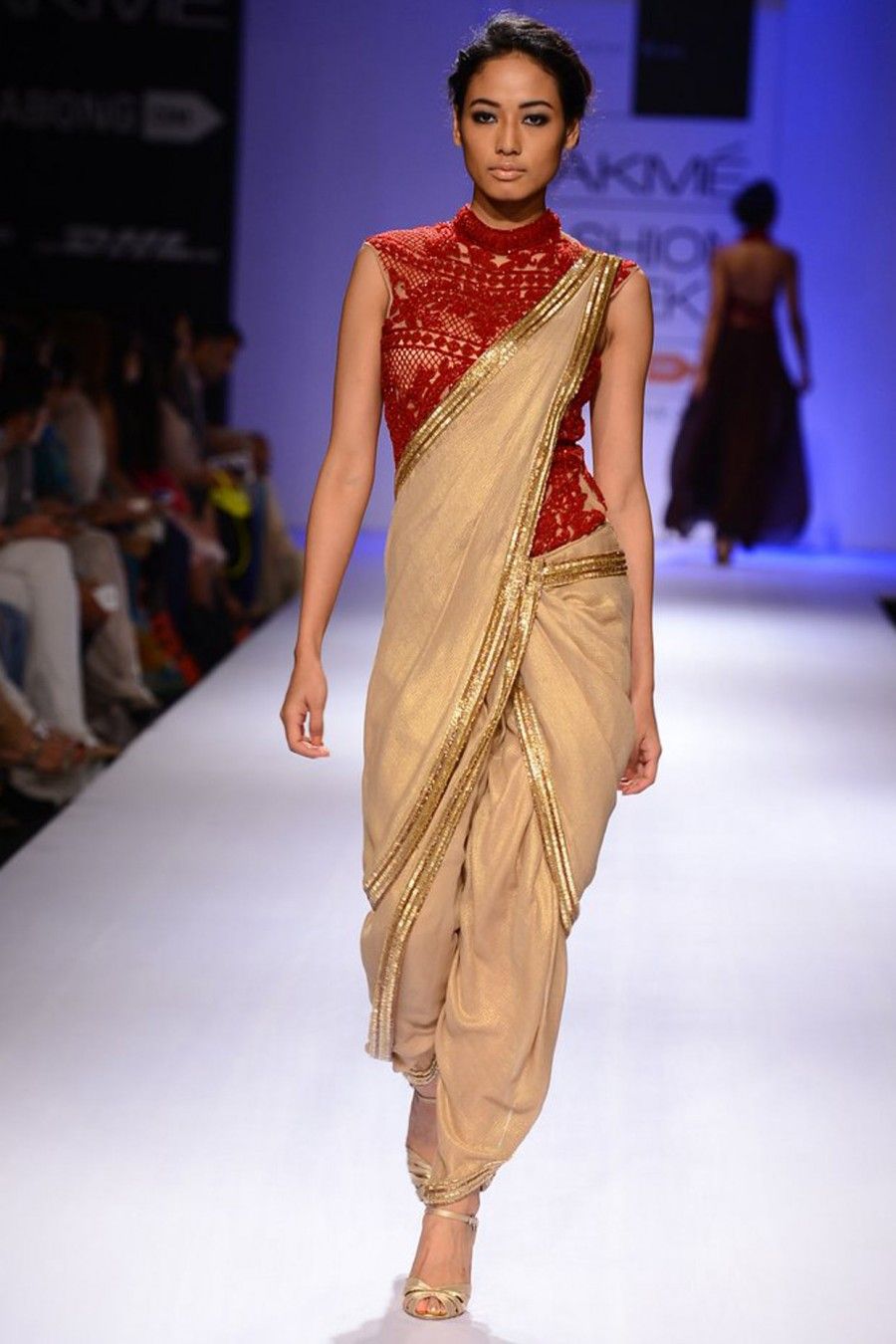 Picture Courtesy: Pernia's Pop Up Shop
Looking for something spunky? Combine the dhoti styled saree with an embellished short corset. Jazz it up with funky accessories and front poof hairdo and you are sure to turn heads.
14. Dupatta Style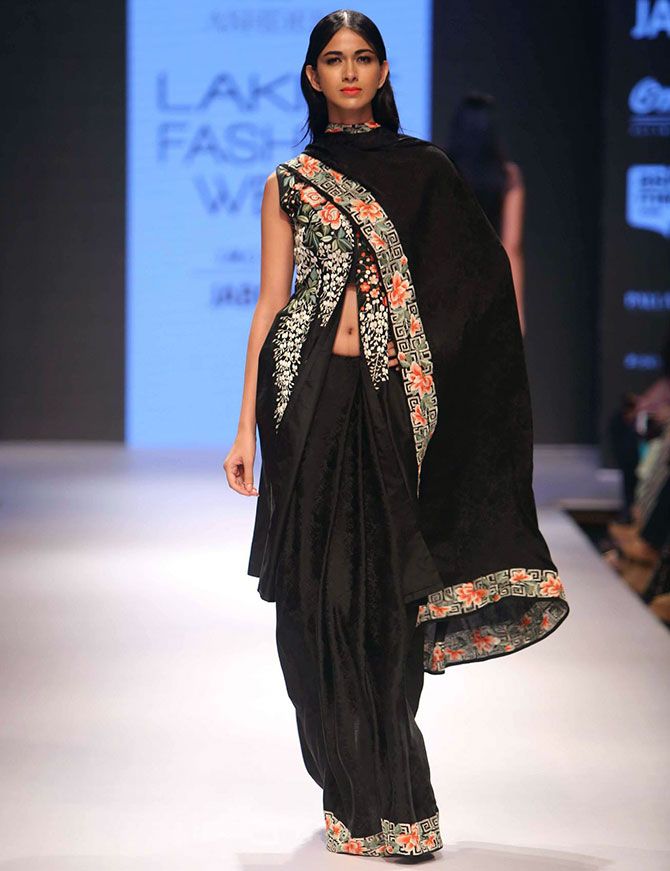 Have a sexy midriff? Flaunt it with a jacket blouse and drape your saree like a dupatta.
15. Modern Statement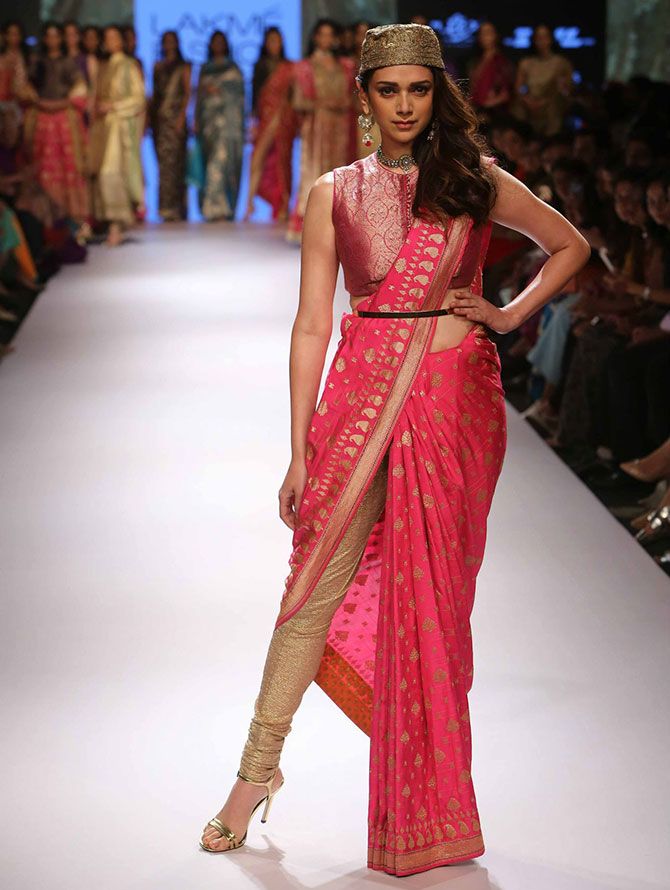 Swagger and Saree! Drape your sari over a fitted trouser or jeggings and oomph up the look with statement jewellery.
16. Tribal Style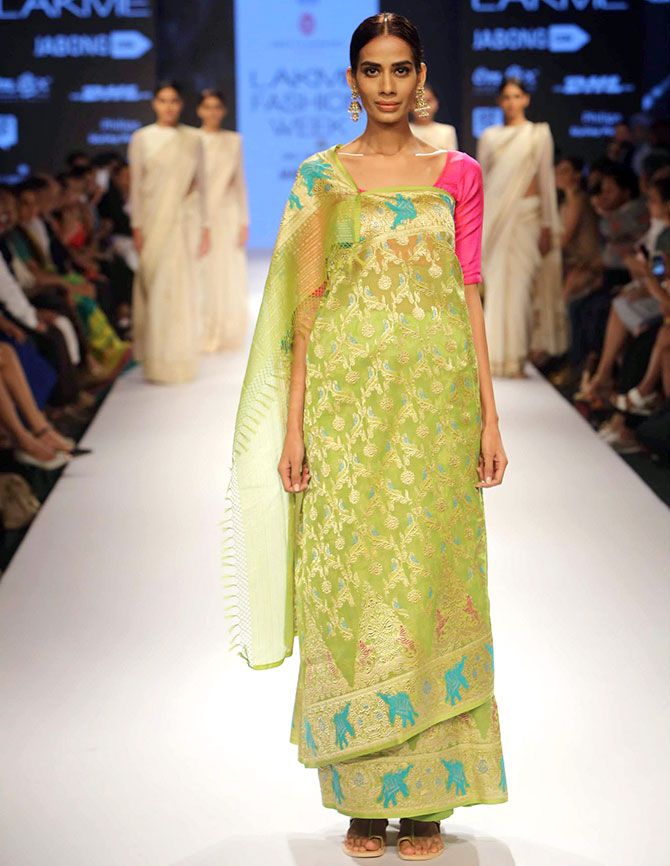 Can't get the pleats right? Just drape it the tribal way and pin-up the pallu! Hassle-free, isn't it?
17. Monochrome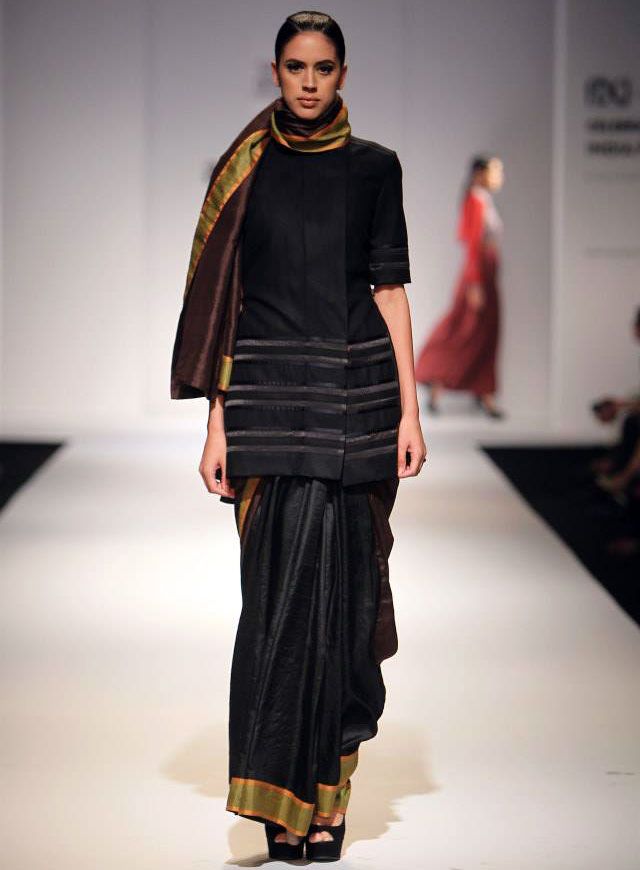 Want to do the monochrome? Ditch the blouse for a kurta and pleat the pallu well for a neat look.
18. Chhotu Sari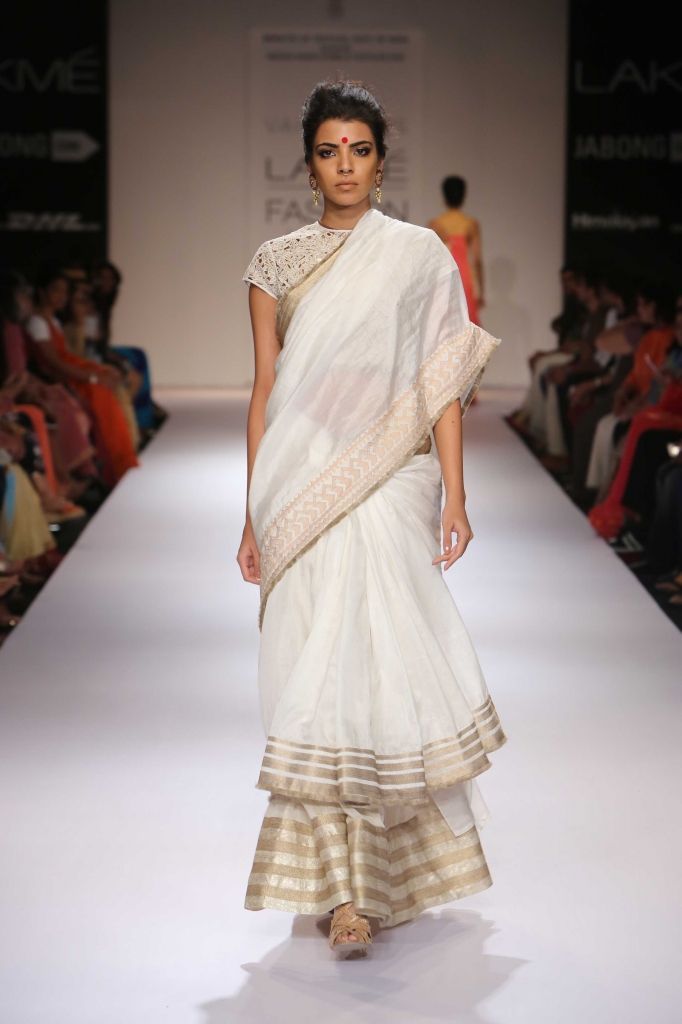 It wasn't surprising that this sari caught everyone's imagination the moment it debuted on the ramp. Stopping short at the lower calves, it's about six inches above the ground and supposed to draw attention to sexy ankles and even sexier footwear. If you are a bit shy, add another layer underneath the short layer to make it long.
19. Skirt and blouse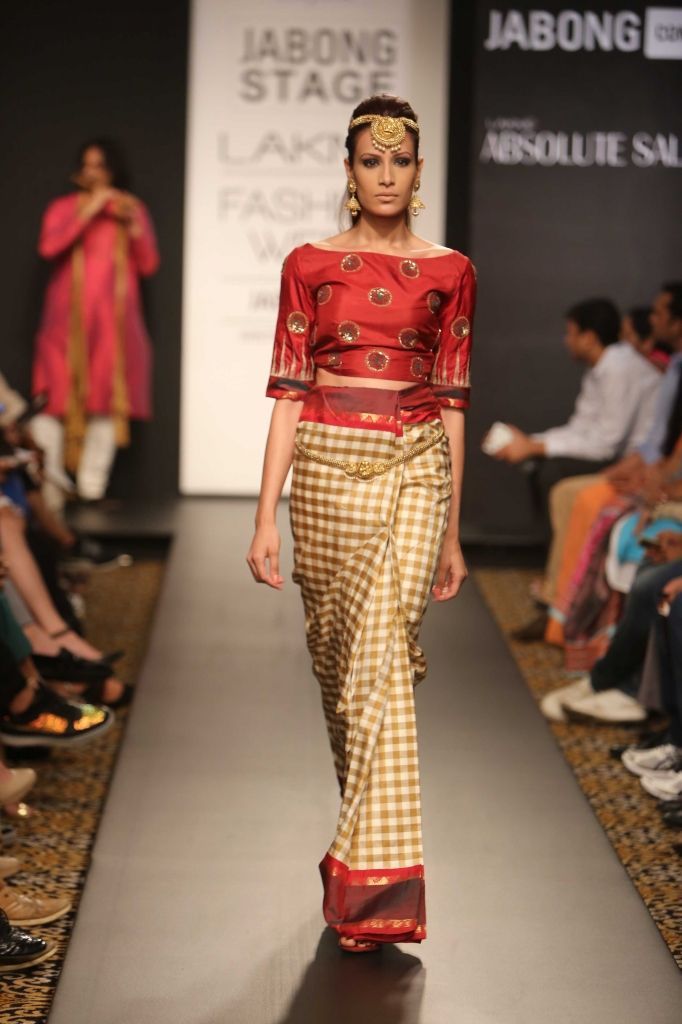 Picture Courtesy: Harshita Chaterjee Deshpande at LFW WF 2014
If you want a virtual lehenga and blouse combo with pleats - then drape this sari in such a way that it forms a beautiful sari skirt. Embellished blouse - check!
20. Nivi Saree Drape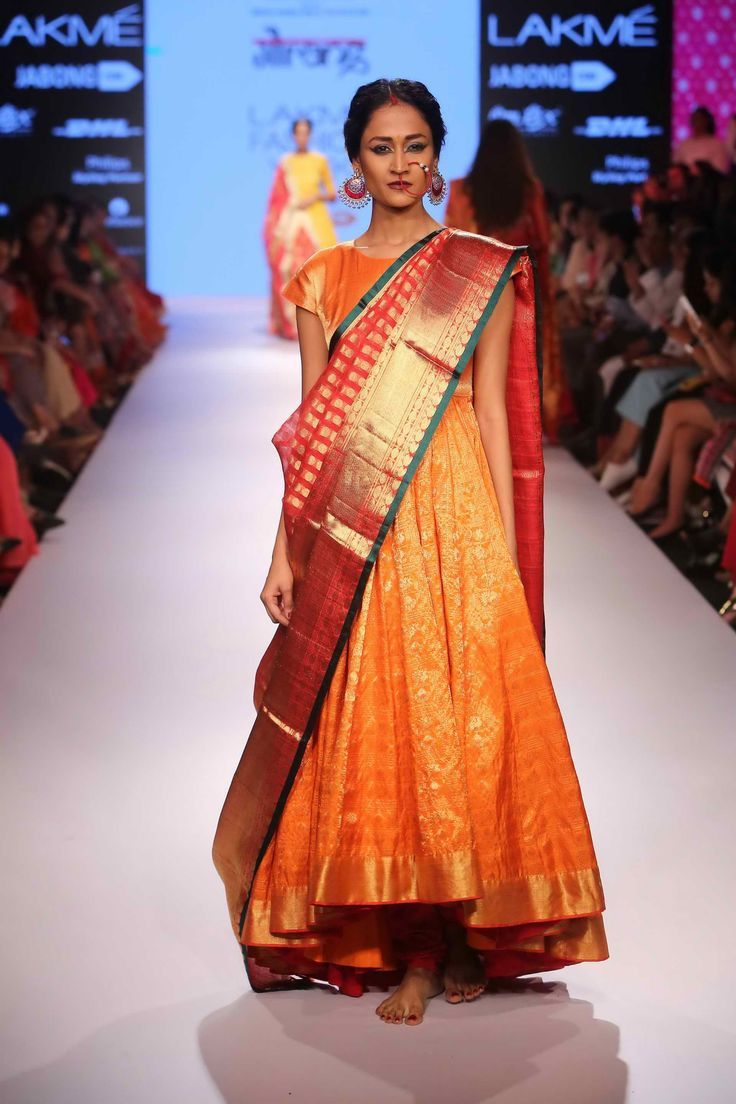 Picture Courtesy: Gaurang Shah
Traditionally coming from Andhra Pradesh, this style is popular as being a perfect professional Indian Attire. The palla of the saree is cleanly and aesthetically pleated in the shoulder and pinned to the shoulder. You can use a beautiful brooch to accessorize the style. It is definitely one of the most comfortable drape style.
21. Knot Style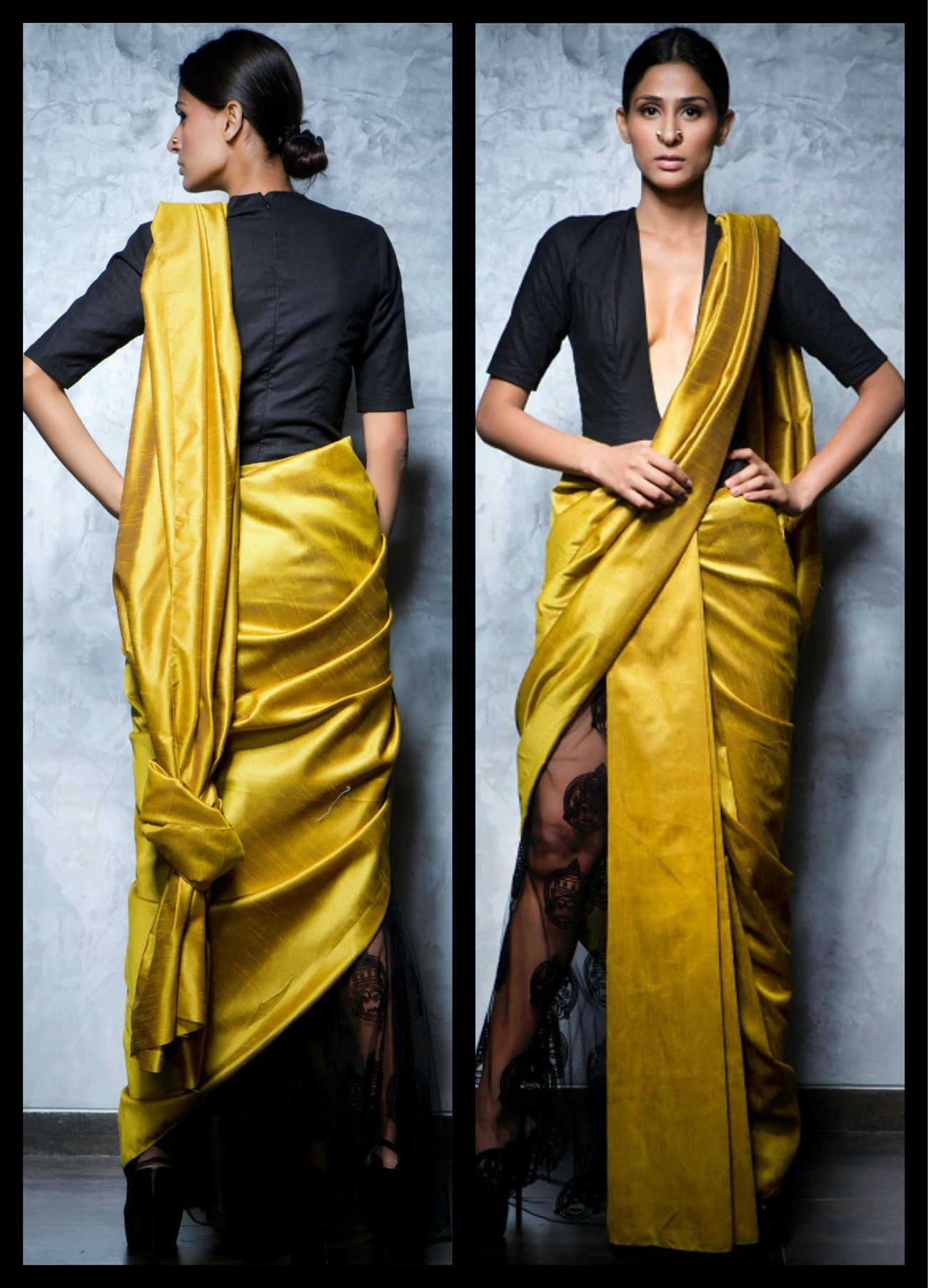 Picture Courtesy: Nikhil Thampi / Styleblog
If you are going to have an extremely fun party or want to go high-end, you can opt for this style as well. Drape the saree in any way you want to and keep the palla as long as your height and tie a knot at the end to give a chic look.
22. The Half sari reinvented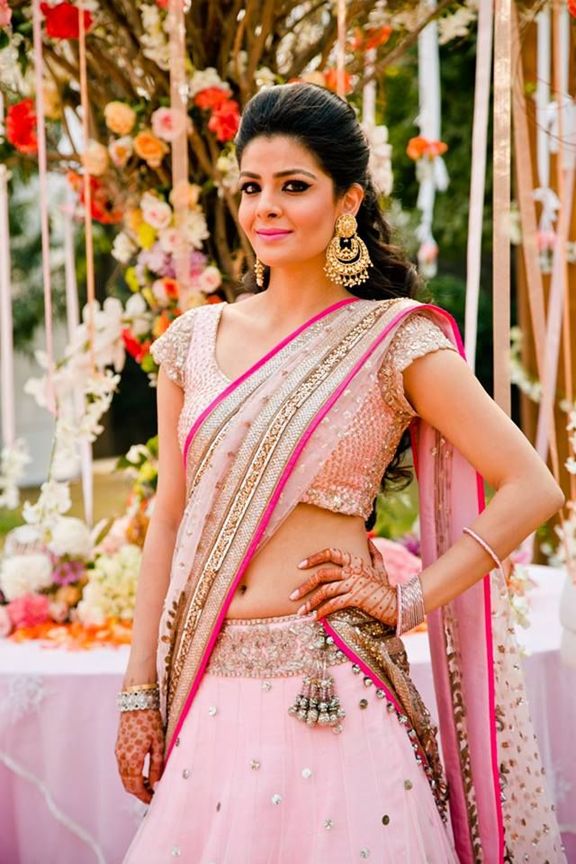 Photo Source: Mahima Bhatia
The half sari makes a comeback each season as its feminine charm never seems to fade away. Wear this by first regularly pleating the sari and then make the longish pallu fall over the left shoulder and then let it go round your waist at the back and tuck it in at the hip with the pallu clearly showing there.
23. Wear it over your head like a traditional lehenga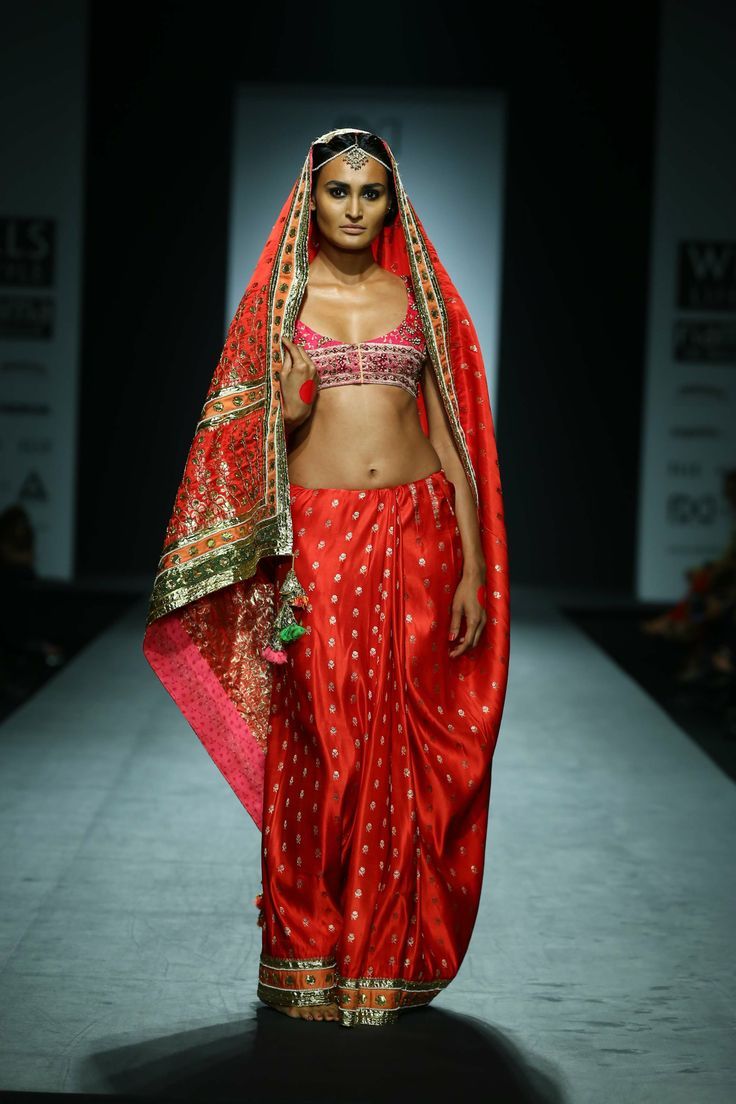 Picture courtesy: Anupamaa Dayal 
Pick up the pallu and wear it over your head - make sure your blouse is embellished and make it a crop top if you are uncomfortable. This one's almost dreamy and so Sanjay Leela Bhansali.
24. Long loose side drape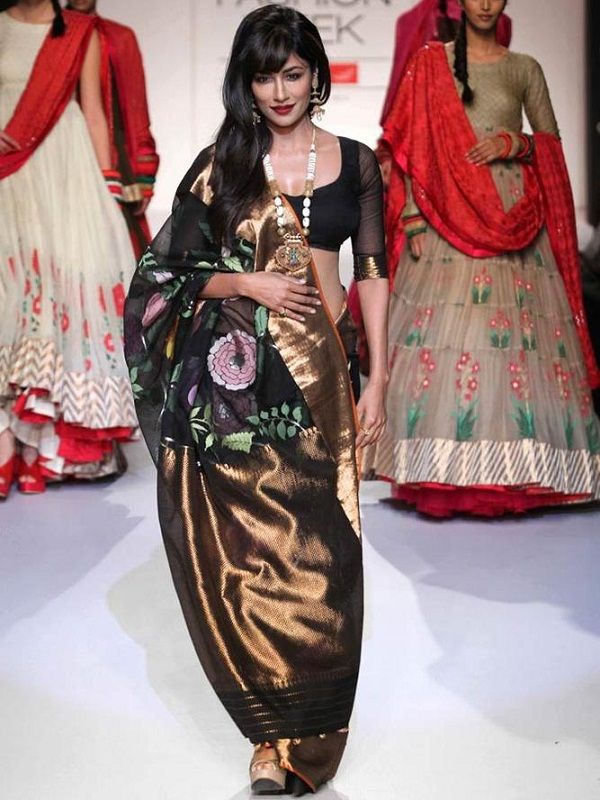 Take your pallu and bring it to the front and let it loose on the side. Lots of fabric but oh so sexy! It's almost like a Gujarati drape but a lot of fabric on the side!
25. The Long One Step Drape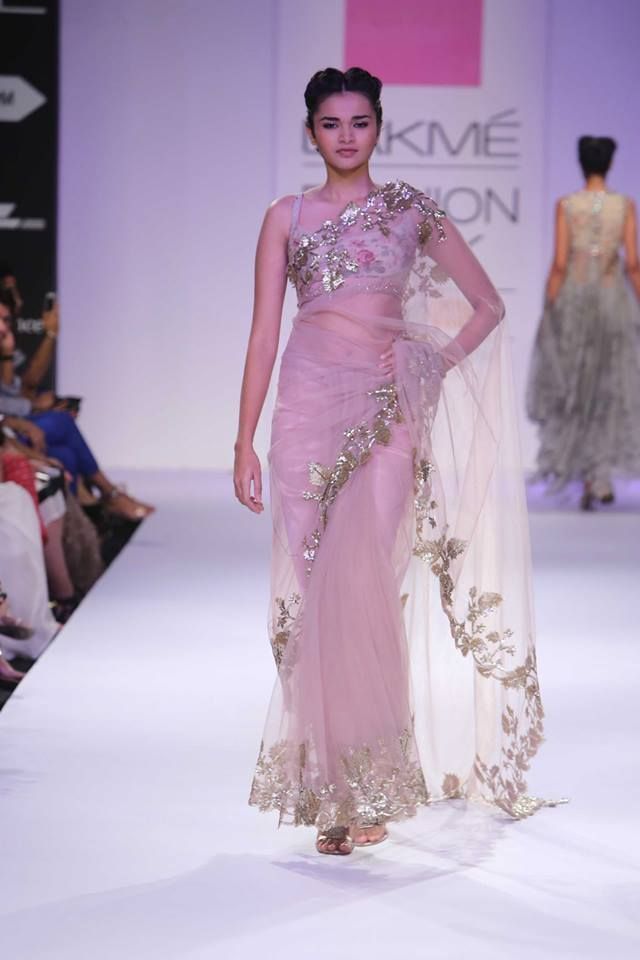 This one is just perfectly easy - it's just pinning up one little pleat of yours in a classic sort of a way. Things to keep in mind - the sari must be transparent, the blouse must be beautifully constructed to make this drape work.
Have a new drape you want to introduce us to? Let us know in the comments section!
With inputs from Apoorva Pagar!