50+ Mandap Decor Ideas & Designs For Weddings!
BY Apoorva | 28 Jul, 2023 | 7904 views | 6 min read
A gorgeous mandap elevates your décor game on so many levels. It's a place where you will exchange vows, and take your pheras – so it has to be as beautiful as your love story. So, whether you dream of a fairytale-inspired design or a sleek and modern setup for your mandap, we have your back. We've curated a list of 50+ mandap ideas that you will love. From floral ones to chic rustic mandaps to temple style grand ones, we have them all. Get ready to transform your wedding into a picture-perfect paradise!
1. Mint & Floral Wonder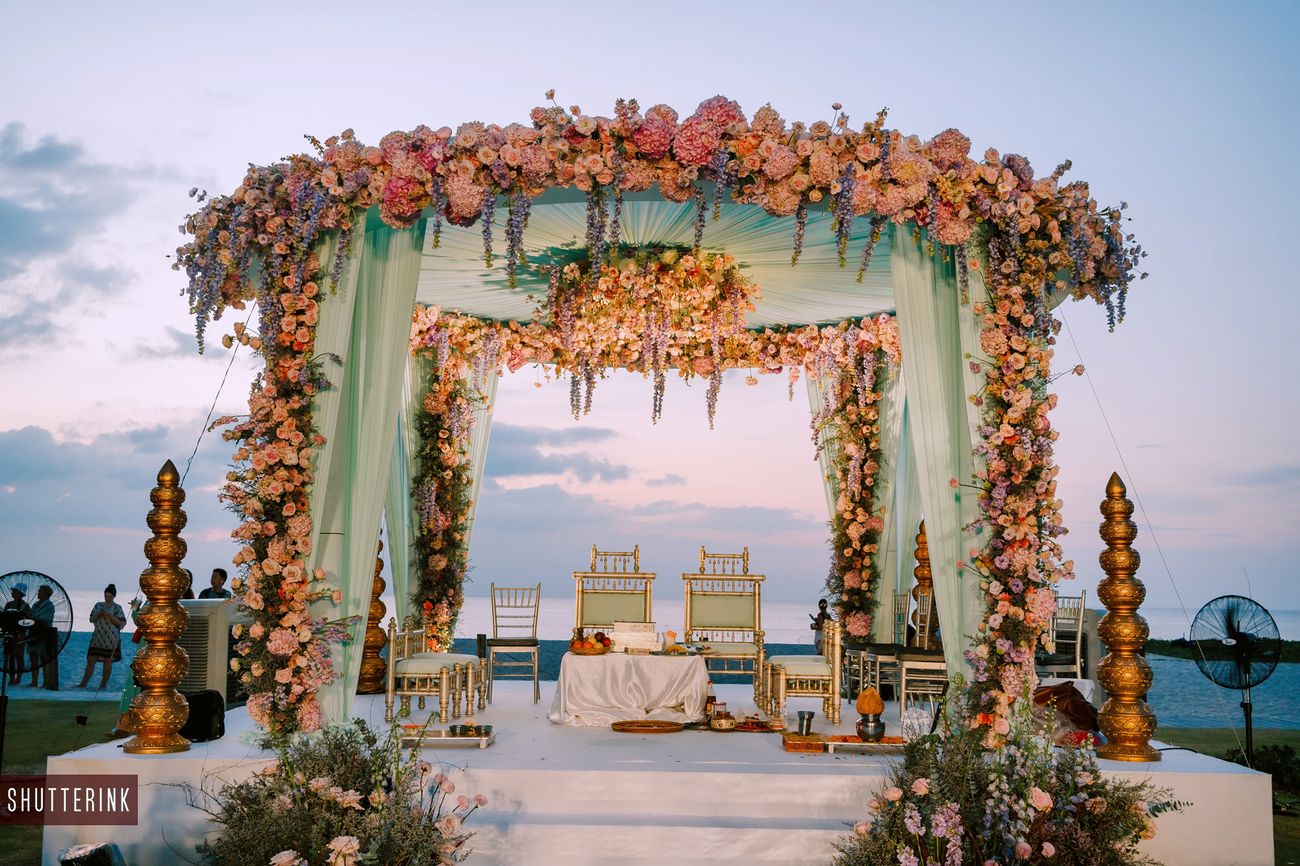 Image via Akanksha and Ankit
This gorgeous combination of mint green with florals is an absolute stunner!
2. Royal White Beauty!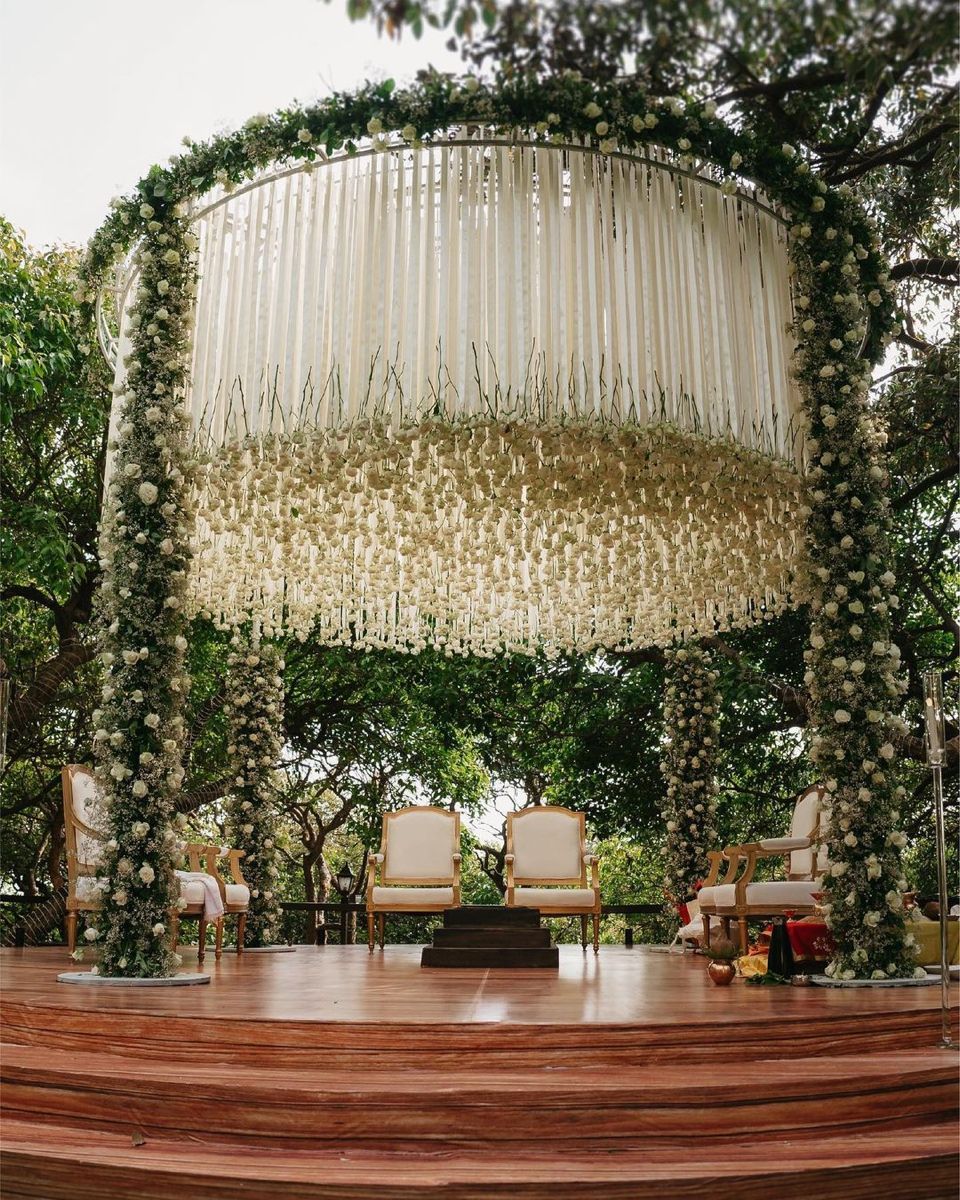 Image via Divya and Darshan
This all-white floral mandap is such a gorgeous pick against the bright colours of the bride and groom. Great way to infuse white into the wedding!
3. Rustic Open Air Mandap!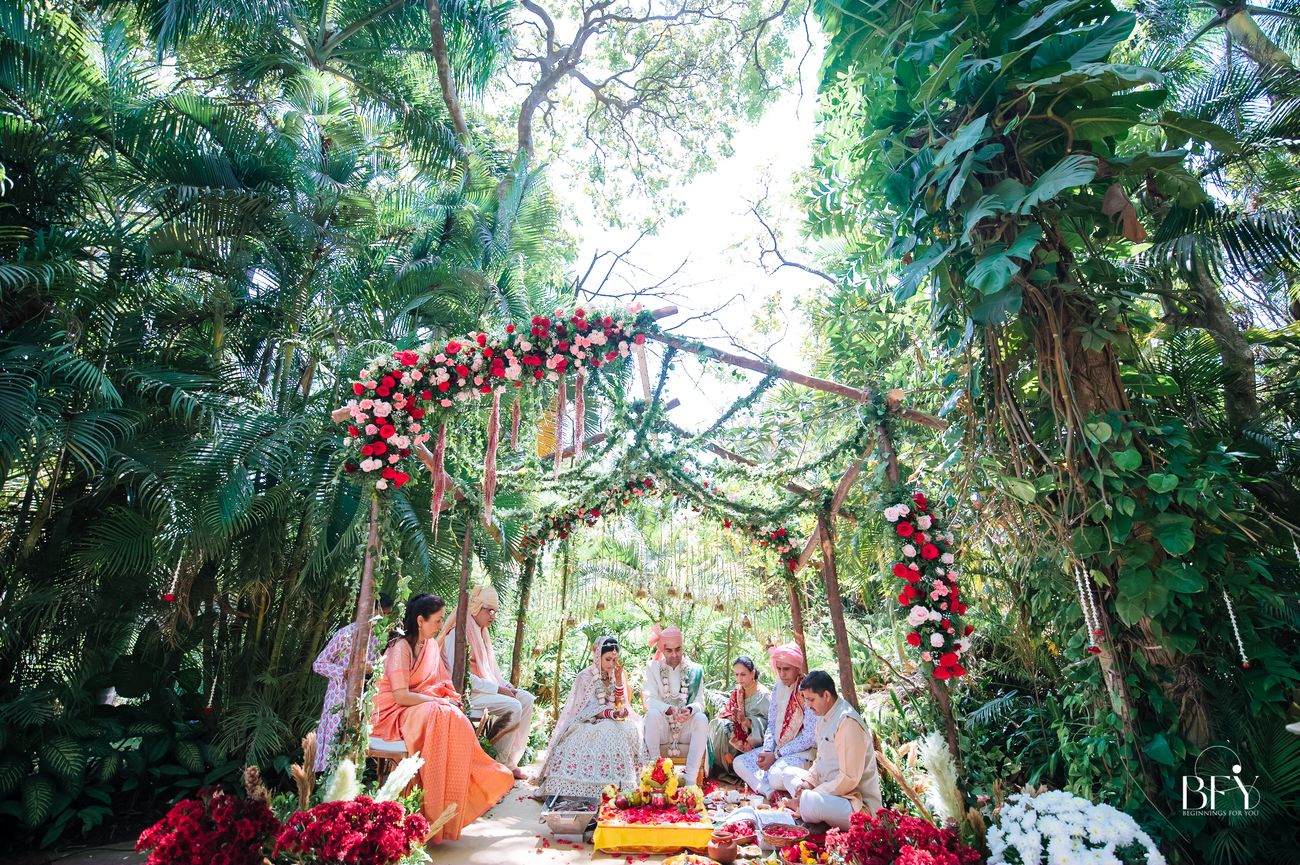 Image via Gazzal and Akhil
If you are looking for some rustic wonder, this one can your inspiration for a rustic open air mandap on your wedding day!
4. Floral Mandap Against The Himalayas!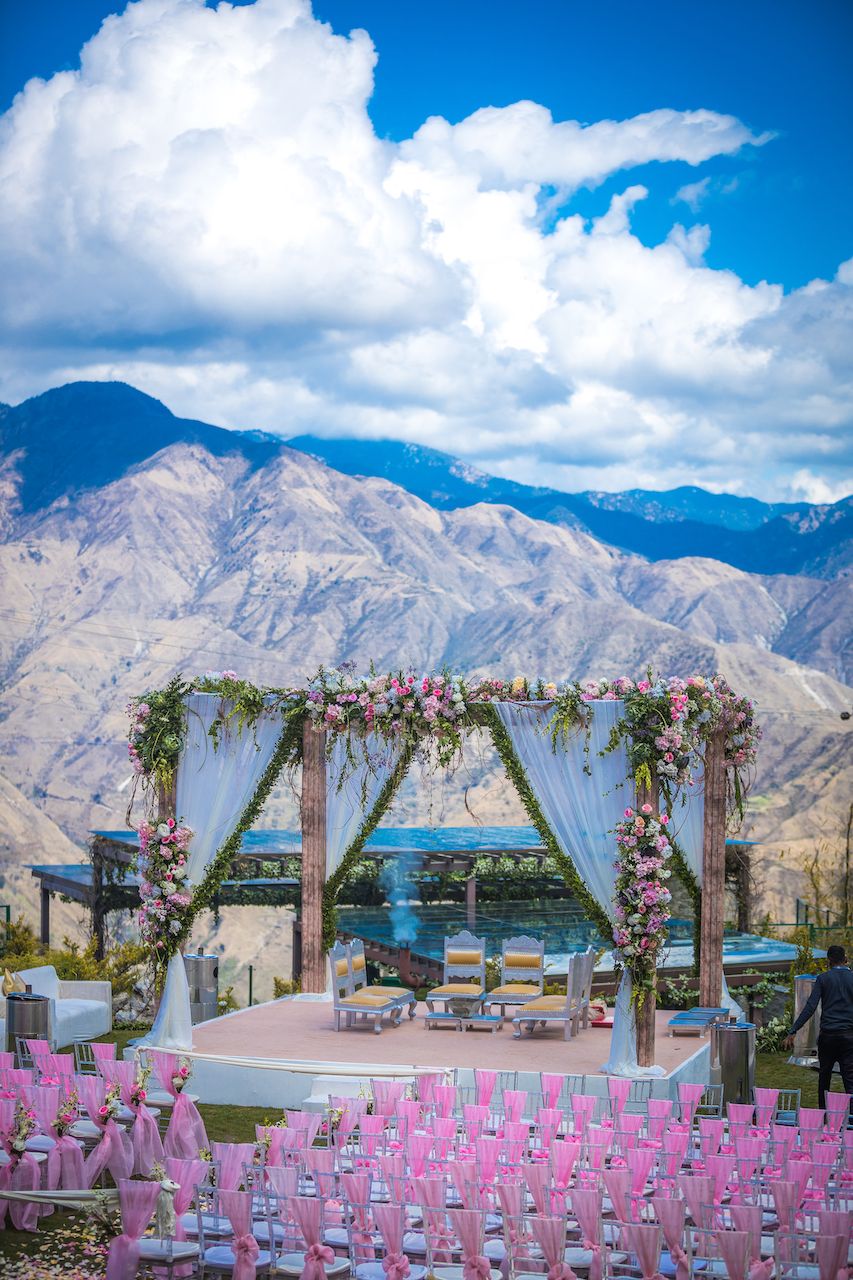 Image via Yash and Benaisha
When you have a backdrop like that, every mandap will be bookmark worthy and so was this one!
5. A Mandap That Walked Out Of A Modern Fairytale!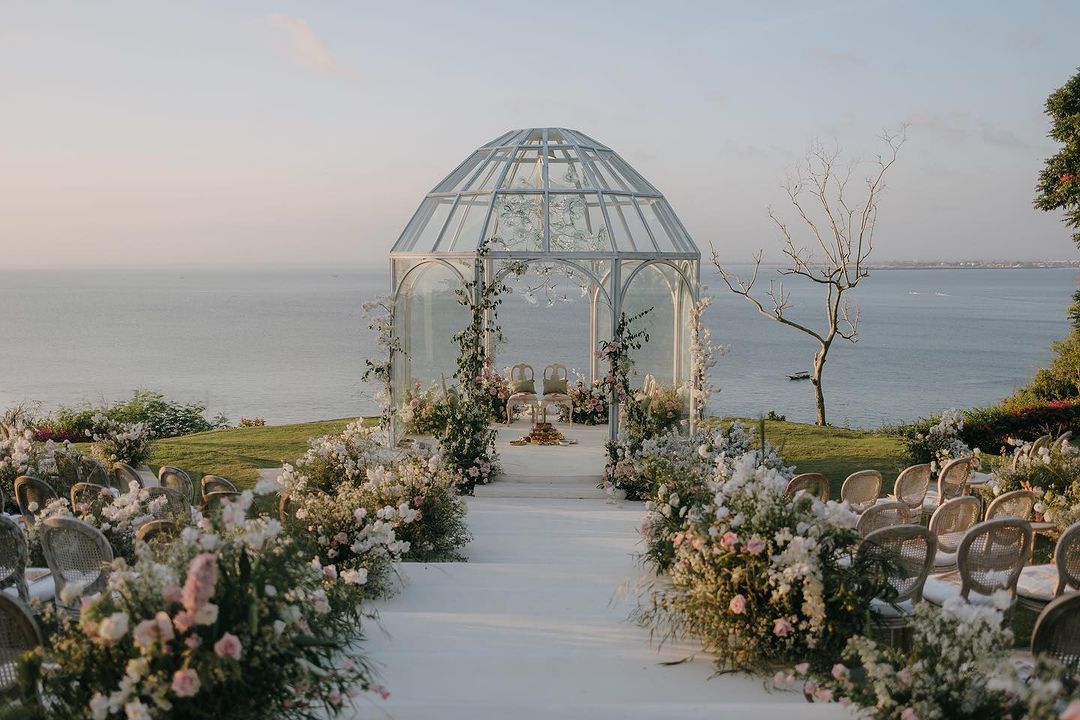 Image via Shaadi Squad★ 5
Every princess bride would love to get married under this gorgeous fairytale-style mandap!
6. A Rainbow-Hued One!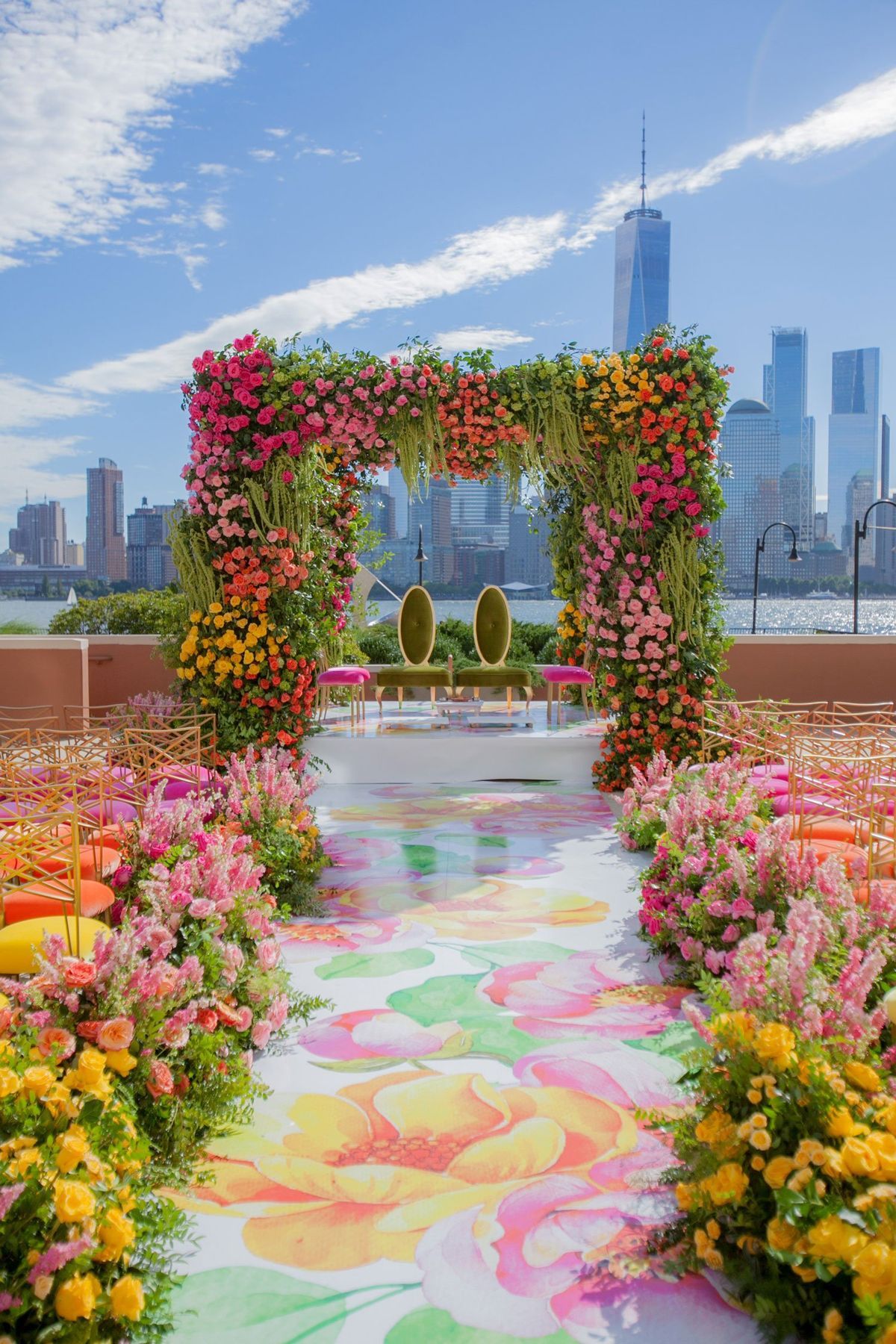 Image via Inside Weddings
Love, love and only love for this multi-hued beauty!
7. Temple Style Mandap!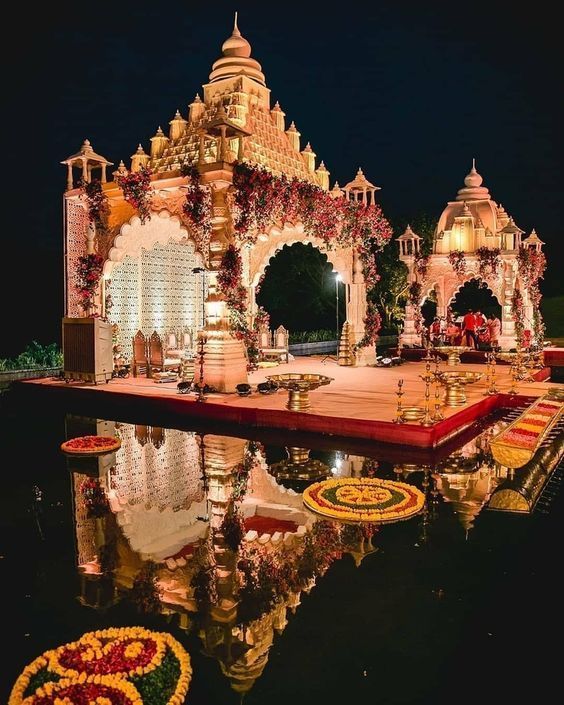 Image via Temple Style Mandaps
Want to get married in a temple like 2 states but want a spacious venue too? Build yourself this temple style mandap and have the best of both worlds!
8. Pampas Grass & Floral Stunner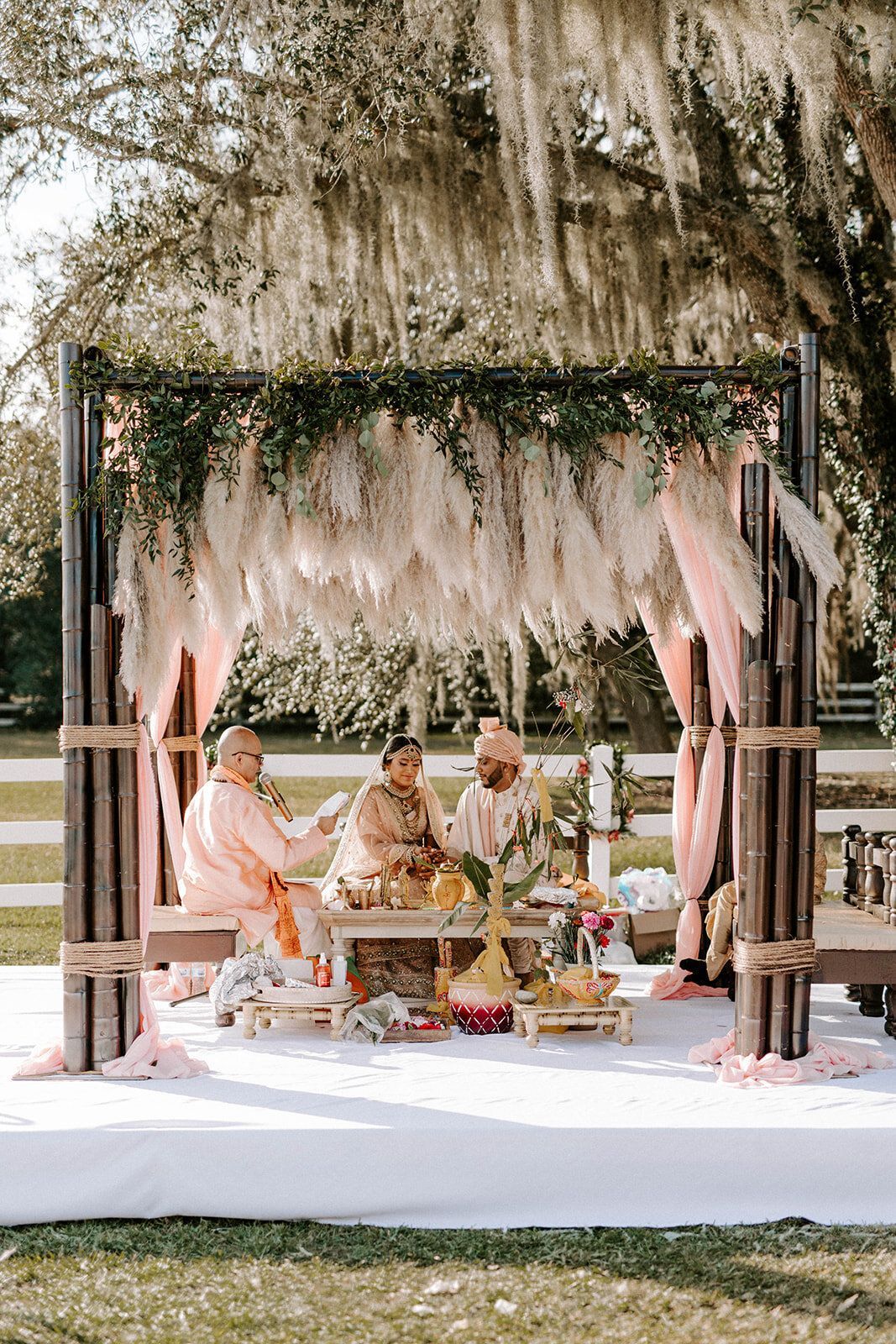 Image via Pinterest
This pampas grass and floral mandap is all kinds of beautiful!
9. Classic Combination Of White, Red & Pink!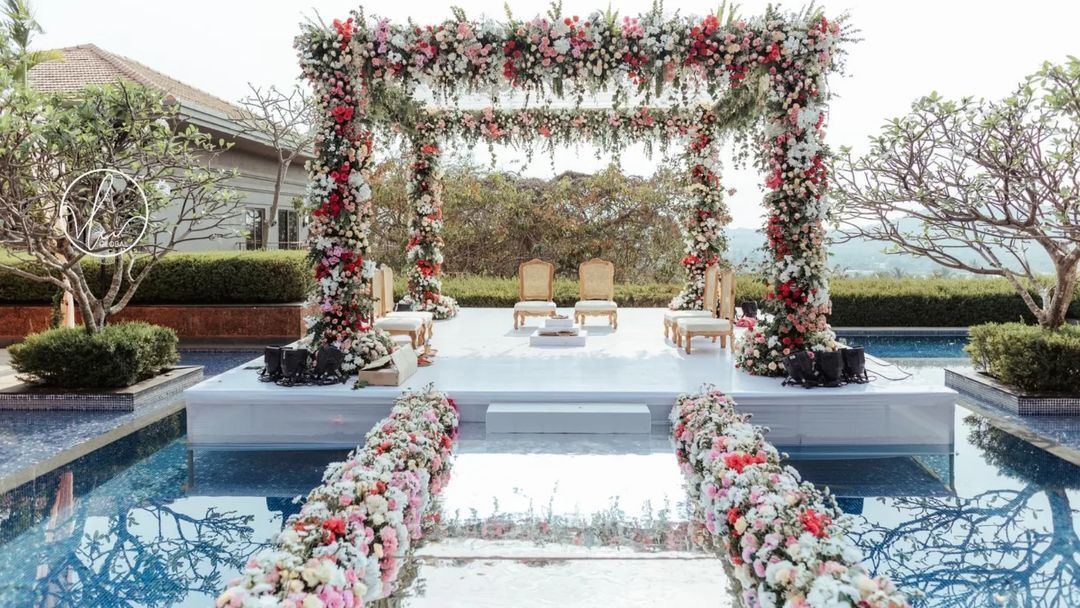 Image via VLW Global by Shruty Tiwari★ 5
There is a reason why red and white hues make for a stunning combination when paired in florals, just like this one!
10. All The Shades Of The Lovely Pastel Colour Wheel!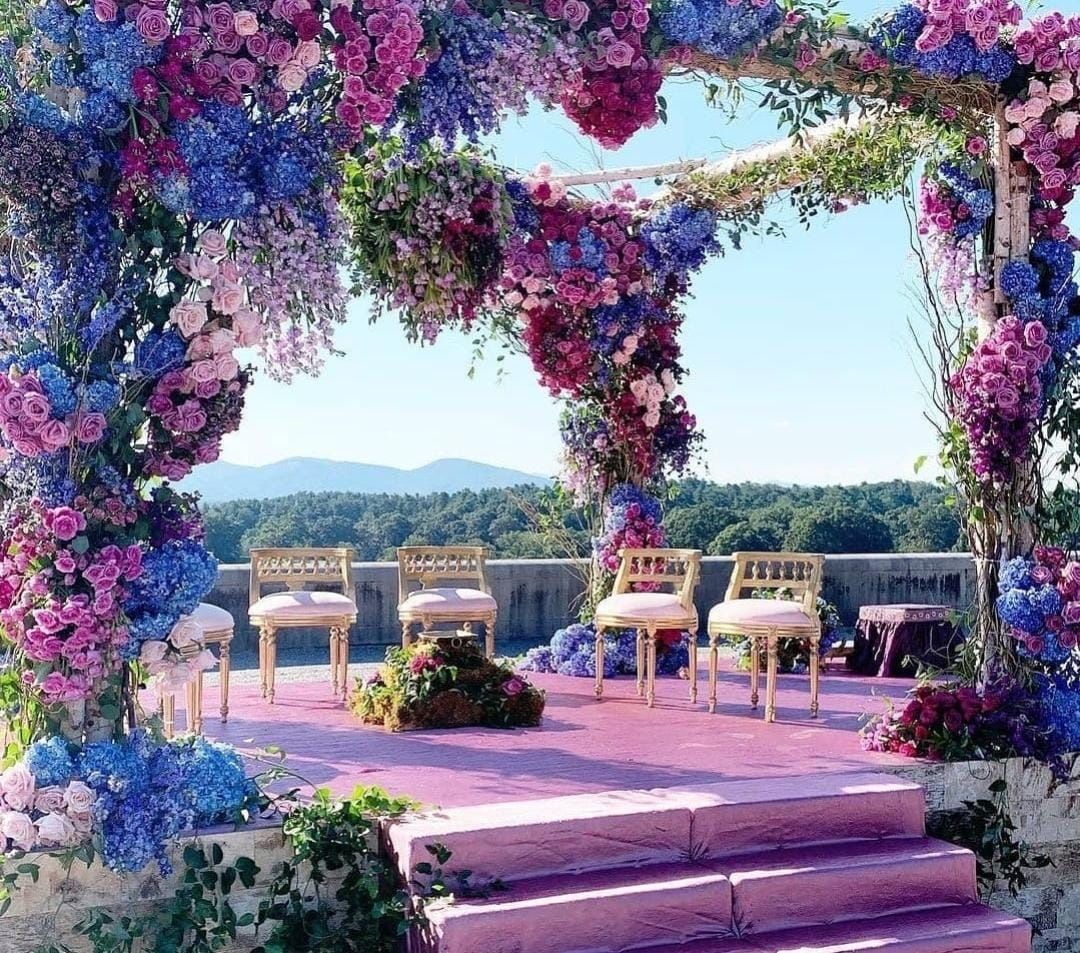 Image via Andiviaa Entertainments Pvt Ltd.★ 4.9
Oh, how lovely are these lilac, blue, pink shaded blooms that adorn this mandap? Absolute love!
11. Banana leaves fever!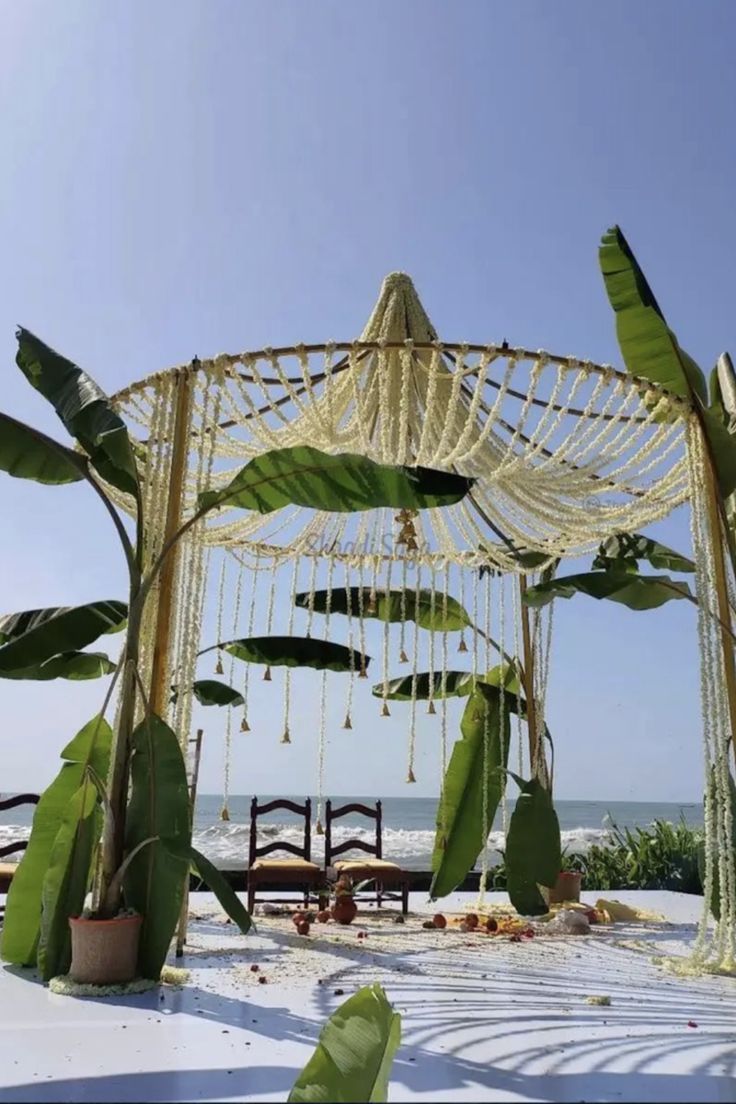 Image via Aasheeka and Vinayak
Everyone loves a little green with their florals and this mandap, adorned with banana leaves gives it such a traditional yet unique look!
12. Lotus Life!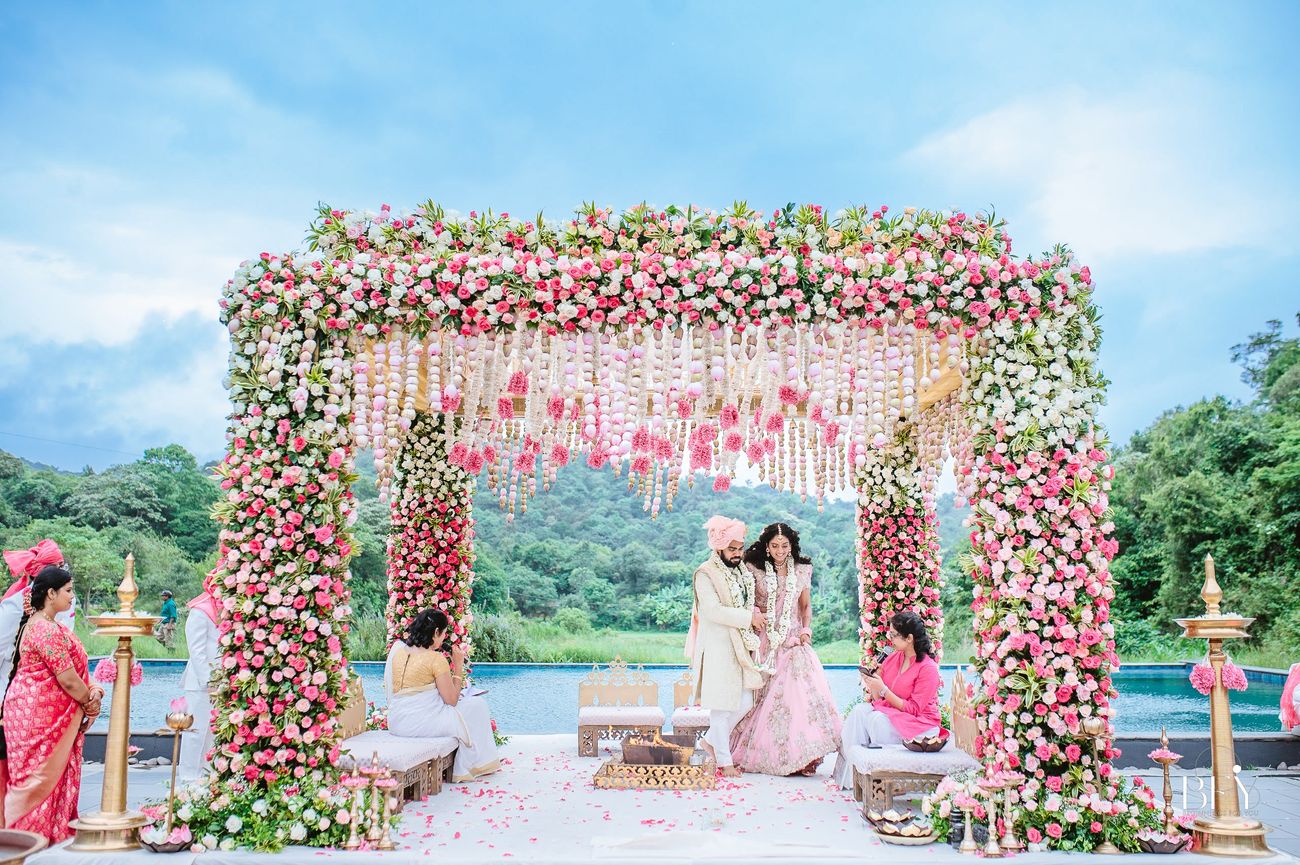 Image via Soumya and Chakra
Stunning white florals with pink lotuses, making for the most ethereal mandap we have seen off late. Totally crushing on it!
13. Swarovski Studded Tree Of Life Mandap!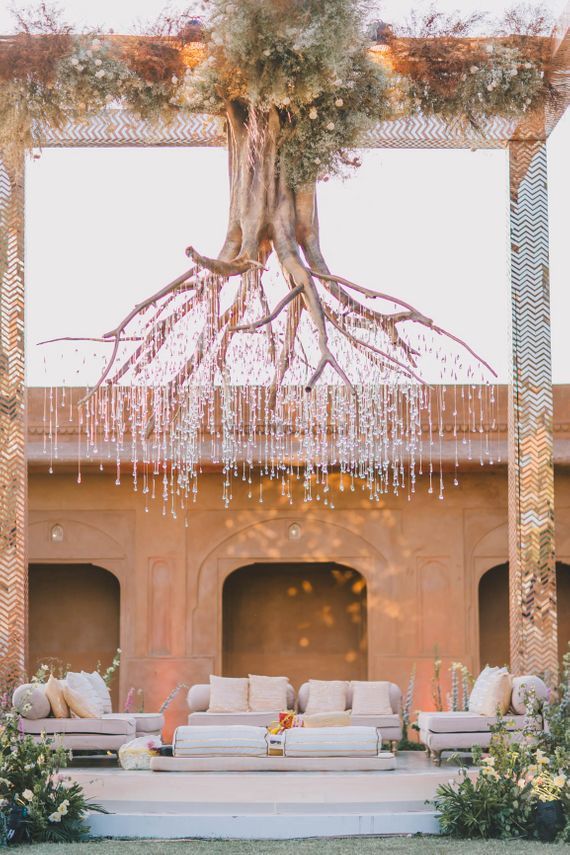 Image via Rhea and Avik
Legit goals! Now that is like no mandap we have ever seen- and definitely an inspiration for many
14. Cute Boho Chic Mandap In Pastels!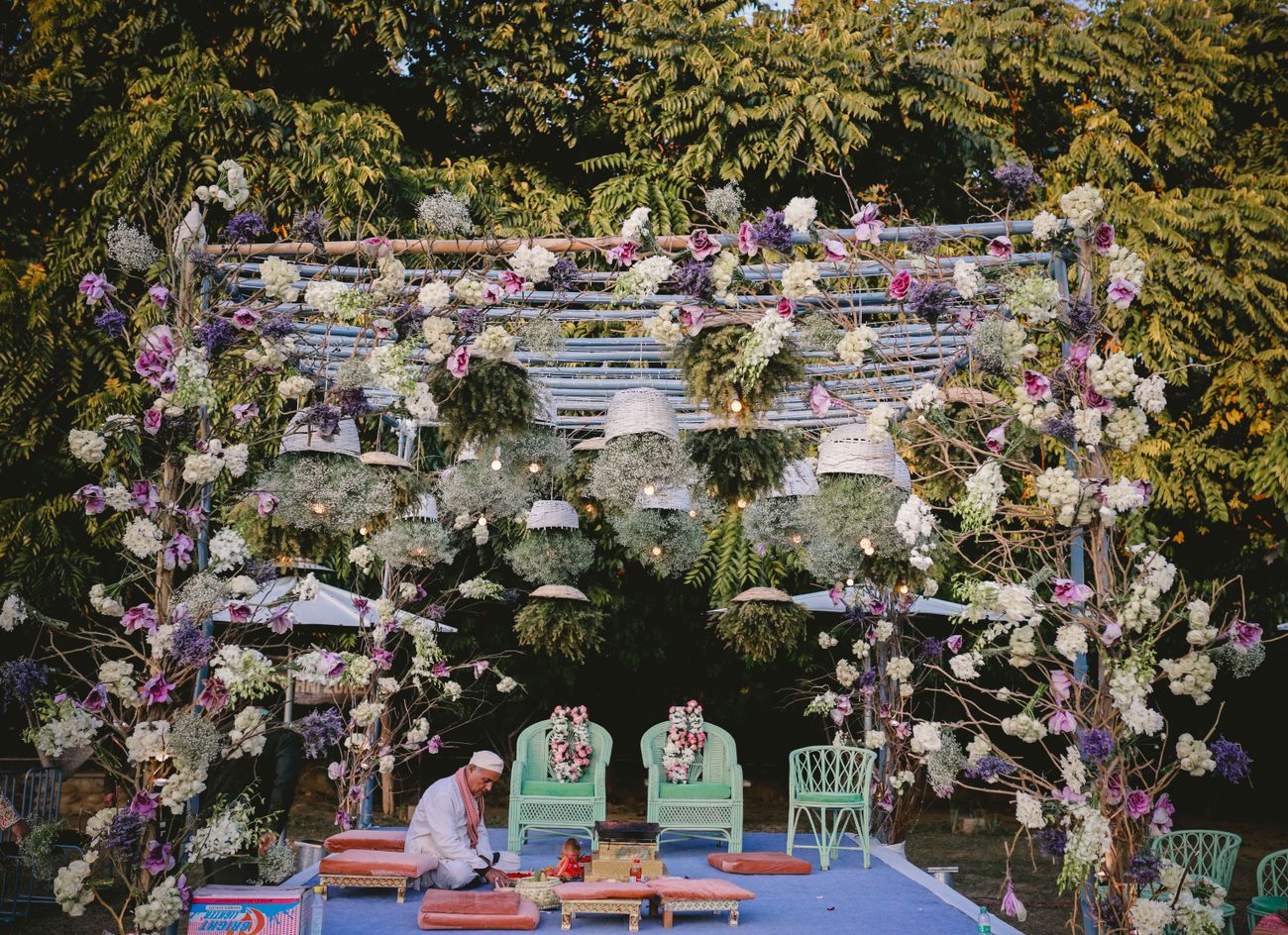 Image via Pooja and Rahul
Little details are what makes for good décor. The lovely rattan baskets, the pastel hues of the flowers – all give a beautiful look to the mandap décor!
15. Tangerine Love!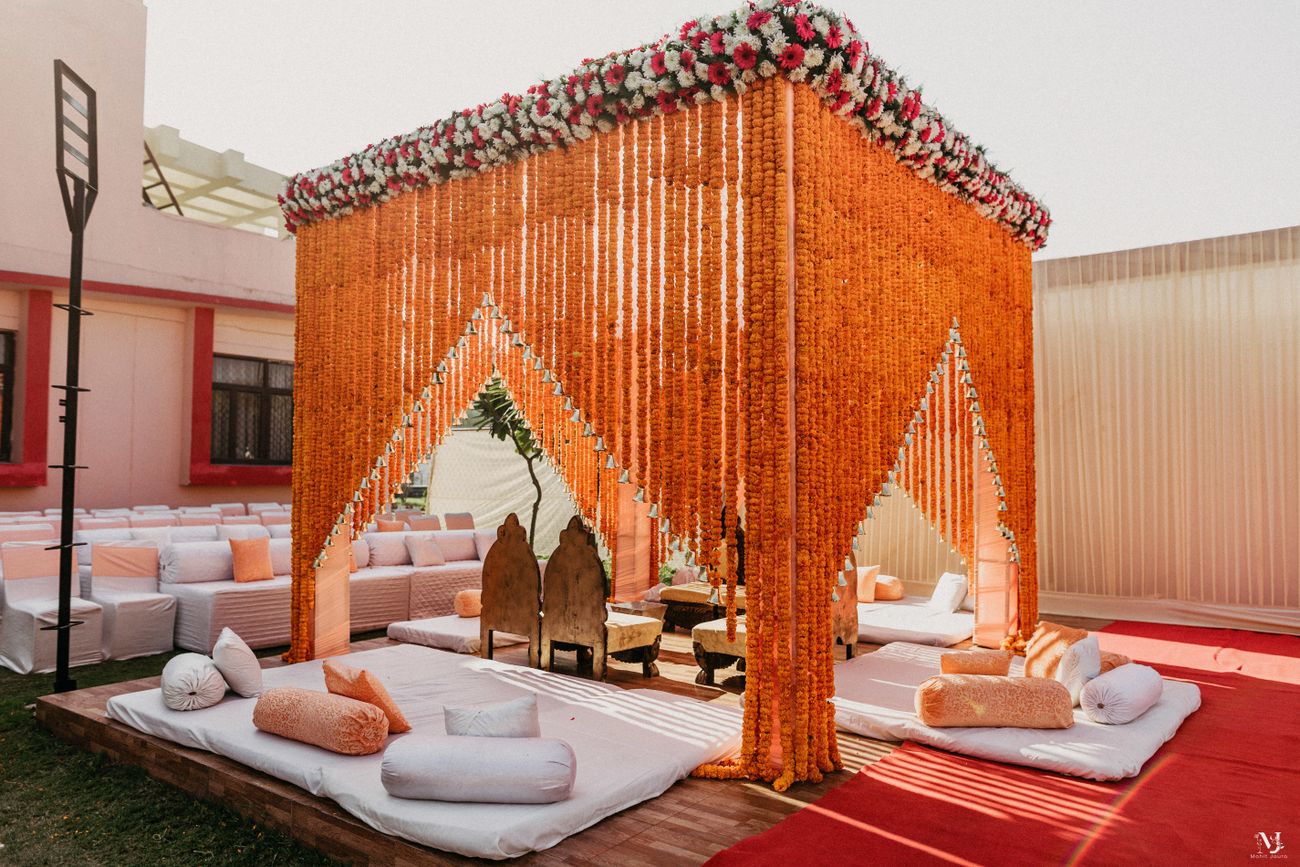 Image via Mohit Jaura Photography★ 4.7
No mandap list will ever be complete without a gendaphool mandap in India! Traditional yet with a touch of modern styling, this tangerine mandap is a work of art.
16. Fern Green Beauty!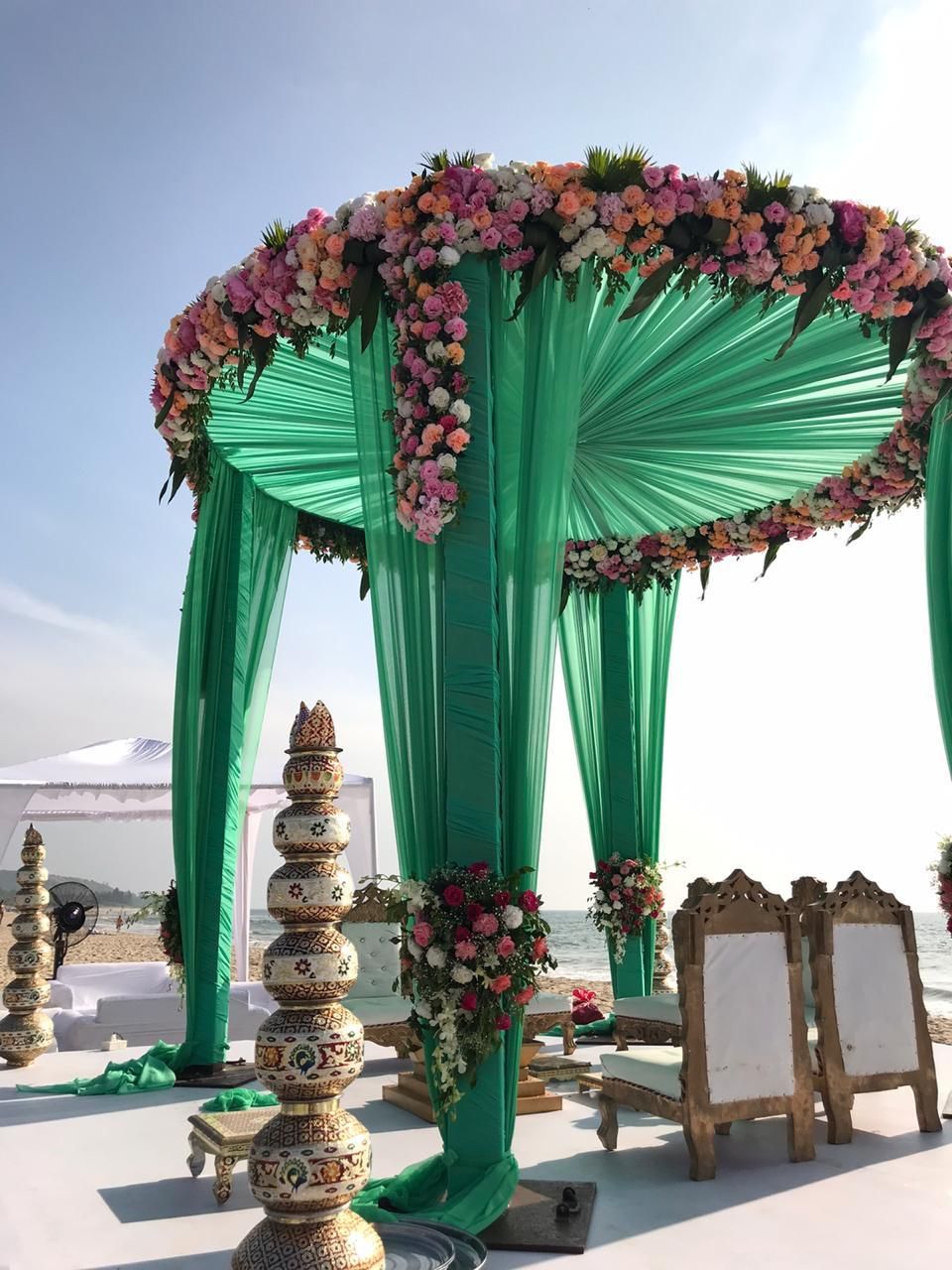 Image via B3WeddingZ★ 4.9
This disc-style design in a lovely and unique fern green shade with florals is such an out of the box mandap, while not being too whimsical or quirky!
17. Blush Pink Mandap With A Statement Chandelier!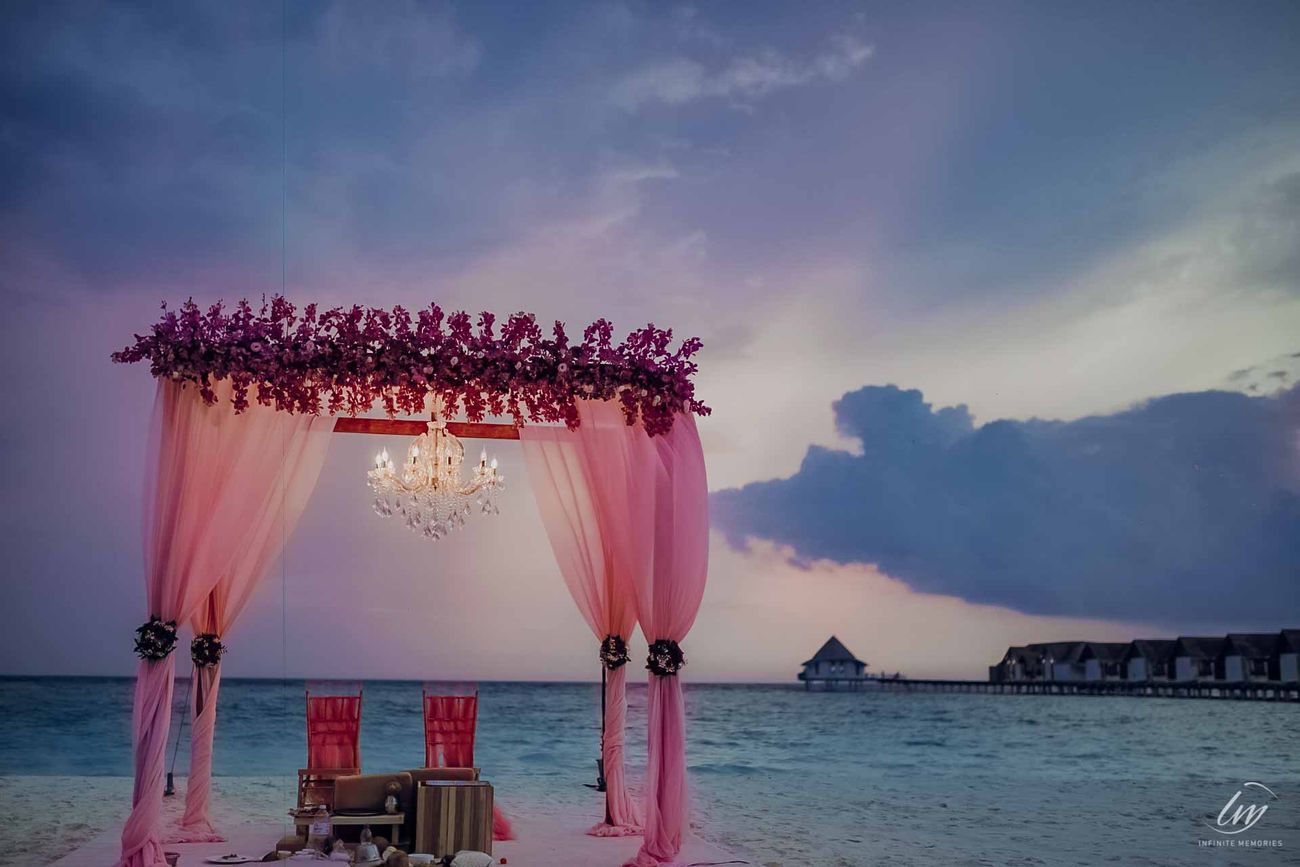 Image via Nikita and Nakul
Giving us all sorts of beach wedding goals, this blush pink mandap has our hearts!
18. Uniquely Designed Floral Beauty!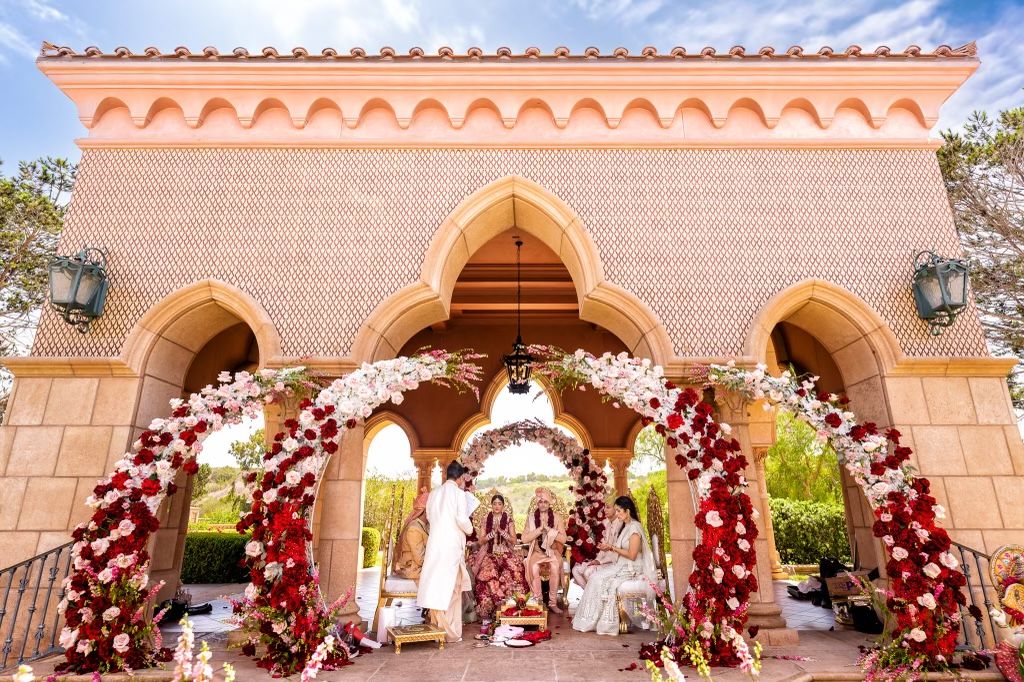 Image via Shaneli and Shaun
How unique is the design of this open-style floral mandap?
19. Floating Mandap!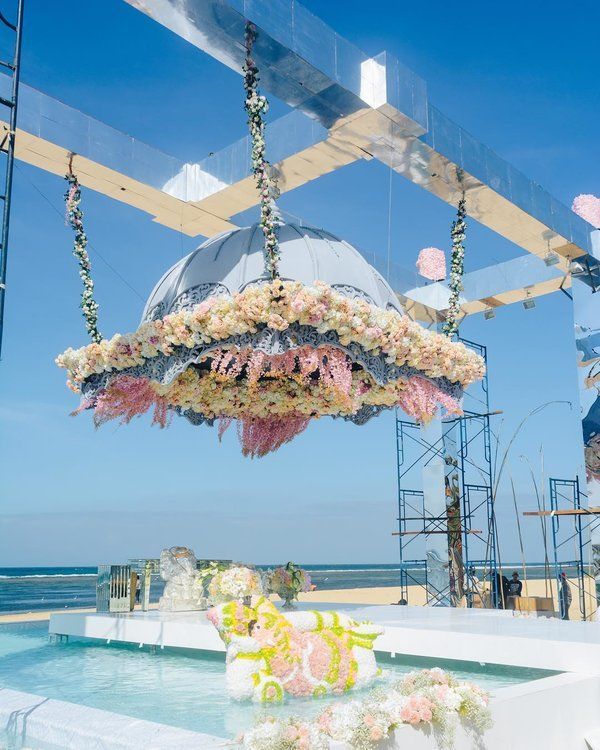 Nothing like a serene floating mandap to take your saath pheras at!
20. Nothing Can Beat An All-White Floral Mandap!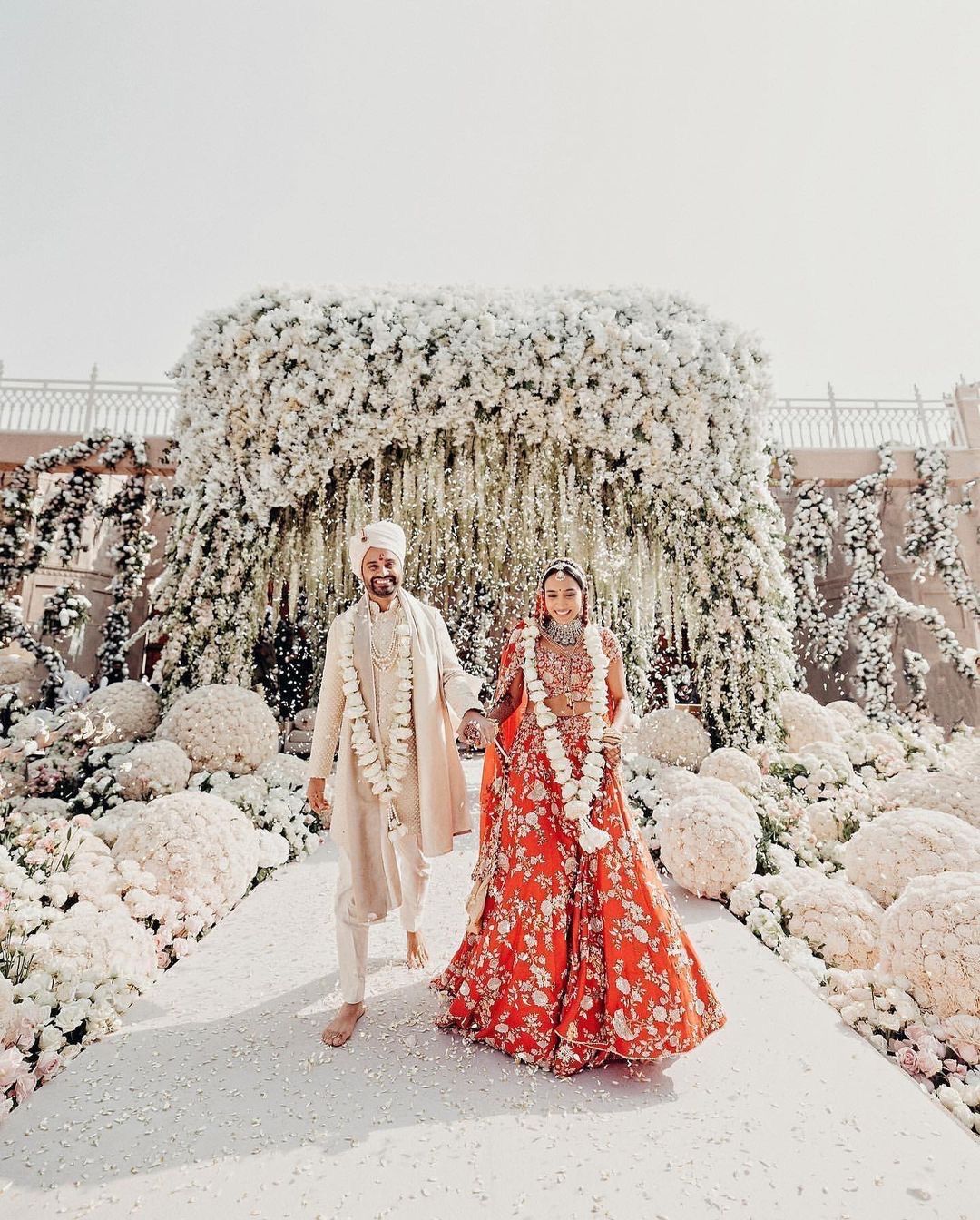 Images via Amrit Photography
From lehengas to flowers, white has been ruling this wedding season. This all-white floral mandap is one such huge crush we have!
21. A Little Bit Of Fusion Fun With Blooms And Bells!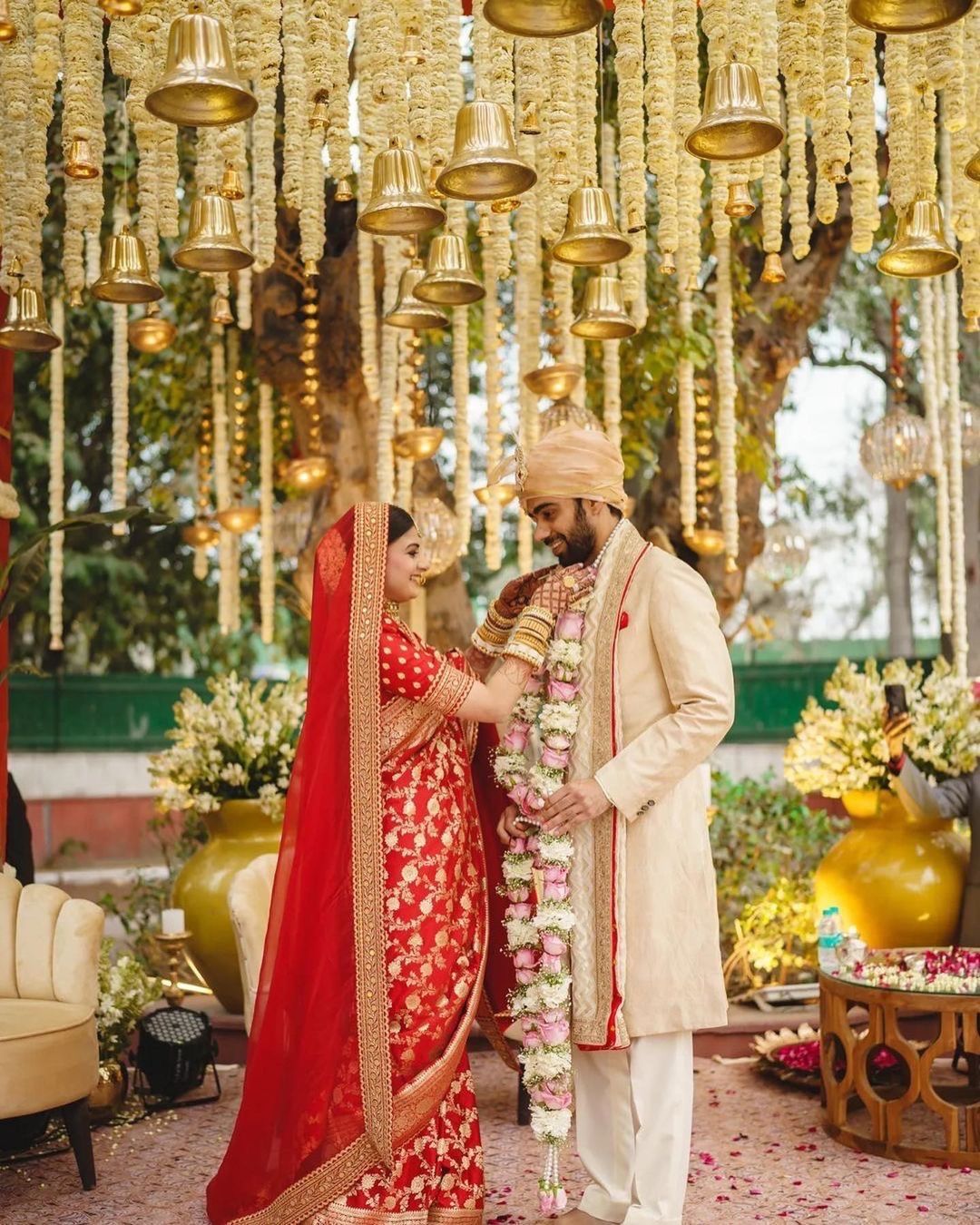 Image via Through the Barrel★ 4.6
A touch of brass bells with flowers is the perfect fusion of Indian traditional décor with the new world!
22. Elegance Personified!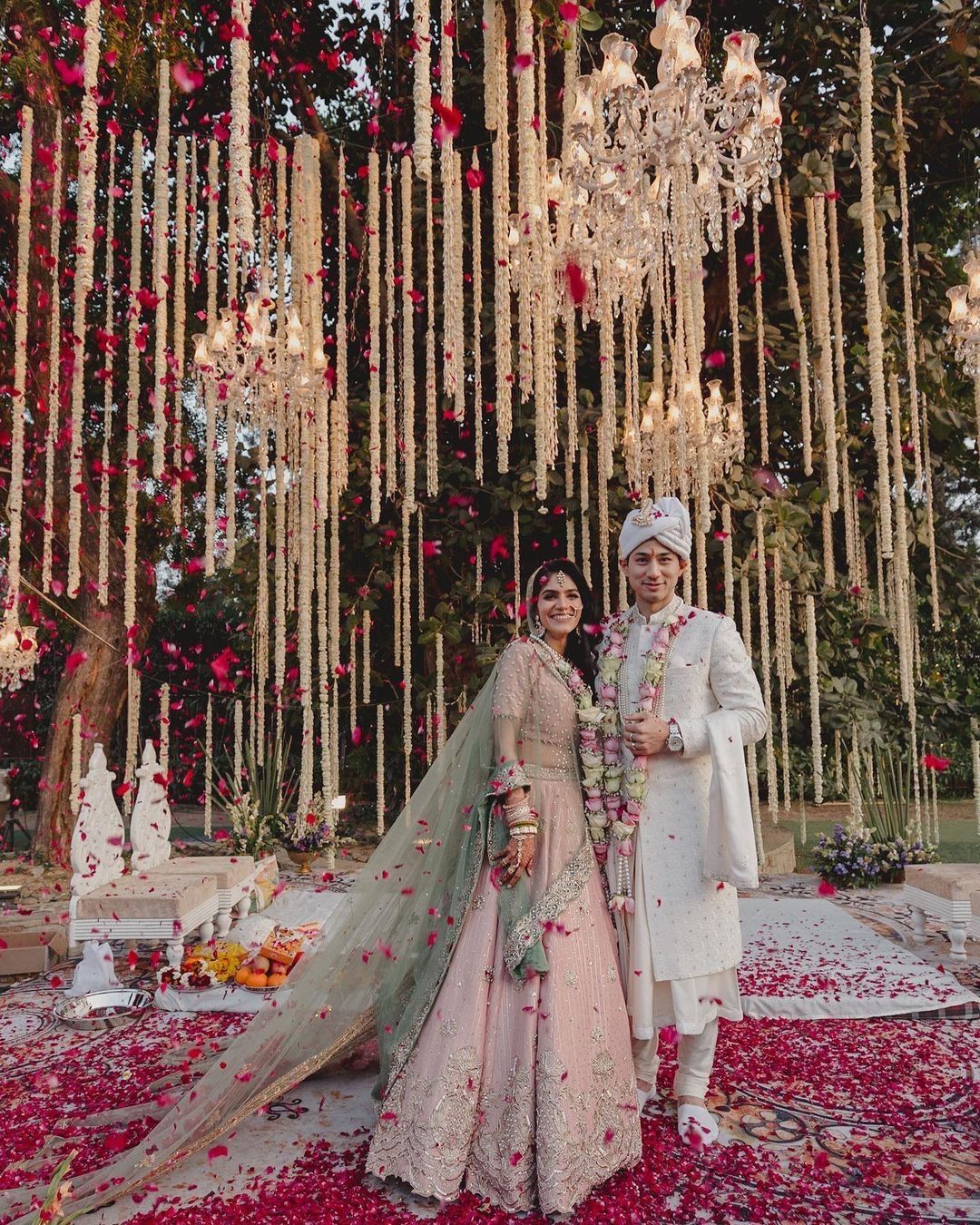 Image via Deepak Kaushik Photography 
An open mandap with hanging gajra style décor and chandeliers are a statement in itself!
23. This stunning pink beauty with flowers on the sea shore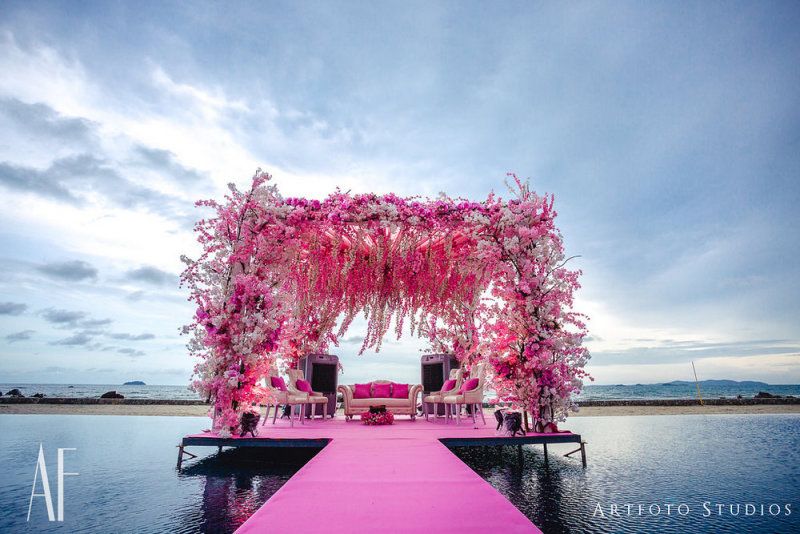 Image via Artfoto Studios★ 5
Now this dreamy beachside mandap has been a forever fave, and it's not hard to see why!
24. All white with a touch of florals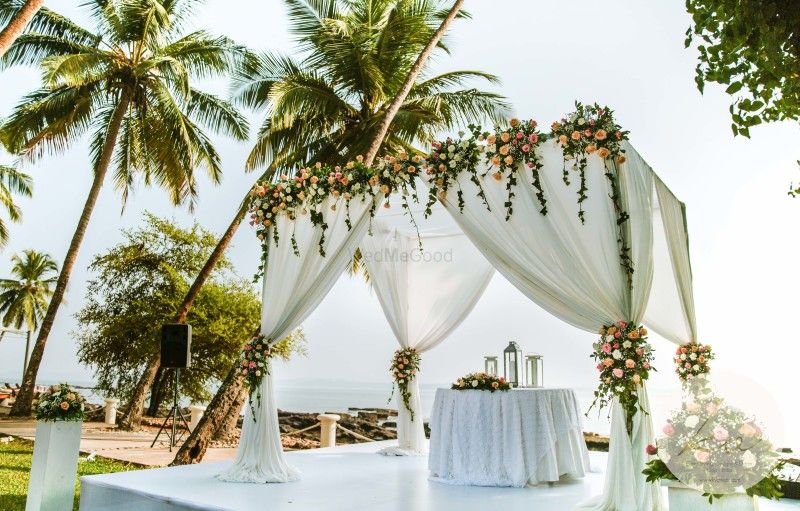 Image via KV Designs & Decor★ 4.9
Love an all-white mandap? Then how about this one that has a modern touch to it!
25. Elaborate pink and gold mandap that looks regal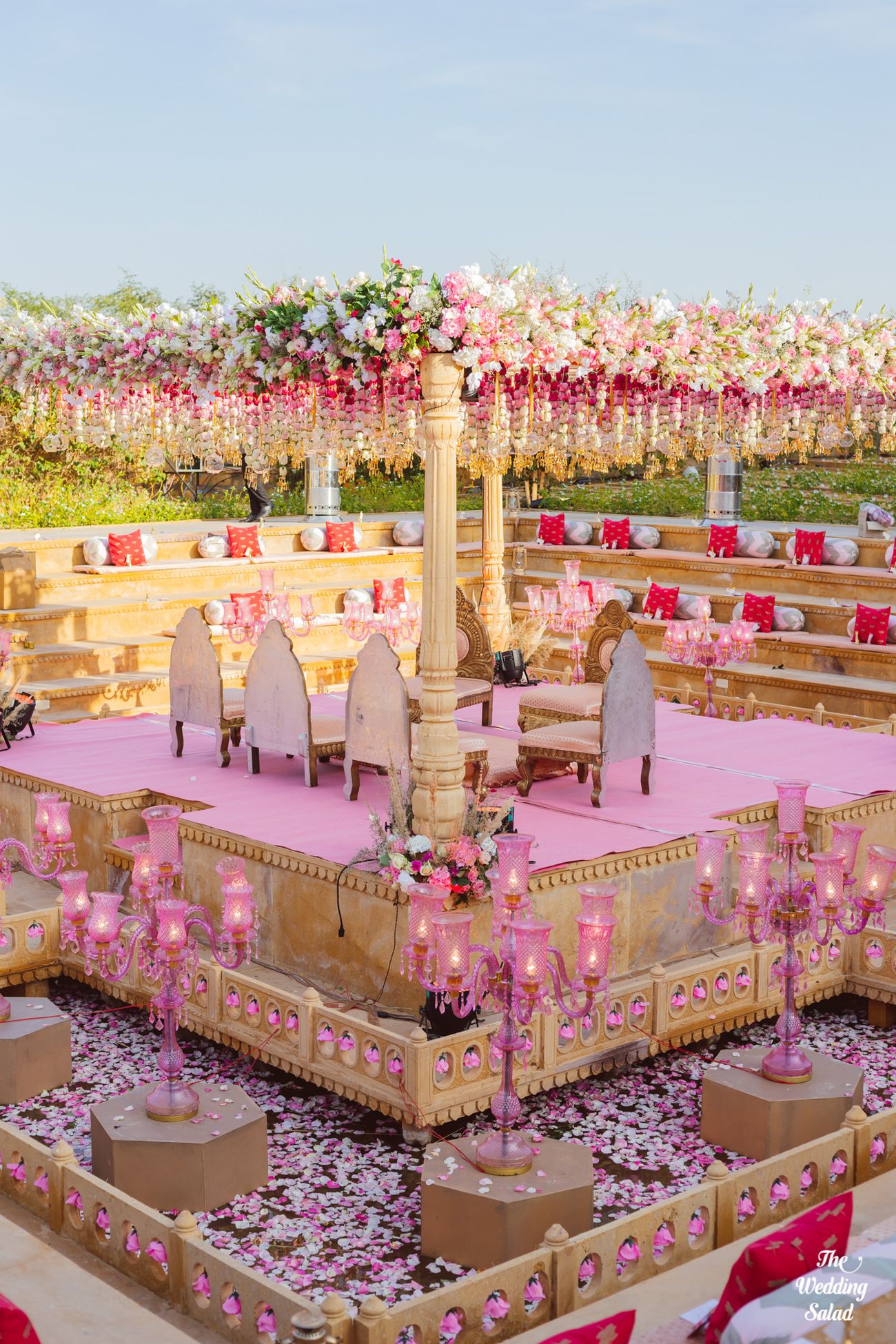 Image via Palak and Pranal
This one was love at first sight and we love how it still looks trending a few years down the line!
26. Circular Peach and white draped one with aum symbol on the beach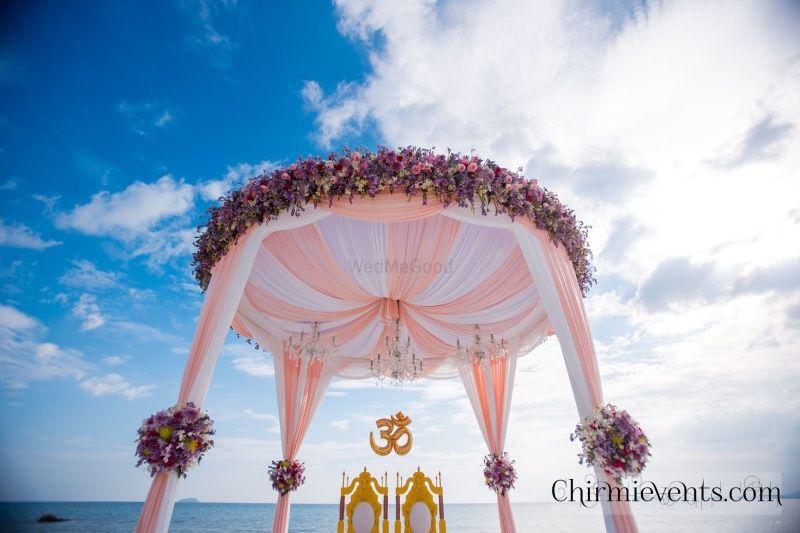 Image via Chirmi Events★ 4.7
Want something different but still breezy? Then how about this simple one which is perfect for a beach wedding.
27. Rustic open mandap with minimal flowers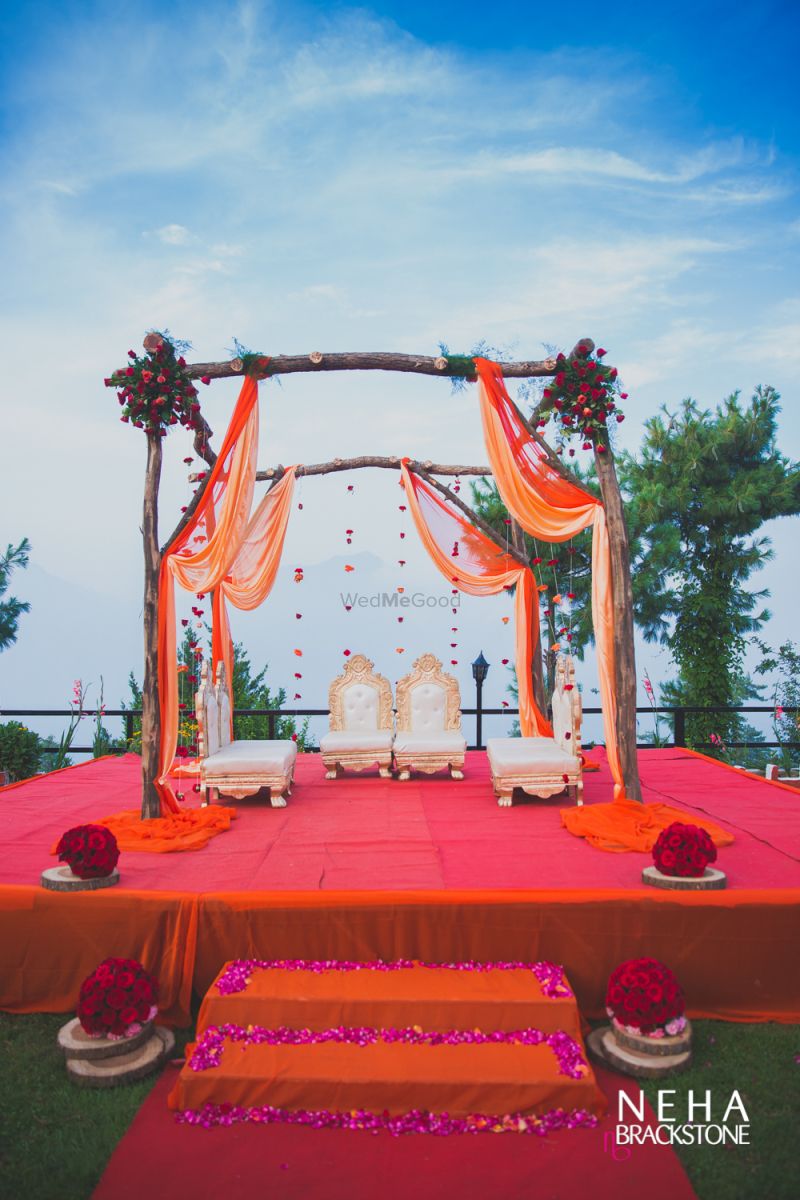 Image via Neha Brackstone Photography★ 5
This is one minimal mandap we have been loving, and it's so perfect for a rustic, boho wedding!
28. Stunning red roses mandap with hanging florals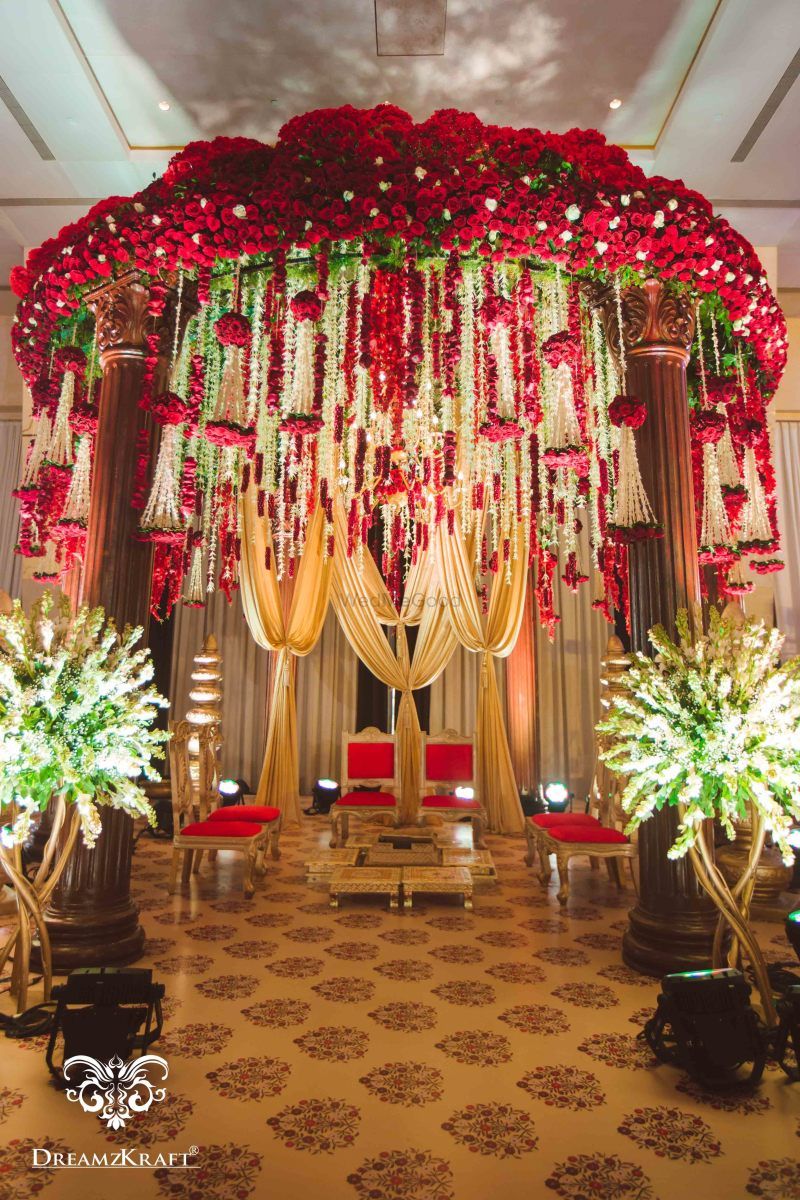 Image via Dreamzkraft★ 4.2
29. Beautiful open mandap with drapes and hanging flowers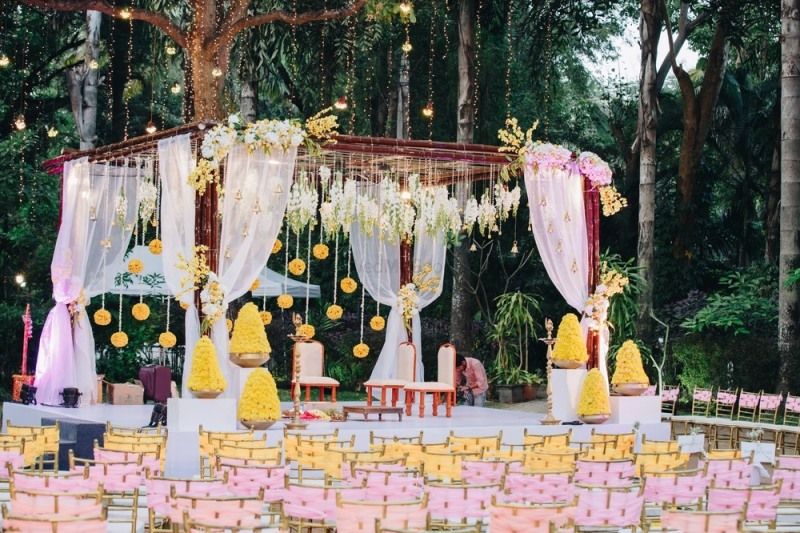 Image via Claude Loren★ 5
30. Circular indoor mandap with peach drapes and flowers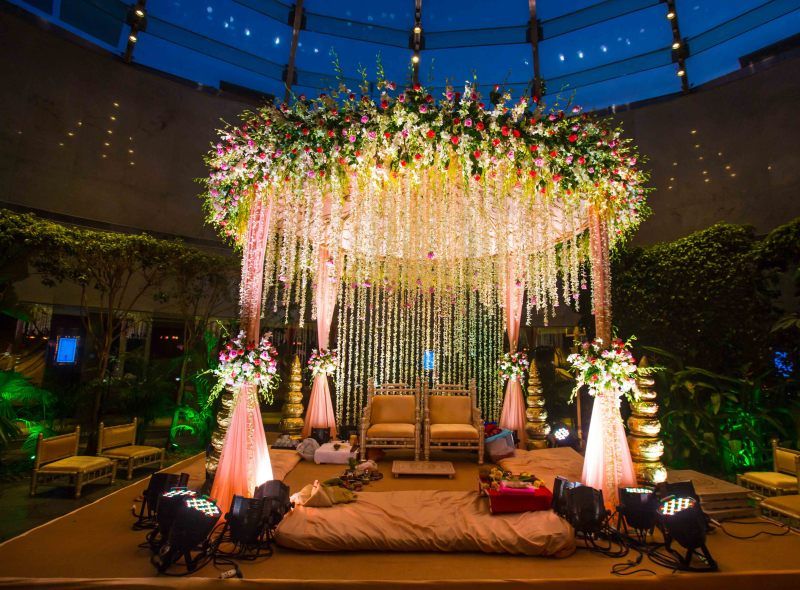 Image via The Knotty Story★ 4.9
31. Beach side all white mandap with border of flowers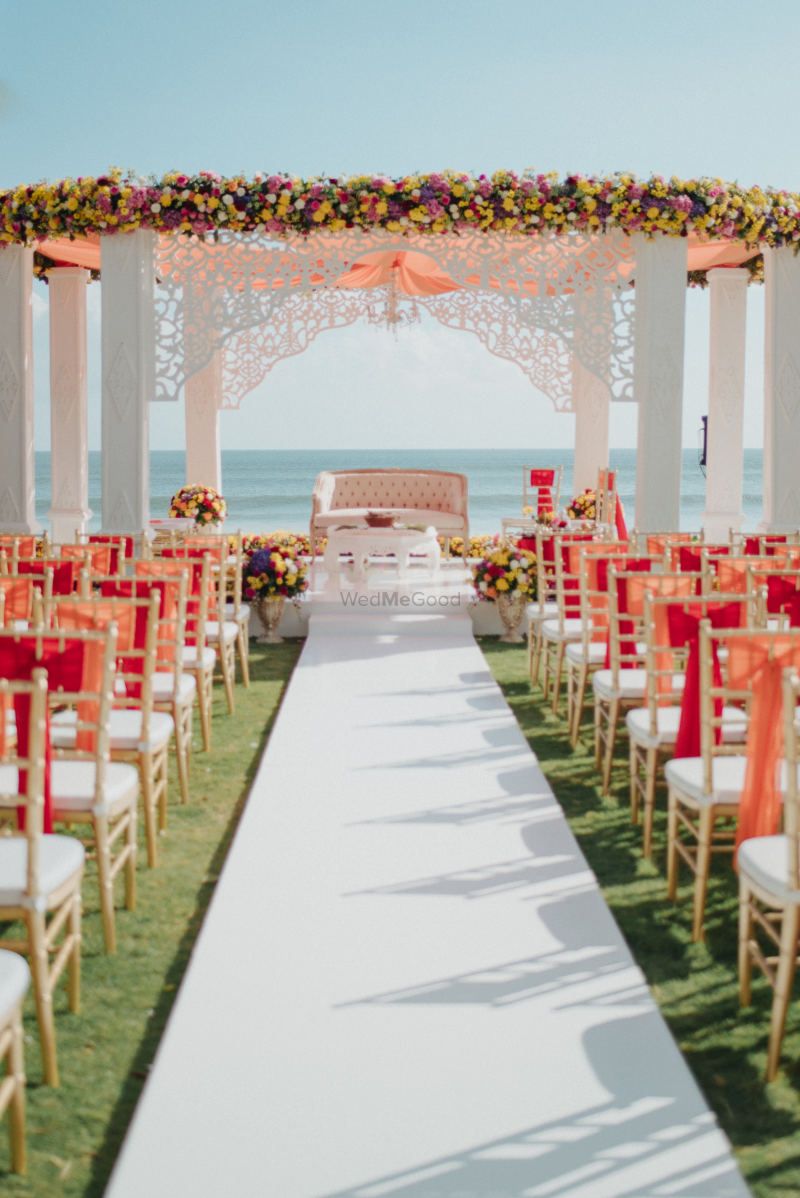 Image via Varawedding
32. All white floral mandap with inverted garden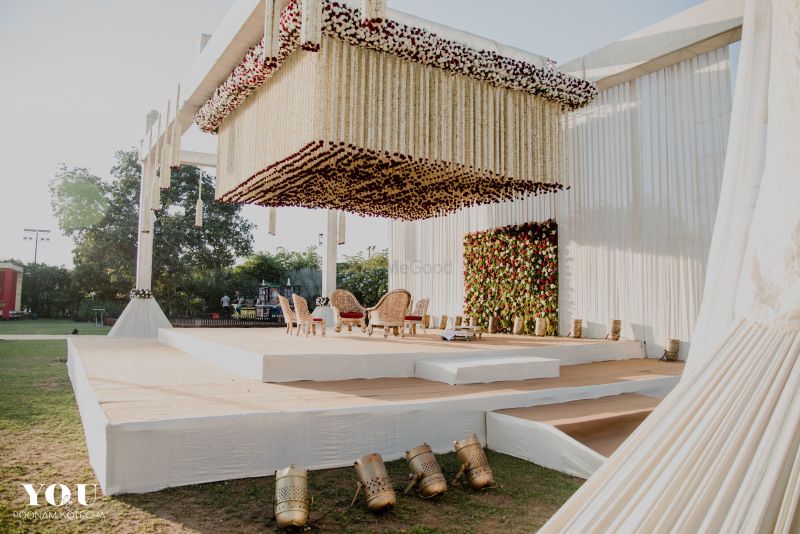 Image via YOU by Poonam Kotecha★ 4.9
33. Romantic pink and red mandap on the beach with floral décor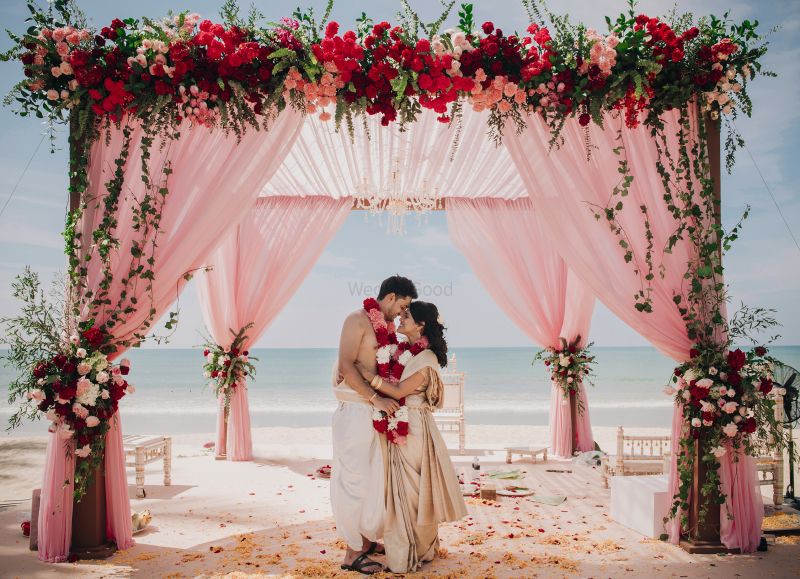 Image via Moving Pictures★ 5
34. Colourful and open floral mandap with a mix of dried flowers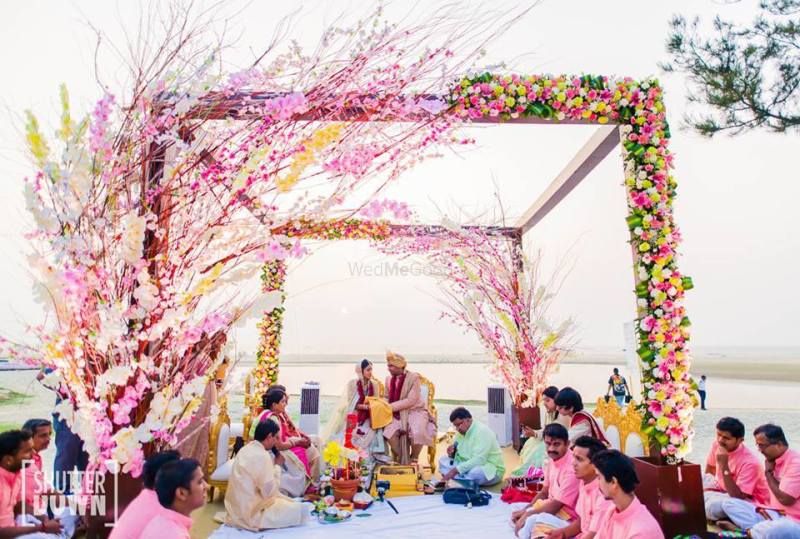 Image via Pranit & Pragya's Real Wedding
35. Unique floral wall with green décor as mandap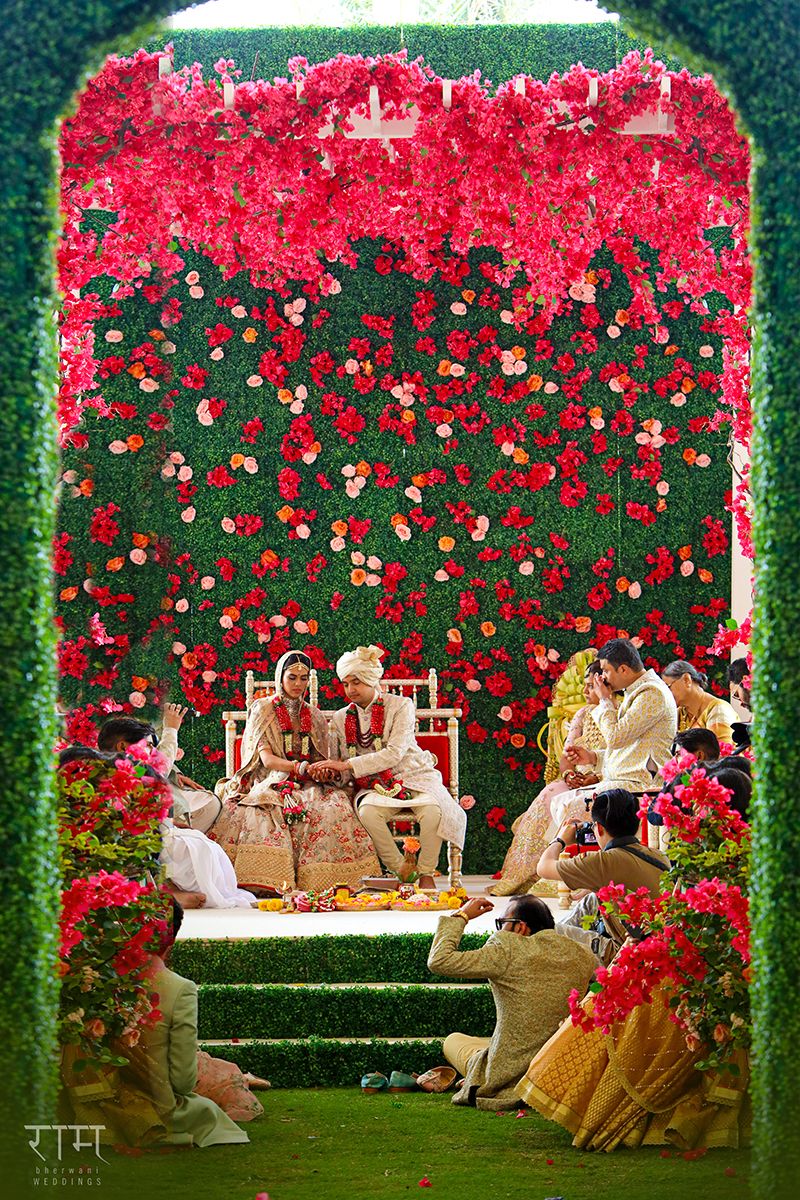 Image via Ram Bherwani Weddings
36. Floral mandap with inverted lotus bud décor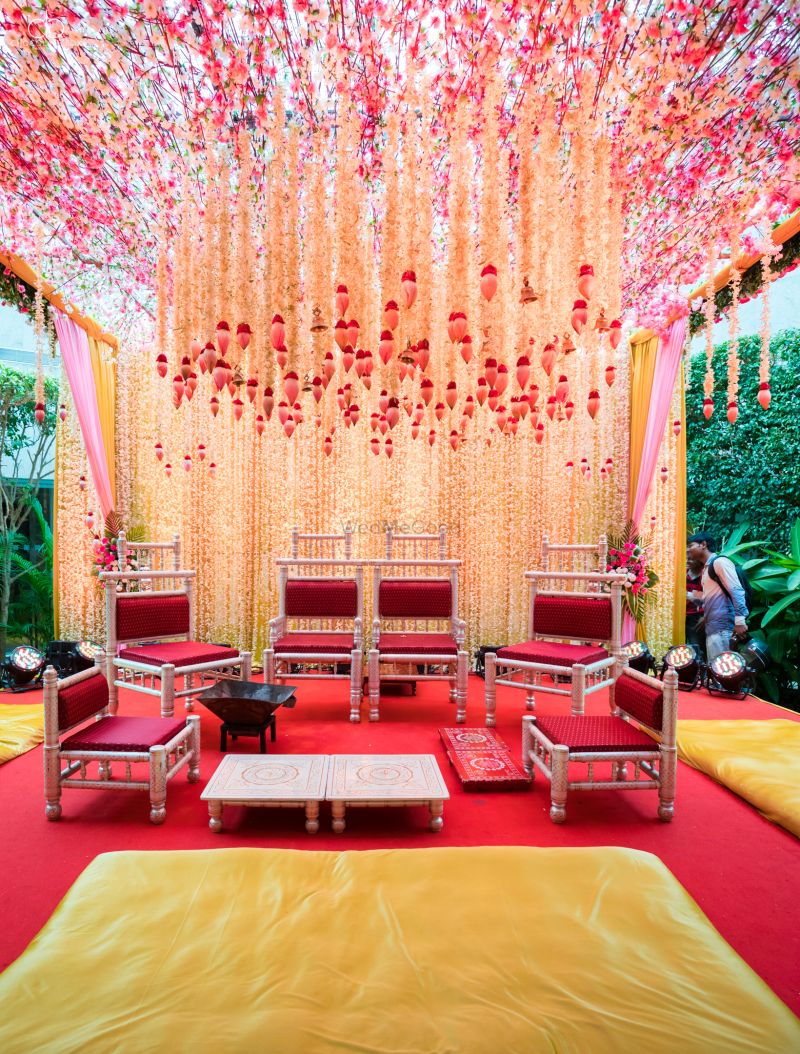 Image via Chocolate Box Photography★ 4.9
37. Floral dome mandap done in white and red flowers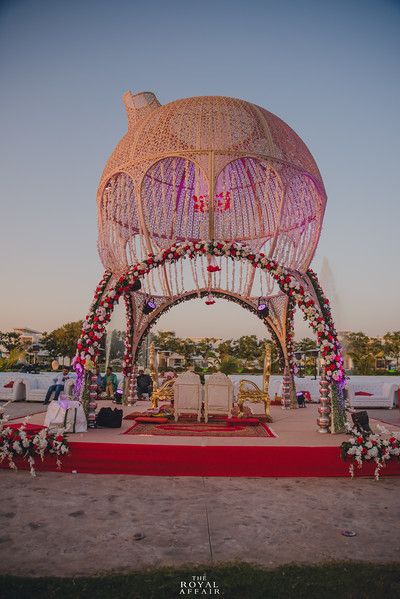 Image via Wedding Umbrella★ 5
38. Vintage themed mandap with florals and candles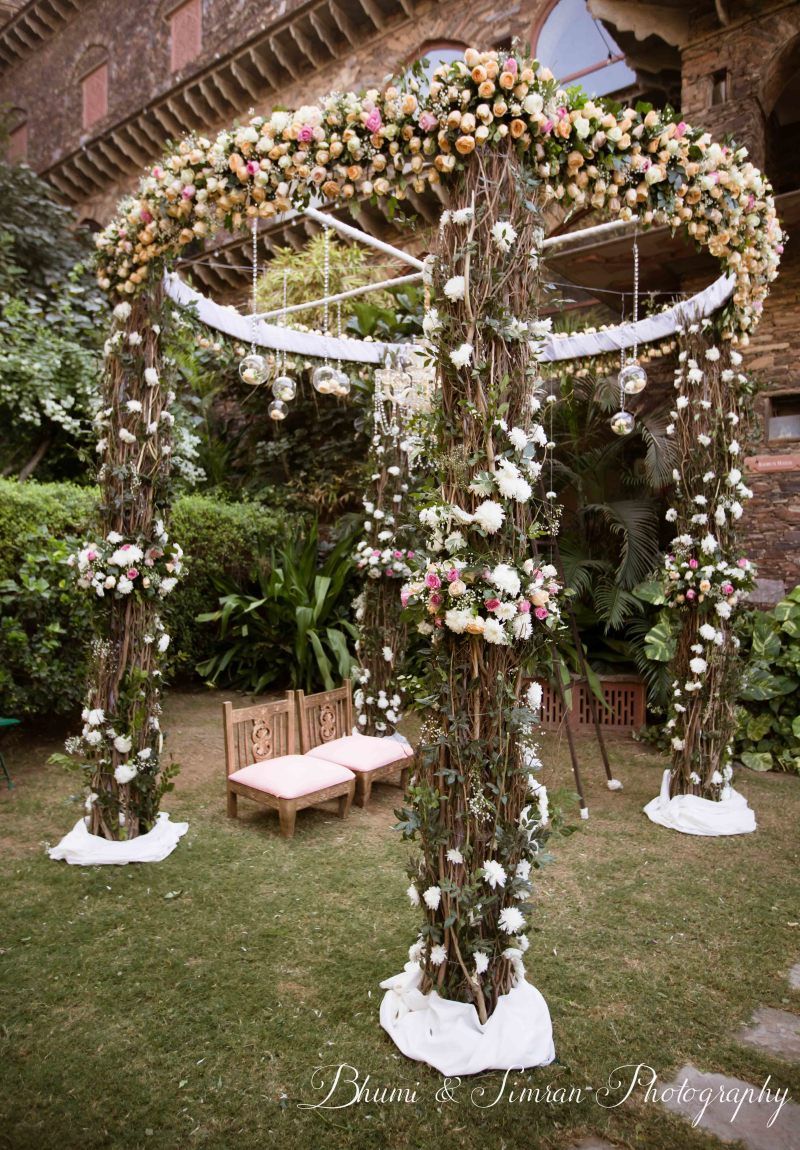 Image via Pretty Much Events & Decor★ 4.8
39. White floral strings mandap with a hint of gendaphool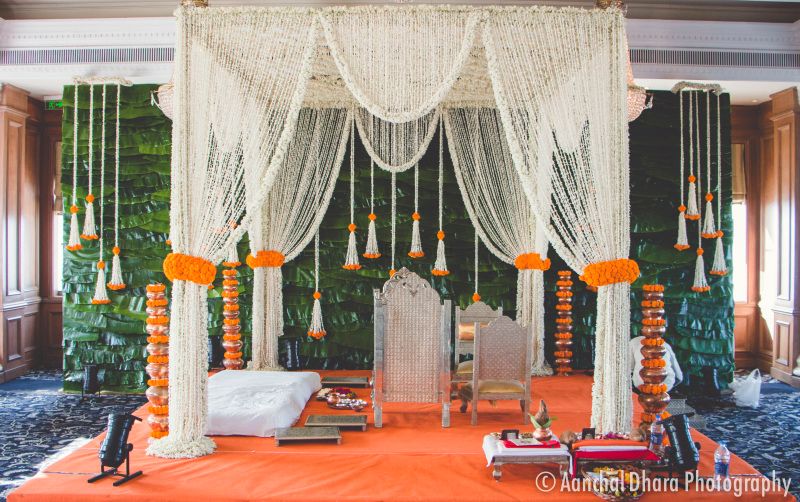 Image viaThe Wedding Co★ 4.9  and Decor via Afreen Wedding Services
40. All yellow mandap with drapes and white and yellow flowers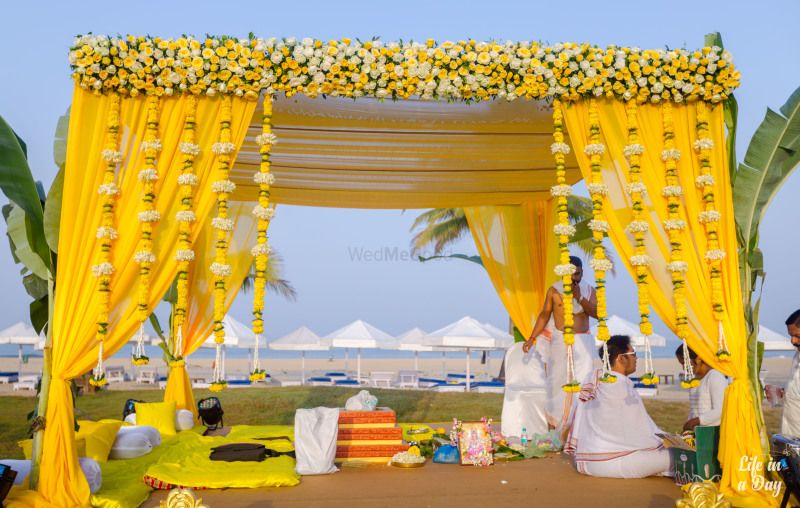 Image via Life in a Day★ 4.2
41. Lavendar inverted dome mandap with purple and lavender flowers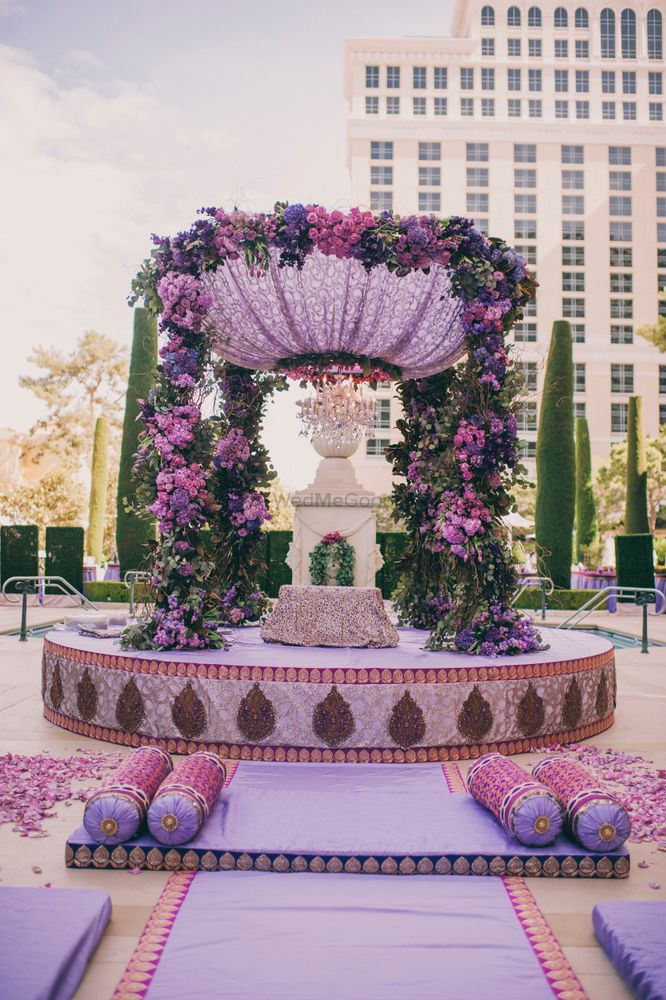 Image via Prashes Decor★ 5 and Mili Ghosh Photography ★ 5
42. Fairytale mandap with rustic theme and white florals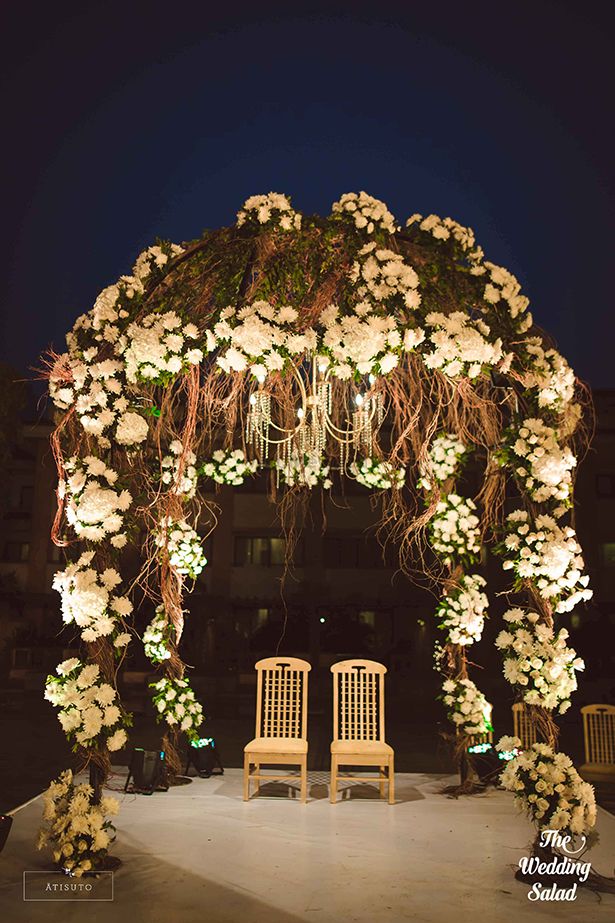 Image via Atisuto
43. Rustic outdoor mandap with white and pink florals and twigs
Pooja & Shanjeet's Real Wedding
44. Garden themed dome shaped mandap with roses and trellis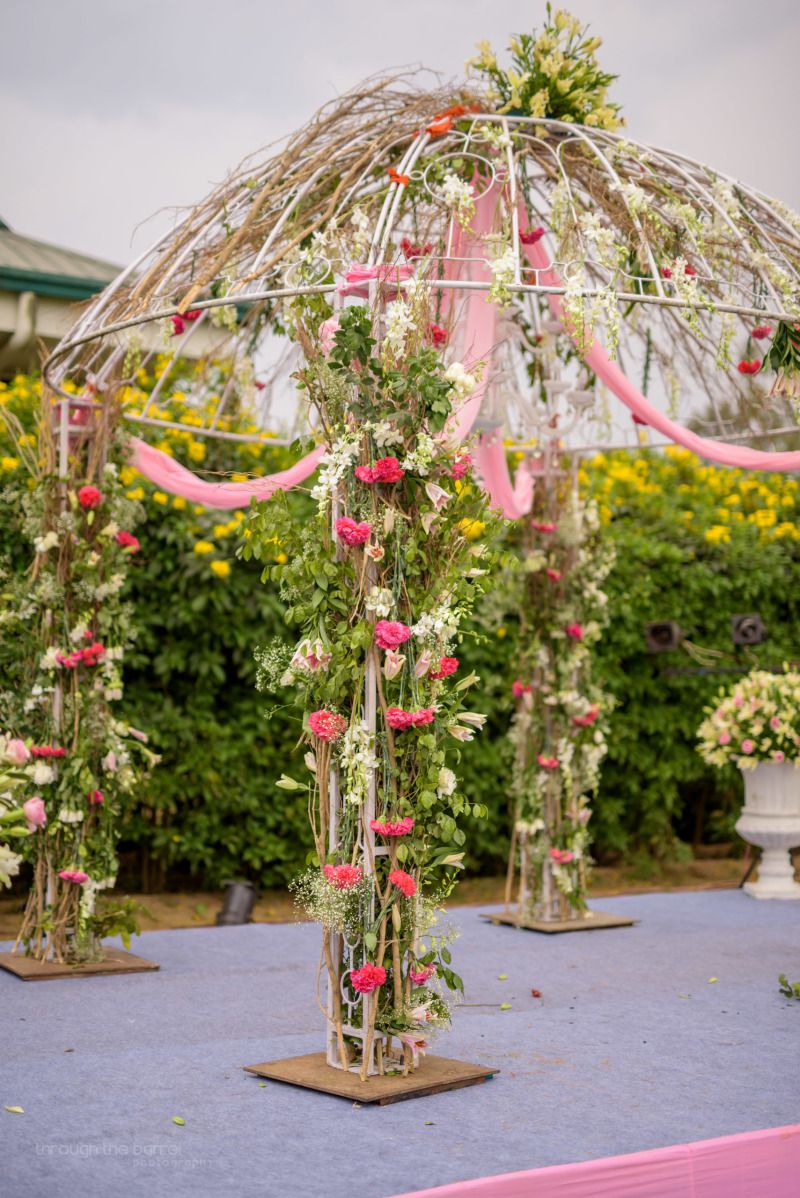 Image viaGautmi Khanna Designs★ 5
45. Crystal hangings and floral mandap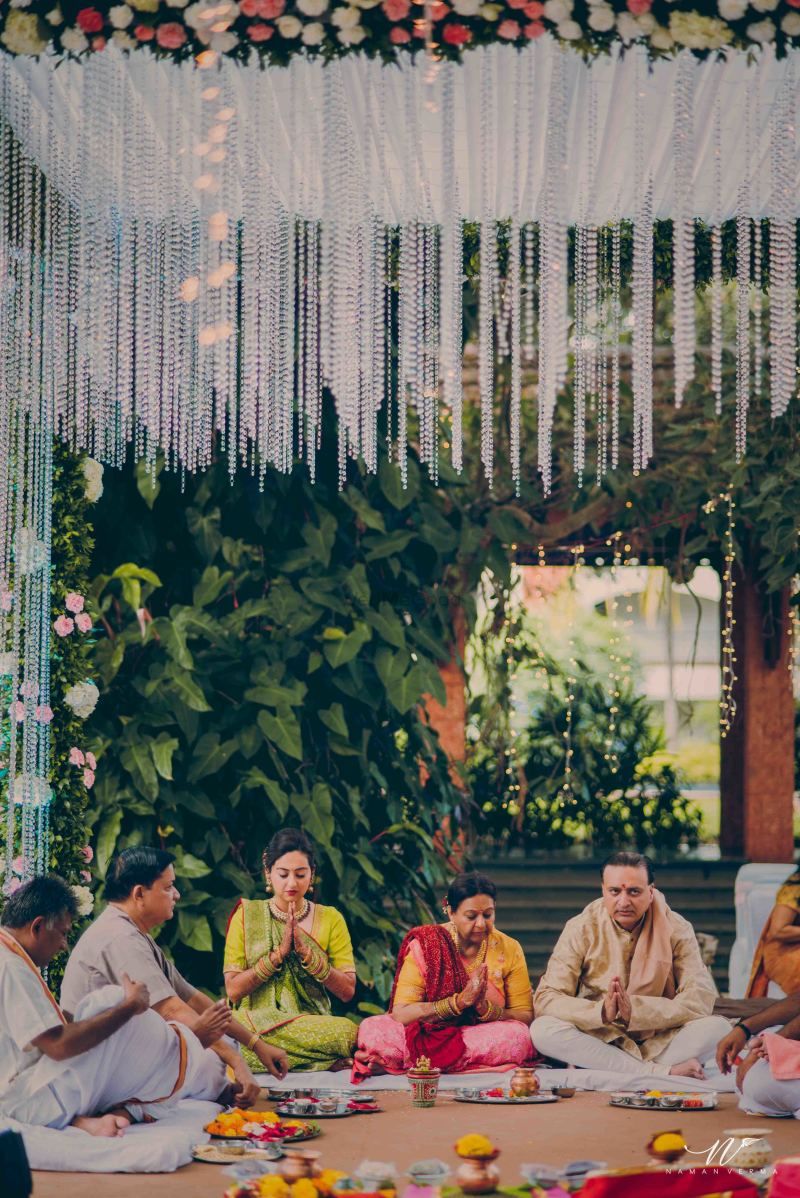 Image via Naman Verma Photography★ 4.9
46. Floral canopy mandap with chandelier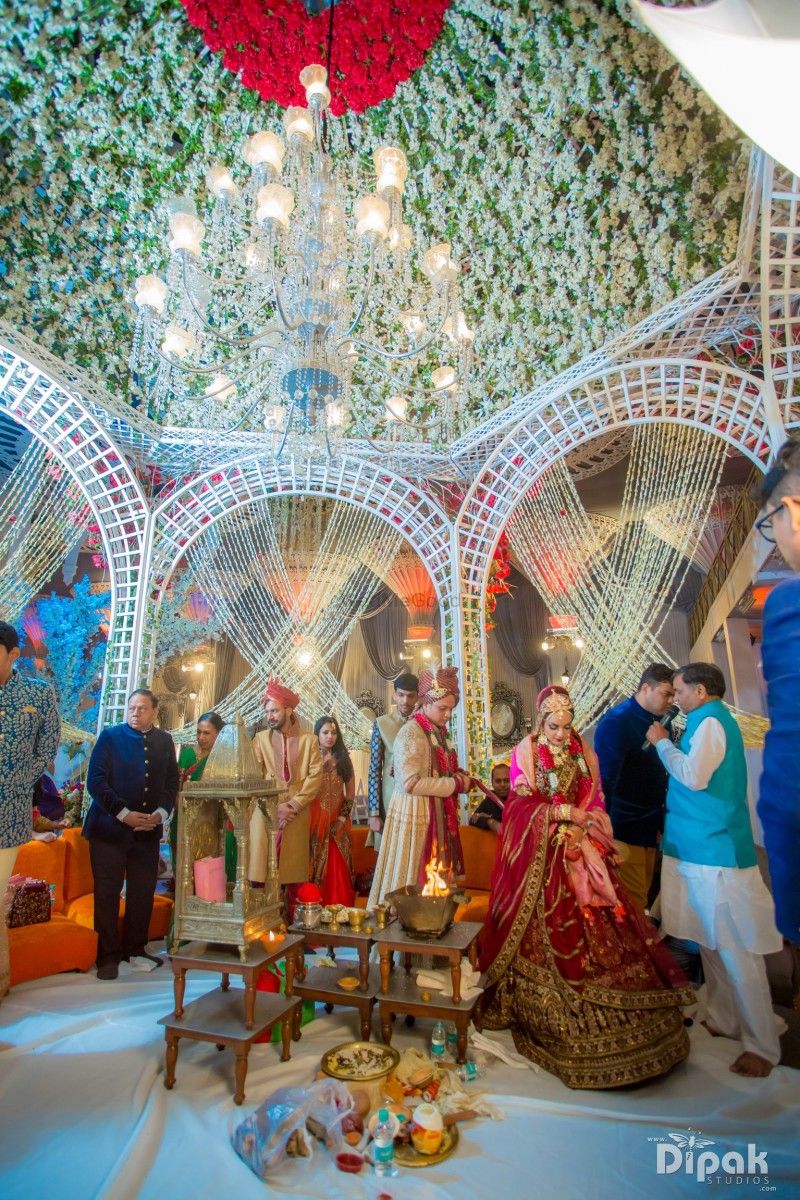 Image via
Dipak Studios
47. Beautiful floral tiered chandelier with floral mandap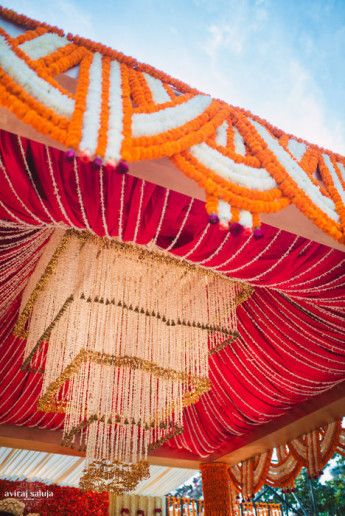 Image via Daver Decorators
48. Red and white mandap with fairylights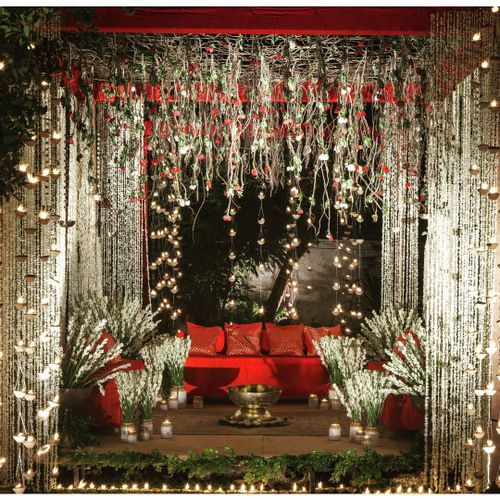 Image via Rani Pink★ 4.8
49. Green and floral archway for a mandap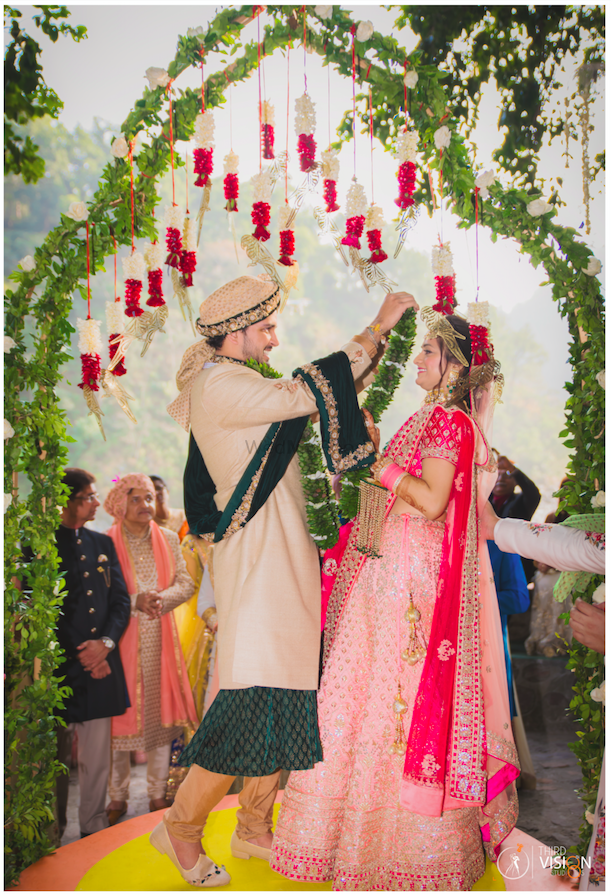 Image via The Wedding Planning Company★ 5
50. Origami inspired mandap with red origami birds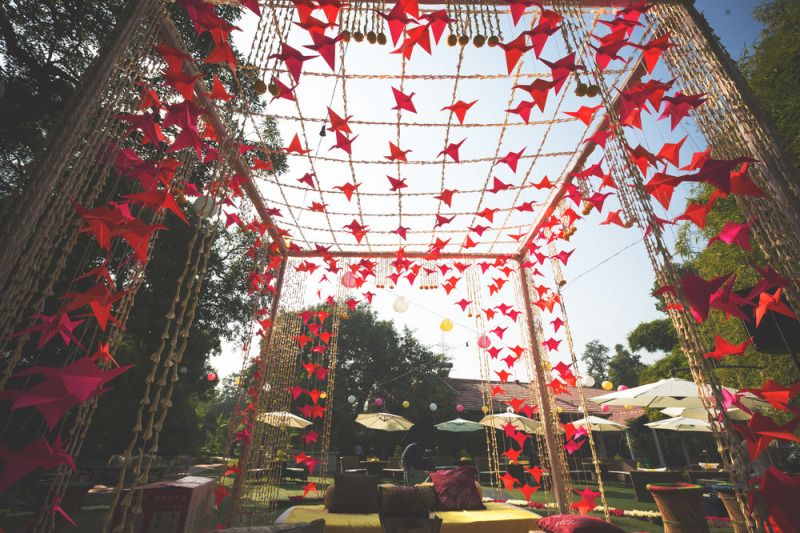 Image via Lalima & Siddhant's Real Wedding 
51. Gotapatti tassels mandap in pink and gold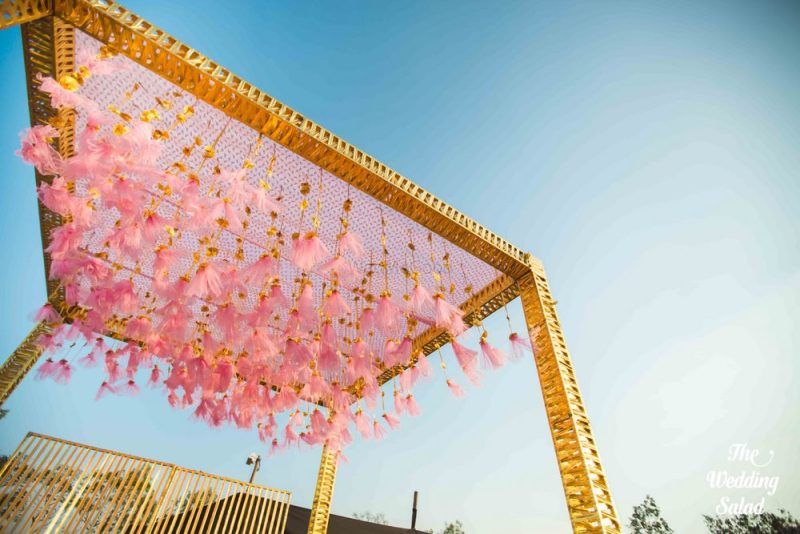 Image via Nikita and Parth's Real Wedding 
52. Beautiful draped mandap with hanging floral chandelier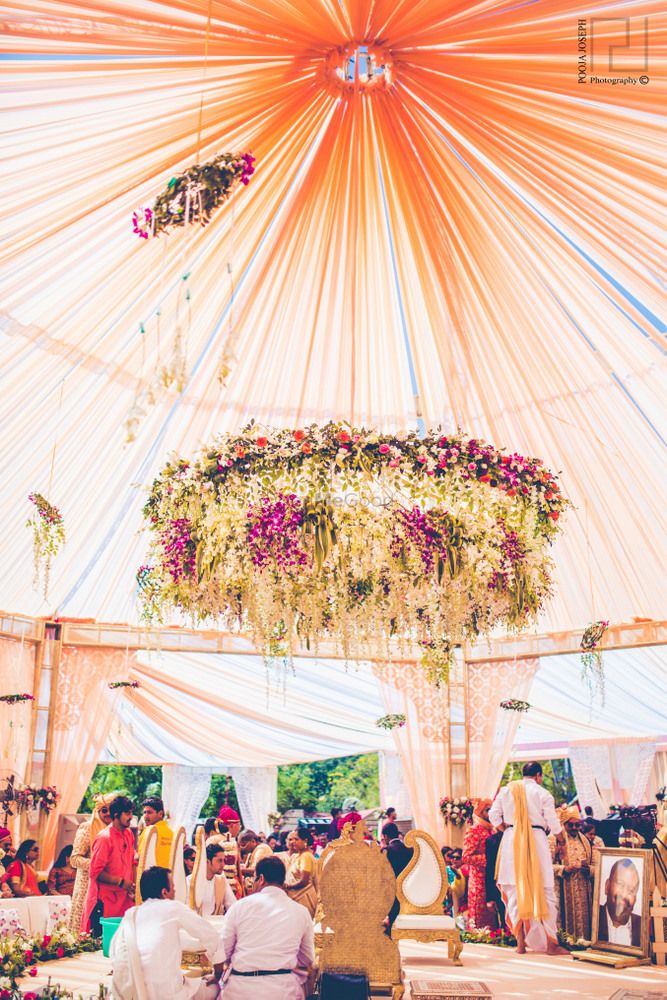 Image viaPooja Joseph Photography★ 5
53. Temple styled mandap with brass bells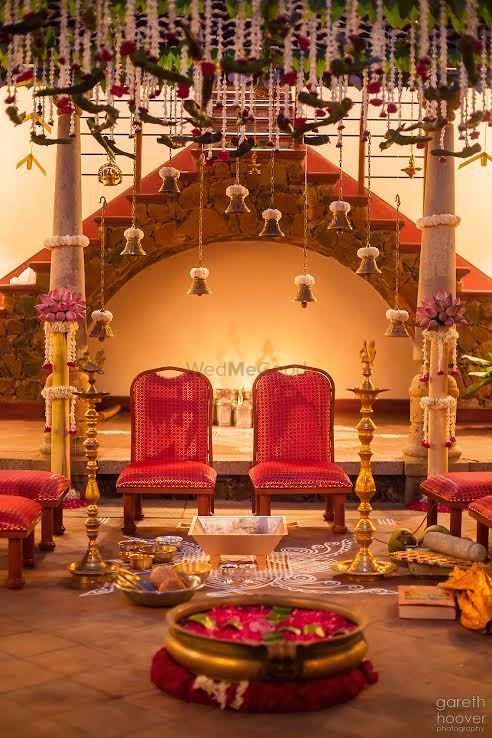 Image via 3Productions★ 5
54. Pink themed mandap with pink parrots as décor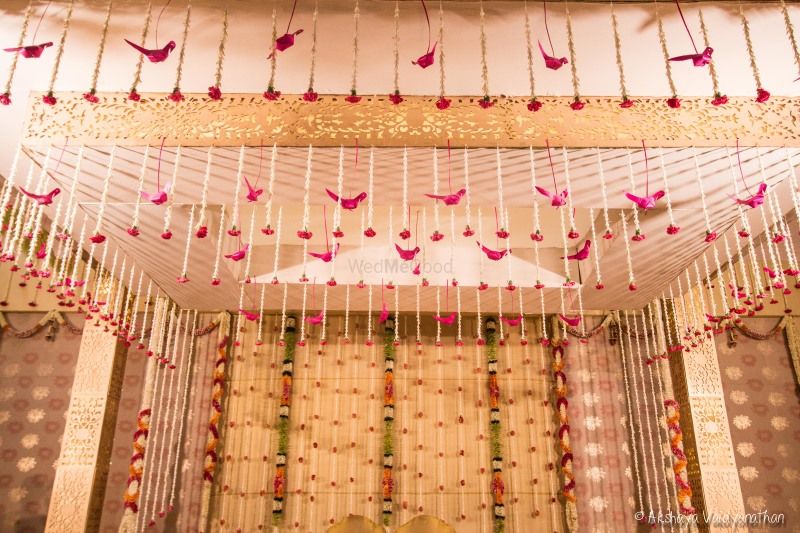 Image via Poo Stories by Poo Stories by Akshaya Vaidyanathan★ 5
So which one is your favourite??