5 Style Lessons We Learnt From Band Baajaa Bride Season 8!
BY Soha | 18 May, 2018 | 17723 views | 4 min read
If every Wednesday, you are excited to head home from work and sit in front of the TV, we will say we like you. But if you tell us every Wednesday you tune into NDTV Good Times to watch the next lucky girl get a bridal makeover by Sabyasachi; girl, we will make the best of friends!  
A new season of Band Baaja Bride with Sabyasachi has been keeping us busy and we have a lot to take from it. Let us get started on all our latest gatherings! After all, if we cannot get a Sabyasachi make-over, we can at least get tips from the master himself! *winks*
Bubblegum Pink Chooda, With A Silver & Peach Lehenga - A Stunner!
The contrast of the deep emerald choker perfectly complemented Bride Ruchika Kalra and her offbeat silver and peach ensemble. And that chooda in bubblegum pink is only adding a delicious contrast to the entire look. All the colours together look so stunning, we just couldn't stop going from one element to the other and back!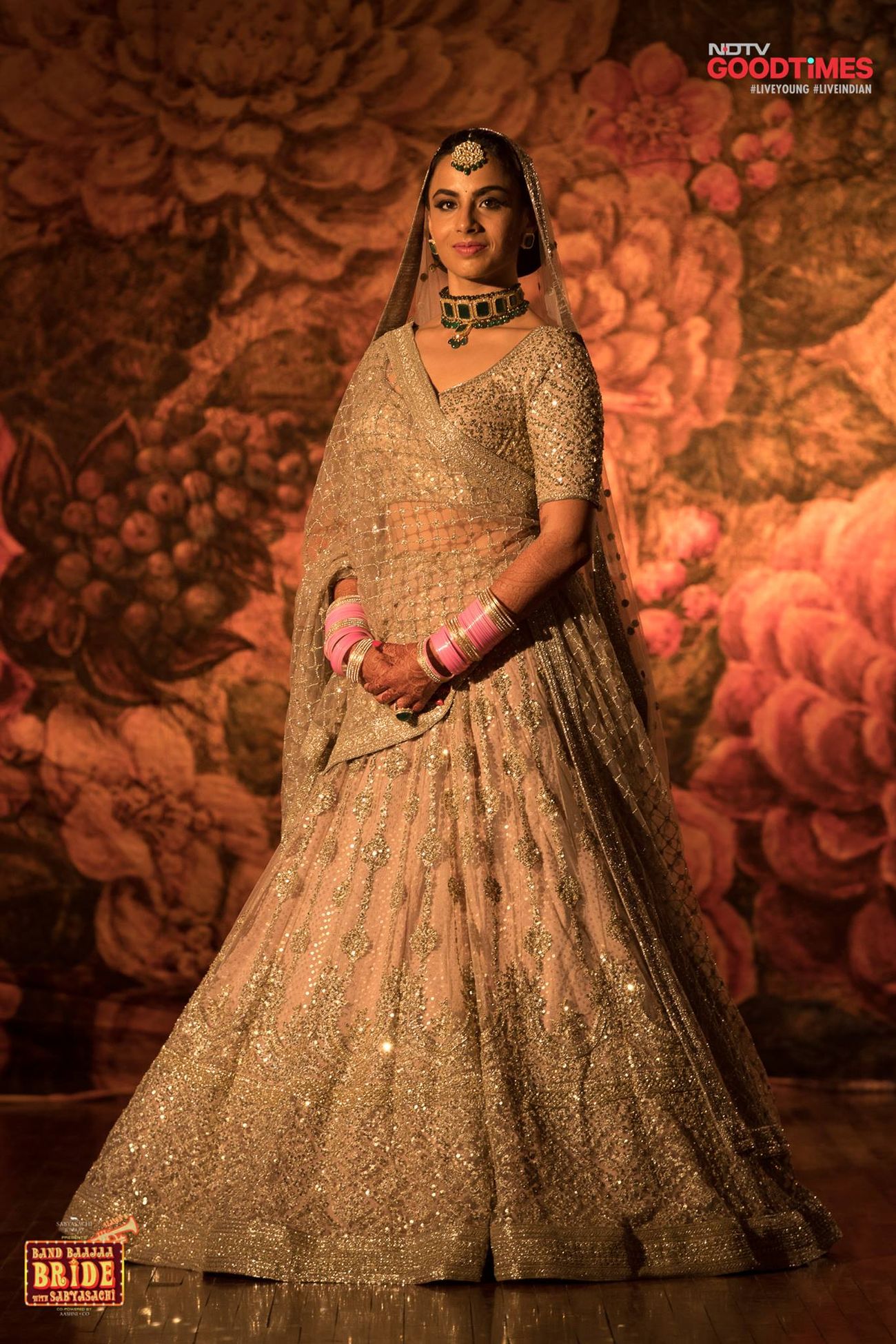 You know what truly made our hearts swell this season of Band Baaja Bride? The jewellery! We would have never picked out some of the contrasting jewels and chooda combinations that we saw, but he did! And the results are nothing short of pure magic!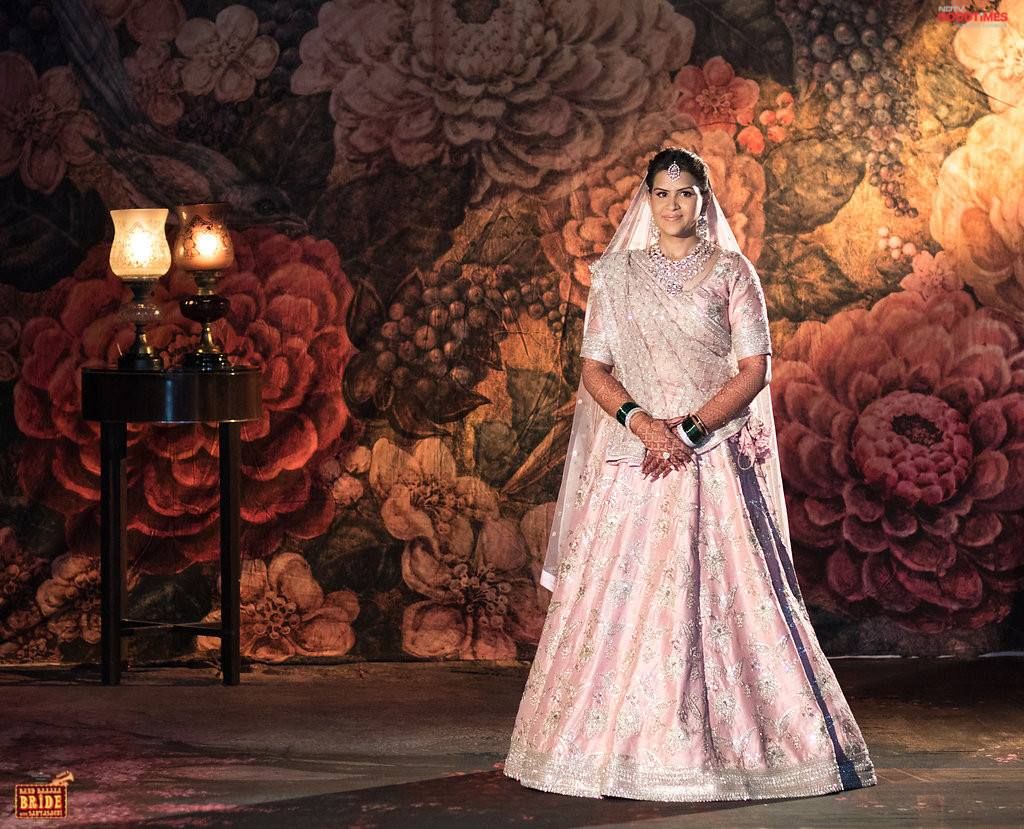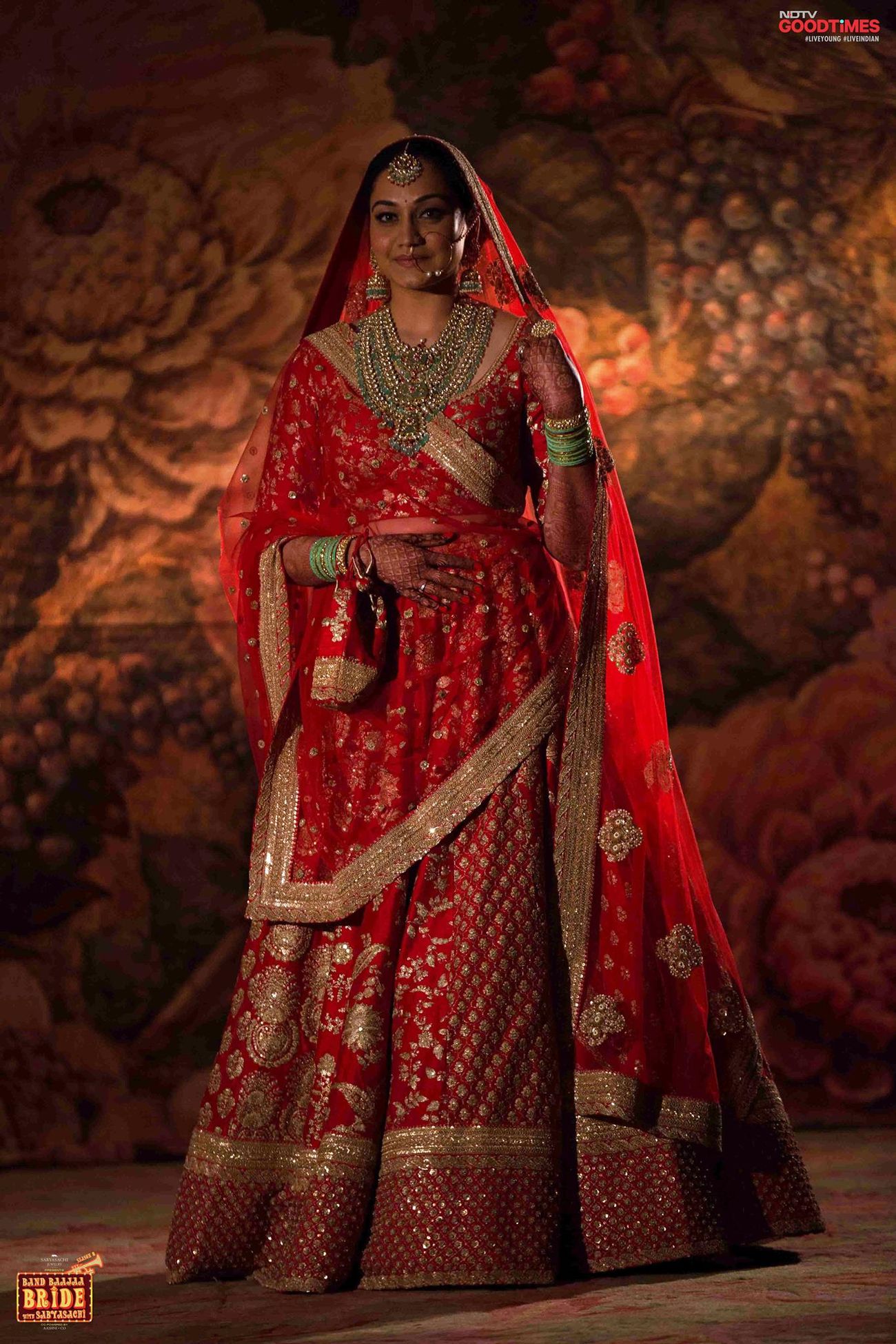 Take Your Drapes In Your Hands, Literally!
Nothing can lend a fresh change to your look than a dupatta drape. We have all seen brides wear dupattas over their heads, or wrap them around their waists. On this season of Band Baaja Bride, Sabyasachi revamped our bridal notions and introduced us to this new drape on dride Suparna Sarkar. We loved this double dupatta trend where one dupatta was worn over the head, and the other was left loose on the shoulder and worn on the opposite wrist. Doesn't this remind you of a style from ancient Indian times?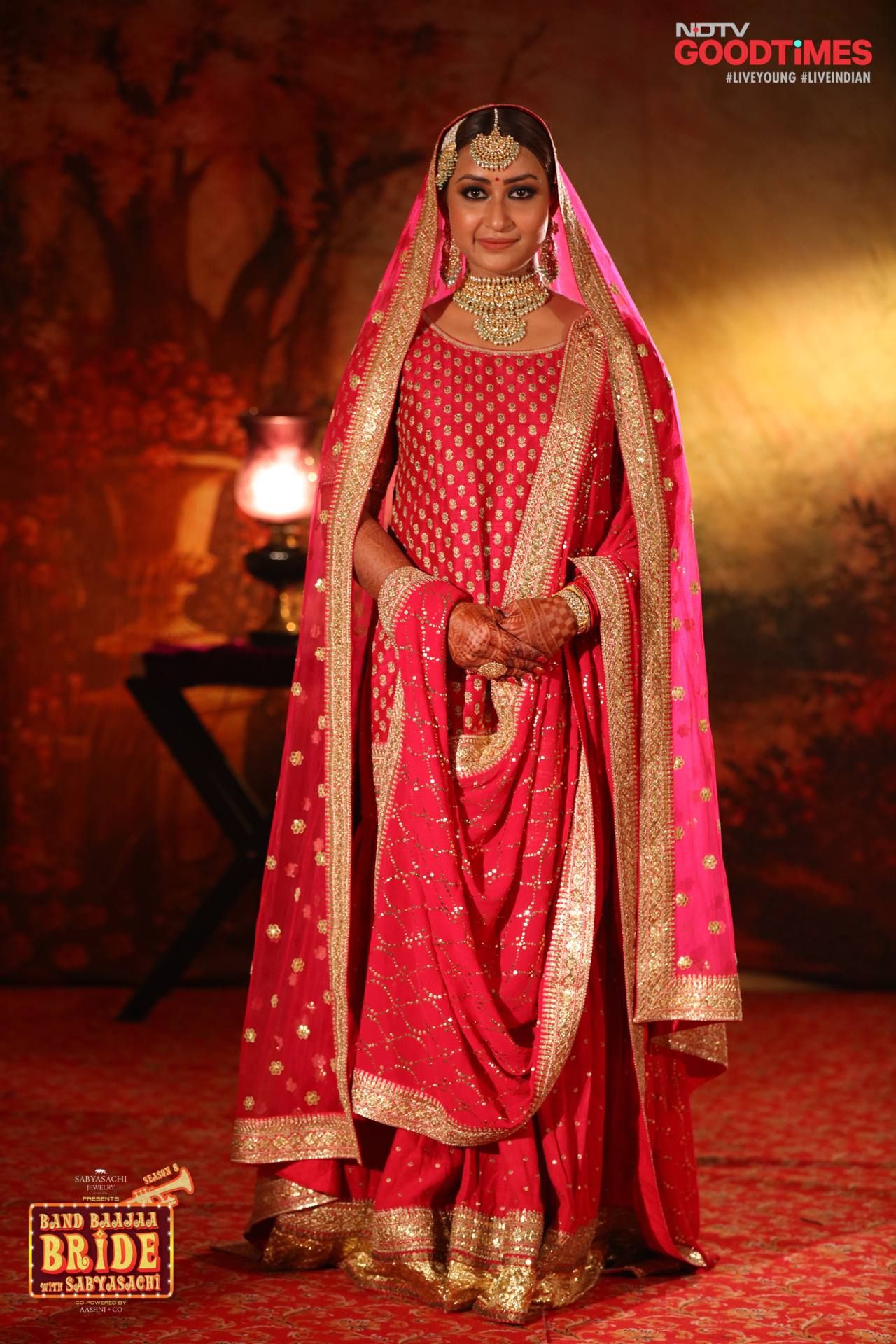 Velvets Are Back In Trend
Velvet is back in trend and how! If you have been active on Instagram, you would know. But we don't see a lot of all-velvet lehengas that do really well and give the right feels. This season we saw the master himself turn the trend around and show us just why we call him that.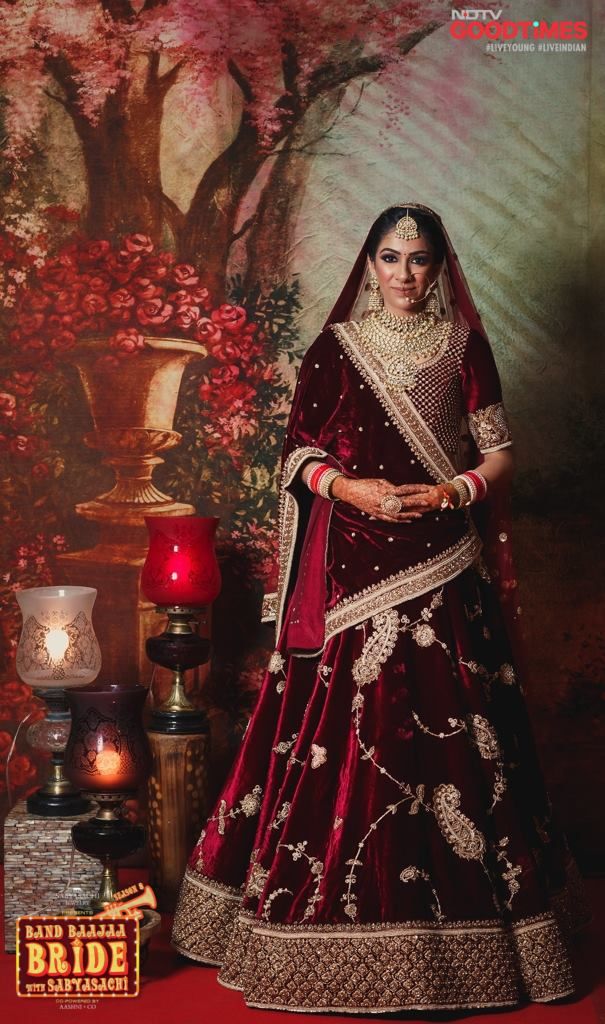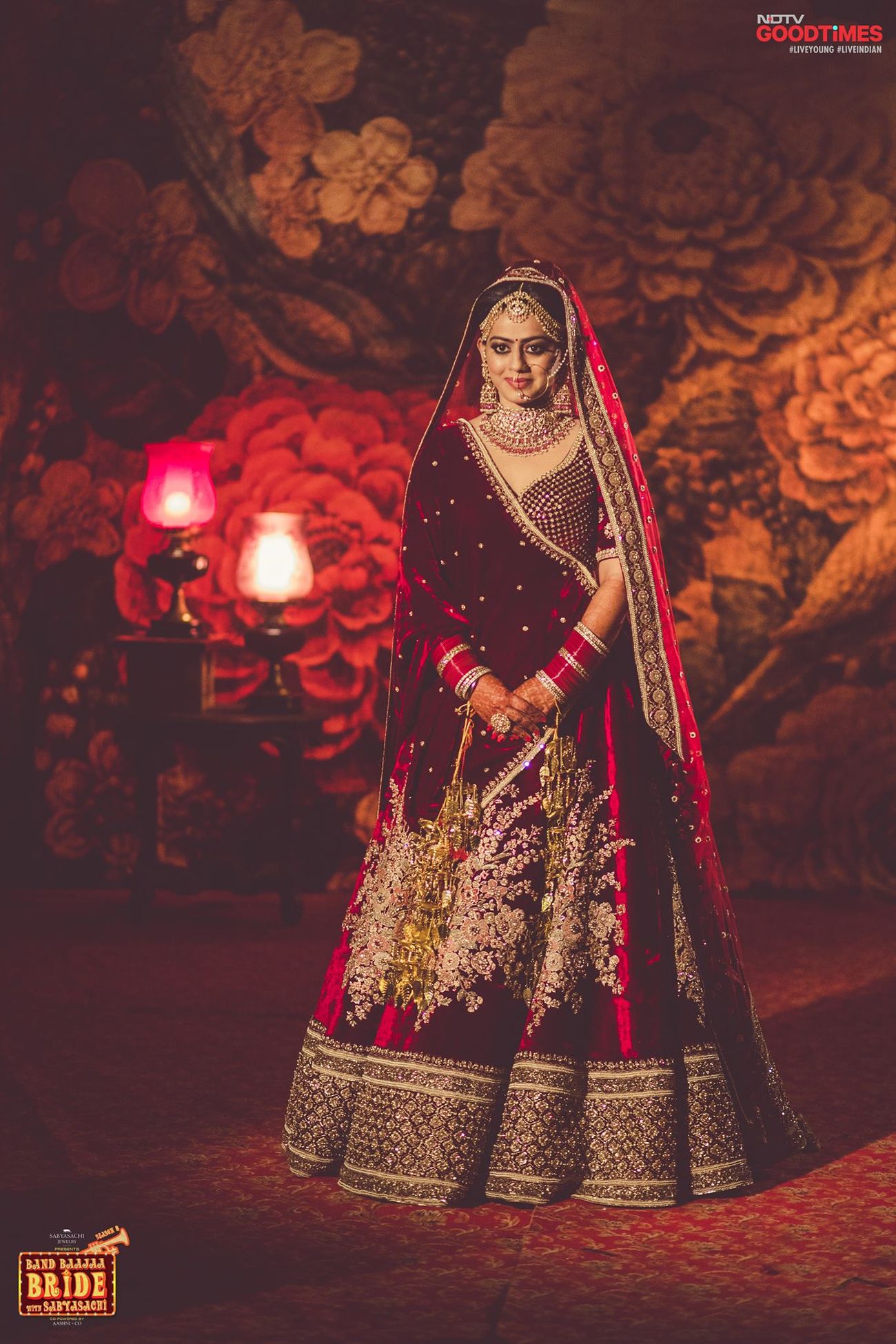 In BBB8, bride Nazneen Khan wore a classic Sabyasachi burgundy Jamawar lehenga from The Gulkand Collection, with the finest quality marori, zardosi and naqshi. Oh girl, we sure have been getting some royal dreams lately!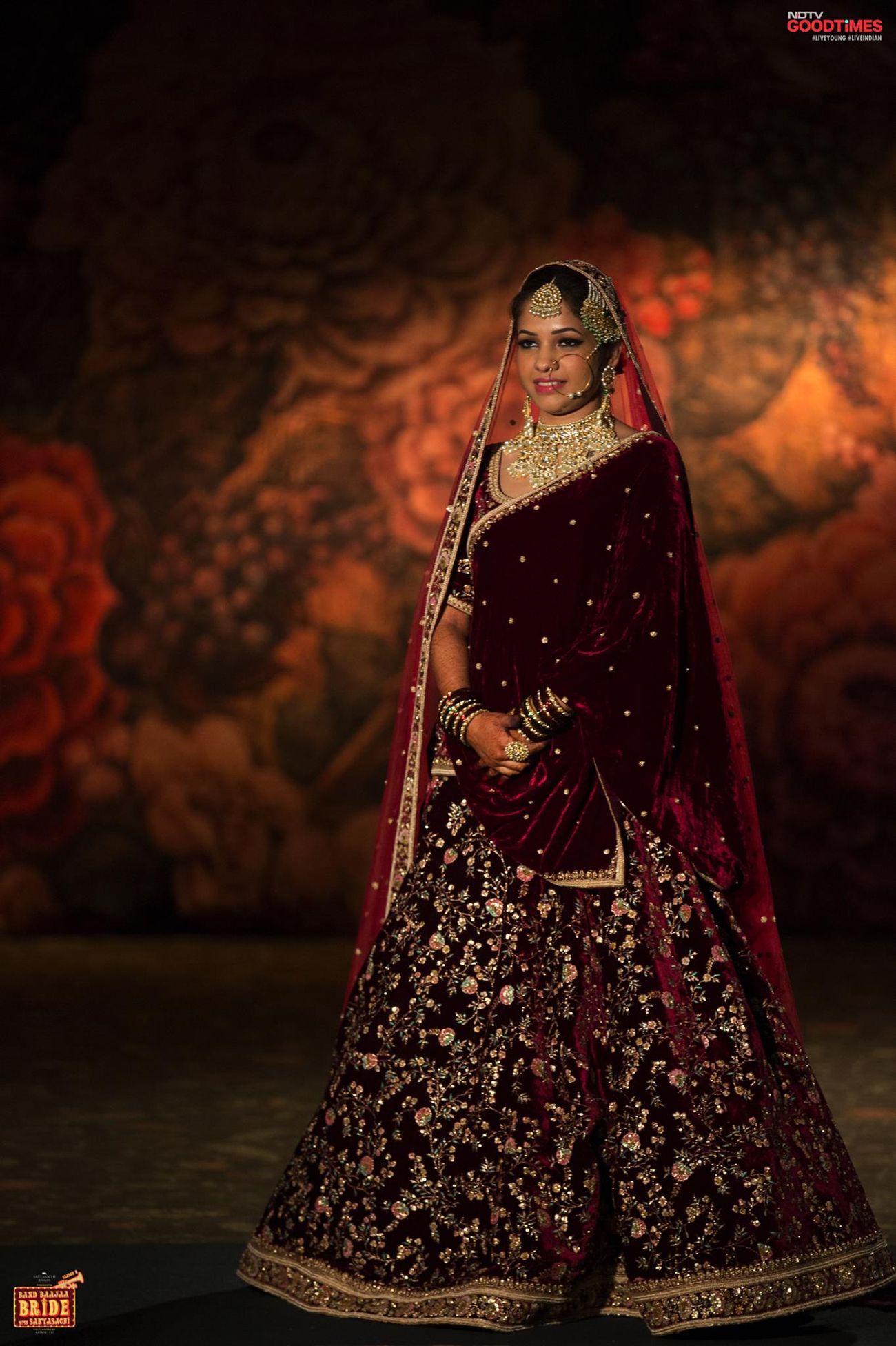 Bride Nazneen in a Sabyasachi lehenga
Buckle Up With A Thin Belt  
Just when you thought belts were a passé, think again! Bride Ritika Arora wore a mint green and silver lehenga with a sleek Zardosi belt that matched her lehenga and blended right in. Not just was it drawing attention to her narrow waist but was also very smartly holding her dupatta in place. Clever and beautiful, and a lot of royalty- all the right elements to make for an on-point outfit!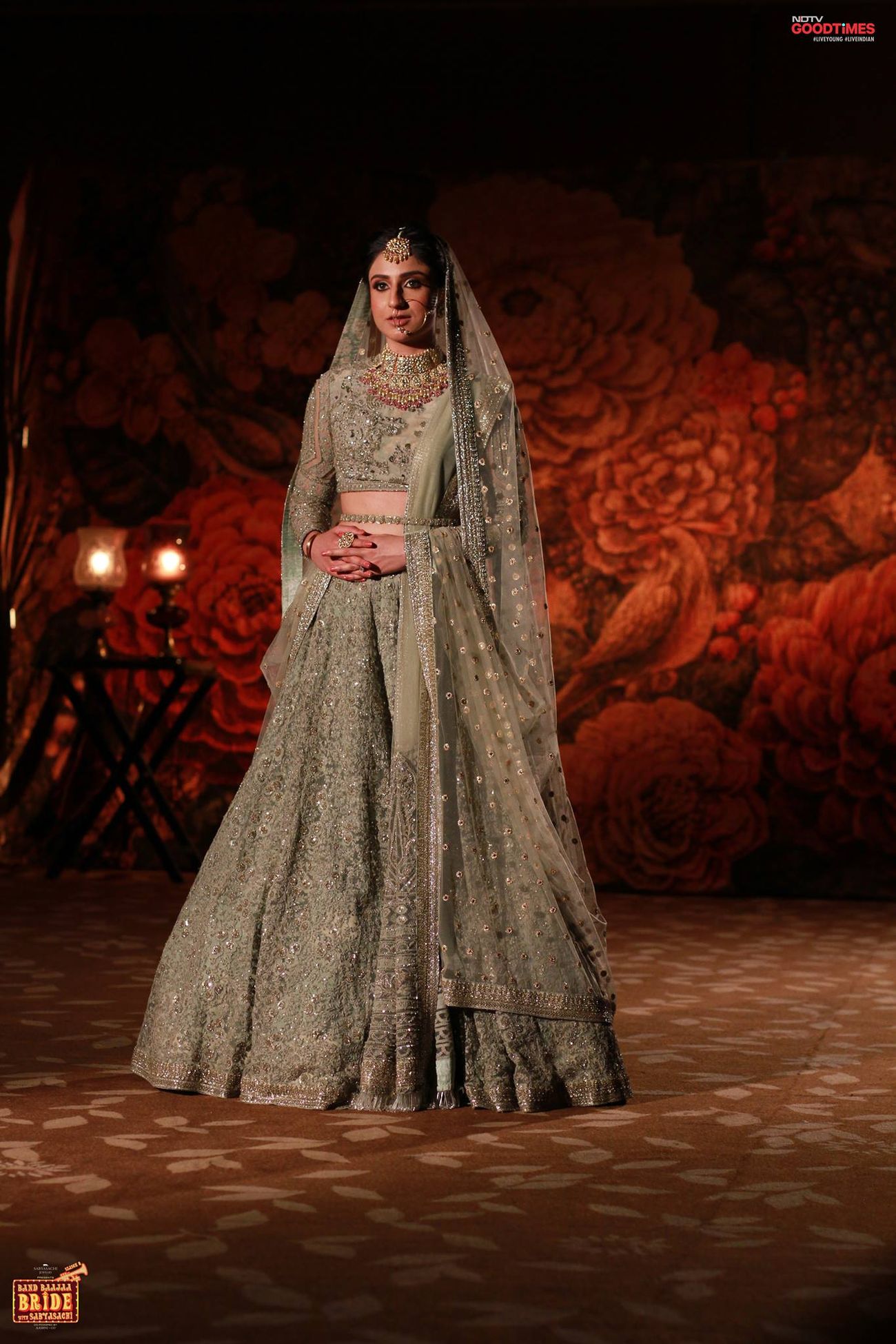 Flower Buns Never Go Out Of Style
Brides have been wearing gajras (flower strings) for as long as we can remember, it's what bride Sakshi Minhas wore too, a classic but with a twist! For an episode of Band Baaja Bride, hair expert Shalini  Singh of Style Studio gave Sakshi a floral bun a la Anushka Sharma. Nothing beats the elegance of a bun covered completely with flowers. It sure has got us drooling over this stunning wedding hair trend!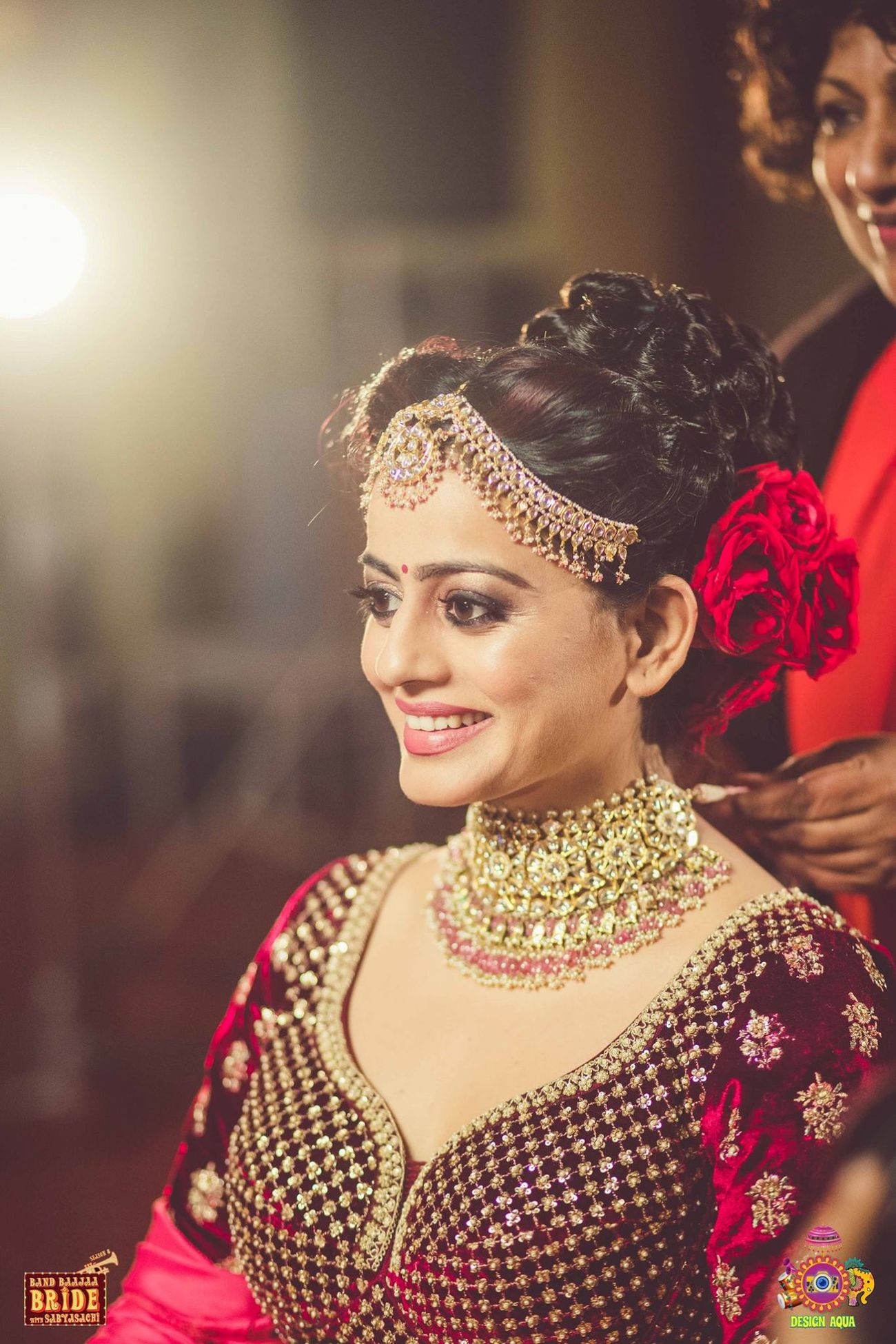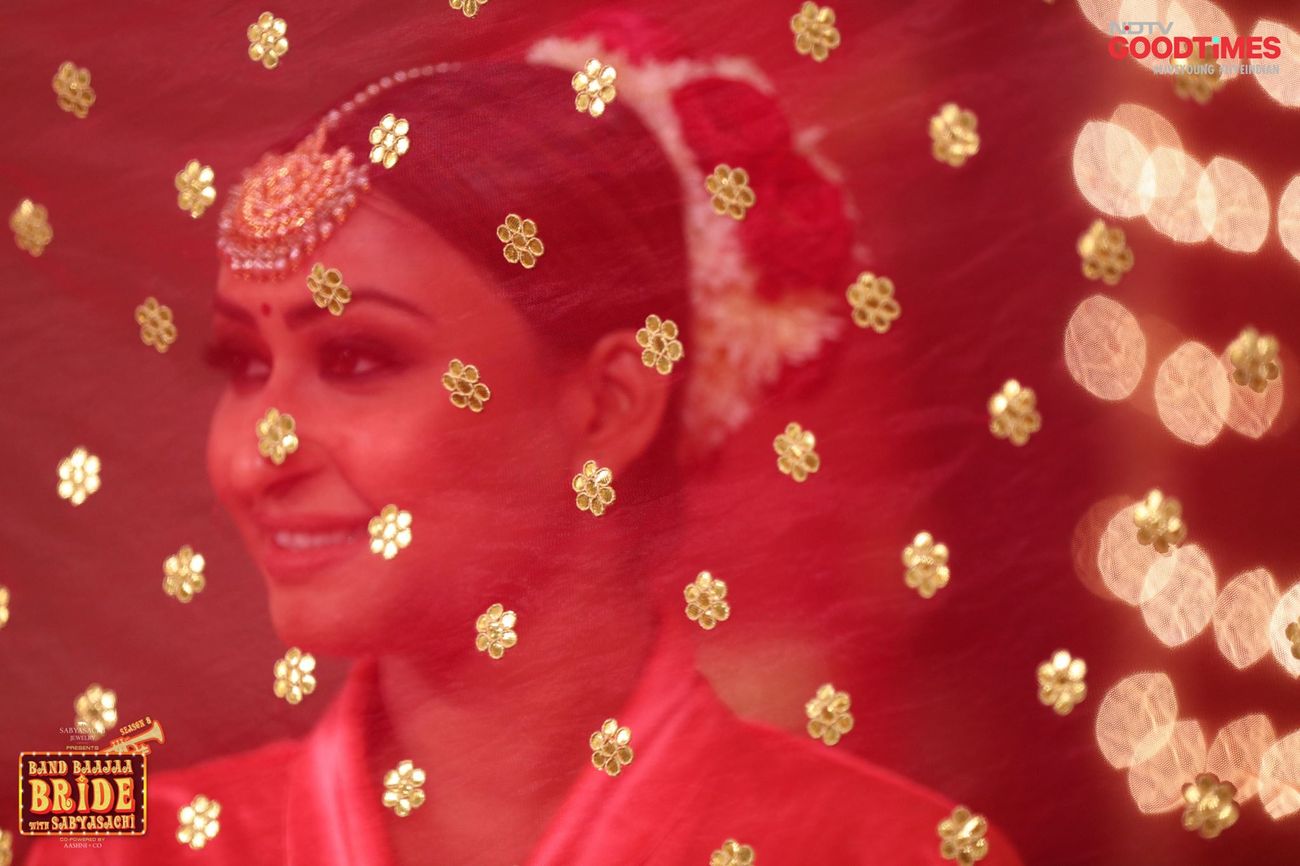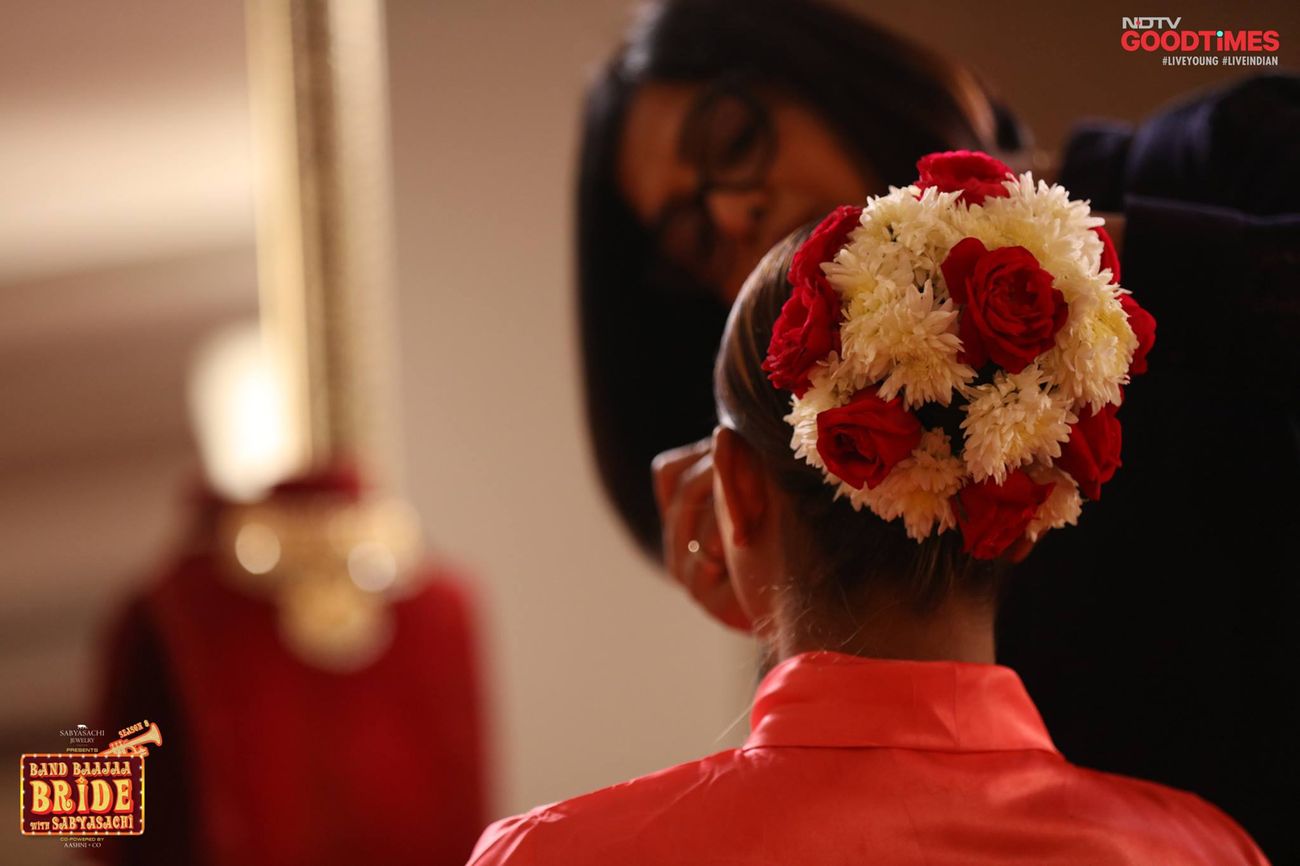 We have watched BBB8 with happy tears throughout. The outfits have been gorgeous, and the jewellery, ah! Thank you Sabyasachi Mukherjee to show us yet again just how Indian weddings are to be done!
All pictures taken from the Facebook page of Band Baajaa Bride With Sabyasachi