A Stunning Lucknow Wedding With Offbeat Hues & An Adorable Office Romance
BY Aakanksha | 09 Jun, 2019 | 3532 views | 9 min read
An office romance that started out in secret, blossomed into this beautiful relationship that ultimately led Vasundhara & Jaydithya to tie the knot in a beautiful ceremony in the city of Nawabs, Lucknow! Vasundhara chose some amazing outfits for her functions, from the colourful green and pink outfit on her mehendi to the cream with a hint of maroon lehenga on her wedding. Eyebrow Weddings★ 3.8 captured the couple's best moments in a splendid manner! Check out their adorable pictures and read all about her outfits below! 
Meet Vasundhara & Jaydithya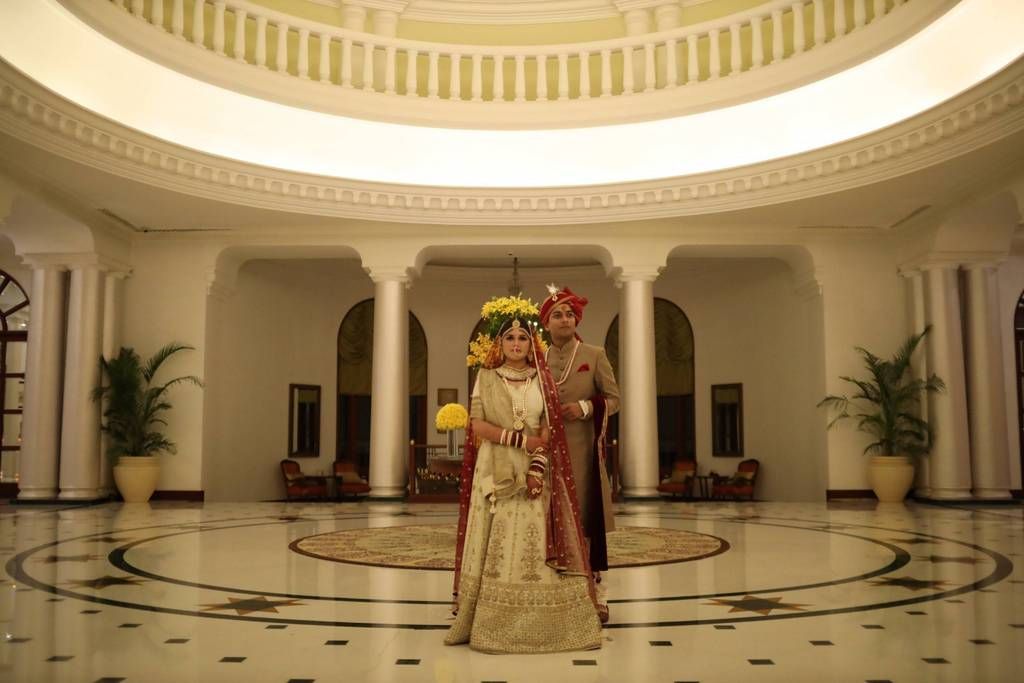 Vasundhara tells us how theirs was a typical office romance, how it all began and how they finally decided to tie the knot, "Our story began in September 2016 in Mumbai when my husband joined the company where I was already working. But the sparks didn't fly right from the start. It was gradual. I had reserved the place next to me for a friend who was to join the company in a week's time. Suddenly, on the morning of 19th Sep'16 I saw a stranger occupying the seat which I was preserving since long. Upon checking, got to know, boss has brought a new guy from his old company. Disappointed, I kicked off the day without even saying a hi to the new guy. I made sure he knows that he isn't welcome to sit next to me. Infact, I tried that everybody else in the team also do not hang out with him. He was a boss's person for all of us. But slowly, we realised that he actually is a charmer. His PJs made people laugh at work. And, he became a part of the gang. But, nothing happened until one night when I was done with the gym and was returning home. I saw multiple missed calls from his number. I called back, another friend picked up and asked me to come to Old Wild West, Kamla Mills, Mumbai. After refusing a few times, I finally went. Trust me, this was the most comfortable and memorable night I spent in a club dancing in my gym wear with this stranger. I knew at that time that something has begun. Something which is giving me butterflies in the stomach at the age of 29 (haha). Secretly, we started to hangout without the gang, Started to share those romantic glances at work, started to drop cheesy one liners. It was fun! One this is for sure, office romance increases your work productivity (Haha again)."
The Mehendi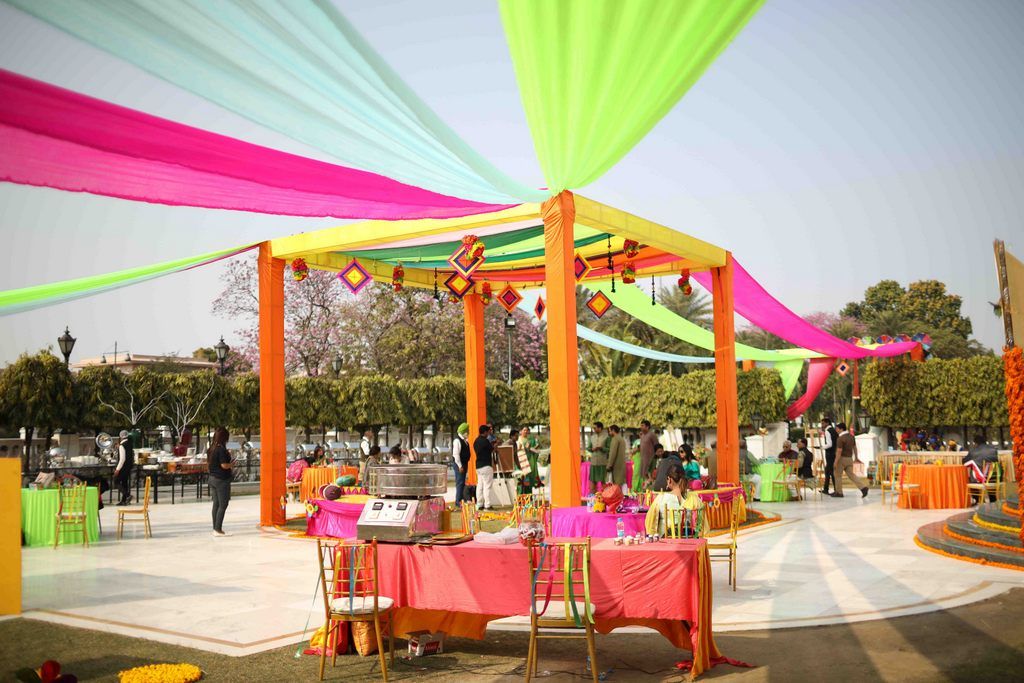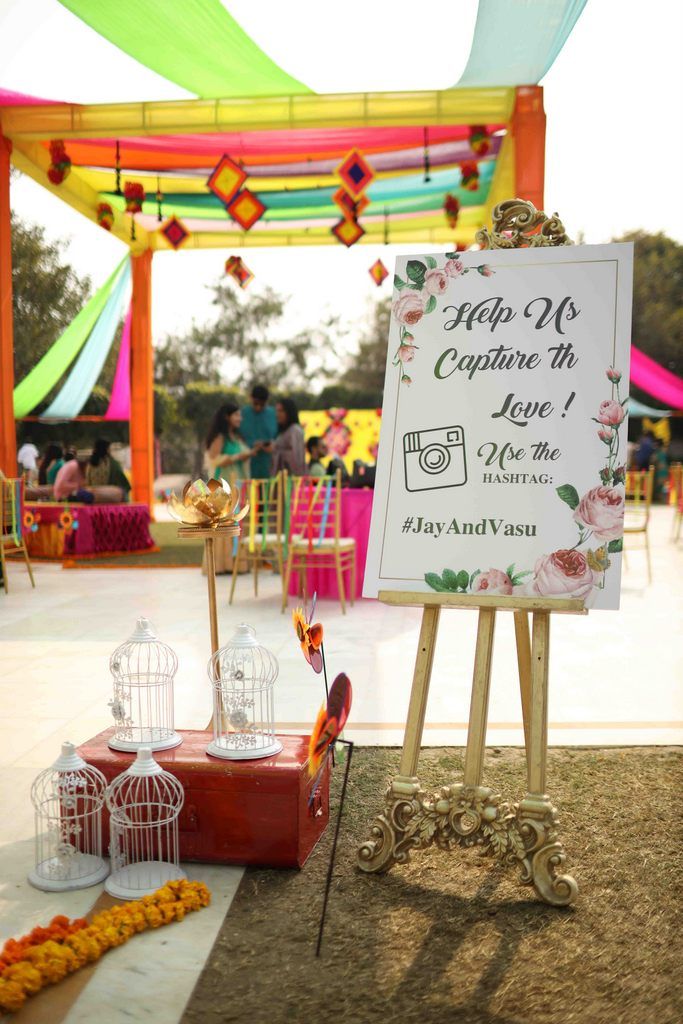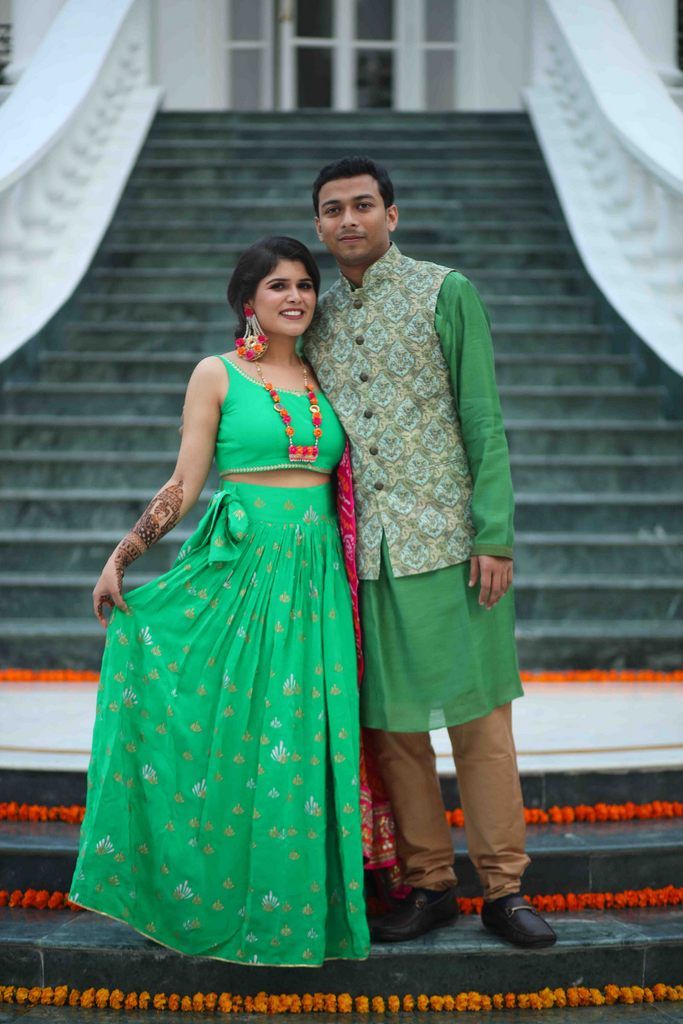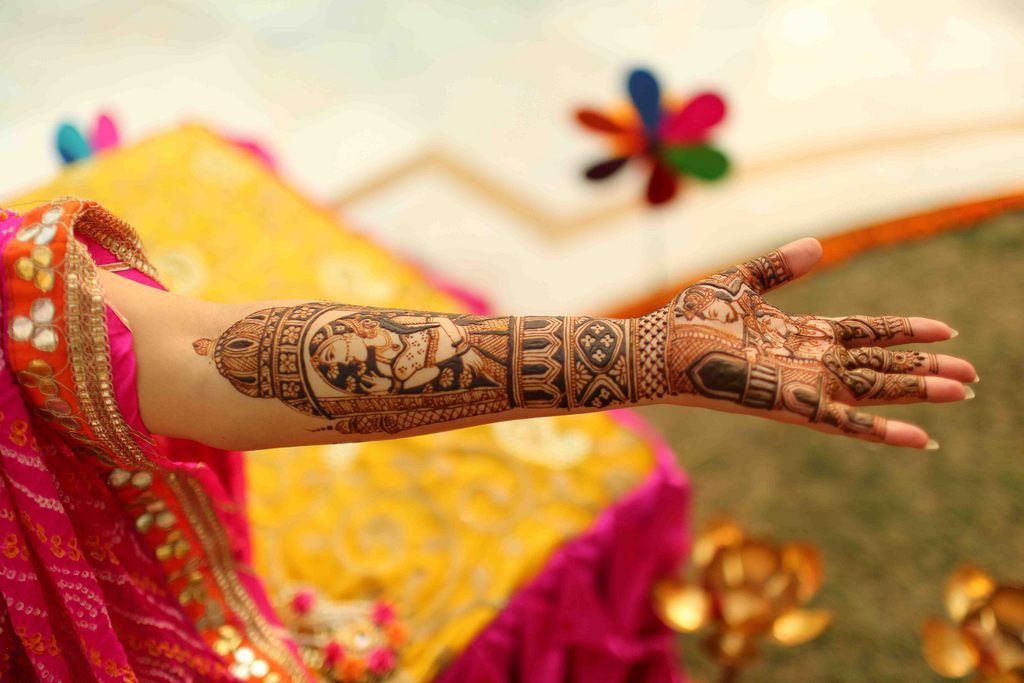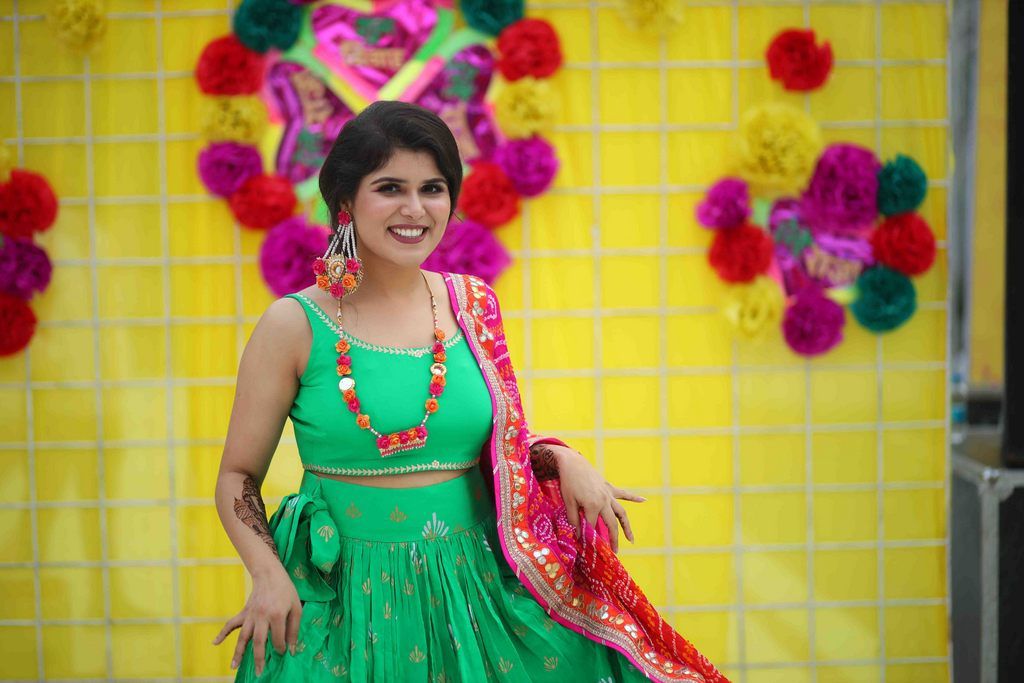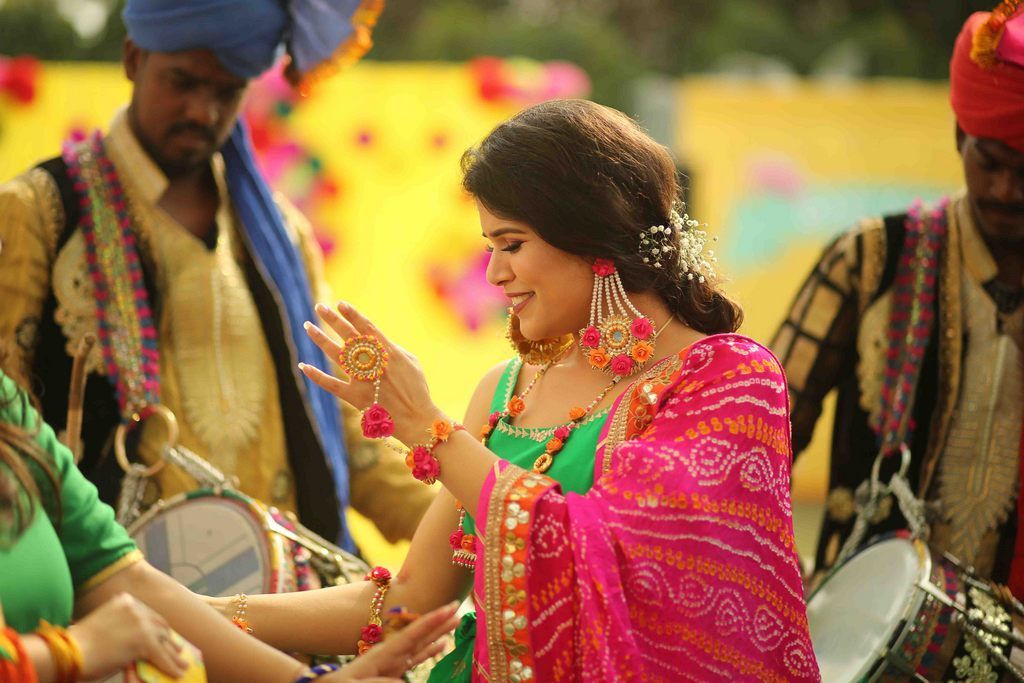 The Cocktail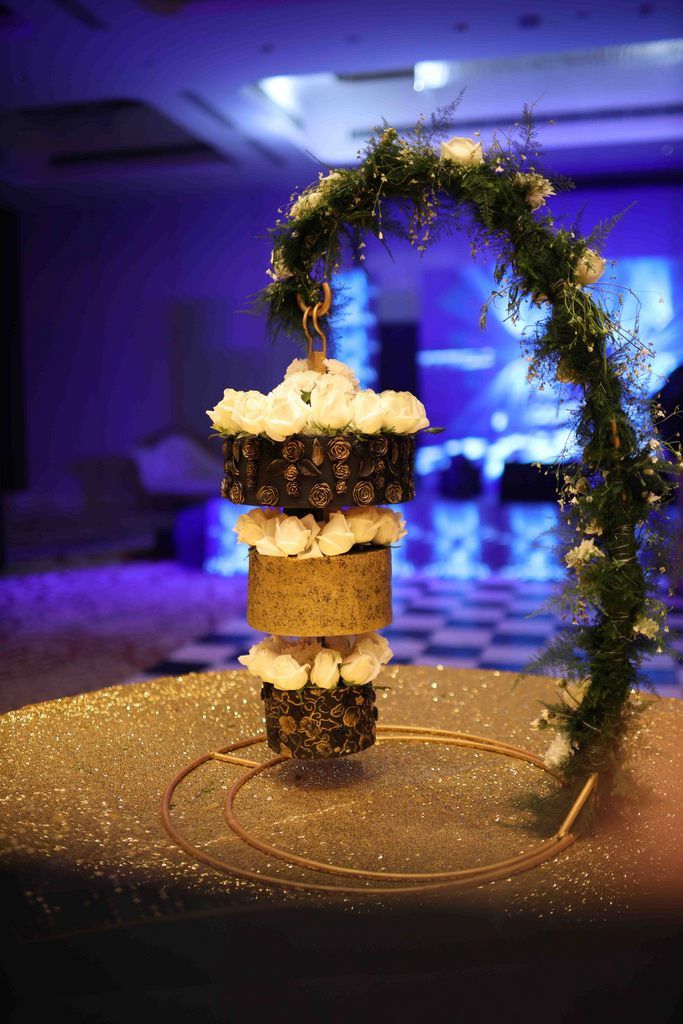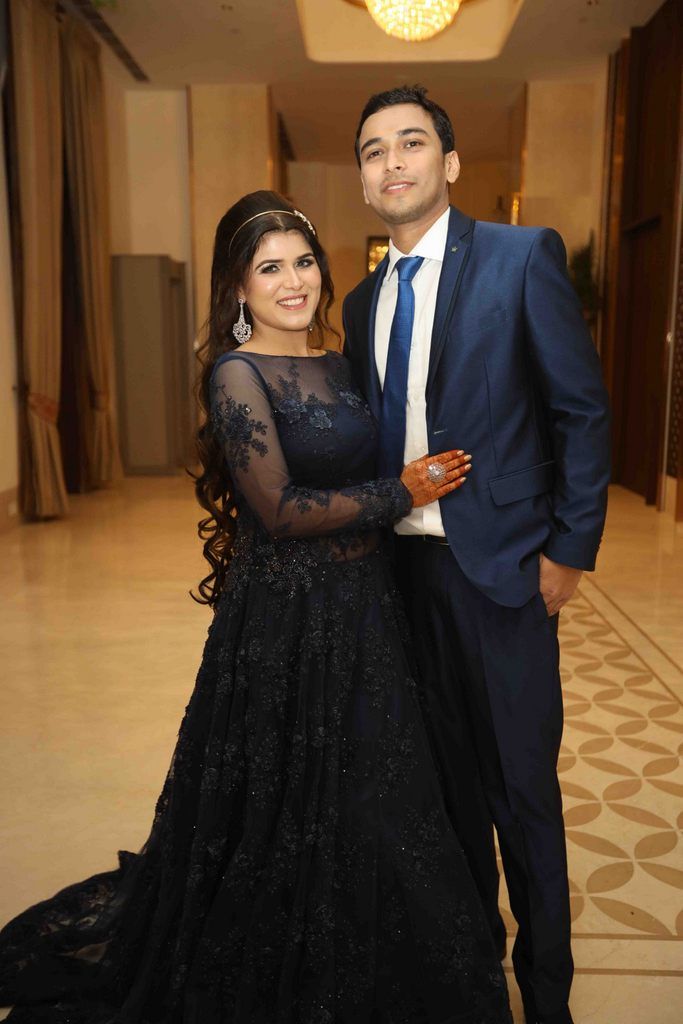 The Wedding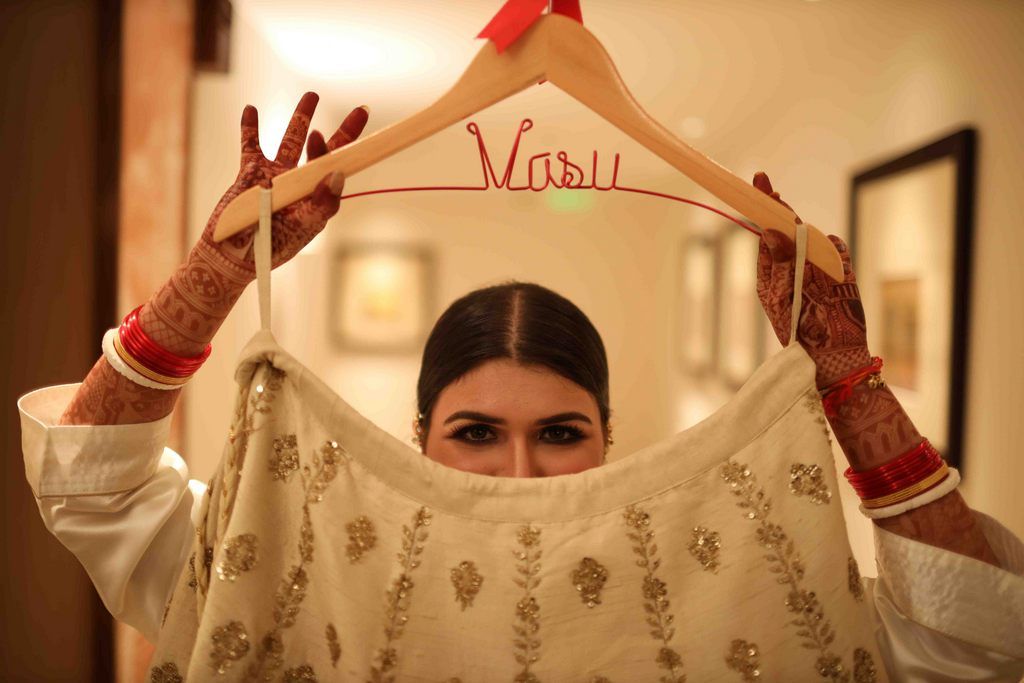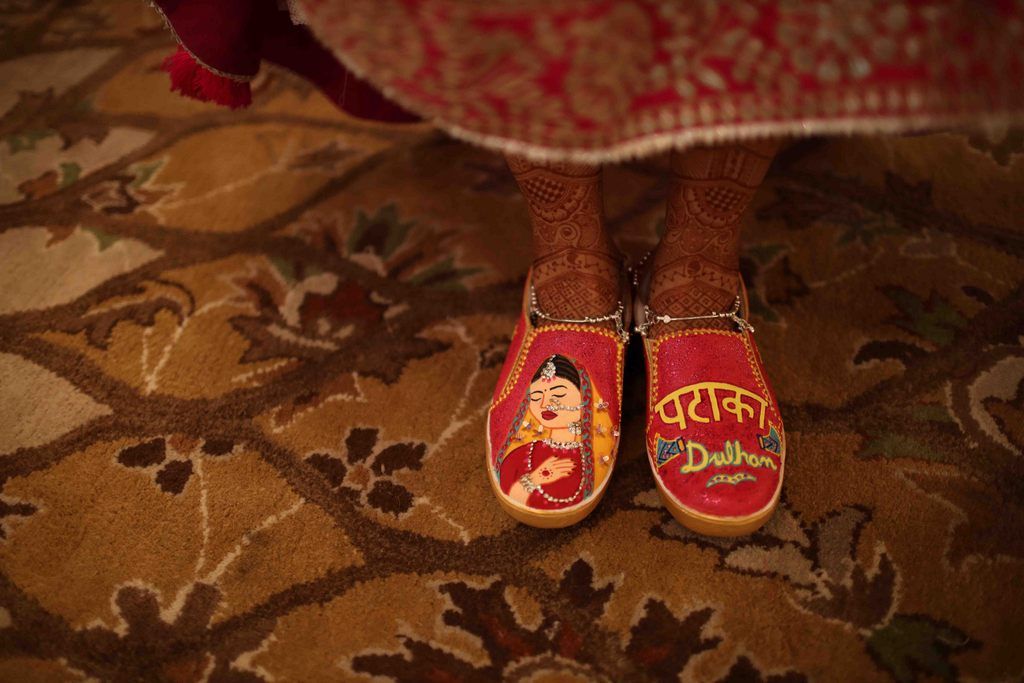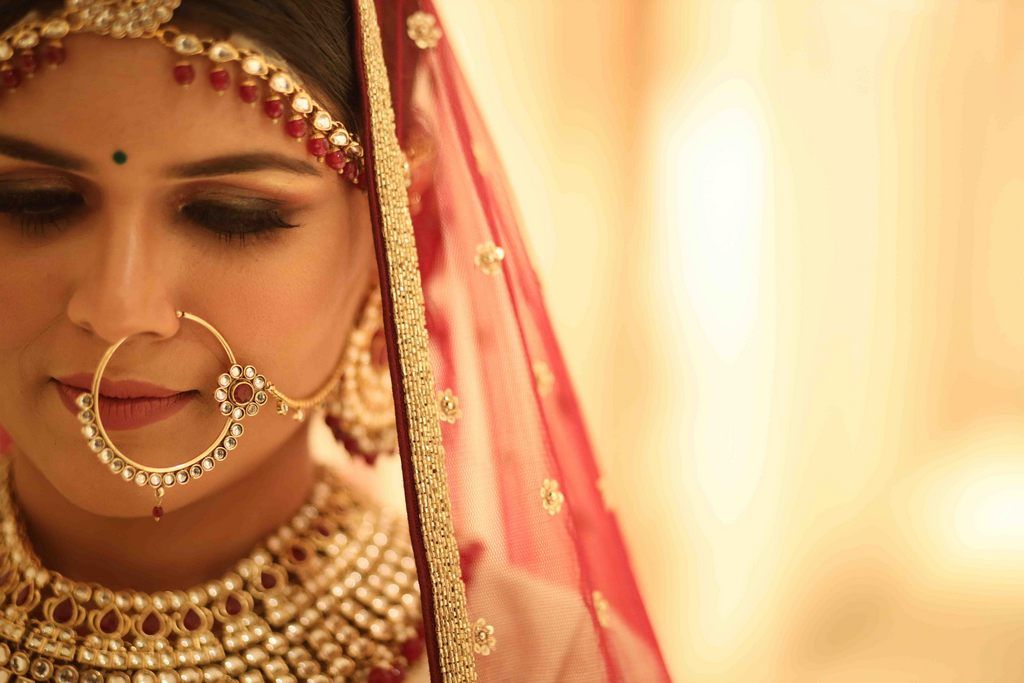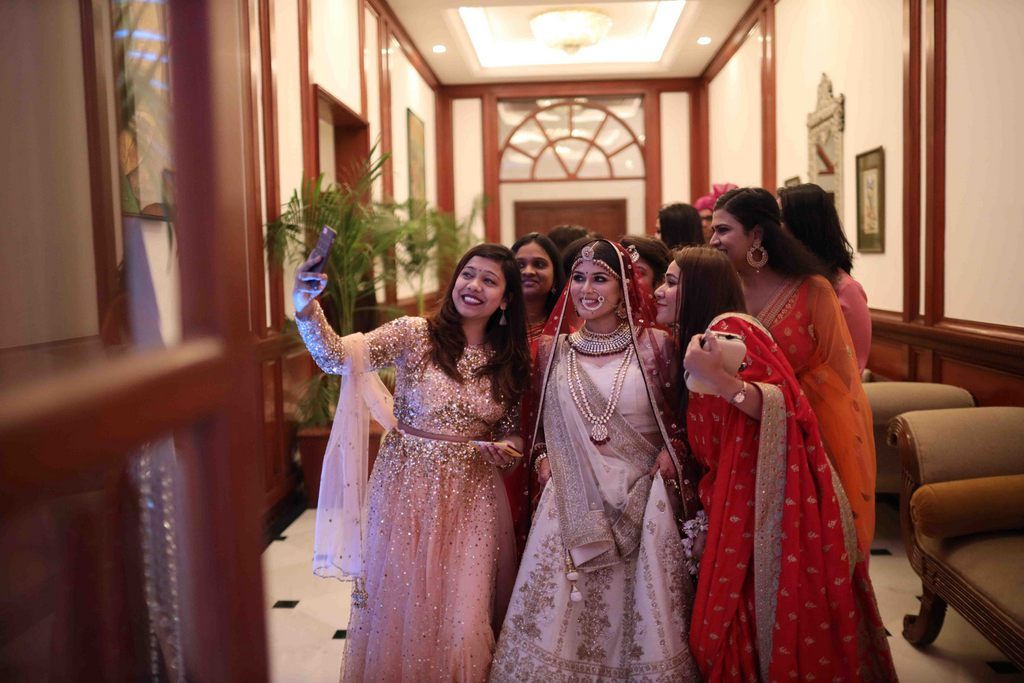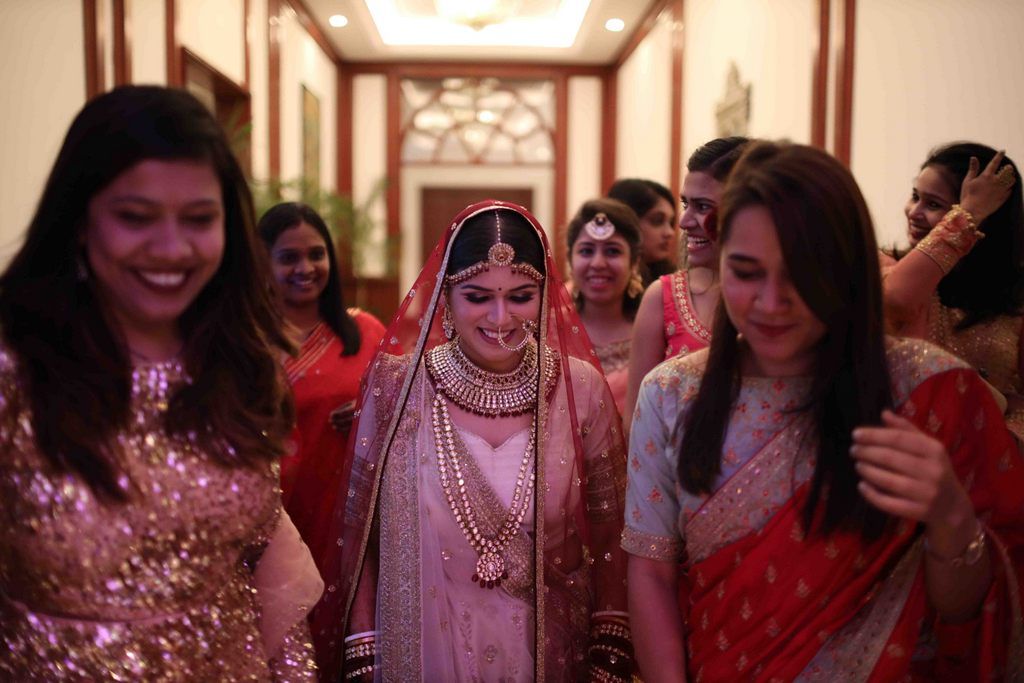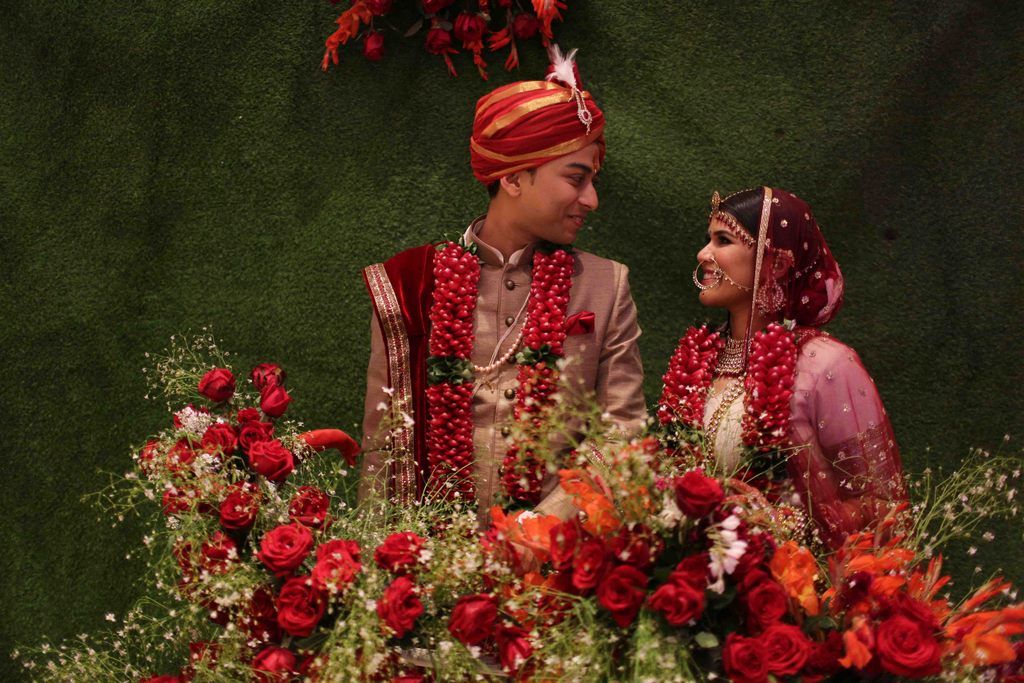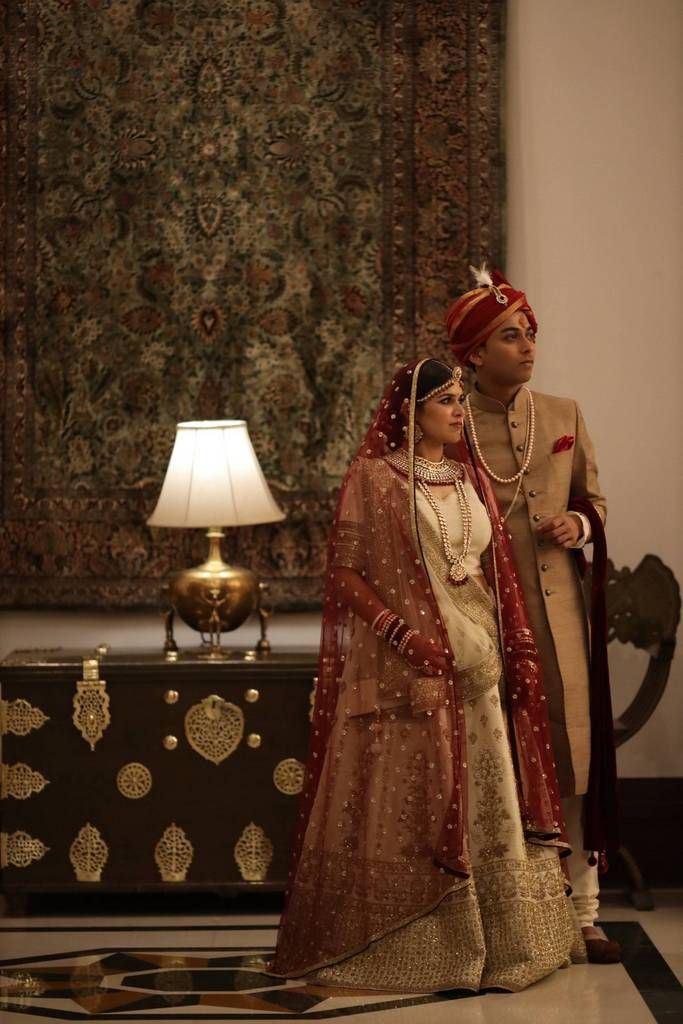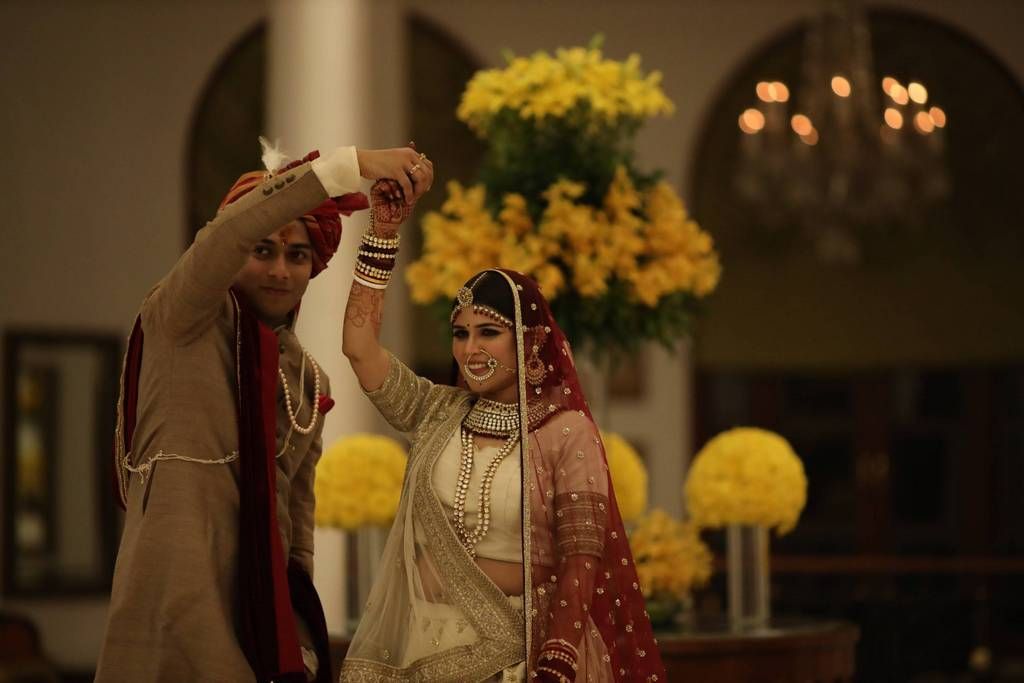 From The Bride: 
I always wanted a grand wedding with fewer guests. When both sets of parents met and the dates were decided, the question of choosing an apt venue arose. We wanted an unexplored offbeat location in India. The only place came to our mind was "Lucknow - City of Nawabs". This place has its own charm and grace. We wanted people to have no connectivity issues while travelling and delectable food options. And hence, Lucknow. The venue chosen was, Taj Mahal. Three words which comes to mind while defining the venue are - Stately. Elegant. Opulent. People quoted this to be one of the happiest weddings they have been to in a while. The entire wedding was spread into 2 days with 4 main functions. Mehendi: Venue: Taj Mahal, Lucknow; This was the most amazing and colourful function. My event planner delivered more than what we expected. We had choodi thela, cotton candy station, astrologer, Caricature artist etc. We were all dressed in green and danced will 7 in the evening. Infact, we got late for our own cocktail function.  This was the first time Jay saw me after a period of a month. Our first function, very close to our heart.  3)Cocktail : Venue: Taj Mahal, Lucknow; We danced the night out. That's it! People loved the single number on which i dance (Aafreen). Friends started to perform after that. We were practically on the floor till 5 in the morning  4) Haldi: Venue: Taj Mahal , Lucknow; We were all yellow and happy. Though rain tried to stop the fun but we did beat the rain. I wore real flower jewellery. If i had to decide, i guess , i looked most beautiful (as compared to other functions) in this whole yellow attire and white flower jewellery. Leaving to you to decide. 5) Wedding: Venue: Taj Mahal, Lucknow; Most memorable day of my life. I assumed this day to be hectic, but it just went through like a cake walk. Things fell in place automatically. There was just love and laughter around. Many of our friends quoted our wedding as one of the happiest weddings they have been to in a while. These compliments made our day. The family and friends were around throughout the pheras till the Vidaai. 
Vendor Reviews: 
Taj Mahal, Lucknow.
"Taj" the name is enough. Unbeatable hospitality. Three words which comes to mind while defining this venue are - Stately. Elegant. Opulent. Perfect, most royal and beautiful place to get married at.
Body Care And Cure,Lucknow: In my view, this is the most important decision after the venue and food. I browsed through net, checked with friends and family and read through WedMeGood app to finally pin down TBCC. They made we look like an angel in every single function. Each function has a different look. They were continuously in touch with me to clam my anxieties, to give suggestions and to discuss my looks. Infact, they upgraded me to a celebrity artist. Anukriti, artist assigned to me, was a very talented person. She nailed every single look. I never felt so beautiful before.
Eyebrow Weddings, Kerala : We hired this most talented photographer Emlin from Kerala who has a company called "Eyebrow Weddings". They were just amazing. We came across them while browsing through WedMeGood. Their work was spectacular and they fit in our budget. The only barrier was the language, but who cares, as they delivered best. Our pre-wed pictures on their instagram handle got more than 8k likes (Highest on their handle).
Romb Decor, Lucknow
Romb Decor was our wedding planner .They delivered more that the expectations. Right from receiving the guests to guest management, decoration, DJ, flower jewellery, customised cup cakes , cocktail cake etc. everything was just wow. Shipra was personally involved in all the preparations and she continuously was in touch with me for each and every detail. My parents were slightly doubtful while hiring them as they are relatively new. But this became their USP and they poured their heart and soul in making our wedding a hit. They made the entire place a happy place.
1) Mehendi: Outfit from House of Masaba, Mumbai. Price- 30k
I loved the quirk they had in their collection. Perfect for a function like mehendi. Loved the green which i picked. It was not the usual green which brides wear. It was subtle, yet catchy. Very light to carry , which made me hop and dance around. Their store in Palladium Mumbai, has amazing collection. Staff is courteous too.
2) Cocktail : Kalki Fashions, Mumbai. Price- 56k
I wore a blue gown which Neeti Mohan wore for her cocktail (I wore it before her function). It was a unique piece and last of its kind. They had a huge range of gowns but this one caught my eye. They were very helpful and took care of my specifications inspite of that period being a core wedding period.
3) Haldi: Zari, Jaipur. Price - 33k
If i had to decide, i guess , i looked most beautiful in this whole yellow lehenga. I always wanted to be top to bottom yellow in my haldi. Search for a perfect attire took me to Jaipur. Went to a lot of shops from local to premium, but this piece at Zari, Jaipur got my heart. Zari had a very good collection (slightly over priced though- but you surely will get one piece for one of your functions here) Bought it immediately without giving a second thought. Paired it with Real white flower jewellery and nailed it.
4) Wedding : Vasansi, Jaipur. Price - 1.2 lakhs
I never wanted to be a complete red bride. Baby pink , peach etc. too became really common. Visited a lot of places in Mumbai and Jaipur to find the perfect Lehenga for my perfect day. Ultimately, got one at Vasansi, Jaipur. Offbeat cream Lehenga with a maroon dupatta. Just loved it. Couldn't take my eyes off and bought it immediately. Vasansi is a perfect place to get a perfect Lehenga. Trust me, this place is unexplored and hence you tend to get unique designs and Lehengas. I was awestruck seeing their collection which ranged from around 30k to 5 lakhs.
Arti Verma - The Heena Tattoo Artist. She does these amazing portraits with mehendi which made me hire her. I went for an old fashioned classic mughal style mehendi. She took around 6 hours to finish hands alone as she wanted the mehendi to be perfect. Design was intricate. Mehendi on feet was put the night before so that i can dance and walk around. I was very happy with her work. Very very very talented artist.
The groom's outfits were from two places, Jinaam and Louis Philippe. 1) Mehendi, Haldi & Wedding : Jinaam, Mumbai - A perfect store for a guy's wedding shopping. They had collections for every function. One stop store for men going crazy for wedding shopping. Staff is courteous too. You may want to pick up an attire atleast 2 months before the D day as it may require multiple rounds of alterations. 2) Cocktail : Louis Philippe, Got this perfect blue suit matching my blue gown from the palladium store. Matched it with a Satya Paul tie.
Varda Cards, Mumbai. Picked up the vendor from WedMeGood. Our theme was Floral. They did our yellow floral cards ands wedding stationery ( Luggage tags, Welcome letters, Thank you notes, Key card holders. Delivered beautifully. The only drawback was the amount of follow up which we had to do. But all is well if ends well. People loved the stationery. Taj staff ensured that these beautiful welcome letters and key cards are given to each and every guest participating.
Vendors: Venue: The Taj, Lucknow; Makeup Artist: The Body Care and Cure★ 4.6 ; Photographer: Eyebrow Weddings★ 3.8 ; Wedding Decor & Planning: Romb Decor★ 5 ; Bridal Outfits: Mehendi - House of Masaba★ 5 , Mumbai, Cocktail - Kalki Fashion★ 4.5 , Mumbai, Haldi - Zari Jaipur★ 4.6 , Wedding - Vasansi Jaipur★ 4.6 ; Mehendi Artist: Arti Verma; Groom's Outfits: Mehendi, Haldi & Wedding - Jinaam Mumbai★ 4.6 , Cocktail - Louis Philippe★ 4.8 ; Invitation Cards: Varda★ 1