A stunning, stylish heritage wedding at Kanak Vrindavan Valley
BY The WMG Bride | 01 Nov, 2014 | 2607 views | 5 min read
The outfits in this wedding have us frantically reaching for the 'Pin it' button on every image. Right from the quirky crop top with high waisted skirt for the mehendi to the exquisite brocade lehenga for Sangeet topped off by the  cherry on the cake- a gorgeous salmon colored gota patti lehenga for the wedding. The groom is quite a vision himself in soft pink and cream . Set in Jaipur, but not in the mainstream tourist-y venues, this wedding shot by Arjuns Trust with the camera is to be devoured.
Meet Vijayeeta & Karan
Theirs is a story of not two states, but about 5 different ones. Vijayeeta says " Karan and I met in the first year of college in Bombay, 10 years ago and honestly the minute we set sight on each other, we were smitten.  3 years of college and all the growing up later we came to crossroads when Karan went to Calcutta to pursue an MBA and I astonished my family by suddenly having similar dreams of doing an MBA and followed Karan! 2 years of a very episodic Calcutta life later we came to a crossroads again. I moved back to Jaipur, my hometown to venture into my own business and started a retail outlet by the name of Alter Ego. Even before the store had launched Karan had found a placement with GE... in Jaipur! Another couple of years of dating in Jaipur, the story had come too close to home and my parents were officially introduced to Karan. They were glad because they were just about as smitten by him as I was when I had first met him."
The absolutely awesome E-vite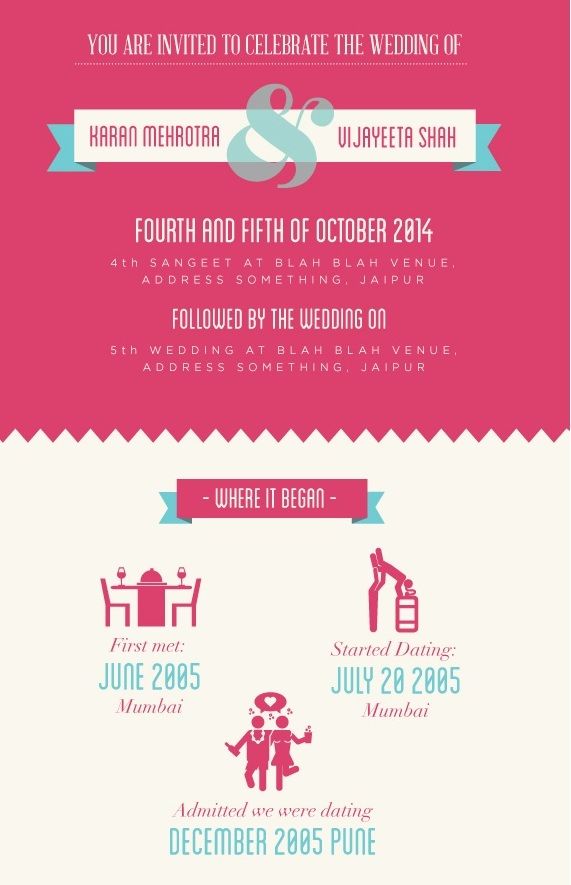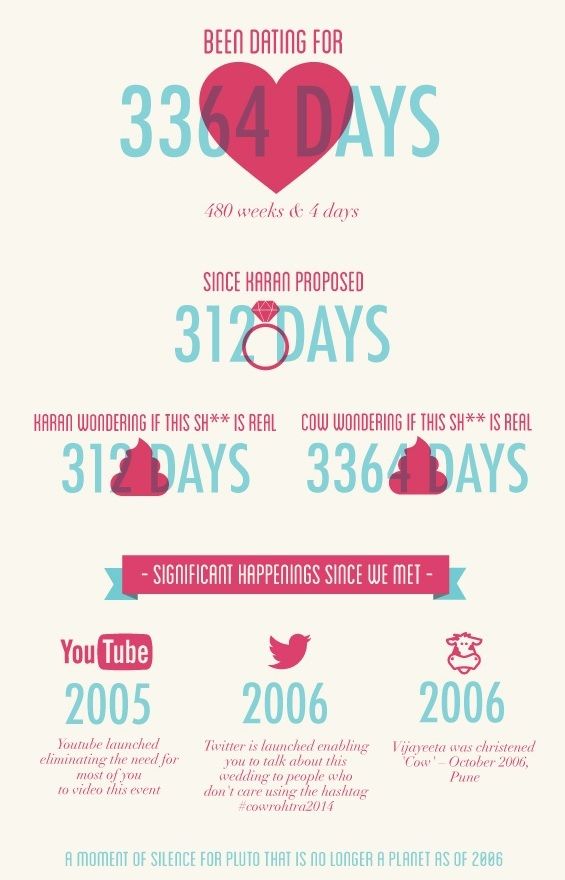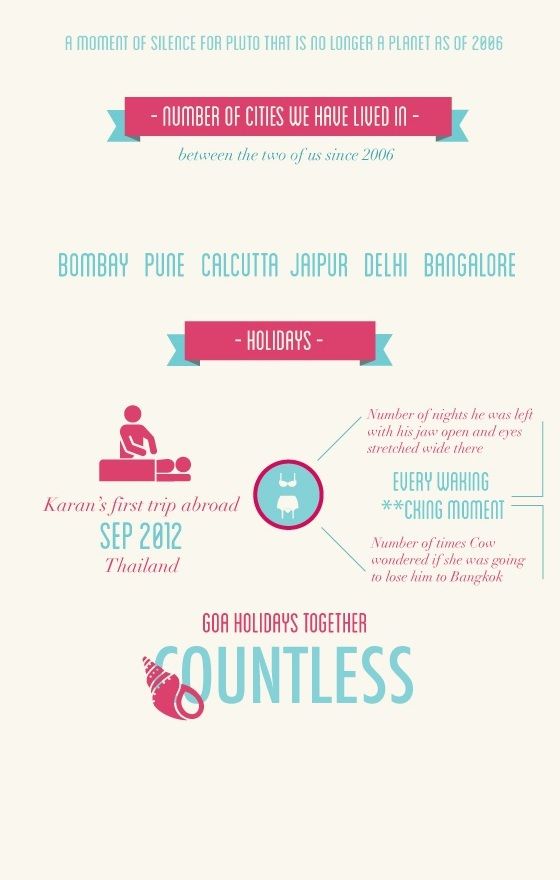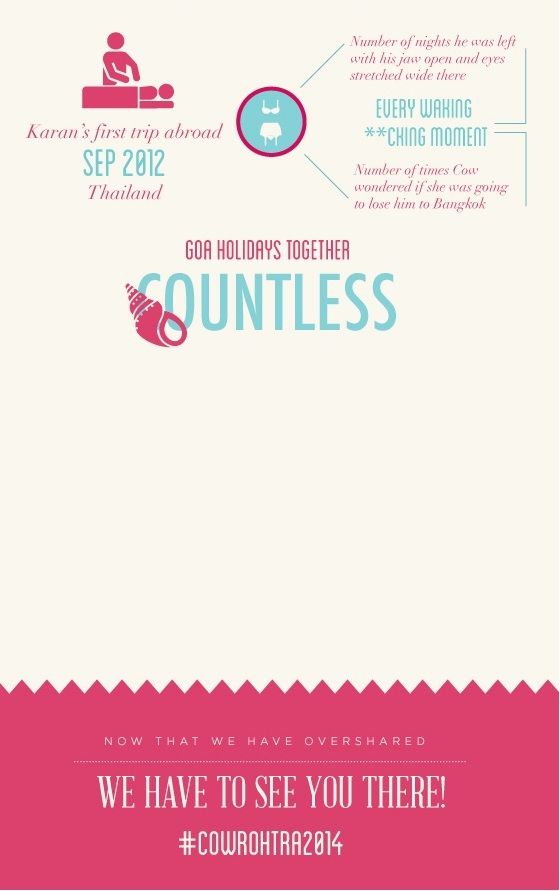 THAT is one of the best invites we have EVER seen. Love the "Significant Happenings since we met" part. LOL
The Mehendi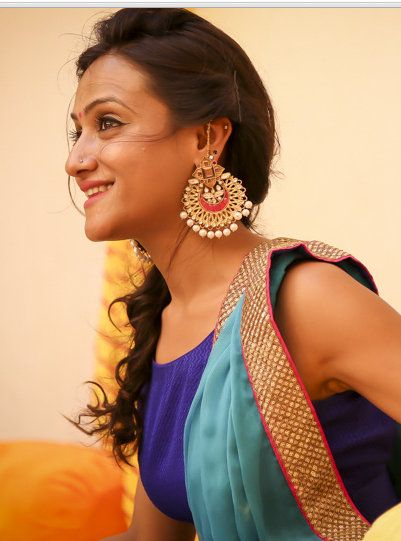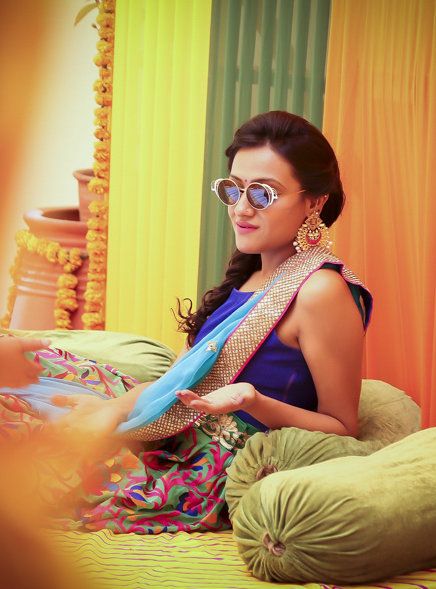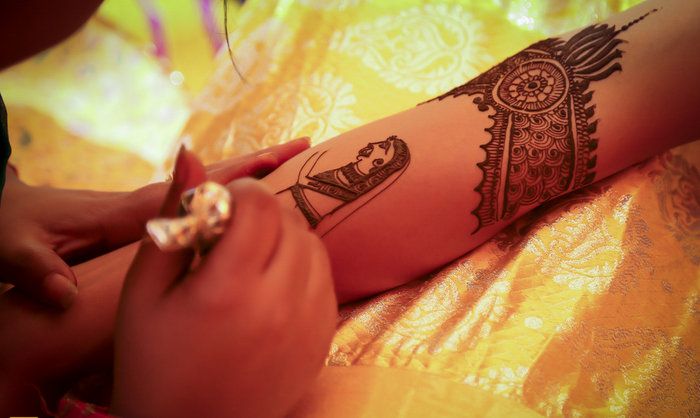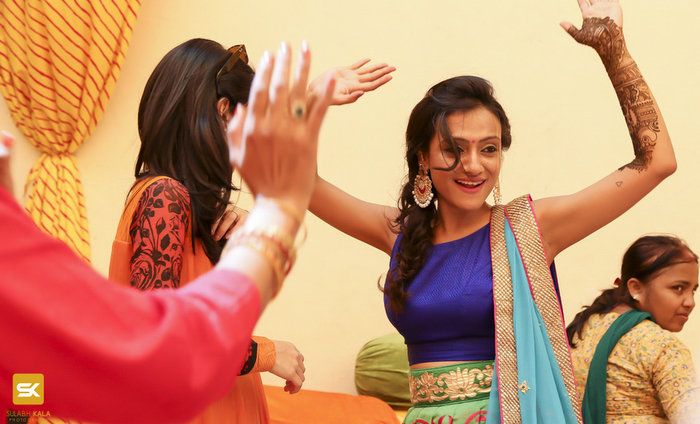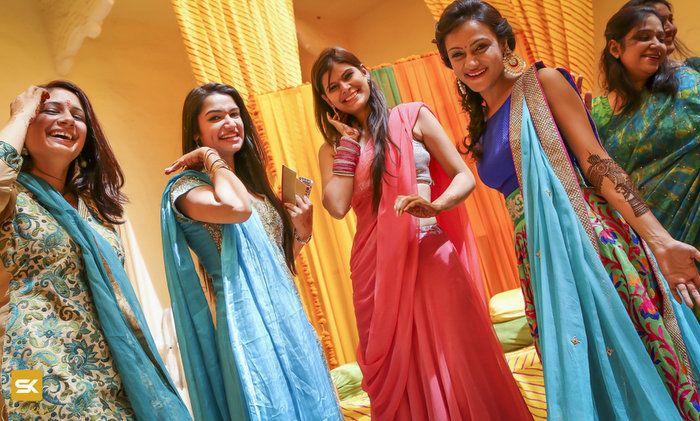 Love the idea of a crop top with a foral lehenga for mehendi (with pockets!) . Photos above are by Sulabh Kala.
The Sangeet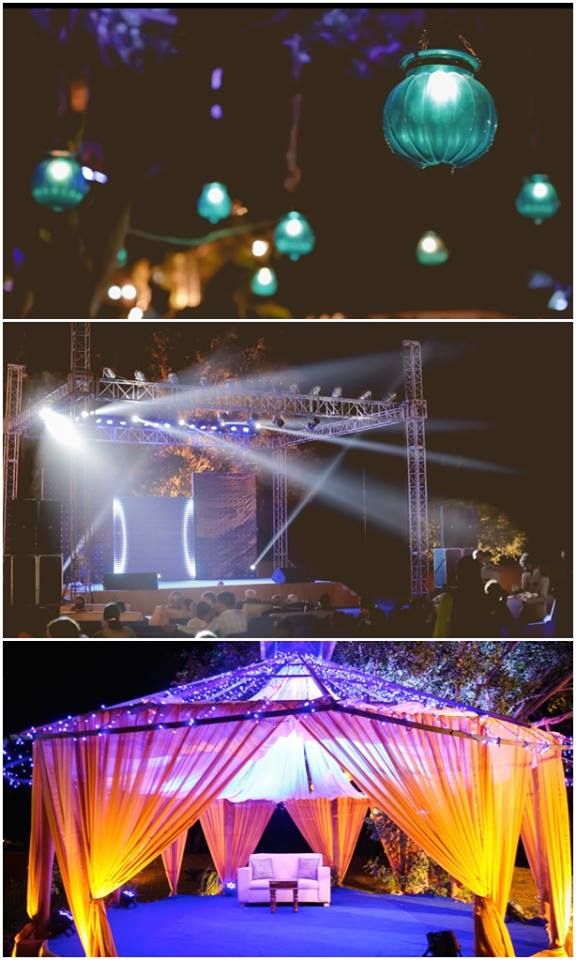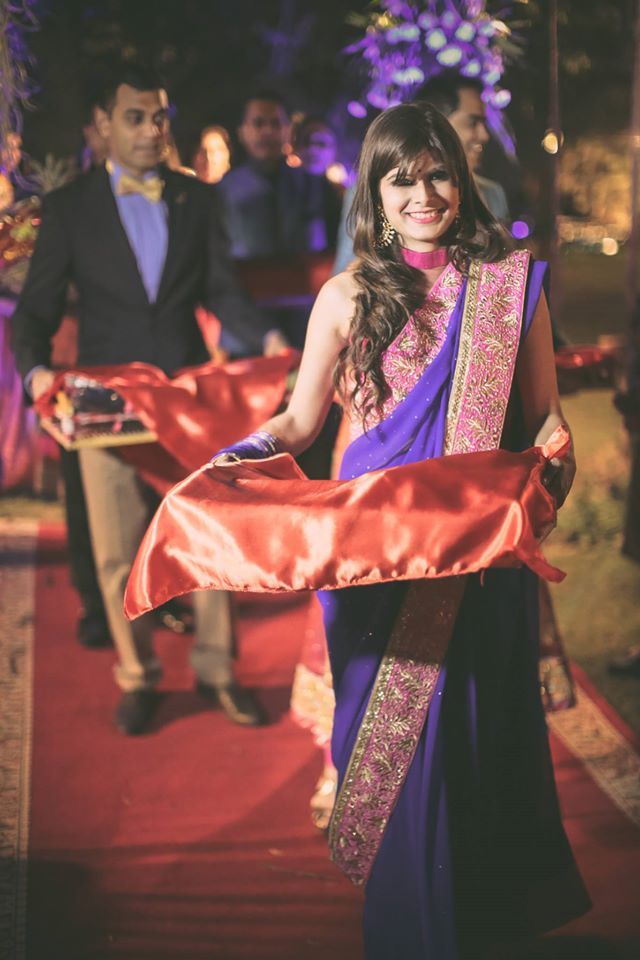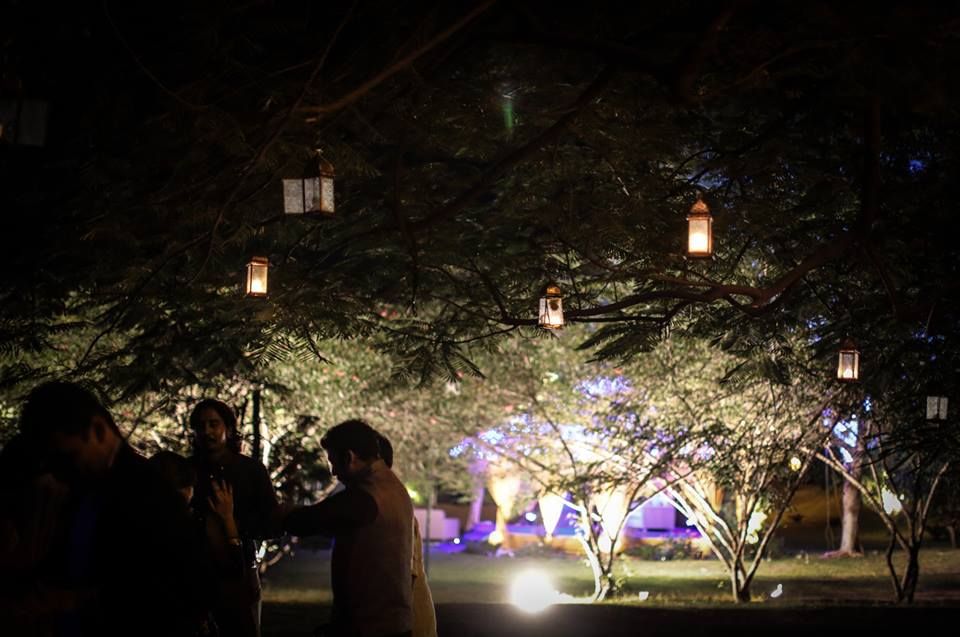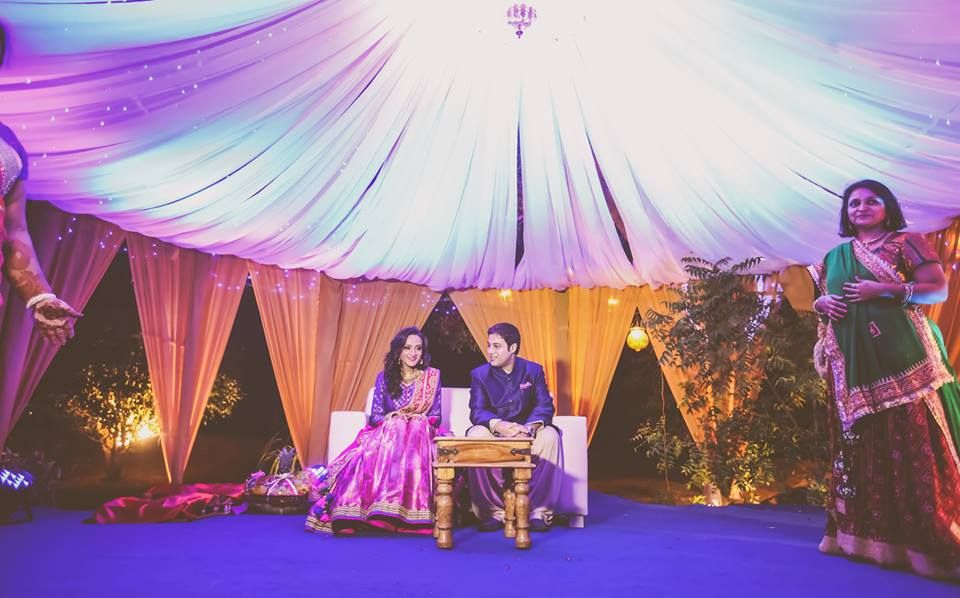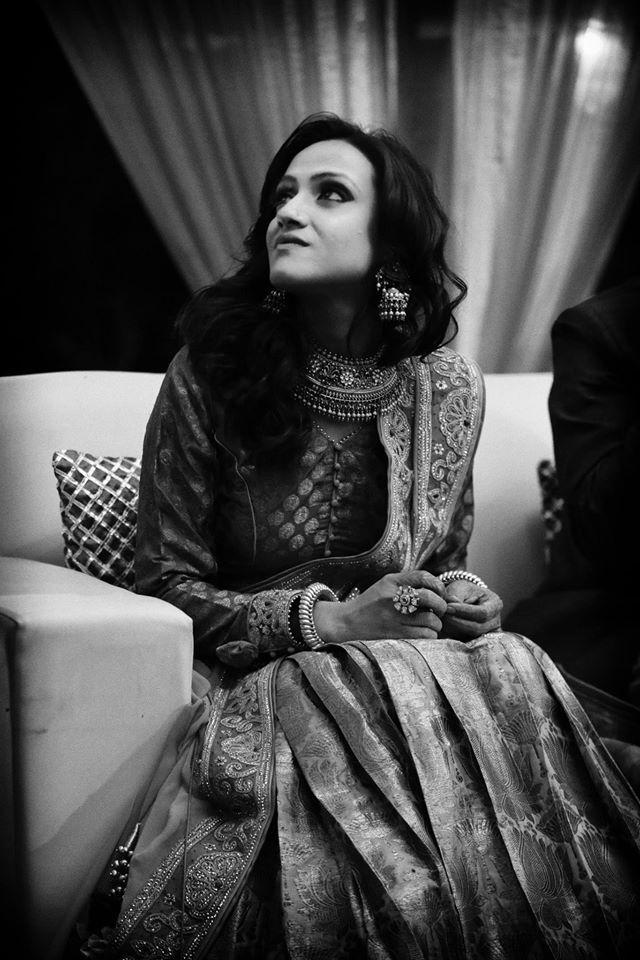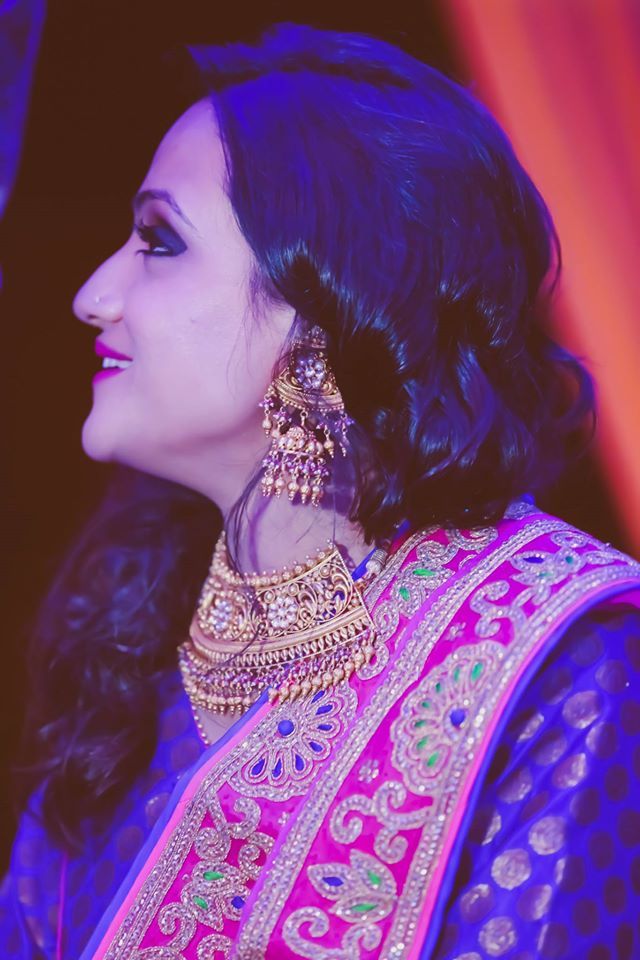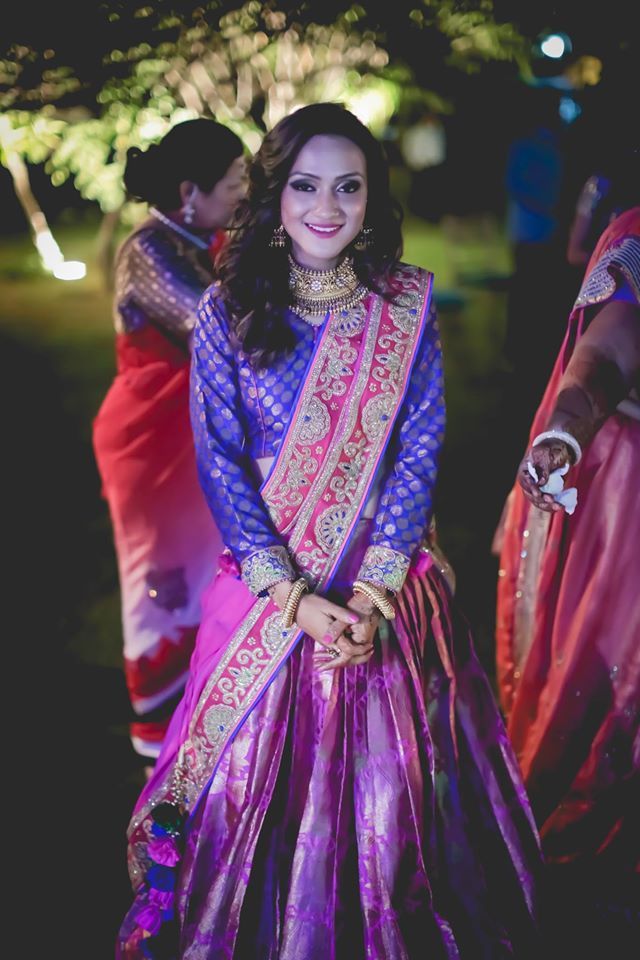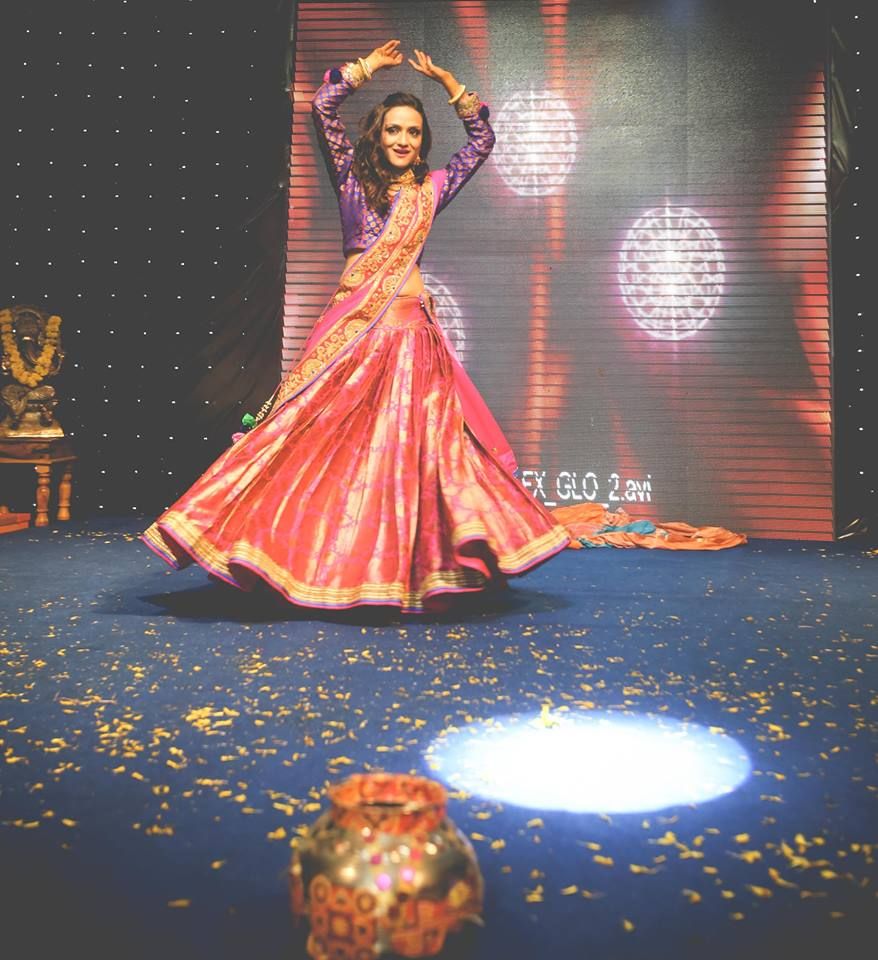 Absolutely LOVE the colors in the outfit and that rich, gorgeous brocade in the lehenga skirt.
The Wedding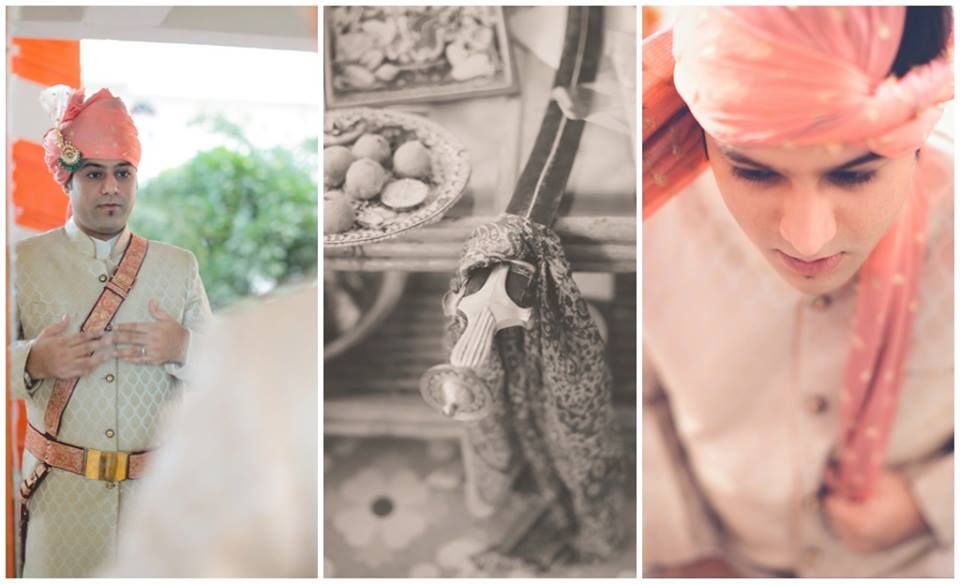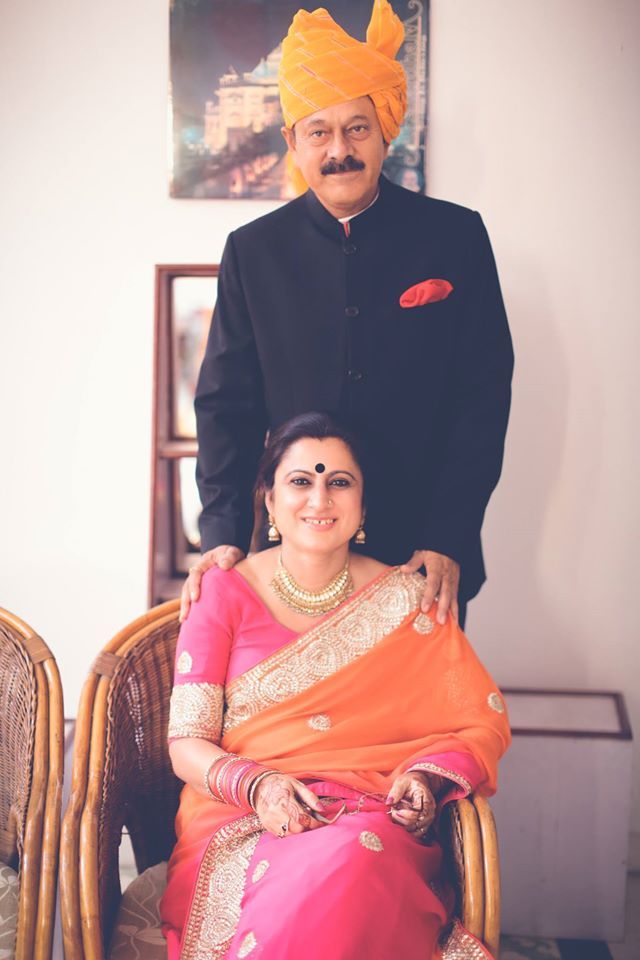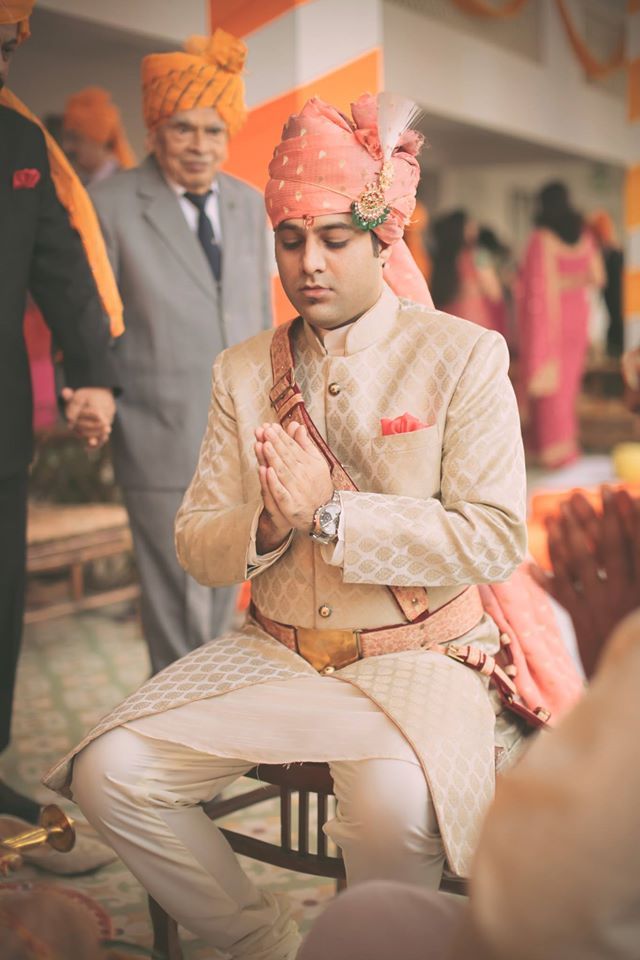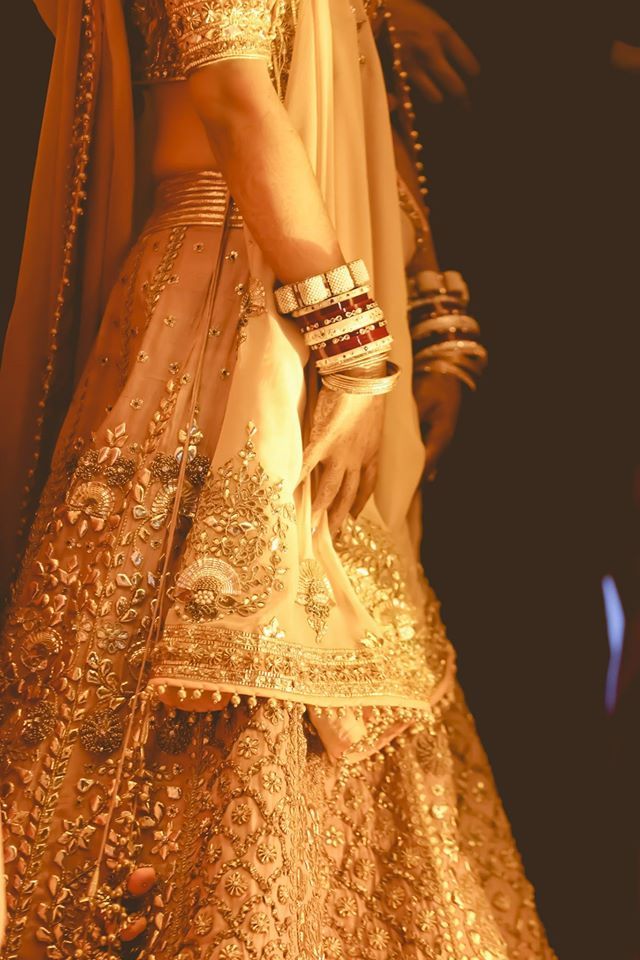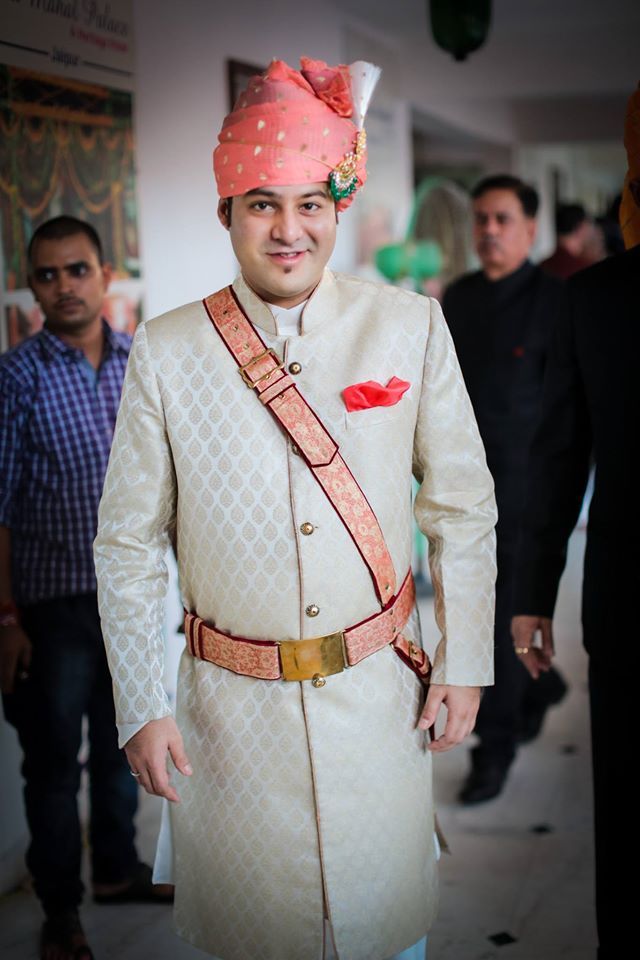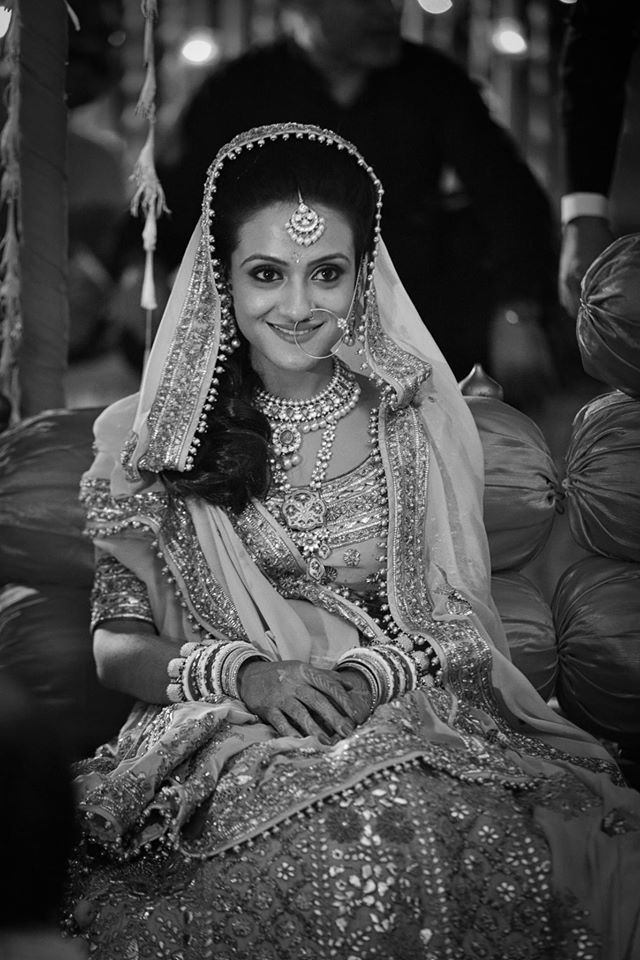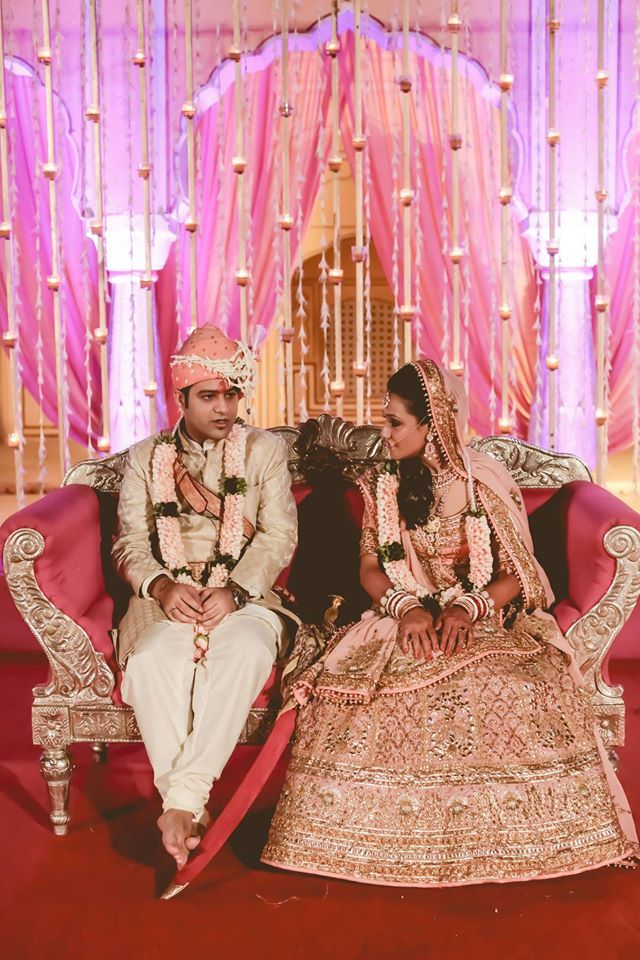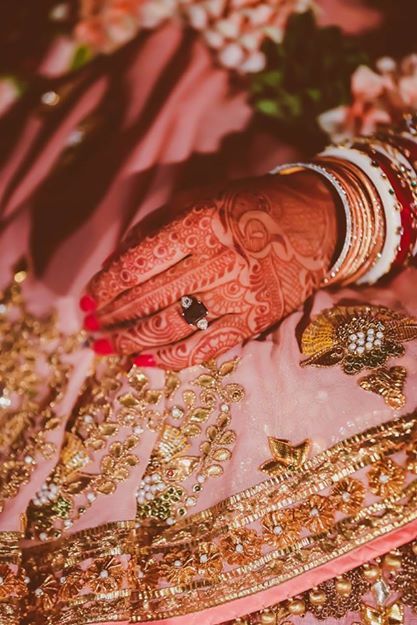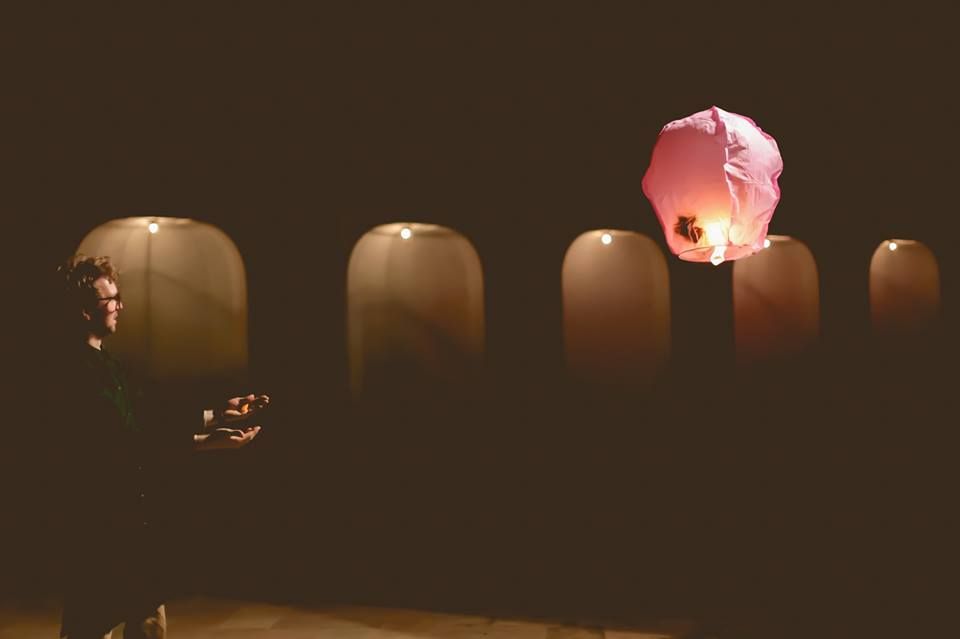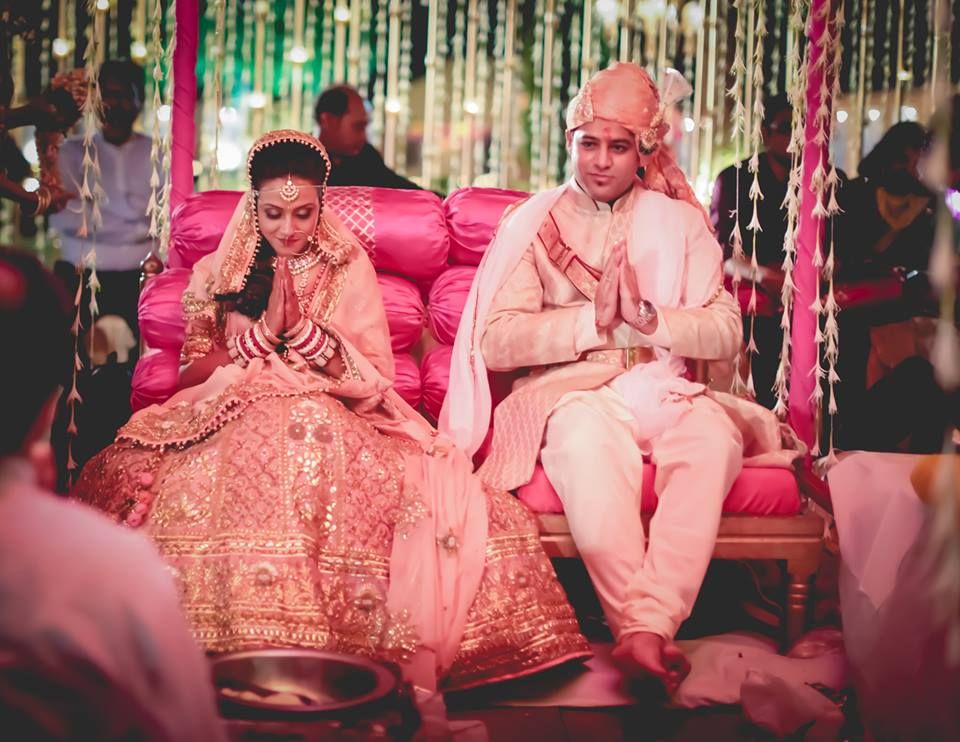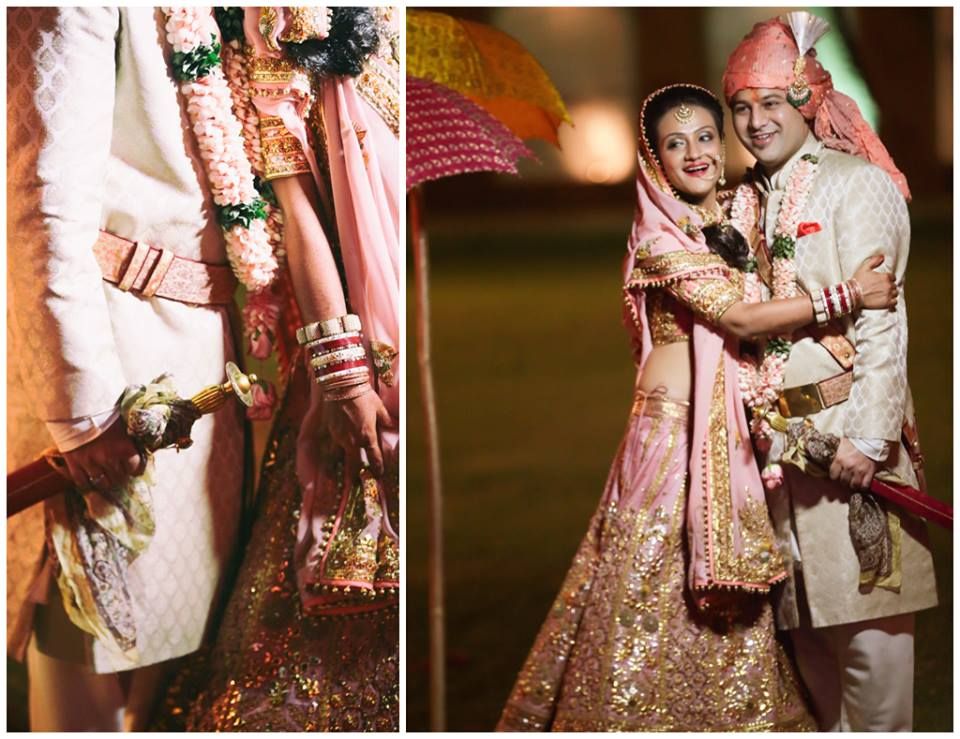 Combine salmon pink and gota patti and you will ALWAYS have us at Hello. SO GORGE!
From the bride:
There was  one thing we were very sure of - that Jaipur meant an authentic heritage wedding and when we found Kanak Vrindavan it completely spoke to our vision.
One of the most memorable events was our Sangeet which depicted the ten years of our relationship  and our friends who had shared our lives in Bombay, Pune, Jaipur,Delhi, Calcutta and Bangalore  made parodies depicting the stages of our relationship in each city! The ten years also found its way into our wedding e-vite  designed by Paper Cuts (another close friend), depicting our years of togetherness! It was very personal and pretty hilarious! 
When it came to outfits, my personal style is comfortable boho punk!  For the Mehndi   I wanted something comfortable and fun but also vibrant and kitsch ! I chose to design my own outfit right from fabric sourcing to the first sketch. It was beautifully translated by Nikita Bhandia of Kaarigar Boutique, Jaipur . I wore a multicolored embroidered high waisted skirt *with pockets!* with a brocade cut out crop blouse and a contrasting Stoll paired with quirky shades from Alter Ego
My wedding outfit came about when I entered Swati Ubrois boutique to help a family friend select an outfit. In front of me lay the last piece from Swati's exquisite Museum Collection and the first piece I laid eyes on.  The offbeat dull salmon pink colour with intricate antique Gota Patti had that understated, heritage feel I had been looking for. It was in conversation with Swati, that my Sangeet outfit got decided as well. She brought out this beautiful lotus motif hot pink brocade and we decided on a contrasting royal blue rose motif brocade for the boouse. We zeroed on her trademark multicolored thread work for the dupatta and the idea of a "Village Princess Bride" was created!  In fact the much adored pom pom's on my blouse and tassles were a last minute input from her side,understanding the quirk in me!
Karan, like me is very individualistic about his style, and after multiple visits to designers and retail outlets, we settled on designing his outfits ourselves. For the Sangeet he wore a block printed raw silk royal blue jacket  with an earth colour patiala and kurta.  For the Wedding we chose a cream khimkhab fabric from Benaras, which was later bejeweled with buttons by Jewellery by Astha Jagwani and a pocket square matching my outfit by Swati Uberoi. His turban was dyed two tone in a Rajasthani lehariya dye to match my bridal outfit.
There are so many vendors who did an exceptional job. Kuhu Kochar, for the wedding evite I shall print and frame! Arjun Mahajan, for the timeless wedding he created with pictures and shots that will long stay profile pictures even after the wedding is passe! Pallawi Kapoor from Aura Weddings (for all her ideas and suggestions were absolutely implemented!) ! Khalsa Events for the amazing Ice Bar at the Sangeet venue which will not be easily forgotten! D.J. Sirish for getting the party grooving and never letting his enthusiasm slack from the beginning of the night to the end of the morning!
---
Venue: Mehendi at Shri Niwas Jaipur  , Sangeet at Anukool farms, Ajmer Highway Wedding at  Jaipur Kanak Vrindavan Ghati | Invitations: Paper Cuts | Makeup: Arneeb Mullick | Brides outfit:  Welcome night outfit (not viewable here) from ALter Ego  | Mehendi croptop lehenga from Kaarigar Boutique Jaipur  | Sangeet & Bridal Lehenga both from Swati Ubroi  | Grooms outfits: Self designed with buttons by Astha Jagwani and stitched by Munnu Khan Tailors in Jaipur | Jewellery: Mehendi jewellery by Amrapali , Sangeet jewellery: Vintage, Wedding set by Modi Jewellers Jaipur,  Engagement Ring by Mehr Jewellers | Photography:Arjuns Tryst with the camera (all photos above except mehendi) & Sulabh Kala| | Decor: Aura Affaire★ 5 & Khalsa Events Jaipur  | Entertainment: MC Sid
---