#BudgetBrides: 7 Cool DIY Ideas For Your Phoolon Ki Chadar!
BY Sakshi | 13 Sep, 2018 | 42222 views | 3 min read
If you're a resourceful bride who is DIYing a lot for her wedding, then here's another one for you! DIY your own phoolon ki chadar! We are seeing more and more brides- North and South ones who are making their bridal entry with these now, and there are some neat new ideas with which you can make your own, just take some inspiration from these 7 cool ones and make your own version of it!
 This one with the twinkling fairy lights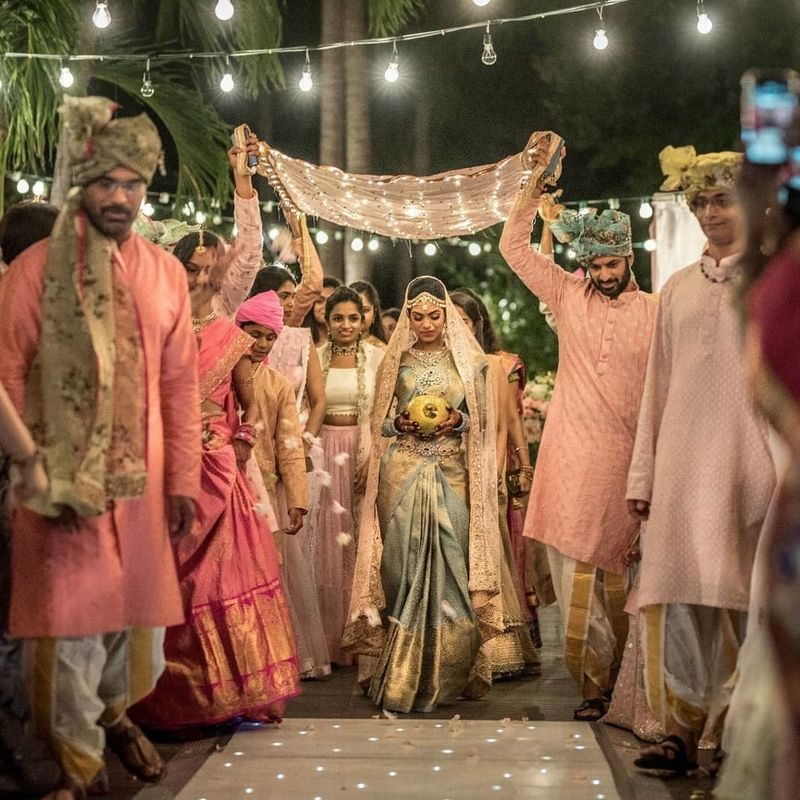 Image via Momento★ 4.8
Get some battery operated fairy lights like these from Amazon and stick or sew them to some dupatta fabric which is transluscent- you won't get the same effect with an opaque one- you can choose whatever colour you want- gold or red, but make sure the colour of the light complements the fabric shade! You could even add a pretty gota border for effect to the fabric! And you're all set to walk down the aisle!

Image via Shreya and Vivaan's Wedding and The A-Cube Project★ 4.9
This is one of the easiest ideas to implement, and so trendy too! Tassels and pompoms are in these days for wedding decor, and equally cute and useful in your phoolon ki chadar too! Get some fabric or a pretty border dupatta and hang tassels or pompoms on them- you can get them easily in your colours of choice and sew them on to the cloth! Easy peasy!
This whimsical one with the florals and butterflies!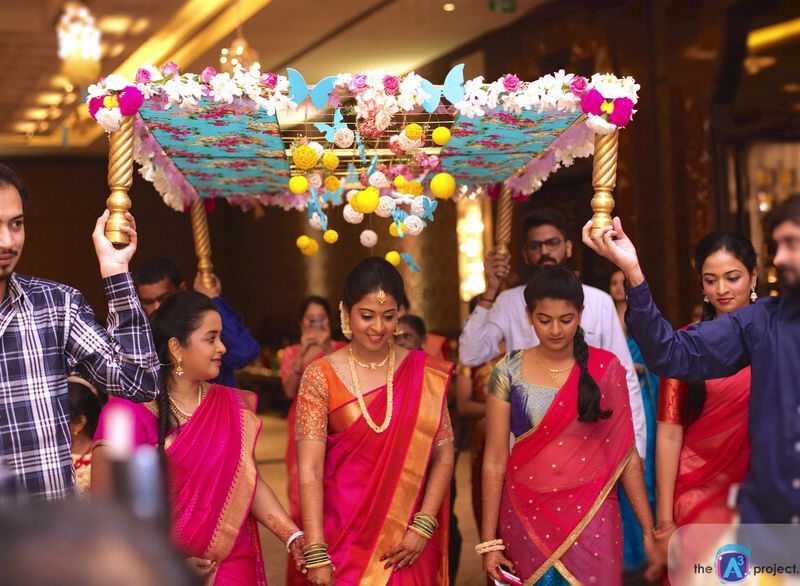 Image via The A-Cube Project★ 4.9
While this one is of course professionally made, you can get inspired do your own DIY version of it and go as crazy as you want! Get a floral table cover of a thicker material and stick paper decor and some flowers on to it- you can even have the central hanging thing with wicker balls from Amazon. Handles can make it a little complicated, so you can just have your brothers hold the corners instead.
 This one with the bells and flowers!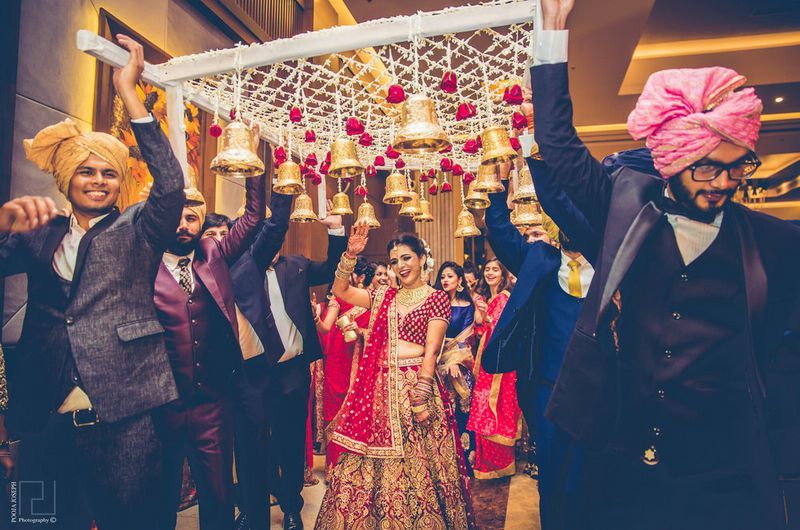 Image via Niharika & Rahul (Indore)
Another one to take inspiration from and make your own version of! While real temple bells can be really heavy, and fabric won't be able to take their weight, a good alternative is to get Christmas tree ornaments since they are very light and economical! Something like this from Amazon is apt for this idea, you can get about 20, and hang them on a ready phoolon ka chadar or make one with some fabric or dupatta! You can source the floral strings with the roses from your decor person.
These ones with the hanging ghungoo bangles or kaleere!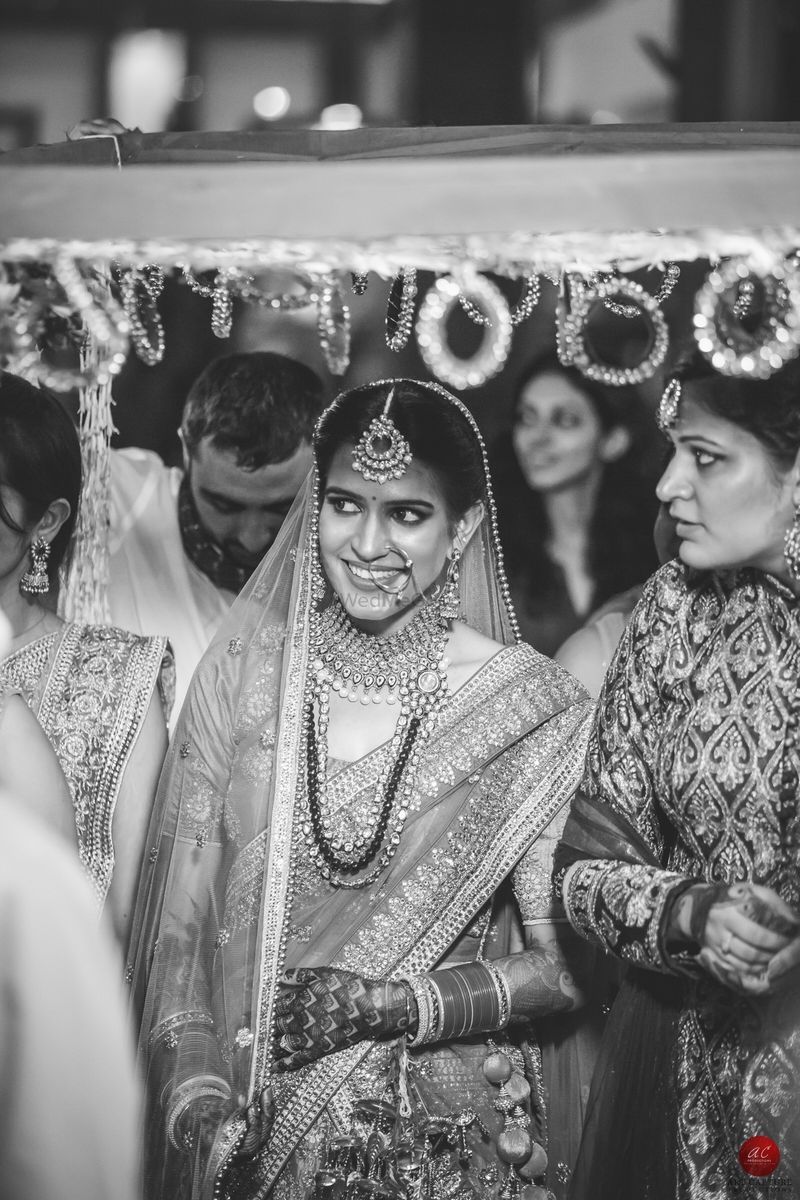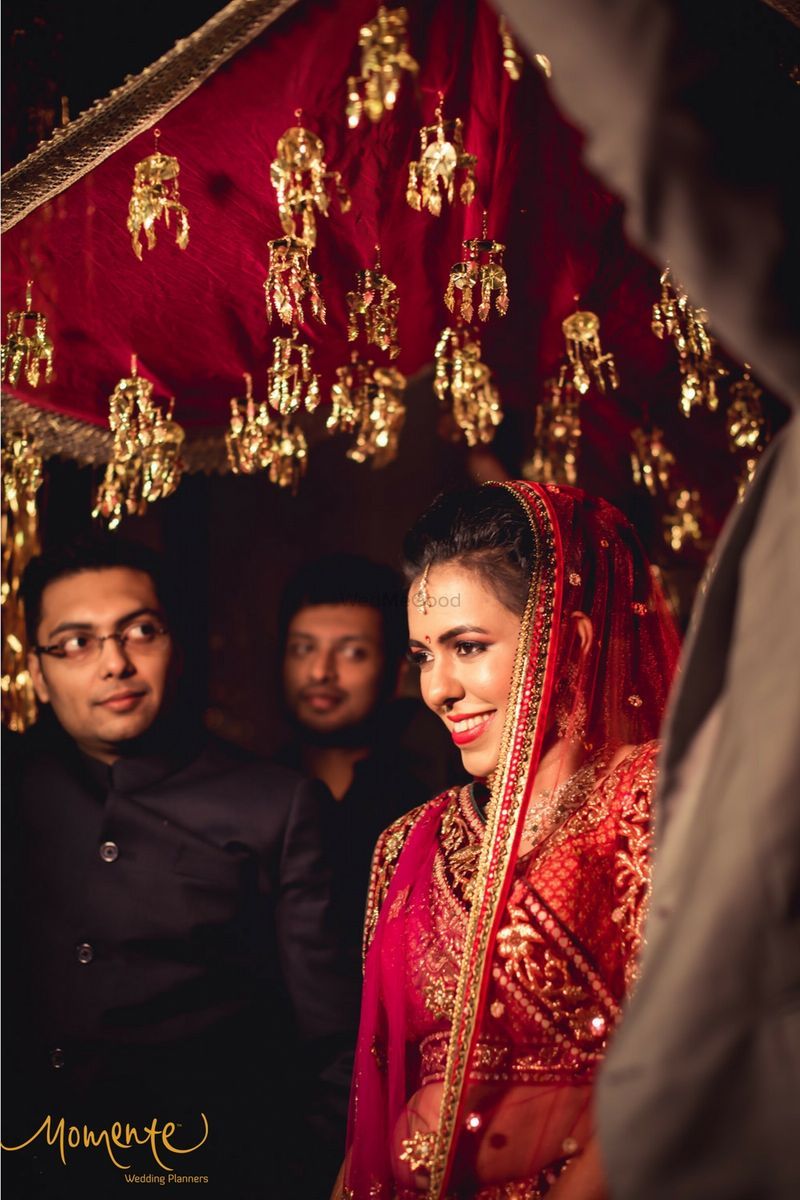 Image via Artcapture Productions★ 4.5
All you'll need are some kaleere or bangles like these, say about 12 and fabric. While this one is with a floral jaali, you can easily achieve the same look and feel with normal fabric too- just make sure it's something that's a little sturdy and thick. You can take some small wire pieces, tie them around one side of the the bangle or kaleera- take it through the fabric and twist them on top so that whatever is hung does not fall off!
ALSO READ: Trending: This Mogra & Parrot Phoolon Ka Chaddar Is So Pretty