Dear Brides, Don't Do These Things On Your Wedding Day!
BY Apoorva | 29 Sep, 2016 | 13697 views | 3 min read
Wedding day is something that you have planned and planned & you want it to be perfect! But wedding day also can get a little chaotic. So take a look at these all-too-common "please don't's" and avoid them. Remember: Forewarned is forearmed!
Girl in Pink Photography★ 5
Don't skip a meal. Eat! Seriously, you have to have something in your stomach the morning of the wedding - trust us, one meal won't affect how your dress fits. And it won't matter how thin you look if you faint at the mandap!
Don't try out a new makeup or any other beauty product. It's important that your skin is used to the makeup that you use on the day-of so you won't break out
Don't drink too much. If you have a baraat that is drinking like a fish, don't give them company. Not only will you be hung over but you will be missing out of the biggest day of your life!
[video width="500" height="224" mp4="https://image.wedmegood.com/resized-nw/1300X/wp-content/uploads/2016/09/anigif_enhanced-buzz-31804-1388189777-16.mp4"][/video]
Don't answer your phone. Yes, it's tempting to take every call, but you will be saving a lot of time by allowing your BFF to do that for you.
Don't stay up late the night before. Beauty sleep is the mantra for that day!
Don't take charge. Delegate and let go. If somebody else also can't do it, forget it. Guests don't notice tiny details.
Don't forget to drink water. We know it's your biggest day but you are still human so hydrate. It'll reflect in your photographs too!
Don't be a super bride. Forgot your shoes at home? Don't worry, communicate that to the groom or your friends and they will take care of it. Don't try to do everything at once, it'll mess up.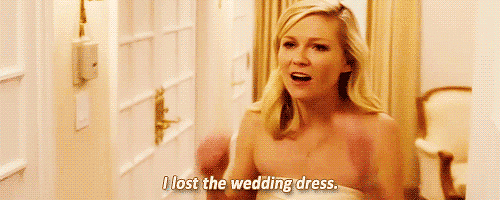 Don't eat or drink dark foods. It'll stain your teeth or worse, spill over your lehenga!
Don't let go of your wingman or woman. Have a friend or sister who will dedicated be with you all the time. Have someone you can trust, just in case you need to hand over your jewellery or help your adjust your dupatta at the mandap!
Don't miss eating at your own wedding! If you don't get the time, arrange with the caterers to send a couple to-go boxes of food with you when you leave the venue.
Don't forget about your ears and feet! Your wedding earrings may look good in pictures, but they could also be a pain. Same thing for shoes. Always try both a couple of weeks before and see what works & what doesn't.
[video width="500" height="318" mp4="https://image.wedmegood.com/resized-nw/1300X/wp-content/uploads/2016/09/anigif_enhanced-buzz-2462-1421961065-14.mp4"][/video]
Don't forget to wear the right inner wear. If you need to wear Spanx or shape wear under your outfit, get one with a pee hole. Don't even think about undressing for every pee break.
Don't blow up. Things can go wrong, mistakes happen. Some people might hog all your time and annoy you. Just take a moment to accept it and let it go. You can't help it now, so why spoil your big day. No one likes an angry bride.
Don't do the cake smash. Your spouse's friends can get a little too eager but instruct them. You are wearing the outfit and makeup of your dreams, cake smash can be done later!
Don't forget to have fun. Amid all of the fun and celebration be sure to take a moment to look over at the person you're pledging your life to and reflect on the incredible journey that lies ahead of you both.
[video width="500" height="280" mp4="https://image.wedmegood.com/resized-nw/1300X/wp-content/uploads/2016/09/anigif_enhanced-buzz-5425-1421891047-8.mp4"][/video]
--Apoorva Pagar