Delhi Wedding With The Bride In A Lehenga Designed By Her Mother
BY Aakanksha | 04 May, 2020 | 9723 views | 5 min read
How special it must be to get married in a bridal lehenga designed by your mother? Ask Shreya, our real bride! She looked radiant in her bridal outfit, and her mother's love shined through. The lucknawi lehenga with hand emriodered details and the pastel colour, everything came together beautifully! Shreya looked perfect. Anubhav made a dashing groom in his sherwani and the couple looked made for each other. Lovers Films★ 4.8 captured this wedding in stunning detail and the pictures are proof! 
Meet Shreya & Anubhav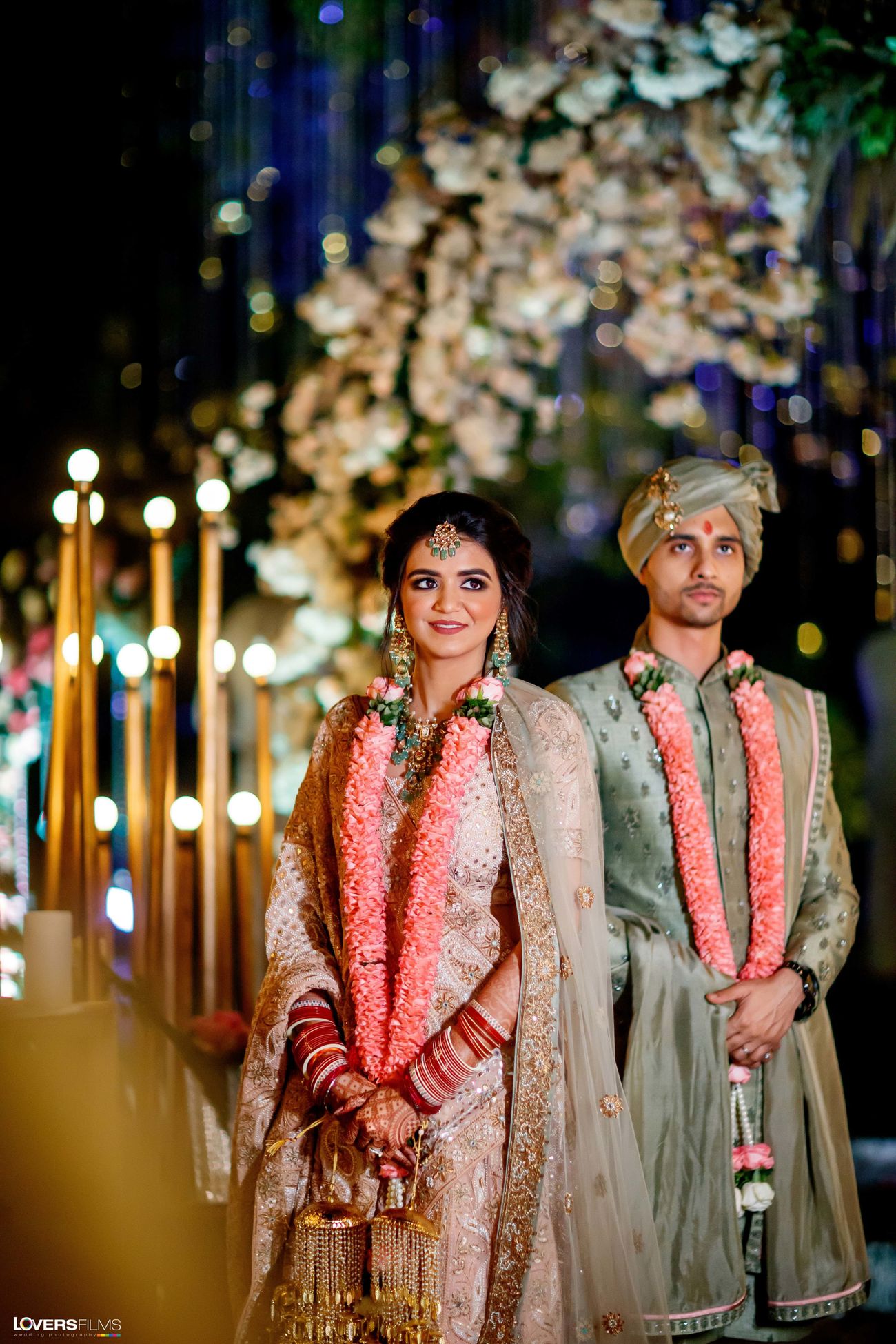 They met in college, and slowly a fledgling friendship bloomed into a fulfilling love. "Only if we had a time machine to go back to college, just to whisper our news of marriage with each other, we would have had a hearty laugh. In spite of being in different classes, we quickly developed a camaraderie. Though we spoke occasionally, but ceremonial conversations and sporadic meet ups helped us survive the test of time. Even today, we look back and express our deep gratitude for the days we spent in college together," shares the couple! 
The Wedding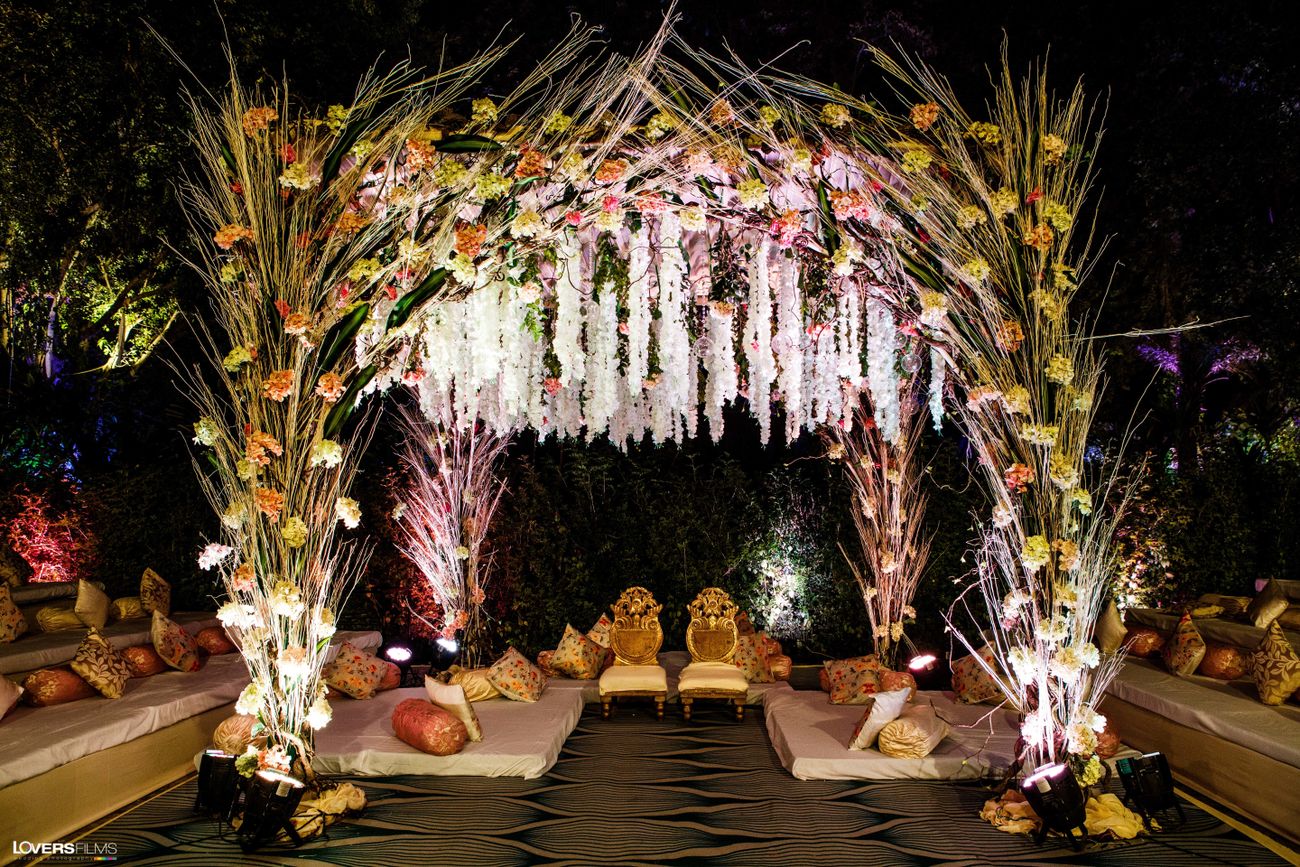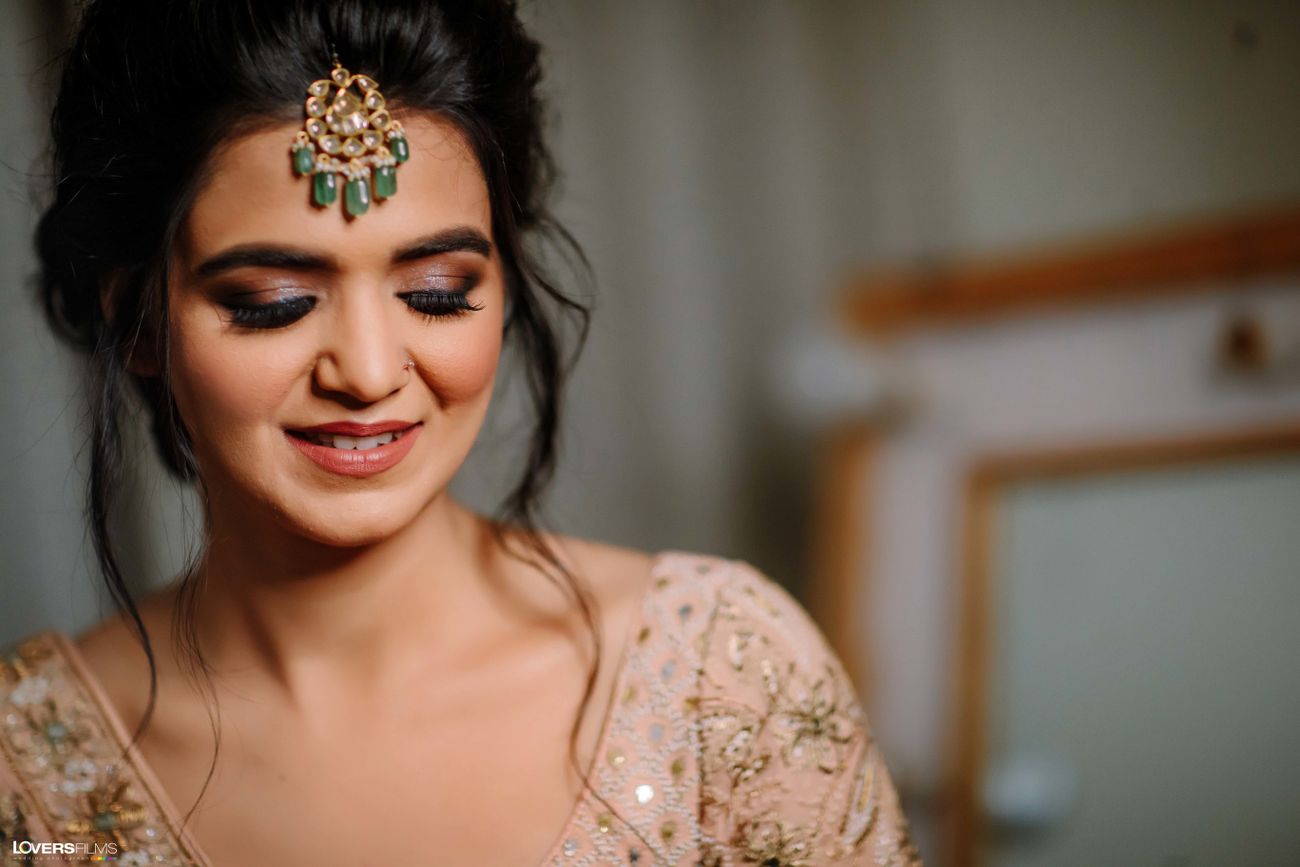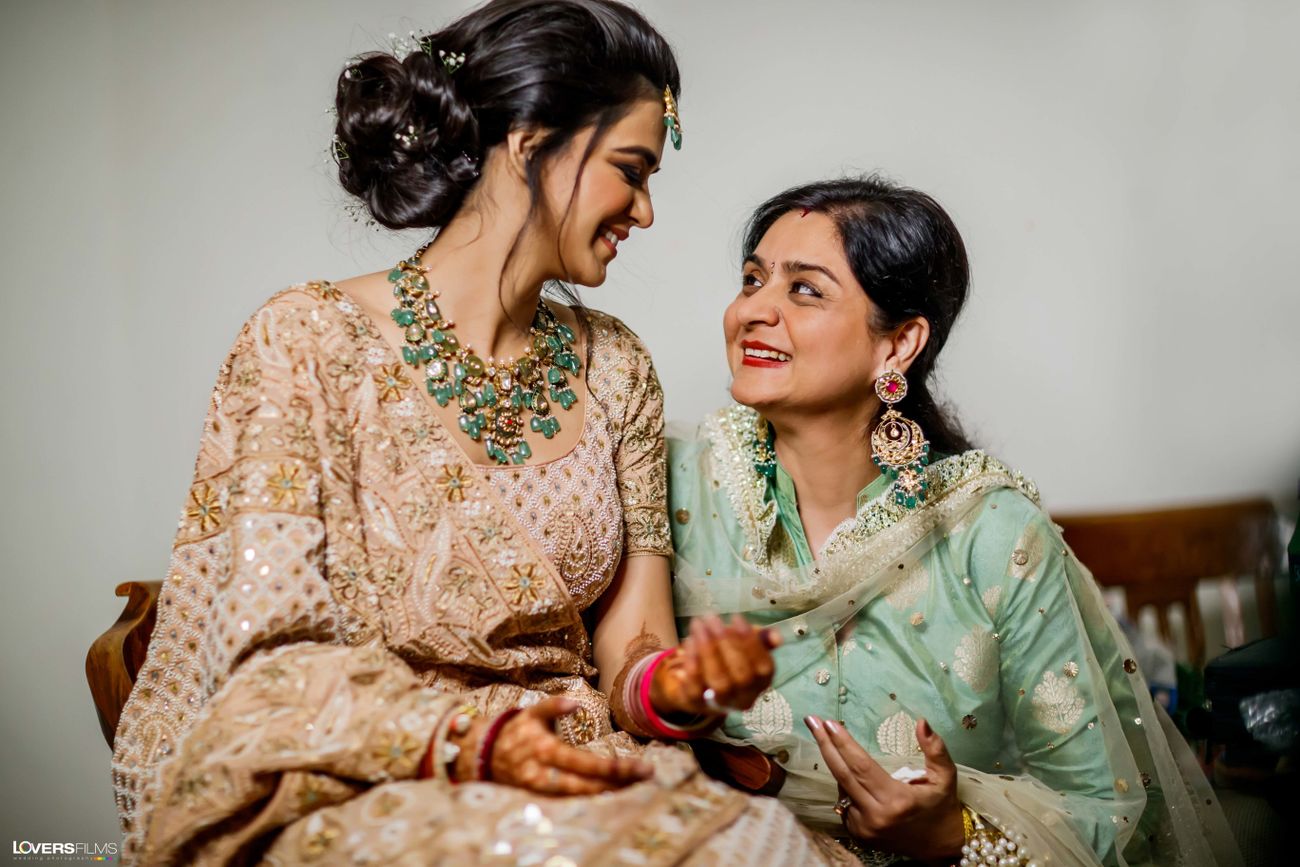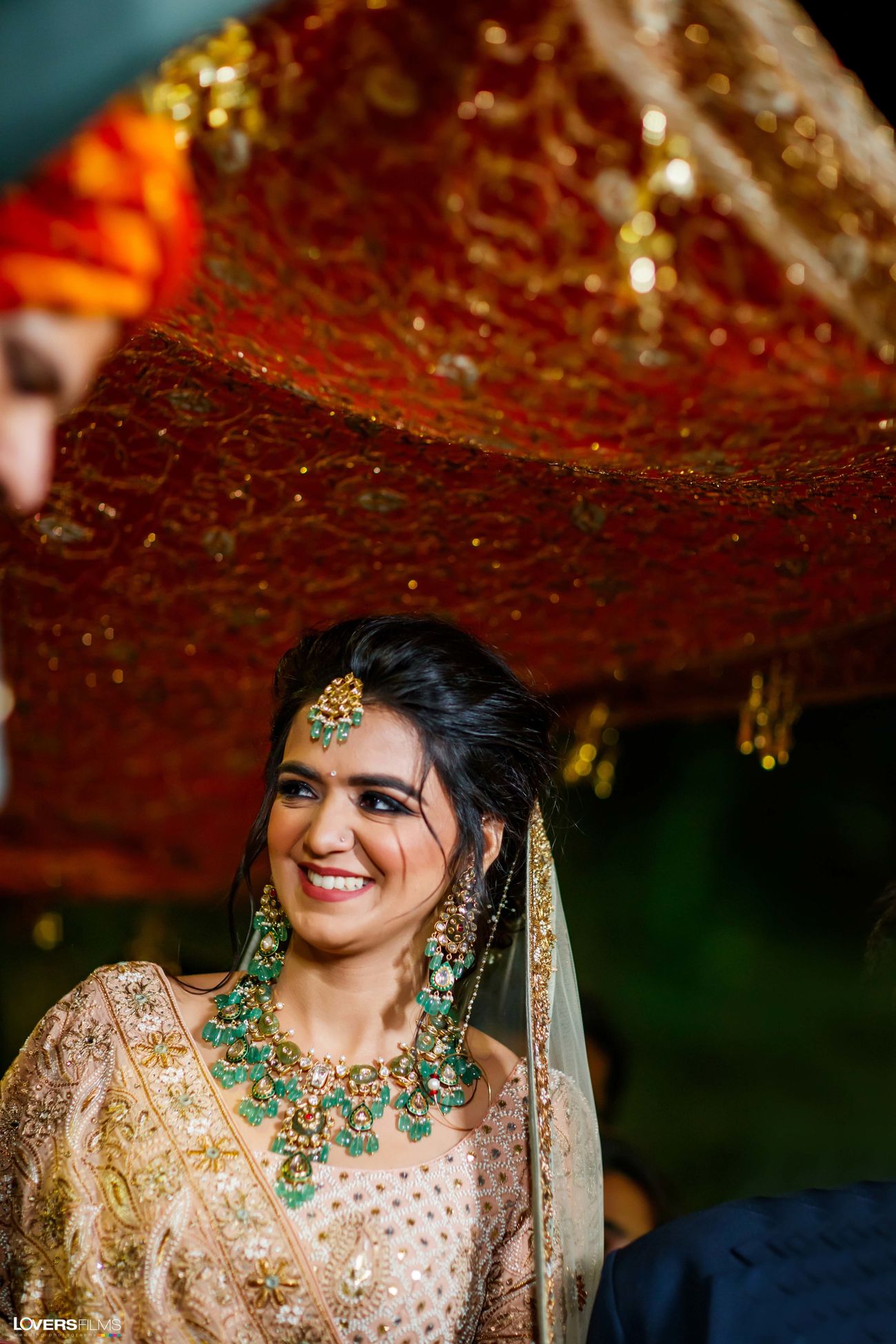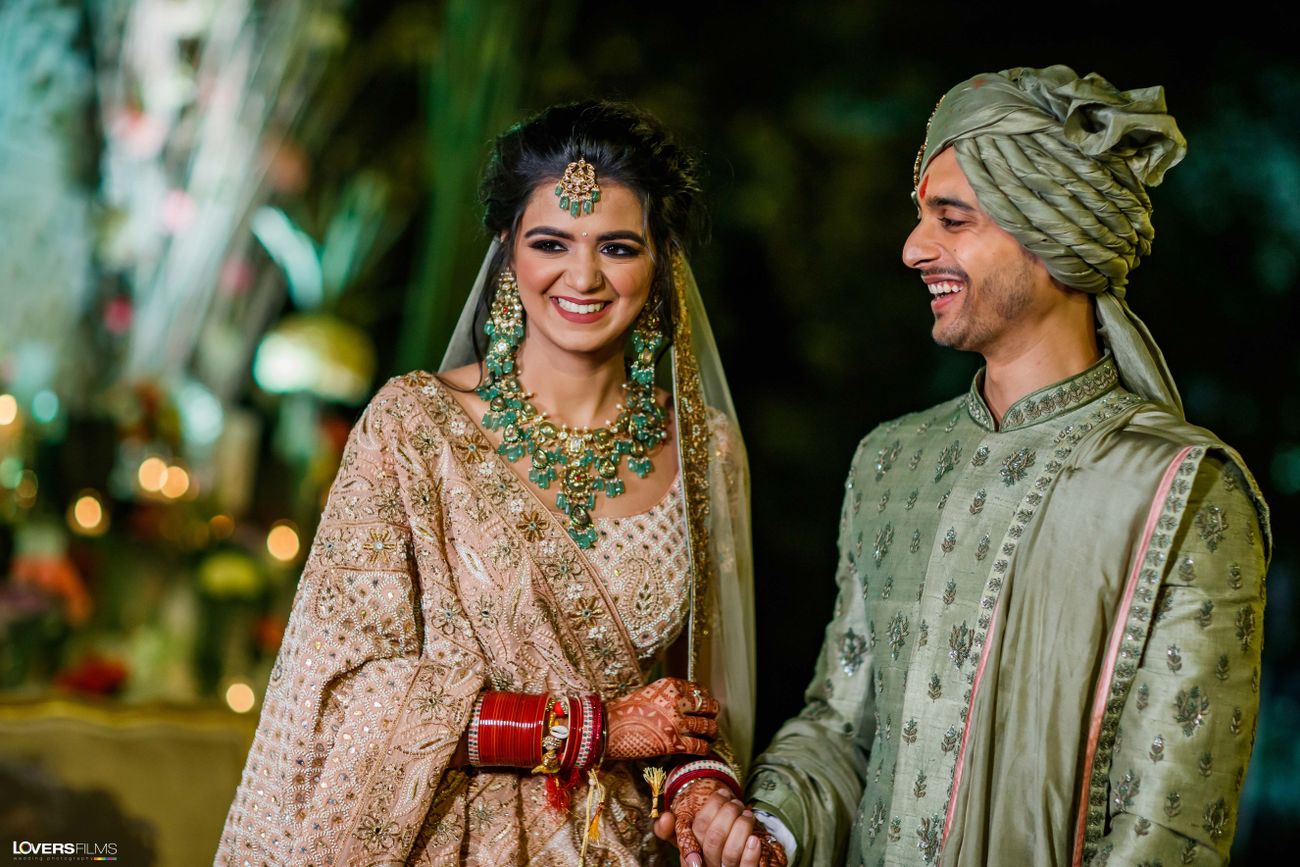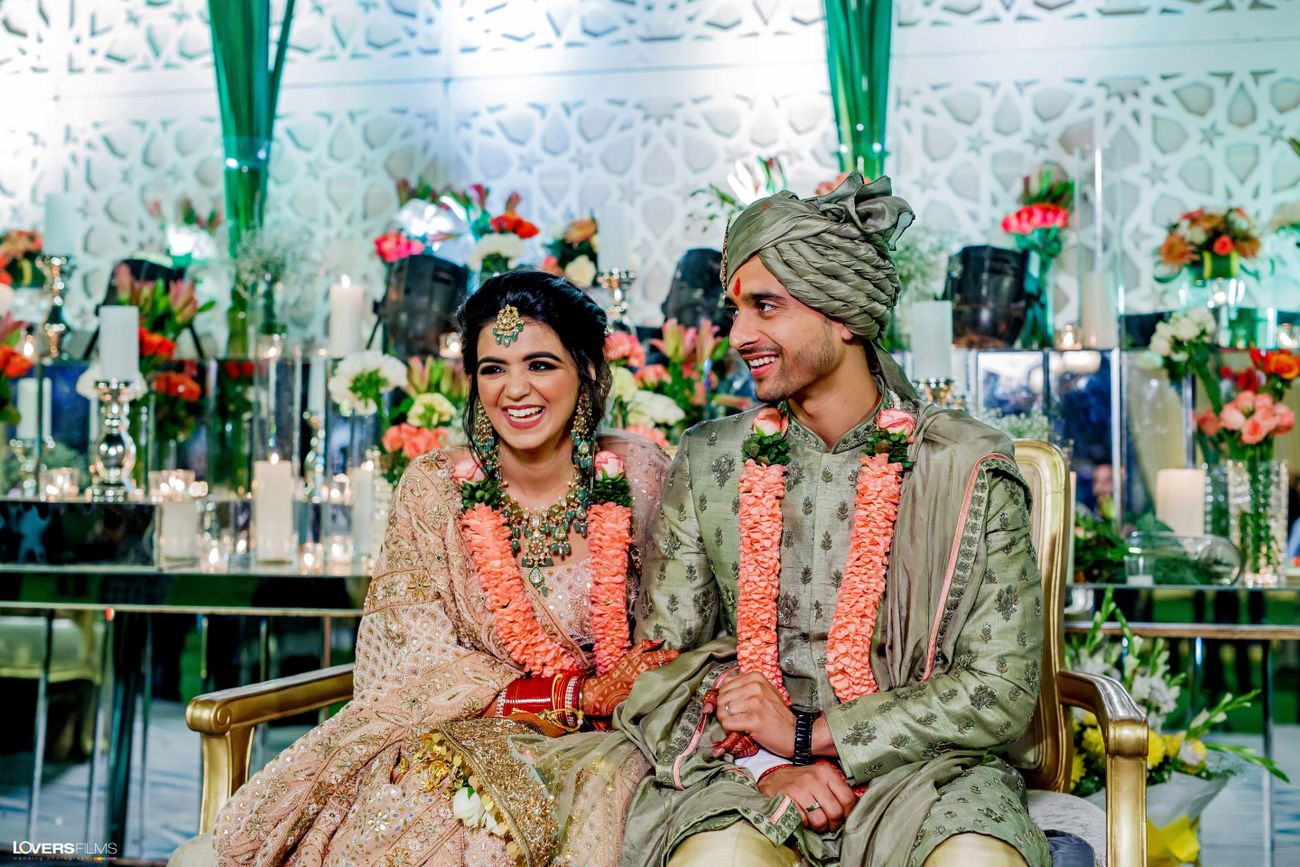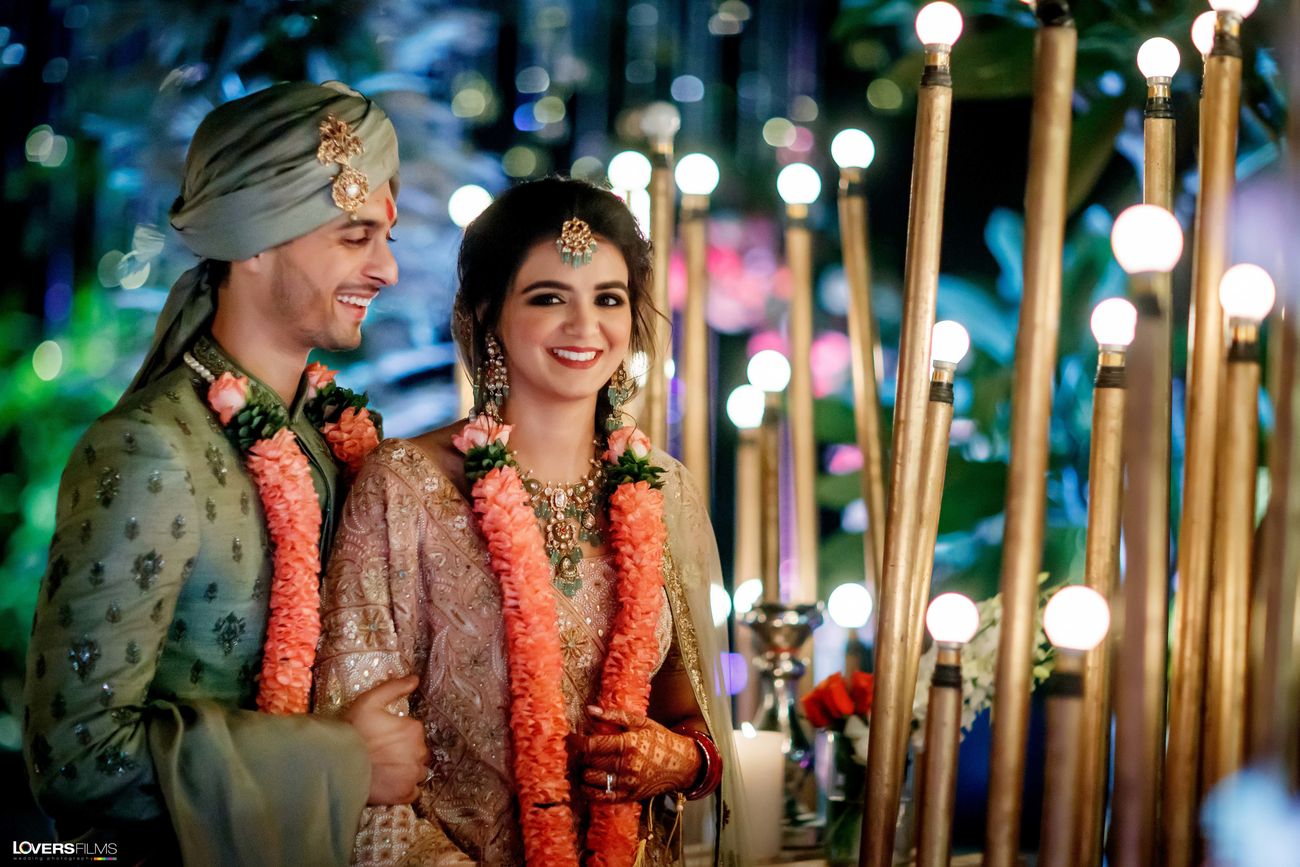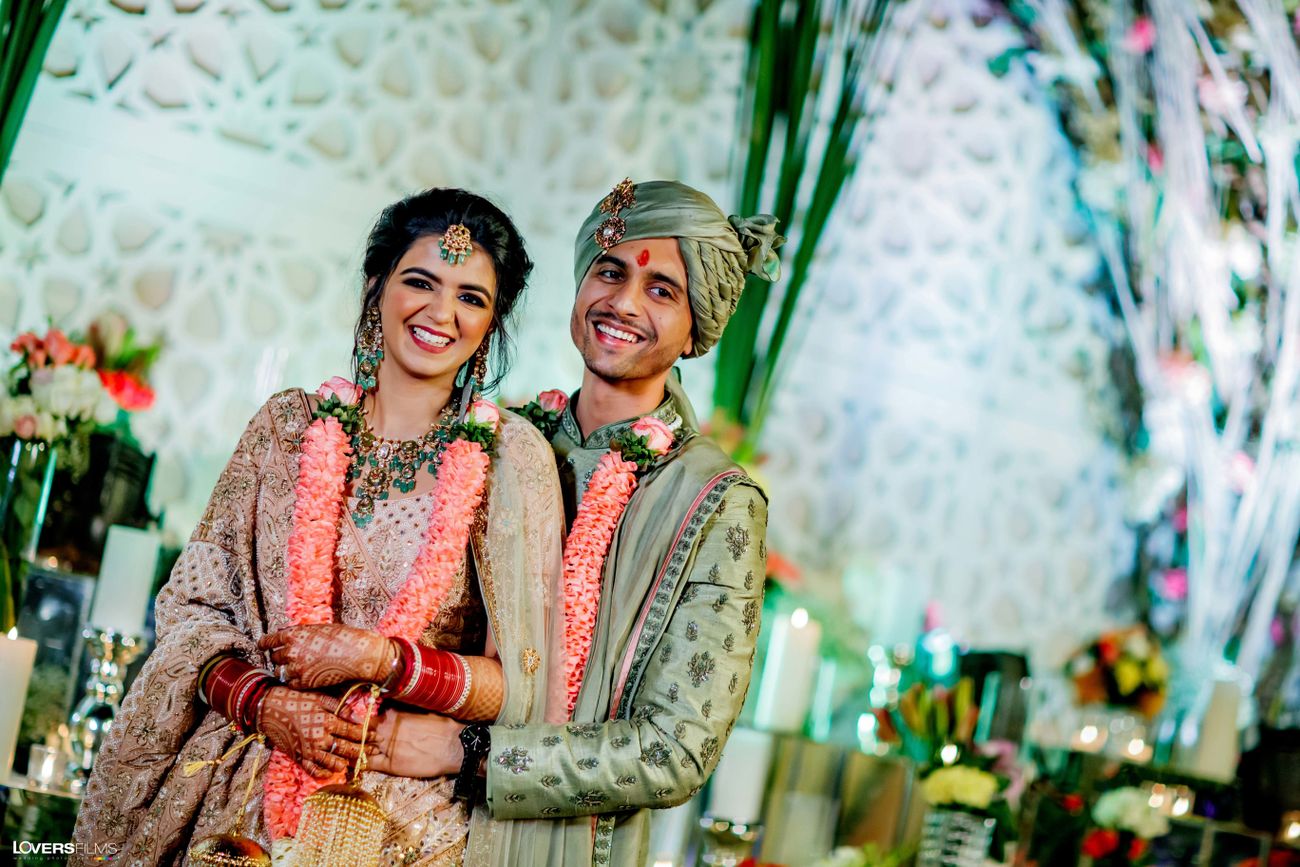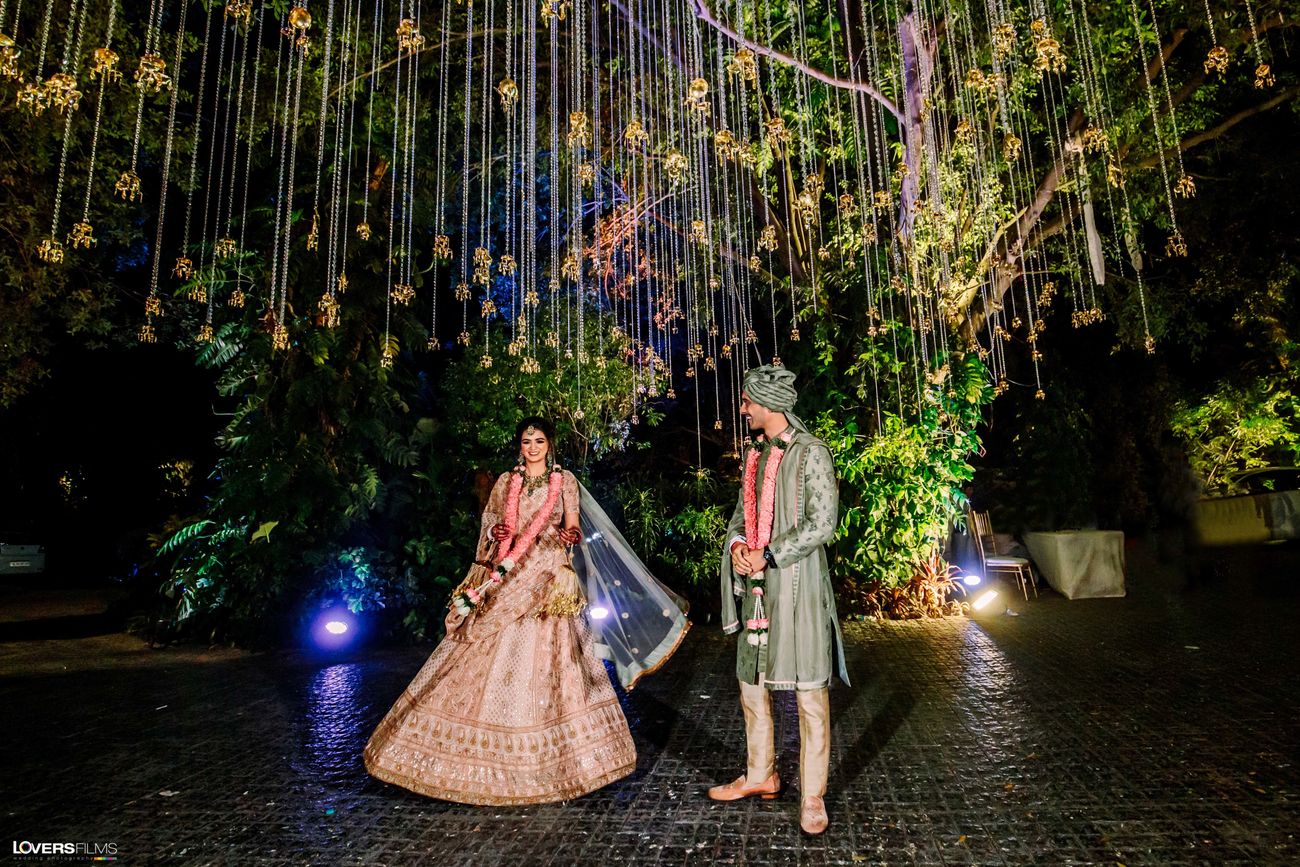 From The Couple: 
Venue: Morbagh, Chattarpur
We fell in love with the place the moment we had our eyes on the venue. The venue is adorned with lush green gardens and tall trees, a grand entrance and a magical glasshouse, fit for a perfect night under the stars. What amped up things for us was the food. Morbagh has it's own catering. Before fixing the caterers, we tickled our palettes at countless venues but Morbagh was one exception that left a telltale of a true food aficionado. Morbagh proved a no brainer - both in the terms of sanctity of the venue and the exquisite food taste.
Makeup Artist: Somya Chawla
She has magic hands quite literally and brought out the best version of myself. While there is finesse in everything but when you can't spot the layer of foundation, you know it's pure skill. Her base never felt cakey or artificial. I couldn't stop staring at my eye makeup at every occasion. Her blending and selection of colours is right on point. It was her makeup that infused energy in the outfit. Thank you so much Somya for making my wedding and all other occasions magical. With her by my side, I never thought twice about how I'd look. Much Love and appreciation.
Photographer: Lovers Films
We spoke to many people in the industry but it's Mahir's attitude who listened to us with great care on how we wanted to remember our wedding. He had put his best team forward to ensure our candid moments weren't lost. Loved the team's energy on each occasions to make sure we gave time amidst busy rituals to some of the best moments. he's someone to watch out for.
Decor: Wedding - Nishchay Gandhi
He has vision, taste and most importantly the ability to deliver everything as promised. I remember having very few meetings where I described my taste and how I imagined my wedding day. There was finesse in everything, spacial planning, material used, draping style, flowers used and every other little detail. A magical evening was set by him that was far ahead from my imagination. He is one person who will deliver beyond your expectations.
Decor: Engagement - Aditya Mehrotra
Aditya has an innate ability to grab the thought of his clients in one go. He deeply understands the elements a client admires and dextrously assembles them on the palette. Fresh flowers, ambient lights, a stage worthy of intense admiration, leveraging on dense trees thronged in the venue and keeping the decor minimal yet modern, he delivered everything on point. His professional approach with a personal touch drove away our anxiety with ease.
Bridal Outfit: Vandana Budhiraja
My mother was my designer!! No other person in this world that you'd rather rely on for your outfits for such a day. I was extremely lucky to have her by my side. She took such great care in planning my outfit for all the functions. We decided on Lucknawi for the wedding which is rather a rare choice. From getting the piece from Lucknow and drawing the entire embroidery by hand, never thought twice about how it would turn out. Every lace and border that was used was not directly put on, it was embroidered and embellished because she had to make this one her best. I love you Ma.
Mehendi  Artist: Yash Mehendi Artist, Pritampura
We were very happy with the mehendi designs and the colour that didn't fade immediately but reduced to orange colour like an original mehendi does.
Groom Wear: Rana Abhinav Singh
The man who made my husband and his family look stunning. I always wondered the moment when I will look at Anubhav on the day of our wedding and he looked nothing short of regal. Abhinav planned his outfit from head to toe - the safa, sherwani and the Jutti. He only had my wedding dupatta's cutting for colour reference but when you see us standing together, you'll feel it all just fits harmoniously. The fitting of the sherwani came perfect a the first time without any alterations. A big thank you for making Anubhav look like a charming man on our wedding day.
Vendors: Venue: Wedding - Morbagh, Chattarpur, Engagement - Mallu Farms, Chattarpur; Makeup Artist:Makeup by Somya★ 4.9 ; Photographer: Lovers Films★ 4.8 ; Decor: Wedding - Nishchay Gandhi, Engagement - Aditya Mehrotra; Bridal Outfit: Vandana Budhiraja; Mehendi  Artist: Yash Mehendi Artist, Pritampura; Groom Wear: Rana Abhinav Singh