Dermatologists Tell Us: The Ultimate 3 Month Bridal Skincare Plan!
BY Apoorva | 15 Mar, 2017 | 3205 views | 5 min read
You're engaged, congratulations! For the biggest day of your life you need someone you can trust implicitly with your skin! That's why we reached out to Dr.Harshna Bijlani - Medical Head & Co-founder of The Ageless Clinic  . She has been a winner of the prestigious Vogue Beauty Award and has also been chosen as the 'Skin Expert' on the Master Panel of the Vogue Wedding Show for 2 consecutive years. We asked her to share the ultimate skincare guide for all brides!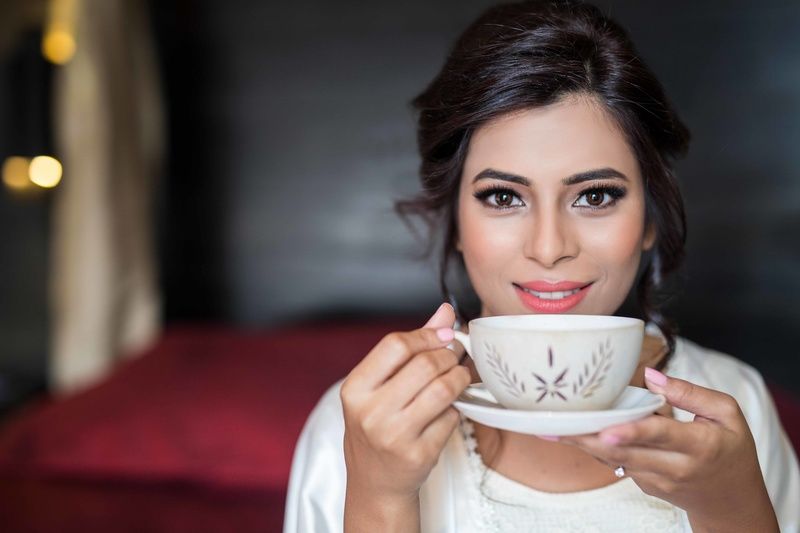 Image via Jodi Clickers
Skincare Timeline for Bride-to-be:
3 months to D-day!
Visit a skin specialist and ask them to make a customized treatment and home care plan
Seek the advice of a skin expert as soon as possible for any skin related difficulties. Certain treatments to consider are treatments that:
Reduce acne, pigmentation and even-out your skin tone such as lasers, peels, etc.
Permanently reduce unwanted hair painlessly
Non-surgically tighten your face, neck, sculpt your body
Reduce lines and wrinkles
Start eating healthy, exercising regularly and taking care of yourself. Get a blood test done, if you have low levels of haemoglobin, platelets, etc. this may get worse due to the wedding exhaustion and stress.
Sun not only pigments but also ages. Use sunscreen with SPF 30 and above, every day at least 20 mins before leaving indoors even if it is not sunny.
It is important to cleanse your system from inside out, increase your intake of Beta Carotene, Vitamin C & E and Antioxidants. Antioxidants can be taken in various forms – in vitamins such as the new super antioxidant "Crystal Tomato®" or even as serums that can be applied directly to the skin. This is also a good time to start Glutathione® – another super antioxidant for your skin tone, as it needs a few sessions. One thing we need to remember is that vitamins are not 'magic pills' they take time to show results so the sooner you start the better.
Go for a relaxing hair spa once a month and condition your hair every week. You can start PRP (Platelet Rich Plasma) or other hair treatments if your hair is thinning
This is the perfect time to experiment with facials and treatments that have long term effects such as the AgeLess Stem Cell Facial™ and Mesotherapy. Both include inserting nutrients into your skin to boost collagen and give you younger, firmer, fresher looking skin.
1 month to D-Day!
Go for regular clean ups and facials which will have more impactful results on the wedding day
'Super Facials' are revolutionizing the age-old process of facials by using technology and the finest products blended in to a treatment with excellent results. For example, HydraFacialTM which is loved by celebrities!
If Mesotherapy and AgeLess Stem Cell Facial™ have worked well for you earlier then this would be a good time to go for another session.
This is a good time to go for body peels. This will help get rid of the pigmentation as well as leave a glowing effect.
Maintain a good clean diet (avoid dairy and sugar), regular clean-ups, a good skin care regime with salicylic acid based cleansers to avoid acne. If acne does develop, use a cream containing Benzoyl peroxide.
2 weeks to D-day!
A few products that a bride-to-be should always keep handy are –cleanser, toner and moisturizer based on your skin type, sunscreen with an SPF of 30 or higher, a good quality makeup remover, tea tree oil for acne and hyaluronic acid for nourishment.
As you get close to your wedding remember not to experiment with new products or treatments, especially when you only have a few days to go.
This is the perfect time to go for a good clean up! Get those white and black heads extracted, go for microdermabrasion if required.
1 week to D-Day!
If you do have break outs at this point it's better to get injected instead of using topical drying agents. Go see your doctor as soon as break outs start appearing.
At this time, you have too much going on already so do not try new stuff. Just relax, eat well and exercise regularly.
Get a relaxing massage so that you and your body can feel calm and relaxed.
If you need any treatments for instant lifting and firming, this is the ideal time to get them done. This way you'll be in the desired shape by the time of your wedding and all signs of the treatment procedure would have subsided.
Go get your waxing and eyebrows done. Don't wax or bleach areas that you haven't before.
This should be the facial you have tried and tested and know for a fact that it works like magic for your skin.
Wedding Eve
No treatment in the world can compensate for a good night's sleep, this is why we call it beauty sleep.
Avoid caffeine as much as you may love it, it dehydrates you and makes you look sallow. Also avoid drinking and smoking as nothing can do more harm to your skin than these two.
This is the time when you tend to eat the most amount of junk food, however make sure you eat healthy and at regular times so as to not disturb your routine. Also, drink a lot of water and keep yourself hydrated at all times.